Fratello Talks: Our Most Recent Watch Purchases (Two Rolexes And A Breguet)
Do they satisfy us for now, or are we still craving more?
Daan, Dave, and RJ sit together for this podcast and talk about their most recent watch purchases. We talk about the whats, the whys, and the hows when it comes to our new watches. All three of us bought through different channels — a boutique, a colleague, and via Chrono24. Sit back, relax, and have a drink of your choice while listening to the soothing voices of our editorial team.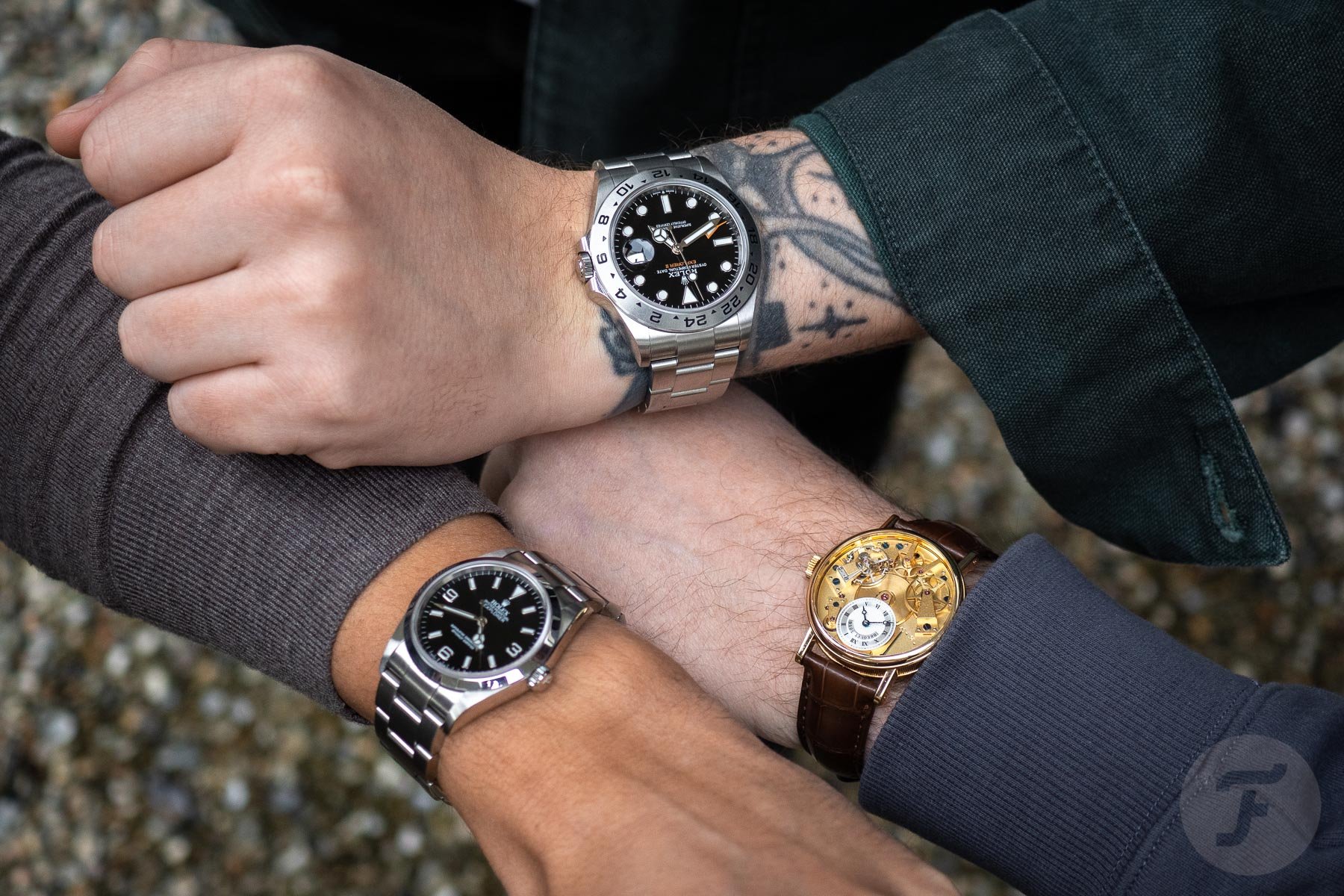 Our most recent watch purchases from Rolex and Breguet
As always, we start the podcast with a quick round to talk about the watches we're wearing. Coincidentally (truth!), we are all wearing our latest purchases — a Rolex Explorer ref. 114270 from 2004, a Breguet Tradition 7027BA, and a Rolex Explorer II ref. 226570. As these are also the watches we're discussing, we dive right into them. We start with Dave's Explorer II, which he bought new at the Rolex boutique at the airport. He explains that he went in to ask the obvious, and to his surprise, they had the Rolex Explorer II available. He likes it for its 42mm diameter, GMT complication, and the fact that it's a bit of a stealthy Rolex sports model.
Daan wasn't even looking for an Explorer until Morgan (our new photographer) showed his to him during a visit to our office. The idea of a 36mm Explorer was then planted in his head. Coincidentally, our colleague Gerard still had a Rolex Explorer 114270 from 2004 with a box and papers in his collection, which he then offered to Daan because he was so enthusiastic about it. The two made an internal Fratello deal, and Daan now owns the Explorer, which he wears quite a lot.
The Breguet Tradition 7027 came to RJ's attention during a local get-together with twenty-something watch fans. There was a pile of the attendees' watches from all sorts of brands on a poker table (don't ask), and the Breguet stood out to him. After diving into the world of Breguet and its Tradition watches, RJ decided he wanted the yellow gold 37mm version of this watch. On Chrono24, RJ found a Tradition 7027BA from 2006 within the European Union, and he quickly made a deal. We also discuss whether these watches stilled our hunger for now or if we're already craving the next one. Our answers might surprise you.
Let us know about your most recent purchase and where you bought it (from a boutique, dealer, online, etc.). Thanks for listening!