Fratello × NOMOS Glashütte Zürich Weltzeit "The Hague" Limited Edition
Limited to 25 pieces; available from 6 am CET, September 30th, 2021.
Grab a coffee and take a seat. This is an epic tale of love and lubrication…
There is a term in the video gaming world that I've hijacked for my own use: completionist. While my most avid period of gaming waned with Bubsy the Bobcat's popularity, I've rarely come across a better description of my character. Apparently, a completionist relishes completing every minute aspect of a computer game. I suppose that means visiting every town on the map, talking to all interactive characters, collecting all the jelly beans, or whatever the tasks may be. In real life, taking the same habits to the extreme would be, shall we say, a bit odd, but I must admit my experience with NOMOS Glashütte is starting to feel a little similar to a long-haul obsession with Zelda…
And yes, I'm not a gamer but I know Zelda is a princess so you can take that one either way you like. I meant the world, however. Similarly, I am wrapped up from top to bottom in the world of NOMOS Glashütte. My relationship with the brand started back in 2013 and has taken many twists and turns since. From a fan to an employee and now in the role of collaborator, I have had the pleasure and privilege of seeing this company from afar, right up close, and now directly from the side. It's hard to measure the value of these experiences, so I'll leave that up to your imagination. I'll tell you this, though, it certainly feels like the kind of trip money couldn't buy.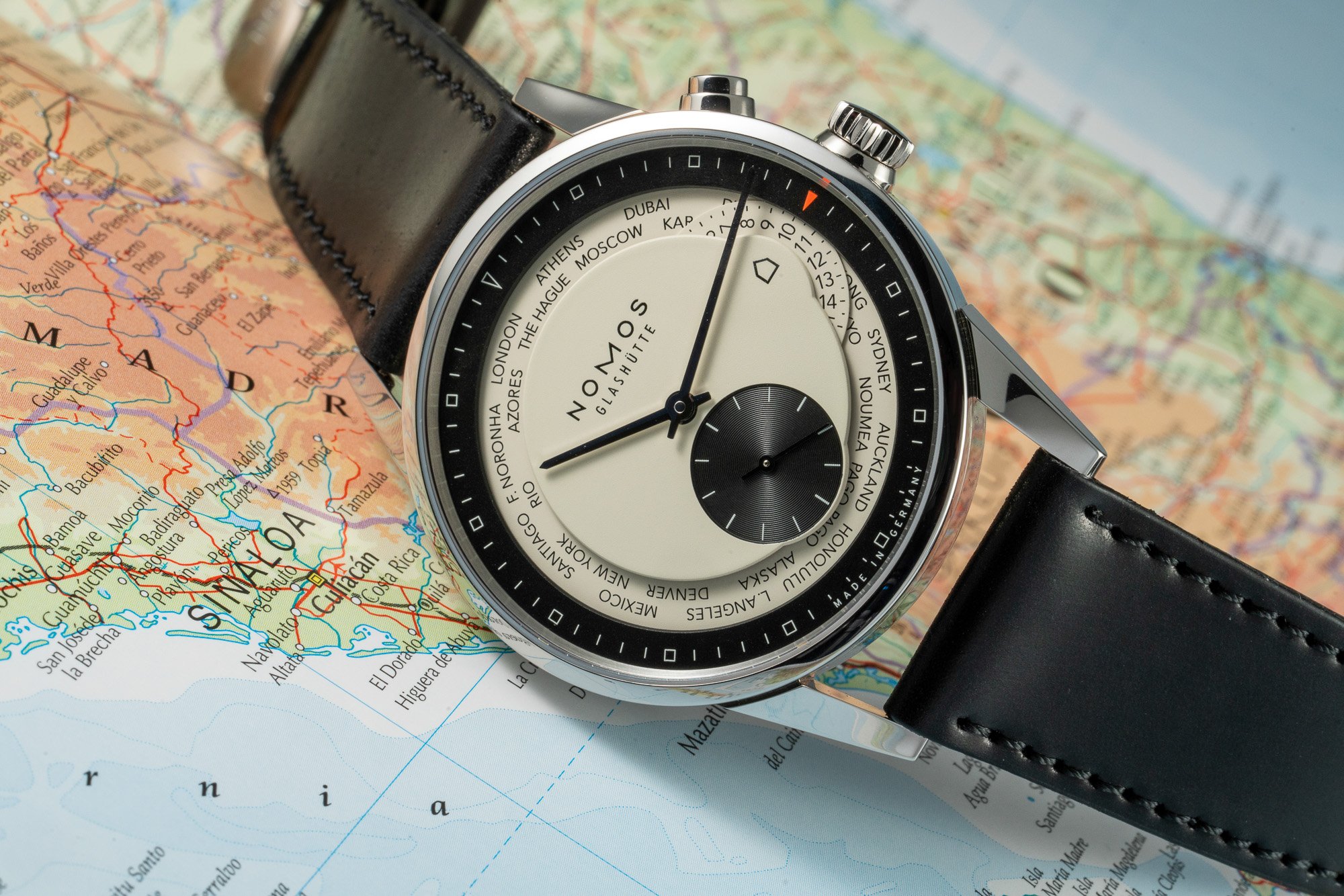 From the wrist of another
"It's a what now?" I said, peering up from the irksome 1120 caliber on my bench and squinting through my loupe at my boss's wrist.
"A NOMOS," she said.
"A Noo-noo?"
"NOMOS, Rob. It's a German brand."
"German, eh? Which part of Germany?"
"Glashütte, of course."
"Oh yeah… Of course."
That brief exchange, which occurred eight years ago, seems like it took place in the closing stages of the Triassic. That patchily stubbled Omega watchmaker that bore my name was still as green as a Czapek's dial. He was one year into his bench career at Omega and was working in Southampton, laboring day in and day out on finicky 1120 movements that took great pleasure in making him look like an idiot.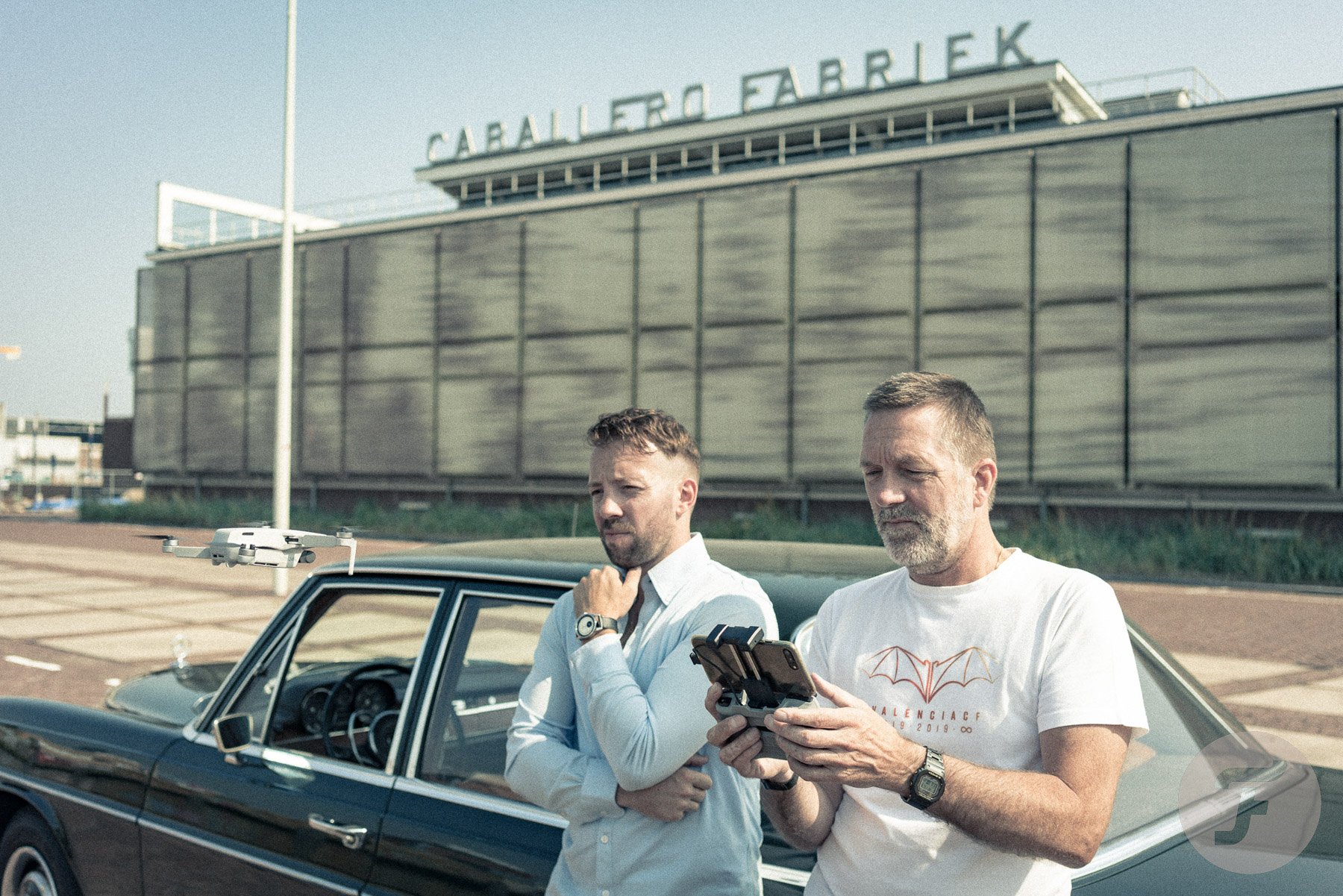 His technical manager? Susanne Kloss. At that time, Susi was running a department of about 20 watchmakers, doing her best to keep Swatch Group UK's service center above water. Prior to that, however, she'd started her career at NOMOS. A few years later she would return to her homeland and maiden company to run the workshop in Glashütte. She's still there today. Ironically, and without any kind of stalkerish intention, I once more live a stone's throw from her door, having relocated to Dresden in 2020. Why? Well, we'll get to that later, but rest assured NOMOS has more than a little to do with it.
Glashütte? Of course…
Honestly, back then, all I really knew about Glashütte was A. Lange & Söhne. Given that a Lange catalog was my first exposure to watchmaking and the reason I decided to become a watchmaker, it's hardly surprising that Germany's most prestigious brand led the charge, but looking back on it now, I can barely believe how alien NOMOS had remained to me up until that point.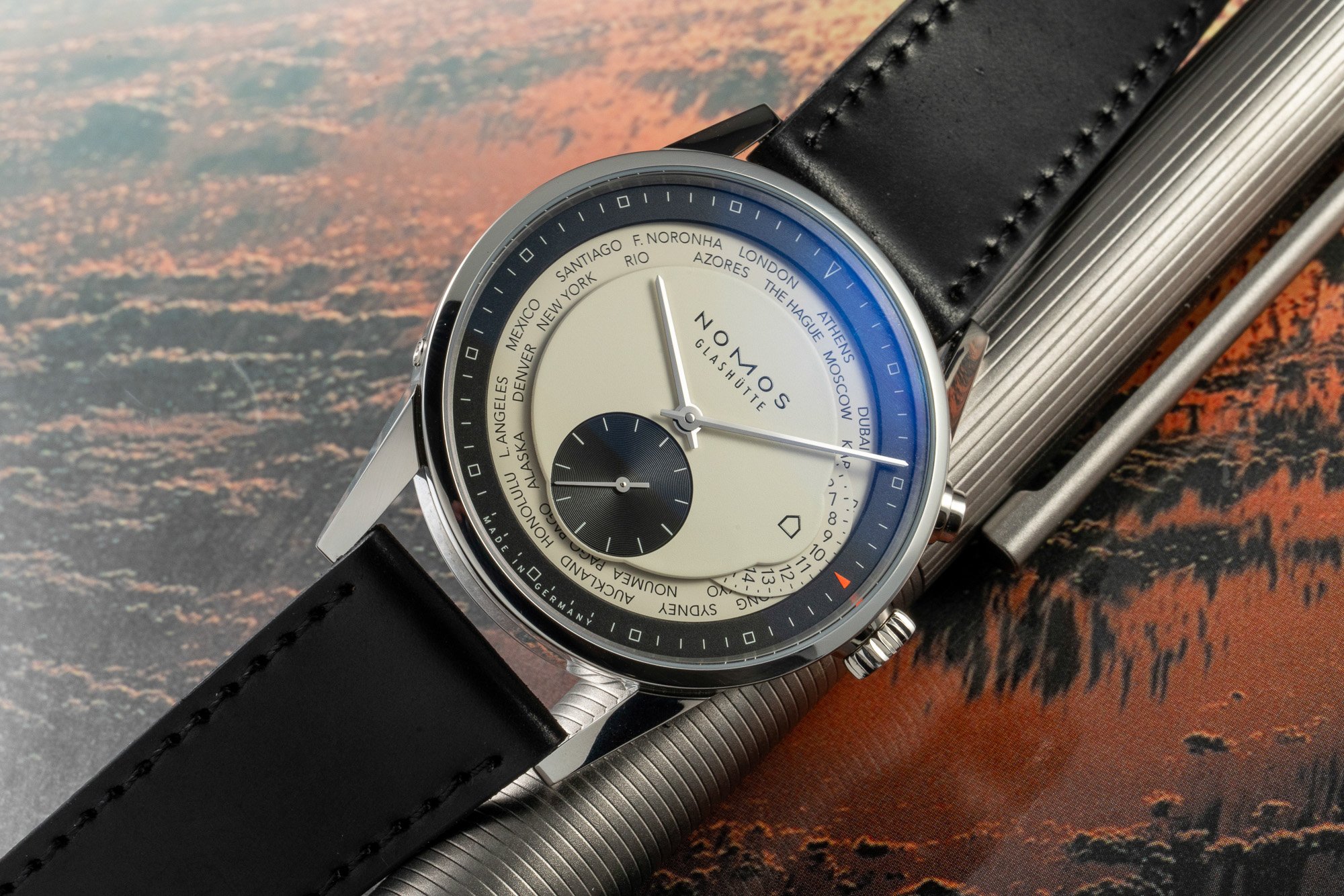 In 2013, however, NOMOS was still pretty under the radar in the UK. The brand had retailers, yes. The brand also had a sales representative. But it had just one for the whole country and NOMOS wasn't his only brand. Growing a plucky young brand like NOMOS in a fearsomely conservative market like Britain with that kind of power on the ground was tough sledding by any stretch. But it was an exciting challenge for a brand poised to achieve amazing things in the coming years. Little did I know that that challenge would fall to me a couple of months after the brand's release of the ground-breaking DUW 3001 caliber at Salon QP 2015. It was there, at that event, that my life change in more ways than seem believable.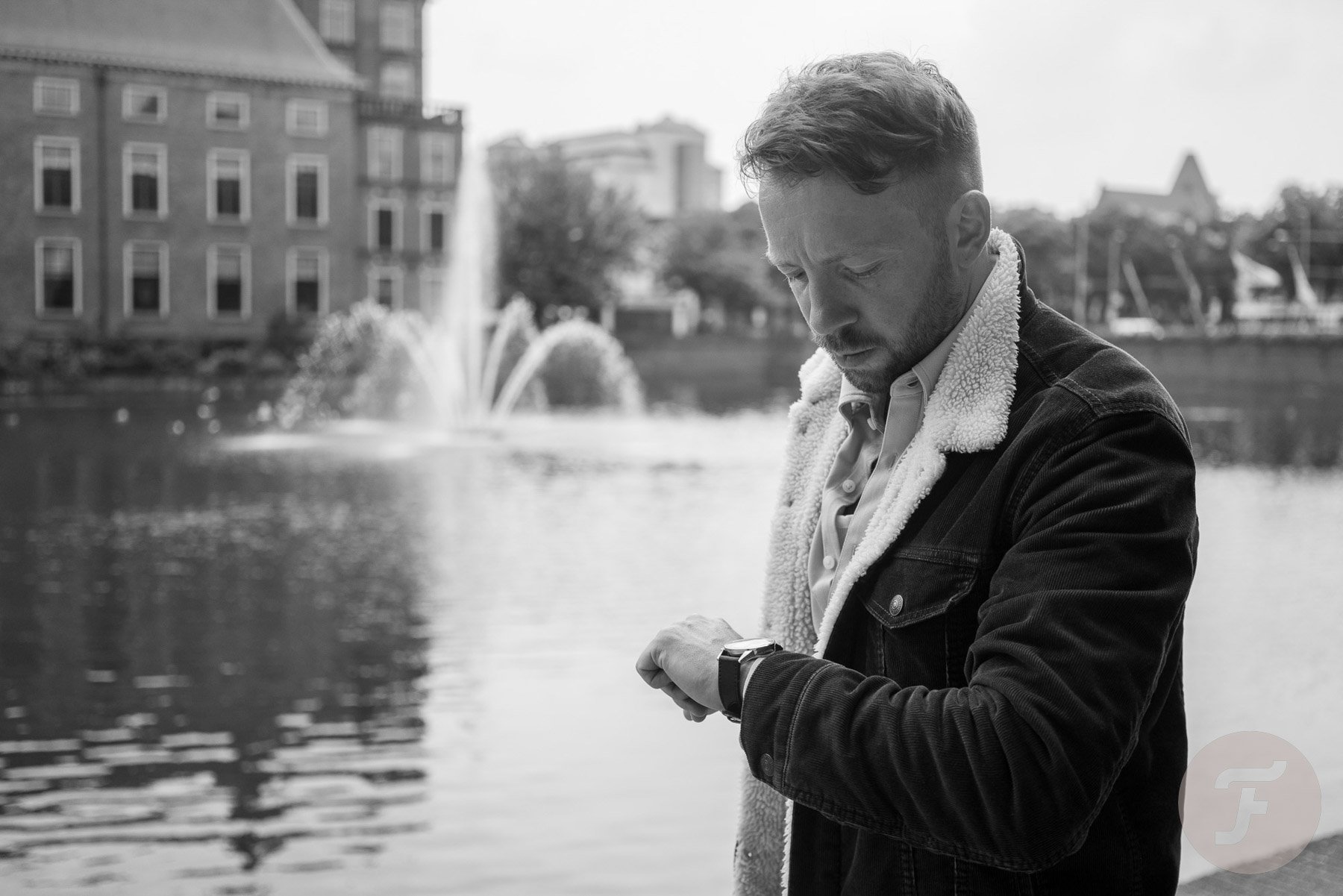 Where, what, and who?
They say that there are three major facets in your life: where you live, what you do for a living, and who you love. Salon QP 2015 would ultimately change all three of my answers. It would also, eventually, bring you the watch you see before you today: the Fratello × NOMOS Glashütte Weltzeit "The Hague" Limited Edition.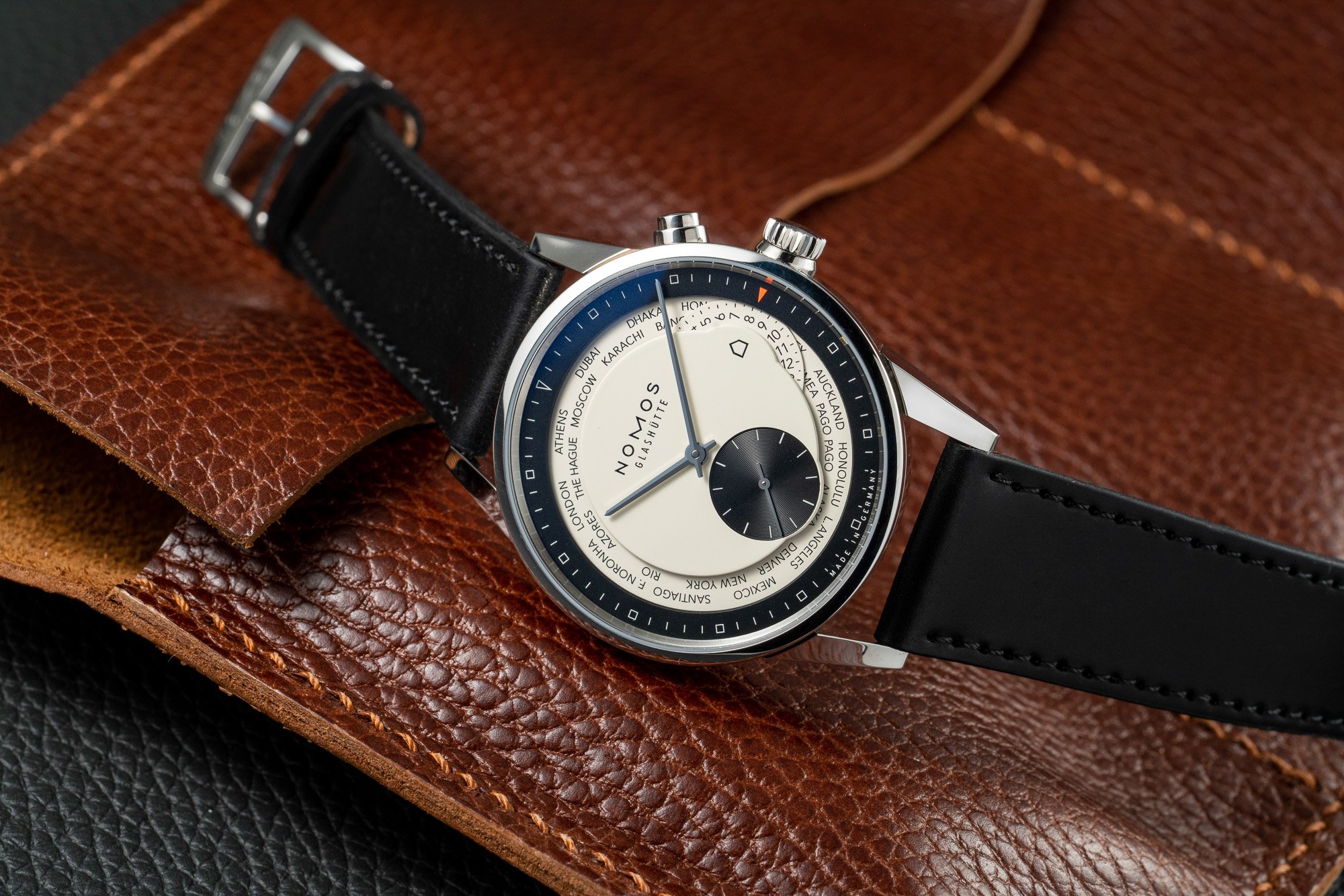 It was the first time I had attended Salon QP in an "official" capacity. I was writing for aBlogtoWatch and had been deployed to cover the brands on the first floor. There I would find NOMOS. Upon reaching the top of the stairs, I scanned the room from its entrance, locating the NOMOS Glashütte stand at the very back of the hall. My eyes also located a beautiful woman standing at the counter, chatting amiably with the already hammered punters (free rum will do that to a man…).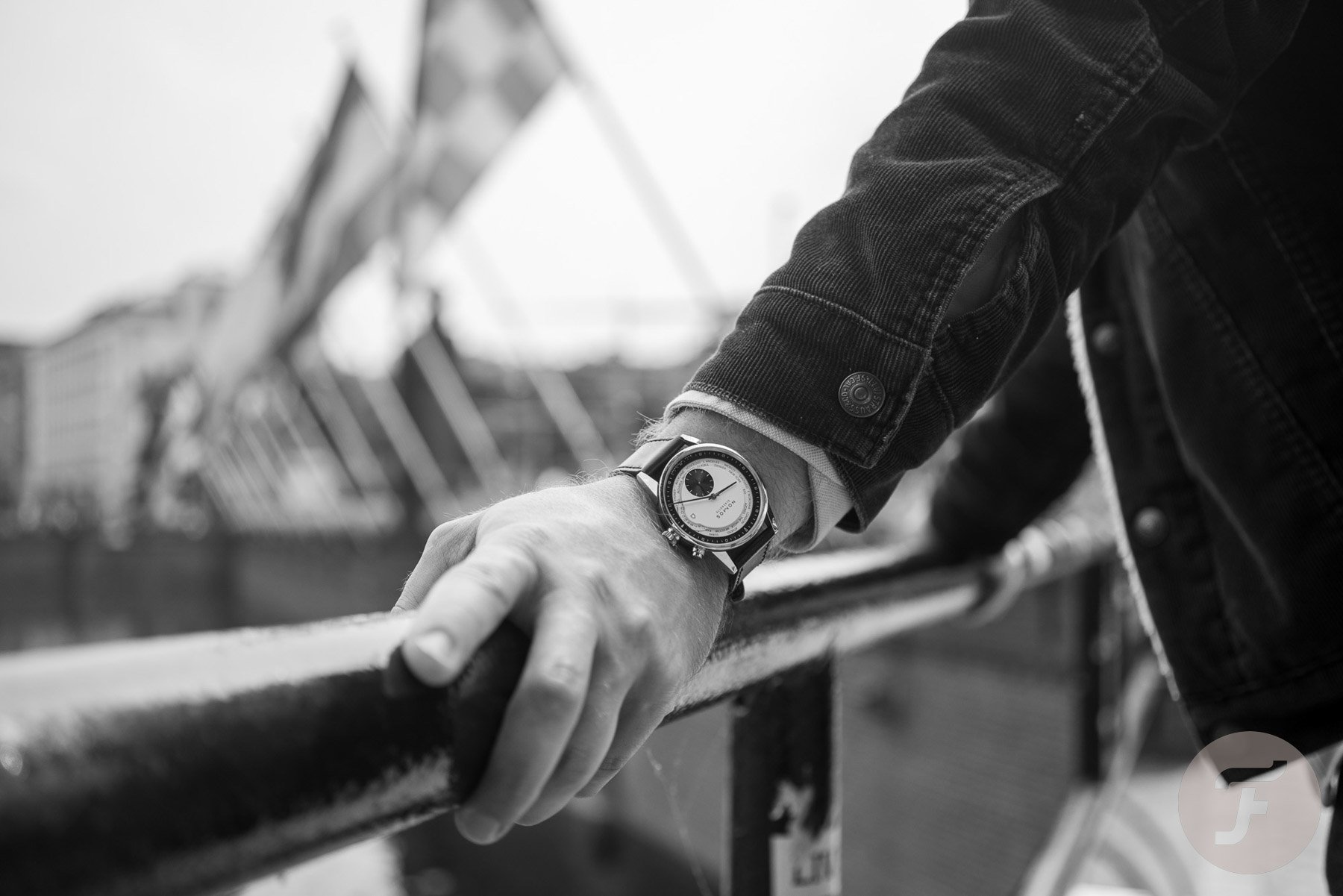 I have a pretty dodgy gait at the best of times and it gets worse when I'm trying to walk like a normal human. Conscious thought is so often my enemy… As such, I decided to slink through the parallel hall and make my approach to the NOMOS stand from the side. I made it without tripping up, which I regarded as a huge success. Buoyed by that small victory, I tried my hand at talking to the woman (with whom I now live in Dresden). It was decidedly less victorious, but she did at least find my drunkenness and enthusiasm for our conversation…amusing.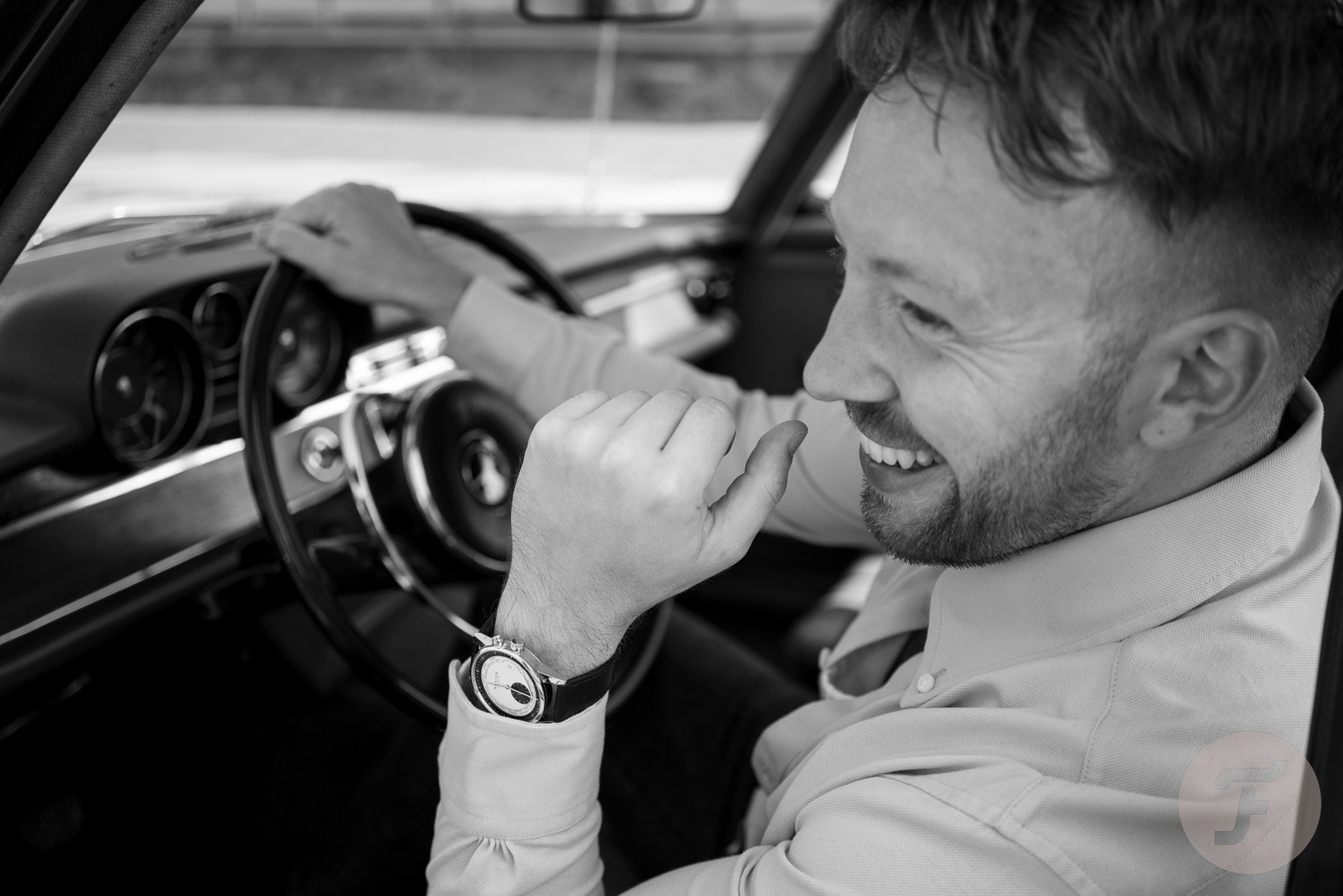 Persistence is key
I kept our initial interaction brief. I figured the less chance I gave myself to make a fool of myself the better. A few minutes after our introduction, I retreated with my dignity about 78% intact, NOMOS catalog in hand and a new interest in the brand that had recently recalled Susi to its ranks.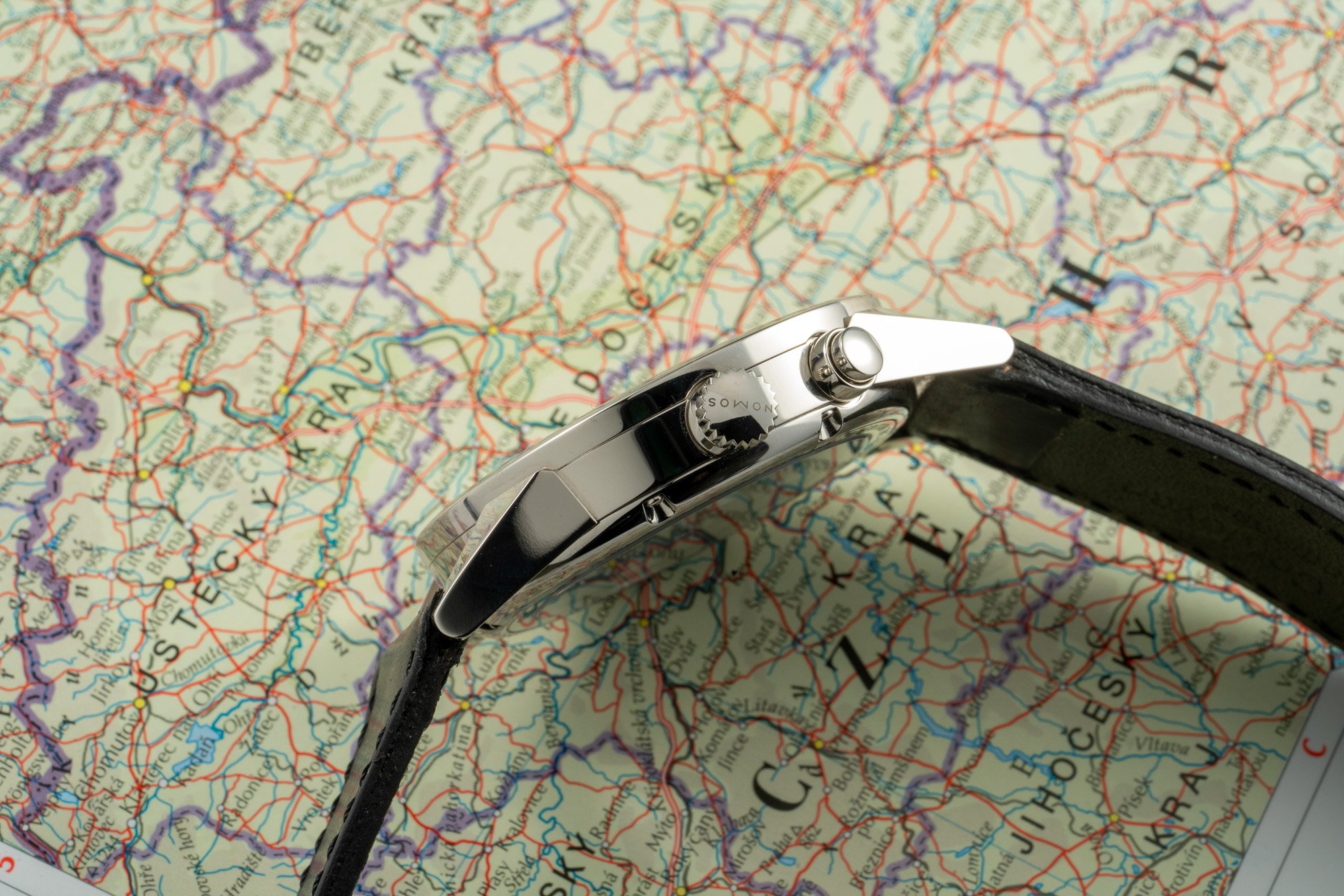 About an hour later, after scanning the catalog, I realized that I hadn't tried on the one watch that really, really caught my eye: the Weltzeit. I returned to the stand. My to-be-girlfriend was bemused by my reappearance but dutifully showed me the model in question. Happy I'd seen my favorite NOMOS in the metal I departed once more, only to return thrice before the fair closed its doors two days later.
And it would seem that persistence is key. Upon the third visit, while chatting to my future partner, a strident call rang out from the very back of the hall:
"NUDDS!"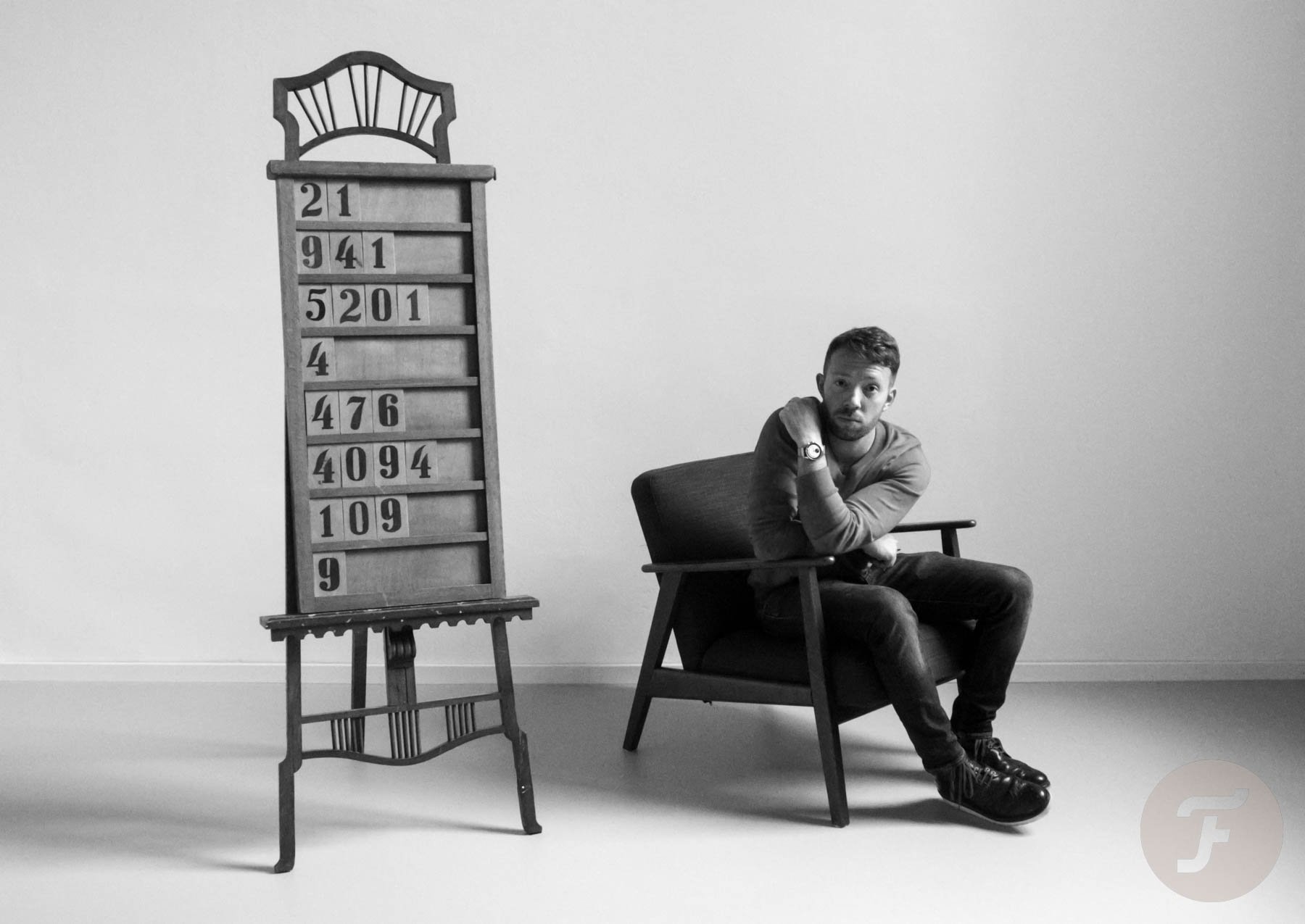 Boss Kloss
Now, I've been a Nudds my entire life, which is actually not as bad as it sounds. However, it is not really the kind of name anyone wants to yell out in the middle of a packed Saatchi gallery. Especially not in a Saxon accent, which renders it more like, "NUDES!".
Regardless, my ear was attuned to that accent because it belonged to my old boss Kloss. She rushed out from her meeting to greet me. We exchanged pleasantries and then, rather jovially, I asked the question and she gave me the answer that would change my life:
"So when are you going to open a workshop in the UK so I can come and be a watchmaker for NOMOS?"
"Well," she said, speaking candidly, "not until we find someone to grow the UK market sufficiently…hang on…why don't you do that?"
"Me?" I said, a bit flabbergasted (but not as flabbergasted as my now-girlfriend, who I'm sure must have been shaking her head and mouthing "no" behind me). "I mean, I haven't worked in retail for years, but… Well… Who do I talk to?"
An ad hoc meeting was set up there and then. I spoke with Martina Etti, who would become my mentor, friend, and something of an inspiration. I'm not sure she knew exactly what to make of me at the time but she saw enough of something to set up a proper interview in Germany the following January.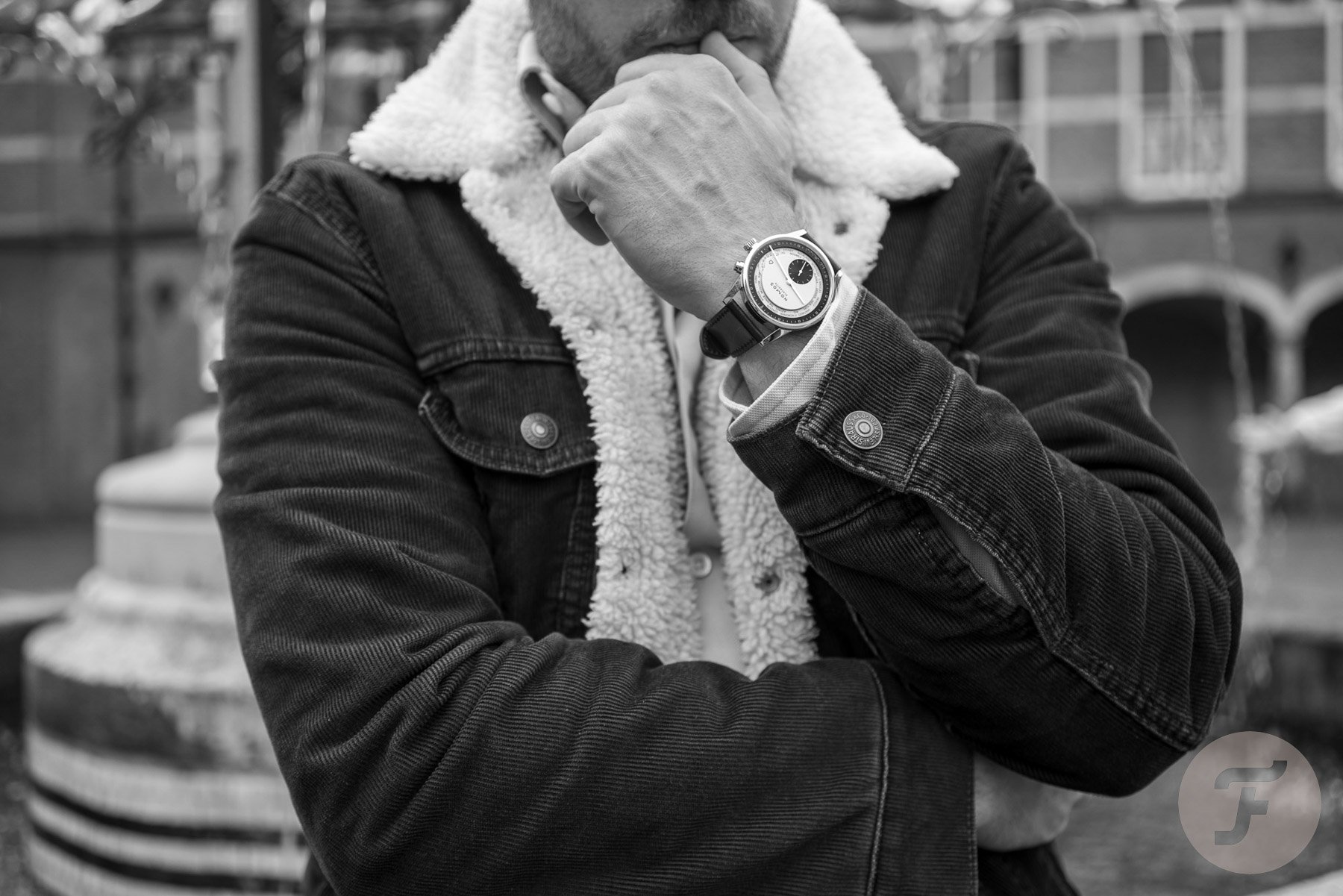 A T. Rex, a job offer, and the start of something beautiful
I flew into Berlin on January 11th. It was my first time there. I arrived early so I could pay a visit to the Natural History Museum to see Tristan the T. Rex, a specimen on display there thanks to a deal brokered by my dad. It was necessary for me to take a little bit of time to calm down after the flight, so I was grateful for my prehistoric excuse. You see, back then I was mortally terrified of flying. I actually didn't want the job, because I knew it would involve a lot of travel.
All through my life, I'd been scared of getting on a plane. I used to have nightmares for at least a month in advance of a flight, so it was no small thing that I was there at all. I just knew in my heart it was an opportunity that people like me didn't get very often. Fearful as I was, I simply couldn't turn my back on what I believed to be the right thing to do.
Cheers, Hans…
I'll cut this part of the long story short: I got the job. Over the next three years, I flew about 300 times and overcame my fear (thanks to an air traffic controller from Karlsruhe who explained all the weird sounds and sensations of flying — cheers, Hans). When my job began, I was responsible for just the UK. After that market doubled in the first year, I was given the Netherlands too. Scandinavia and Eastern Europe would follow before I spent the majority of my last year with the brand in and around North America training the retail staff over the Pond.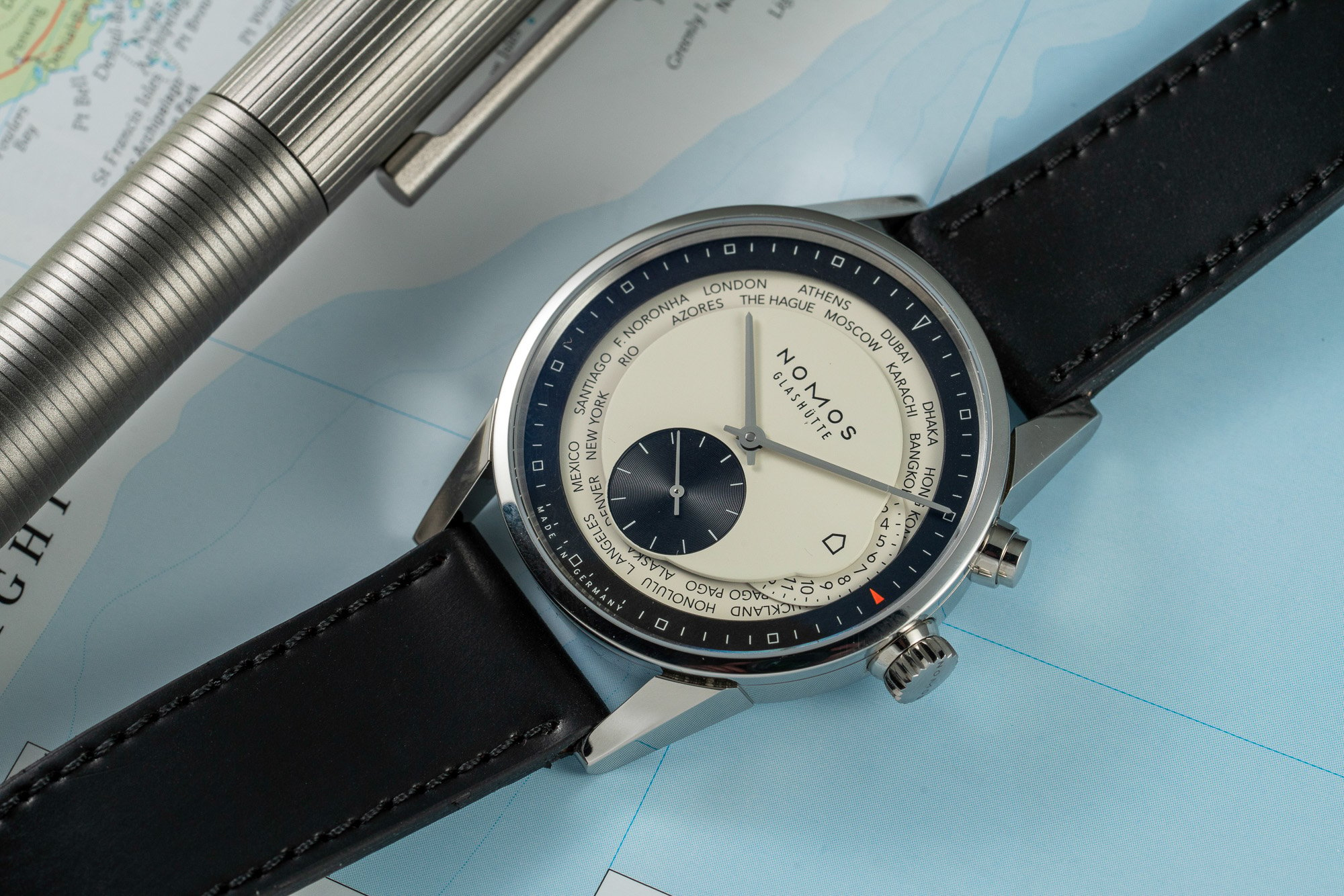 But it was that second assignment that proved key. I love the Netherlands. Perhaps it is not surprising that I ended up at Fratello, but I assure you that was nothing more than a coincidence. It is, however, a very happy one, as it means I am still close to and able to work with my very favorite NOMOS stockist on planet Earth, Ace Jewelers in Amsterdam.
A dream team
Working with team Ace is a constant joy. My conversations with Alon Ben Joseph and Dale Vito Boom shaped my outlook on the industry. They are a team of doers. Solutions to problems posed by difficult market conditions and ever-evolving notions of luxury flow thick and fast. It was refreshing to be with such a dynamic unit and it seemed a very natural fit for the first special edition project I oversaw during my time with the brand.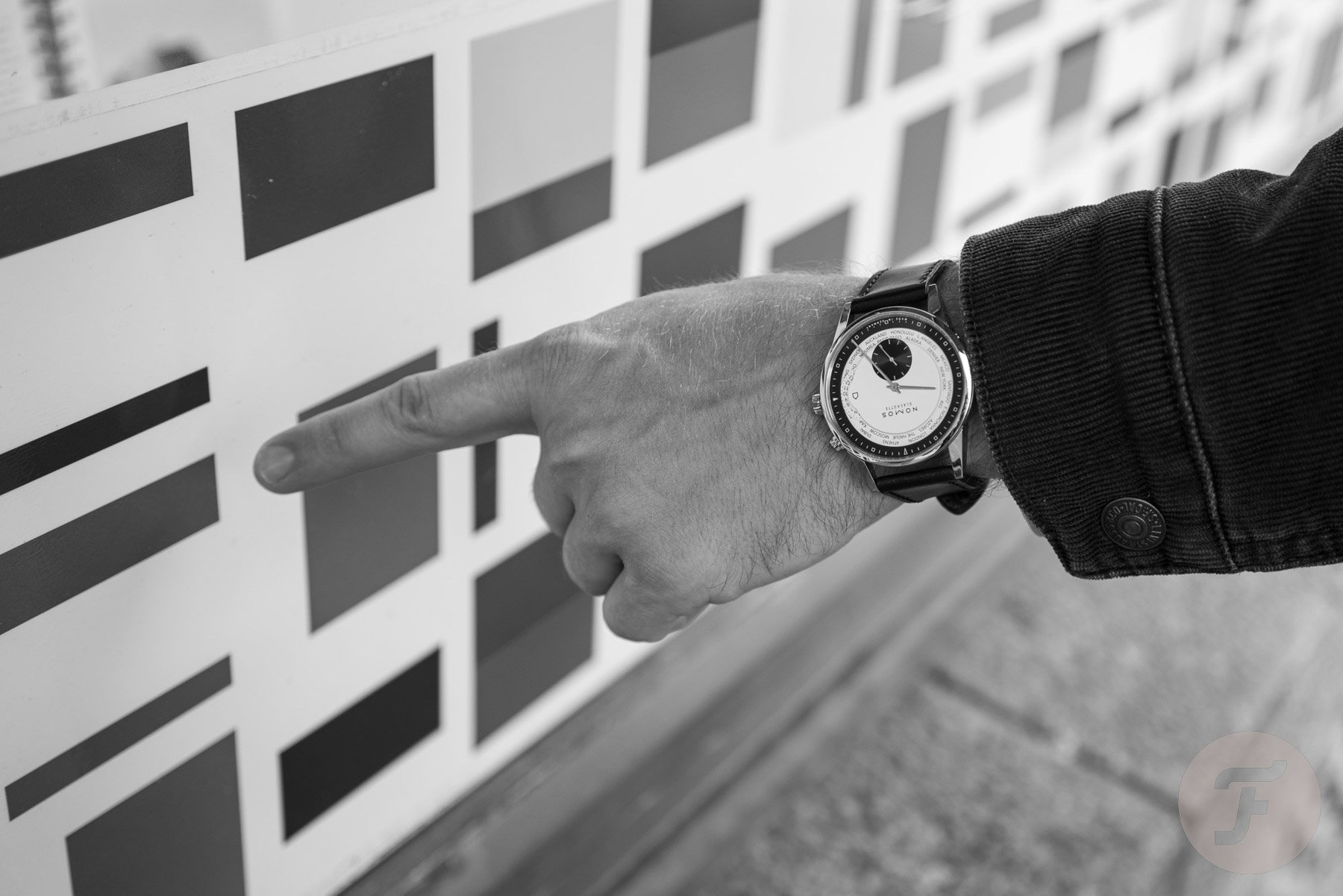 It was 2017. The De Stijl art movement (made most famous by Piet Mondrian, or Mondriaan if you prefer the Dutch spelling) was one hundred years old. Somewhere, squirreled away in the mind of Michael Paul, a talented NOMOS designer, the design of a De Stijl-inspired dial existed. When Ace and I saw it, the decision was swift. The only question? Should we make the limited edition Orion in 38mm or 35mm. We had prototypes for both made up. I preferred the 35; Alon preferred the 38. Alon got his way because he was right. I accepted that pretty quickly when I got over my preference for the 35mm sub-dial in relation to the edge of the case and appreciated that in the very special instance of the De Stijl dial, that extra space was essential to the design.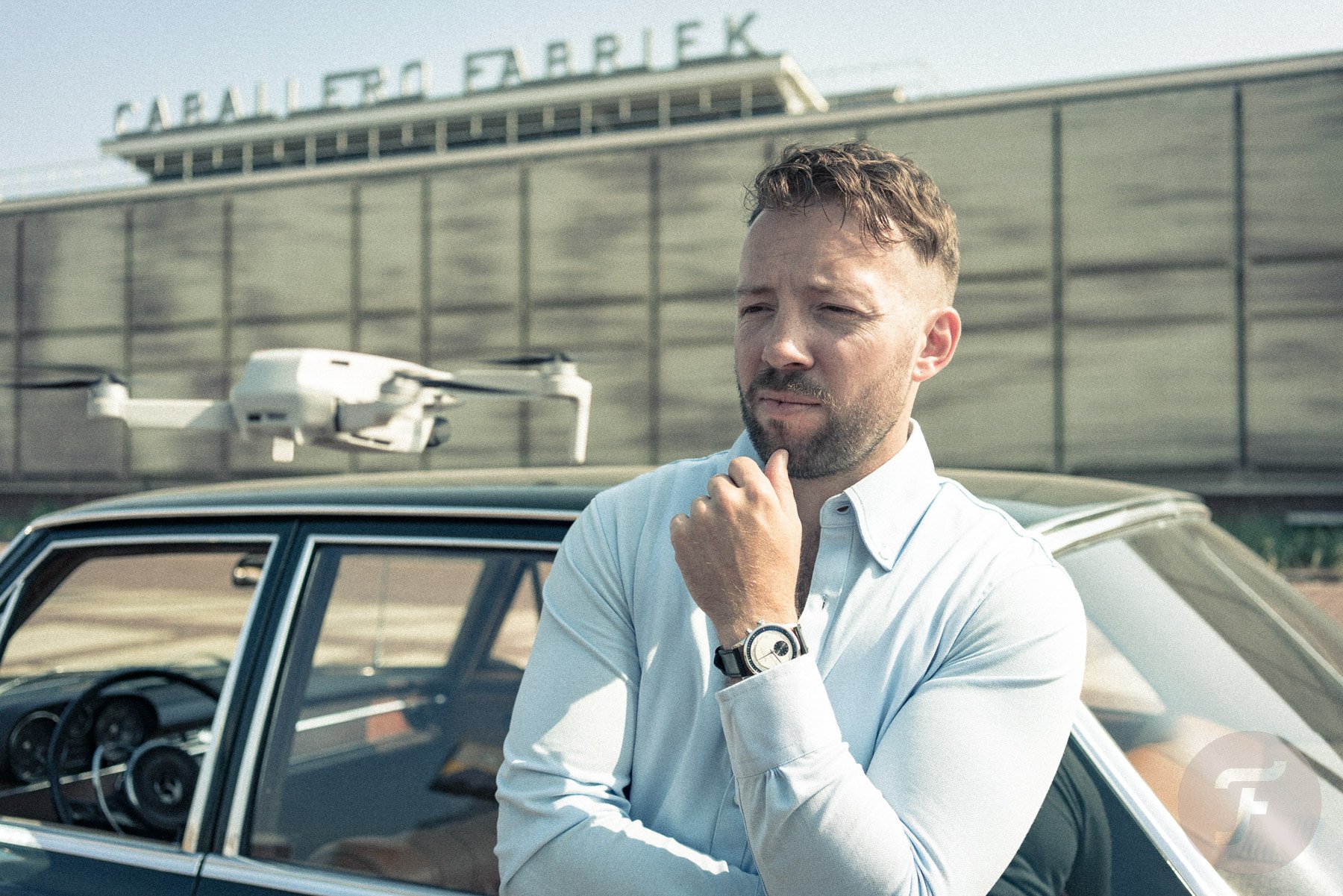 There was another reason why Alon was right. He knew his market. That was something I learned from him. Put the customer first. The end user's enjoyment should always supersede the designer's ego. That sounds obvious but in the emotional industry of watchmaking, it can be difficult to keep in mind from the start to the finish of a project.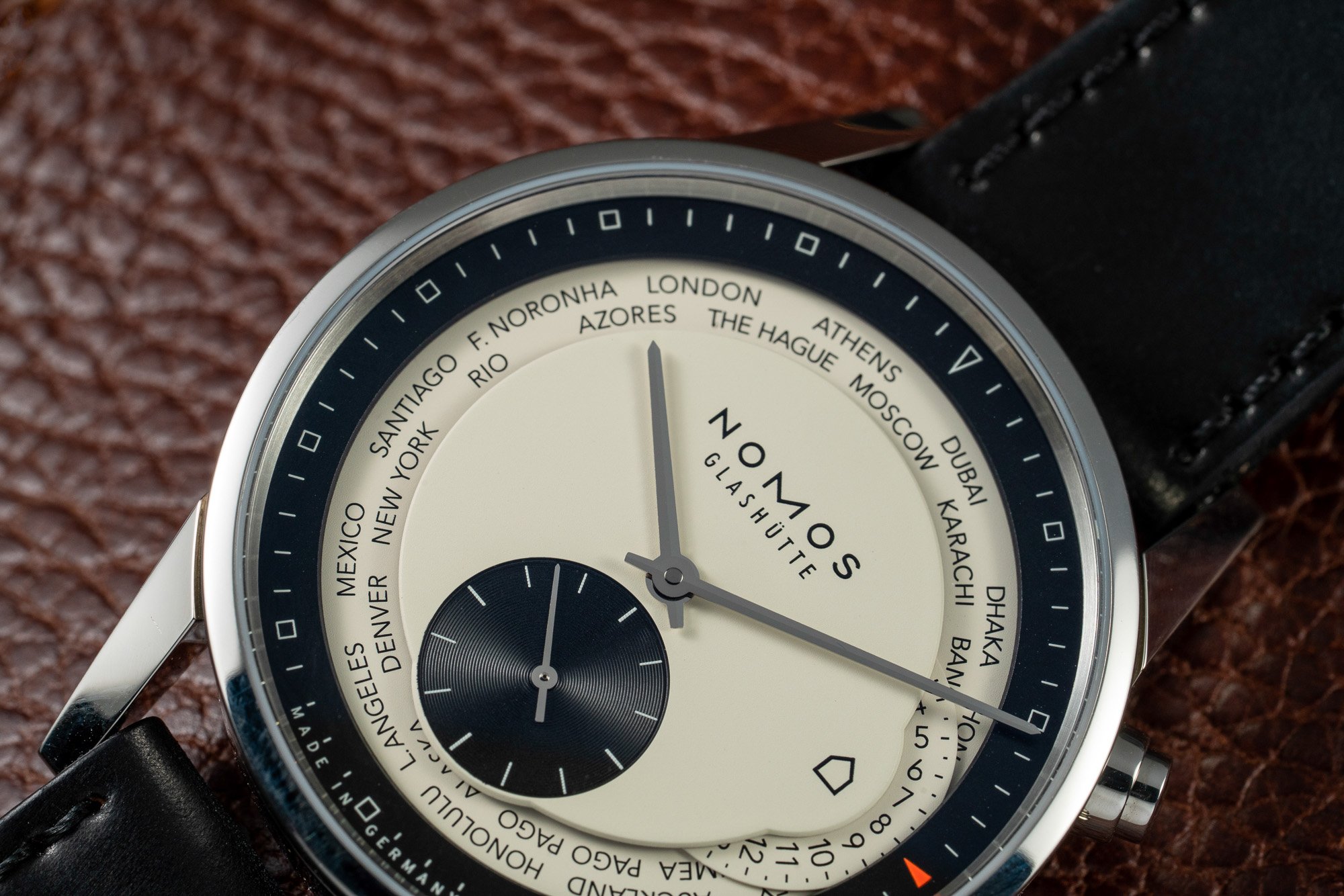 An inevitable second chapter
The Orion De Stijl was an extremely divisive design that won people over in the long run. Unfortunately for the many converts to it, it was sold out in a heartbeat. I noticed at the launch event in Amersfoort in 2017 that a lot of the buyers were still unsure what they had just bought, but they all had a feeling that it was something special. I picked one up myself and it would go on to become probably my most worn watch of 2019, after, that is, I returned the Zürich Weltzeit I had on loan from the company to its home in Glashütte.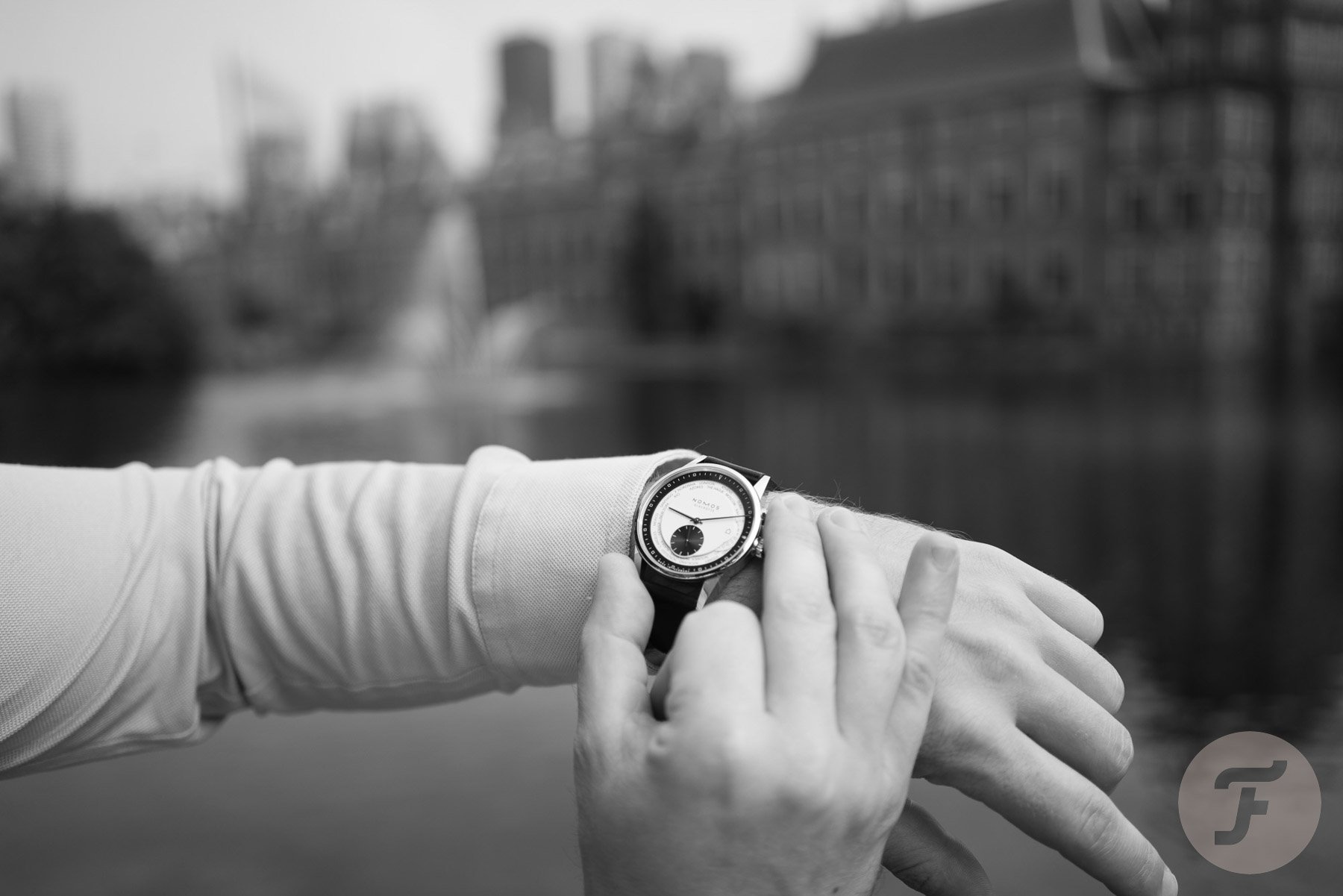 The success of Ace's first limited edition gave immediate rise to the conversation of a follow-up. With our reputation sharpened, NOMOS agreed to make the "Club Campus Amsterdam" according to our specifications. This was the first time I was involved in actually designing a watch, which was a massive step for me personally, and a huge vote of confidence by NOMOS in Ace. That 75-piece limited flew off the shelves and attention turned to round three. We knew what it had to be. I was even keener to see a Weltzeit join the Ace portfolio because I was missing my former loan piece and wanted a good excuse to buy one for myself. And so we hit the drawing board.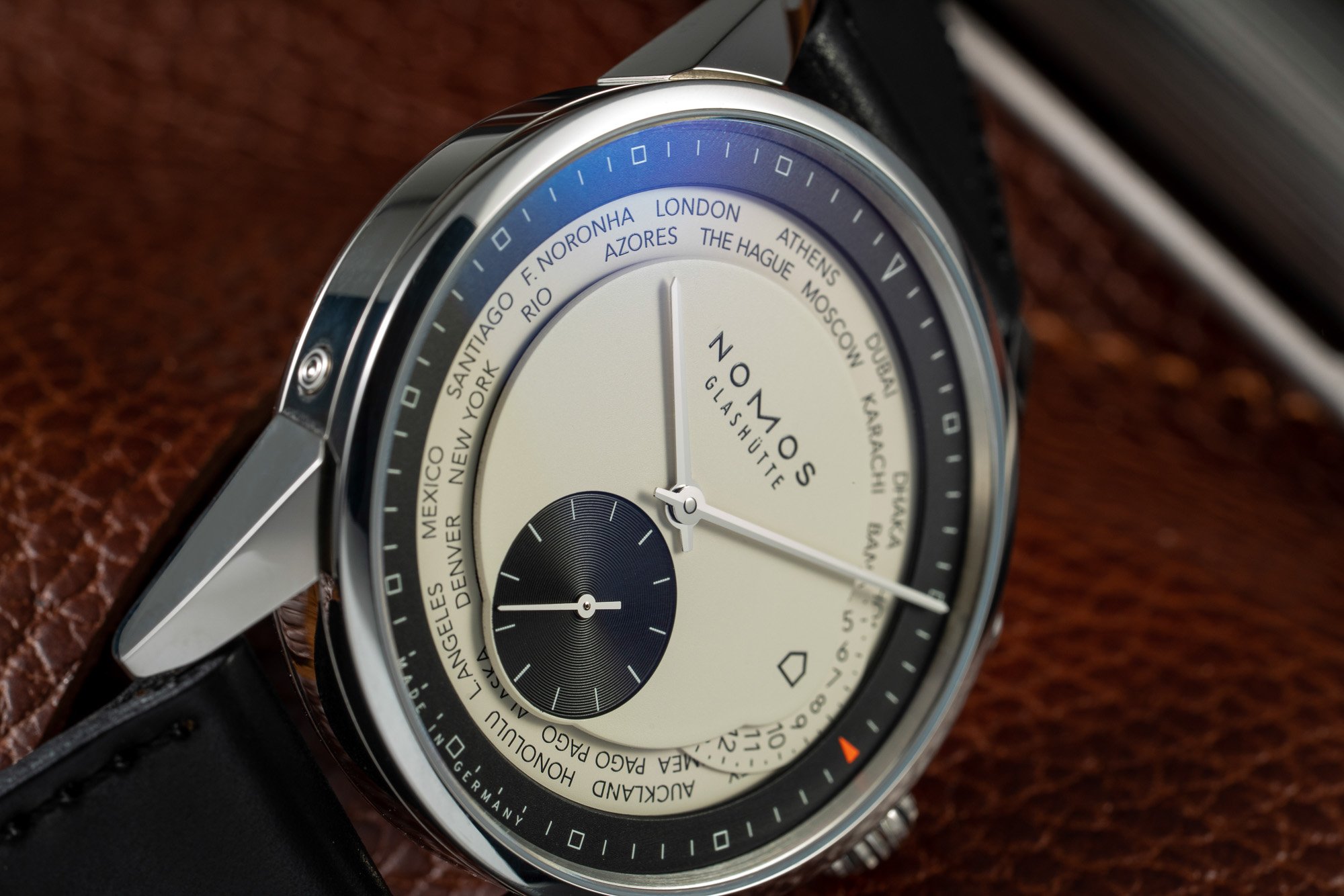 The origin of this design
We are now in 2018. That was when I first conceived the panda dial Zürich Weltzeit. Had it been thought of before? I'm sure someone must have had the same idea as me, but it had never really been taken seriously. In 2018, it wasn't either.
"No way," came the response from HQ.
"But why not? Is it the windmill? Is the windmill too much?" I asked, looking forlornly at the rendering Dale had mocked up on the computer. We'd replaced the home icon at 3 o'clock with a goofy windmill. I figured it wouldn't make it past the initial discussion, but I thought it was cute…
"We can't do a panda Weltzeit."
"Never?"
"Well, certainly not now…"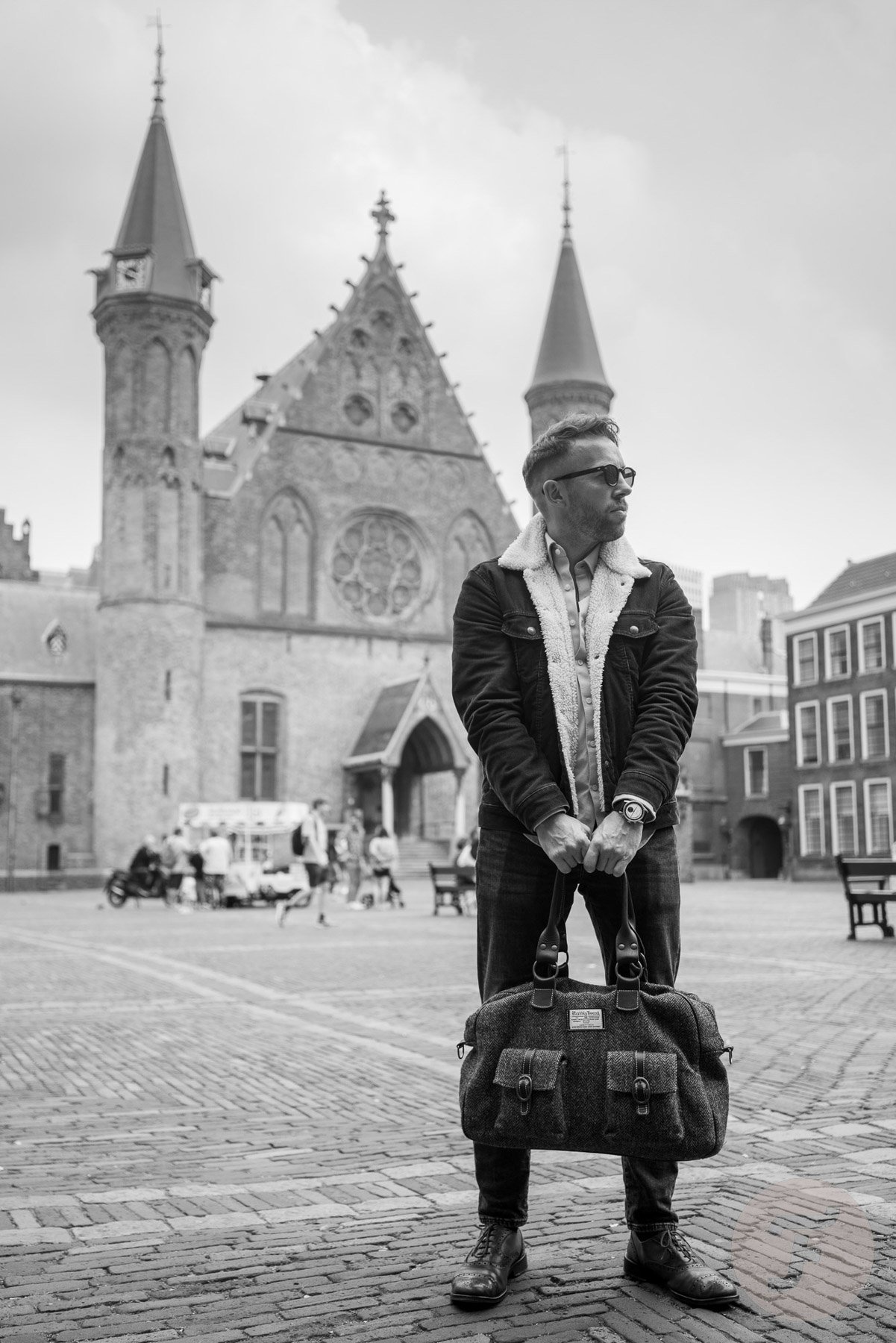 Quality is crucial
I'm still not entirely sure why the panda was never seriously considered back then, but I did appreciate it was a headache of a dial to make. The Zürich Weltzeit dial setup (with four separate dials overlapping one another) is notoriously complicated to get right. The plating procedures (and especially the colorization of the blue dial) are an absolute pain. During 2017–18 NOMOS was about six months behind the demand for the blue dialed Weltzeit because it was a) incredibly popular and b) almost impossible to get through quality control.
I don't know the exact numbers (no one does), but there are probably more failed blue Weltzeit dial components in the trash than there are on the wrists of customers. Perfection doesn't come easy or cheap. And, at that time, my panda-infused dreams were a step too far.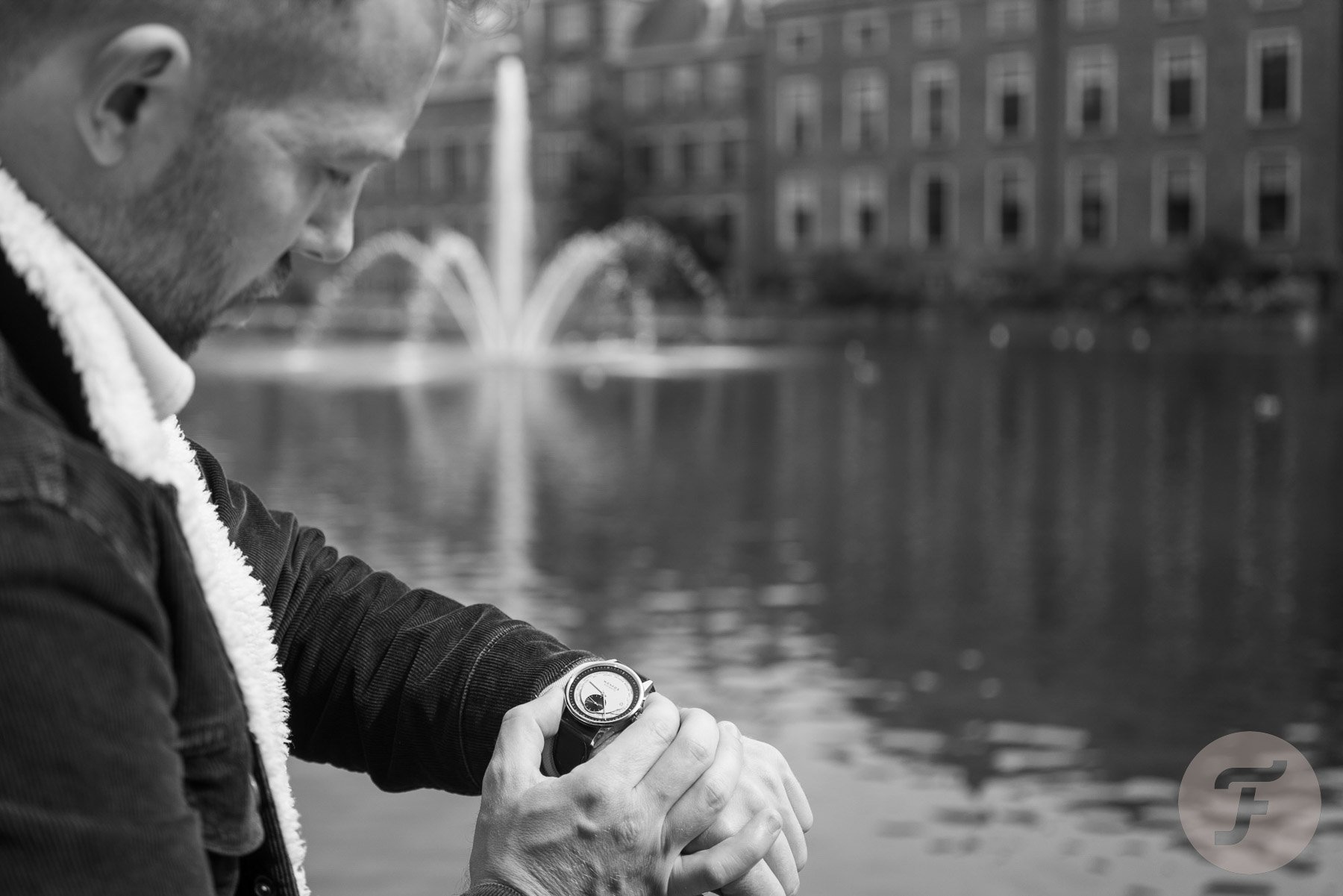 Ace and I did have a second idea: an all-black Zürich Weltzeit. Rather than using the ruthenium-style plating of the preceding Club Amsterdam, however, we chose a flat black. Sadly, I'd left NOMOS by the time Alon, Dale, Tamarah, and the team brought the Ace Weltzeit to life. In my absence, Ace had finished off the design with the three crosses of Amsterdam's flag at 3 o'clock, which was marginally more acceptable than the red light bulb of my first draft… What can I say? I have a thing for the goofy icons, I guess…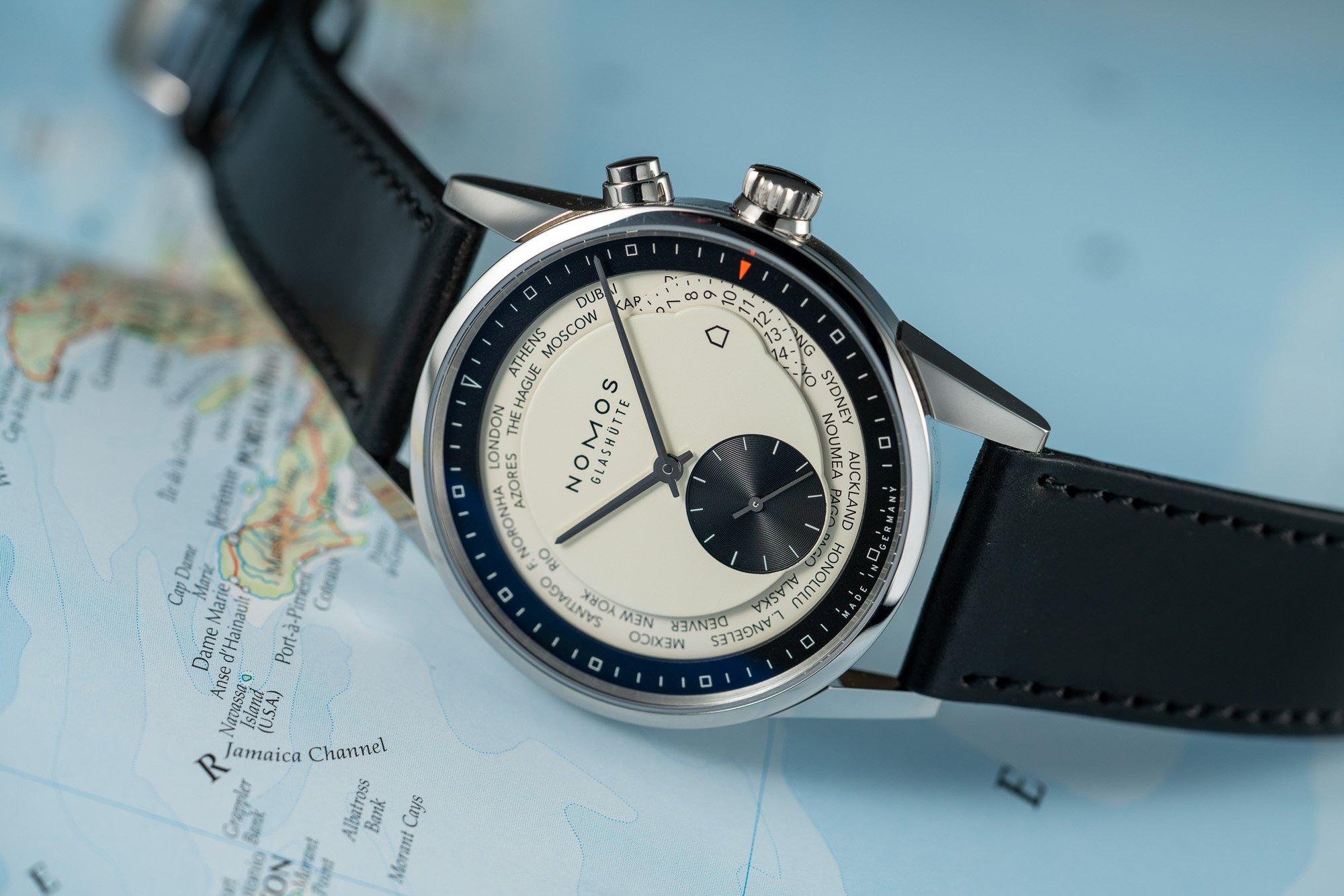 Better late than never
It is now 2021 (in case you hadn't noticed). Amazingly, three years have passed since Dale first brought my vision to life on the screen before me. When I approached NOMOS to create a limited edition Fratello model, I think my old colleagues knew what was coming.
"It's going to be the panda, right?" Martina said through a smirk.
"You know it."
"And you know that'll be a difficult one to do."
"I have absolute faith in you," I said, beaming like the Cheshire cat, hoping my pleading eyes would get the message across. She laughed at me. That was a good sign.
"Alright, I will ask, but no promises."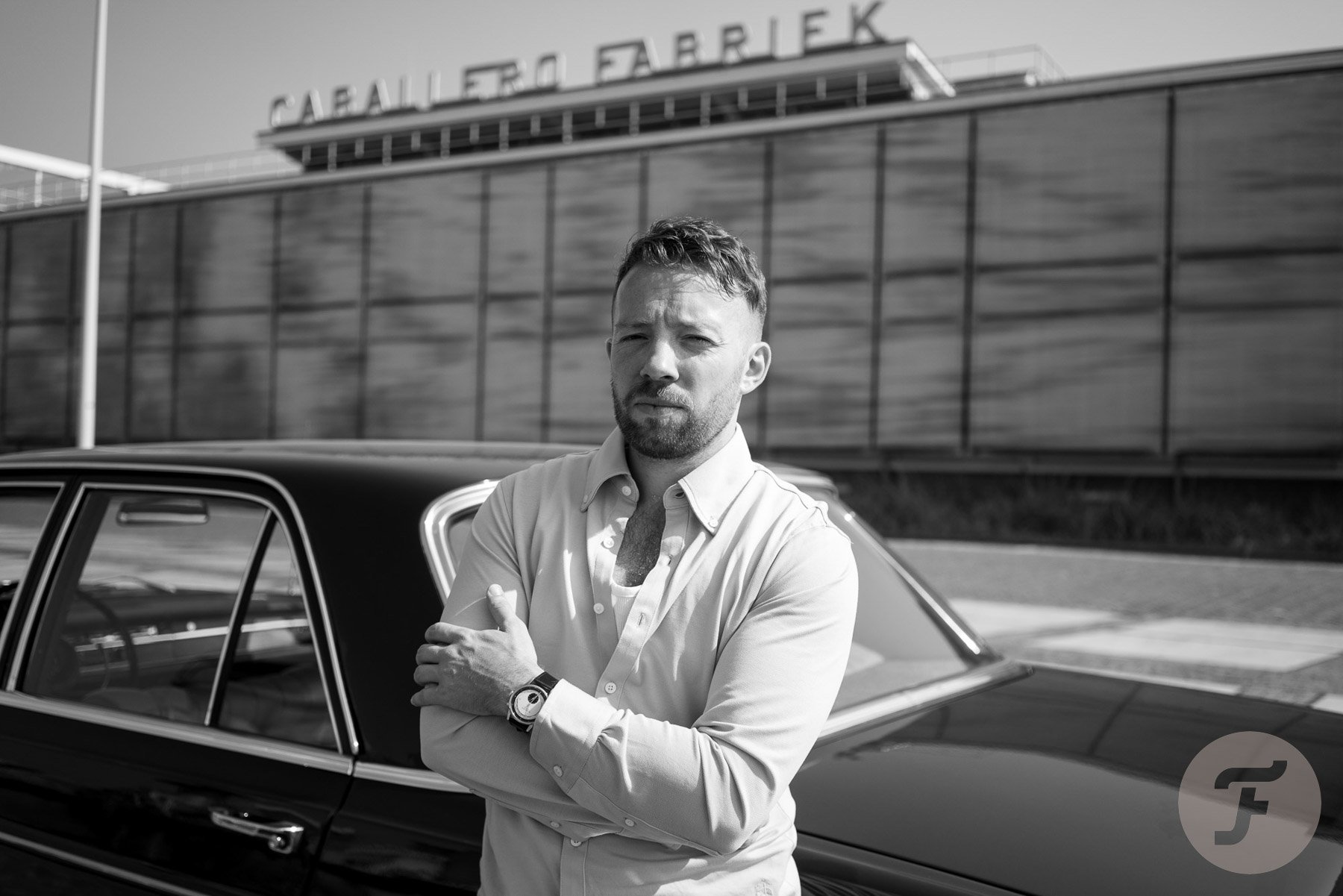 A classic watch
I don't know what level of witchcraft she employed or how much of her soul she had to sell to get the green light, but she did it. After the initial acceptance, the design process went smoothly. With only two drafts, we settled on the design. Yes, before you ask, I raised the windmill conversation again but knew in my heart of hearts it wasn't perfect for this model (maybe a wilder one in the future, who knows?).
This model had to represent the culmination of my experience. It had to be an easy daily companion. It had to be a classic. To achieve that, I kept things as simple as I possibly could. The panda dial was enough of a departure from what had gone before not to require any superfluity. The windmill icon was a "cool" idea, but it was also a bit too youthful a look for this model (which I've since nicknamed the NOMOS Tuxedo).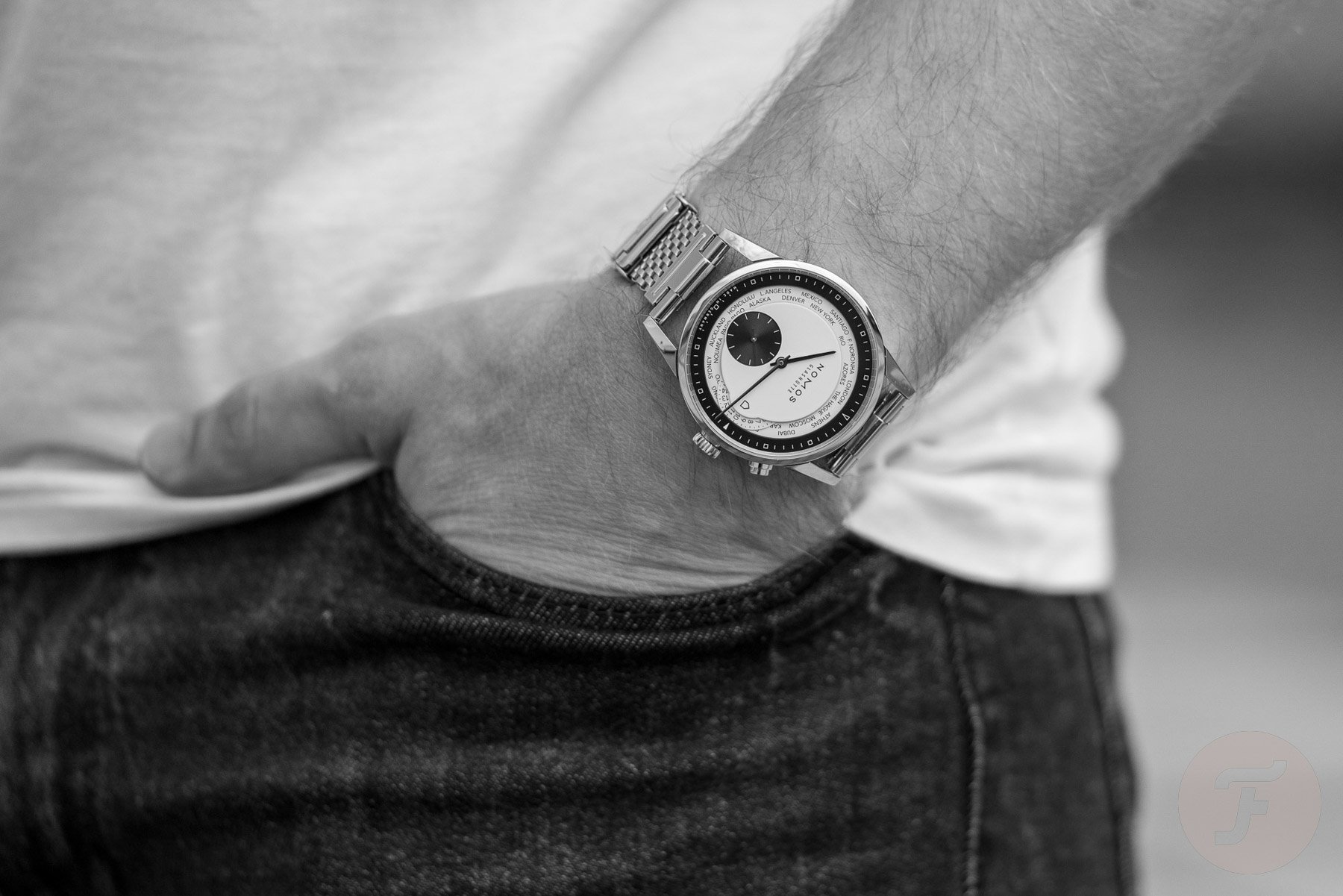 There was no temptation to have "The Hague" text printed in a different color (as is common when it comes to Weltzeit special editions). I wanted things to be crisp and clean. I wanted the concept of the Zürich Weltzeit panda to stand alone, completely uncomplicated by its surroundings. A vivid orange arrow (as a nod to our Dutchness) replaced the red pointer at 3 o'clock and that was it. I even insisted upon using the same color NOMOS has deployed with success on the Neomatik champagne models and the Club Campus's seconds hand. It was, in my mind, the perfect splash of flair that made this Weltzeit entirely different from every other one before it and yet still within the NOMOS design canon.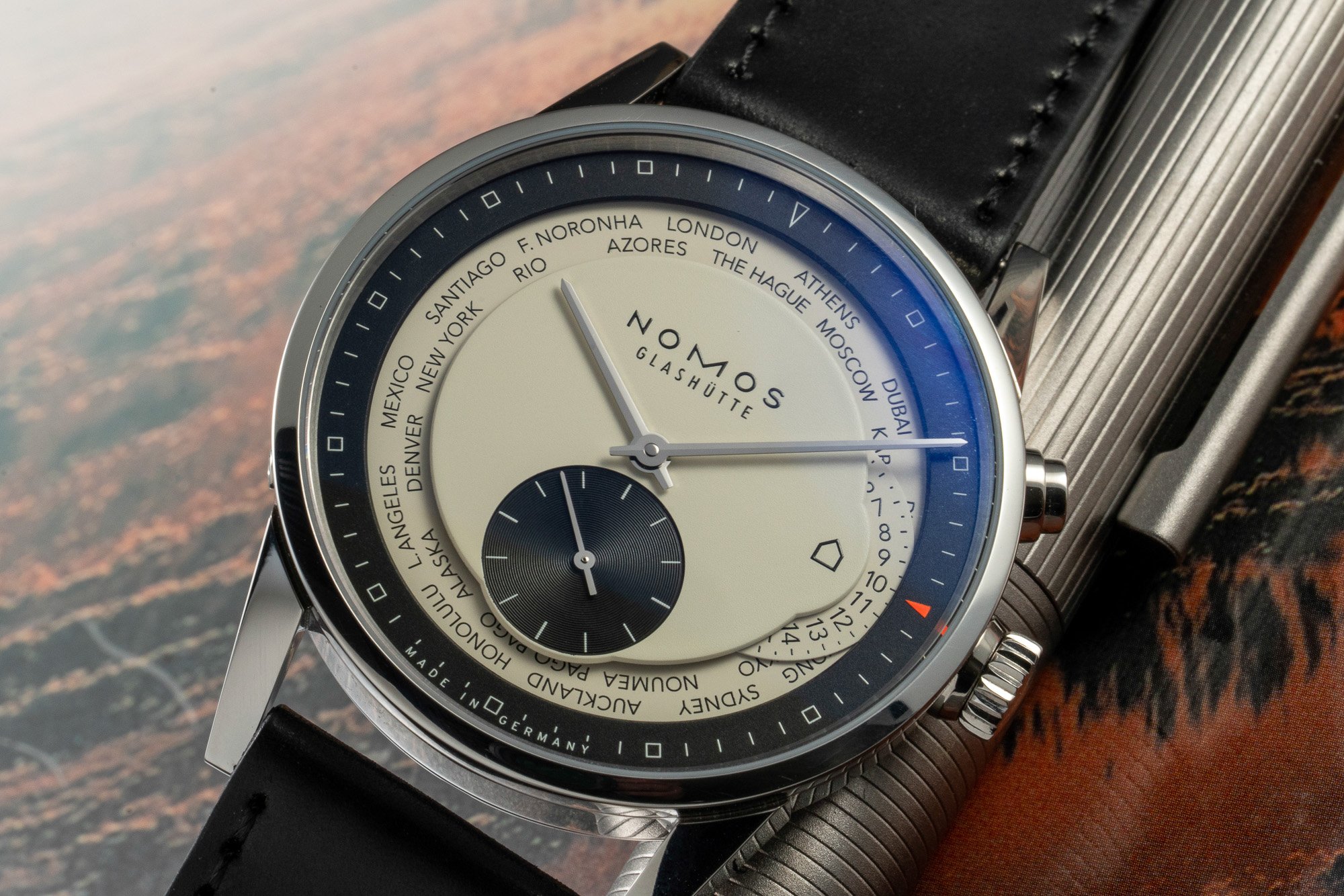 A most satisfying result
I'm having a pretty enjoyable year with these limited edition projects. The Minase Divido hung around for two hours. The Czapek Antarctique sold out in 39 minutes. And now this model. I hope you're enjoying it too and please let us know in the comments which one is your favorite so far and which brands you'd like us to work with in the future.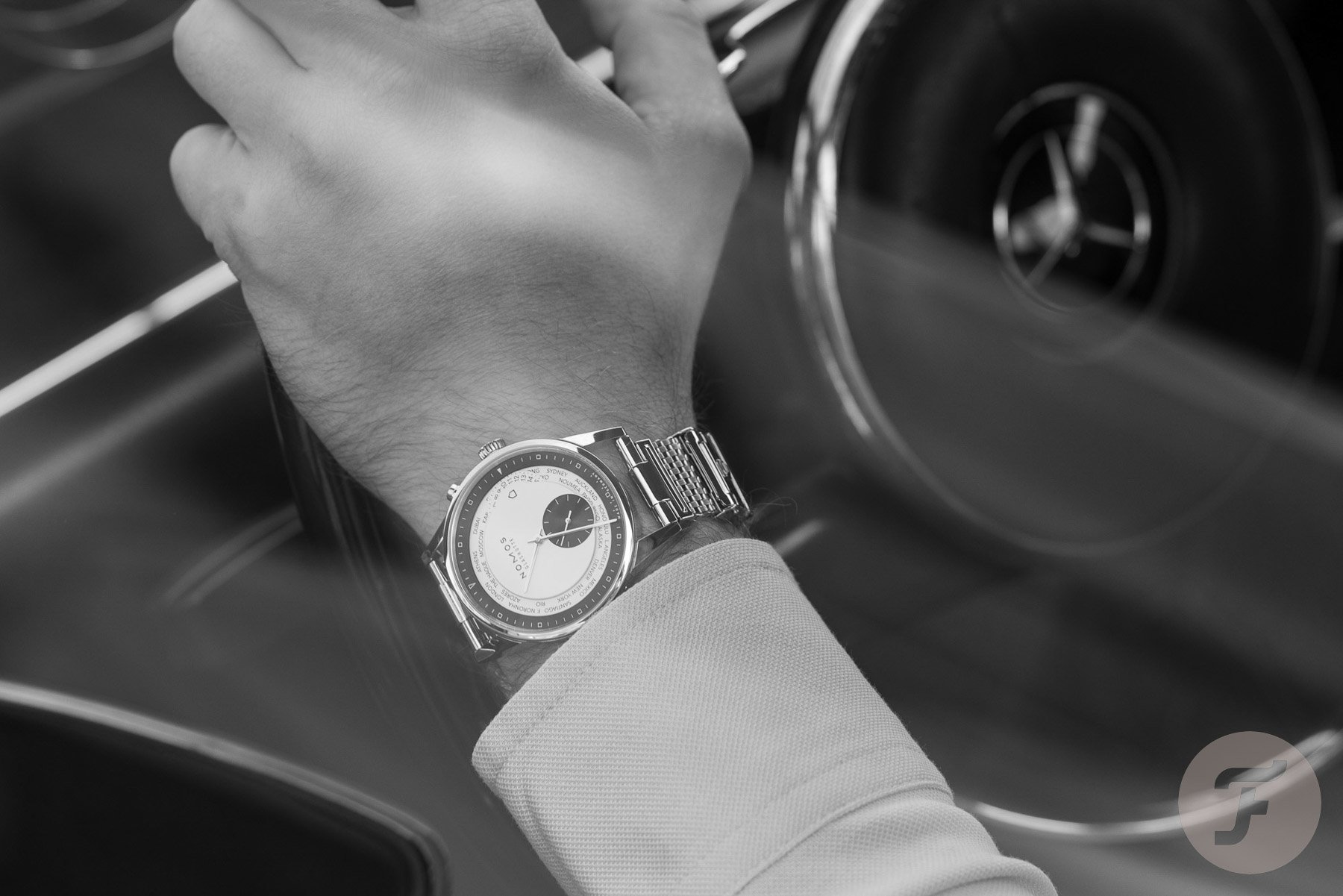 Every time I look at this watch, I feel I have seen it before. It feels normal. It feels natural. Doing something new but keeping it entirely on brand is where the challenge of watchmaking lies. It is also where its greatest satisfaction can be found. This piece has been three years in the making and represents a high point in my relationship with NOMOS that I look forward to deepening over the years to come. I feel truly honored that the brand that turned me into a fearless (and frighteningly frequent) flyer should have such trust in me — fingers crossed that you agree it wasn't misplaced.
If you'd like one, you'll be able to buy one in the Fratello shop on September 30th from 6 am CET (Glashütte time), but in the meantime, you can visit our dedicated landing page. The price is €4,620 including VAT, which is exactly the same as the standard Zürich Weltzeit model. The Fratello × NOMOS Glashütte Weltzeit "The Hague" model will be limited to 25 pieces and available worldwide. Hit us up in the comments if you manage to snare one for yourself. To those of you that do, welcome to team Globetrotter.