G-Shock GMW-B5000D-1ER – 52Mondayz, Week #48-2019
Let's get digital, digital, digital
I am a kid of the 1980s, and although I had some watches before, the first watches I bought myself (being a kid) was a digital Casio W-14 in 1986 or so.
I was aware of the larger G-Shock models, but I was a small kid, and it looked ridiculous on my wrist. But, I was thrilled with this W-14, and I still have it today in running condition. I had to perform surgery on the watch not too long ago and used a donor W-14 to swap the movement and put some fresh batteries inside. And a new strap, as the original strap was already replaced once, and the second strap was deteriorated entirely in 2018.
Anyway, after the first Casio, many followed, including a G-Shock DW-5000SP, which was a limited run in 2003 celebrating the 20th anniversary of the G-Shock. It had a steel case back and came with a similar 'dial' as the original 1983 G-Shock. When G-Shock was celebrating its 30th anniversary a few years ago with some red models, I bought one of those too. However, I must admit I rarely wear them. Unlike Gerard or Bert in our team, who do give their G-Shock collection a bit of wrist time, mine hardly get to see sunlight. And because of that reason, I stopped adding more G-Shock models to my modest watch collection.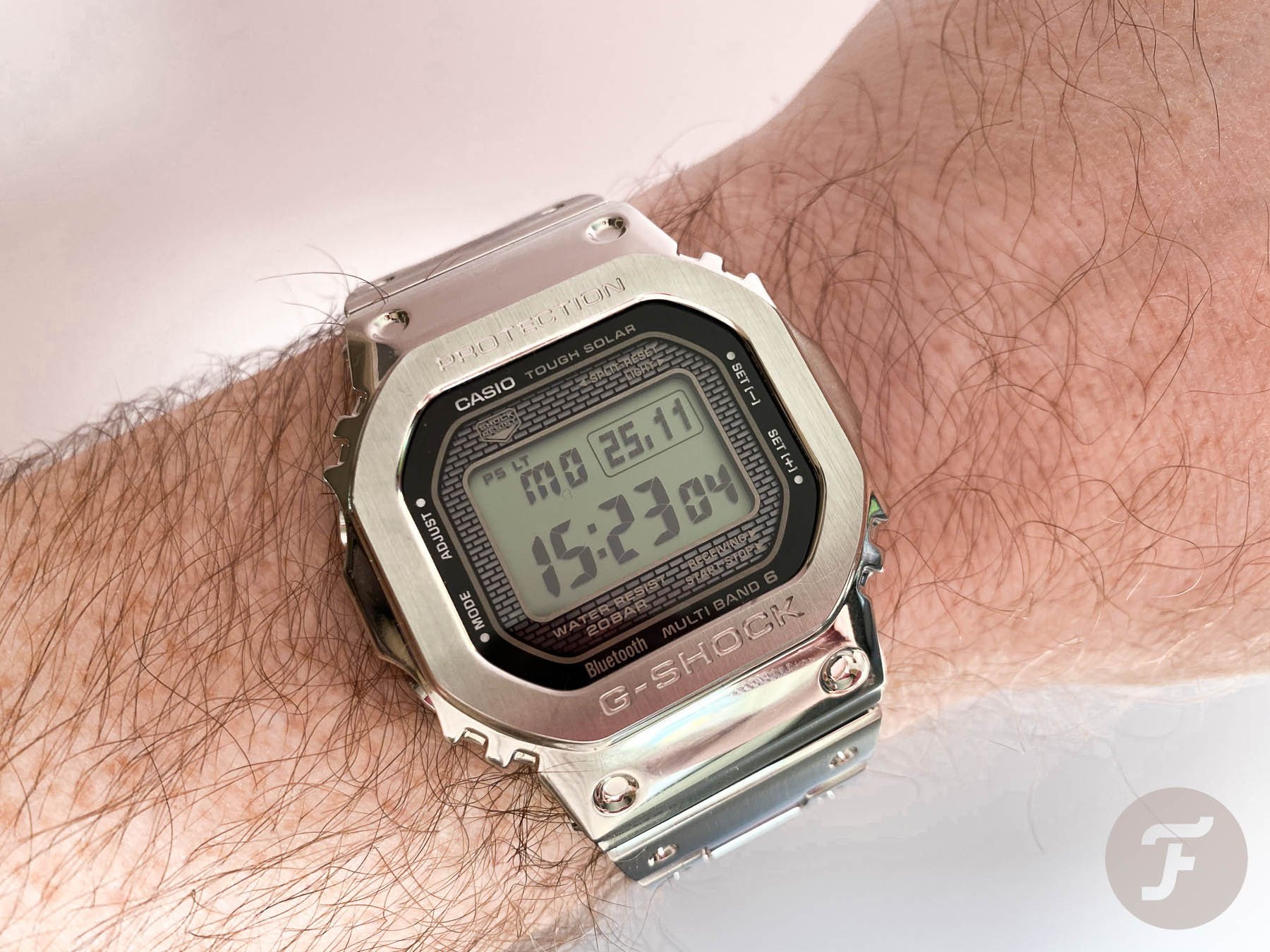 G-Shock GMW-B5000D-1ER
That changed when I noticed two new G-Shock references, the GMW-B5000D-1ER and the GMW-B5000TFG9-CR. The latter came in gold color, using a treatment similar to the well-known PVD coating. Unfortunately, that one sold out quickly, and prices asked for those on eBay are beyond fun. Meanwhile, G-Shock came with a similar gold version, having an inverted display. But my experience with those displays is that they are far more challenging to read. So, I went for the stainless model, the G-Shock GMW-B5000D-1ER. The retail price of this G-Shock is €499 (including VAT), and that's probably immediately the most expensive G-Shock in my collection. Given the fact it is a stainless steel watch justifies the mark-up for this model, in my opinion, so I ordered it.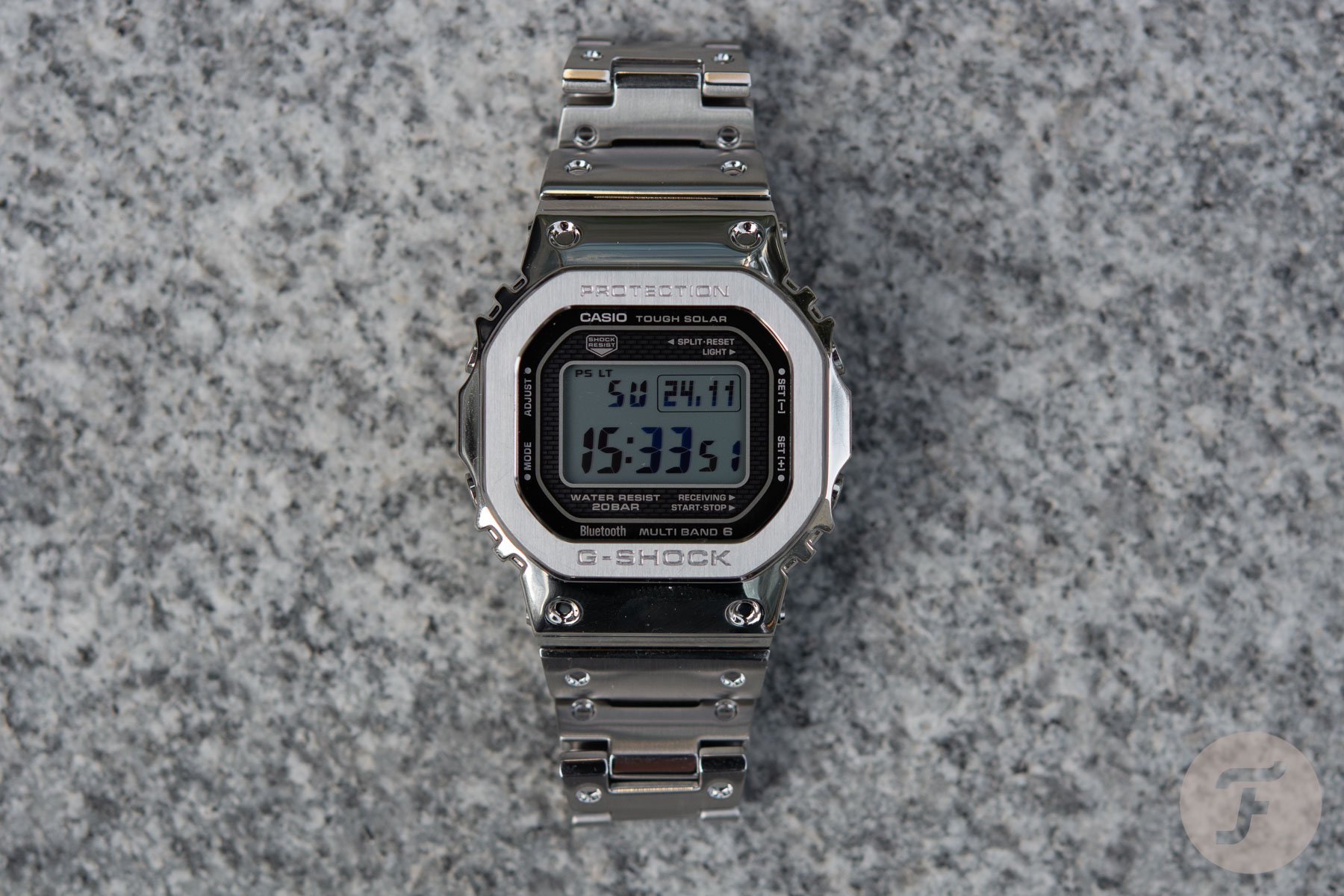 I am not a sucker for specific functionality (I realized that when I bought a G-Shock Mudman at some point, with all sorts of functions I have never used). Still, the radio-controlled quartz movement comes in handy for a very accurate time indication. I was also curious about the Bluetooth function, so you can configure and correct the watch using an app on your smartphone. Just like on my mechanical chronographs, I rarely use that to time events (or at least no sensible events). Some times I use a chronograph to record my travel time or in the rare case when I am in the kitchen making food. When I was a kid, I remember I played with the chronograph (we just called it stopwatch at the time) and make the interval between a start and stop as short as possible. A stupid way to entertain yourself, but at the time, I found some of the classes in school even less entertaining, I guess. One of my other G-Shocks, I think it is the Mudman, has this feature that when you pick up the watch or move your wrist a bit, the backlight will switch on for a few seconds. The G-Shock GMW-B5000D-1ER has this as well, and although it might sound like a non-sense feature, I am happy this function can also be found on this watch. Reading time in low-light condition, especially in the winter where you get up in the dark and go home in the dark during weekdays, can be quite challenging and when the G-Shock automatically switches on the backlight, it saves you from using your other hand to push the 'light' button. Call me lazy, but I like it.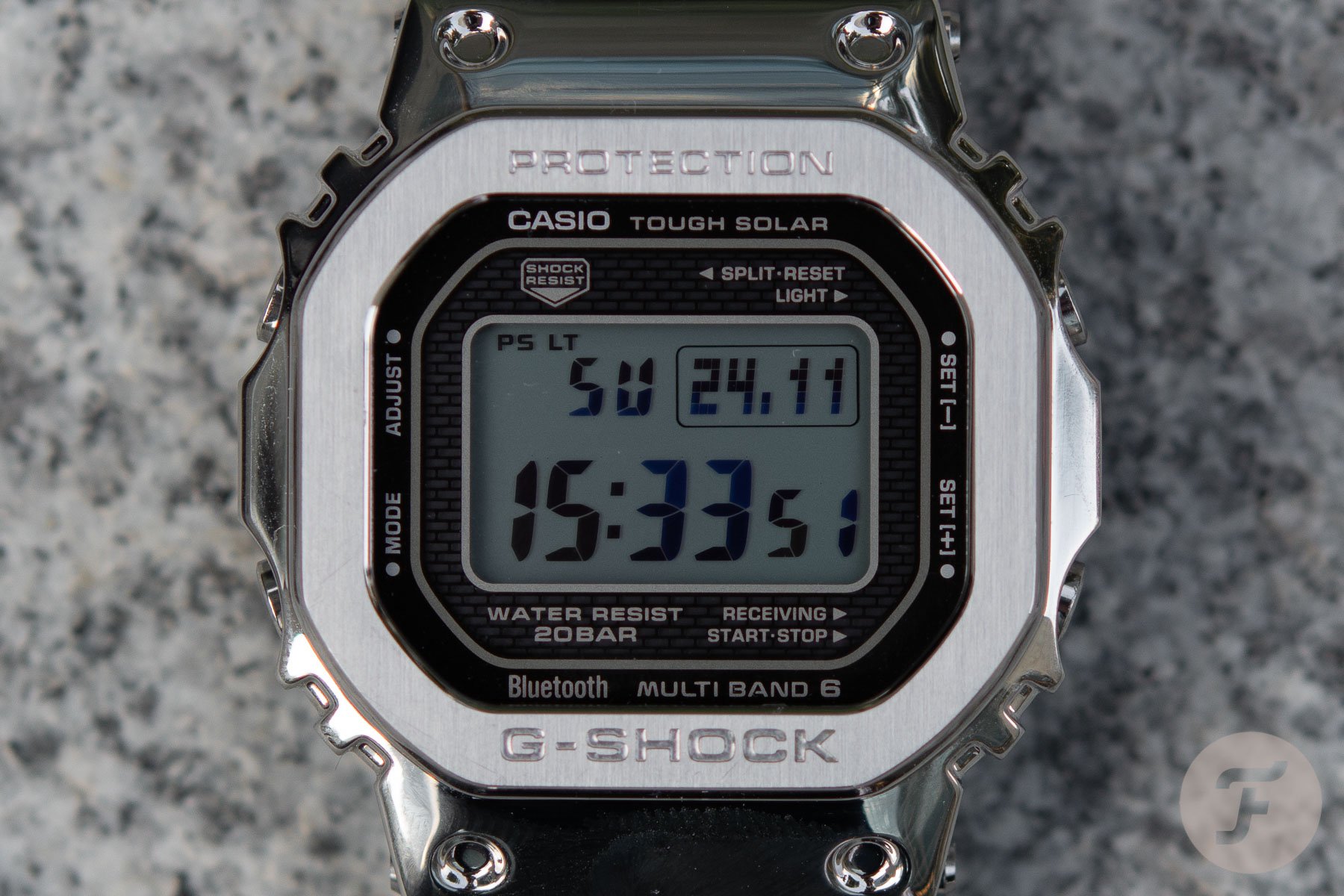 Why I Like The G-Shock GMW-B5000D-1ER
I already touched some points about functionality that I like about the GMW-B5000D-1ER, but none of those are unique to this reference. As said, my Mudman has some similar features: multiband, auto-light etc. I am pretty sure that the Bluetooth functionality also isn't exclusive to this (and the gold) reference. I like all these features, but what I like best about my new G-Shock GMW-B5000D-1ER is the all stainless steel execution of what to me is the classic G-Shock design. I love the very first 1983 G-Shock DW-5000 model best, and I would even say it is an icon in the world of digital watches. This GMW-B5000D-1ER shares the same design values as that 1983 model. Next, the bracelet of this watch is pretty well done. Remember, we are talking about a watch below €500,-, but I am surprised to see what Casio's G-Shock can deliver for that price tag. The bracelet is straightforward to resize yourself, using two small pins to push the spring-loaded pins inside a link and then gently remove the entire link from the next. It took me less than two minutes to resize this bracelet, without damaging any of the links. Then there's a small micro-adjustment in the clasp like the old Rolex clasps had. Just use a toothpick to resize, and you're good to go. The design of the bracelet is based on the black resin straps that came with the original G-Shock models and still do.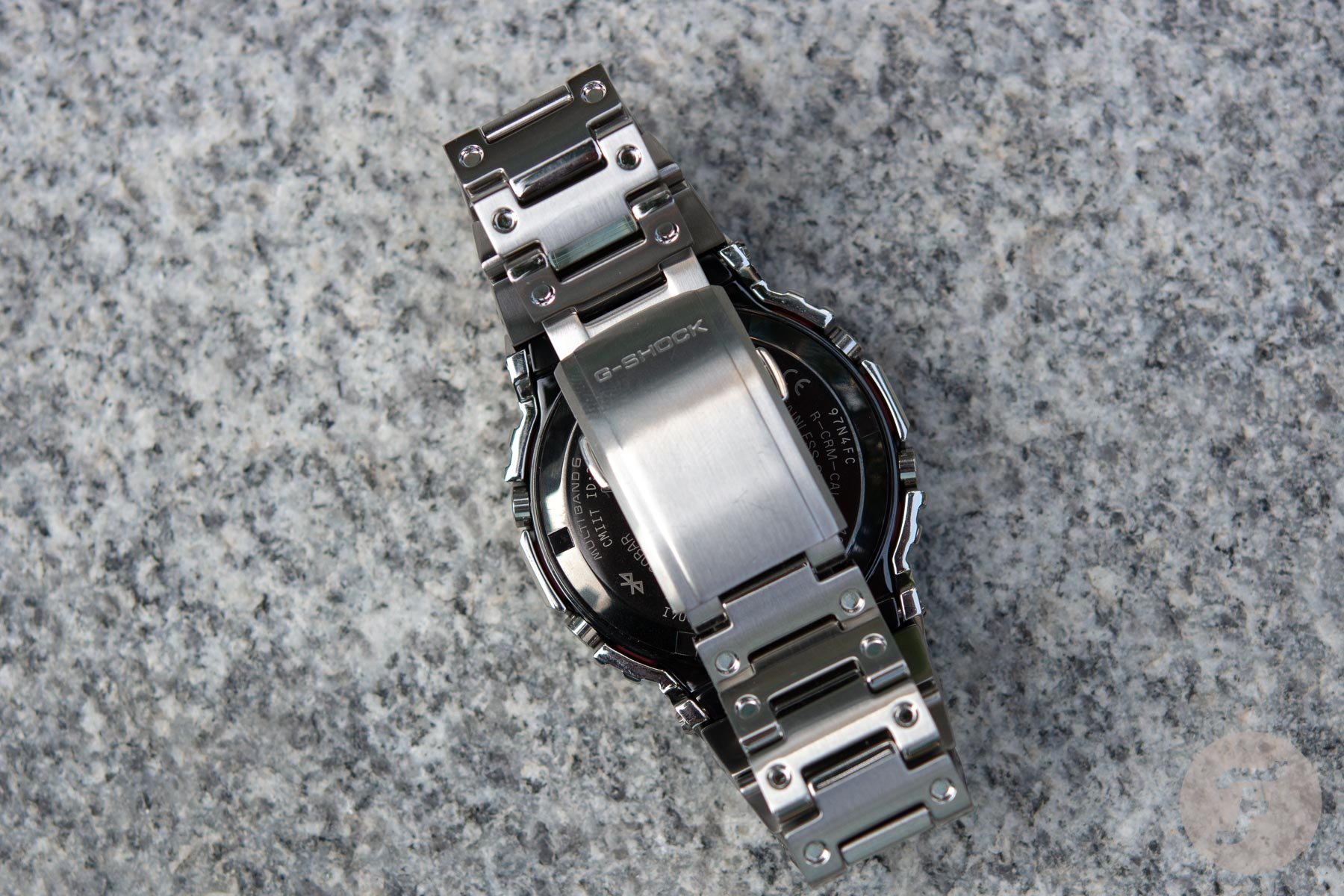 Setting time is also easy. I didn't even take the manual out of the box, as my experience with digital Casio watches since 1986 was enough to get me through the menus of the watch. The functions per button are also on the dial, so anyone who has a bit of a feel for these things will manage. Most important is perhaps to set the time and correct time zone. By pressing the upper left button, labeled 'Adjust', you can have the watch pick-up the exact time from the radio signals (in my case, this signal comes from a tower in Frankfurt). You keep the button pressed for a while (the screen also says 'Hold'), and it will be all done automatically for you. With the pushers on the right side, you can go through the different timezones. I set mine to Paris (GMT+1). I fiddled around to get the watch to a 24-hour indication, and I also found a way to correct the time manually. If you encounter problems to find the proper settings, it is either time to get the manual out of the box, or – better yet – install the G-Shock app on your iPhone. After you're done, you press the lower-left button ('Mode') for 3 seconds, and it will connect with the app on your phone. There, you can set and correct the time, set a different timezone, and program the alarm, timer, and reminder functions. Aside from the alarm, I am pretty sure I will never use those functions.
Will I Wear The GMW-B5000D-1ER?
I am convinced this watch will not replace any of my mechanical watches or digital Speedmasters (a vintage one and the X-33); those have a different meaning in my collection. I am also sure I will not wear it as much as my Apple Watch, that I happen to use when I play golf or use it as a second device once in a while (meaning I still wear a normal watch on my left wrist). But, unlike my black resin Casio watches – or even my Apple Watch, this stainless steel G-Shock GMW-B5000D-1ER has more body to it. It is a perfect watch to wear when I don't want to risk losing or damaging my precious mechanical watches, go swimming (200 meters), visit places that are somewhat dangerous for wearing expensive things, etc.
The price of €499 might be a shocker (no pun intended) for those who are used to much lower prices for digital Casio watches, but I don't feel it is overpriced for a watch with this built quality. I do wonder how long the app will be supported, for example. For a watch with this price tag, you do expect some longevity, of course. My experience with all sorts of 'connected' gadgets is that at some point, support stops, and you might risk you can't use it anymore. That said, the Bluetooth standard is already longer in use than I expected it to be, so it might be the norm for years to come (and be supported). With regards to the stainless steel bracelet and case, I didn't wear it long enough to see how it holds up against scratches and daily use over a more extended period. The high polished case (especially where the bracelet is attached) seems bound to show scratches (as it does with fingerprints), and I am curious to know what it will look like in six months from now, for example.
More information on the G-Shock GMW-B5000D-1ER can be found here. Below, you will find the spec sheet for this particular watch.
Watch specifications
Case Material
Stainless Steel
Case Dimensions
49,3mm (height) x 43,2mm (width) x 13,0mm (thickness)
Movement
Digital quartz movement, solar power and radio controlled
Water Resistance
200 meters / 20 bars
Strap
Stainless Steel with pusher-release system and easy extension inside the clasp.
Functions
Got a minute? It's enormous: time, stopwatch, timezones, radio-control, battery-level indicator, automatic calendar (day/date/month/year), multi-language, alarms (5), illuminator, Bluetooth, and the list goes on.
Warranty
Two Years International Warranty
Special Note(s)
This watch weighs approx 167 grams.