#TBT A Big And Elusive Vintage Beauty — Gallet By Racine Excel-O-Graph
A watch that puzzles me like only a few watches can
To find a sleek Gallet Excel-O-Graph chronograph watch from the 1970s with the desirable Excelsior Park movement is no easy feat. Many Gallet collectors are out there, searching for one even as we speak. What always puzzled me is the fact that for such a striking design coming in at an admirable 42mm diameter, it is a vintage watch that gets suspiciously little coverage.  
Think of any top-of-the-line watch and I bet you will find a ton of adverts, catalogs, books, or online forum threads that would take two lifetimes to read. The Gallet Excel-O-Graph flies low on the radar, and there isn't much at all out there to study. That's why I reached out to Gallet enthusiast Daniel Horton. For years Daniel has been working on a time-consuming project of understanding the serial numbers of Gallet watches in different eras.
Mystique Gallet Excel-O-Graph
"The short answer is that I did not get any useful info on the Gallet Excel-O-Graph," says Daniel and adds the only piece of trivia he found, an Excel-O-Graph advert from 1976/1977. "There's no room for error at 4,000 feet!", says the headline. Well, that's a pretty clear hint as to who this watch was intended for and why it might remind you of the famous Breitling Navitimer. After studying Daniel's serial number project I found that the first Gallet Excel-O-Graph was listed around 1971. This is actually approximately a whole decade later than the date some online sources claim the Excel-O-Graph was first introduced, including Gallet website. What we know for sure is a fact, that all Excel-O-Graph watches with EP40-68 cannot be older than 1968.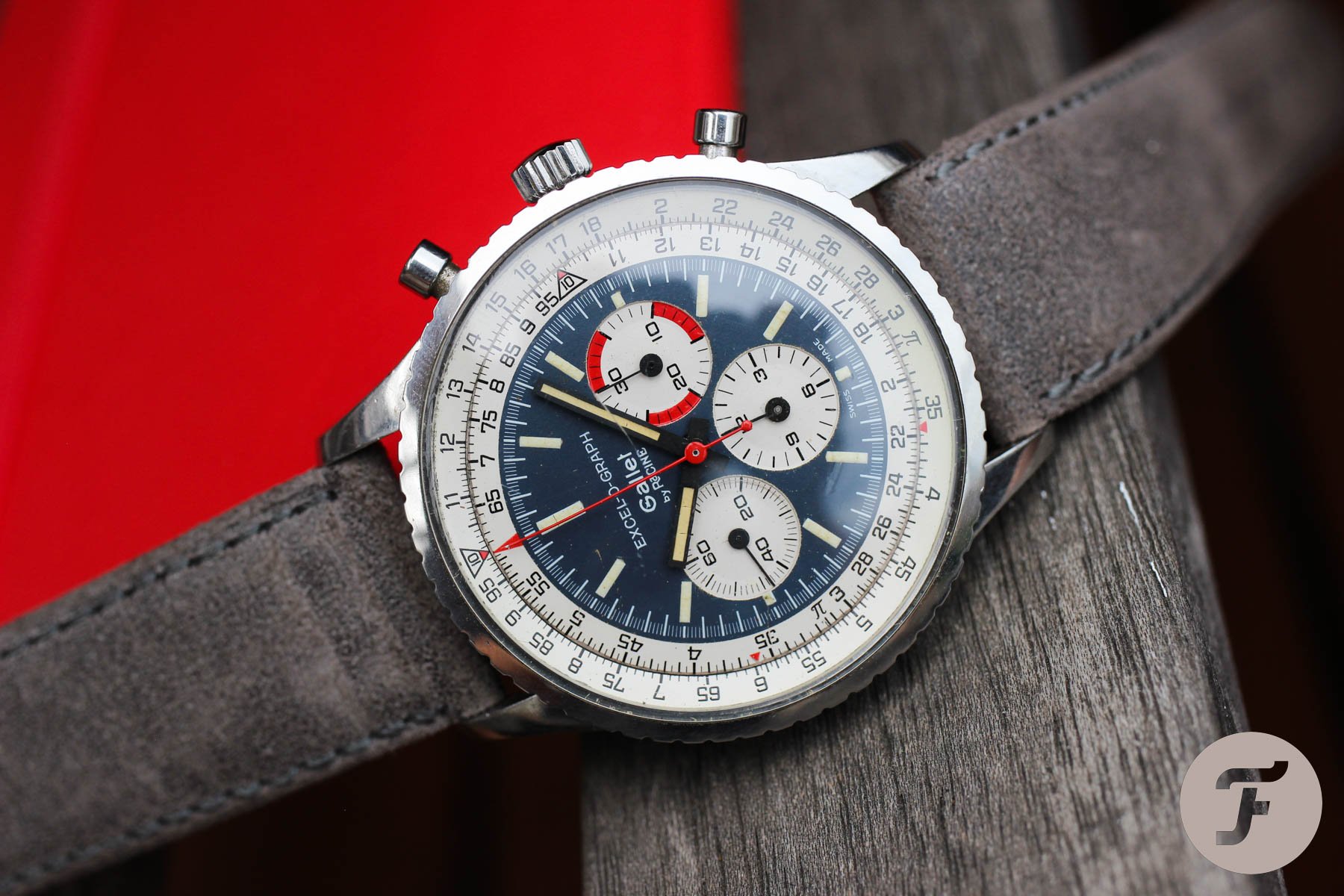 Long-awaited book
I have great news for all you Gallet enthusiasts out there. I know that the leaders who are keeping the Gallet heritage alive today are working on a special book. One that is intended to be the most complex, rich, and visual coverage of Gallet's history and production. The book will hopefully feature many previously untold stories, documents, and other materials. We already agreed with Gallet representatives that one of the earliest copies will come to Fratello, so we can bring you a proper book review. I personally hope that I will also find more insights about the Gallet Excel-O-Graph in it.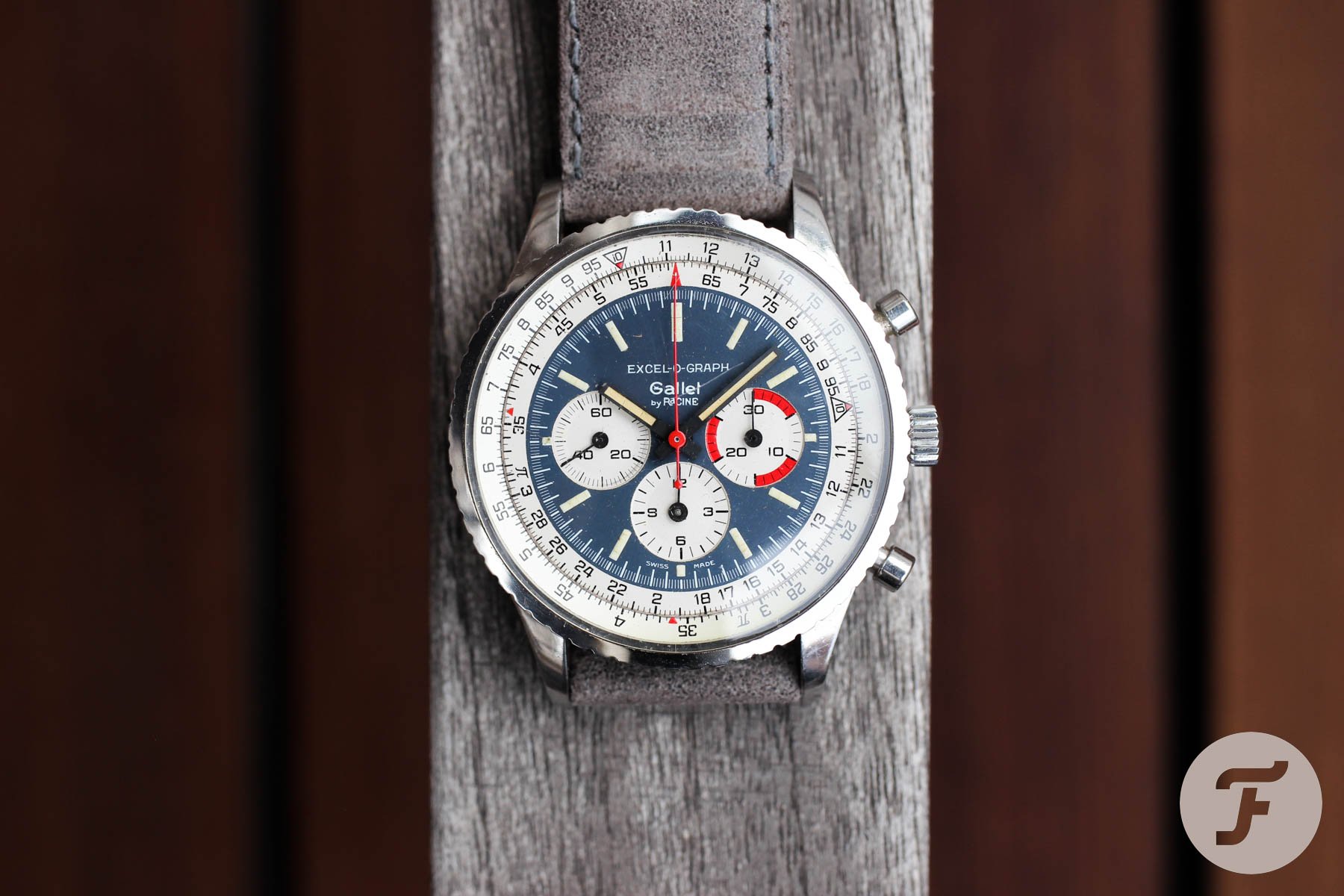 A lucky find — how I got my Gallet Excel-O-Graph
It was not even really a find. My search for the Gallet Flying Officer had gone on for some time when I saw an online post saying one collector is selling his. I got in touch, we talked it over until both of us were happy, and we made a deal. Just in case, I asked if he had any other Gallet watches available for sale. To my great surprise, he said he could imagine parting with his Excel-O-Graph at some point in the future. Well, that point in the future, as it turns out, was just eights months later. I was stoked to learn, that the watch is the exact same piece that was shot for the official Gallet website. It has some minor scratches, but otherwise, it's all original.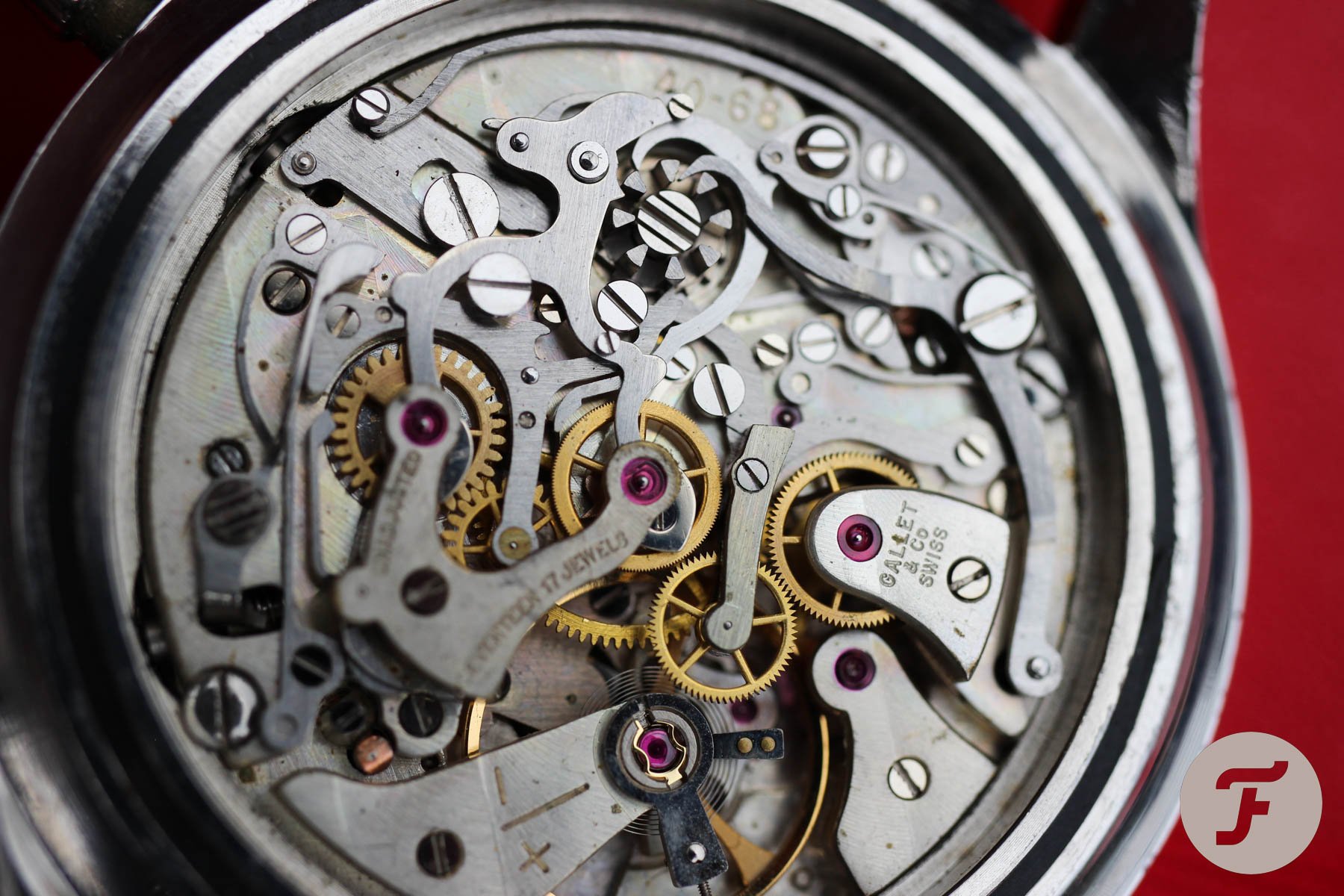 Multi-functional tool
The Gallet website says that the Excel-O-Graph was designed for aviation, navigation, engineering, and scientific use. Similar to the triple register Breitling Navitimer ref. 806, the rare Excel-O-Graph has a rotating bezel for precise calculations. Let's stop right here. We buy these watches (I assume) because we love the design or admire their functionality. We do not actually need them. With most of us owning smartphones capable of doing complicated calculations without even touching them (high five Siri), I doubt many vintage watch collectors would go as far as to do the following to divide 425 by 16: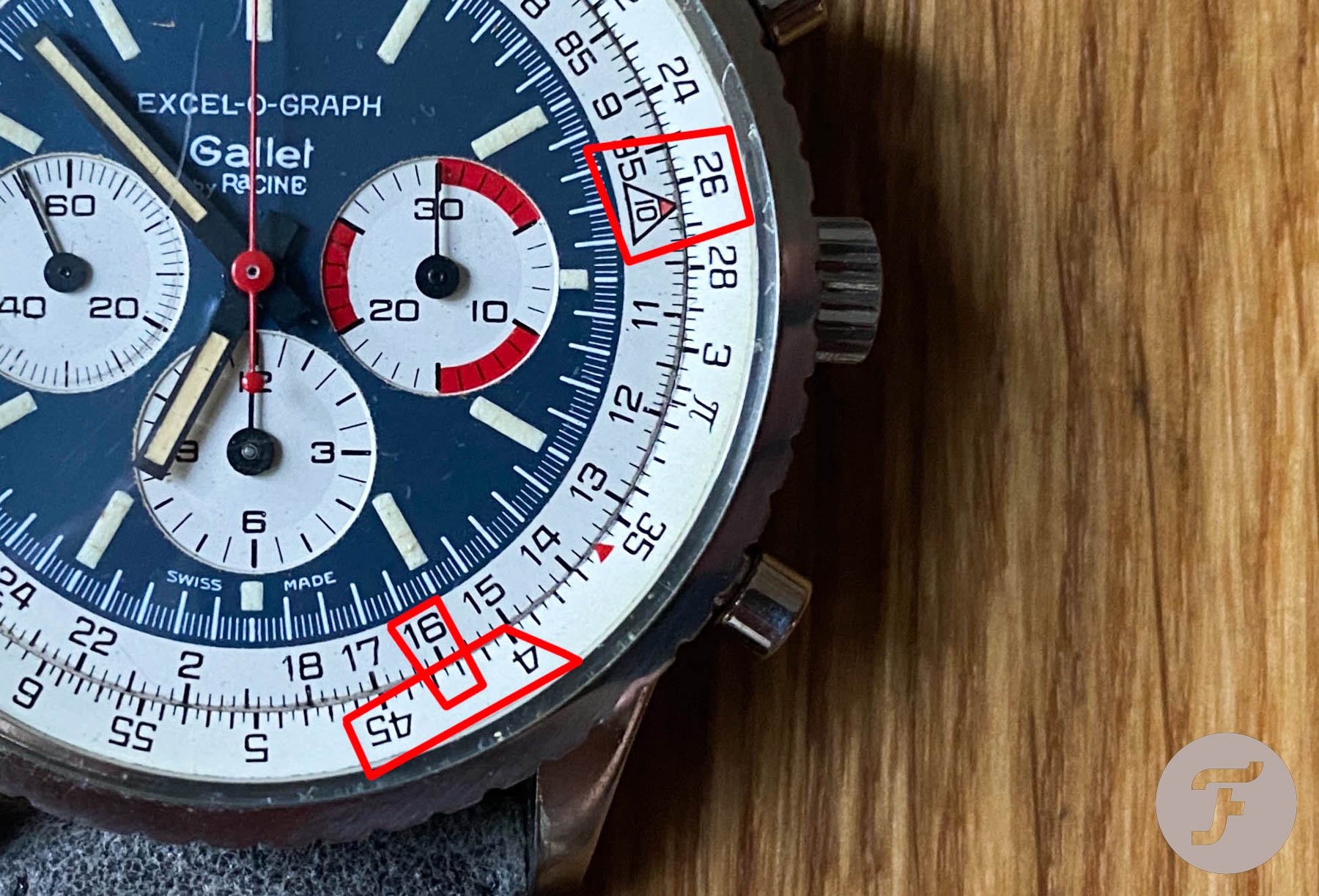 To divide 425 by 16, you rotate the outside number 425 opposite the inner figure 16. The result — 26,5 — can then be read on the outer circle opposite the triangular mark ten. Well, I do have four watches with a circular slide rule, but I do not use any for their intended purpose. The "problem" is, that running the calculations isn't the same, hence not very easy. In the case of multiplication, you set the multiplier on the outer circle opposite the triangular mark and the result can be read on the outer track. Not too complicated, but it requires a lot of training to remember what should be the element of focus. And if you tend to wear several different watches, then its hard to spend enough time with one to get the necessary training.
I wish I could use it swiftly
All I'm saying is that me wearing this watch today is miles (or 4,000 feet) away from my romantic vision of the very same watch being used as a mini-calculator fifty years ago. I imagine an engineer rotating the bezel in his fingers to the right and left so fast, that my eyes can't keep up. I respect the watch for its looks and what it's capable of. But the fact that there was somebody using this Excel-O-Graph's functionality daily is hard to imagine by today's standards.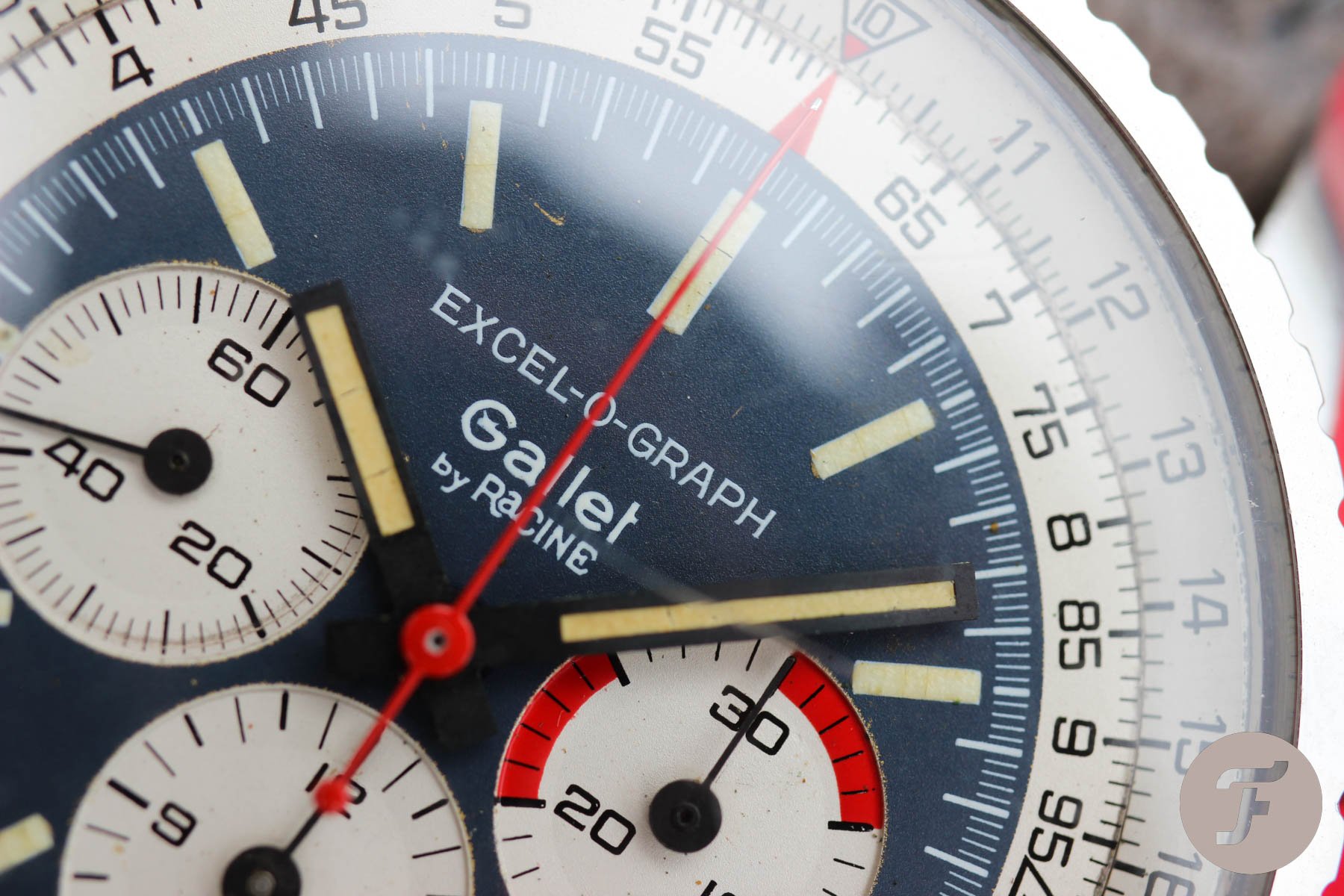 Visual joy
I think we can all agree that buying and enjoying this watch for purely aesthetic reasons and the high-grade movement is more than enough. The indigo blue dial isn't playful and looks rather serious. It's the red accents splashed all over the dial and the slightly yellowish hands' patina that give the watch a vivid young character. To better understand the red elements playing an integral role in the calculations, head to the image gallery to learn more about all the possible features that include distance or speed.
What is completely stunning is the majestic 42mm diameter that would easily match even a modern Omega Speedmaster. On the wrist, it's quite the statement. But not in an opulent way, as it still manages to look rather sophisticated, old-school, and (maybe almost boringly) neat. The deep pale tones on the spacious dial are a testament to this watch's wrinkled and wise nature. The red accents whisper that there is still a lively spirit inside. There was also another dial version with a grey dial, but I find the blue one more attractive.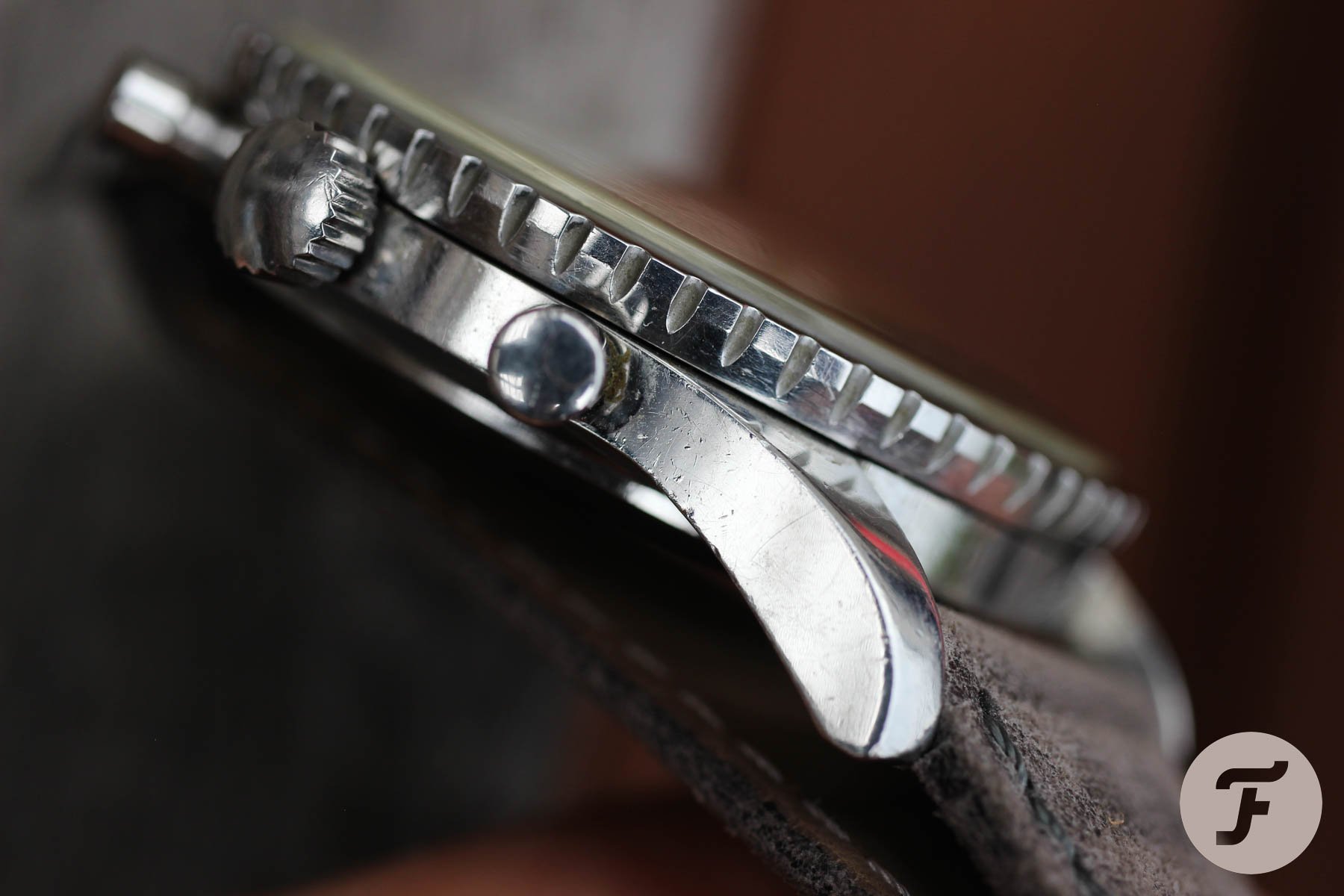 Shotgun notes
There are no unnecessary curves to the case, just a most simple round shape. It's so perfectly round that it reminds me of the top-view of a can that was just run over a truck. The Excel-O-Graph is surprisingly flat and happily slips under the cuff. The 22mm lug width is another parameter shared with vintage Navitimers. The chronograph movement EP 40-68 is one of the finest of the era. Having one watch in your collection with this fine caliber inside should be mandatory.
Final thoughts on Excel-O-Graph
You can also find the Excel-O-Graph, which, by the way, is a totally awesome name, branded on the dial with the Excelsior Park manufacturer name alongside it. Or even Sinn, or an even more exotic name such as Elka, which was one of the first authorized Rolex concessionaires in the Netherlands. Did you notice the price tag? €5,800 isn't low, but the Excel-O-Graph deserves it. While all black Navitimer ref. 806 are slowly crawling to (or even past) the €10k mark, I say that now might be the right time to put this one on your radar. Happy hunting!