Genteel Handmade Shell Cordovan Watch Straps Made To Last A Lifetime
Age old techniques at their finest
Shell Cordovan watch straps enjoy a special status in the watchmaking world. A material that was, not so long ago, more associated with shoes or bags, is now one of the most sought after leathers in the industry. It is notoriously difficult to achieve bright colors with Shell Cordovan given the natural vegetable tanning process favored by the world's best producers. However, as techniques evolve and demand grows, the very best of the best have set their minds to broadening the scope for the rest of us. Genteel Handmade, one of our favorite strap makers, is a direct beneficiary of this movement…
Every single shell cordovan watch strap created by Genteel Handmade — and I mean every single one — is created with the same philosophy in mind: that a cordovan watch strap must be a durable and unique object brought to life exclusively for its owner and their timepiece.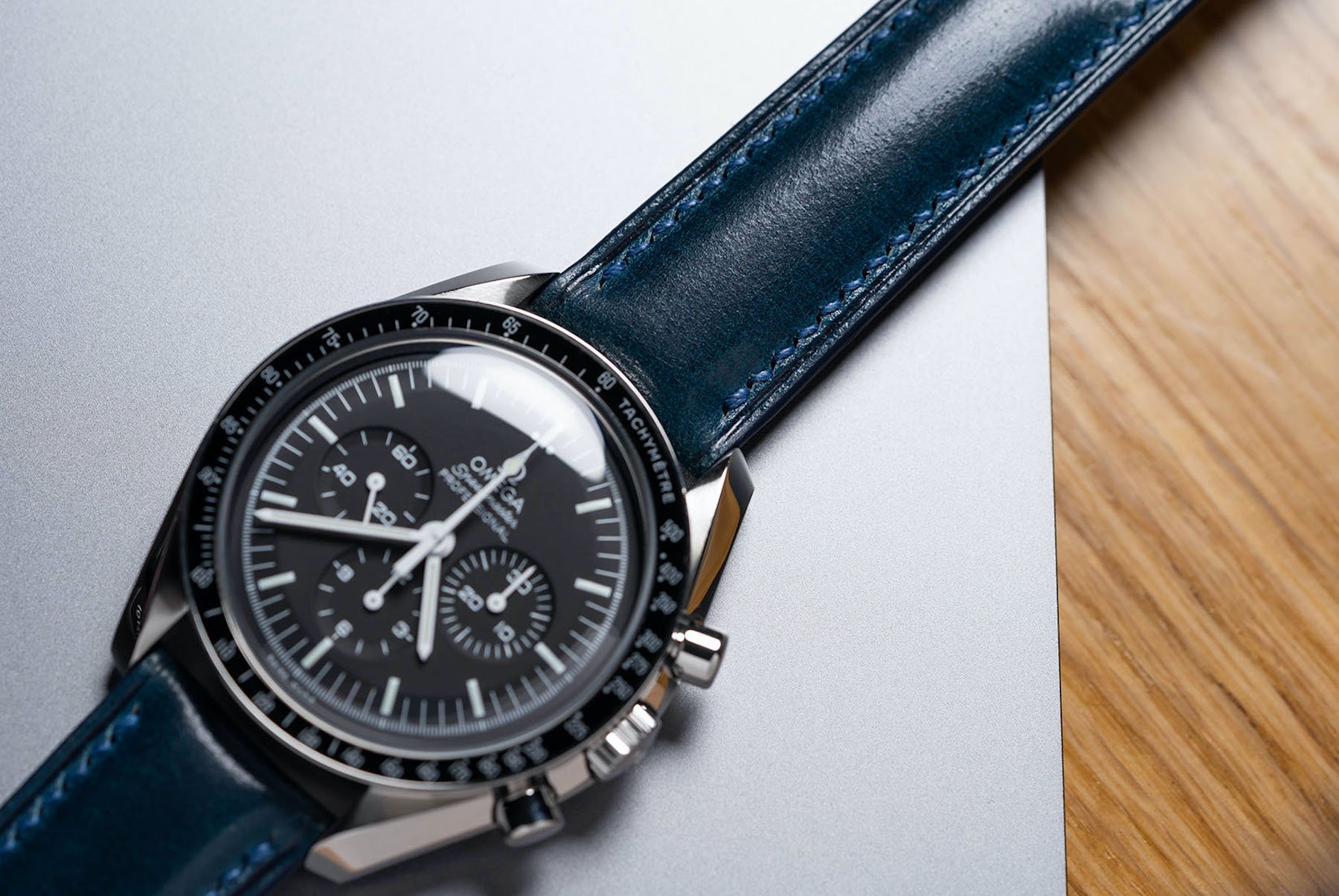 Focusing on straps using a macro lens is an unforgiving practice. There are very few straps I've owned and worn to death that would look quite so perfect as these ones do under the most brutal lens we could lay our hands on. And yet here we are. I encourage you to really scrutinize these images because they communicate a telling tale.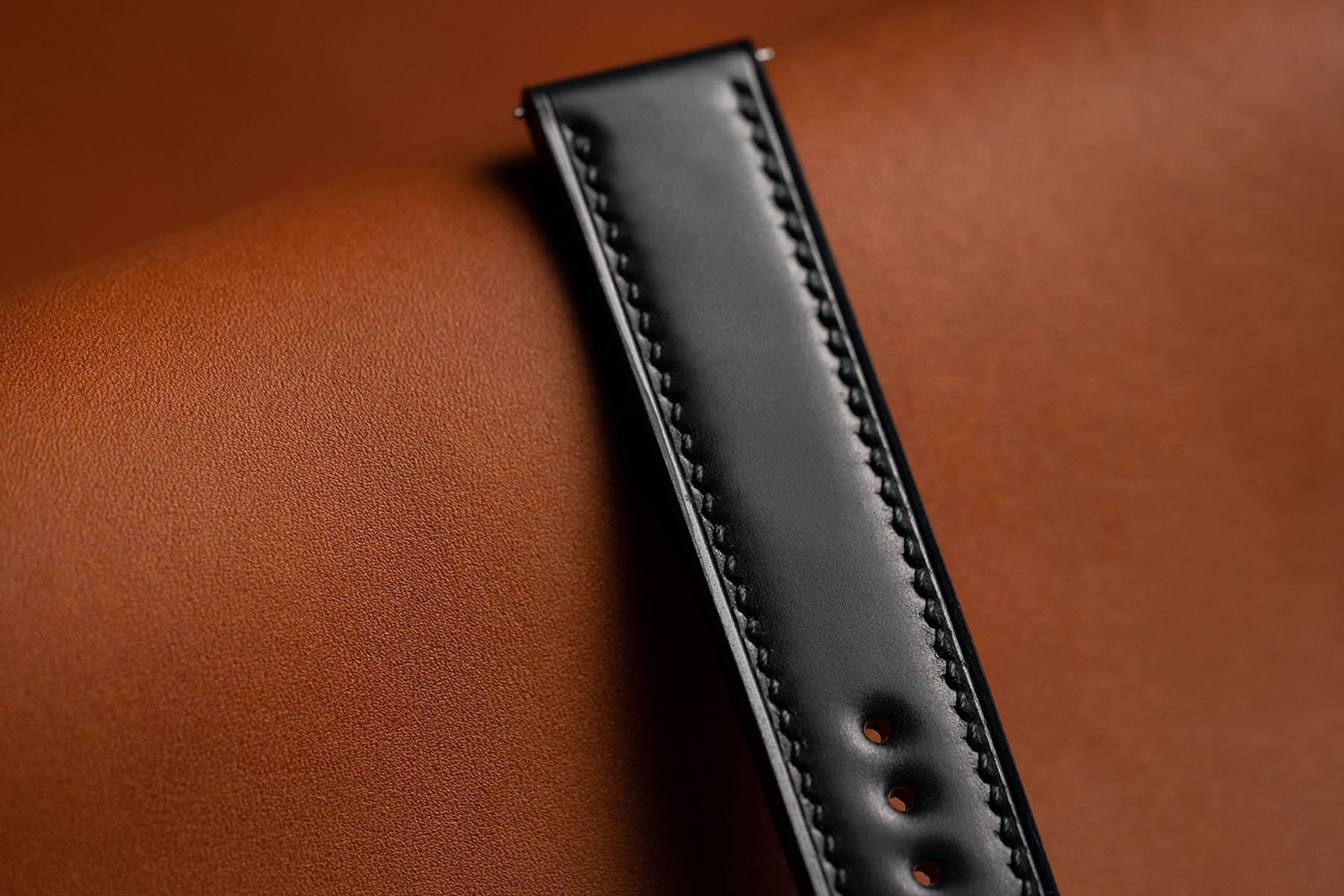 One of the most durable leather watch straps in the industry
Shell cordovan is a vegetable-tanned leather which means that the straps are exceptionally durable and age very well. Every shell cordovan watch strap develops a very unique patina over time reflecting its wearer's unique style and personality. Having worked for NOMOS Glashütte in the past — a brand that was using Shell Cordovan for years before many marques caught on to the notion — I can attest to this fact.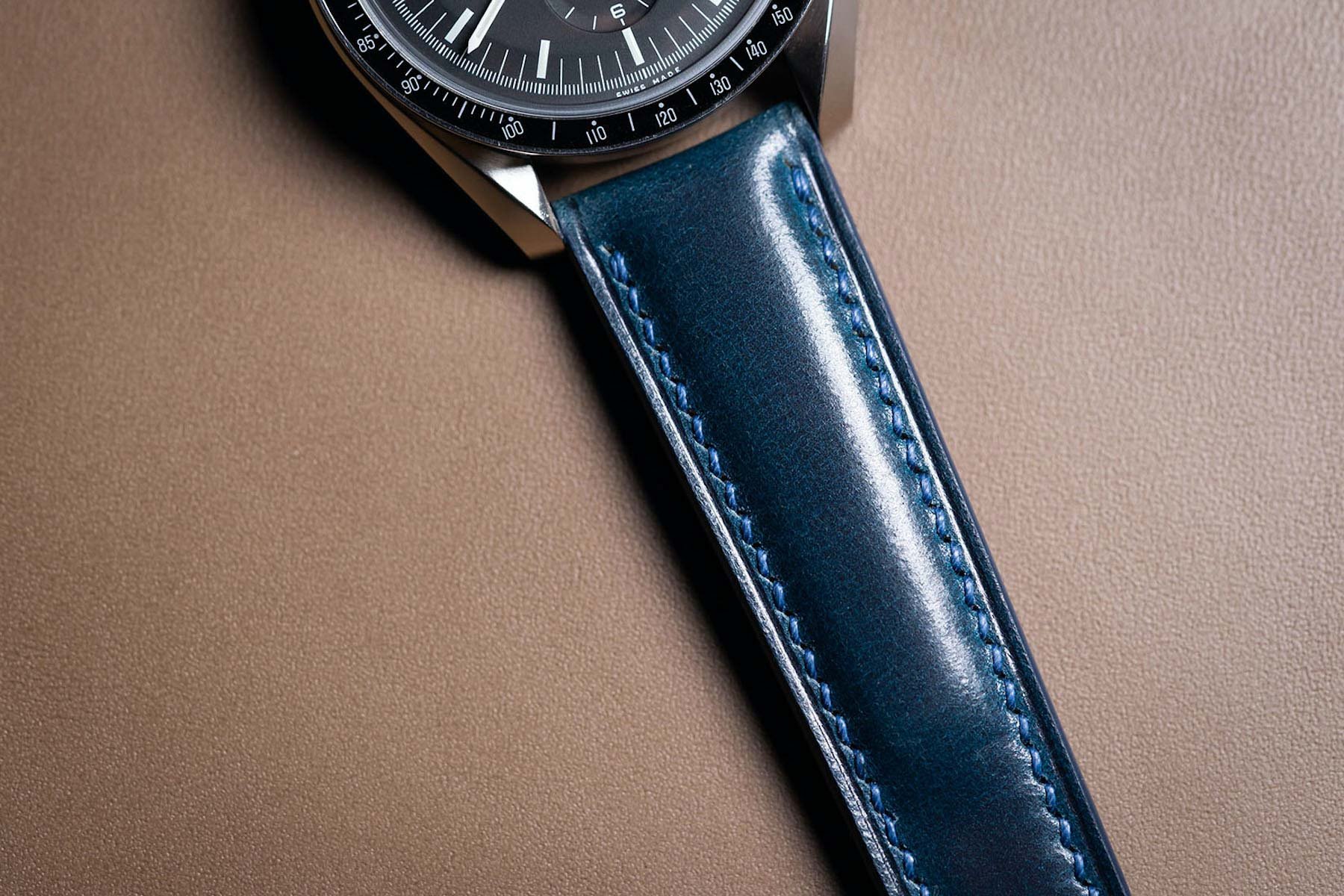 I've worn dozens of different Shell Cordovan straps over the course of my career. Consequently, I can say this: no two were identical. Some aged evenly. Others took on a mottled, smokey effect. I wore some in cold climates and some in warmer weather. Occasionally the surface would become smoother and glossier with time. On some straps, a rougher surface appeared.
I cling to my weirdly aged Cordovan straps because they are special, genuinely unique.
In my younger years, this kind of personality would have horrified me. I would have preferred a more uniform aging process that was easier to predict. Having worn this material for years, I can safely say my feelings toward it have changed. Now, I cling to my weirdly aged Cordovan straps because they are special, genuinely unique. To have the opportunity to have one customized to my desires by an experienced hand like Genteel Handmade's is a real treat…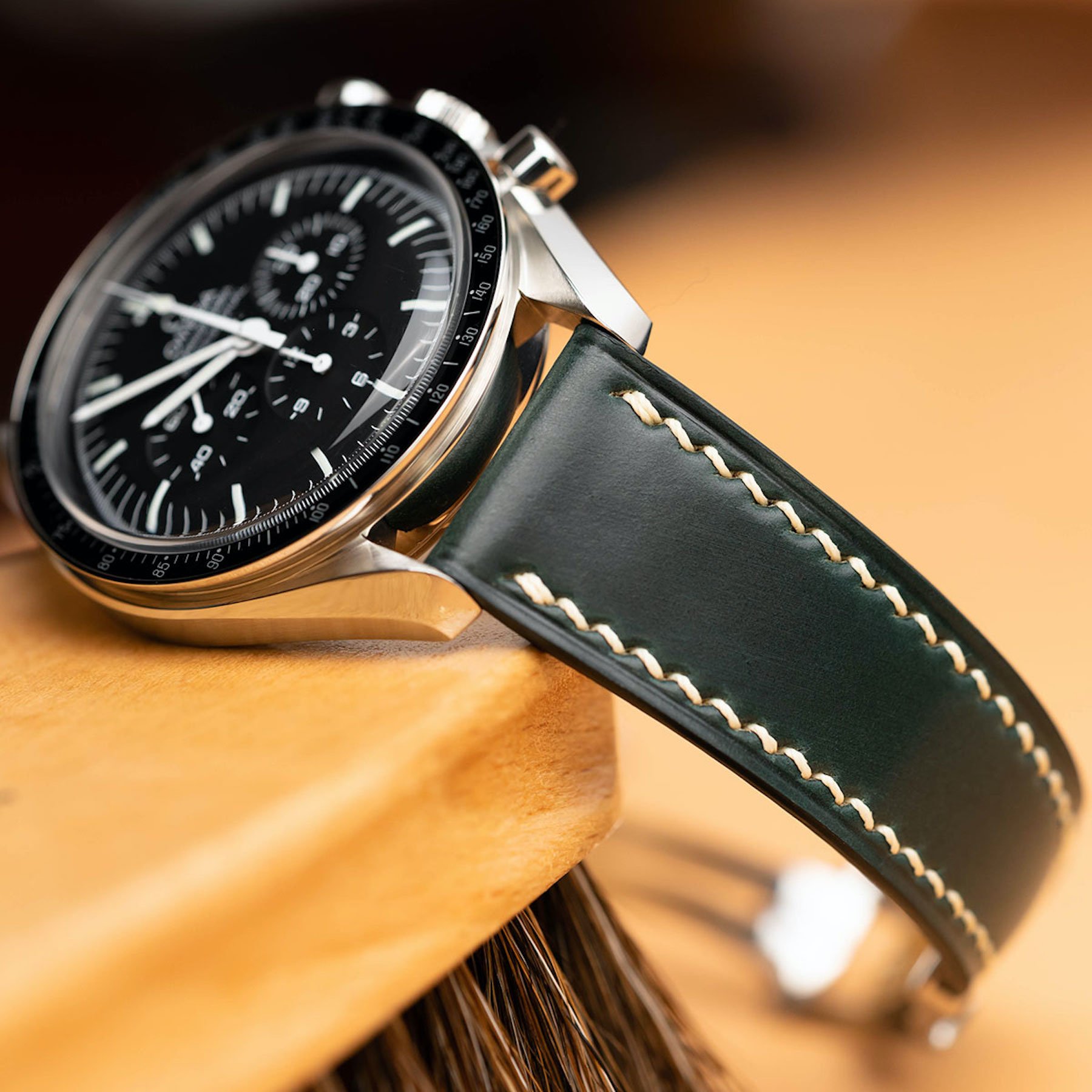 Shell cordovan watch straps have character
The production process of Shell Cordovan watch straps is very complex. It requires 6 months and hundreds of processes in order to produce a high-quality shell cordovan leather. Also, every single strap is entirely made by hand in an intricate process that requires skills that take years to learn. It's a tough leather to work with and getting to grips with its nuances with enough precision to achieve the kind of result you see here is just breathtaking.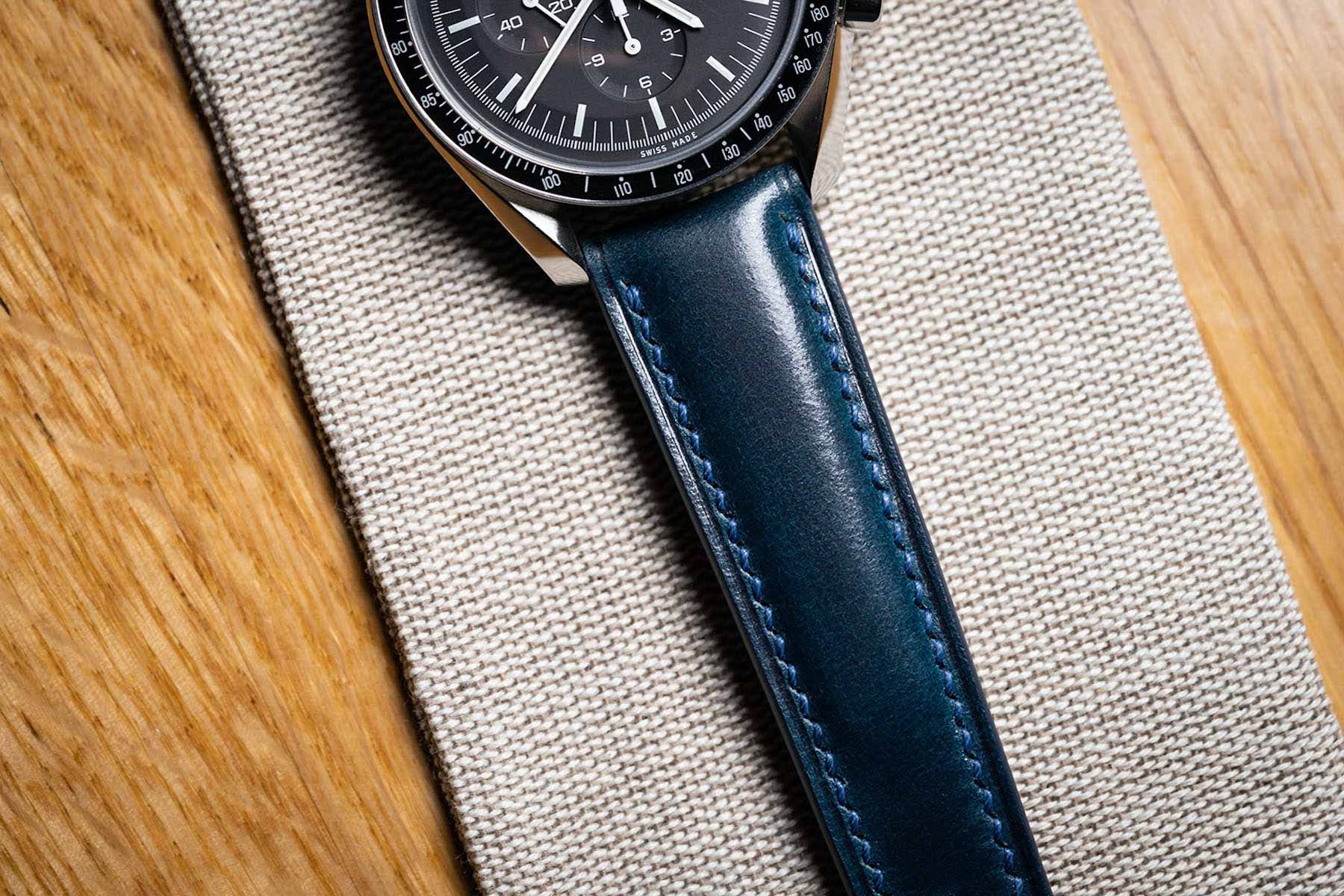 Watch straps made with shell cordovan leather may last a lifetime if you take care of it properly. That's the goal with Genteel Handmade's straps. That's why the brand has chosen to line the straps with waterproof vegetable-tanned leather as standard. From top to bottom, these straps are designed to withstand the rigors of life and react positively to their environment.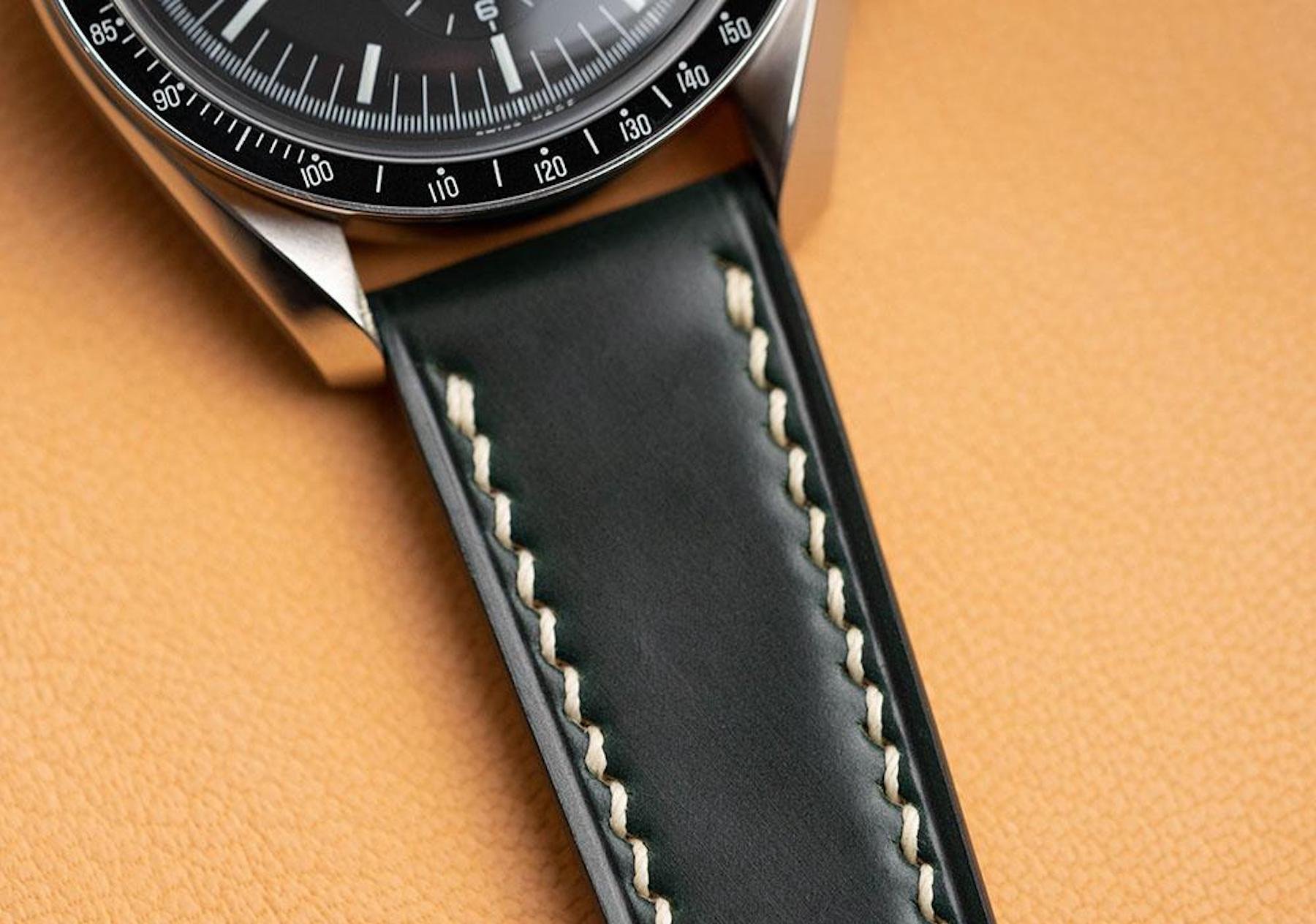 Color me impressed
As I said, colors are hard to come by in the Shell Cordovan universe, but Genteel Handmade offers four rich shades to get your teeth into. There is the ubiquitous black, with which the material is most commonly associated. Rather than a deep chestnut brown (a color which is achievable with this kind of leather), GH has opted for a warmer, more inviting shade of cognac in addition to a rarely seen (but much-appreciated burgundy).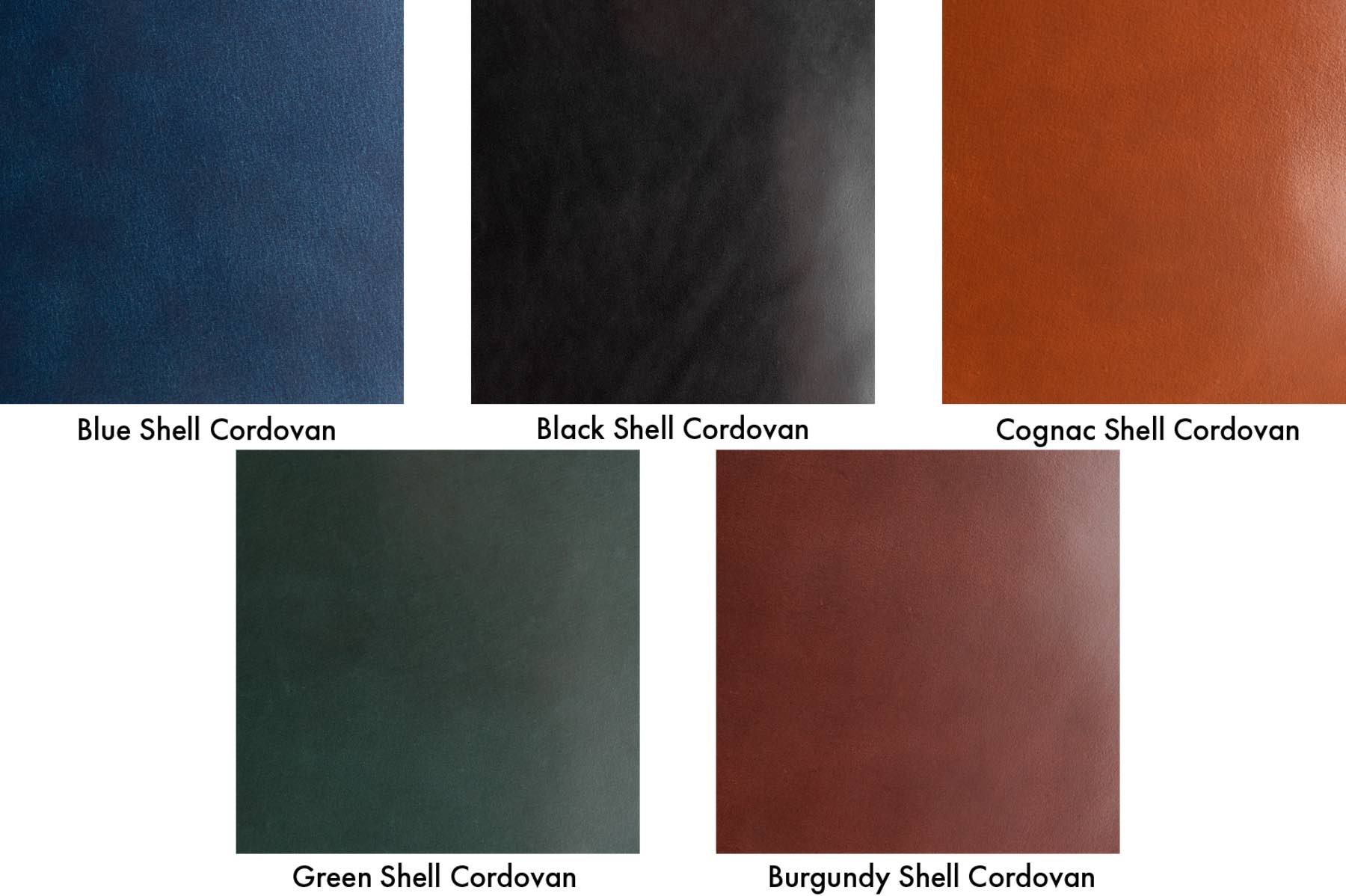 A bolt from the blue
Perhaps the most shocking color available in this line-up is a beautiful, royal blue (which you can see in the images in this article). Blue is not the most common color in which to find Shell Cordovan, and you can see how different it looks from the other shades from the pictures. This one looks particularly distinct because it is a padded strap, which gives the item a wholly different character and an apparently shinier surface.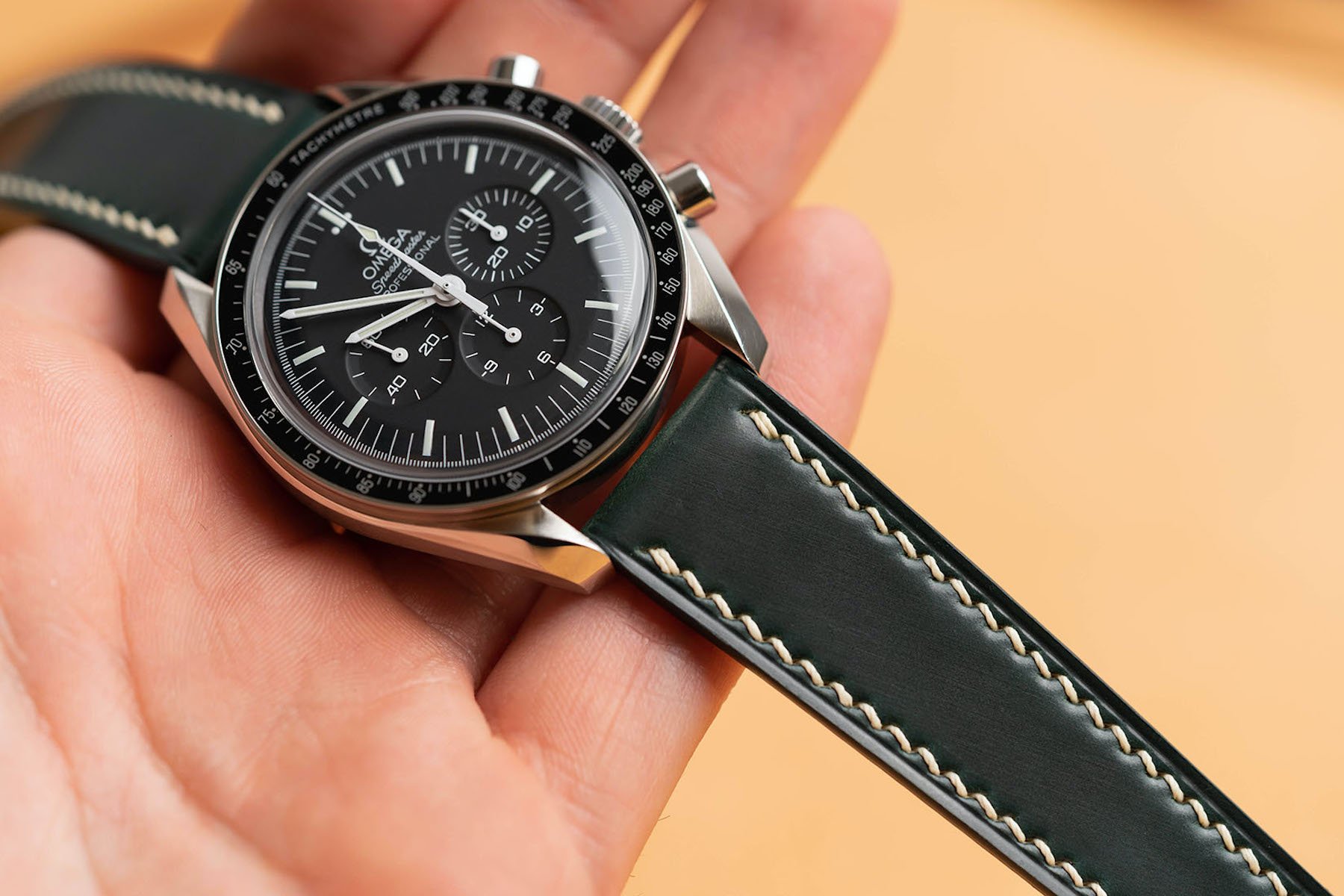 Finally, the deep shade of forest green makes an appearance. This has always been my favorite way to wear this material. In the images dotted throughout this article, you can see that green paired with ecru stitching. The combination is handsome and refined but by no means the limit to your creativity. While the Shell Cordovan uppers may be limited to four colors, the hues and materials of your lining are far more various if you prefer to forsake the recommended waterproof vegetable-tanned leather.
If you take the colorful route, you can opt for reds, blues, orange, green, yellow, purple, a couple of browns, and black. Wow. If that doesn't keep you up at night trying to decide which to go for, I don't know what will. Learn more about Genteel Handmade's Shell Cordovan straps here.
This is a preferred position post. Learn more.