Giveaway Winner Announced! The Fruity Axios Flagship 40 Dive Watch Has A New Home…
Don your bib: the watermelon is heading your way!
I love these contests. It's always a joy and a privilege to see the Fratelli's (often unfiltered) thoughts filling up the comments section. Beyond the amusement, these giveaways have been a source of great discussion. They've all sparkled in their own way. I find myself learning and constantly reevaluating my own opinions. I particularly enjoy these "dream watch" questions. Why? Because they shine a light on how we all place a different emphasis on different design elements. Our latest giveaway piece — the Axios Flagship 40 — framed our conversation about what constitutes the perfect dive watch. So let's plunge into the inky blue, and find out what my pick of the bunch was this week…
It was a tough one. I mean, truthfully, it's never easy, but this week, I found one that really got me going, and so the watch just had to go to that contributor. Before I get to that, though, two things: firstly, I've got another giveaway lined up for Friday and this one is starting the biggest and most interesting discussion yet, in my opinion. Don't miss it. Secondly, there were some other great entries this week that didn't win the watch, but they did win my heart. Here they are:
De facto fifth place: PETER GODSKE
Natural amber case, bezel, dial, hands, strap in colors that decrease/change the most underwater, giving me two watches in one, to enjoy.
Rob: I mean…what? I love it. Totally bonkers, but sounds lush. I'll take two and a side of fries, please.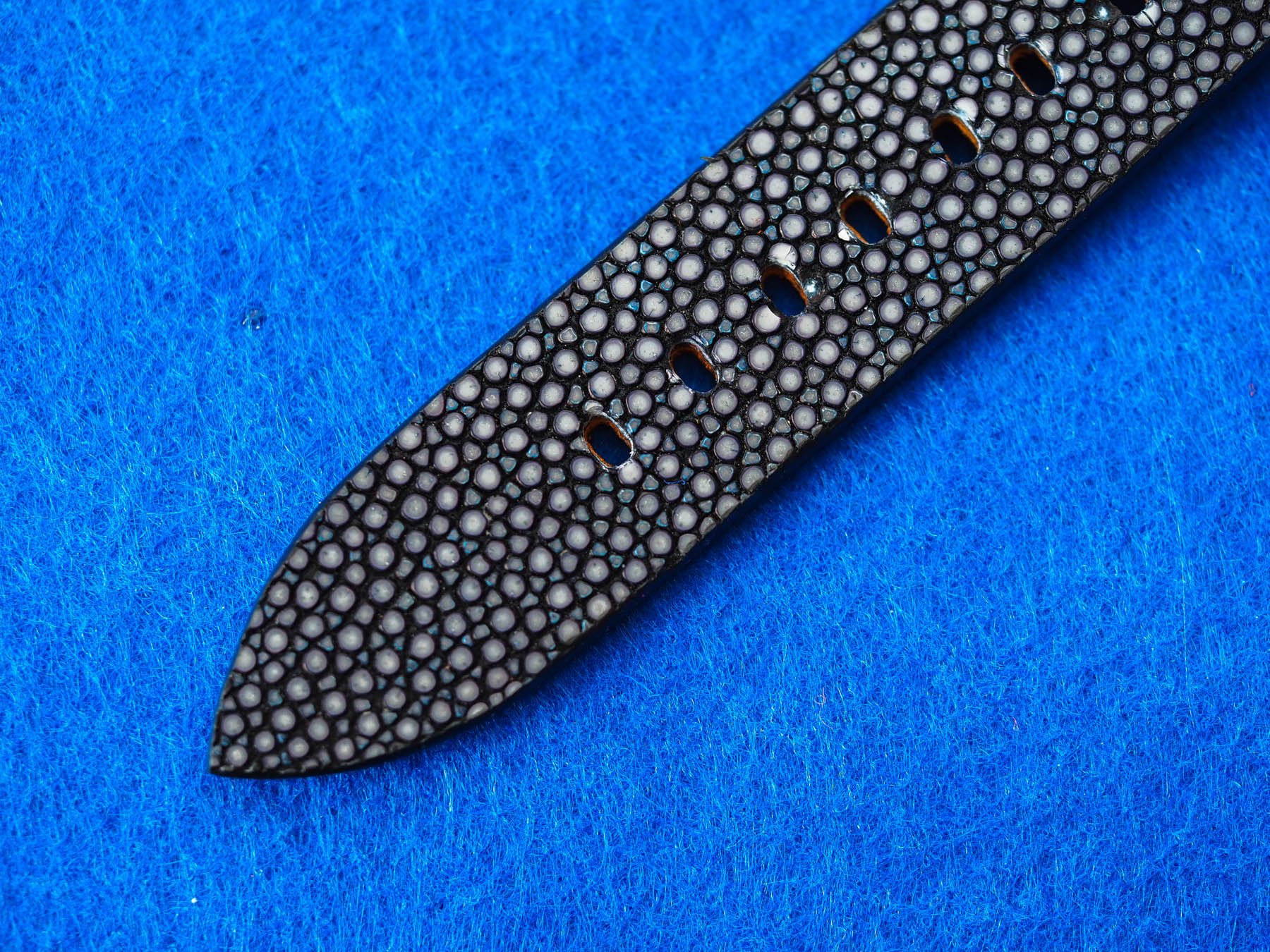 Fourth place: WARKY
What a great competition! I do love a diver (especially a Panerai and Omega) so I suspect that influences my thinking a bit.
I also love a bit of lume….
As I understand it, color is not actually what you want on a diver as it all gets lost underwater and in fact, using "bright" colors actually makes it more difficult to see. Contrast is king on a diver – so my design isn't going to be particularly exciting out of the water.
But let's rewind and talk materials before we get to dial colors. I really like the forged carbon that Doxa has been using and I really like the Panerai Orocarbo combination. So….my bad boy is going to be cased in Femto-second laser-treated black gold (Google it!) with a forged carbon diving bezel. So all black but with the anti-corrosive properties and heft of gold and the beauty and strength of forged carbon. The gold will be satin-finished and polished on the bevels.
Speaking of the rotating bezel – this baby is going to be fire. Mega amounts of lume at 12 – instead of a "pearl" the triangle index will all be lumed. It will be a chromalight style blue as will the pips down to a fully lumed 15. Speaking of which, that will be on a black gold insert where the numbers will be in relief with the black ablated from the gold to partially reveal the yellow in a sort of "distressed" manner. The rest of the bezel is in black carbon and similar in appearance to the previous metal Yachtmasters.
Ok – the main event: the dial.
In daylight, this will appear white in bright sunlight (I am thinking 950 platinum stolen straight from a Grey Side of the Moon) with a Panerai style dial (sandwich, a mix of numerals, and "sausages". The indexes will be in black gold. No date. 3 hands, center seconds. Hands will also be classic style Panerai – but with NO lume, because…the entire dial is fully lumed in the blue chromalight – I'm thinking Datograph Lumen here. So we have mega contrast day, night, and deep.
Ok, so a few more details to round it out.
Firstly it's 42mm No external helium valve – but I would like a Ploprof style crown protector. This baby will not be cheap — so an interchangeable strap system is needed and Czapek style in addition to the black gold bracelet (with center links having the same distressed ablation to reveal some of the yellow) will also come with standard black rubber and a pin buckle. But it will go a step further and also include a Ploprof style mesh all made from the ablation distressed gold – the clasp from the bracelet can be moved onto that.
This is a proper diver — so 300m rated (more requires aesthetic sacrifices) solid case back engraved with a suitably nautical image that has the serial
Number sublimated into the etching to prevent counterfeit.
Movement is hand-wound, eight-day power reserve, COSC rated with all the modern trimmings. Although not on display it's going to be the full Bhuna in terms of Cotes de Geneva perlage etc. Bridges in the black gold. It's going to be thin because I want the watch to only be 13mm thick tops.
I reckon the big boys could pull this package together for about €50k?!
Rob: He's starting to scare me…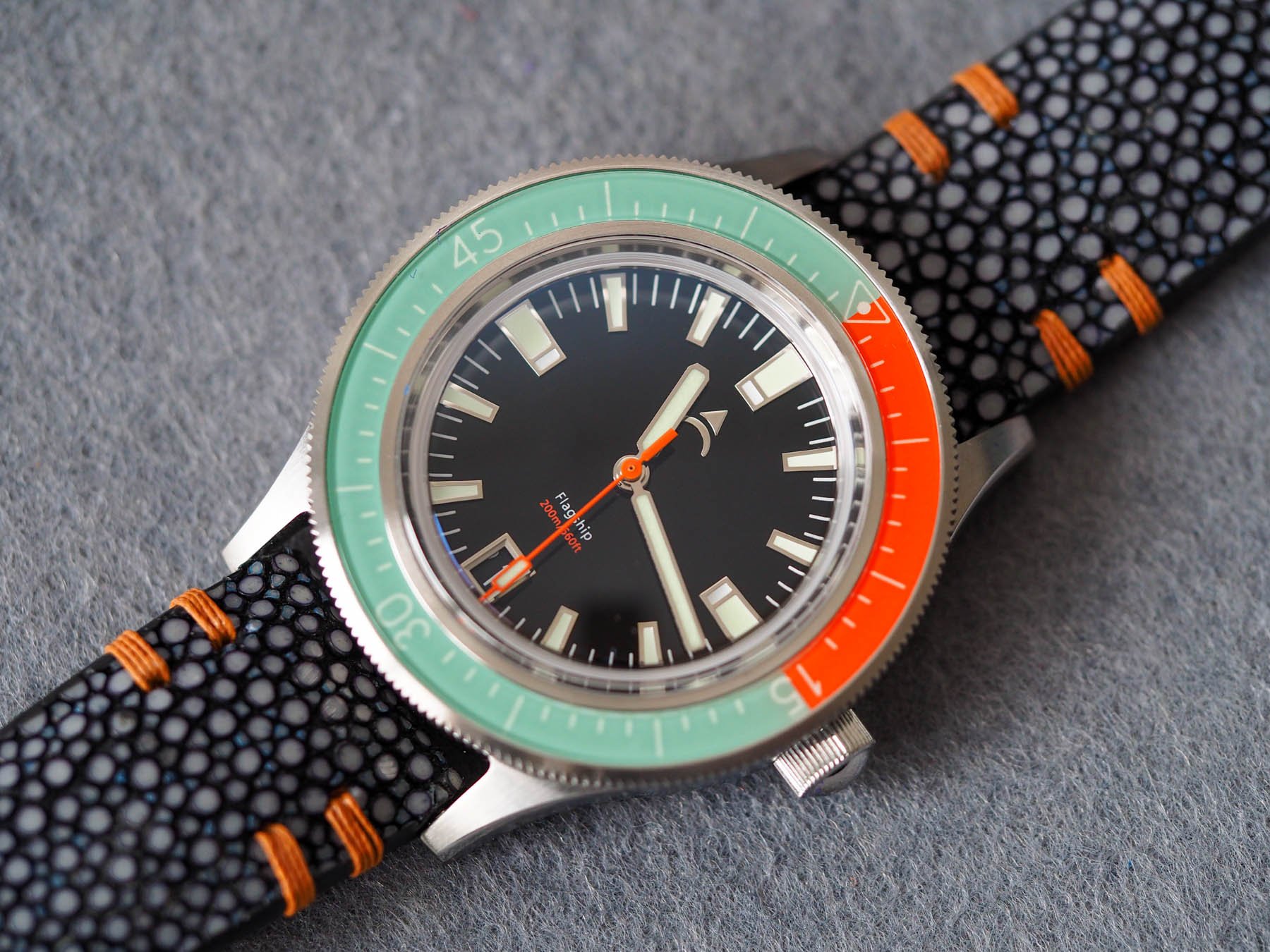 Third place: LUCA
Being a tool watch we're looking at a performance-driven object. If your life depends on it I'd go for reliability and proven technical solutions. The material would, therefore, be steel.
As per underwater legibility the more contrast the better. Simply put a black dial and white hands would do the job. We can make it fancy here choosing Vantablack for the dial and a strong white lume filled hands. As in a dive you're only concerned by the minute hands I would make it like a Viking sword (pointy end and wide body) and long like in a dress watch almost touching the rim of the dial. The hour hand instead can be a standard solution in terms of shape/length.
42mm case size gives good readability. Lugs should be short to hug the wrist well. I would go for ceramic black bezel 120 clicks, uni-directional, with lume filled Arabic numbers at 20-30-40-50, a minute mark every 5 minutes in between, a triangle at 12 o'clock, and every minute mark for the first 15min (5/10/15 thicker and longer, all the other in between shorter and thinner). The dial would only have shorter minutes mark and a longer 5 minutes mark.
Crown would be left hand for comfort, bracelet must have micro-adjustment option + suit extension. The watch must come with an additional rubber strap specific for diving and a tool for changing the bracelet. The helium escape valve is hidden in the case design. I would put the brand logo on the clasp and on the crown only. All features (WR, brand, caliber, etc) should be on the back which is going to be a simple case back.
Pins for the bracelet massively oversized and tested against serious mechanical stress.
What a lovely badass mf of a watch would that be…
A custom rotor with a tattoo like a sailor's heart with "sea" written on it would make it a hidden cool element.
Now, please make it!
Rob: Being the first to mention Vantablack scored big points here. Overall, this was a seriously comprehensive design with good justifications throughout. Top job.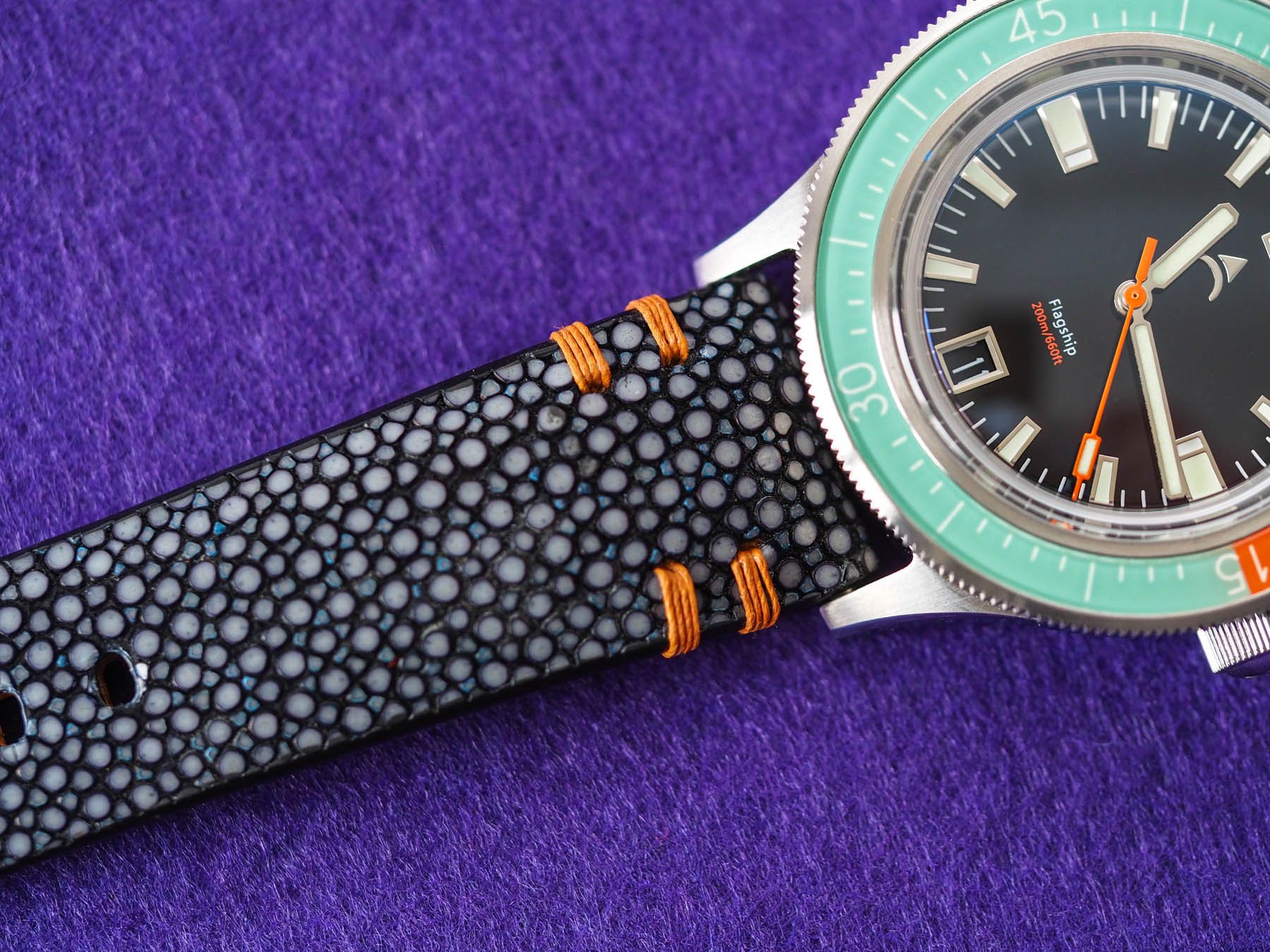 Second place: CHRIS
I love the vintage feel!
Case: Brushed steel on the top of the case and polished sides.
Bezel: Narrow Acrylic/Bakelite-esque two-tone [12-3 (Bright Red/Orange) & 3-12 (Black)] with Lumed off-white numbers. Has to have a good grip around the edge.
Dial: Deep Blue Linen style
Indices: all indices are raised silver with Lume
– Lumed Arrow Index at 12
– Date Complication at 6, nicely finished razed surround to mimic the stick indices
– Lumed Arabic numerals at 3 & 9
– Lumed Stick at Indices at 1, 2, 4, 5, 7, 8, 10 & 11
– White painted minute indices around the edge of the dial
Hands:
– Hour – Silver Arrow with Lume
– Minute – Silver Arrow with Lume
– Second – Bright Red/Orange Arrow (same color as bezel)
Complications:
– Hacking
– Date
Crystal: Domed Sapphire Crystal
Movement: ETA 2892-2 or similar
Strap/Bracelet:
This watch should come with both a steel bracelet as well as a rubber strap.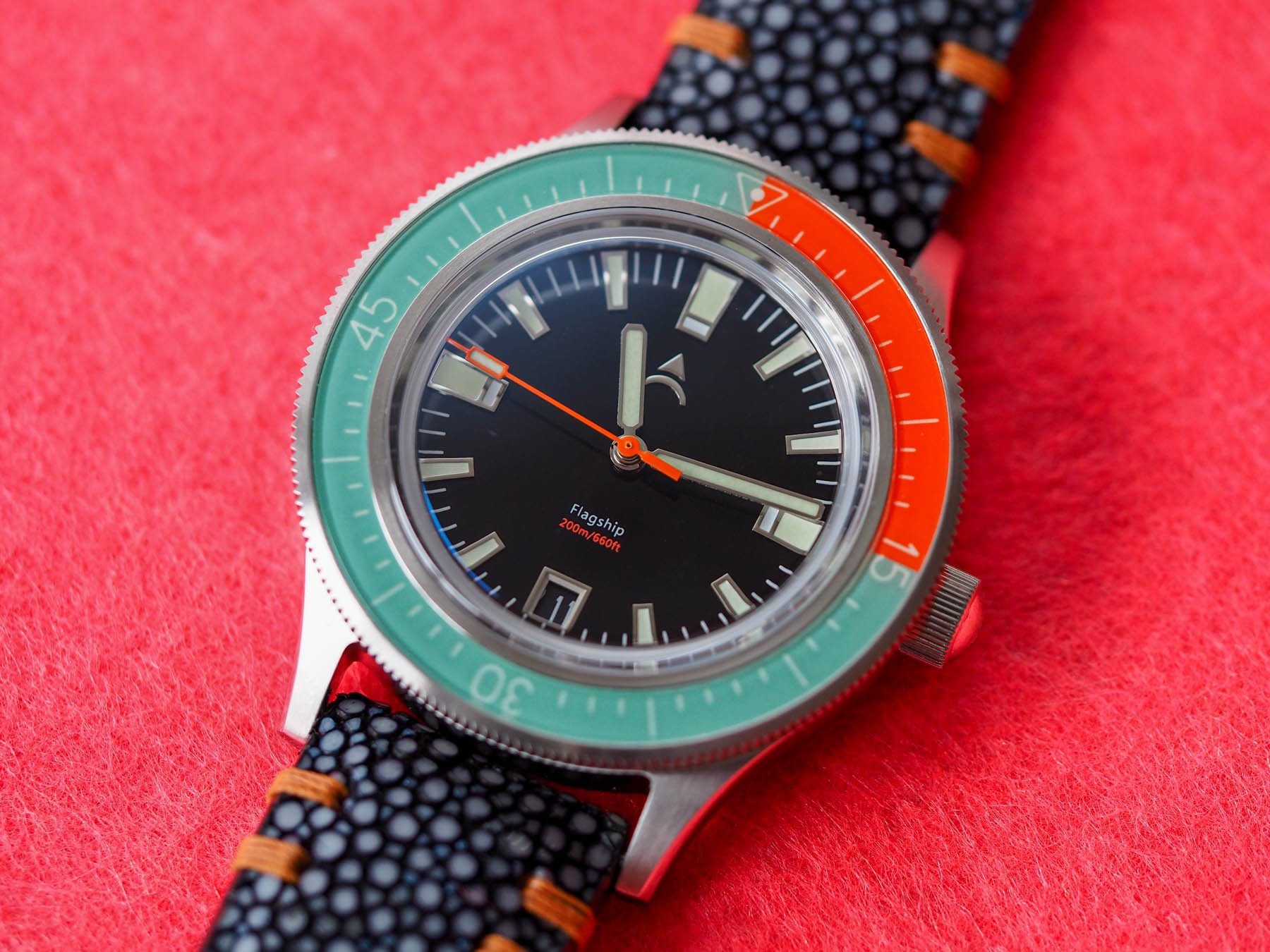 THE WINNER! PROFDR
That's a cool watch.
Two points come to mind:
1. How can I emulate Steve Zissou and Team Zissou members?
2. How can I avoid sharks?
As I live my day-to-day life in northeast Ohio, two items are constantly on my mind. How can I be like Steve Zissou, and how can I avoid sharks?
I think Steve Zissou wore a specially-made Vostok Amphibia Zissou. I would take this watch, but revise it so that the face remains blue, but uses luminous black markings. I would prefer matted metal to reduce shininess. I would avoid orange and yellow. Taking these steps, I believe, would help me avoid sharks in Lake Erie, which is near my home. (Please see: https://www.downtoscuba.com/what-colors-attract-sharks/).
Despite Lake Erie containing freshwater, I am always on my guard for sharks, especially ones circling shipwrecks. Because of the water's cooler temperatures, I often don a red stocking cap Team Zissou members wear and try to listen to Seu Jorge all of the time. Even before the pandemic, my family asked me to "socially distance" from them.
I hope everyone is doing well.
Rob: this guy has a lot to deal with. Tirelessly stalked by sharks, a warm head in summer months, and his increasingly distant relations… Brutal. Therefore, the Axios Flagship 40 will be heading to ProfDr in the US of A (and thanks to current customs protocol will probably arrive sometime around the 12th of Never, 2024).
Congratulations!