Last week we (my gf and I) returned from my vacation in the United States. Going from GMT-7 to GMT+2 (daylight saving time included) resulted in that I still am a bit off-beat. During my holiday, the Rolex GMT-Master proved itself to be very useful when making phonecalls to The Netherlands.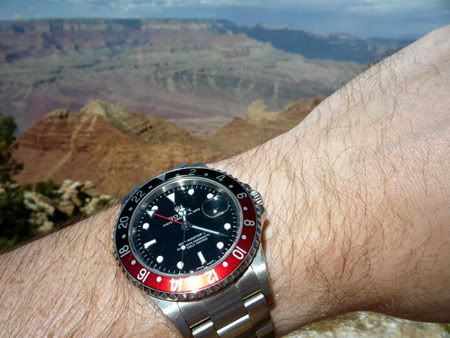 Rolex is also the brand that I spotted the most in the US, both in shops and in the wild 🙂 Especially in the watch shops in Las Vegas, they had large collections of them. One of the stores that impressed me the most was the Tourneau store in Ceasars Palace. Besides having enourmeous displays full of Rolex, they also had Patek Philippe, Vacheron Constantin, IWC, Jaeger LeCoultre, Jaquet Droz, Cartier, Omega, Tag Heuer and a lot of other brands for sale. The sales lady told me that this was their largest store in the US (I don't know if Tourneau is also located outside the US). The one thing I didn't like about Tourneau, is their 'Certified Pre-Owned' collection. Their prices are way too high (2995 USD for a used Breitling Aerospace for example) and these watches do not come in their original box and papers. But, according to one of the sales people, it does come with a nice Tourneau certificate. Ahum, as if that tells me anything. 😉
In San Francisco, the city that I liked best during our trip, I bought a copy of Revolution Magazine. I bought a copy in Singapore earlier this year, and I like it a lot. Too bad it isn't available in Europe (you can get a subscription for a ridicilous price, 200 USD for 4 copies a year) but that has been solved thanks to Ariel Adams. Thanks mate!
Revolution Magazine has great photos (and not the press kit photos you see in most magazines) and on top of that, really interesting in-depth articles I only know from the German watch magazines. I noticed that photoshoots (of ladies in bikini wearing watches that are just exotic as they are) and articles (diving watches) in my US issue of September have been copy/pasted from the issue I had bought in April in Singapore. Anyway, the other articles and the extra magazine that came with it made it all good again.
Oh well, back to work and back to writing watch related articles again. 🙂 Thanks for the comments and e-mails I received during my holiday. I also noticed that during my stay in the US, the number of members of the 'a Passion for Watches' LinkedIn Group went over 560 and the discussion feature is being used quite well. If you are not connected yet, make sure you'll do 🙂
Just before I went on vacation, I bought this great Omega Speedmaster Professional from 1969. I will enlighten you with some pictures soon 🙂

Robert-Jan Broer, born in 1977, watch collector and author on watches for over a decade. Founder of Fratello Watches in 2004.

Latest posts by Robert-Jan Broer (see all)