Grand Seiko Spring Drive 8-Day Power Reserve SBGD201
The High-End Timepiece in BaselWorld That Impressed Me Most
Last year, Seiko introduced the Grand Seiko Spring Drive 8-Day Power Reserve SBGD001 during BaselWorld, but did not show it to everyone. It was on display, but available to a few markets only. This year, we came prepared and asked them to take it out of the display for us to take some decent photos and fiddle around with it for a while. Nothing much changed about this piece for this year, but as Grand Seiko became a separate entity (and organization), they also changed the dials on existing models. Including on this 'flagship' Eight-Day Power Reserve in platinum. It is now being referred to as SBGD201 and swapped 'Seiko' on the dial for 'Grand Seiko'.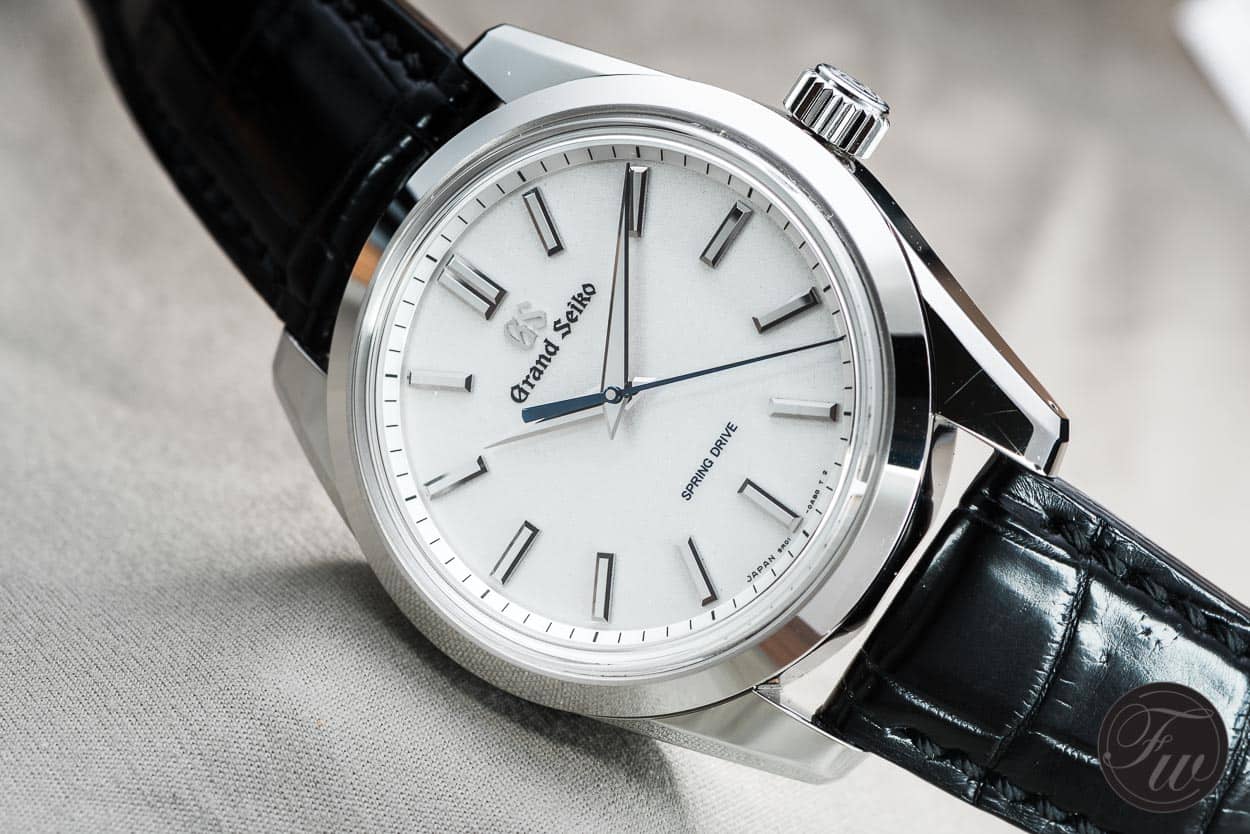 This watch has been developed and manufactured in Grand Seiko's micro artist studio in Shiojiri. I visited this manufacture, near Nagano, in 2015 and was impressed by the craftsmanship and commitment from the watch makers there. It was there where I was given a full explanation of the Spring Drive mechanism, which you can read in my visit report of the Shiojiri manufacture. The movement inside the Grand Seiko Eight-Day Power Reserve SBGD201 is caliber 9R01. Normally, the 9R (Spring Drive) caliber only has one barrel, but for this 9R01 Grand Seiko linked three spring barrels together, extending the power reserve by over 250%.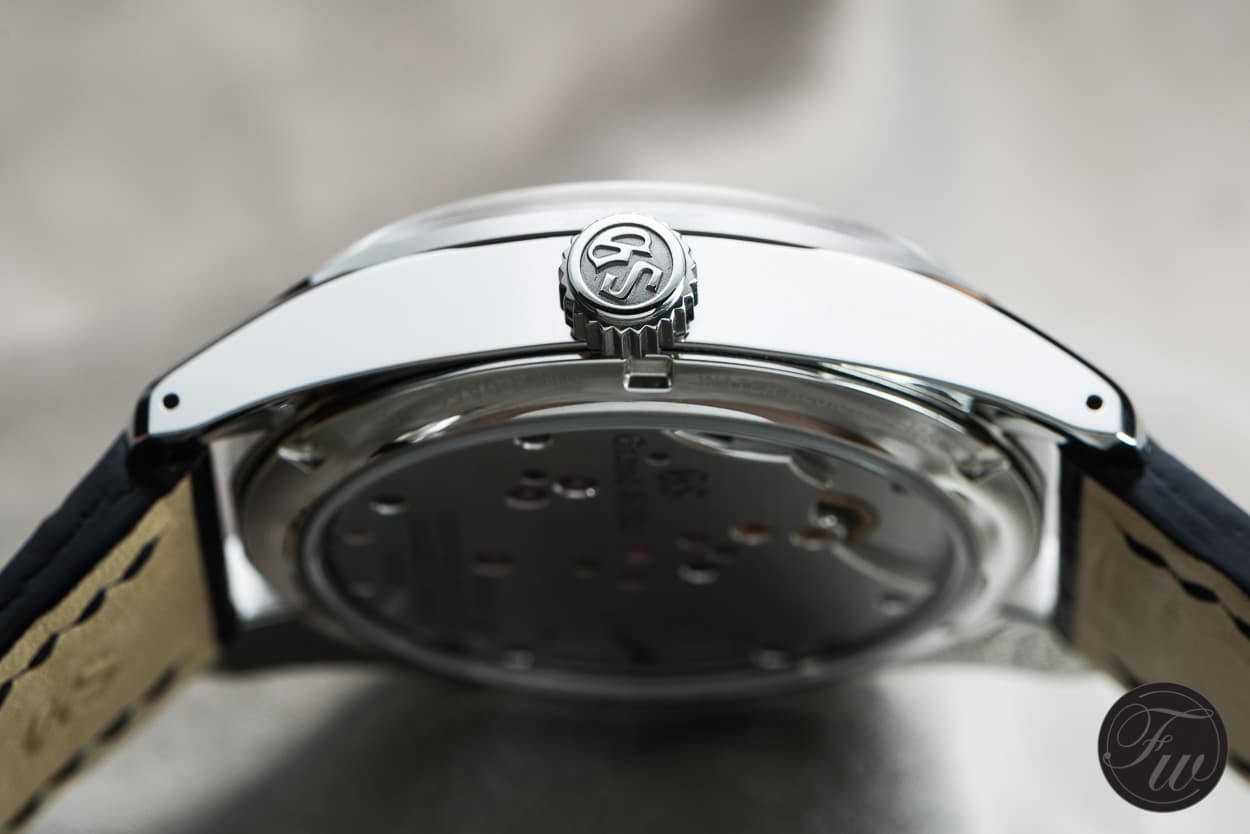 Besides the impressively finished 9R01 movement of the SBGD201, the case and dial are stellar. Grand Seiko used Pt950 (platinum) for the case, which has the famous Zaratsu polishing technique. Giving the case this beautiful sharp defined edges and stunning finish. Its diamond-dust dial is a piece of art as well, and according to Grand Seiko, it should remind you of a winter morning in the Suwa region, near the Micro Artist studio where this watch has been developed.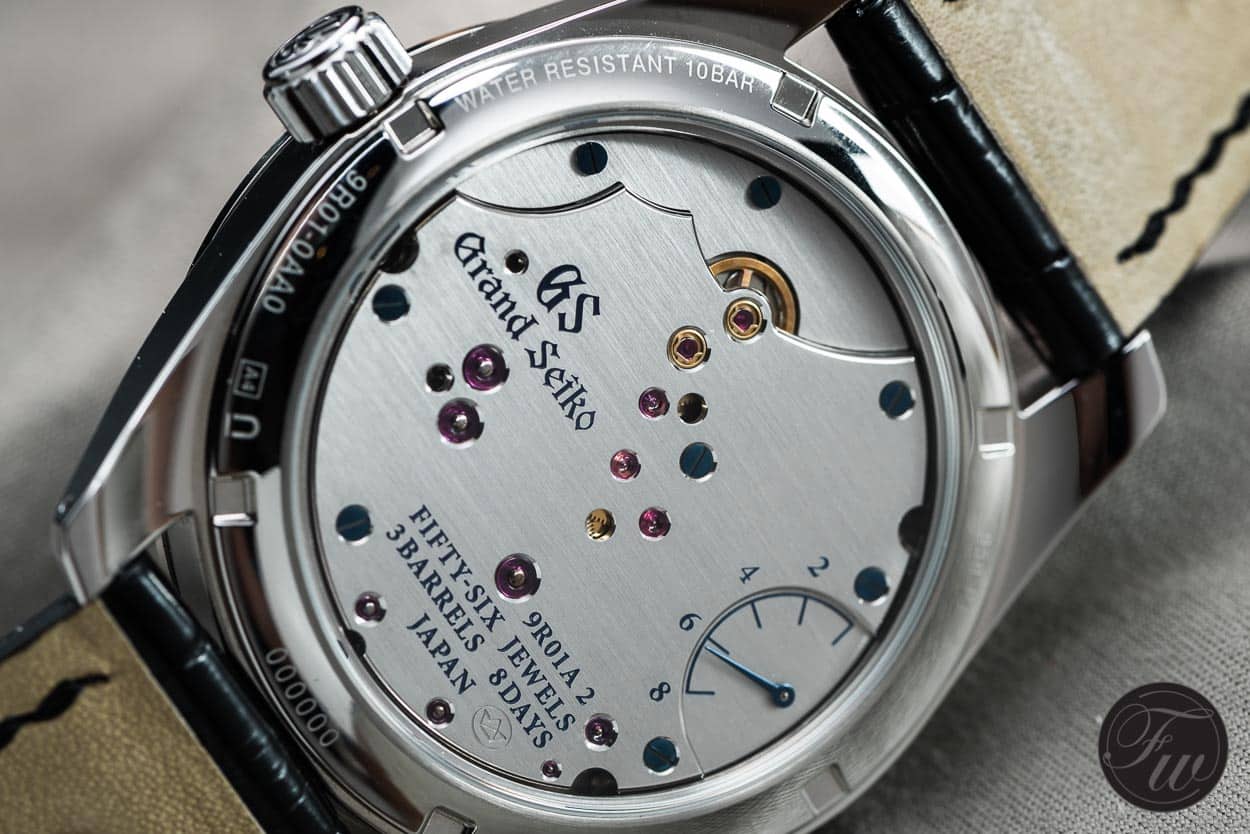 Without exaggerating, this is the most beautiful Grand Seiko watch I've ever seen till now. I love some of the models with the Snowflake dial for example, or the Mt Iwate dial, but this Grand Seiko Spring Drive 8-Day Power Reserve SBGD201 is something else. The platinum surely has its effect on the weight of the watch (which I like very much) and I found the design and size (43mm x 13.2mm) to be spot-on. The boxed AR coated sapphire crystal gives you a wonderful view on the diamond-dust dial. When putting this piece on, you know it is far beyond any other Grand Seiko you've ever tried. The only thing that comes close are the platinum Credor (also Seiko) models. I would even dare to go one step further and say that this watch is certainly on the level of some independent haute horlogerie brands. It is a true competitor to the big and famous high-end watchmaking houses in Geneva and Glashütte for sure.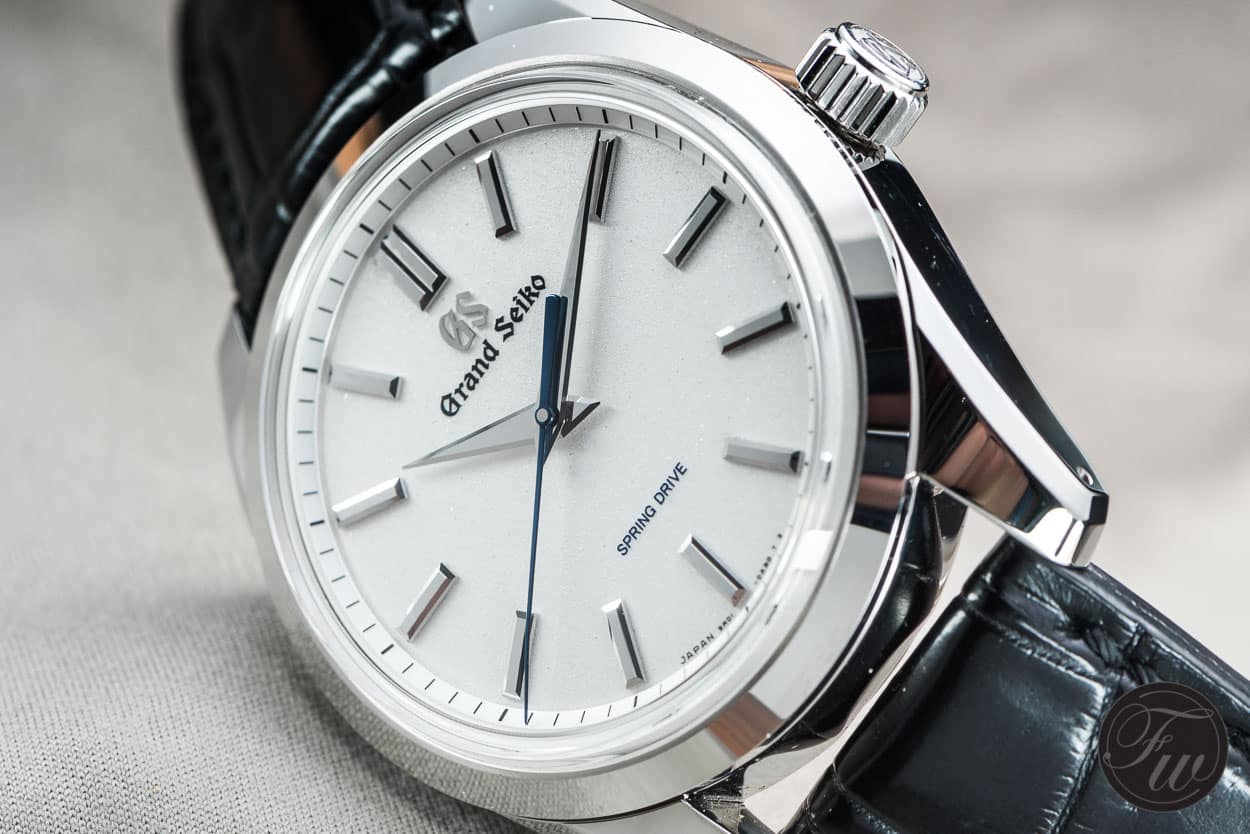 Grand Seiko's SBGD201 weighs 168 grams together with the leather strap and the three-fold clasp (also platinum). When you think a gold timepiece is heavy, you need to try this. I found that it does remain to be comfortable and actually quite pleasant on the wrist. I don't know if that would still be the case if this watch came on a platinum bracelet as well. The GS Spring Drive 8-Day Power Reserve watch has – even though it is only a three-hands watch – a lot of presence on the wrist. I've tried and seen a lot of watches, including some grand complications, but I would prefer this Zaratsu polished Grand Seiko watch over a lot of them. This is a piece you buy for yourself, not to impress others. Although people who know what you are wearing, will be impressed (and not only by the price tag). That's where Grand Seiko makes a difference compared to many of the Swiss made watches. These are timepieces that are bought for your own pleasure and enjoyment, not to please others or to make a 'statement' that you're successful or are able to buy a lot of 'good taste'. No, this watch is something you will enjoy each time you look at the fine sharp lines of the case, the diamond-dust dial or when you flip it over to have a look at the beautiful finished and constructed Spring Drive movement. I can imagine that people who bought this watch will just shrug their shoulders when they're being asked why they didn't buy a Swiss or German watch brand. This watch is not for everyone, nor should it be.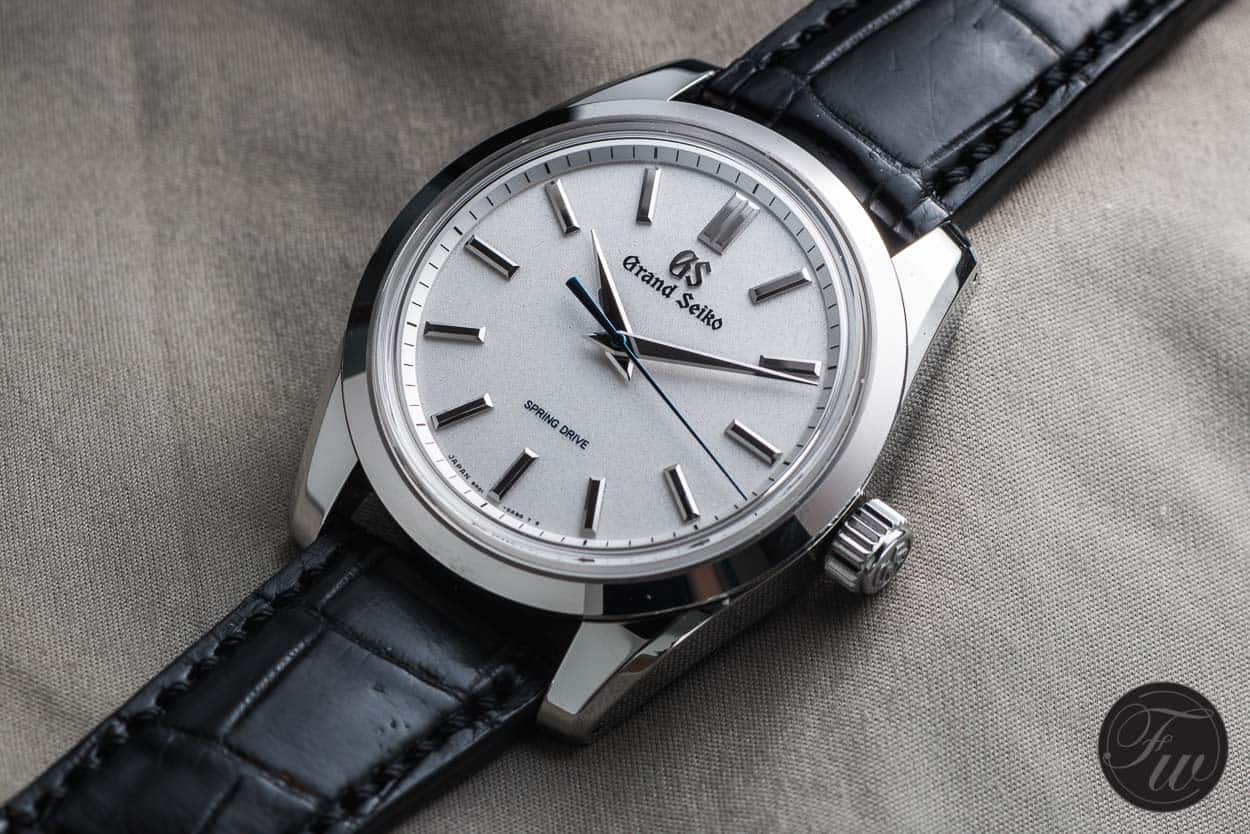 Even if your heart doesn't tick faster because of the Grand Seikos you've seen till now, if the SBGD201 doesn't make you enthusiastic about the Japanese craftsmanship nothing will.
The Grand Seiko Spring Drive 8-Day Power Reserve SBGD201 retails for 60.000,- Euro and is not available worldwide. You must inquire at your local (Grand) Seiko distributor if they are able to order one for your market/country.
Now, 60.000 Euro is an awful lot of money and you can buy your Patek Philippe or A. Lange & Söhne for this kind of money, or a platinum Rolex Day-Date. I wondered what I would do. I love the A. Lange & Söhne Lange 1 (in platinum) and I could rock a Rolex Day-Date in platinum, but I am sure my money would go to this watch that was manufactured near Nagano in Japan. In the higher segment of fine watchmaking, this was the most impressive watch I've seen during the annual BaselWorld exhibition. It does help that I had the pleasure and honor to visit their factories in Japan, which definitely opened my eyes.
More information on this Grand Seiko can be found here.