H. Moser & Cie. Launches The Heritage Perpetual Calendar With A Deep Blue Enamel Dial
Dive in to the deep blue sea (but not literally)...
Reputation is everything in this industry. Brands with a good rep can sell products sight unseen. But it takes time to get to that stage. While Rolex is handing out branded blindfolds in exchange for willing clients' credit cards as their authorized dealers herd them into an almost stockless store, the rest of the industry is fighting tooth and nail for a slice of the pie. The Rolex phenomenon has opened up some truly tempting avenues for other brands of similar heritage to raise their own prices or plug the gaps left by a rapidly ascending entry point. Meanwhile, the sideways-thinking independents are getting creative. Brands like Moser have more of an opportunity to show us what they can do. And in Moser's case, that's clearly quite a lot…
We've been unabashedly banging on about the generational brilliance of the H. Moser & Cie. Streamliner for months. To be frank, that model has risen to such a rank in our collective estimation that it's easy to see nothing but it whenever we see the Moser name. But there is much more than the sumptuous Streamliner to the brand. The Endeavor family now feels somehow "traditional", while the Swiss Alp series is anything but. And squirreled over the in the quiet corner, is the Heritage collection, which welcomes today a brand new entrant of which the brand is justifiably proud.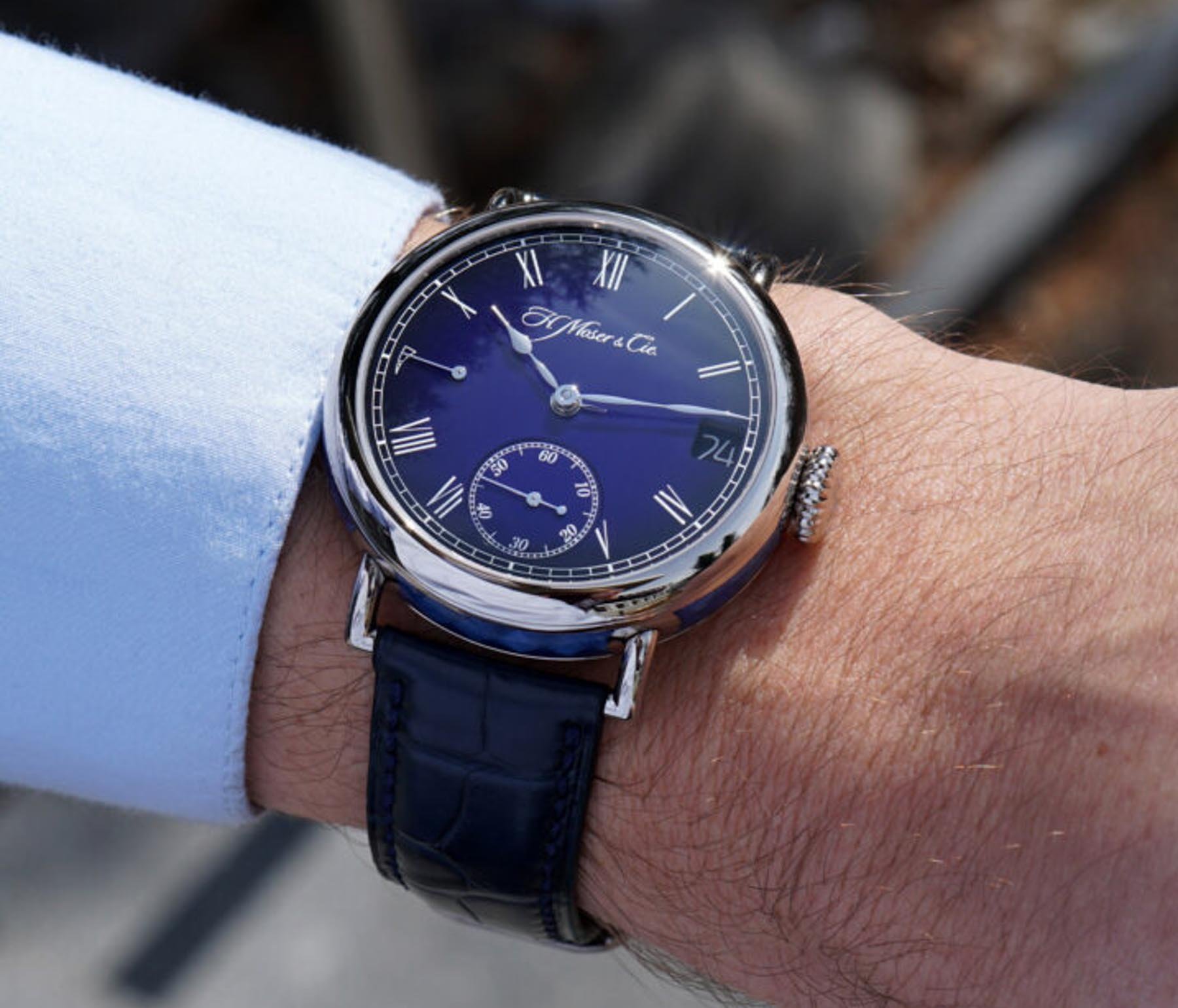 It all starts with the complication
Perpetual calendar complications are mechanical nectar to watch lovers. These ultra-complex movements, like the HMC 800 in this model, represent a high point in horology. While dates, day/dates, weeklies (my term, not industry standard phraseology), and annual calendars have their fans, the perpetual element of perpetual calendars kind of separates them from their lesser brethren in more ways than just complexity. Somehow, there is a seismic philosophical shift. In the same way that the automatic watch is intellectually interesting because, in theory, it can be worn forever with no interference from the wearer, the perpetual calendar's functionality extends beyond lifetimes. In many cases, perpetual calendars would still be accurate (theoretically) after the person to whom you bequeathed it has also kicked the bucket.
It makes us consider things beyond ourselves in a very grand way indeed…
Morbid, but fascinating. Perpetual calendars are a rare thing in the modern world. They are, perhaps, the most "watchy" watches a watch nerd could wish for. Their functionality is a microcosmic expression of why many of us love this craft. It's something very special because it makes us think. It makes us consider things beyond ourselves in a very grand way indeed. By considering not just the longevity of the perpetual calendar function, we are forced in turn to appreciate our own fragile mortality and then look beyond that and the watch's functionality into broader scopes of time. My advice? Make sure you're sitting comfortably before you get the H. Moser & Cie. Heritage Perpetual Calendar in your hands.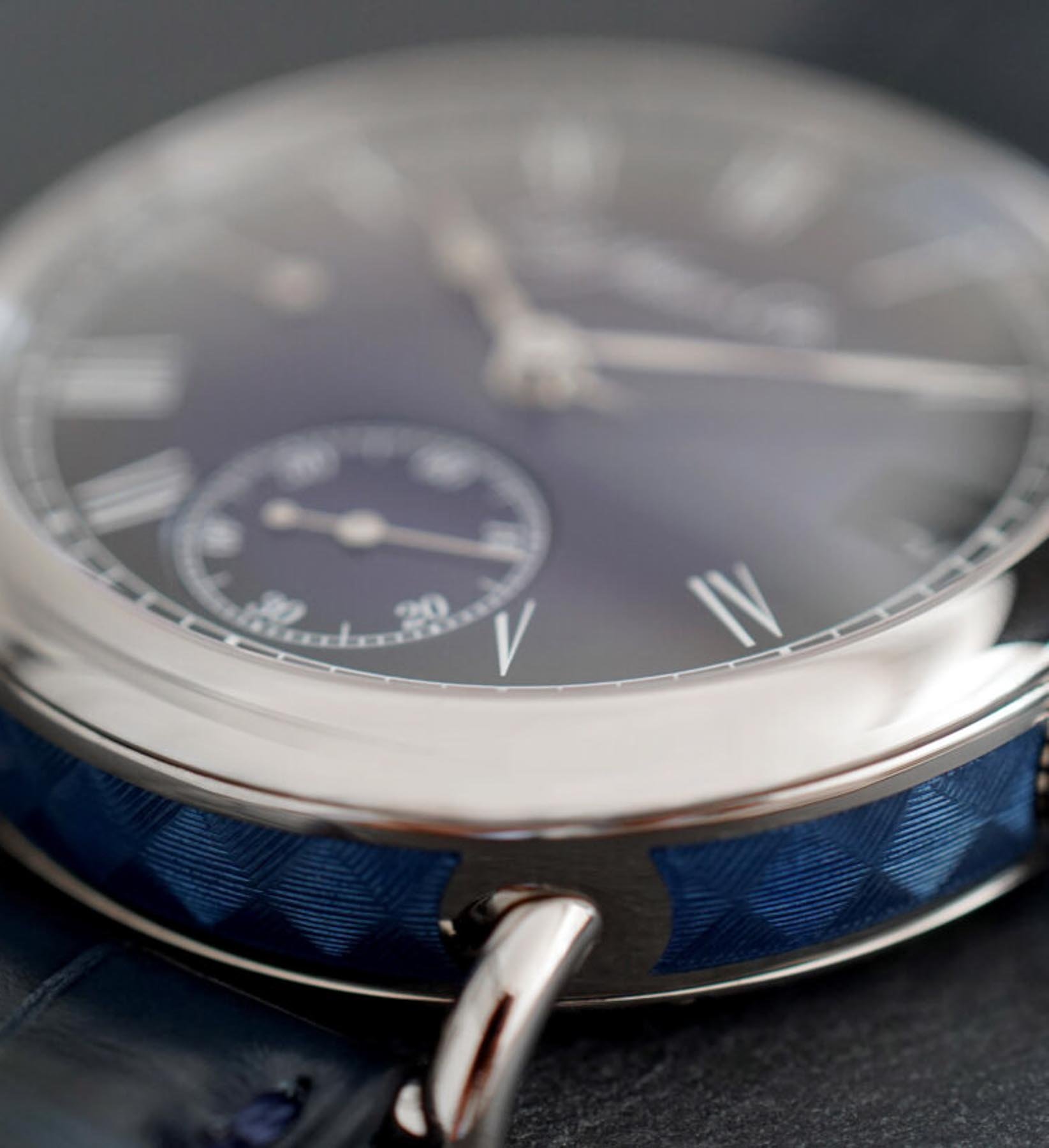 It ends with the dial
This isn't the first perpetual calendar from H. Moser & Cie. so in return for the mental acrobatics I asked of you in the section above, I feel I should tell you what's new about this 42mm white gold reference 8800-0203. Take a look at the dial. That's a deep blue Grand feu enamel dial you're looking at there. And don't forget to check the edges. That's right, we've got a fumé finish here and it is as deeply stunning, and deeply satisfying, as it is deeply blue.
…it never gets old. It's just too neat not to love.
The best for me is the way the darkening blue towards the edge absorbs the white-on-black date window so beautifully. It's an almost seamless transition and a textbook way to use fumé (an ever more popular finishing style) to your advantage. So the date is really obvious (it's a pretty massive window after all), but the month? Not so much. Where is the month indicator, I hear you ask? You will find it mounted beneath the hour and minute hands on the central access. This tiny little perpetual pointer uses the hour markers to indicate the passing of the 12months (from a distance). It's a neat trick we've seen many times before in different ways, but it never gets old. It's just too neat not to love.
At 9 o'clock, right on the edge of the dial, we have a power reserve indicator that tracks the remainder of the 168-hour power reserve (which is, in my opinion, a pretty tasty amount of juice for this style of watch and exactly what we should be expecting, nay, demanding from luxury brands — especially when the pieces in question cost CHF 99,000). And talking of the edge, take a look at the case band above. Enamel on the outside as well as the inside? Now that is luxury. To learn more about H. Moser & Cie. and this watch, head over to the official website.
This is a preferred position post. Please read our transparency policy here.