H.Moser & Cie: Novelties of SIHH 2017
H. MOSER & CIE. HONOURS ARTISAN WATCHMAKING WITH THE HERITAGE TOURBILLON
With the Heritage Tourbillon, H. Moser & Cie. pays tribute to exceptional artisan watchmaking.This exceptional timepiece links tradition and modernity, two elements which coexist in all creations by H. Moser & Cie. The Heritage Tourbillon is a salute to watchmaking past and present. It is the distillation of H. Moser & Cie.'s 187 years of watchmaking expertise.
Heritage Tourbillon: Reference 8802-0400, 5N red gold model, pocket watch-type case, blue alligator leather strap, limited edition of 10 pieces.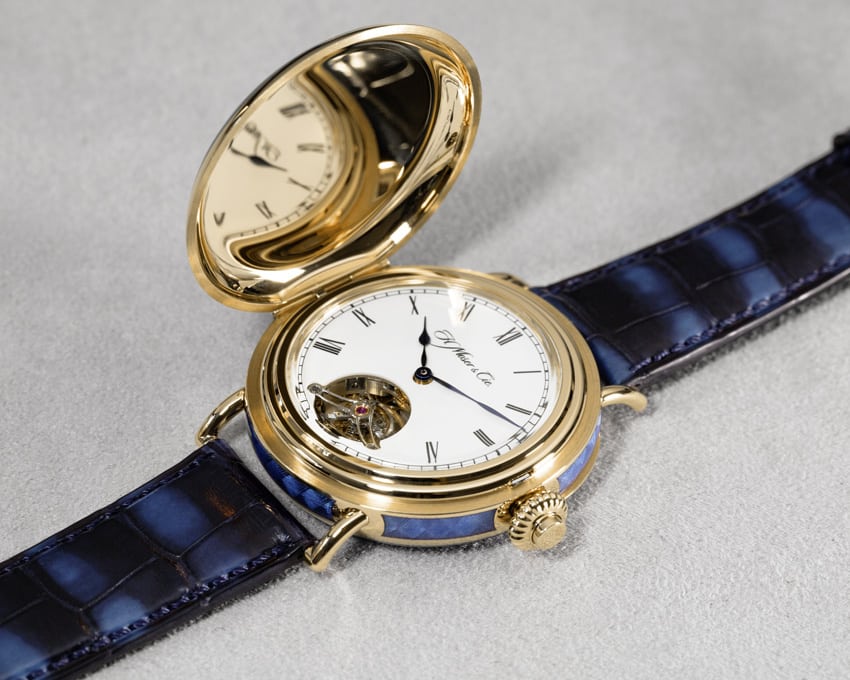 H. MOSER & CIE. HERITAGE PERPETUAL MOON: POETIC CLASSICISM
With the Heritage Perpetual Moon, H. Moser & Cie. is re-establishing the prestige of the most poetic complication ever: the representation of the lunar cycle. With its influence over the seas and the oceans, the lunar body holds a mysterious fascination for man. Showcased in a large window at 6 o'clock, the eye-catching moon elevates this model to an expression of classical watchmaking. The Heritage Perpetual Moon also marks the introduction of the Heritage family of watches, joining Endeavour, Venturer and Pioneer in the H. Moser & Cie. collection.
Heritage Perpetual Moon: Reference 8801-0200, white gold model, white enamel dial, blue alligator leather strap, limited edition of 30 pieces. Discover more
TRADITIONAL TECHNIQUES IN A MINIMALIST STYLE: H. MOSER & CIE. PRESENTS THE ENDEAVOUR CONCEPT GUILLOCHÉ COLLECTION
Renowned for the beauty of the dials it creates, H. Moser & Cie. has reinterpreted the famed sunburst pattern featured on its fumé dials and is unveiling a new model that honours tradition and craftsmanship: the Endeavour Concept Guilloché Limited Edition, with a dial engraved by a skilled guilloché craftsman. Combining expertise and a modern touch, H. Moser & Cie. has created a contemporary model with an understated, minimalist design that remains true to the Concept Series philosophy: no logos, no indices. Discover more
Endeavour Concept Guilloché: Reference 1321-0117, rose gold model, sky-blue engraved dial, blue alligator leather strap, limited edition of 10 pieces.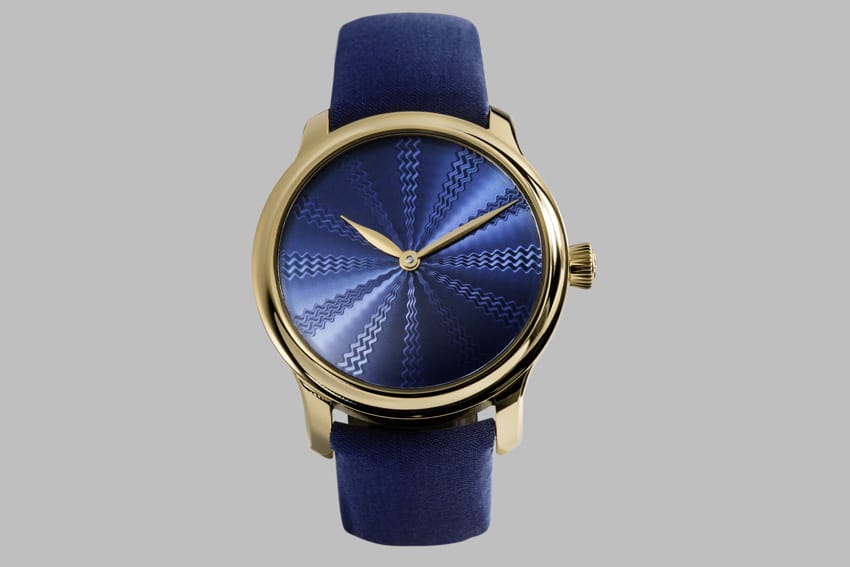 AN EXQUISITE WATCH: THE VENTURER SMOKY SAPPHIRE FROM H. MOSER & CIE
Alternating diamonds and sapphires form a sparkling circle, bringing the Venturer Smoky Sapphire to life. Carefully chosen sapphires in gradually deepening shades of blue form the dial of this exceptional watch. H. Moser & Cie. has chosen brilliant-cut stones for this exquisite reinterpretation of the nuances of its famed fumé dials. Discover more
SIMPLE AND AUTHENTIC: THE VENTURER SMALL SECONDS PURITY
With their Concept Series of watches, that have neither indices nor logo, H. Moser & Cie. is making a clear statement. A true luxury product is unmistakeable and requires no marketing or branding to speak on its behalf. By focussing on absolute simplicity, H. Moser & Cie. is returning the product to centre stage, as an understated star. Pared down to the essentials, the Venturer Small Seconds Purity collection follows this logic, brilliantly illustrating the minimalist philosophy of "less is more". Once again, H. Moser & Cie. has proven that authenticity can provide a power and dynamism which is rarely achieved. Discover more
Venturer Small Seconds Purity: Reference 2327-0207, white gold model, sky-blue fumé dial, beige kudu leather strap, limited edition of 100 pieces.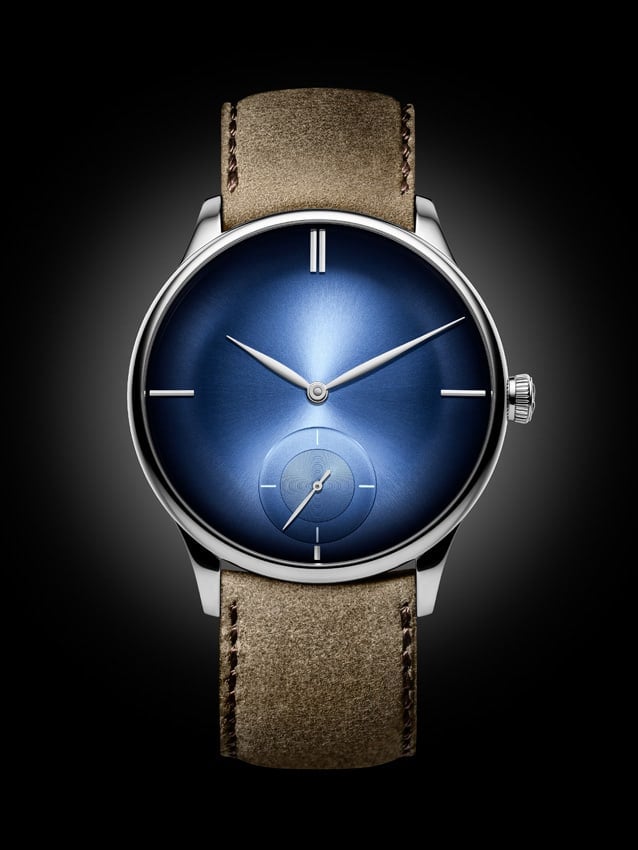 THE SWISS ALP WATCH MINUTE RETROGRADE: THE H. MOSER & CIE. TIMEPIECE WITH AN HAUTLENCE SURPRISE
H. Moser & Cie. likes to surprise… often in the most unexpected of places. The Swiss Alp Watch Minute Retrograde is a case in point. Pairing the rectangular case of its Swiss Alp Watch with the highly technical movement from its sister brand HAUTLENCE, H. Moser & Cie. has created a delightful surprise which combines tradition with modernity. This unique approach faithfully employs classic Haute Horlogerie techniques whilst incorporating the ultimate in technological movements. A striking contrast in a mesmerisingly beautiful watch that is compelling from every angle. Discover more
Swiss Alp Watch: Reference 5900-0200, white gold model, minute dial in "Grand Feu" enamel, black alligator leather strap with carbon-effect finish for a matte look or beige kudu leather strap, limited edition of 10 pieces.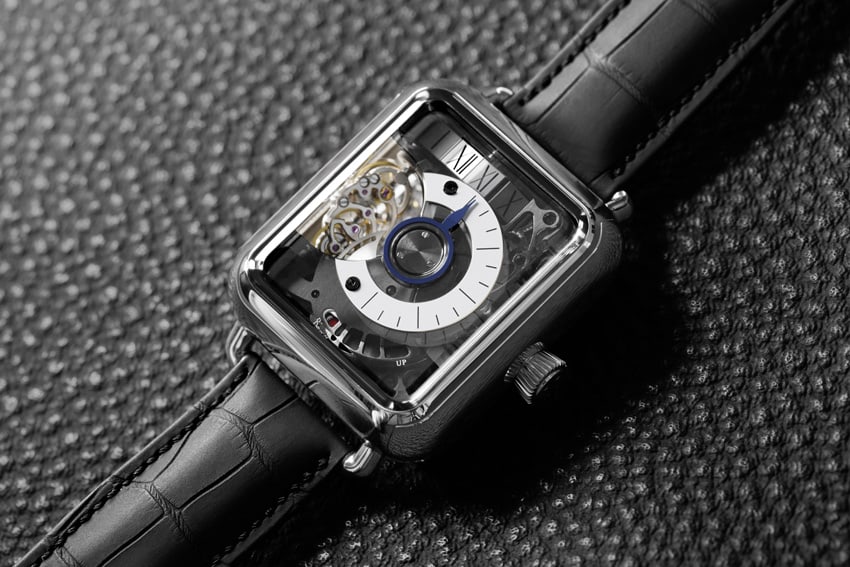 More information on H. Moser & Cie official website.