Hamilton Field Khaki Bronze Watch Brings Warmth To A Beloved Range For 2021
Ten years in and the bronze trend keeps trending...
Every so often, a press release hits the inbox that looks so familiar you almost ignore it as old news. And then, because a little voice in the back of your head calls out and stays your cursor as it hovers over the trash can, you look again and you realize that this is actually something new. It is something that, while new, looks so much like something that should have already existed you genuinely believed for a second that it did. Your apathy morphs into excitement. This new watch feels like a vivid dream that has leaped from your subconscious and manifested in metal and sapphire before you. Such was my first encounter with the Hamilton Khaki Field in BRONZE.
There are few watches so widely beloved as the Hamilton Field Khaki model. It is just great. It is the perfect budget beater for serious watch lovers and an excellent entry-point for neophyte collectors. For those who want something sturdy, discreet, and credible to occupy their wrist space while their five-figure extravagances rest easy in the safe, the Khaki Field range has always provided a reliable partner. Other collectors recognize it as a brilliant choice.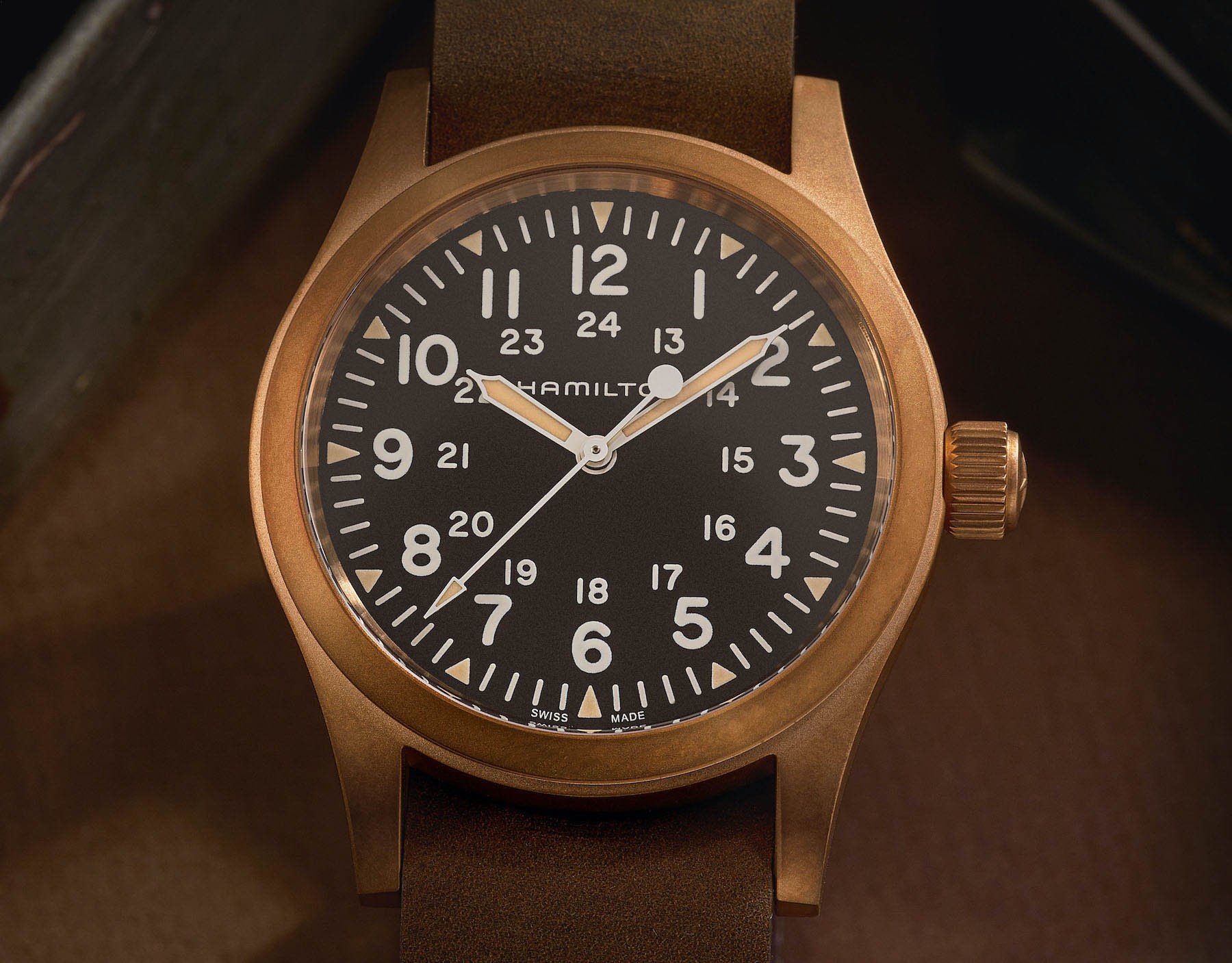 A watch for the purists
Quite a few of the guys at Fratello own one, and I know even more RedBar members around the globe with one of these pared-back princes in their stable. For the money you have to hand over to make one of these yours, the specifications are off the charts. I recently wrote that the Hamilton Intra-Matic Chronograph H was pretty much the best bang-for-buck option out there. If it has a competitor it comes from its own house. The Hamilton Field Khaki was always tough to beat. But the question for me has always been: is it sexy enough?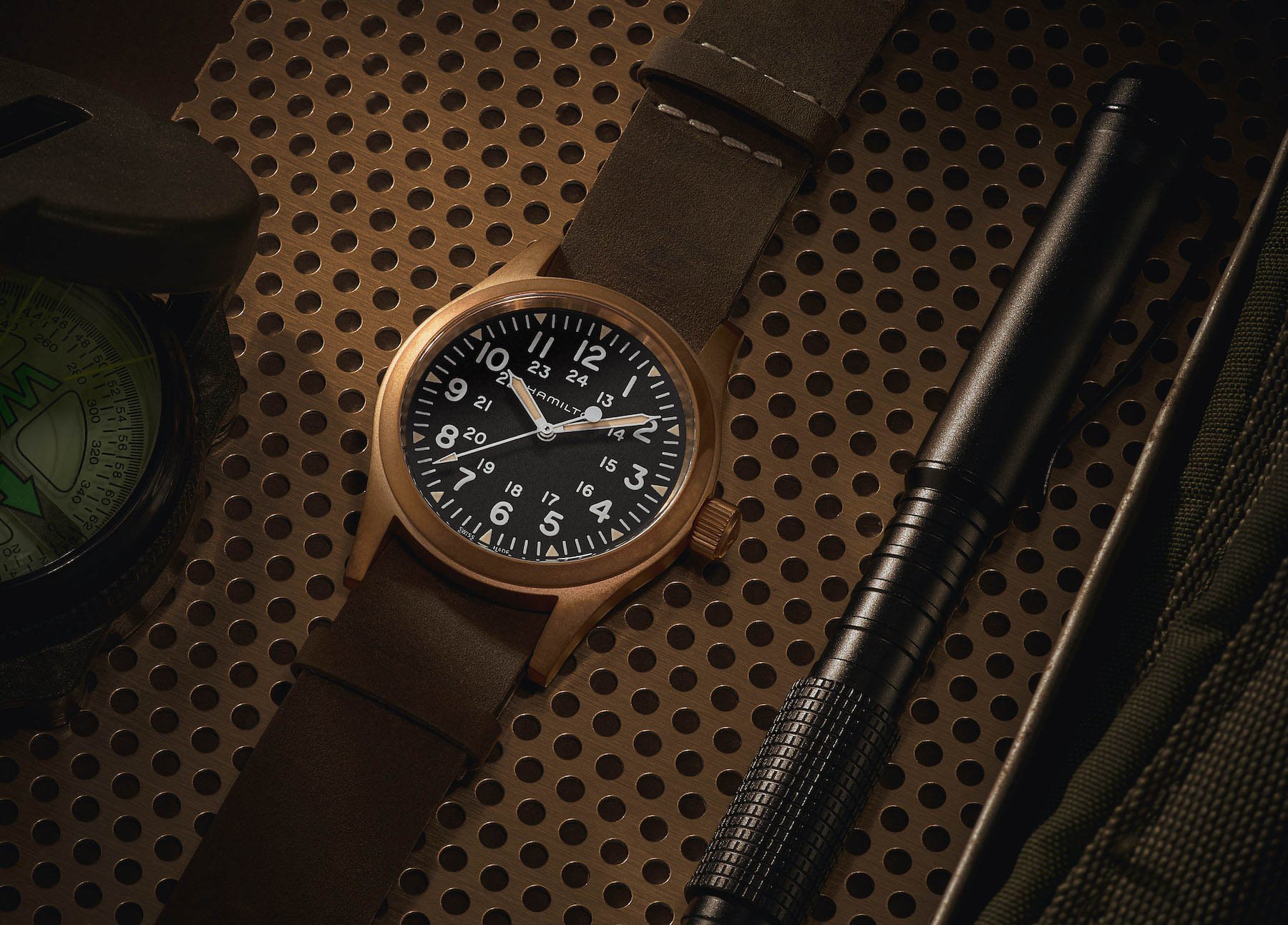 Bronze beauty
Well, now it definitely is. I'm not a total bronze fiend (by that I mean I don't swoon at the sight of bronze without good reason) but in this gritty, field watch guise, I'm starting to feel that it's never looked better.
Bronze as a case material always made sense to me when applied to diving tools. Many of us instinctively associate bronze with marine exploration (for good reason). Historically speaking, bronze has very little to do with the field watch field, and yet, perhaps because of the earthy implications of the term, it seems to sit very comfortably within it.
I first had this feeling when I read Ben's review of the Vertex Bronze 75. I had not seen that model coming. Even after reading the review, I wasn't sure the watch would be a success (Vertex, for all its glorious aesthetics, is far from a budget option). That said, I thought the watch was completely stunning. The only thing that concerned me in that instance, and perhaps blinded me to the replicability of the bronze field watch concept, was the price.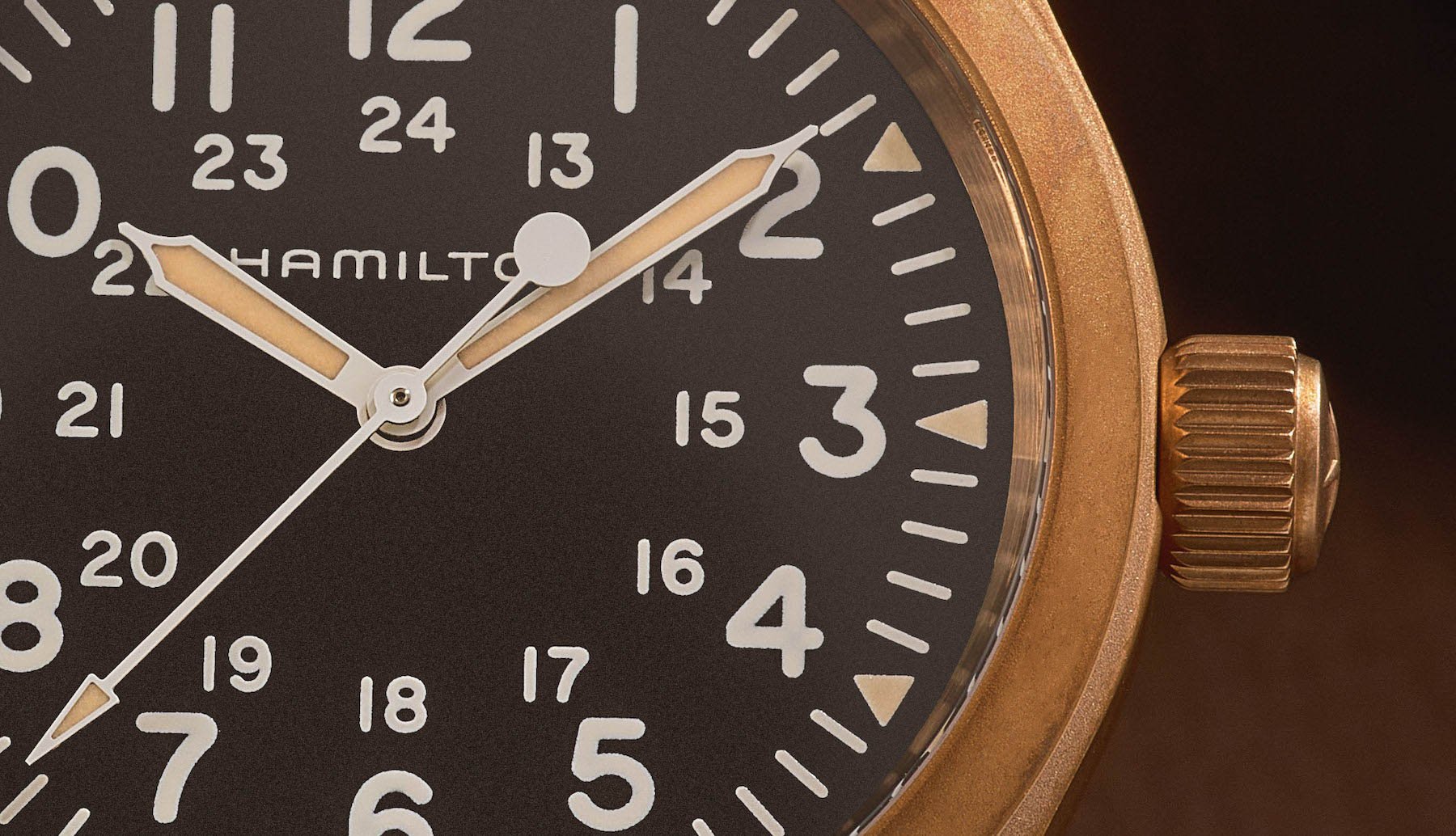 Price does matter
Look, you should never buy a watch just because of the price. It is all too easy to insist we look at each watch as an object, separate from its cost, during the analytical process that will either take us to the cusp of a purchase or not. Realistically, the object and its price are linked. As such, when you see an option like the Vertex Bronze 75 with a retail price of €2,700, and then this, from a more established brand for almost one-quarter of the price (€745), you might be forgiven for wondering if there is any question at all.
…an indispensable companion…
The truth is, these are two very different products. The Vertex is a limited piece that extolls a very specific brand history. Meanwhile, the Hamilton Field Khaki Bronze is the kind of watch with which Hamilton makes a lot of hay. It is a daily grinder, an indispensable companion, one of the most adored model concepts the brand has ever had the good fortune to stumble upon, and, for perhaps the first time, truly captures the industry Zeitgeist.
Right on time
Yes, we've seen black versions before, but they always felt like a bit of an afterthought. Furthermore, they felt very late to the party. The bronze "fad" which many industry analysts predicted would die within a couple of years, is now celebrating one decade of existence (if we take 2011's Panerai Bronzo as the established starting point for luxury watches in bronze).
…it certainly works here…
Furthermore, bronze's continued presence is not a nominal one. As time goes by, rather, bronze seems to be becoming more and more established as a mainstream case material. It is becoming almost expected of brands to provide a bronze option. And while that might not work with every model within the catalog of every brand, it certainly works here, for the Hamilton Khaki Field Bronze.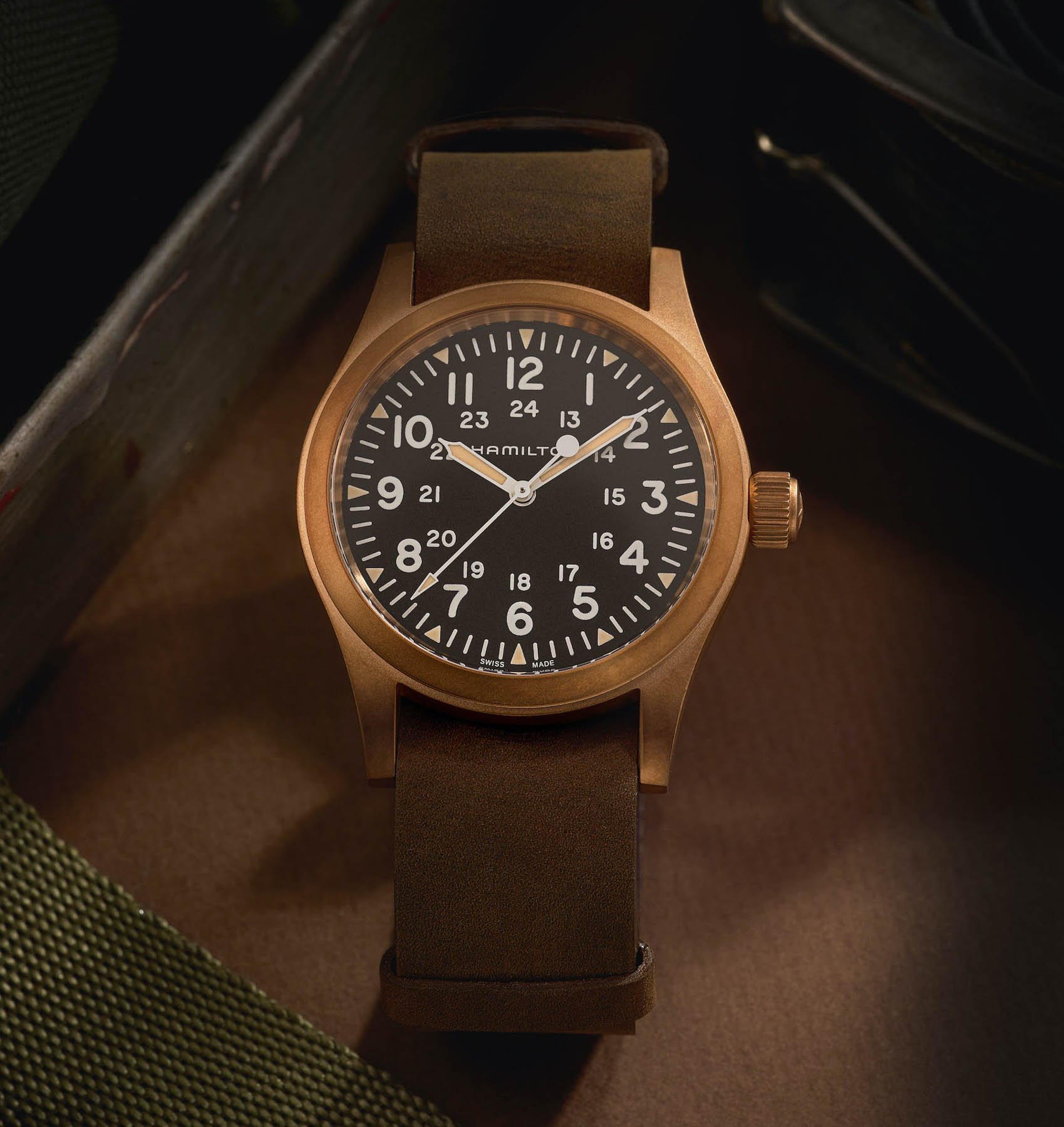 Good from top to bottom
The success or failure of this watch will come down to the popularity of its aesthetics. That's because the movement, at this price point, is pretty much unbeatable. Driving the hands of the Hamilton Field Khaki Bronze is the automatic Hamilton H-50. The dateless H-50 is a modified ETA C07.111, which, in turn, is a souped-up ETA 2824, which spikes the power reserve all the way up to 80 hours.
You couldn't ask for a better beating heart than the H-50. In my opinion, that puts the specification conversation to bed, and everything rests on the way the dial's colorway hangs together with the case material as it ages and patinas over time. The movement is protected by a solid titanium case back, which is matched by a titanium pin buckle.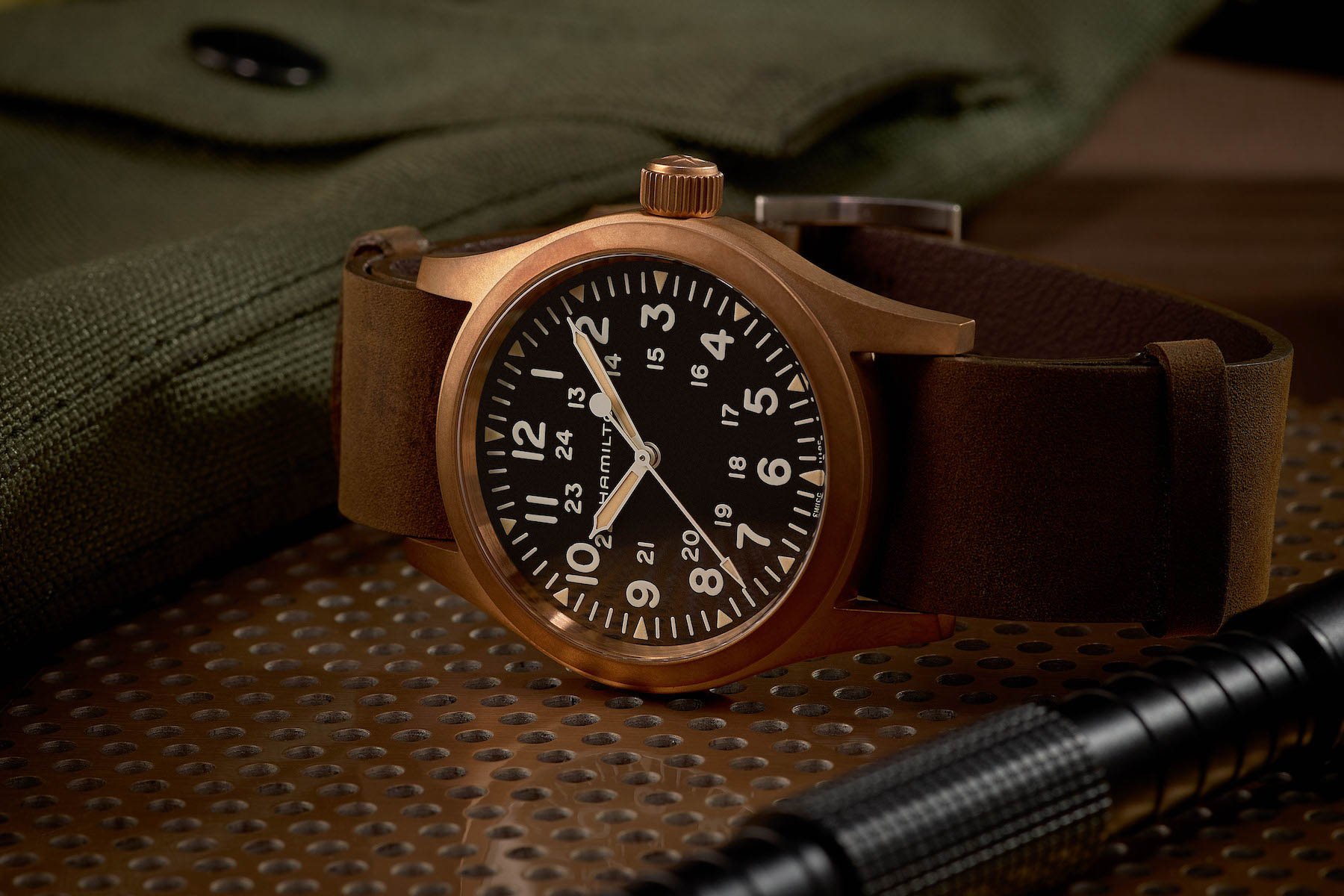 Designed for the ages
When fresh out of the box, this pairing is handsome enough, but it seems to me that Hamilton has — rather wisely — designed this dial and handset around what the watch will look like rather than how it does when new.
…a very distinct character.
Almost immediately, the patina starts to form on the 38×9.6mm CuSn8 bronze case. The murky brown housing, which one could very much imagine calling the wrist of an intrepid trench soldier home, vibes deliciously with the pumpkin-flavored markers and handset. Overall, it is a warm affair — far warmer than the regular model. As such, it has a very distinct character. I think it is a fantastic addition to the lineup and cannot wait to see this one popping up on more wrists when we're finally able to meet up again. Learn more about Hamilton here.