Hamilton's Janie Bryant Ladies' Collection Is Full Of Hidden Gems
Including a new take on my personal darling, the Hamilton Ardmore
Oh, to be young and not know the cruel sting of the luxury watch collecting habit. I was young once, and it wasn't as long ago as my impressive collection of crow's feet would have you believe. When I was young, I didn't have a lot of money. But what little money I did have, I would spend on watches. One of those watches I bought (with a 70% discount in the Swatch Group Christmas sale) was the quartz-powered Hamilton Ardmore, a watch I believe Hamilton pitches toward its female fans. I don't care if that's the case. I love it. Twelve years on from that purchase, I still own it and wear it occasionally. That's why I was thrilled to see the Ardmore feature in this intriguing new ladies' collection by Janie Bryant.
Janie Bryant is a renowned television costume designer. Knowing the lifestyle habits of the Fratelli, I'm guessing most of you will know her work from Mad Men. If you're a little grittier and rougher around the edges than Don Draper's perfectly chiseled jaw, you might have seen her creations on-screen in the TV sensation Deadwood. Here, she turns her talents toward a six-piece capsule collection for the ladies' arm of the catalog.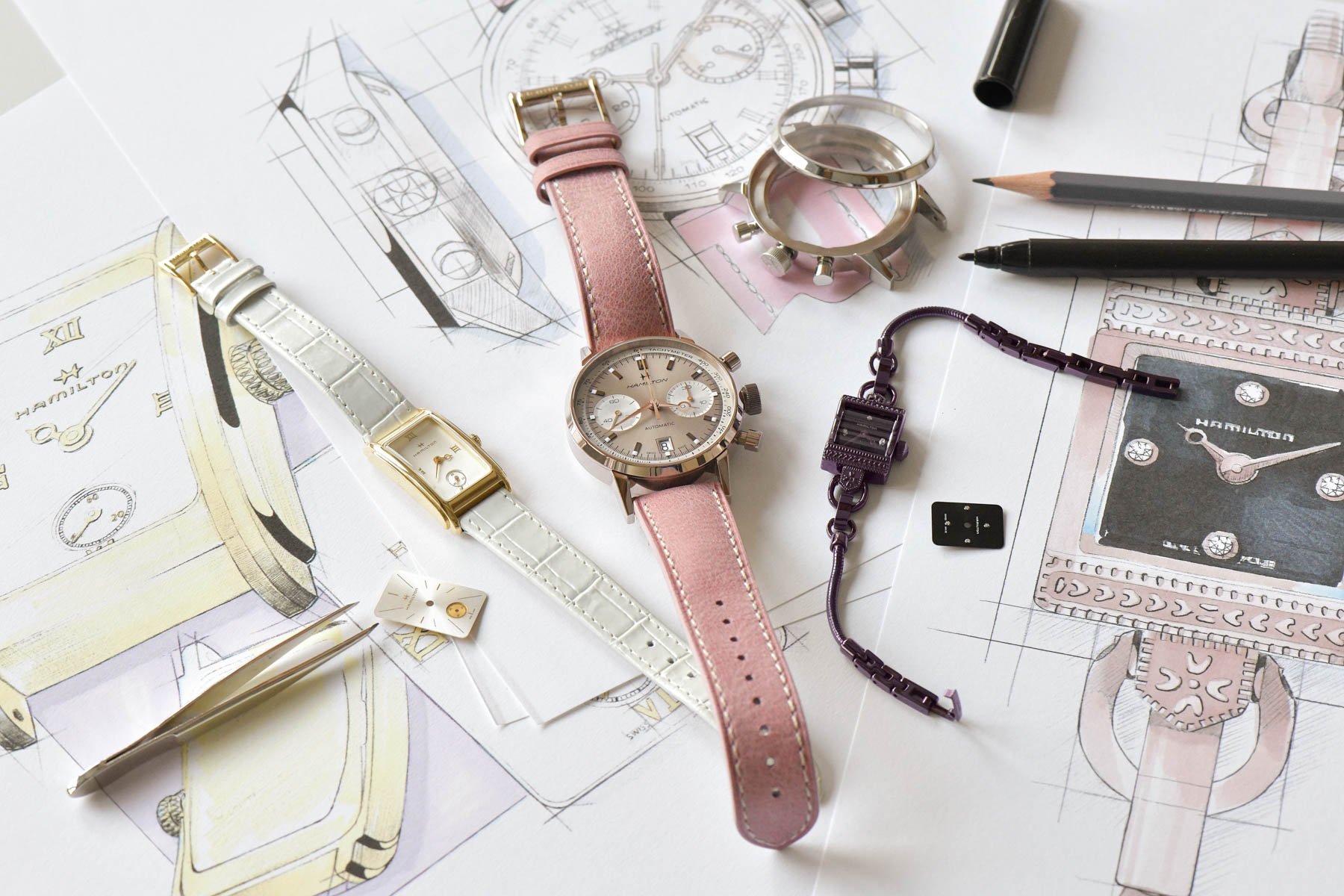 A bit of credibility never hurts
If I'm being honest, I think this is a pretty interesting collaboration. I'm guessing four of the six watches won't resonate with the majority of Fratello's (male) audience, but the two reinterpretations of the exceptional Hamilton Intra-Matic Automatic Chronograph may well whet some appetites. Beyond personal resonation, however, is the concept of having a prominent female designer working directly with a brand on a seasonal capsule collection. It seems a pretty credible way to catch the attention of a growing female audience. Let me put it this way: this collaboration is one million percent better than Lady Gaga's collab with Tudor. And I like Tudor. And Lady Gaga. But I don't put fried eggs on my Rice Krispies either.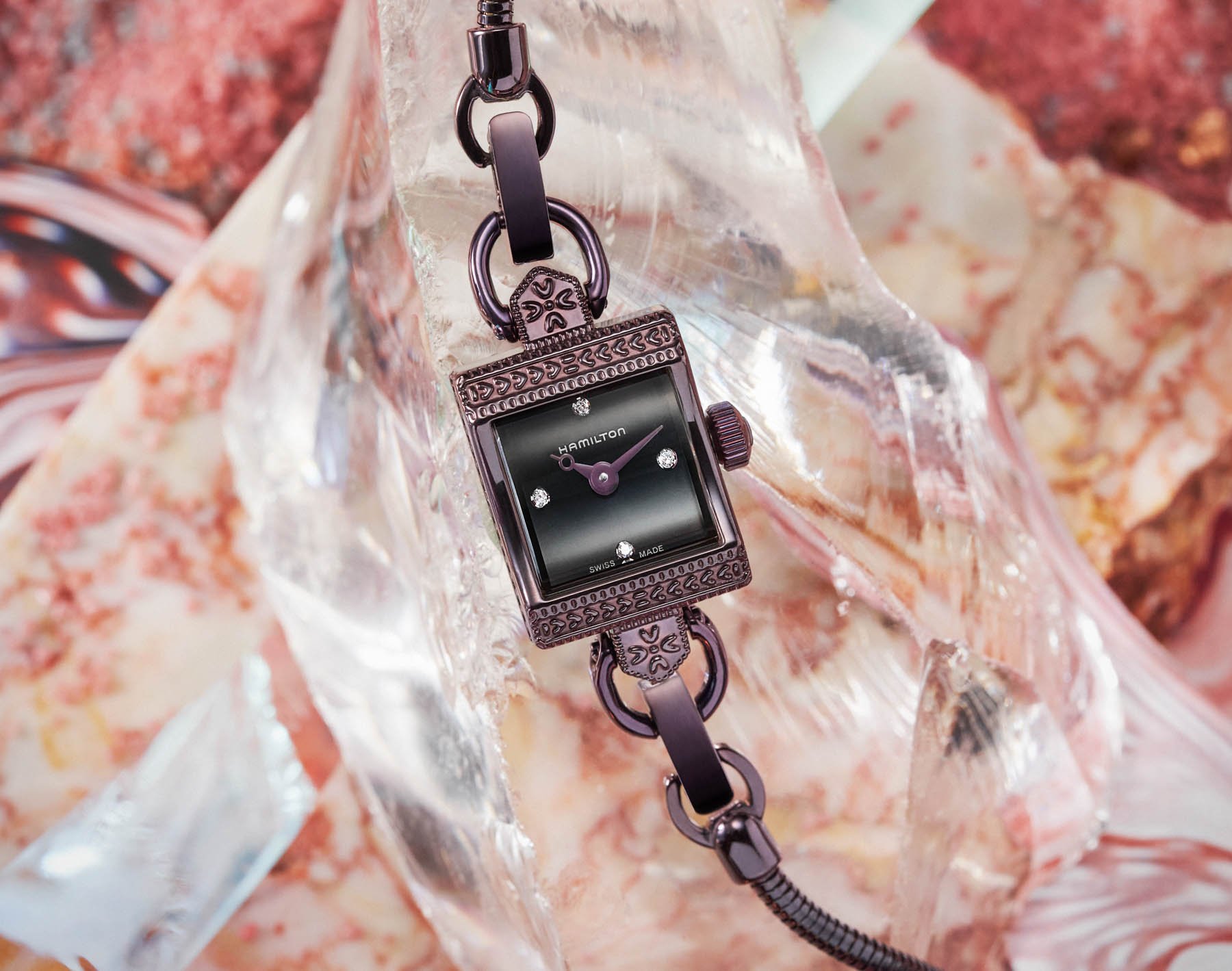 Femininity first
Let's start with the most feminine of the three models — the Hamilton American Classic Lady Hamilton. To each their own, but this is clearly aimed at women and fans of the throwback elegance that called the 1920s home. There are, as with all three base models, two versions of this one available. Hamilton has, for marketing purposes, split them into "Today" and "Tomorrow" categories. The "Today" sub-capsule collection features softer shades and pastel palettes, while the "Tomorrow" trio is darker, richer, and edgier overall.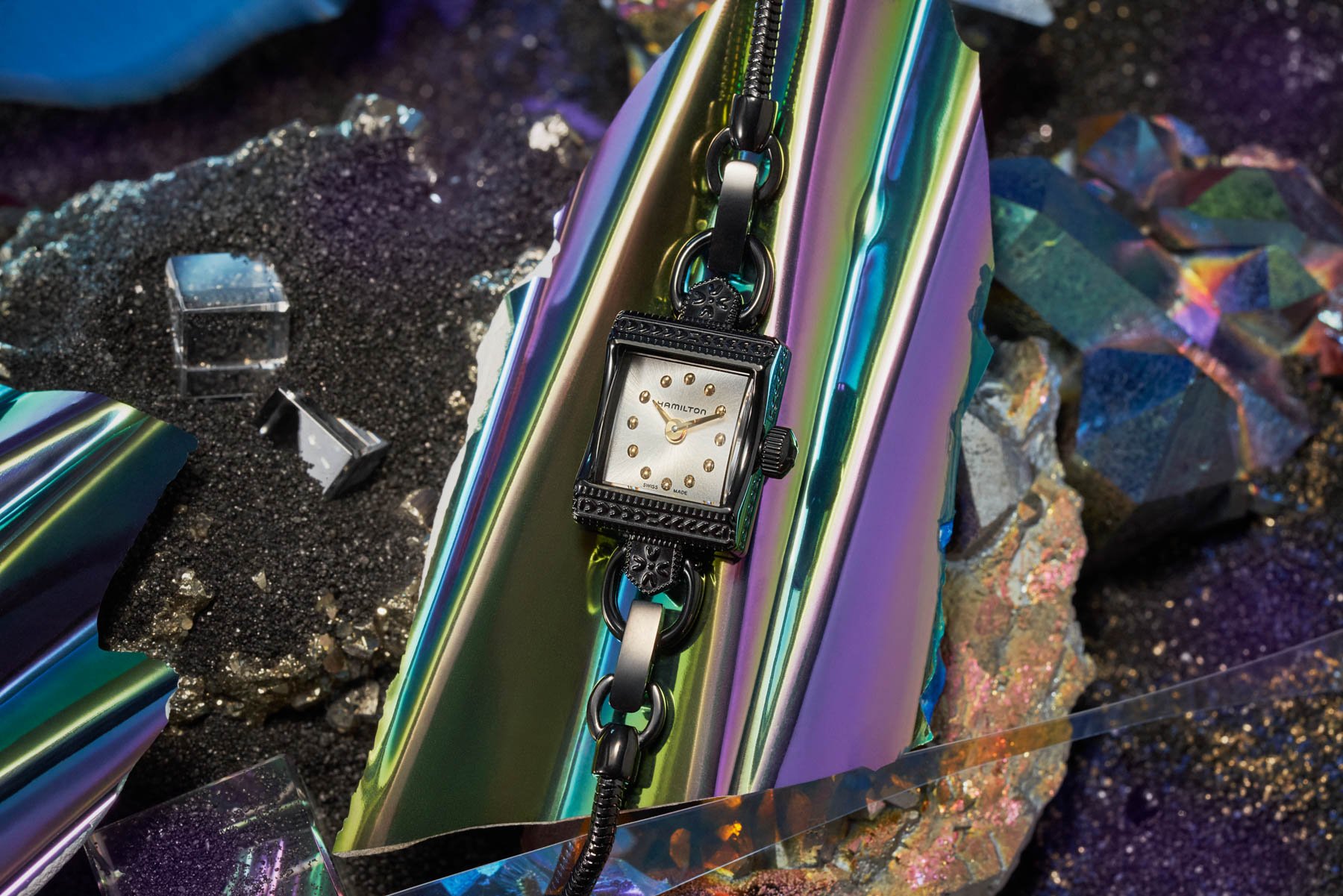 This snake chain bracelet, shared by both the "Today" and "Tomorrow" models, is similarly treated to match the dark case color. But as with all these models, the case colors used for the two sub-lines also differ. Here, the "Today" model is IP-plated in an almost aubergine shade and boasts a black dial. The "Tomorrow" model sports a black case and a crisp silver sunray dial studded with domed golden markers. The "Today" version, however, has only the cardinal markers on display, and they are replaced with diamonds. Both models retail for CHF 625.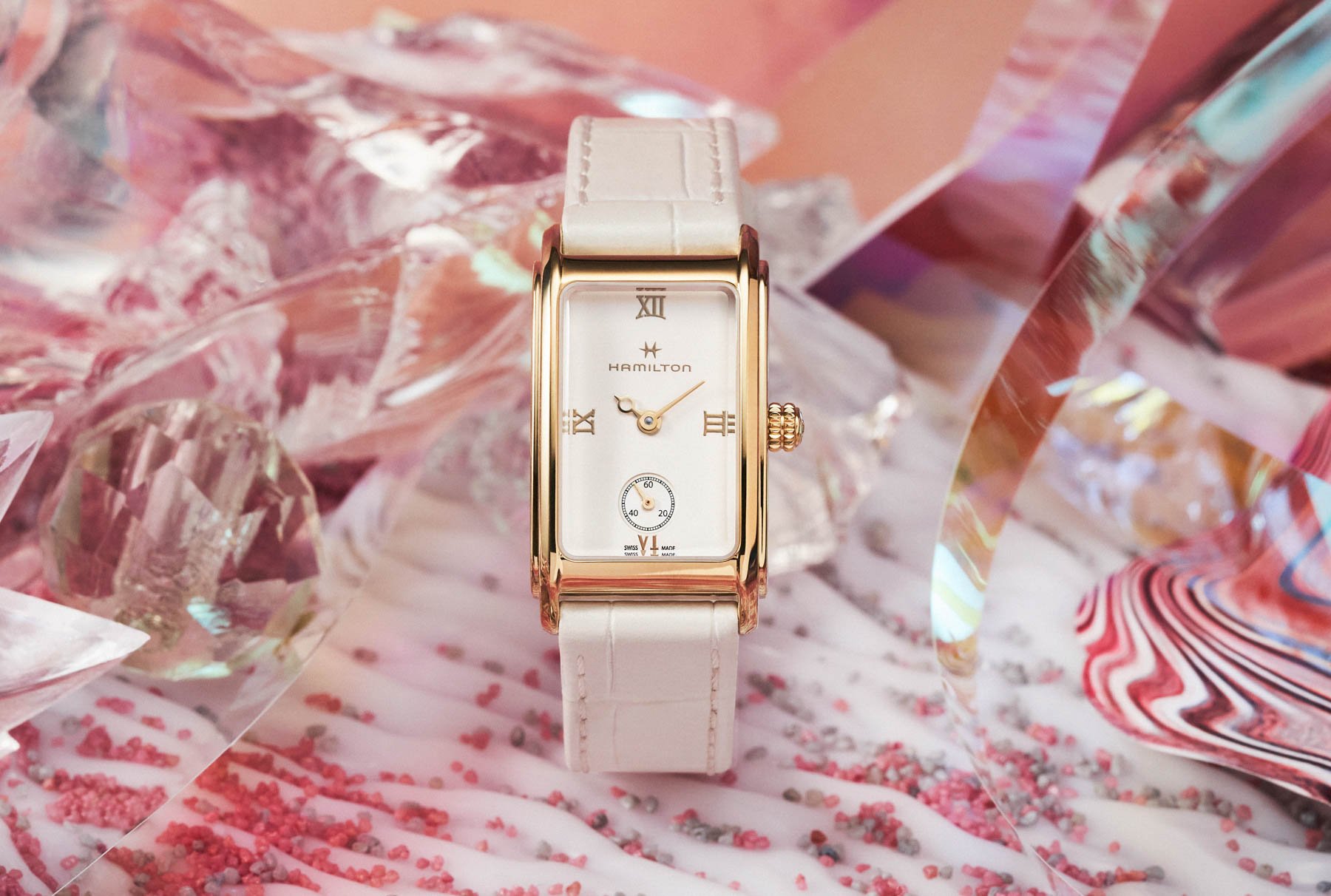 The Ardmore Strikes back
At CHF 495, the Ardmore entrant into this capsule collection is typically affordable. The "Today" version comes in a gold case, while the stainless steel of the "Tomorrow" collection is warmed up by the gold hour indices, hands, and recessed sub-dial on the silver sunray dial. Now, in all seriousness, the 18.7mm by 27mm makes for a very dainty watch, dwarfed by the slightly more robust model that calls my collection home. But I'm really pleased to see another rectangular watch hit the market, even if this one is not aimed at me personally.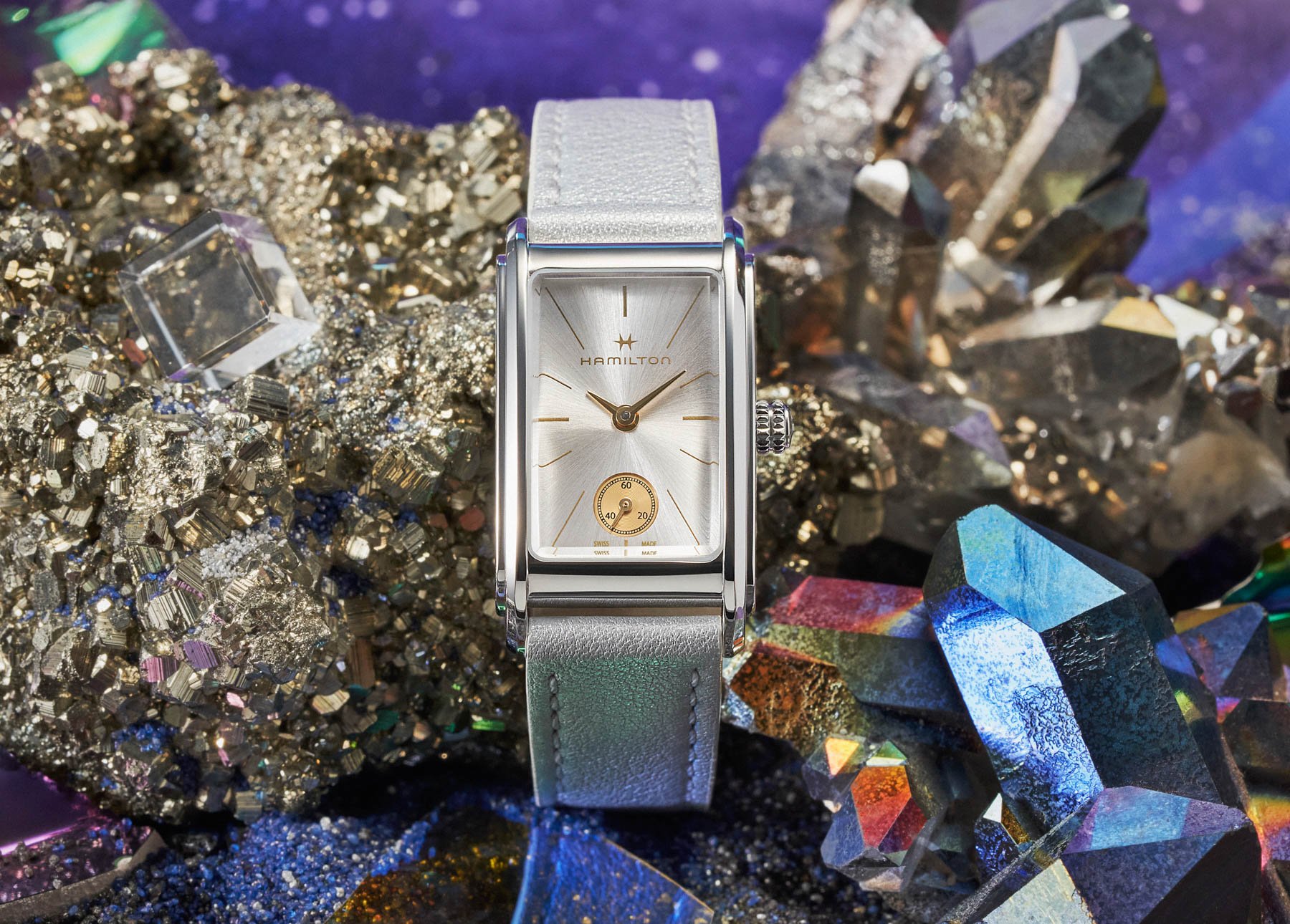 I would love to see more rectangular watches available. I've seen recent releases from newer brands trying to tap into the fizzing extravagance of the decade most often described as "roaring." And yet, they often miss the mark in one way or another (the difficulty of fitting a mechanical movement into cases of that shape can prove a problem to do well or affordably, and leaning on quartz makes for tough sledding without the brand cachet to carry it off). Hamilton has the latter in spades and isn't afraid to lean on quartz when it makes sense.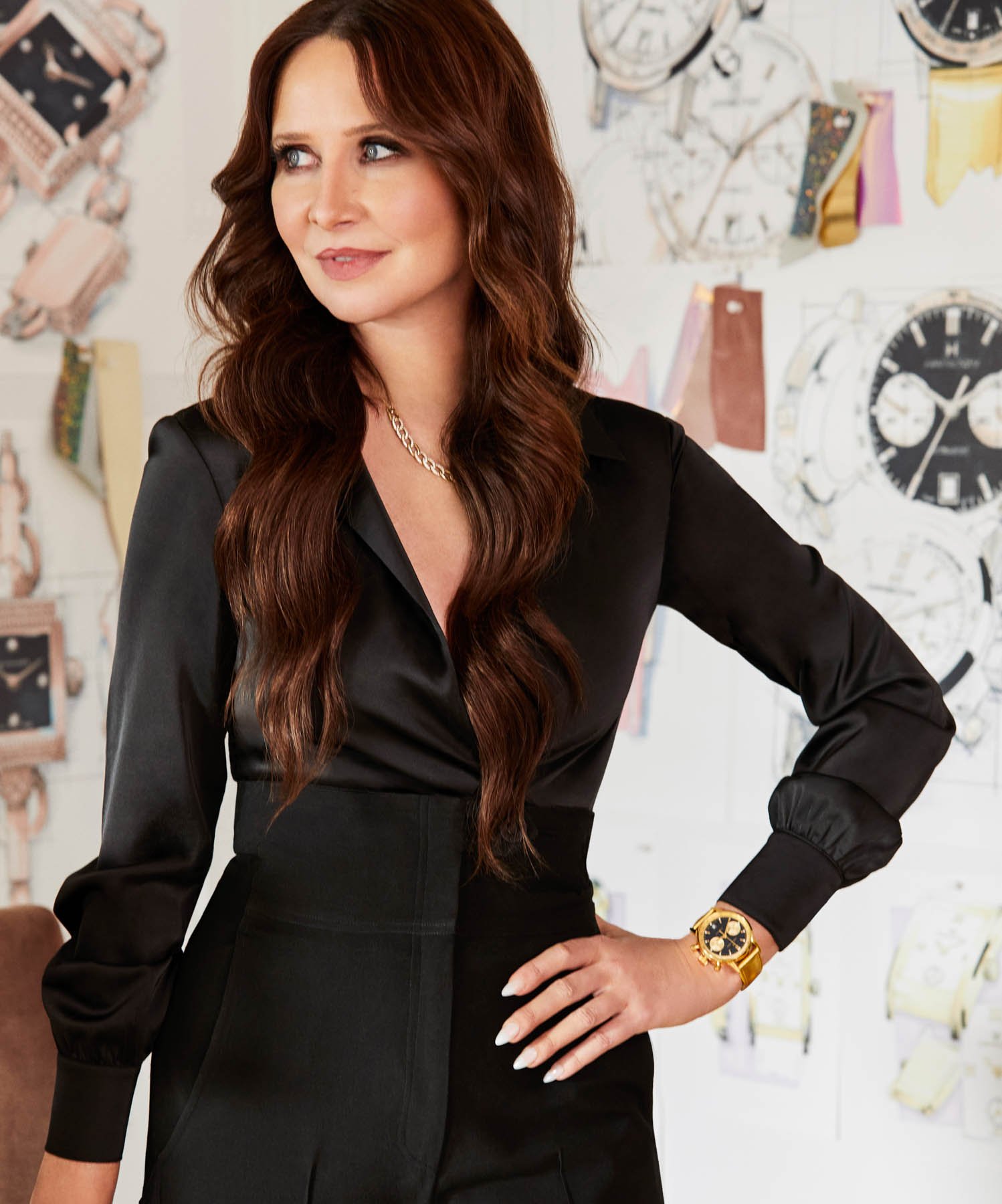 Hold onto your hats… The Hamilton Intra-Matic by Janie Bryant is surprisingly hot stuff
I got over my obsession with rose/yellow gold PVD a long time ago. It's been many moons since a watch in this vein ever registered on my radar. But here, we have a pair of models that I would regard (from the brand and collaborator's position, at least) as unbelievably successful.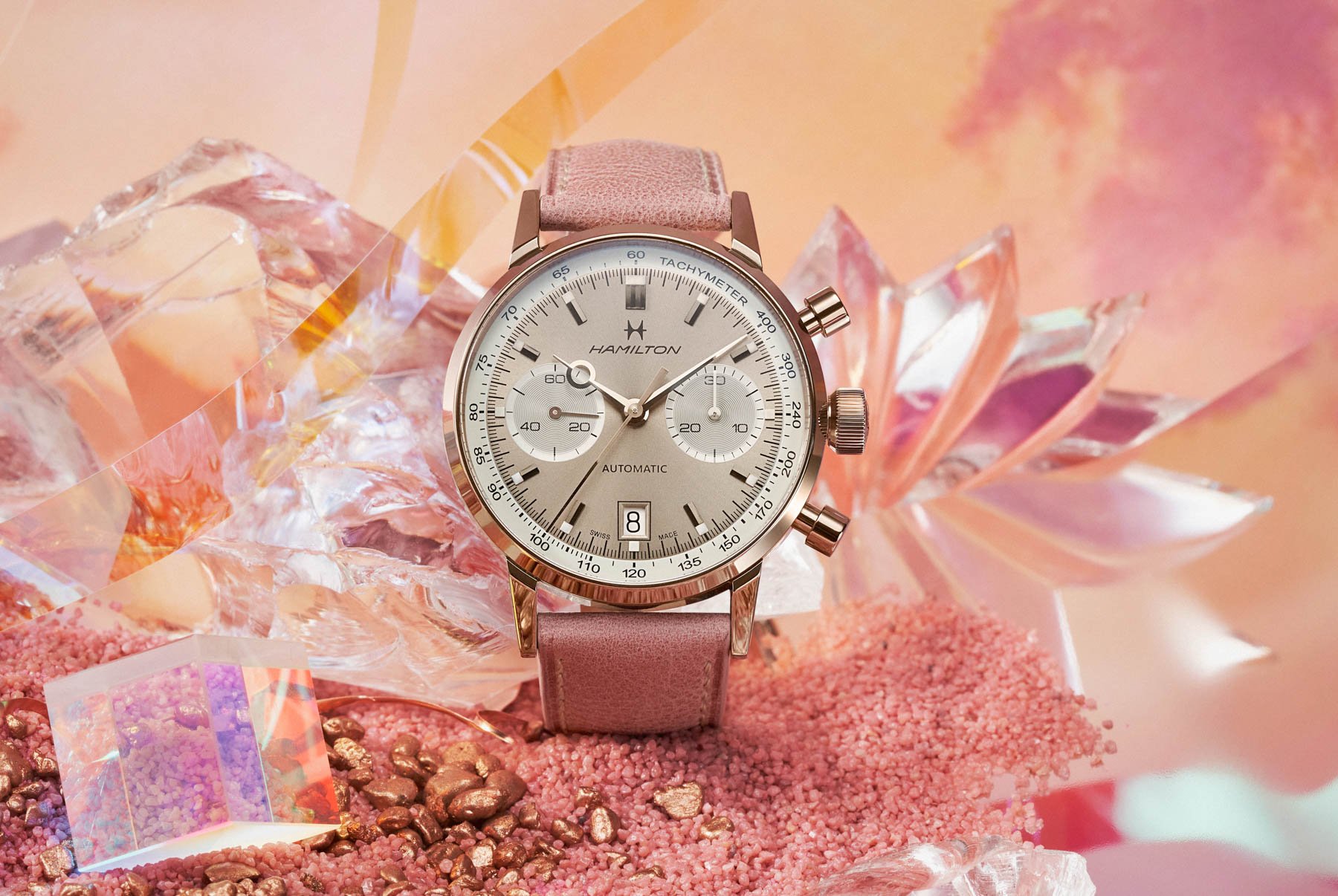 Yes, the Hamilton Intra-Matic Chronograph line is so good, leaning on it as the focus of any capsule collection is low-hanging fruit. But you know why fruit hangs low? Because it is plump, juicy, and ready to be eaten. So while this might have been the easy choice, we shouldn't penalize the result because of it. After all, I may even be overlooking something when it comes to the selection of this model…
Boldness in disguise
Was it the easy option? Perhaps, in fact, it was the opposite. I think it's obvious because, on balance, the Intra-Matic is Hamilton's best watch (I'll defend that to death, but please feel free to disagree with me in the comments section). However, it was always a men's watch. Unlike many other brands, Hamilton has a huge range of ladies' timepieces available. Choosing to roll with this model speaks volumes of Hamilton's awareness of its broadening consumer base. Reference H38426820, the rose gold-plated variant, is my favorite. With a price tag of CHF €2,295 for both, I can see them selling like hotcakes at this time of year. And you know what? I think they deserve to.
In this range of six watches, we have unbridled feminity, old school class, and a watch big on technology and proportions (for a model targeting women). It's a bold move that comes across (to me, at least) as a clever buddy-up. It might well make a few waves this year, as well as bulges in stockings come Christmas morn. But what do you think? This kind of release is bound to stir some feelings, so let us know what they are in the comments section below. And while you're at it, why not tell us which other brands you think should take classic models and give them to Janie Bryant for a makeover? Read more about Hamilton here.