4N MVT01 D01 Review
In the scarce spare time in-between all meetings at Baselworld we like to explore the exhibition for interesting things. Usually it's appointment-only but at The Palace – where a lot of independent brands are located – we were spontaneously invited to check out the watches from 4N. This brand was founded in 2009 by François Quentin who has a a rich résumé in the watch industry. With the shortest brand name in the book, 4N stands  for 'four numbers', which relates to the way the time is displayed with 4 digits, just like a digital display only it's fully mechanical.
We had a look at the 4N MVT01 D01 watch. Have a look at these photos first, before we continue our story.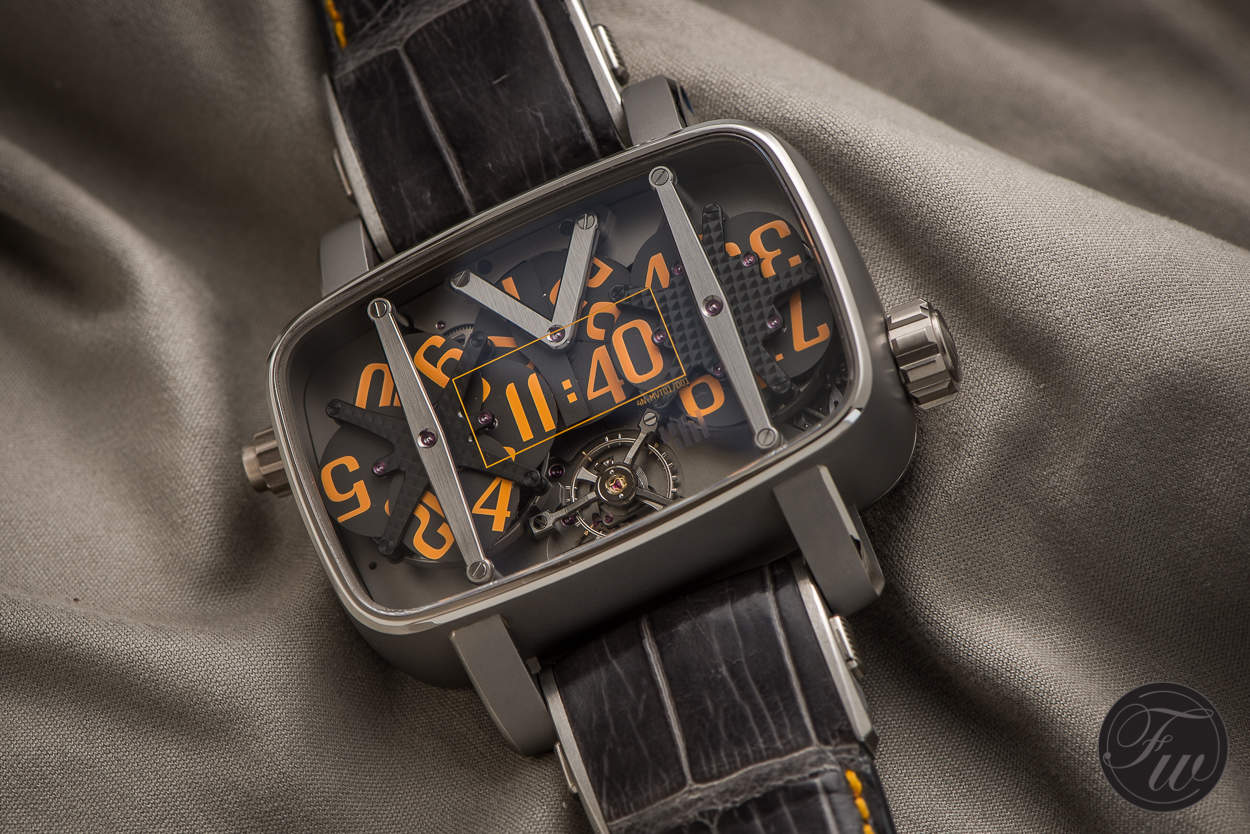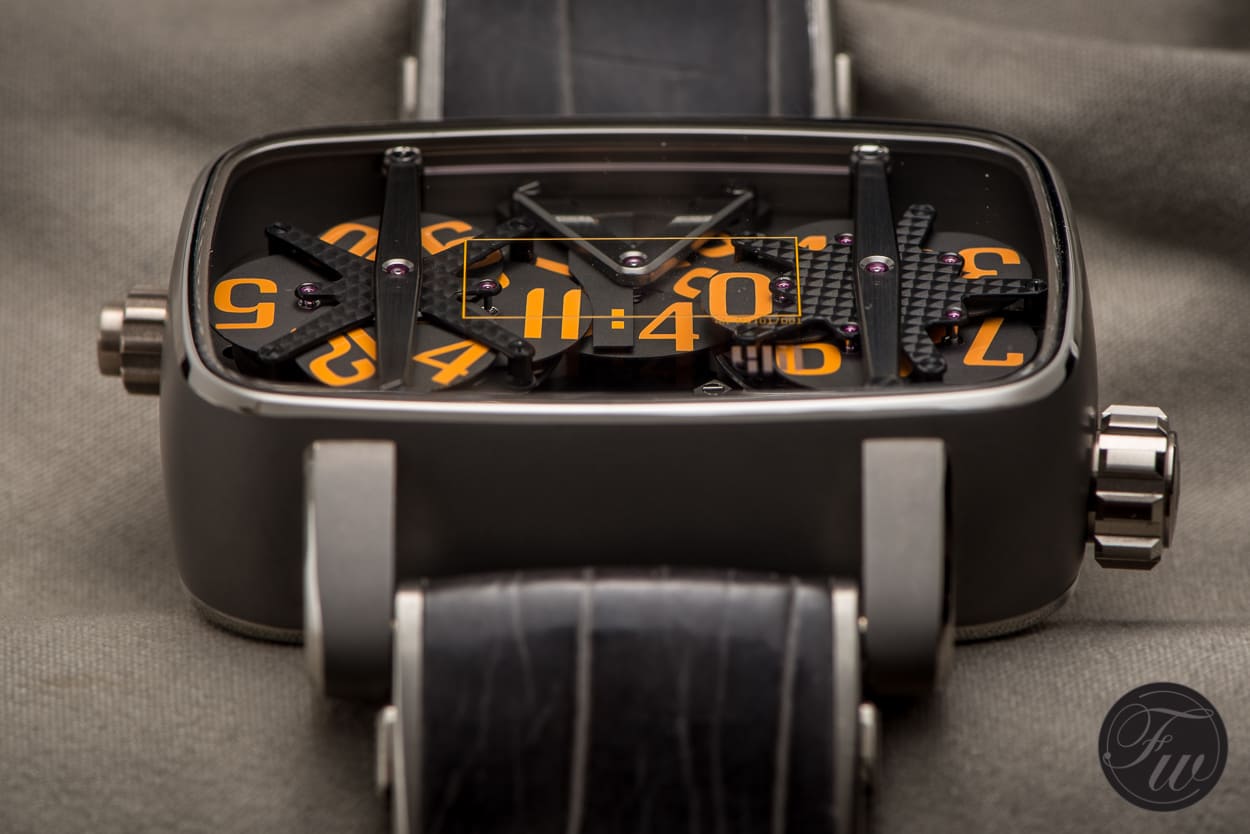 To be able to display the time on the 4N MVT01 there are three groups of rotating discs in the manufacture movement. The digits on measure 5,5 mm. On the left side there is a group of 4 discs with 3 digits each representing the 12 hours. On the right side there is a group of 5 discs with 2 digits each for the single minutes which are completed with a single disc in the middle for the tens of minutes. Rotating is done by a system of constant force that makes the discs 'jump' instantly at the right moment.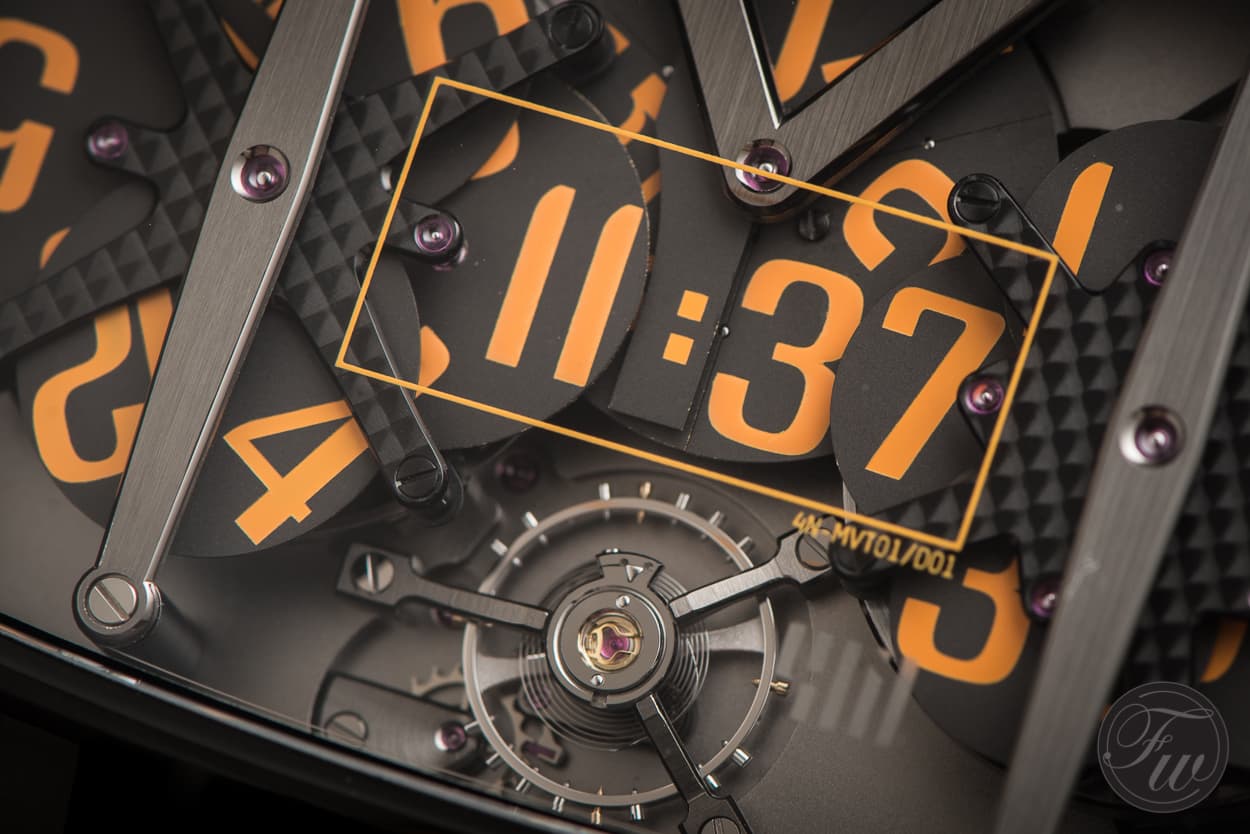 4N published a video that shows how time jumps from 1:59 to 2:00 on the 4N MVT01 D01 watch.
With a double barrel the power reserve on the 4N MVT01 D01 is almost up to 10 days. No less than 514 parts are used in the 4N MVT01 which are all decorated by hand. 4N has a partnership with Renaud & Papi with regards to its complex movement. Their best master watchmakers spend close to two months on finishing and assembling one single watch. This also explains the very limited quantity of the 4N MVT01. Only 16 pieces are available – regardless of the case material – and comes in white gold, titanium or platinum. The high quality strap is constructed with a quick release system and comes with a buckle. Also available as a custom length strap that is made to measure.
Price indication for the 4N in white gold is € 150.000,- excl. taxes.For more information about the 4N MVT01 D01 visit the official 4N website.
Technical Specifications
Jumping minutes and hours
Digital display by discs
Double barrel with simultaneous transmission stop-work
Screw balance: 9.12mm Breguet spiral
Rhythm: 21 000 Alt/hour
514 components
78 rubies
237-hour power reserve (10 days)
Finish: all parts are hand-decorated
Limited edition 16 pieces
Retail price : white gold version – 150 000 € Excluding Taxes

Bert Buijsrogge is co-owner of Fratello Watches and his focus is on haute photography. Bert Buijsrogge has worked in the real-estate business for 15 years and combined his passion for watches and photography over the years. He became famous for his watch photography and created the famous Rolex watch calendars for a few years. Most of the photos seen on Fratello Watches are made by Bert.

Latest posts by Bert Buijsrogge (see all)