Hands-On: The Atom AT.01 Brings Clean Minimalism To Kickstarter Soon
A British-designed microbrand watch with a no-frills aesthetic
Atom is a new kid on the block. The York-based brand debuts on Kickstarter this year with the Atom AT.01. The ambition is clear — to offer timeless mechanical watches at honest prices. I go hands-on with a prototype of Atom's first model to see whether the brand meets that ambition.
We are looking at a design that is fully bespoke to Atom. There are no generic parts to be found here. Well, except for the capable automatic Miyota 9015 movement, of course. Still, it is nice to see a design executed through and through. No generic handset that does not quite match the dial and other such issues commonly found on aspiring watch brands' first efforts.
Atom AT.01 specifications
The Atom AT.01 measures 40mm across, 48mm lug to lug, and 11.8mm thick. The lug width is a convenient 20mm, and the stainless steel case is water resistant to 100 meters. It is fitted with a domed sapphire crystal with an anti-reflective coating on the underside.
The Atom AT.01 comes in three dial colors — carbon black, azurite blue, and the chalk white you see here. The dial is textured and fitted with applied indices. There is a round, faceted date aperture above the stick marker at 6 o'clock. The Atom logo and "Automatic" text complete an otherwise clean and simple dial.
The watch comes on your choice of three straps. There is a chestnut Buttero (seen here), black Barenia, and gray nubuck option.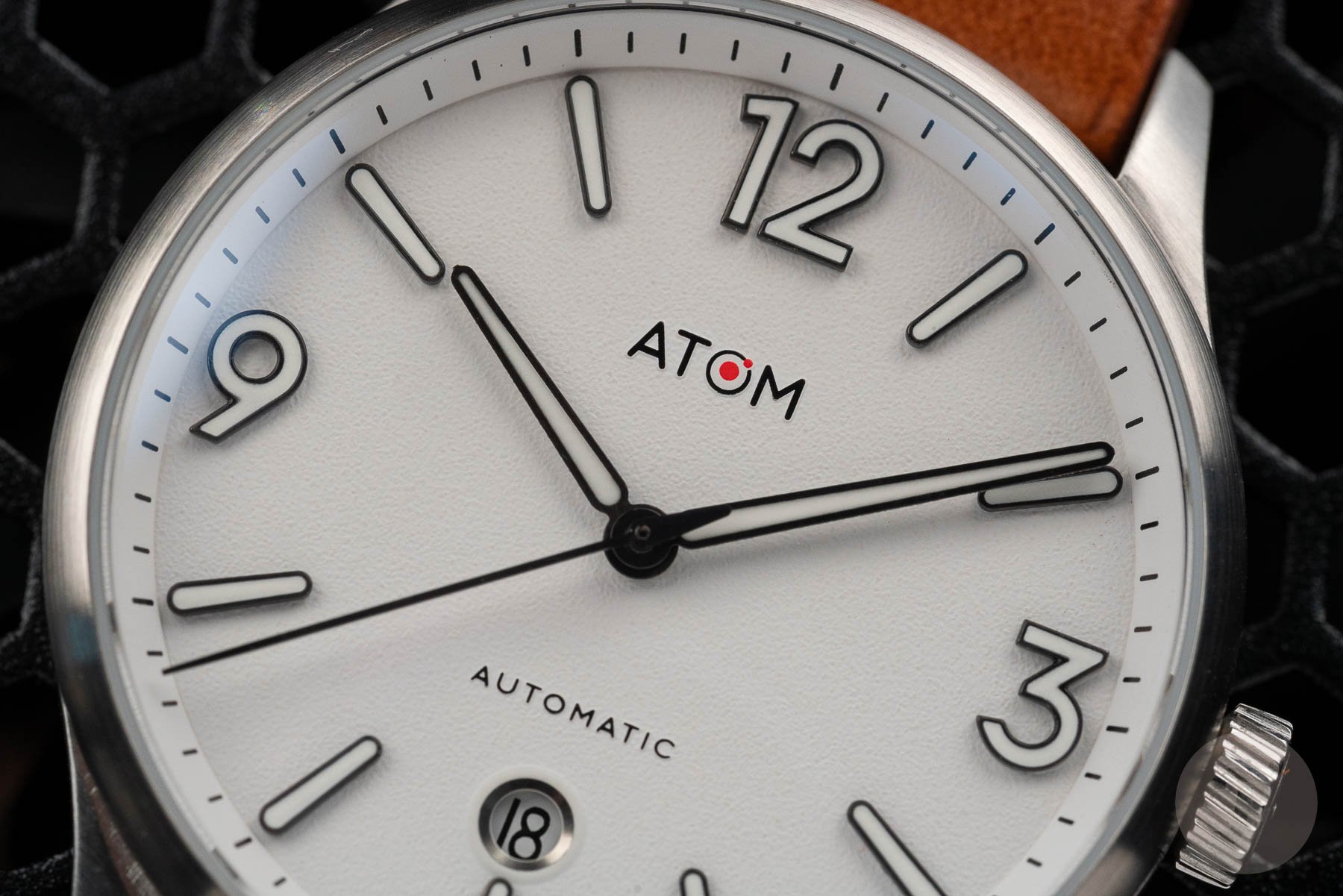 The design of the Atom AT.01
Atom founder Karl Moran is an industrial designer by trade. I am sure that makes life as an owner of a watch microbrand quite a lot easier. You can clearly see that the AT.01 was developed by a skillful designer. Details that many aspiring watch designers get wrong are well done here. Look, for instance, at the proportional relation between the hands and indices. In fact, the dial layout in general is well-balanced and proportioned.
That being said, I do feel the watch is a bit bland in aesthetics. There are no real standout features in its design. It is very modern and clean, but not in the particularly stylish way of some of the familiar Bauhaus-inspired candidates. This makes me wonder who the watch is for. If you are shopping in this segment, there are great options from Seiko and Tissot, for instance. I can imagine you would prefer a microbrand alternative for an outspokenly different look or something unique. But then, this might be a bit too conservative for that purpose.
Of course, looks are always a matter of taste. If you love this design, let me know in the comments. I am curious to hear your thoughts.
Wearing the Atom AT.01
Having spent some time with the Atom AT.01 on the wrist, I feel that I can share some honest findings with you. A few issues stood out to me, which are excusable for a debut watch at this price level. And since the Kickstarter campaign has not yet started, they might still be addressed. The crown is the first. It is quite sharp, and I found it uncomfortable to operate. Another is the date, which is not quite in the center of the aperture. The aperture is quite narrow for the date font, making it look cramped and hard to read.
I am told the case finishing will be improved before launch. As you can see in the pictures, it is still rather coarse at this stage. We do not know what the final version will look like, but I am glad it is on the brand's radar. You may also spot unfinished cut-offs on the tips of the hands in our photos. Again, I am told that these will be improved for the final version.
I would not recommend the Atom AT.01 for people with small wrists or a taste for classical sizes. Being nearly all dial, it wears larger than its 40mm diameter might suggest. The conclusion you draw from that depends entirely on your own taste. If you like the style, this can be considered a do-it-all watch. It has a sporty dial and size combined with a formal overall aesthetic. If it is not your cup of tea, you would be excused for thinking it is neither fish nor fowl.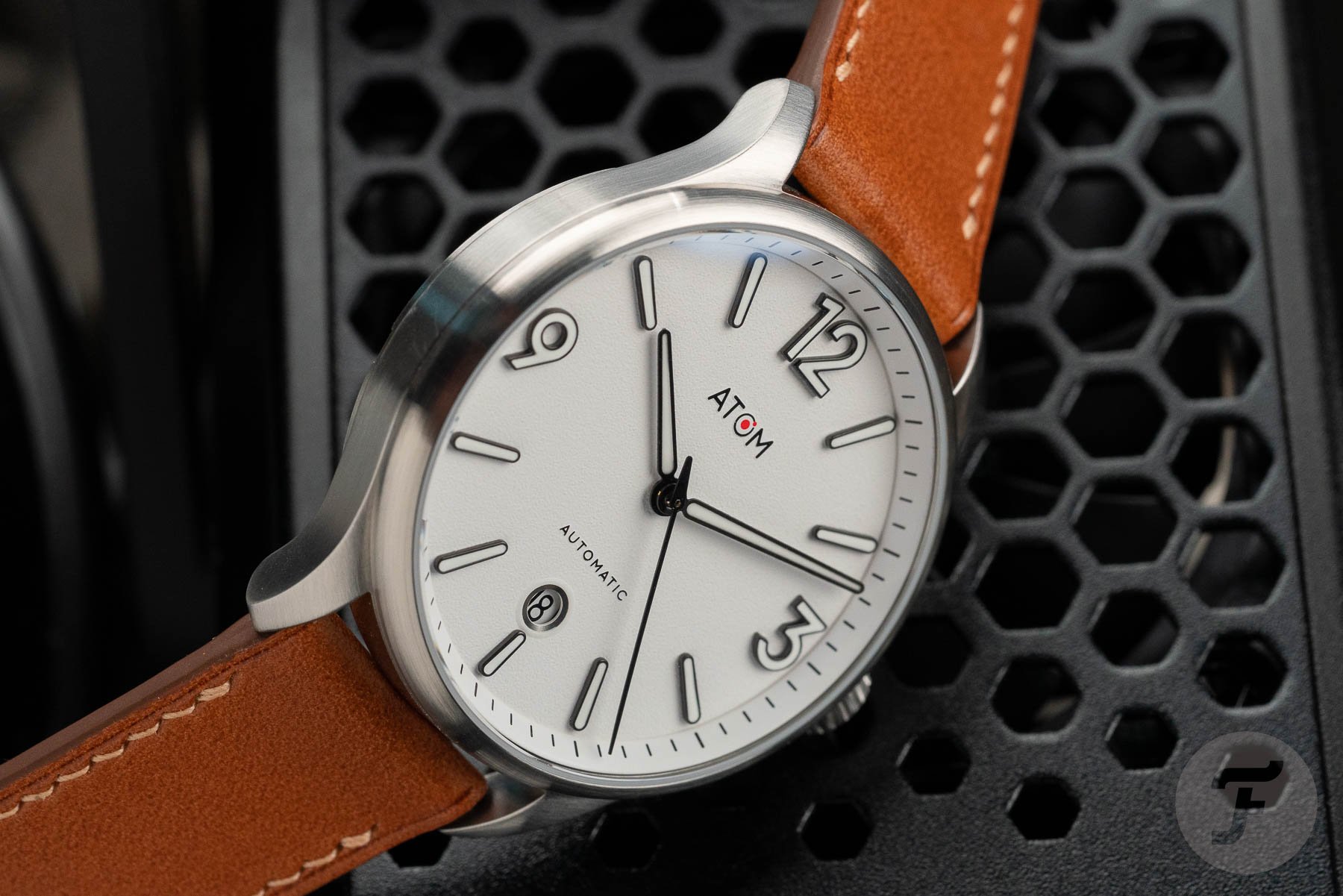 The value proposition
The Atom AT.01 is priced at £360/US$450. The Kickstarter price will be about 25% lower at £270/$340. Some features stand out at the price. First, you get 100 meters of water resistance, which is provided, in part, by a screw-down crown. Second, you get a higher-end Miyota caliber in the 9015. While these features are not unheard of in this segment, it is good to have them here.
What impresses me, though, are the straps. They are of much higher quality than anything I have seen as standard on sub-€500 watches. The leather really is very nice on all three options. They are also very well made. They are, however, rather long. On my 17cm wrist, they were way too big and stuck out awkwardly. I hope Moran decides to offer a shorter option when the Kickstarter campaign commences. Still, it is great to see a brand in this segment not skimping on the strap.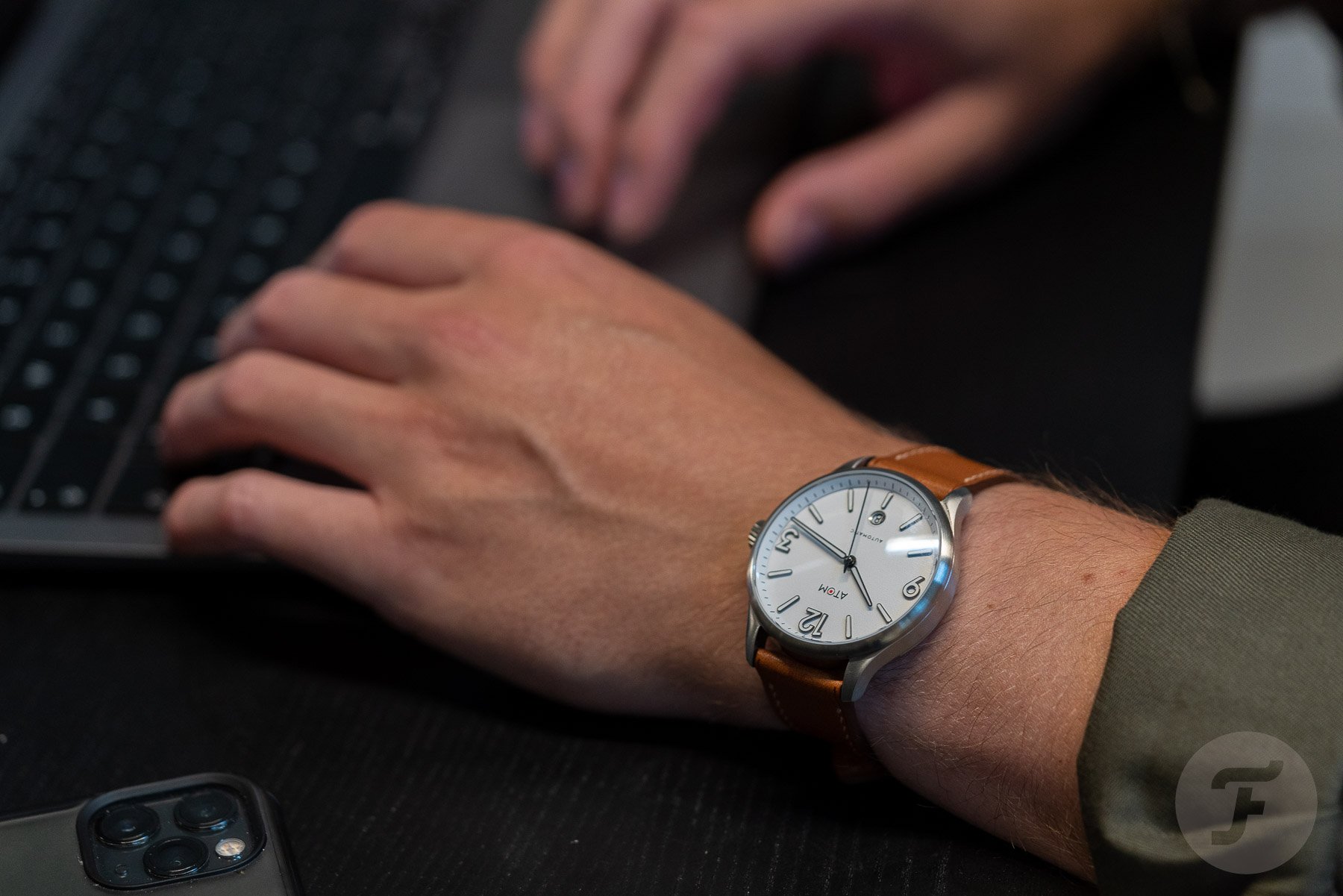 Closing thoughts
Reviews are toughest when you are not left fully convinced by a watch. You become very aware of the fact that someone is building something with great passion, and you have to be very careful and precise in your analysis of it. I have great admiration for people like Karl Moran who go out and bring their creativity to the world. I root for such entrepreneurs to succeed. It is just so cool that a lone maverick can upset a shareholder-dictated industry of suits and ties with innovative products and a personal connection with the fanbase.
That being said, the Atom AT.01 does not quite do that for me just yet. It is not a watch that claims its place on my wish list as it stands. I am curious to see how it develops between now and its actual launch, and I am curious to follow Atom in the long term. Moran is obviously a capable designer. It will be great to see how he develops Atom and what future models will look like. I am somehow left feeling that he could have pushed his design into slightly more daring territory. There is no shortage of microbrands, and you really need something remarkable to claim your spot and shake up the industry. At this point, I am missing that killer feature in this first watch.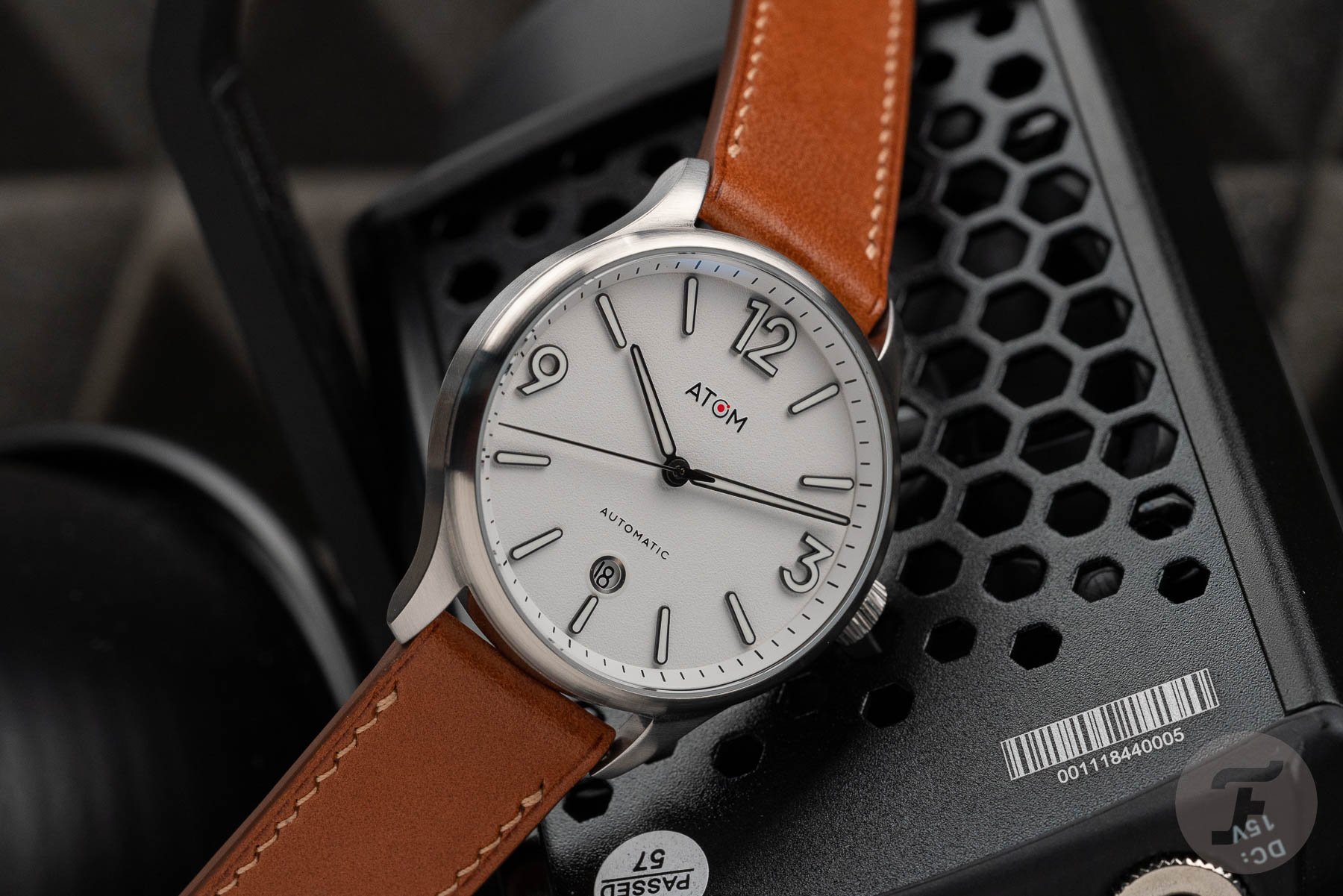 Pricing and availability
The Kickstarter price of the Atom AT.01 is £270/US$340. The full retail price will be £360/$450.
The planned Kickstarter launch is September/early October 2022, with shipment to backers beginning in January 2023.
As always, let us know your thoughts on this offering in the comments.