Hands-On: Citizen Promaster Tough Ray Mears
An Intriguing Candidate for a budget "Only Watch"
We go hands-on with a serious all-arounder, the Citizen Promaster Tough Ray Mears.
I know I've mentioned this before, but I'm here, once again, to tell you that I constantly find myself in a state of discovery when it comes to watches.  Whether we are talking about modern or vintage, once I think I've seen it all, something new pops up that I've either never seen or, more likely, cared about in the past. A perfect example of this ongoing phenomena within my head is today's Citizen Promaster Tough Ray Mears.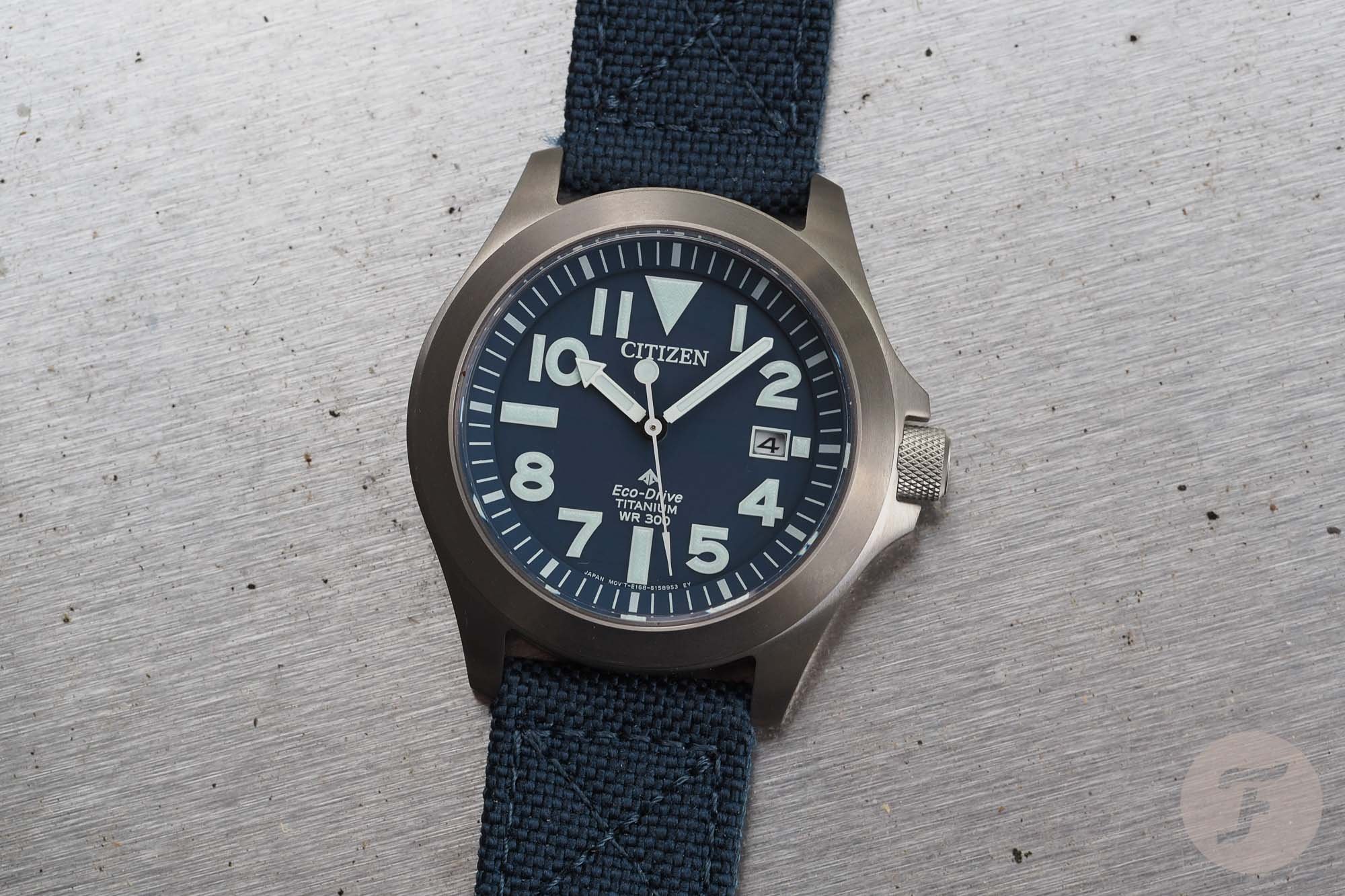 The Citizen Promaster Tough Ray Mears – Kind Of
Now, before the local "Citizen"ry get all up in arms about calling this piece the Citizen Promaster Tough Ray Mears, I know that this watch is just the latest in a line of Eco-Drive Promaster Tough models and isn't the original model as worn by one Ray Mears.  Still, the nickname lives on and I'm going to go ahead and use it.  But there's likely a more important question that's buzzing around within your skull that deserves an answer first; who is Ray Mears?  Well, as suggested by one follower, he's not the brother of 4-time Indy 500 winner Rick Mears.  No, Ray Mears is a well-known English personality who is famous for his on-TV shows about bushcraft and survival techniques.  For the Americans out there, I'd say Bear Grylls would be a good comparison as his shows crossed the pond.  Ray Mears became famous in the late 90's for his on-air exploits and while the internet was really just a budding technology at the time, forums had cropped up and members began to talk about the survivalist's wristwatch.  That watch was the Citizen Eco-Drive Promaster Tough.  Incidentally, things have apparently gone well for Mears as I've read that he now sports a Rolex…that's kind of boring, isn't it?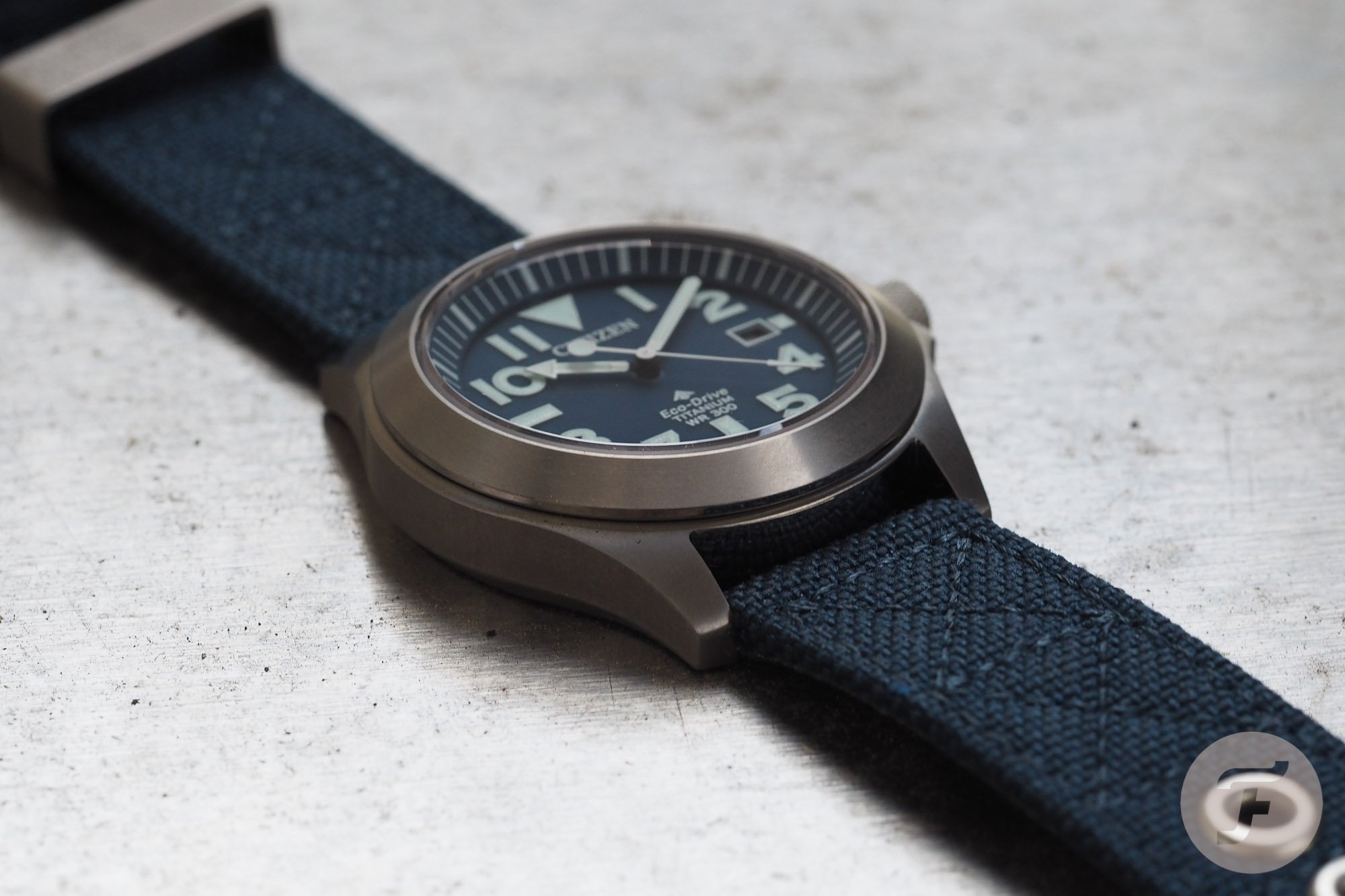 The Same Style Has Been Around Since 1999
I'll skip a recounting of the entire history of the Citizen Promaster Tough Ray Mears, but there's a truly fantastic article here that goes into serious detail about how this watch has developed since its introduction way back in 1999.  As the article tells us, these watches were targeted towards "professionals and serious enthusiasts" and that made the original version the perfect choice for Mears.  Again, I'd really recommend reading through this article if you're interested in the history of these watches or if you have interest in picking up a past model.  There's some great advice on there about how the movements changed over time and their relative reliability.  But regarding today's Citizen Promaster Tough Ray Mears, let's talk about the watch itself, why I personally find it so charming, and, finally, why it's a bit of a rarity.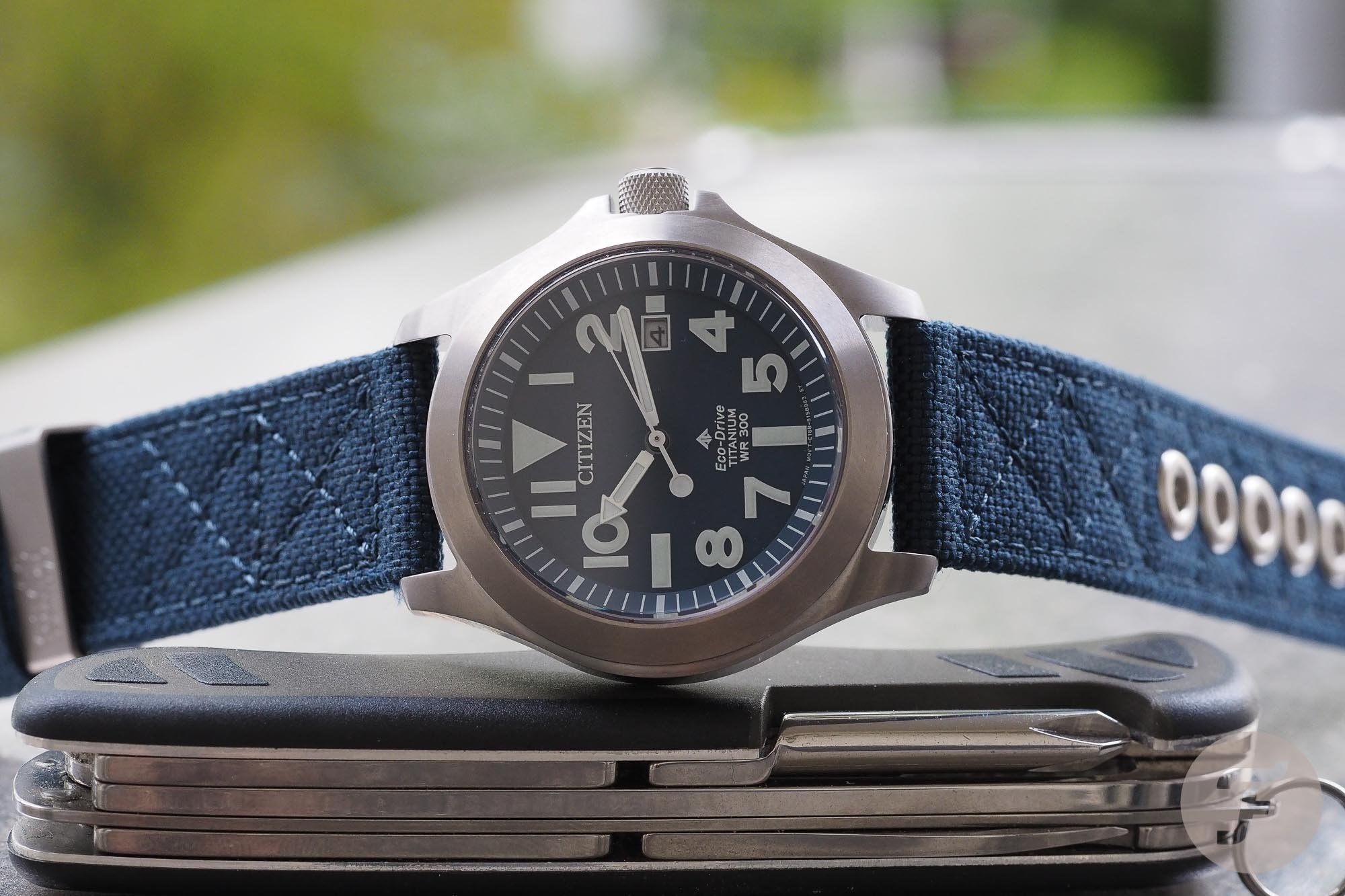 Priced at around 300 Pounds
When I first shot a picture to Robert-Jan of the Citizen Promaster Tough Ray Mears you see here, the groan was audible via WhatsApp.  He likely took one look at the watch and dismissed it as an inexpensive piece with nondescript "field watch" styling.  Well, he was right about the first part because this watch retails for a rather approachable ±300 Pounds.  On the second point, though, I'll kindly disagree.  The Promaster Tough is an incredibly well outfitted watch that really doesn't have to apologize for much.  In fact, I was chatting with Gerard (he's always up for talking about a wild Japanese watch) and he was rather impressed with the specs.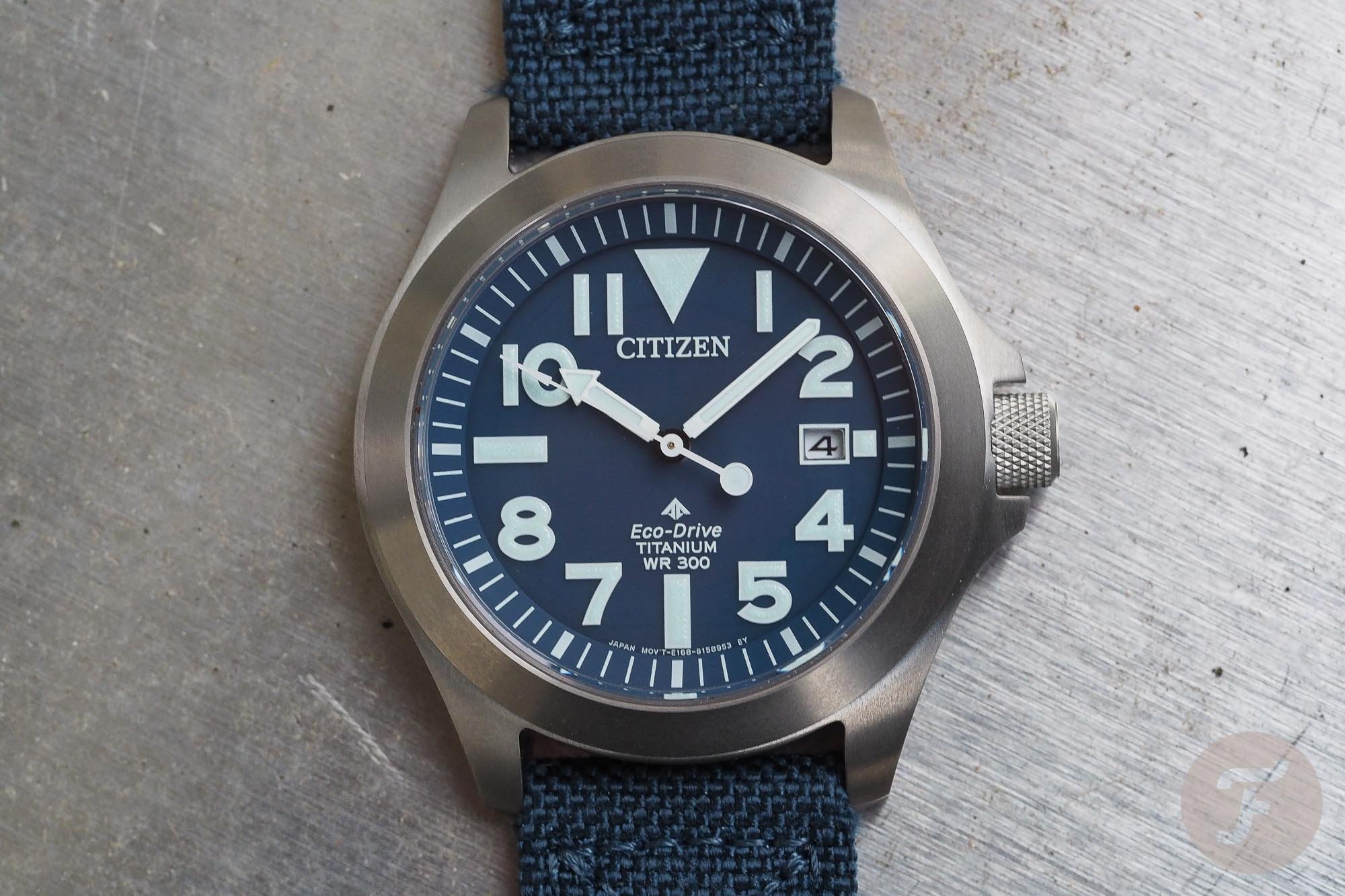 A Laundry List of Specs
With the Citizen Promaster Tough Ray Mears, we have a 40mm "Super Titanium" (that's a form of scratch resistance) monobloc case with 300 meters of water resistance.  There's a screw-down signed crown, an anti-reflective sapphire crystal, and a tough-as-nails Kevlar strap included as well.  Note: a black model is available with titanium bracelet for 80 pounds extra.  Inside, Citizen's Eco-Drive movement with date function ticks away and that means that any light source will keep it charged via a solar cell that lives under the dial.  Some say that these movements can easily work for 10 years without any issues while some report they they're good for more.  Oh, and if the watch is put away for awhile, it will run for at least 180 days on its charge.  And again, this is all for roughly 300 Pounds.  Per the specs, this watch should be able to take a beating and get back up and ask for more.  And while it's definitely not a diver due to the lack of a turning bezel, it would pair well with a dive computer.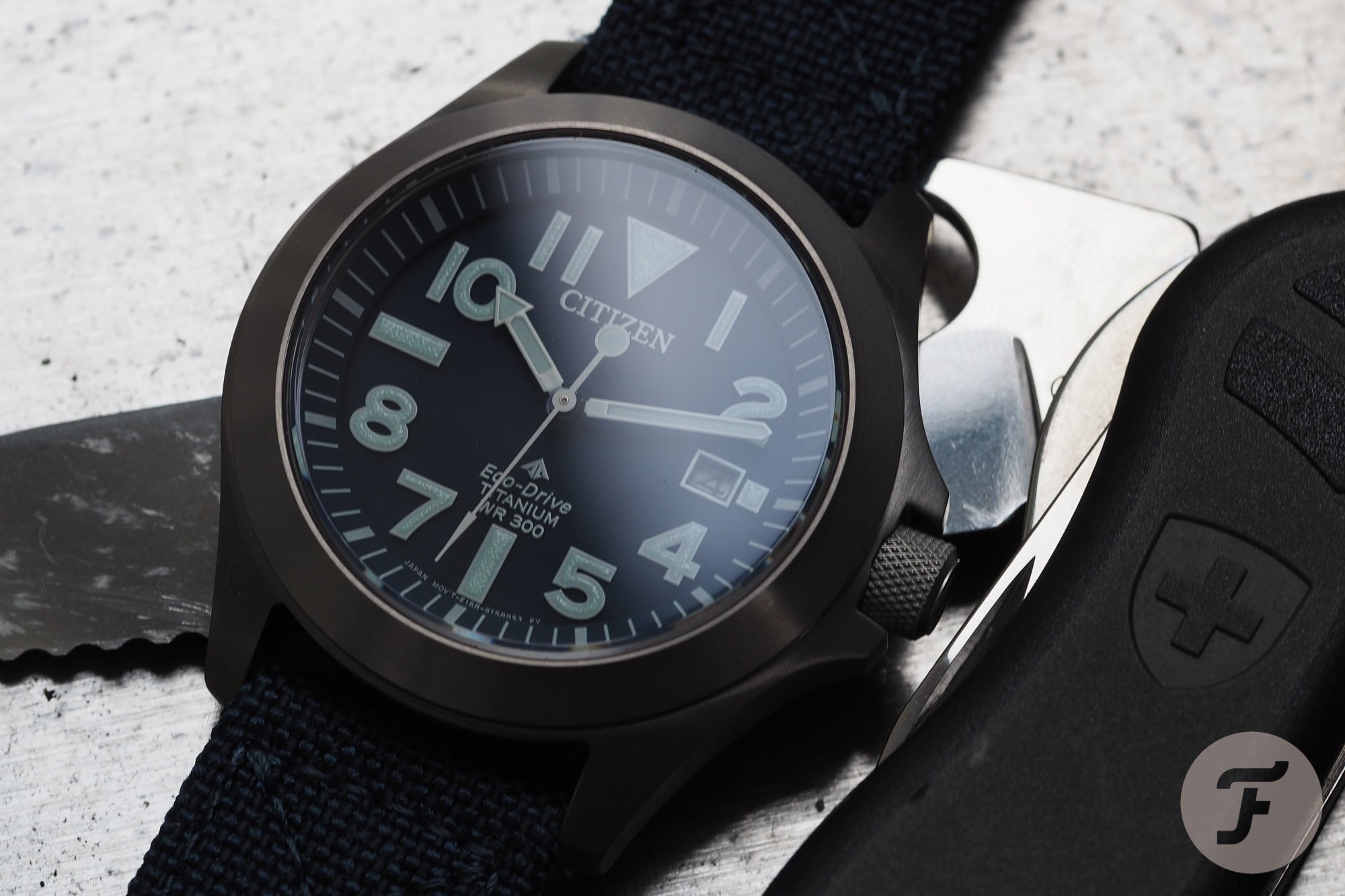 One Tough Watch
So, yes, I had stumbled upon the Ray Mears lore, had read about the newest model, and decided that ordering one of these Citizen Promaster Tough Ray Mears watches had to be done.  The watch came in a recyclable cardboard package that was definitely nice enough, but ended up in a drawer with the rest of my watch boxes.  I took hold of the Citizen (ref.BN0118) and was immediately pretty impressed by what I had in my hands.  Here was a no-nonsense watch that didn't scream with the machismo cheesiness found on so many other watches in existence today.  However, when held as an object, it conveys a sense of lightweight toughness that makes you want to go ahead and kick the sh*t out of it.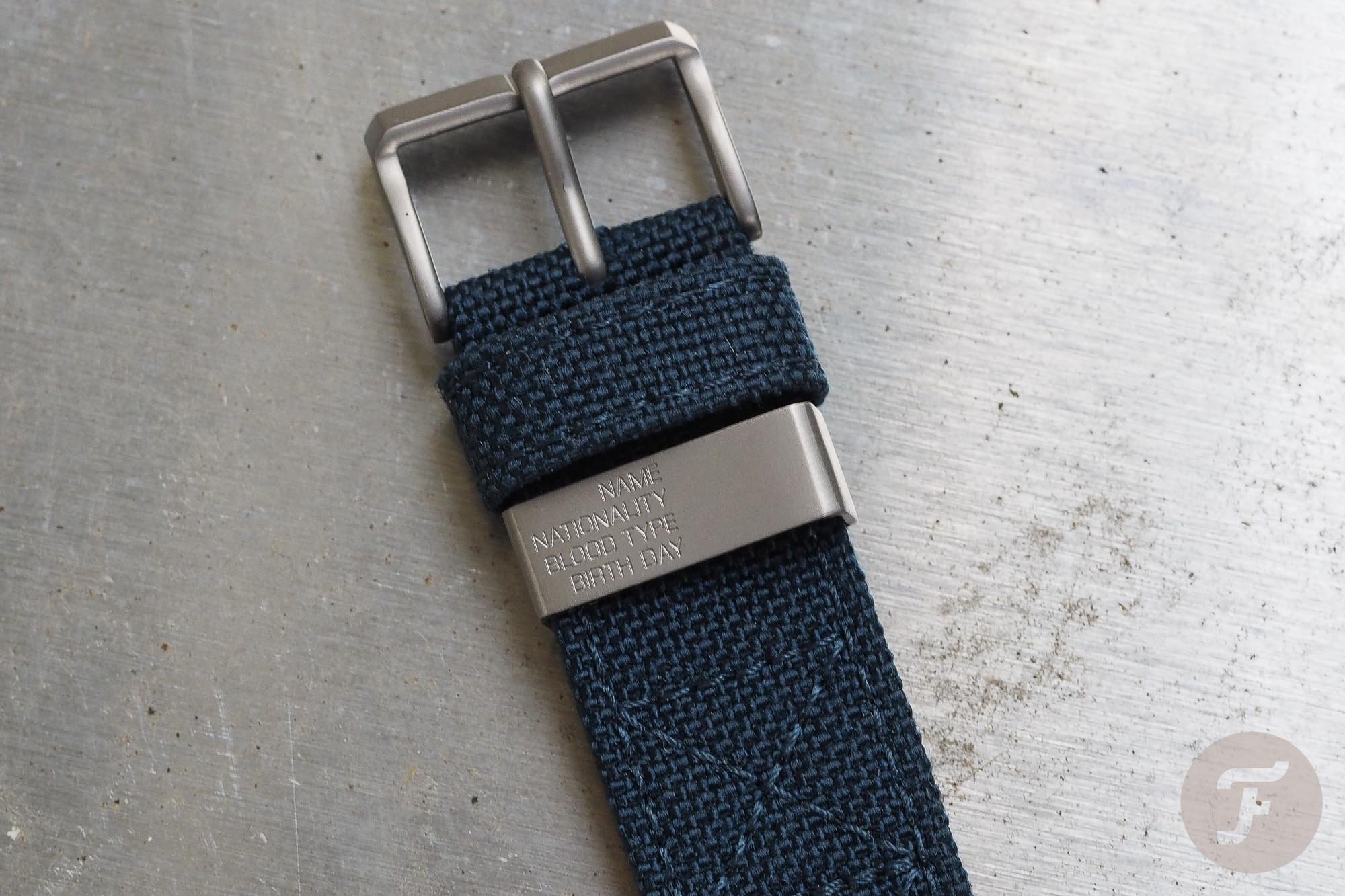 On that last point, the Kevlar strap is so tactical and, I'll just say it, ugly that it brings up memories of Schwarzenegger in the mud during Predator.  But damn if that strap doesn't look durable with its riveted pin holes and heavy stitching!  It even has a metal keeper that allows one to etch in a name, nationality, blood type and birth date!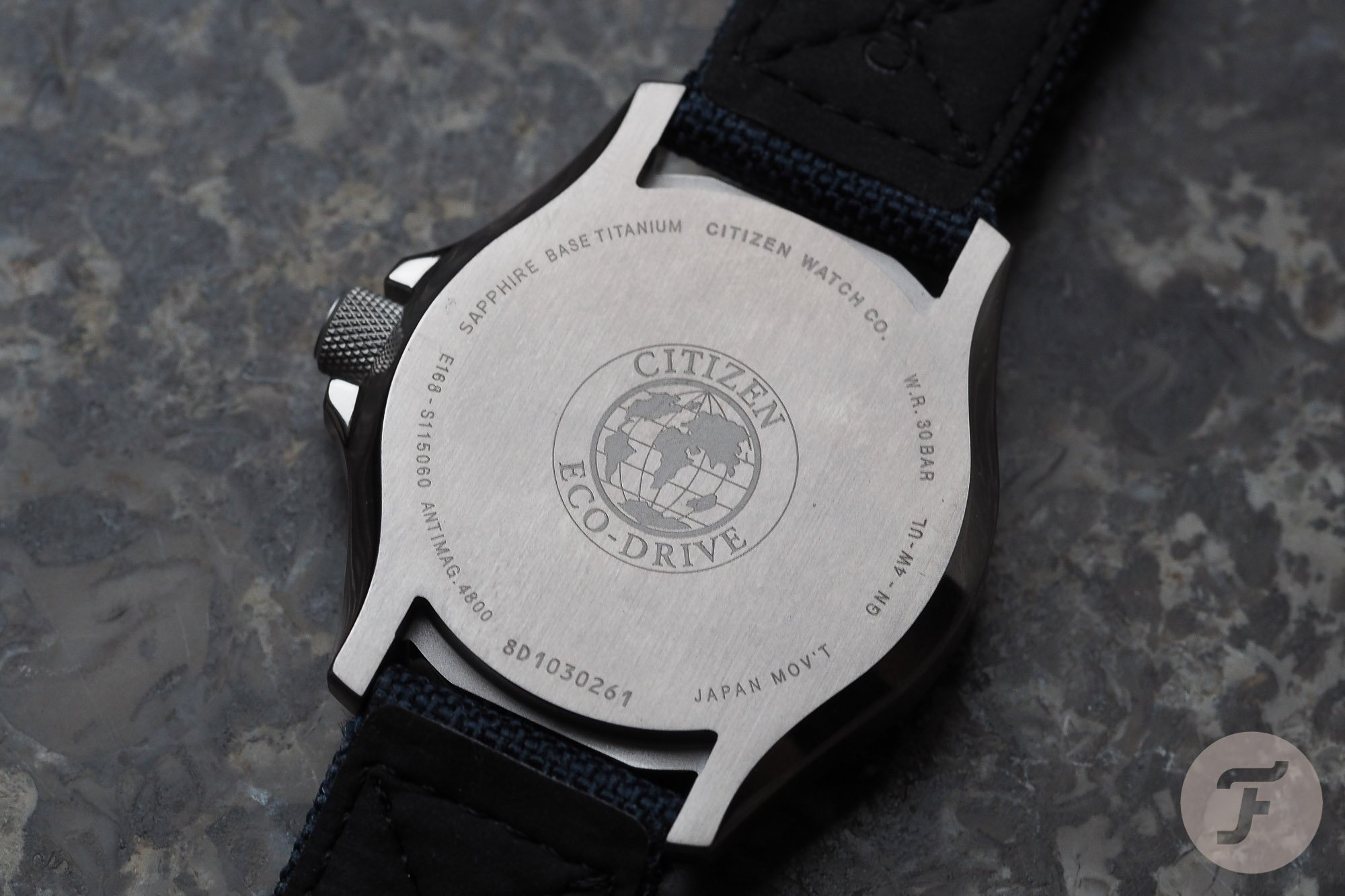 Almost Never Needs Servicing
From these pictures, you'll hopefully get the feeling that the Citizen Promaster Tough Ray Mears is finished nicely.  The brushed case and bezel look good and there's truly nothing to complain about.  I even find the scalloped and polished sides to be a classy touch.  The knurled crown is well-ensconced within a couple crown guards and is large enough to be tactile.  One minor complaint is that it is a touch off-center in relation to those crown guards, but I can overlook that point. Citizen went with a flat sapphire crystal in what I'd guess is an effort to provide one less surface to catch on vines or whatever nasty obstacle you may encounter.  It makes for wide open viewing of the massive chapter ring, highly legible and lume-heavy dial and handset (the lume is damn good, but it's not Seiko good).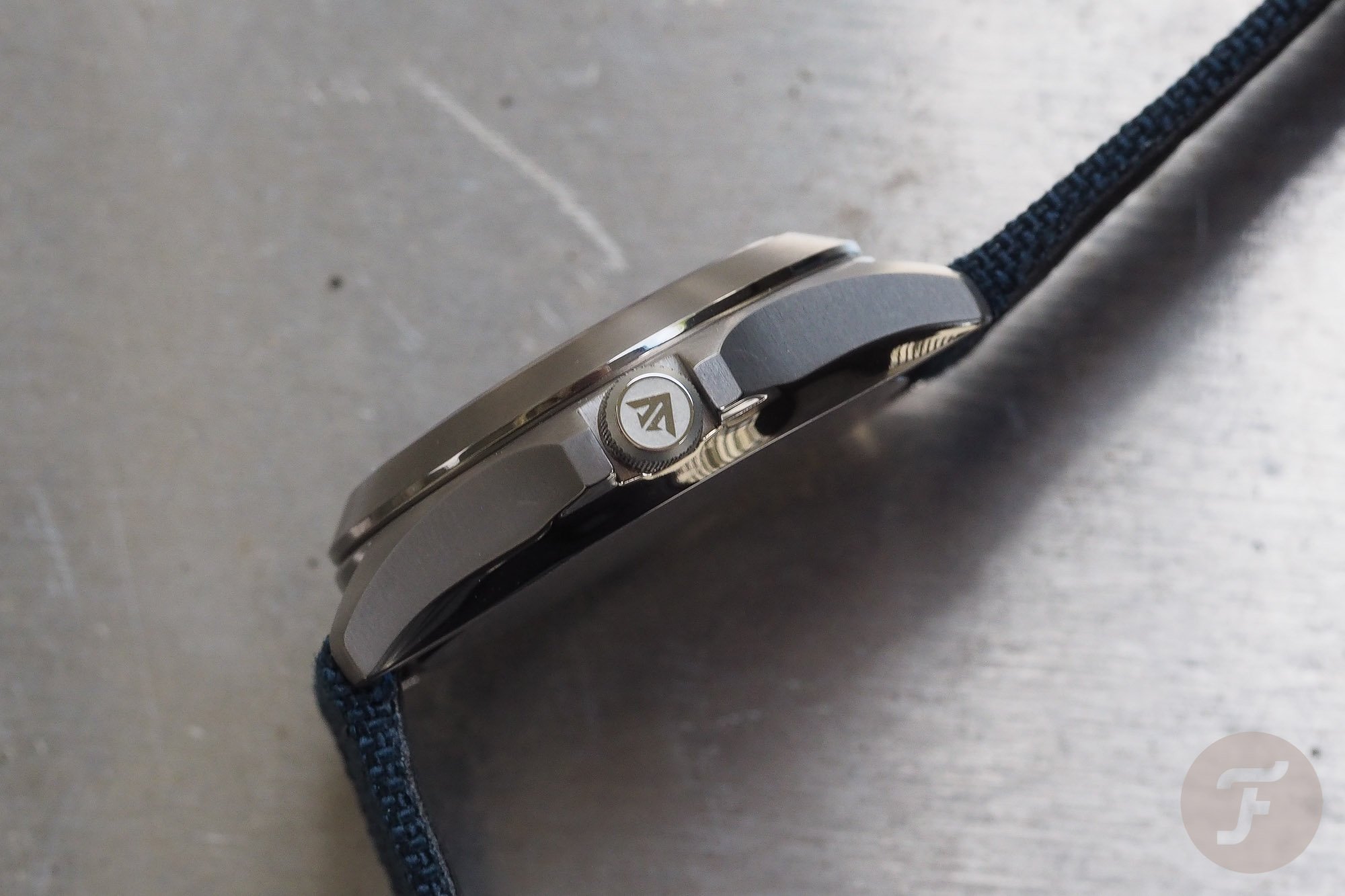 What's kind of funny here is the nearly microscopic date aperture at 3:00, but I guess the date isn't so important when you're in the middle of trying to outrun a grizzly bear.  Flipping the watch over, you're met with a really basic and flat case back with the model information and serial number.  I won't kid you, I love a front-loader case and the fact that this watch has one less opportunity for water entry.  It's simply cool and, sure, the lack of servicing needed for the Eco-Drive provides Citizen with the obvious opportunity to make such a case, but it's still not something one runs across on a daily basis.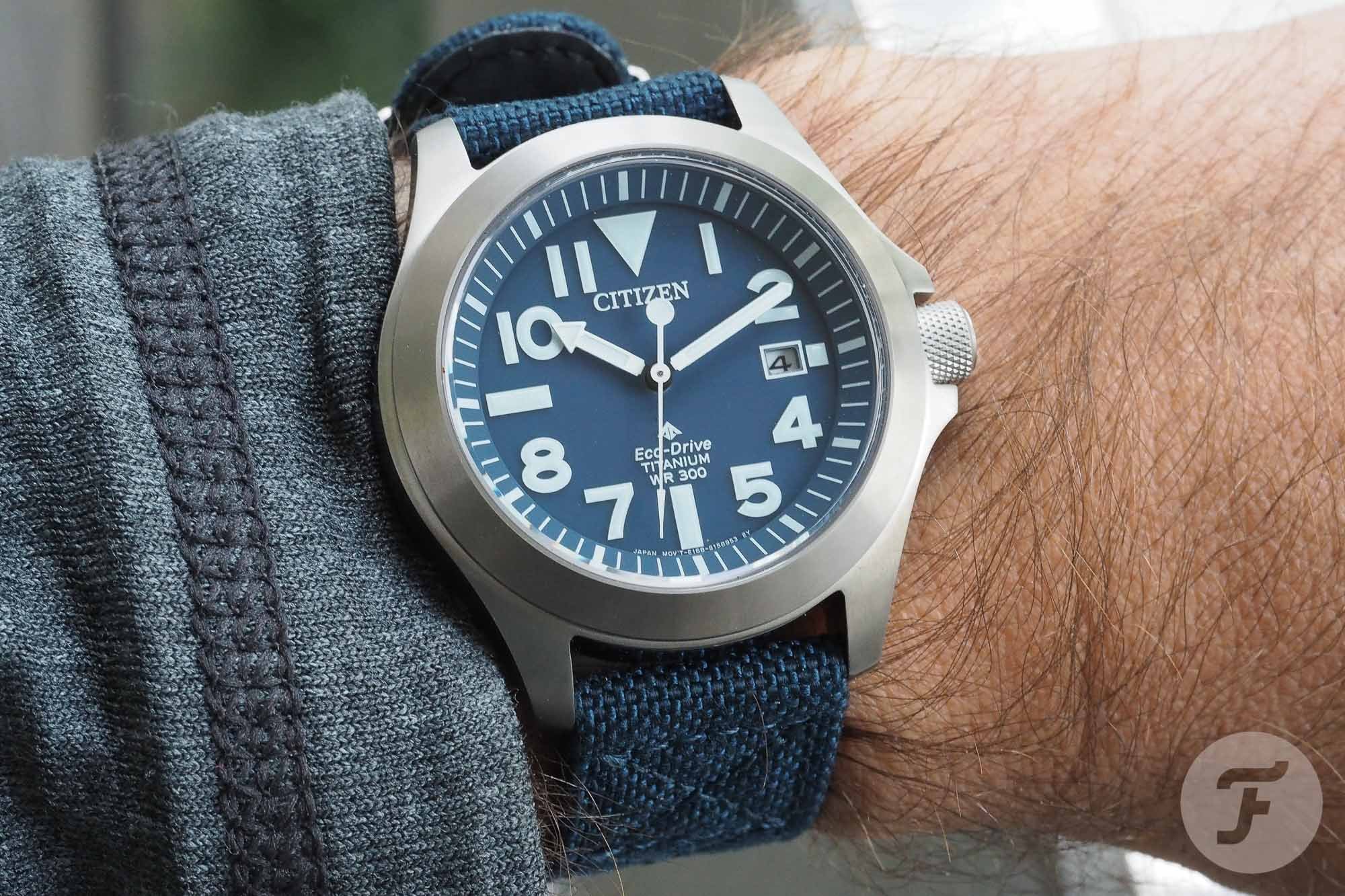 Seriously Comfortable Lightweight Titanium
On the wrist, the Citizen Promaster Tough Ray Mears fits like a dream.  It's light with the watch head coming in somewhere around 50 grams, the lugs are short with a 46mm lug to lug, and it's less than 12mm high.  Honestly, it's almost Swatch-like in the sense that it feels like nothing is on the wrist.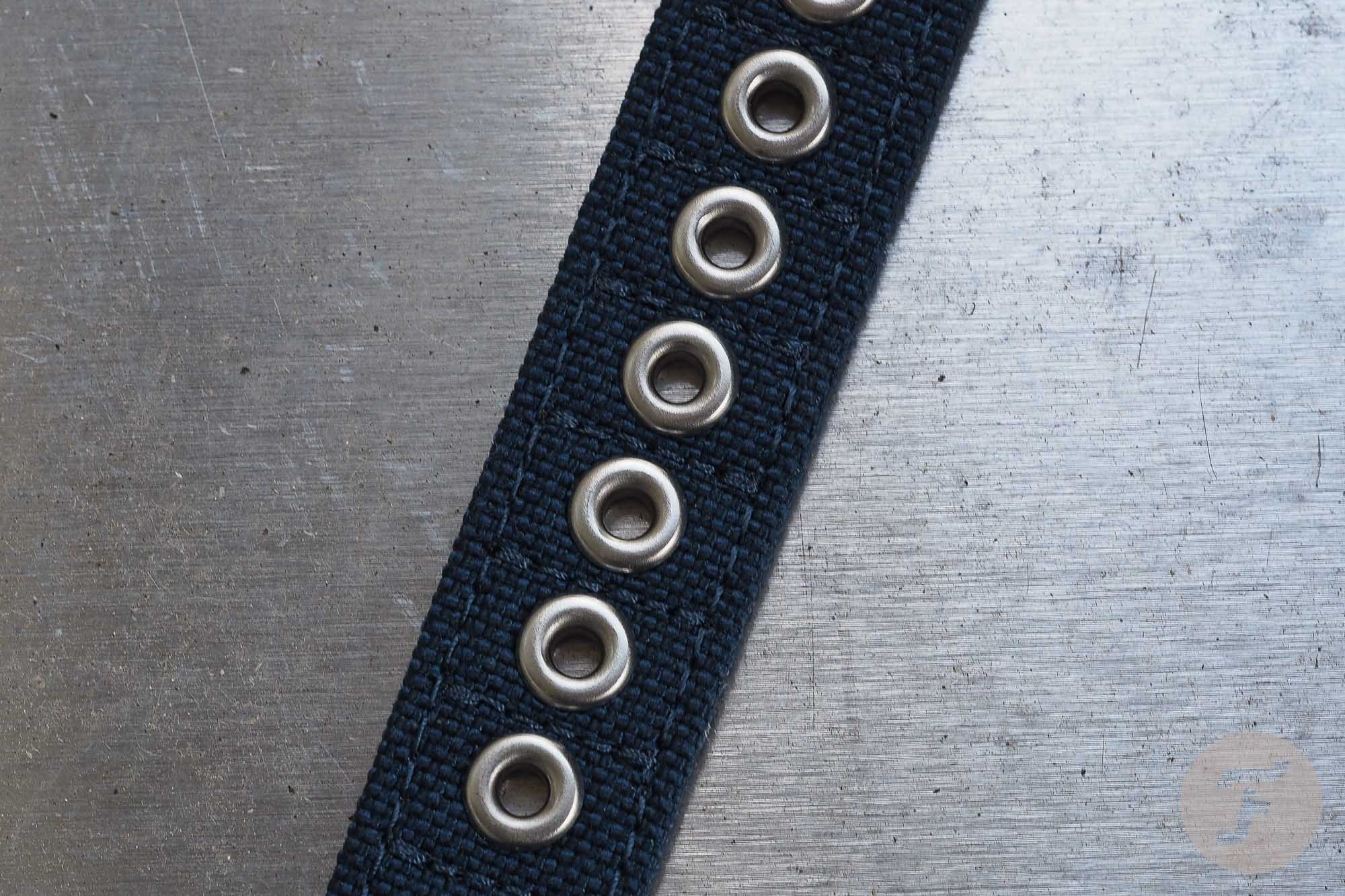 And that Kevlar strap will take some breaking in, but I actually like how it looks as long as I'm not staring at those metal rivets.  On the other hand, the lugs are 20mm wide, so a nice weathered leather strap or a NATO would fit the bill as well.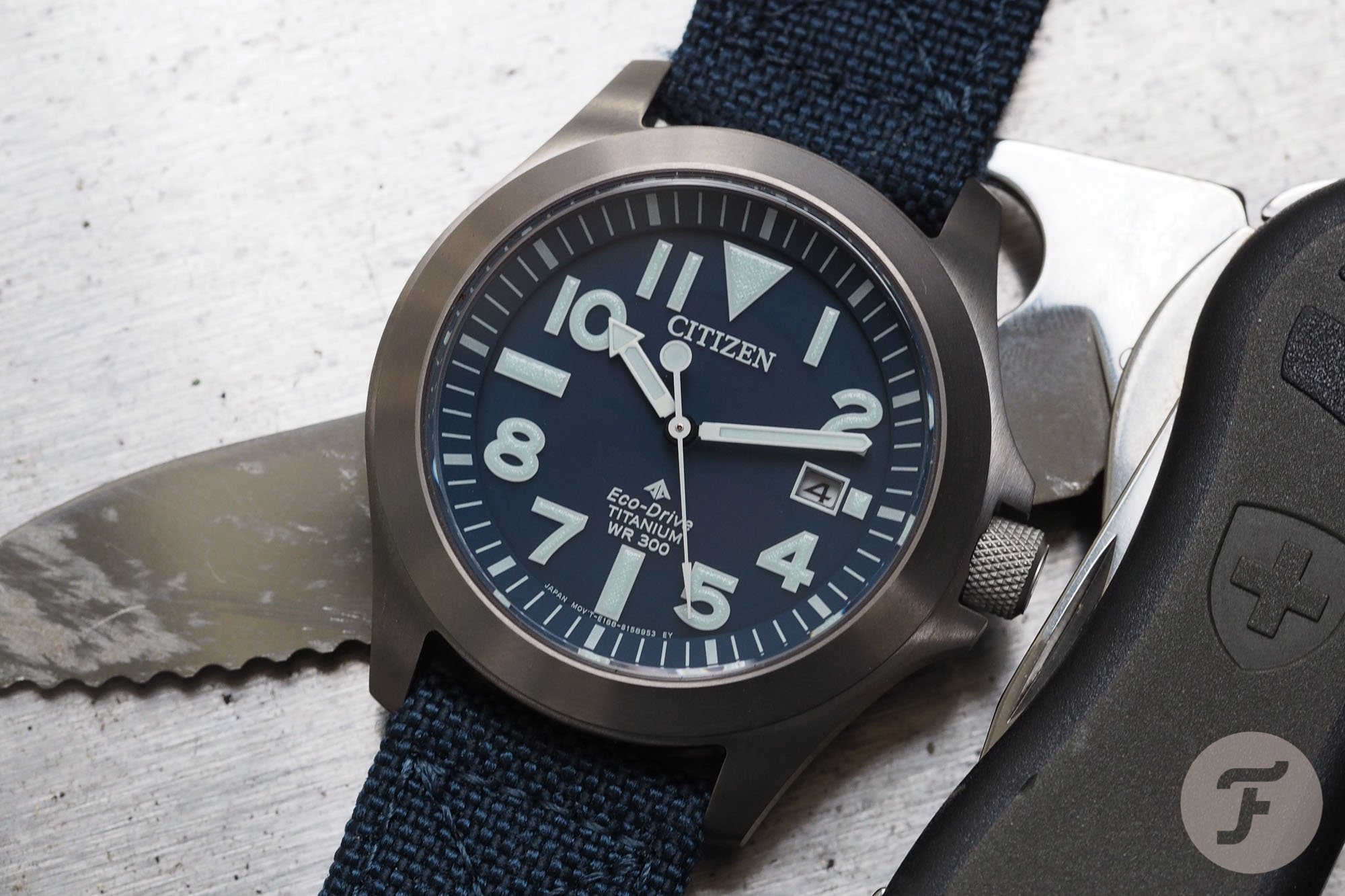 A Real Alternative for G-Shocks and Victorinoxes
So, let's forget the target marketing and try to figure out who should buy a watch like the Citizen Promaster Tough Ray Mears.  Firstly, if you like the Victorinox Inox, but don't have the 700-plus Euros/Dollars/Pounds to spend, this could be the watch for you.  That Victorinox is known to be seriously durable and I'd guess that this Citizen would give it a literal run for its money.  I'd also tell you that if you like what a G-Shock brings to the table in terms of water resistance and general toughness, but dislike the thought of going digital or find those pieces too large and ungainly, the Ray Mears is a good option.  But most of all, this watch is really best for someone else I know quite well: my Dad.  You see, my Dad – when he's not wearing an Explorer 114270 – likes a no bullsh*t watch that can take a whipping but still has a bit of street cred.  He wears an analog watch while doing everything and that includes hitting the gym, cycling, hitting the steam room after a workout, showering, turning the wrench on a bicycle/motorcycle/car, and doing all sorts of other DIY things around the house.  Yes, a crappy quartz watch found at the local gas station would possibly suffice for awhile, but I think someone like my Dad still wants to know that he's wearing a bit of a quality tool that was designed for a purpose: surviving activities that are a bit more rough and tumble than basic daily life.  And, he's an analog type of person, but he doesn't always necessarily want to fiddle with winding something prior to these activities.  So, for this type of person, I'd consider the Citizen to be absolutely perfect.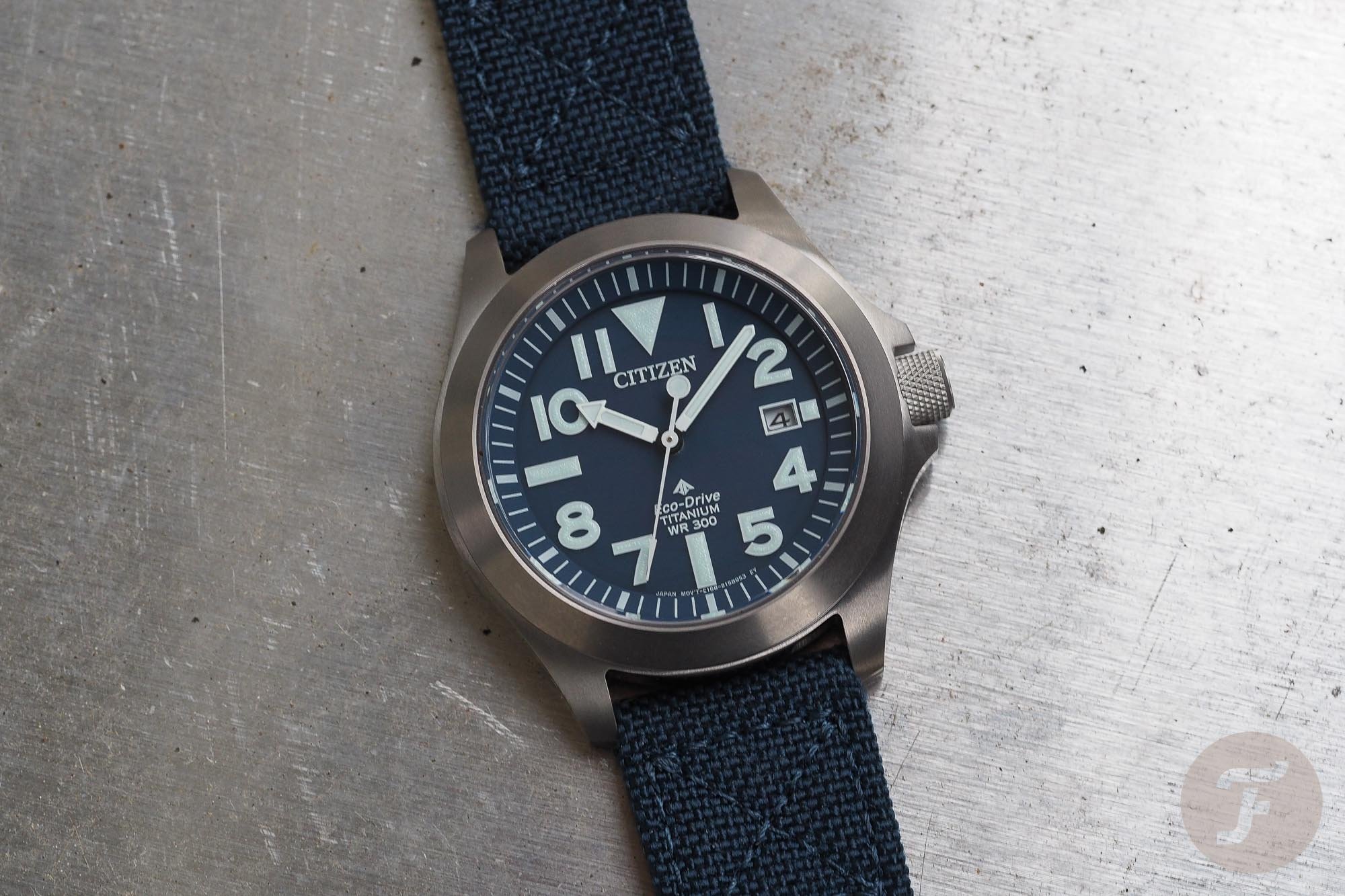 Still Available – But Only In One Country?
So, if I've exposed you to a watch in the Citizen Promaster Tough Ray Mears that you've either never seen before or given much thought about, then consider me happy.  If you're now thinking about buying one, then things start to become a bit more challenging.  I've mentioned before that Japanese watch brands often employ weird regional marketing practices, their websites are generally outdated product-wise the second they're published (the Citizen UK site for this model still shows the watch with 200 meters of water resistance), and getting clear answers on product availability is dodgy at best.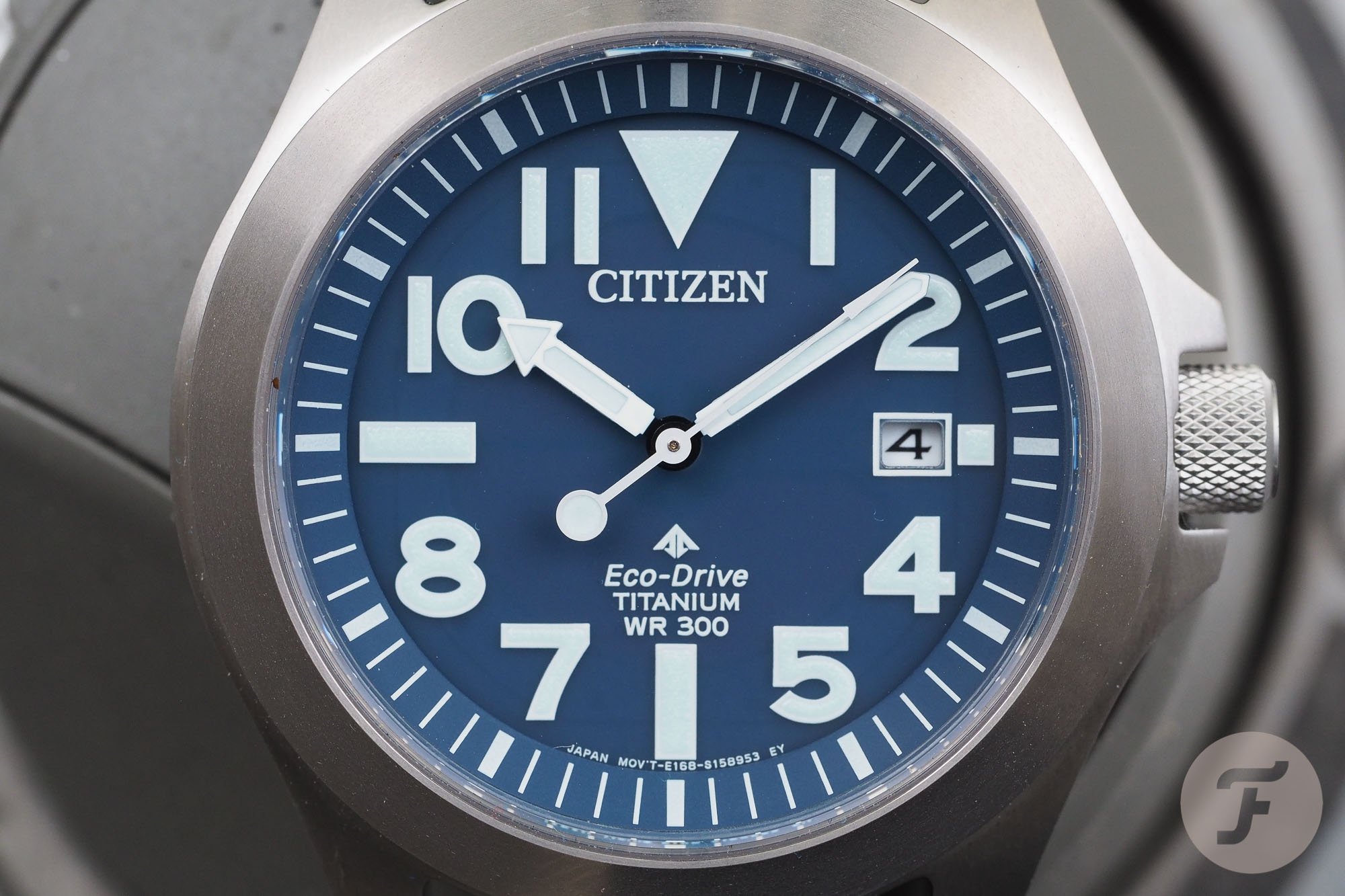 Well, this Citizen Promaster Tough Ray Mears is the poster child for the scenarios above because it seems that the watch is only available in the UK.  Yes, prior editions had been made available in Japan and, perhaps, in other countries, but I've only found the most current models in the home of Ray Mears.  The USA, for example, offers a different (I'll call it nice, but definitely not the same) Promaster Tough model, but it's in steel and has a far more staid dial.  In Japan, Citizen offers a Promaster Tough in titanium and in multiple colors, but it's a collab with Mont-Bell, an outfitter in the country.  It's also cool, but I'm not a fan of the huge Mont-Bell logo on the dial.  So, you're left with the UK and that's tricky because most official retailers will only ship within the UK and the EU.  On the EU, I'd guess that this will end if Brexit happens.  I bought my version at an online UK retailer called Watchshop and I found them great to work with.  Plus, they often run sales or offer discount codes.  When I bought mine, they had few left which added fuel to the rumors that this watch may be cancelled soon, but I see they now have fresh stock.  Again, though, with watch brands, and especially Japanese brands, one never knows when something will be cancelled or updated.  I have also read that these pieces are available at most of the major UK department stores and "high street" retailers who carry Citizen.  So, if you're visiting the UK any time soon, this just might be a cool and relatively affordable watch-related souvenir to bring home that you really can't find elsewhere.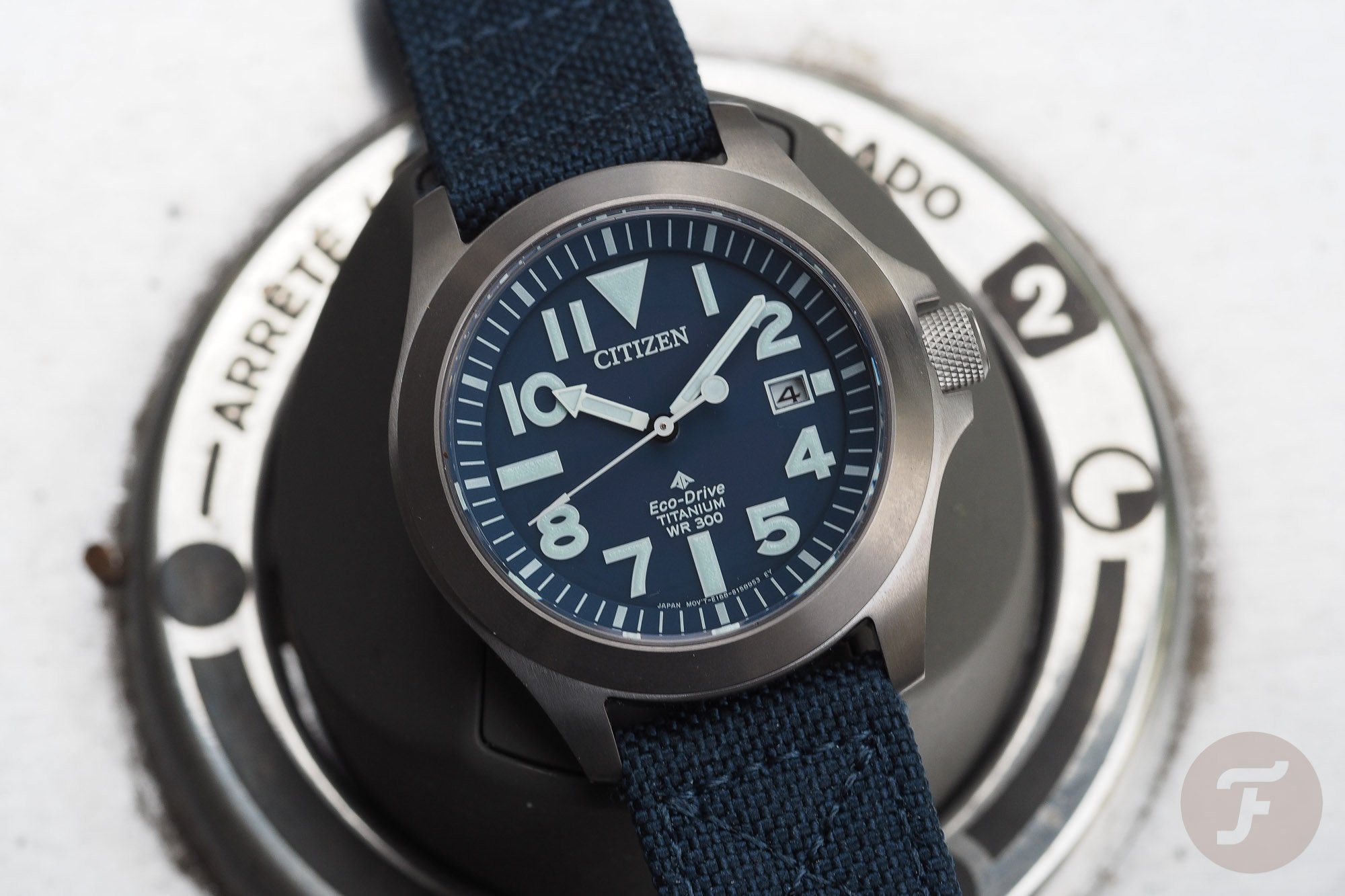 Final Thoughts
I'm sure we'll get plenty of mail from readers stating that there are plenty of other watches for less money that can serve a similar purpose as the Citizen Promaster Tough Ray Mears.  You'll likely be right, but it's hard for me to think of something at this price level that's so focused, well-built and this spec'd to the gills.  As mentioned, I like the fact that it's analog and built to put through the paces.  And while I'll likely never subject it to much more than daily wearing, I like the fact that this Citizen has loads of potential.  Finally, the fact that this watch is seemingly only available in one part of the world makes it even more unique…now, back to my daily internet browsing to see what other oddball treasures I can discover.
For additional info – although not much(!!) – head to the official Citizen UK site.
Watch specifications
Model
Eco-Drive Promaster Tough
Dial
Blue with Solar Cell
Case Material
Titanium with Scratch-resistant coating
Case Dimensions
40mm Diameter, 12mm Thickness, 46mm Lug to Lug, 20mm Lug Width
Crystal
Anti-Reflective Sapphire
Case Back
Monobloc (front-loading)
Movement
Eco-drive, solar-powered quartz movement. Hacking with quickset date. Watch runs up to 180 days without exposure to light.
Water Resistance
300 meters
Strap
Blue Kevlar woven strap with pin buckle