Hands-On Linde Werdelin Oktopus Moon Carbon Review
Even in those early days of watch blogs (we're here since 2004!), when a lot of brands didn't even want to put us on their mailinglists of press releases, Linde Werdelin was already a bit different from the others. They understood the influence of on-line media and were very early with having an on-line boutique for their timepieces. Not only that, but they offered a trial of a week (or 5 days) to have a go with their watches. An interesting approach to make people familiar with – and convinced of – your watches. Founders Morten Linde and Jorn Werdelin can be certainly seen as guys who do things differently, in the world of luxury watches.
Now, years later, the Linde Werdelin company is still small, (still) approachable and have a strong focus on small production of luxury sports watches. They not only kept developing the Reef and Rock digital equipment that can be connected to the mechanical watch but also entered a new segment of watchmaking during the years. Where their early models were around the 4000 – 5000 Euro mark, with the Linde Werdelin One, Two Timer and 3-Timer, they moved ahead and started to make more complex watches in a higher segment. In terms of 'complications' but also when it comes down to the casing and dials of these watches. Today, the Linde Werdelin collection consists of the Spido family of skeletonized three-handers and chronographs and the Oktopus dive-watch family.
In this review, we have a look at one of the Oktopus watches, the Linde Werdelin Oktopus Moon Carbon.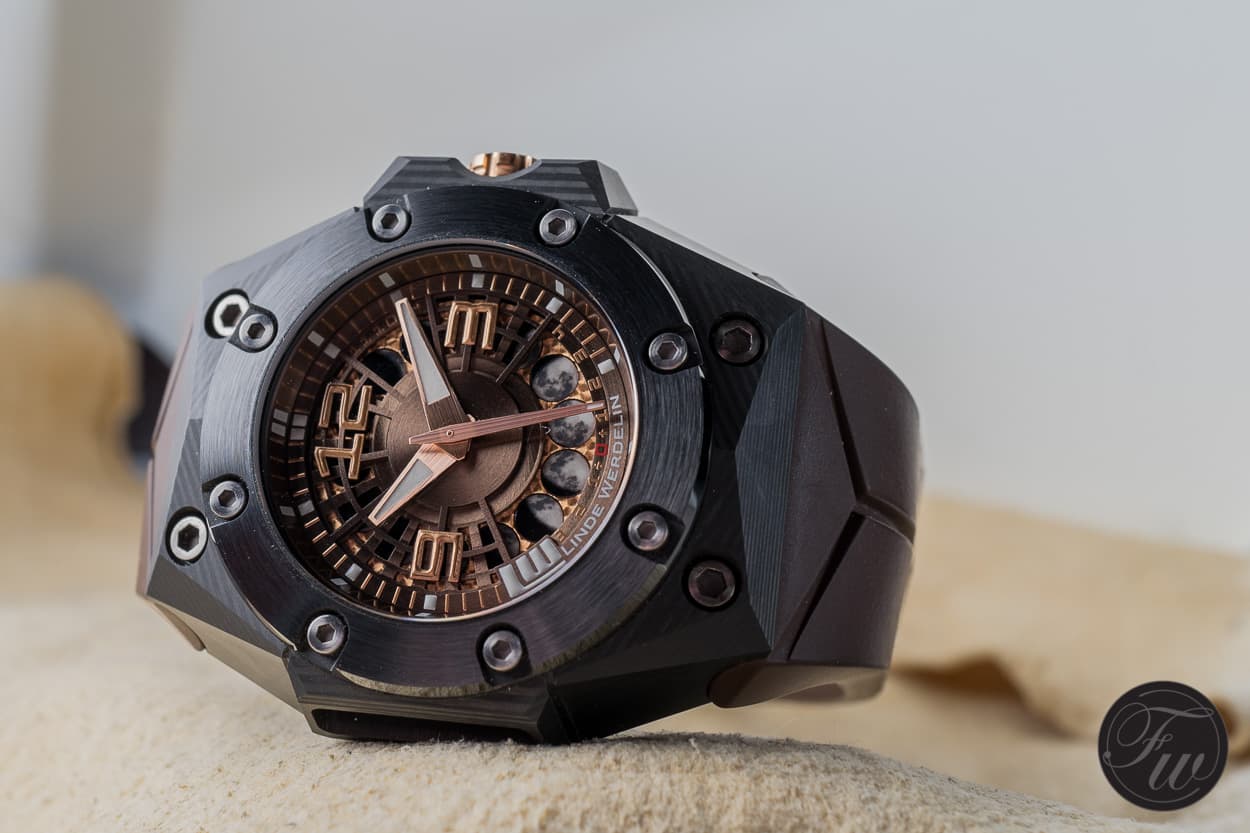 Linde Werdelin Oktopus Moon Carbon
This Oktopus Moon Carbon is a perfect example for the modern Linde Werdelin timepiece. An [almost] over-engineered case made of carbon, skeletonized dial showing bits and pieces of the movement and a photo realistic moon phases disc. The fact that Morten Linde has a background as a designer clearly shows, as everything perfectly matches together. There is not a single part that makes me frown when it comes to design, everything fits, down to the brown rubber strap.
The layered carbon case of the Linde Werdelin Oktopus Moon Carbon feels very light. Carbon ensures that the case is very strong (and lightweight), but does not mean it will be scratch proof. Carbon has a relatively low surface hardness, other than ceramics for example.
As always, the case is able to be used for the Reef (or Rock, but that's less likely) add-on module for professional use under water. The Linde Werdelin Oktopus Moon Carbon is by no means a small watch (44mm (w) by 46mm (l) by 15mm (h), but wears very comfortable due to the low weight and the rubber strap. The case has a beautiful finish, which is a combination of satin, polished and microbillé finishing.
As carbon isn't scratch proof, Linde Werdelin used ceramics for the bezel. The bezel has a satin finish on top with polished facets. The screws used to mount the bezel to the case are made of titanium. As the bezel is basically – besides the dial – something you look at a few times per day – or even more – it is a good idea to make it scratch resistant. I don't have to give you the examples of the scratched and dinged up stainless steel bezels from the Royal Oak and Nautilus I assume.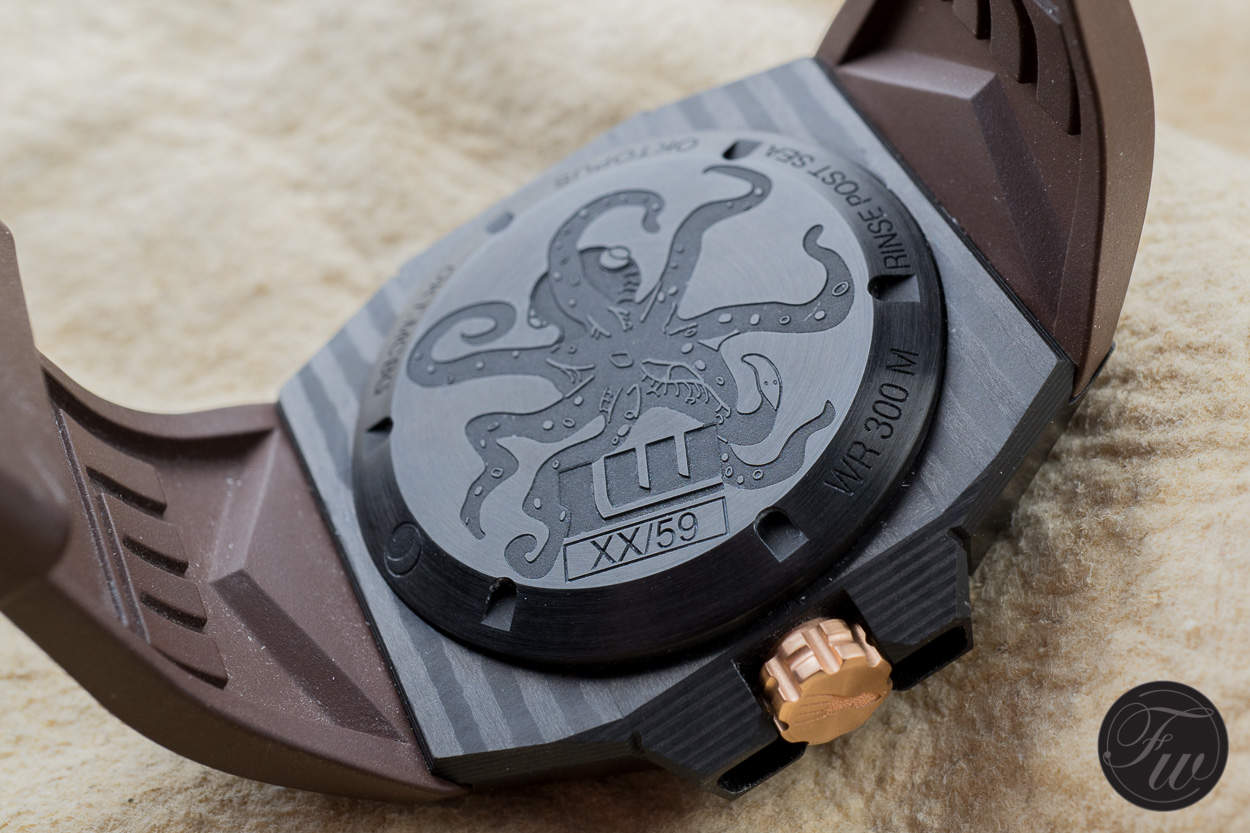 The case back of the watch has no sapphire crystal to observe the movement as you might have expected when you look at the skeletonize dial, but a titanium back with an engraving of an octopus.
You will find an 18 carat rose gold crown (screw-down) to set the watch. Although gold is relatively soft, the carbon fibre crown guards protect it from being damaged.
Wearing the Linde Werdelin Oktopus Moon Carbon
But all technical specifications aside (you will find them here in our introduction article of this Linde Werdelin Oktopus Moon Carbon), how does it wear on the wrist?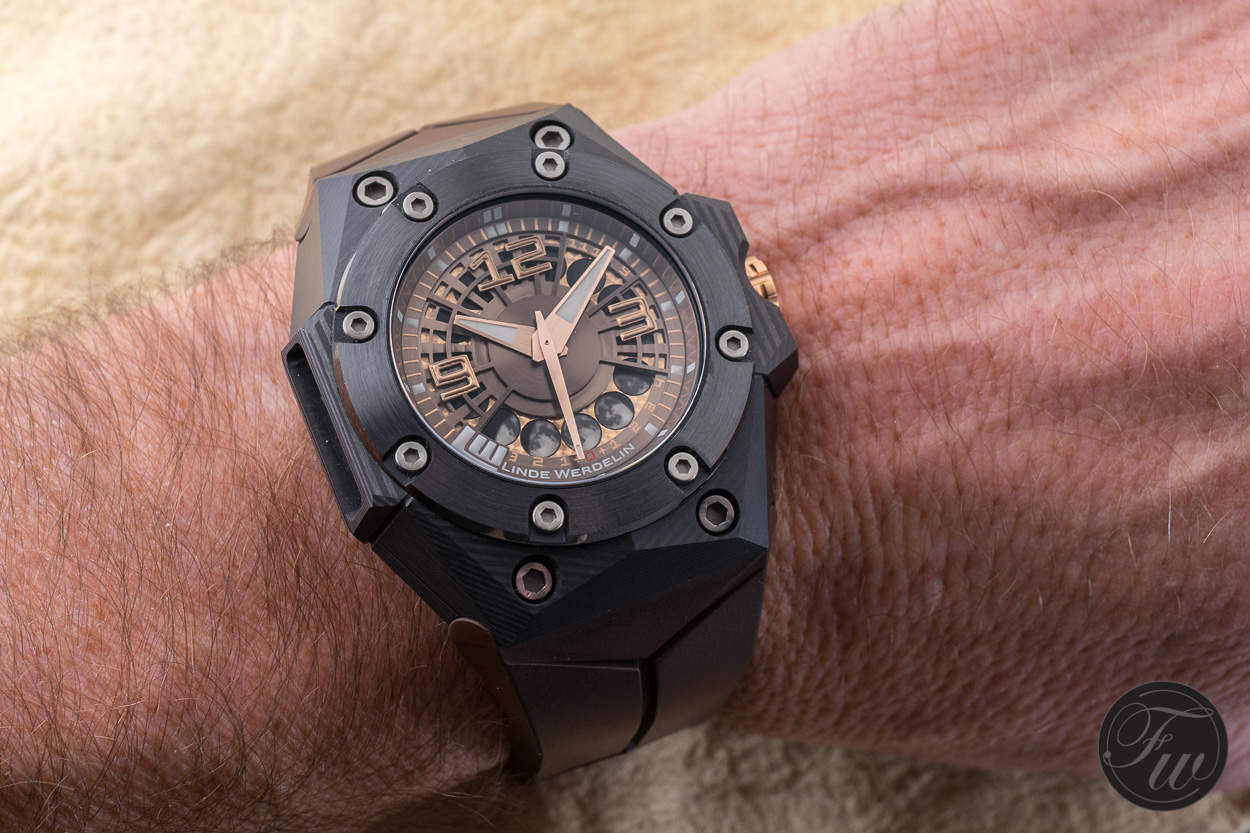 Despite the size – it is a sports watch after all – it wears very comfortable on the wrist. Even my shirt's cuffs were no problem for this 15mm thick Oktopus. The photo realistic moons look very nice and easy to read from the dial. Readability wasn't a problem at all with this watch, although the rose gold accents on the dial and hands are not the best combination in low-light conditions. The combination of rose gold and brown is great though, I got some nice comments on the watch from people who are normally not that much into watches. It isn't the typical combination for a sports watch, but Linde Werdelin did it anyway and the result is quite impressive.
The hands and dial uses Luminova and as you know, that works quite nicely when it is charged by (sun) light and keeps on glowing for hours after dark.
For some years now, Linde Werdelin partners with independent movement manufacturer Concepto. This movement was exclusively made for Linde Werdelin, including the add-on module for the moon phases disc. The watch kept perfect time during our few weeks of wearing, we didn't need to set or correct the time during this period. The use of the crown remains tricky on Linde Werdelin watches. If you are a long time reader of Fratello Watches, you know that a few years ago we made remarks that operating the crown can be a real killer of finger nails (and fingers in general). The edges on the crown guard were razor sharp, which didn't help much when un-screwing the crown for usage. The crown guards on the current Linde Werdelin watches feel less sharp than those early models, but still significantly sharp.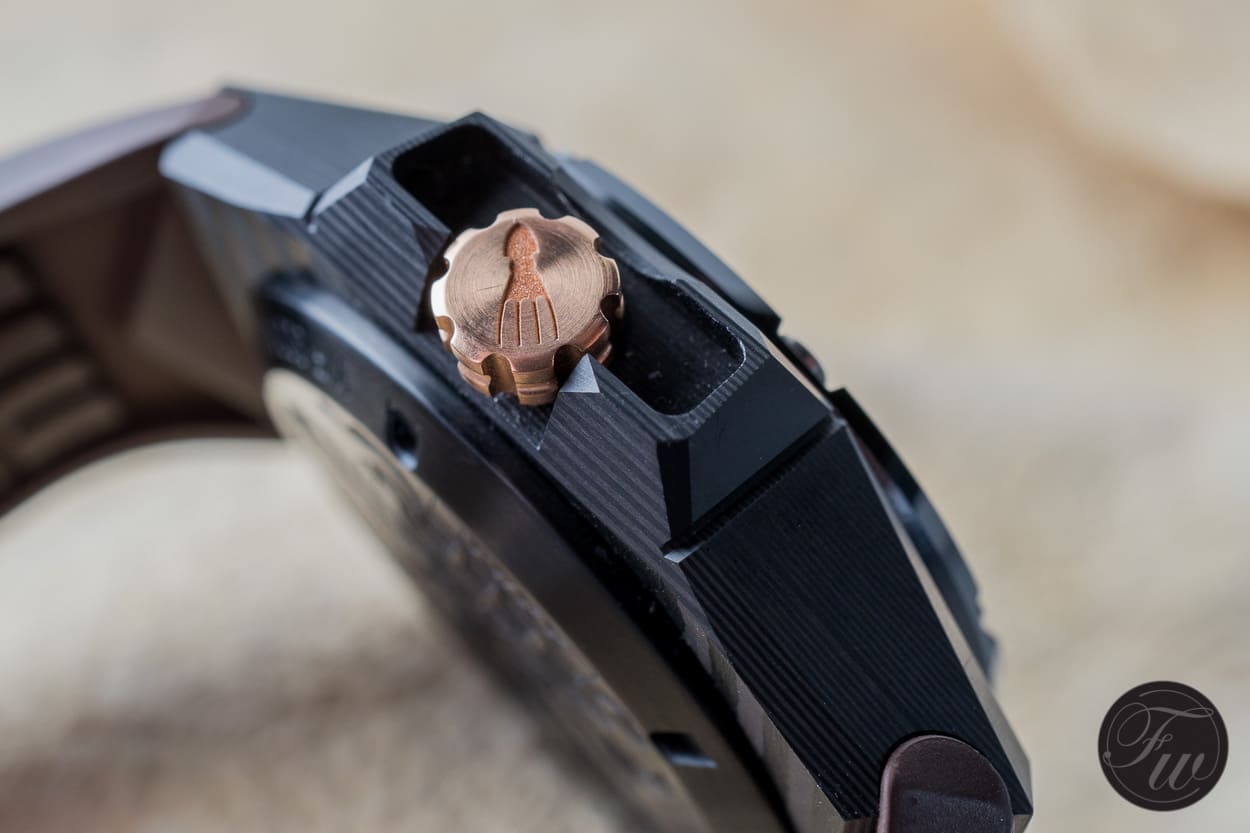 The Linde Werdelin Oktopus Moon Carbon has a retail price of CHF 19,000.- Swiss Francs. Far away from the initial pricing range that Linde Werdelin used almost a decade ago. The use of high-tech materials, but more important, high-tech solutions and innovations do justify a higher price in my humble view. Also, where the first models were on pretty standard ETA movements, the use of Concepto with in-house Moon phase complication also increases the price of such a watch of course.
Whether you want a CHF 19,000.- Swiss Francs Linde Werdelin or a watch from – let's say – Audemars Piguet or Hublot for that kind of money is basically up to you and is not really an interesting discussion I think. The difference is in the concept of the watch (high-tech looking case made of carbon, moon phase complication) and whether you like to support a small independent watchmaking company other than handing over your money to a big firm that doesn't even say 'thank you' when doing so. With all due respect, I've stopped to buy watches from brands that don't really care about me, the customer and just take my money. Not being naive here, but there needs to be some kind of mutual respect and 'kindness' between customer and manufacturer, especially in this price range. Better said, I need to like the people behind a brand. Now, they don't have to like me, but they should provide great service, timely respond to questions and comments and keep me up-to-date on what's happening. However, most important is the fact that you like the watch, of course.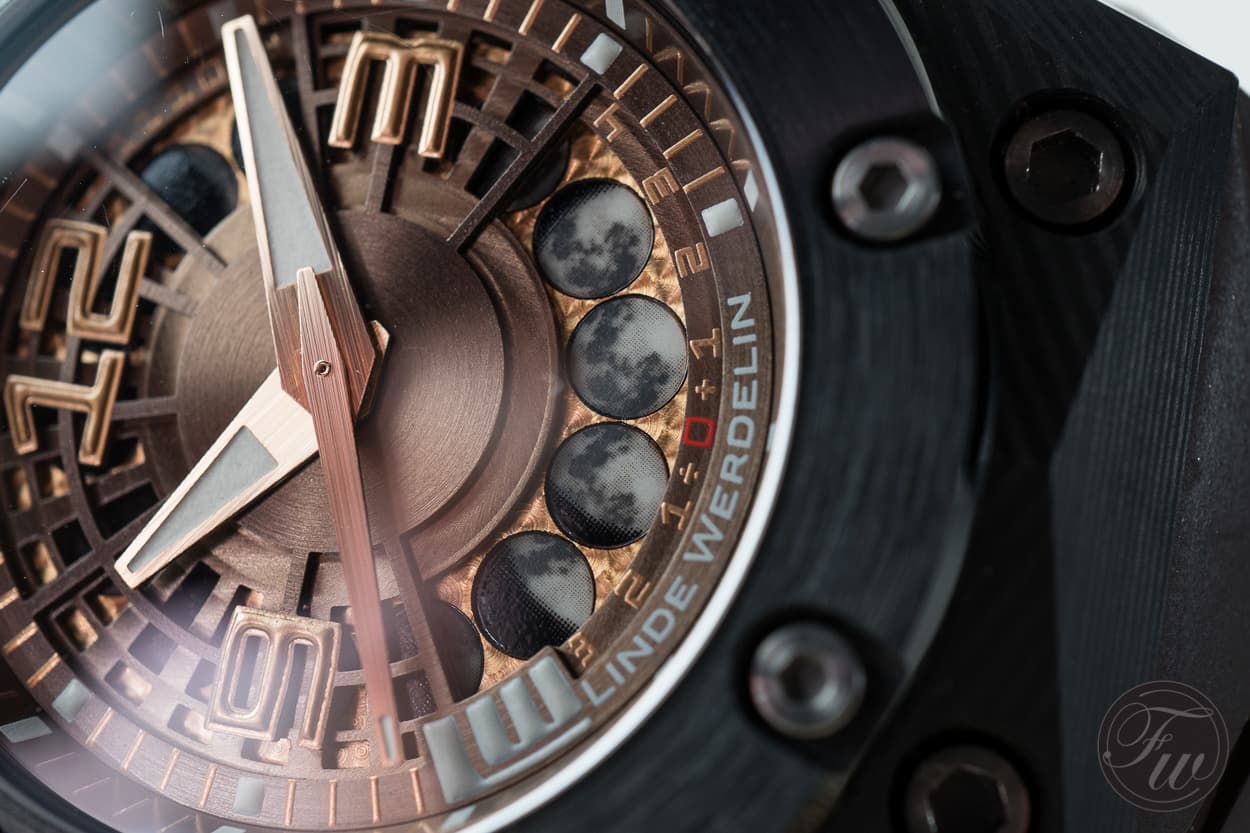 Wearing the Linde Werdelin Oktopus Moon Carbon makes you feel like you are part of the Linde Werdelin family. Besides being nice guys, Jorn Werdelin and Morten Linde (and the rest of their team) showed that they are very capable of creating beautiful modern luxury sports watches during the last 10 years.
Although I would lean a bit more towards a SpidoSpeed myself (I am a bit of a chronograph guy), the Linde Werdelin Oktopus Carbon Moon has a beautiful design (and use of colors) and a moon phases complication that I really like. The use of a photorealistic Moon phases disc is very attractive in my opinion, as it is on the newly introduced Omega Speedmaster Moonphase Master Co-Axial that we showed you here. I think it is the only way to go for a moonphase complication on a sports watch that needs to stay a sports watch (instead of becoming some sort of dress watch with a classic moon display on the dial).
Linde Werdelin only produces 59 pieces of the Oktopus Moon Carbon (2x 29,5, the time between two full moons). More information can be found here.