Hands-On With The New 39mm Aquastar Deepstar Chronograph
For many, smaller will be better
During the Watches And Wonders hubbub a couple of weeks ago, you may have missed a rather compelling release — the 39mm Aquastar Deepstar Chronograph. I wrote a "hot take" on this new watch and promised a hands-on review. That day has come, so let's determine if this new, smaller dive chronograph will satisfy those with smaller wrists.
I won't rewrite the original intro article on the 39mm Aquastar Deepstar Chronograph, but I will share the most salient points right here in the beginning so that you can focus on the review. Essentially, this watch is a smaller carbon copy of the Deepstar Chronograph that came out in 2020. That watch was 40.5mm × 50.5mm. It was equipped with a La Joux-Perret column-wheel movement and offered 200 meters of water resistance. However, many of us wished for something smaller, and thankfully, Aquastar has listened!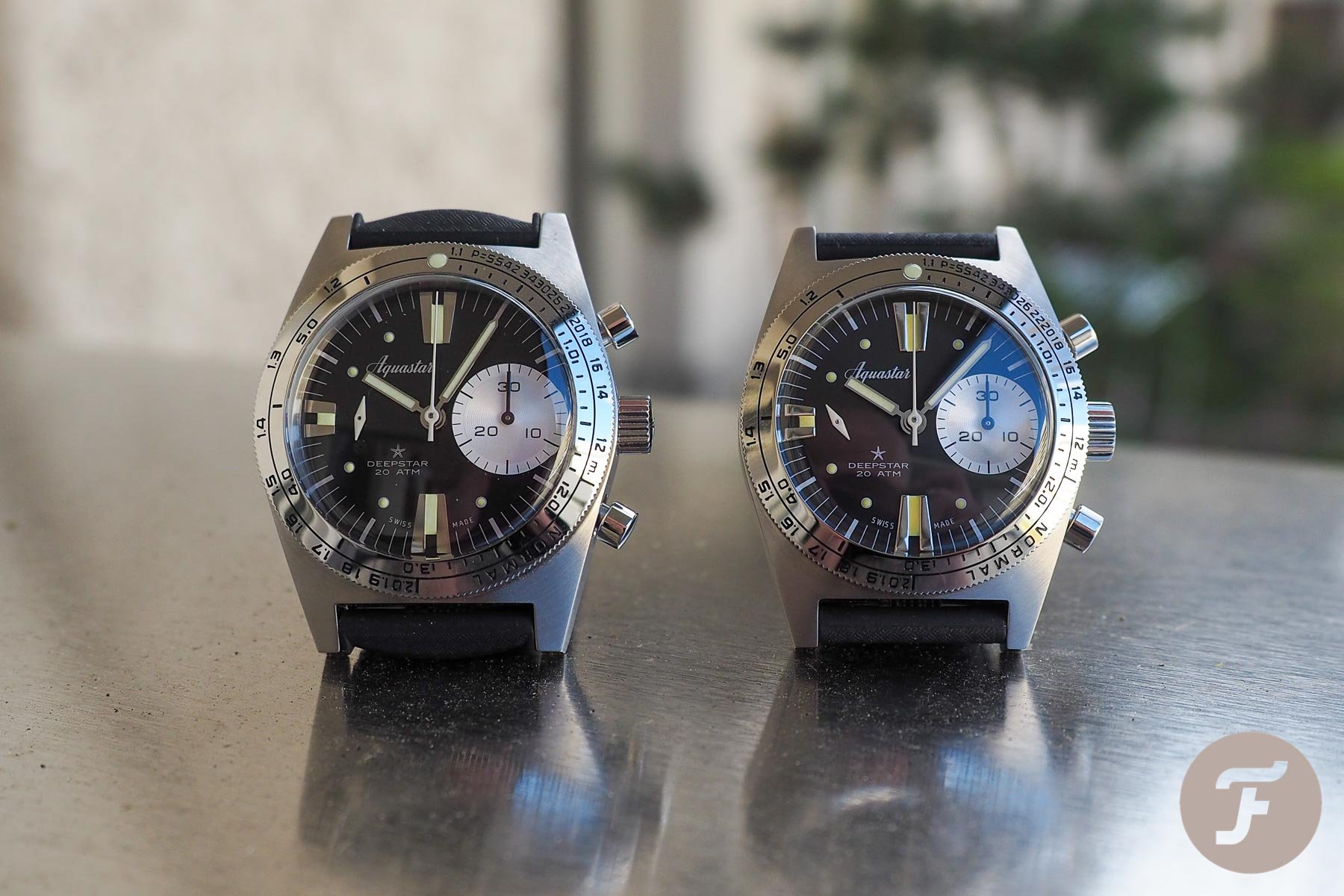 The 39mm Aquastar Deepstar Chronograph
If you've read more than an article or two by me, you'll know that I struggle to pull off a large watch. All the arm fur in the world (and I have it for days) doesn't add much to my wrists. Ditto for exercises, so we'll just have to blame genetics. Sometimes, that's a real frustration because I see a watch that I really like and no matter how much I squint or internally battle, the watch simply won't fit (cue up 47mm Panerai). That was the case with the 2020 Deepstar. The new 39mm Aquastar Deepstar seeks to solve that issue by scaling down almost everything, and I'd say that it delivers on its promise.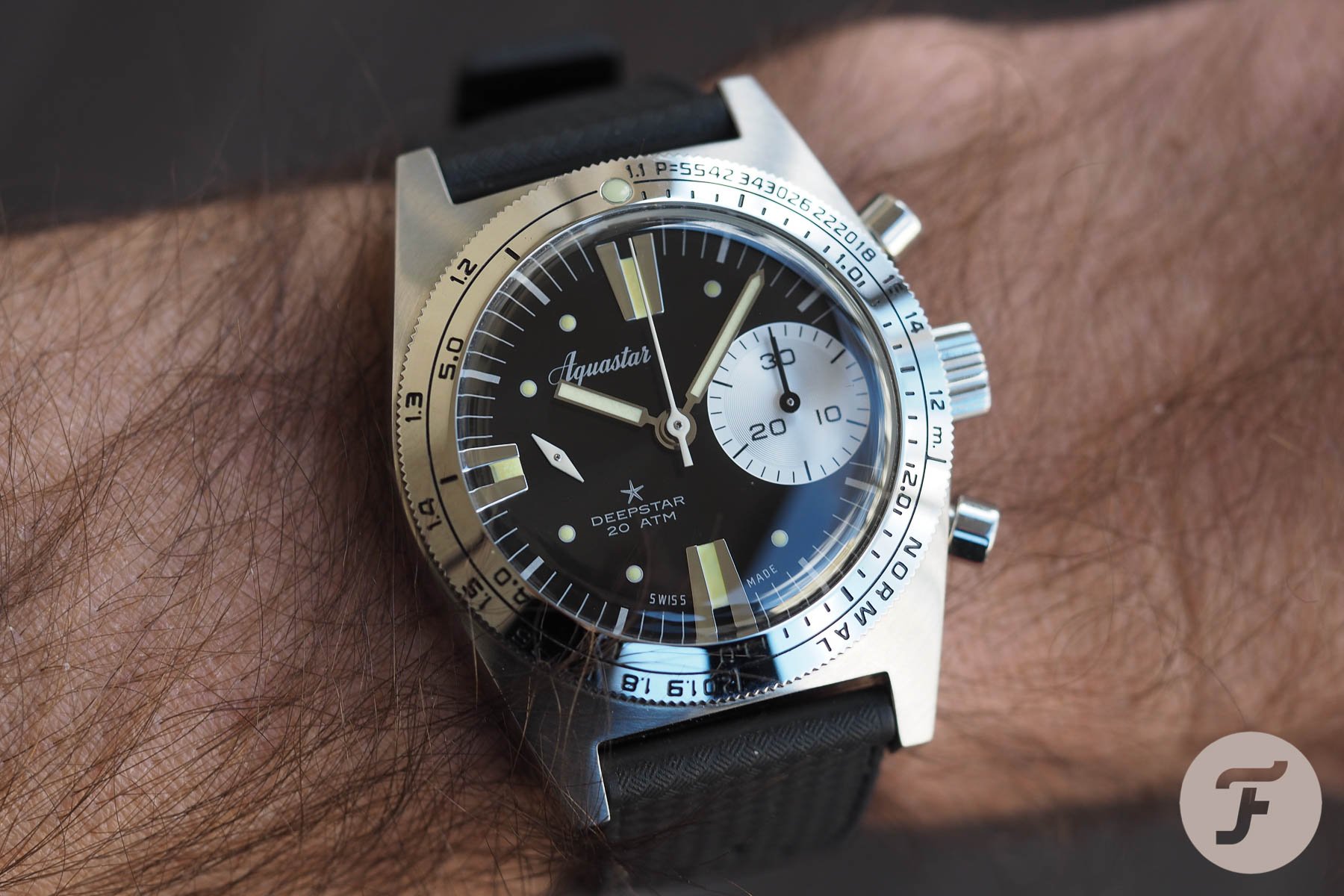 Proportions that work in a smaller size
When I wrote the original Hot Take article on the 39mm Aquastar Deepstar, I listed sizing from the PR materials. The lug-to-lug was mislabeled, and the watch actually comes in at 49mm in total length. The thickness is also worthy of further explanation. The site reports the case at 14.8mm thick. In actuality, the complete thickness including the crystal is a heady 17mm, and the watch has 21mm lugs. For comparison's sake, the 2020 Deepstar chronograph has the same thickness with 22mm lugs. The lovely Deepstar II has a 47mm length, 13mm total thickness, and 19mm lugs.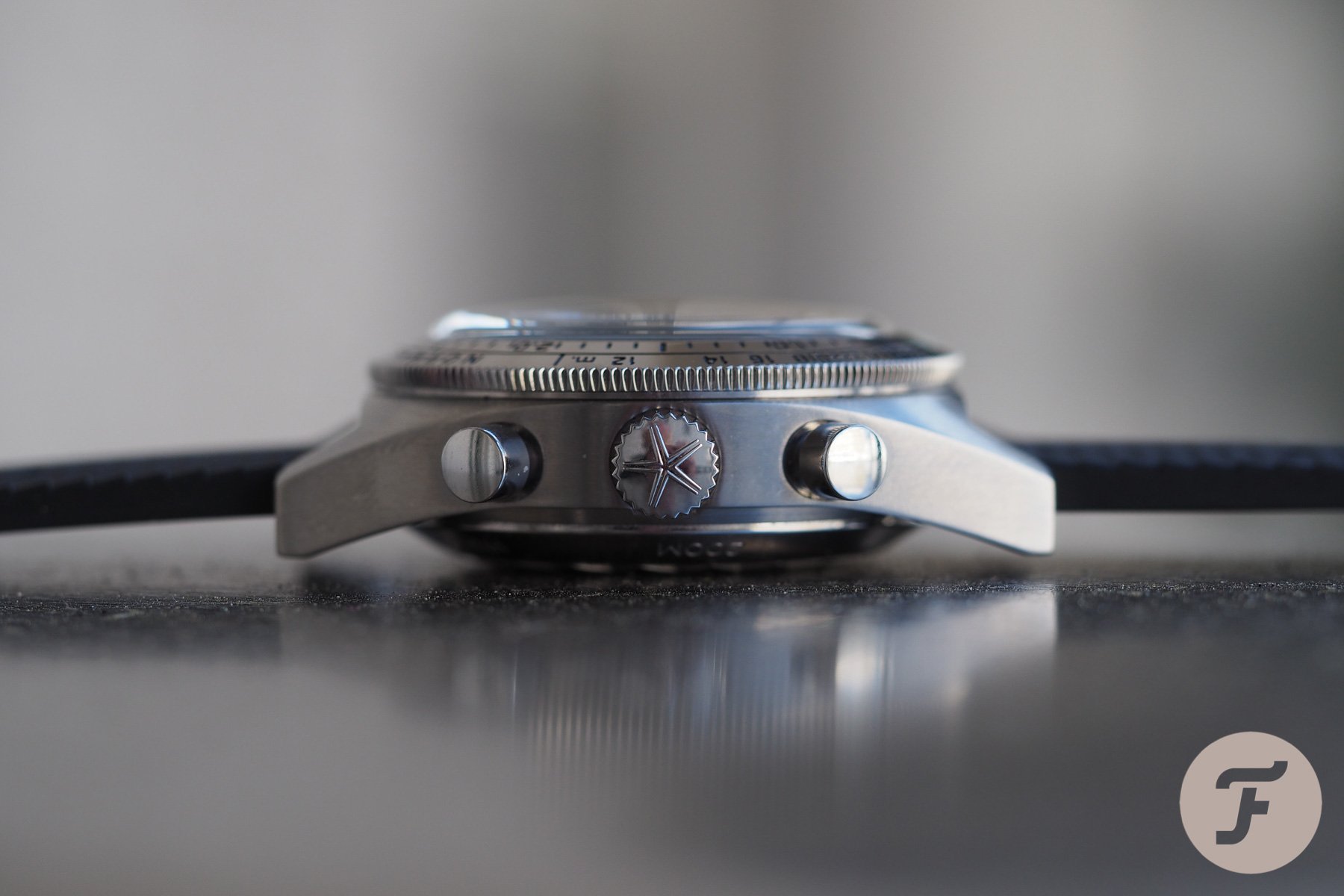 If you're flipping your wig due to the robust thickness, you shouldn't. Call it an optical illusion, but this watch simply doesn't feel that tall. Also, the lugs don't drop lower than the case back, but the watch hugs the wrist. Regarding the length, the 1.5mm reduction versus the 2020 model doesn't sound like much. In reality, though, it is a lot, and it's the difference between fitting my smaller wrist and not. The other point worth making is that the smaller size works proportionally. To my eyes, the 39mm Aquastar Deepstar keeps all the right ratios, just in a smaller size. You won't mistake it for the '60s original, but it's certainly closer.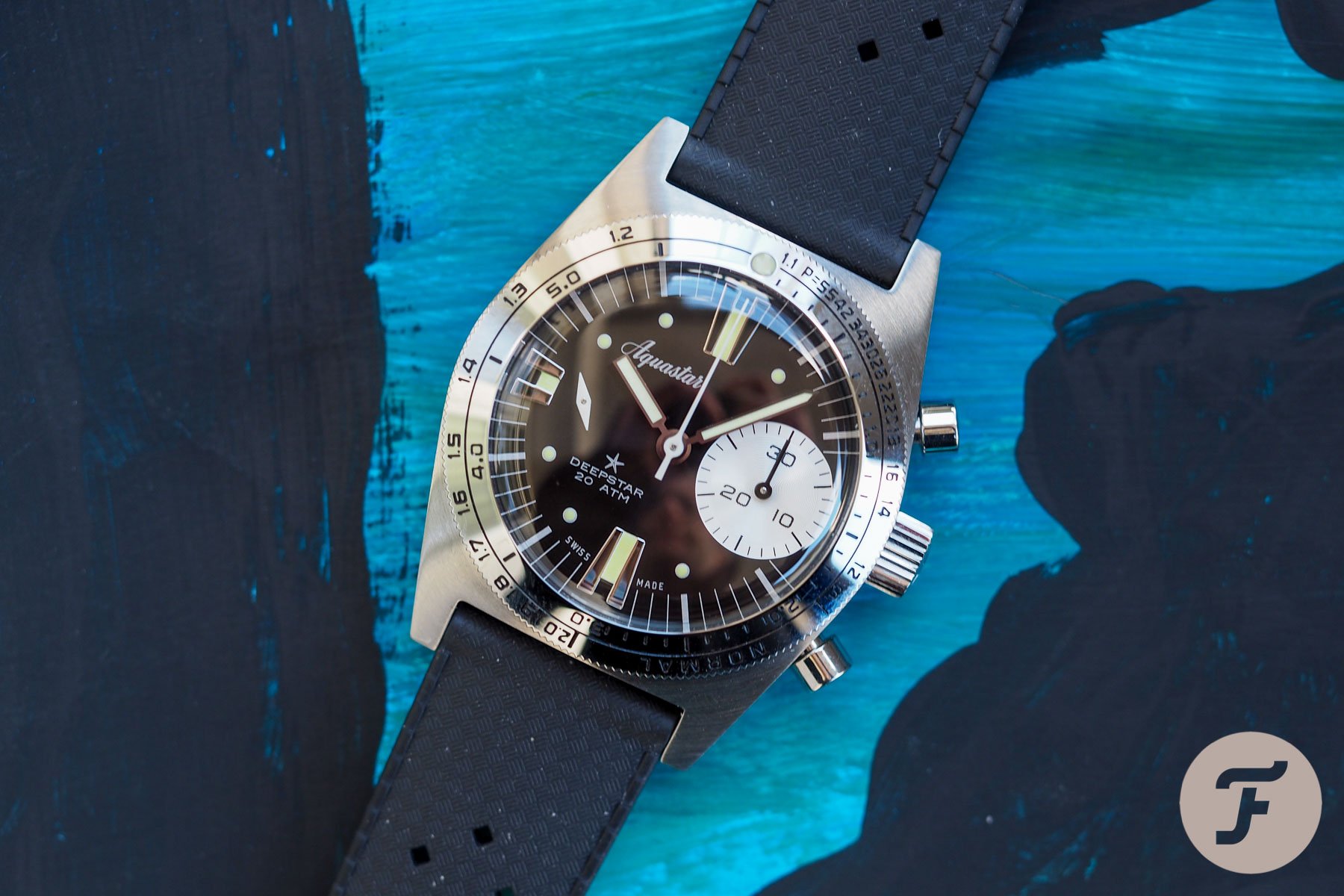 Bringing down the size, not the specs
One reason for keeping some dimensions of the 39mm Aquastar Deepstar consistent with its larger relative is that its capabilities are the same. The watch's 200 meters water resistance and screw-down crown haven't gone anywhere. Most importantly, though, the same La Joux-Perret column-wheel automatic chronograph finds its way to the smaller piece. Aquastar doesn't specifically call out the caliber, but it seems to be the L100. This movement was meant to take on the venerable 7750, and as such, it has similar dimensions. It's 7.9mm thick and roughly 30mm wide. If you know the 7750, you'll never mistake it for being an ultra-thin movement. The situation only compounds when adding water resistance and a domed crystal. From a diameter perspective, I'm guessing that the screw-down crown along with design ratios wouldn't allow anything smaller than 39mm.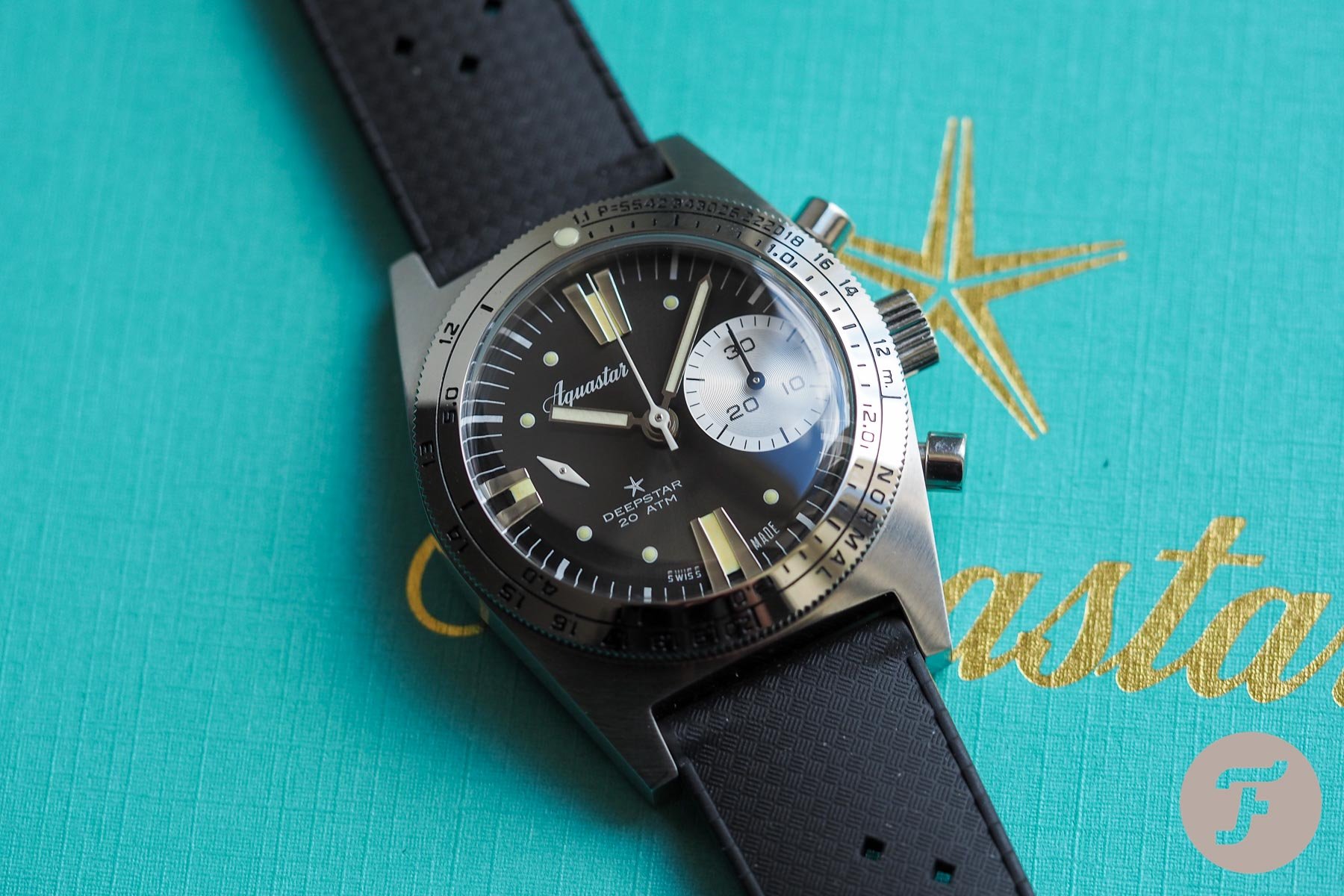 It's difficult to expound more on the 39mm Aquastar Deepstar because it is truly the junior version of the 2020 offering. This means that the finishing is truly excellent and, in my view, easily on a par with other $3K watches. I can only describe the dial on the "vintage black" version that I have as jewel-like. It's beautifully done, and I really like how light plays between the matte case, polished bezel, and domed crystal. Plus, there's just something fun about the dial design with its asymmetric 30-minute counter.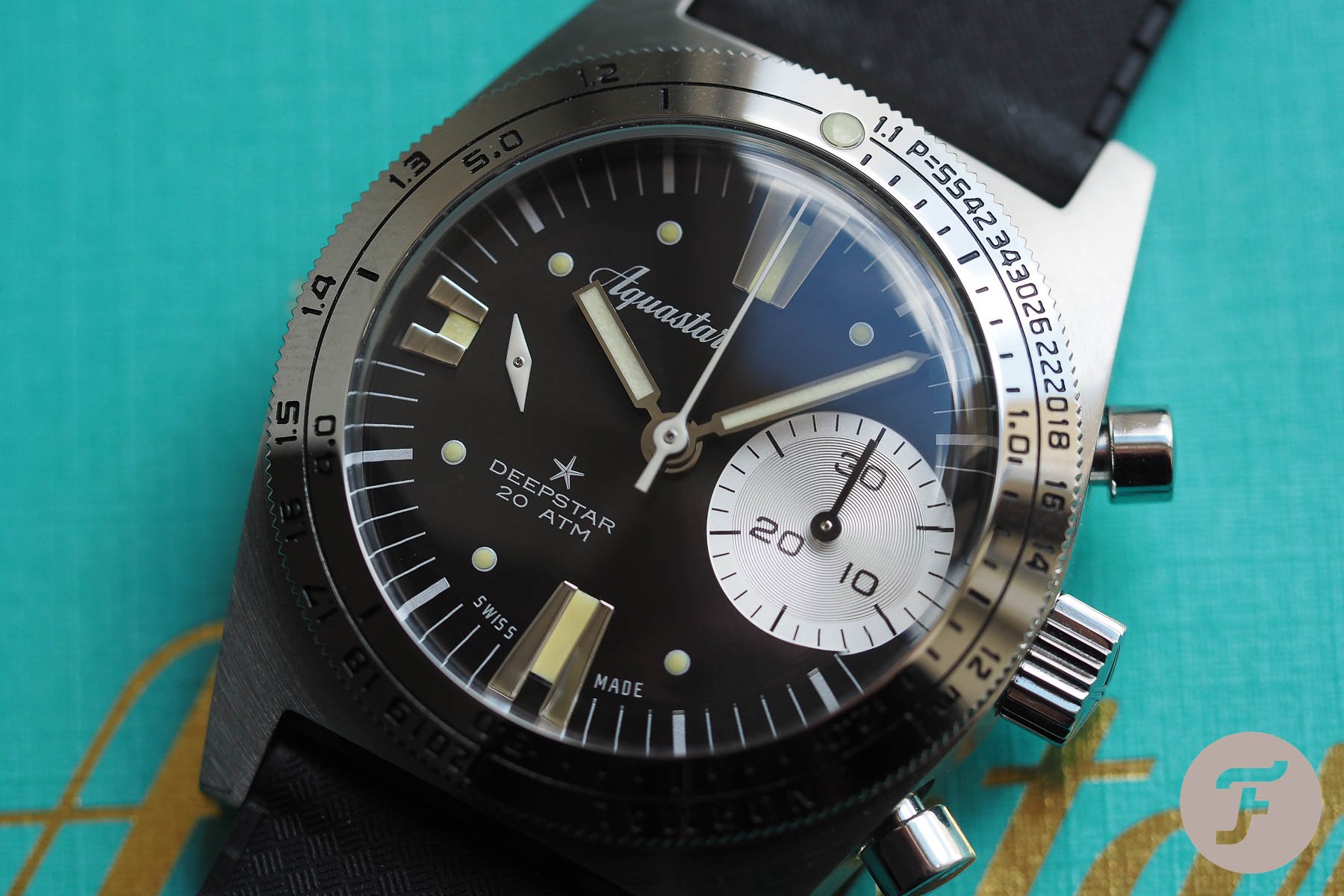 Limited to 300 pieces per year
Due to production limitations, there will only be 300 of the 39mm Aquastar Deepstar made per year. For 2022, there are 100 each in blue, gray, and black. At the time of writing, the gray is sold out, and brand head Rick Marei stated that there are a few remaining pieces in the other colors. Introductory pricing on the official site is $2,790 and will increase to $3,590 at some point (maybe for 2023 if the models this year sell out quickly). The watches ship on a 21mm Tropic strap, and a beads-of-rice bracelet will be available for pre-order. You can find the link here, and it lists for $159 ($189 regular price).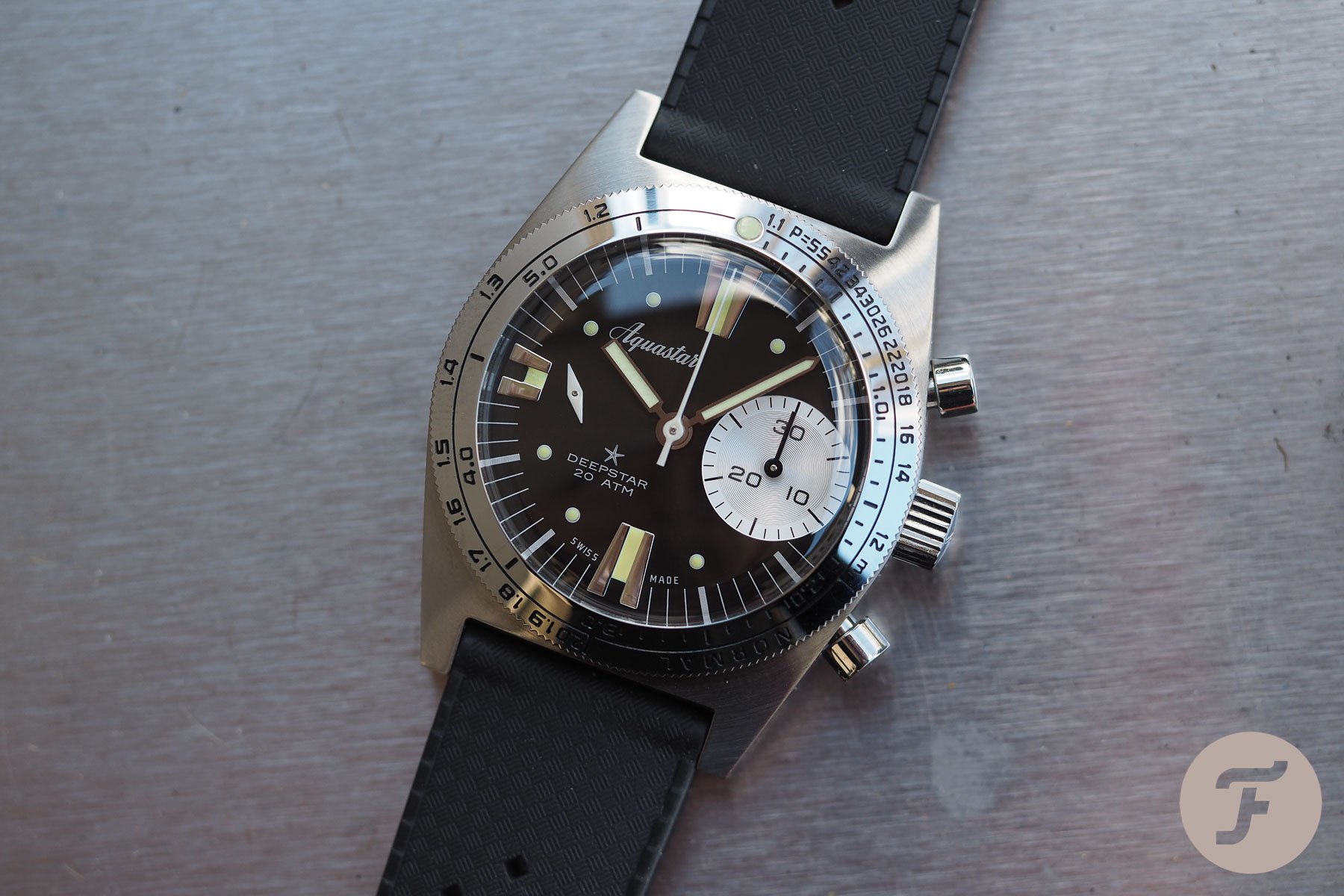 Some final thoughts
These days, there are loads of smaller brands (read: microbrands) offering a suite of similar watches in different sizes. Oftentimes, the smaller watches are able to achieve proportional perfection by downgrading specifications. For example, we've seen certain retro brands bring mechanical offerings, and then the more diminutively sized editions use something like a mecaquartz movement. I'm thankful for those offerings because they're fun, less expensive, and offer something in the marketplace. However, most vintage grouches like mechanicals under the hood. For a brand like Aquastar, it's clear that its watches are not aiming for the entry level. As such, the 39mm Aquastar Deepstar offers all the mechanical goodness of its larger sibling in a more reasonable size.
For those who are still waiting for their Deepstar II deliveries, hold fast and steady. It's a gem of a watch and at a totally different price point. For those who were waiting for a smaller, more wearable chronograph with all the looks and qualities of the 2020 release, this newest model should be your ticket. Let us know what you think of it in comments below.
Watch specifications
Model
39mm Deepstar Chronograph
Dial
Steel Gray, Blue Ray, or Vintage Black with applied stainless steel markers/indices, High density filling old light Radium Super-LumiNova application
Case Material
316L Stainless Steel
Case Dimensions
39mm Diameter, 49mm Lug to Lug, 17mm Total Thickness, 21mm Lug Width
Crystal
Domed, AR triple coated sapphire crystal
Movement
La Joux Perret column-wheel automatic chronograph
Water Resistance
200 meters
Strap
Dial-matching Tropic rubber strap with signed pin buckle. Available beads-of-rice bracelet.
Functions
Bi-directional non-decompression dive bezel, time, 30-minute counter
Price
$2,790 (pre-order), $3,590 (regular price)