The Aquastar Deepstar II — The Most Refreshing Release This Year?
The Deepstar sequel brings wearability, fantastic finishing, and an approachable price tag
Last year, Aquastar returned with a modern reissue of its most famous watch, the Deepstar chronograph. The response was overwhelmingly positive and the result was a "sold out" sign for all four colors. Not bad for the return of a watch brand after nearly 60 years! As fans, we wondered about a follow-up model and now we have the answer. The new Aquastar Deepstar II is here and it ranks as one of my favorite releases this year.
A year ago, Aquastar returned to the fray with its Deepstar chronograph. The watch was well-received and we enjoyed covering it in both article and video form. When I think of that watch, with its La Joux-Perret automatic, I come away with a few distinctly different points. Firstly, the watch was beautifully finished with a stunning dial and lovely casework. Second, despite a reasonable 40.5mm diameter, the lug to lug of just over 50mm made it a larger watch. That was a challenge for me, personally. Lastly, it had me thinking about what would come next from the resurrected brand. The Aquastar Deepstar II is a watch that continues strongly on the finishing front and absolves my sole concern with its predecessor.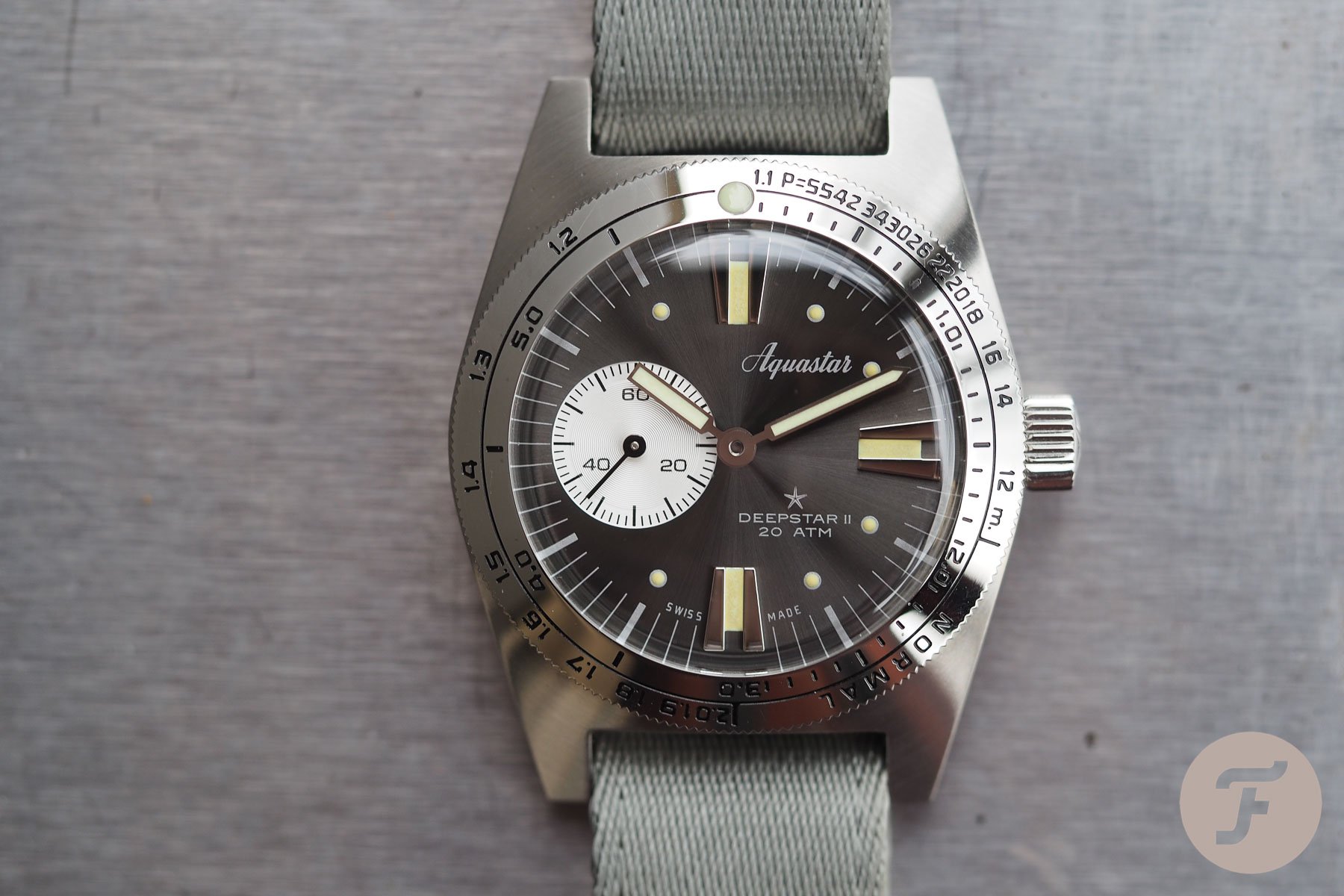 The Aquastar Deepstar II deceives the eyes at first glance
It's worth starting with what should be obvious regarding the Aquastar Deepstar II. This watch is not a chronograph! It sounds funny, but vintage collectors (and those new to the brand since last year) are so used to seeing a large, white sub-seconds dial that the mind thinks there is a chronograph at work. It isn't the case, but I'll just go ahead and mention it — this watch works as a three-hander.
It's no secret, but Rick Marei is behind the Aquastar brand. Many of our readers are familiar with his past work at DOXA and his current stewardship of Aquadive, Tropic, and Isofrane. Just this year, he set off a bit of a firestorm with a proper cult hit in the Synchron Military. The guy loves vintage divers and, even more so, he loves making nearly exact copies of extinct references. Therefore, I certainly wasn't expecting a "new" watch for the next Aquastar. I was thinking more in the vein of a Benthos or even a "63." The Deepstar II was a real surprise, but there is at least a story as to why this watch exists.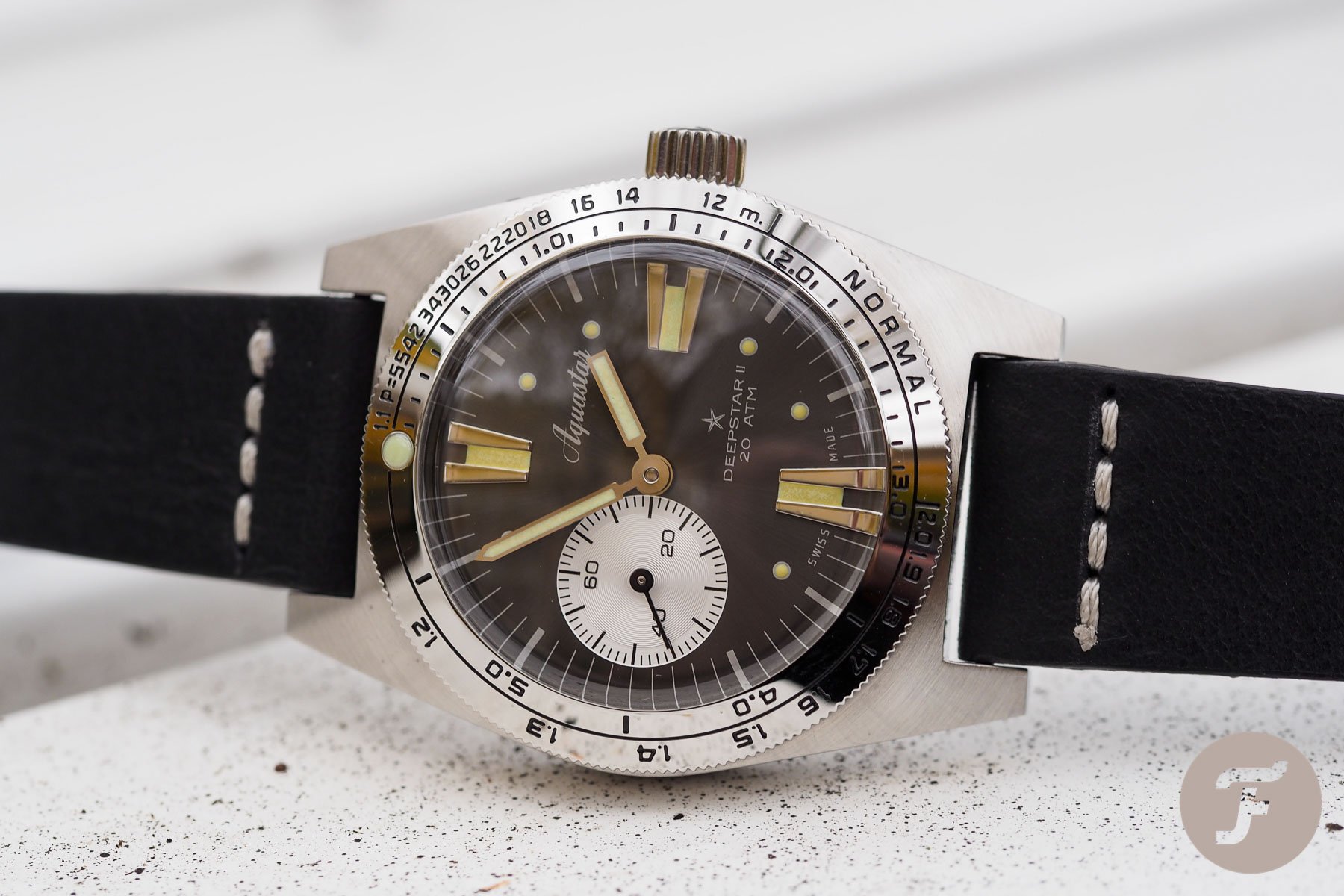 The Deepstar II represents what could have been
I had a lengthy chat with Rick right after receiving the new Aquastar Deepstar II and he gave me some background. Rick spent time with Marc Jasinski, the inventor of the original Deepstar and he mentioned that something like the original watch but in a three-hand version, could have come next. Unfortunately, something called the quartz crisis occurred and scrapped many development plans. If that resonates with you, so be it. However, what should be of interest is just how good this watch is and how well it wears.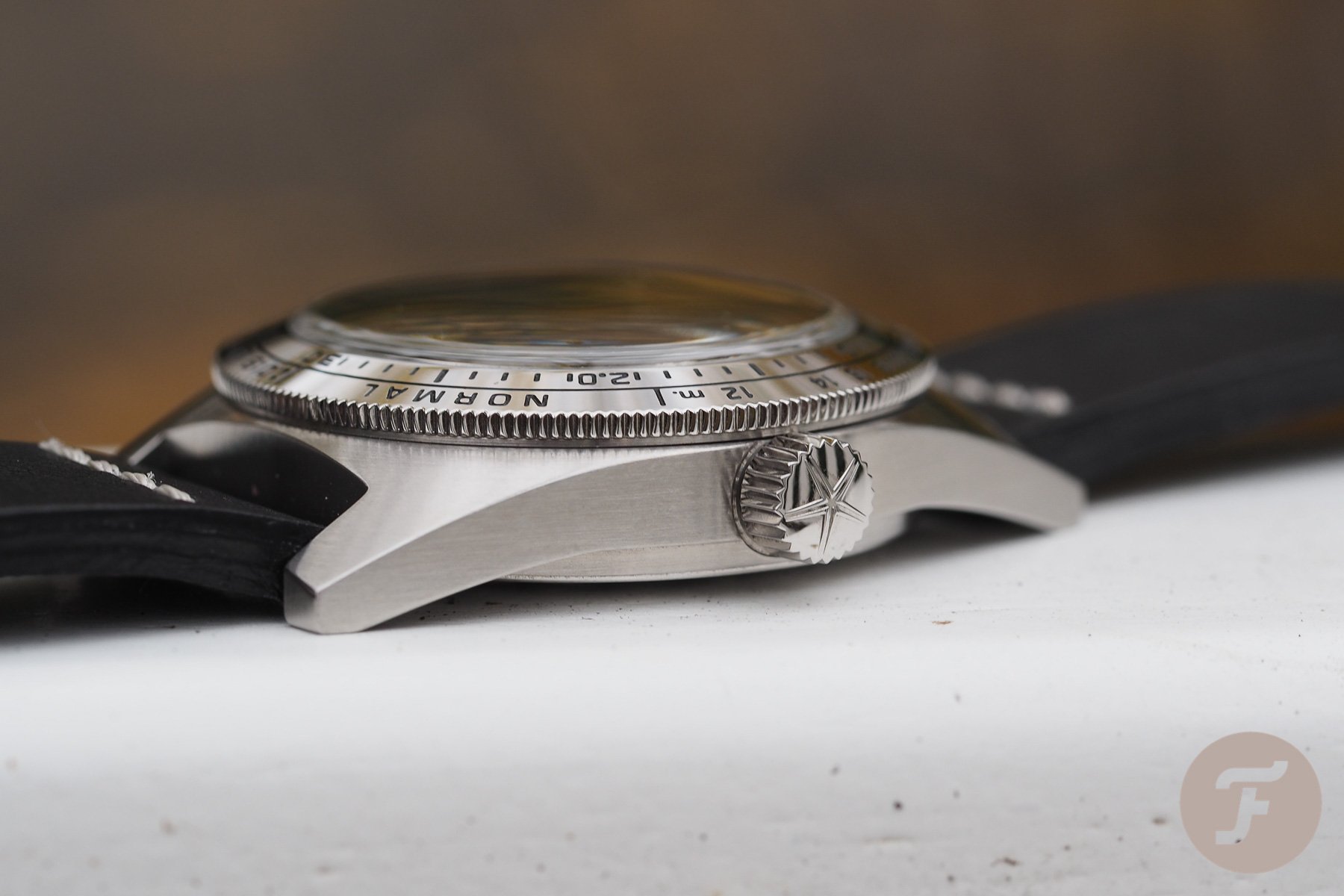 Unlike the prior Aquastar release, the new Deepstar II comes with an incredibly wearable 36.7mm diameter case. That size, by the way, just so happens to mimic the original '60s Deepstar case. Now, before the thick-wristed turn their attention elsewhere, consider the case design itself. I've been a bit tough on skin diver style cases in the past because they are relatively basic and, therefore, were typically used on more affordable watches. The lack of complex surfaces, though, is partially made up for with thick lugs that help add some visual heft. Plus, with a lug to lug of 47mm and a thickness of 13mm, this watch should hit a real sweet spot with just about everyone. Furthermore, and here's something you won't hear every day, this watch should even appeal to both sexes.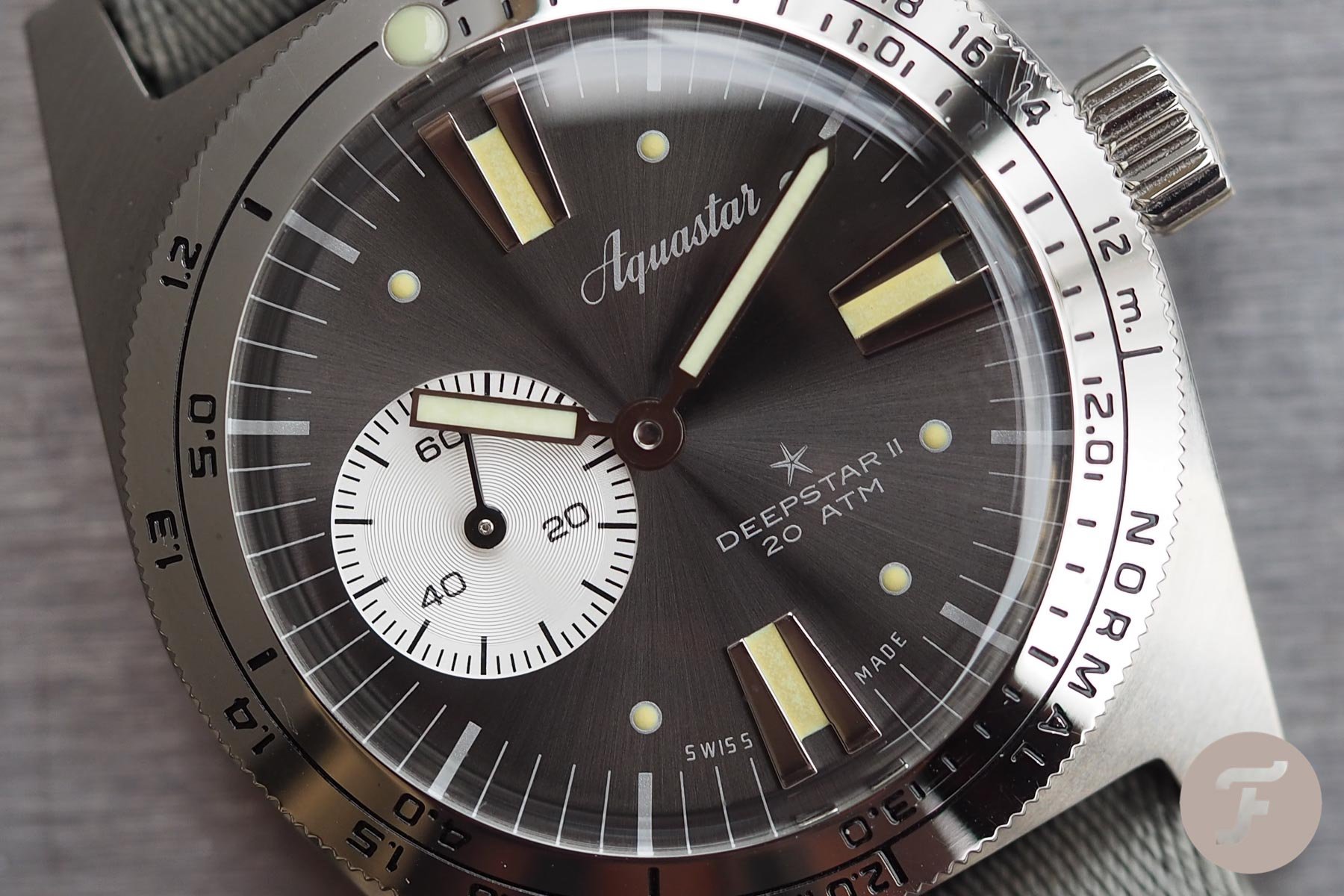 A familiar look that works seamlessly as a three-hander
Dial-wise, the Deepstar II plays another trick because the sub-dial is at 9:00 whereas the chronograph has its "eye" at 3:00. Aside from that, there's a deep similarity and that means a sunburst dial in gray, black, or blue. The hallmark hour markers return along with lume dots on the inner side of the printed hour markers. Light old radium Super-LumiNova is the torch of choice here and it does not disappoint once the lights begin to wane. All other details such as the box sapphire crystal, signed screw-down crown, polished bidirectional rotating no-decompression bezel, and the hands are familiar.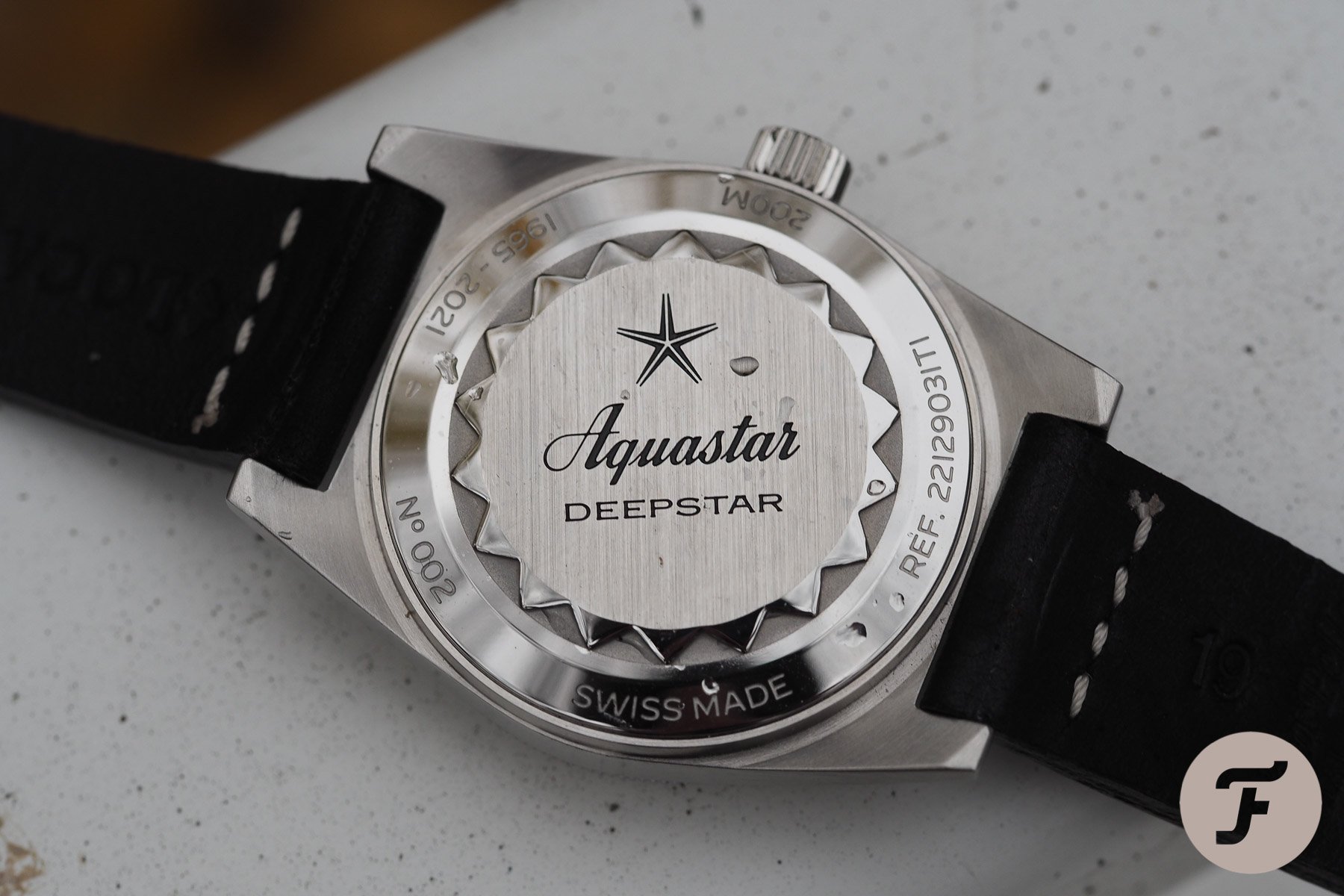 A case back isn't usually worth much notice, but the Deepstar II uses the brand's historic multi-point opening method. It looks great here and combines both polished and matte surfaces along with well-crafted engravings. Interestingly, the back states 200 meters while the dial uses the "20 ATM" descriptor. Underneath the screw-in case back, Aquastar chose to use the Sellita SW-290 automatic. In a move sure to please potential buyers, there's no date function and no date stop.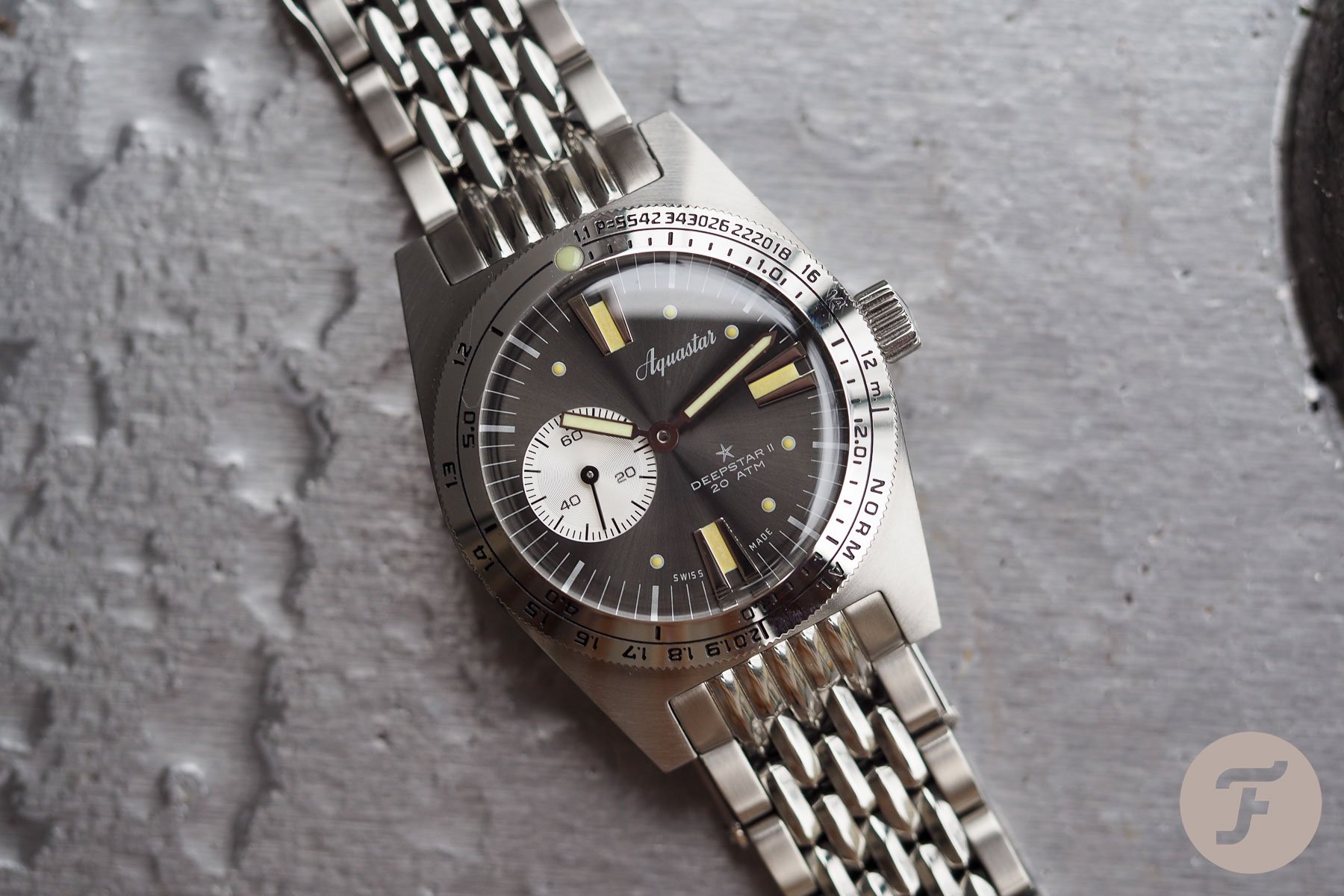 A word about the bracelet
I received the Deepstar II bracelet a few days before you're reading this, so apologies for the quick photos during what little light we've had here in Germany. Rick and the team chose a beads-of-rice style bracelet with solid end links and tapering that moves from 19mm down to 18mm. There's nothing overly fancy here with a signed safety clasp that uses pinhole microadjustment. However, what it lacks in fanciness, it makes up in overall finishing (both matte and polished surfaces) and for being thin and having a smallish clasp.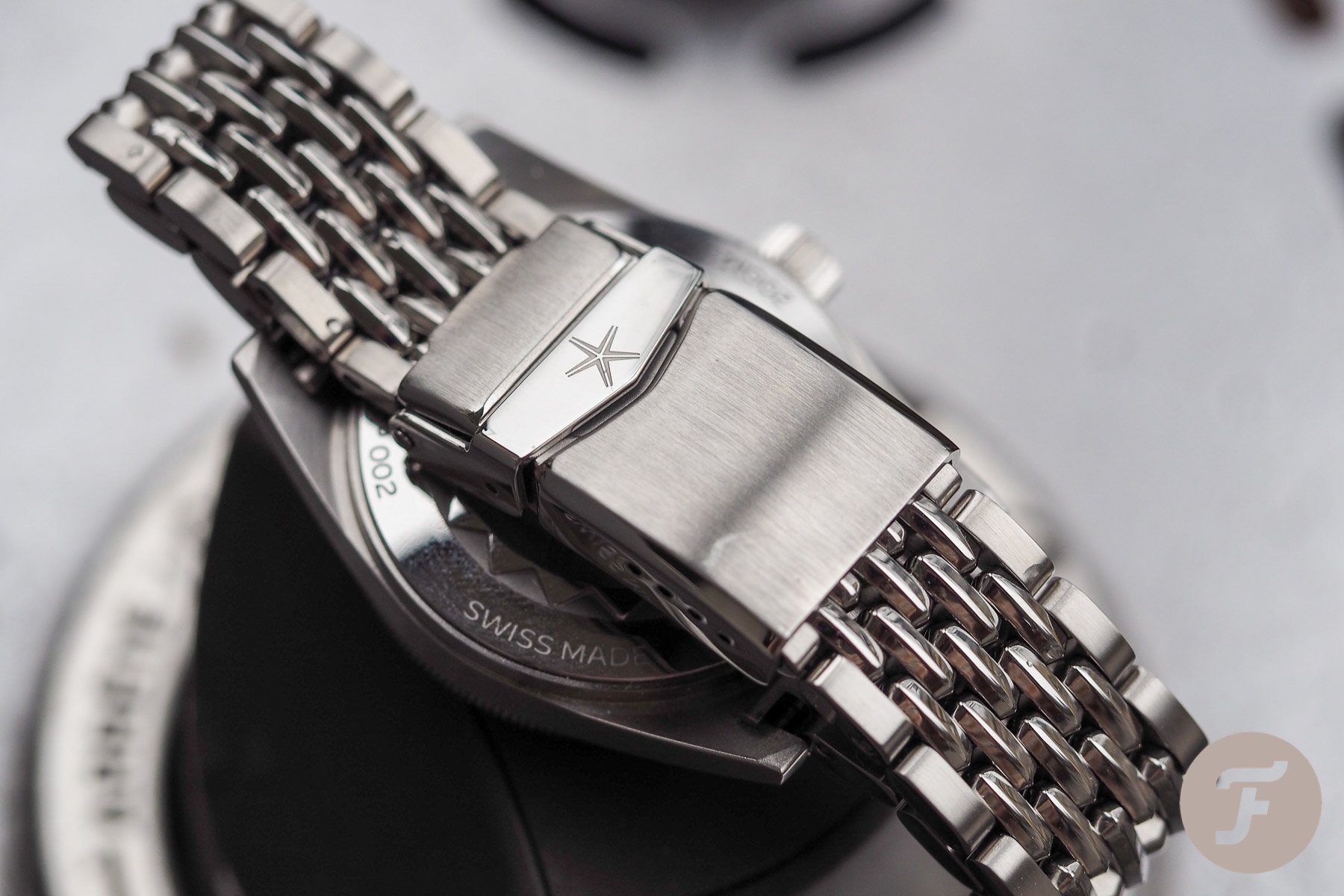 Also, hi there Seiko, the links are a breeze to remove because the bracelet uses single screws. I've not taken the watch off of the bracelet since taking five minutes to fit it a few days ago. It's seriously comfortable and well worth the minimal $100 charge. Is it a world-beating bracelet? No, but it is a great adder.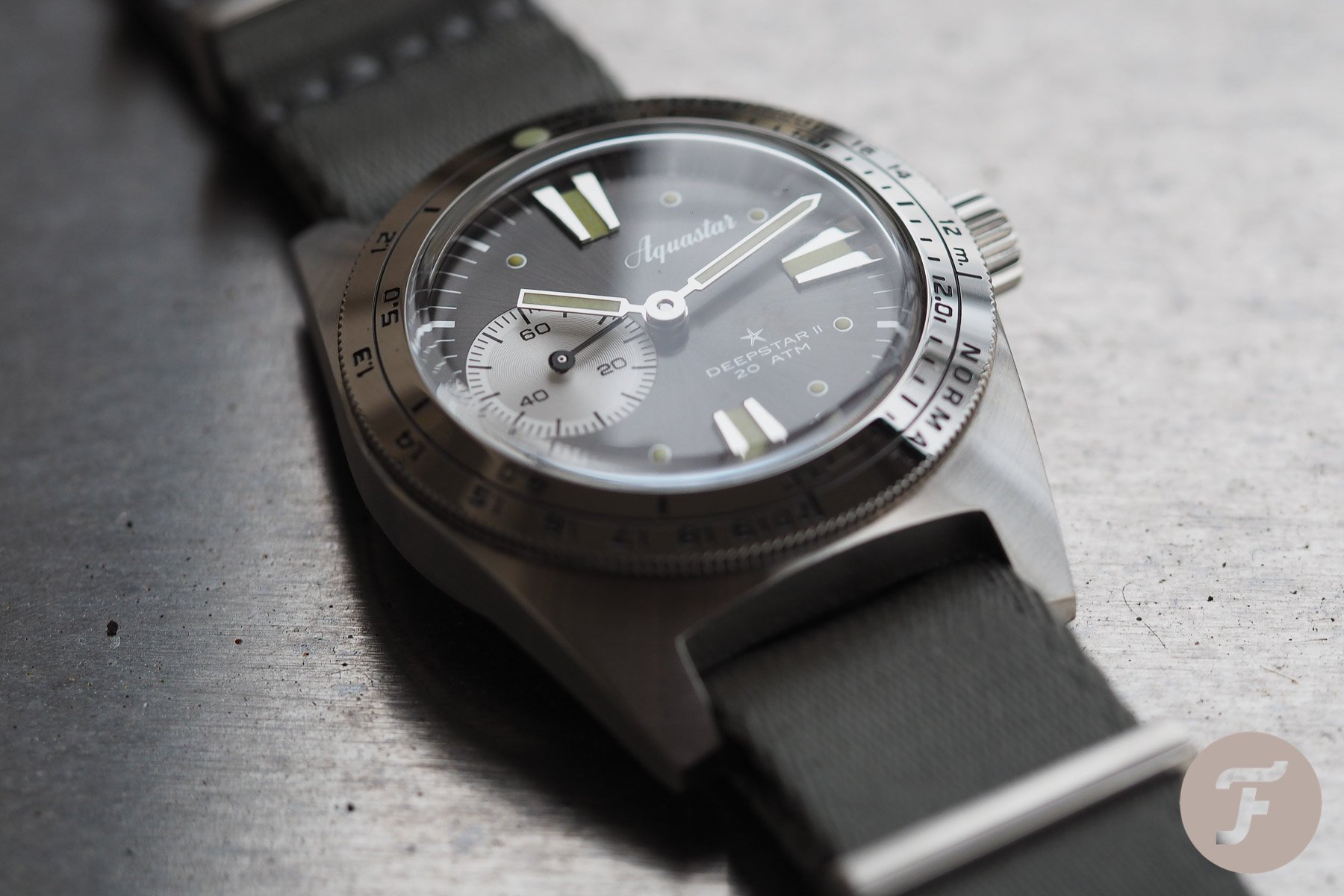 Where does the Deepstar II fit in the greater picture?
There's no question, I have enjoyed wearing the Deepstar II since I received it a week ago. I had to stop myself from shooting it and placing it on Instagram prior to the embargo drop – it's that nice. Rick did a heck of a job on the finishing once again and I think that's doubly so considering the $1,490 pre-order price tag at the time of release ($1,890 is the regular price, but I'm not sure the initial run will last that long). The watches will be released in three dial colors with a maximum total production of 500 pieces per year (limited by movement availability) and will come standard with a 19mm Tropic (that's a new size) and Horween leather strap (not pictured). As mentioned, the bracelet will be available for $100. Deliveries begin this month.
The addition of the Deepstar II to the market adds yet another entrant to the skin diver sub-genre. In fact, I'd say things are returning to the '60s due to the sheer number of choices. The difference is that today there are watches with this case at all price levels. On the entry-level front, Wolbrook offers a number of choices beginning at less than €400.  Seiko also offers a fleet of 62MAS re-creations above the €1,000 mark and tends to drop a high-end (read: above €4,000) reissue version every so often. Finally, Glashütte Original has the SeaQ which begins at a very different €8,800. In my view, the Aquastar brings in a lot of finishing for the price along with great size (most of the others are around 40mm) and a bit of uniqueness. As the saying goes today, your mileage may vary!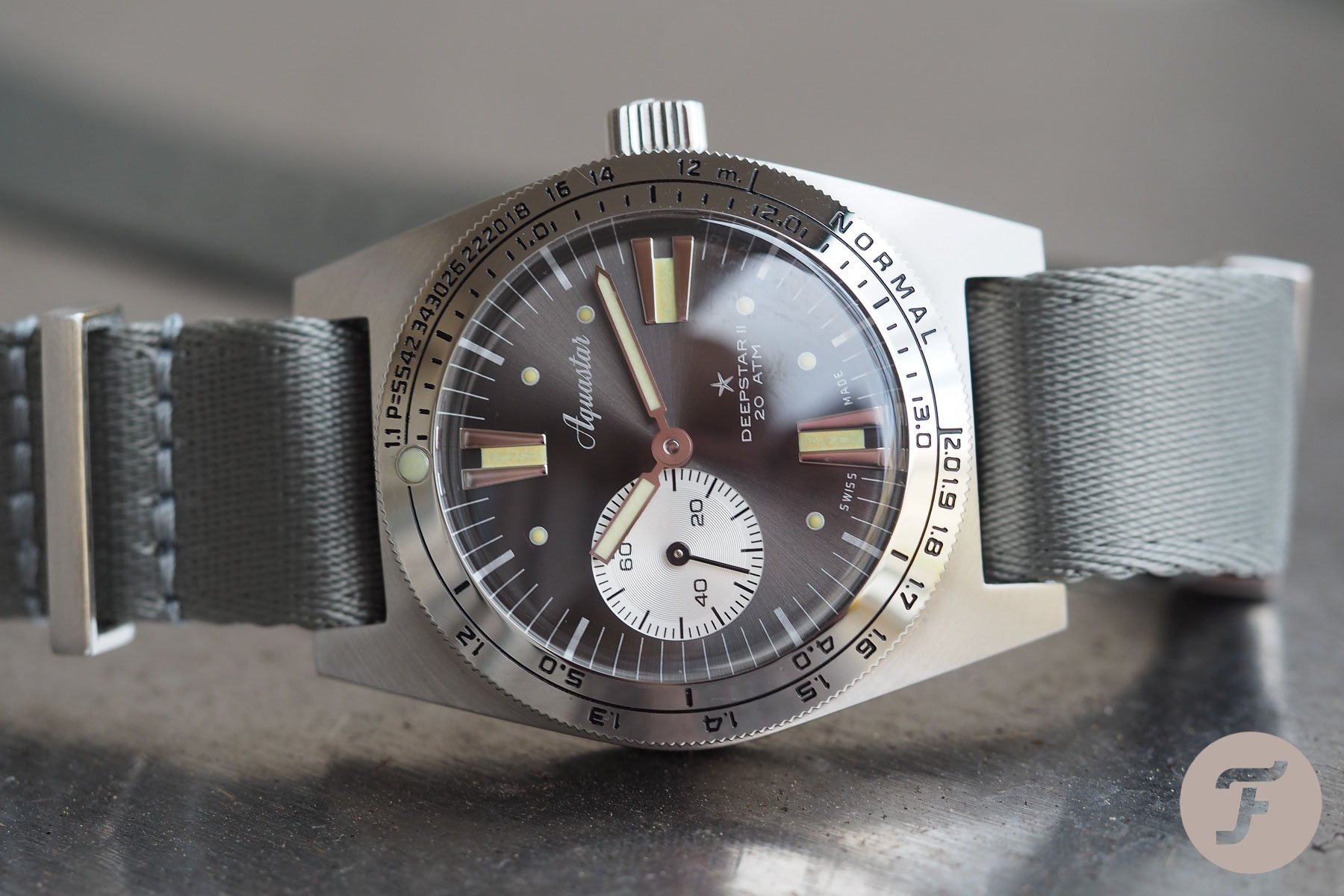 Final thoughts
The Aquastar Deepstar II is a lovely watch and I think that it will appeal to a number of buyers. Those who know Rick's work will appreciate his continued attention to detail on this watch. Fans of vintage watches should appreciate the size along with the modern durability. This watch may also bring new buyers to the brand for all the reasons above and, importantly, because it's properly attractive. That's not a bad reason to consider a watch, is it?
For more information and to order, visit the official Aquastar site.
Watch specifications
Dial
Grey, Black, or Blue Sunburst with old radium Super-LumiNova
Case Material
Stainless Steel
Case Dimensions
36.7mm Diameter, 47mm Lug to Lug, 13mm Thickness, 19mm Lug Width
Crystal
Boxed sapphire crystal with anti-reflective coating
Movement
Sellita SW-290 automatic, 38 hours power reserve, 28,800 vph, date wheel/stop removed
Water Resistance
200 Meters
Strap
Rubber Tropic strap with pin buckle and black Horween strap included. Beads of Rice bracelet available.
Functions
Time (HH:MM:SS), Bidirectional rotating no-decompression bezel
Price
$1,490 Pre-order price ($1,890 regular price)
Special Note(s)
3 dial colors with total production of 500 pieces per year, shipping begins November 2021