Hands-On Review Seiko Prospex SPB143, 145, 147, And 149 Diver's Watches
Including the fourth watch in the 55th anniversary trilogy
This year Seiko is celebrating the 55th anniversary of its first-ever dive watch. Besides the indispensable special and limited editions to celebrate the event, we were happy to see some spectacular models in the regular Seiko dive watches line-up as well.
Back in March, Michael Stockton informed you about the three significant releases Seiko presented to celebrate its underwater beginnings. And, recently, Jorg dived deeper into one of them, the  SLA037. That model — which hit the market with an intimidating price tag — was the subject of this week's Sunday Morning Showdown between Balazs and Rob. If you haven't already, why not head over to the article and cast your vote? While browsing the Seiko press release that reached us on this trilogy, I already noticed that there were not three but four commemorative watches. Silently added to the end of the text, there was the SPB149.
Seiko 1965 Diver's Modern Re-Interpretation
Even better, the SPB149 proved to be part of a series of four watches itself, the SPB143, 145, 147, and the 149. Seiko named this series the "1965 Diver's Modern Re-Interpretation". I'm a fan of the design of Seiko's first diver, the 62MAS. And probably because of that, I've loved many of the Seiko SPB-models, with SPB051 being my favorite so far. The one thing preventing me from buying one was its arrow-shaped hour hand. Just not exactly my taste, and a bit too far off from the original.
…tribute to the 62MAS
Then, in 2017, there was the real tribute to the 62MAS, the SLA017. But I wasn't ready for its price tag of €3,800. That same problem seems to play against me with the new SLA037 and its price tag of €6,500. Don't get me wrong; I don't think these watches are too expensive for what they are, absolutely not. I just can't find that kind of money to spend on them.
Seiko Prospex Diver's 200m
So you'll understand how happy I was with the introduction of the new SPB14x-series. Basically, these watches are the successors to my beloved SPB051, but with a straight hour hand — precisely what I asked for! Plus, while I thought the SPB051 with its diameter of 42.6 mm was a bit large, the new SPB's have been shrunken to a — in my opinion — more suitable 40.5 mm. Against the SPB051, the SPB14x-range has a slightly different dial layout and a 6R35 caliber (replacing the 6R15) with 70 hours power reserve (up from 50 hours). All that was good remained, including a 200-meter depth rating and the anti-reflective and curved sapphire crystal. It seems that the new SPBs have another bezel-insert material. I'm not able to find sound information on that and don't have both versions at hand to compare it visually myself.
SPB143, 145, 147, and 149
Construction-wise and technically, these four models are equal. Visually, with four different dials, there are apparent differences. But there's more that sets them apart than that. The actual regular models are only the SPB143 and SPB147. You won't find the SPB145 in just any shop, as it's reserved for sales by official Seiko Boutiques. And as for the SPB149… Well, that one might even be more difficult to find as its production is limited to just 5,500 pieces.
In line with the other three 55th anniversary models, the SPB149 has a striking blue dial. Besides this, it's the only version supplied with both a stainless steel bracelet plus a — color-matched — silicone strap.
Prices
Before going deeper into the watch itself, I have to talk about the prices. Just to keep things in the right perspective. Depending on the model and scope of supply, these vary from €1.050 to €1,350. Lately, Seiko's price policy might have raised some eyebrows. The same cannot be said for this new SPB line. Considering the 200-meter depth rating, sapphire crystal, and a modern 70-hour power reserve caliber, these models are strong choices. All that, plus that it is an immensely attractive watch which came a long way. Let's be honest, if one spends over a thousand Euro's you want more than just a technical marvel. And it isn't just beauty, either. You want to feel something as well. And that's just what this new SPB-line does to me.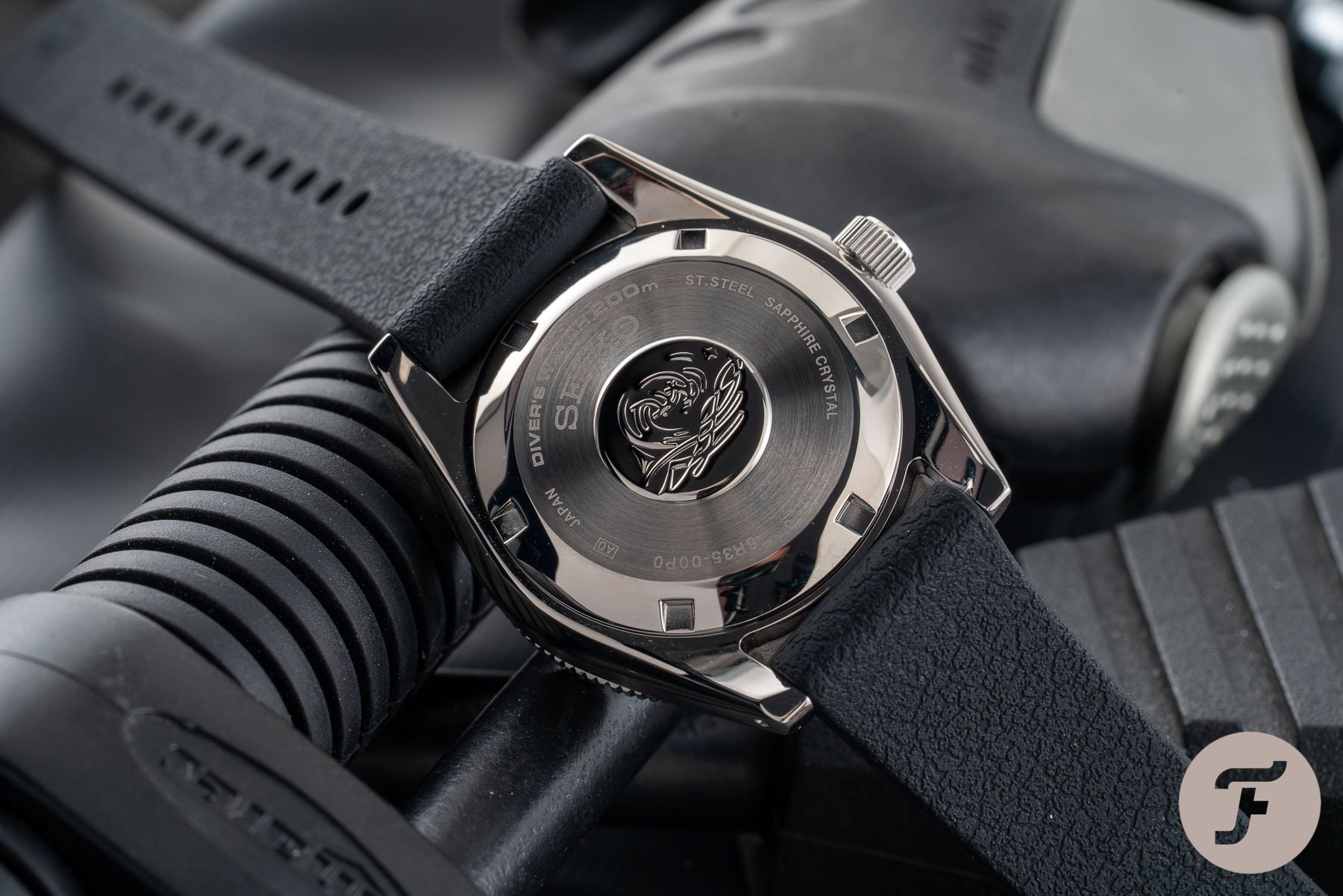 Details matter
Having shifted that elephant out of the way, I'll head back to the watch. How does it feel? I'd say the first thing you would grab is either the crown or the bezel, so let's start with that.
The bezel is the first thing that separates the men from the boys. It's sometimes heard that Seiko watches in this plus €1,000-range are expensive. I don't think so. The bezel feels so solidly mounted to the case, turns precisely with the right force, and stops perfectly goal-oriented at one of its 120 clicks. Comparing it to a €500 Seiko divers watch, this is a big difference. Besides that, the black upper surface of the bezel is a whole different story. It is matte, feels hard, and looks very good with its engraved numerals, incomparable to one of its cheaper brothers.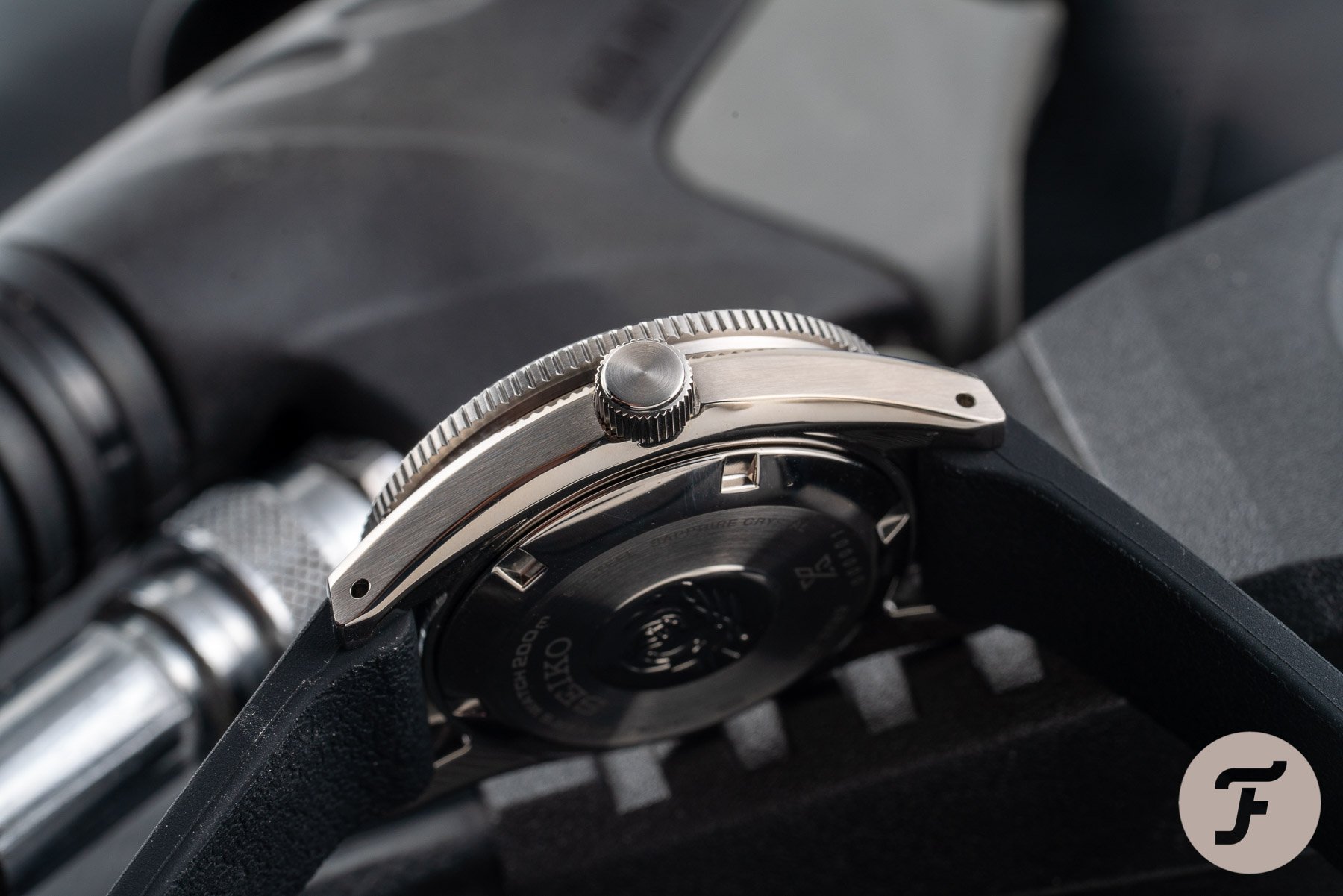 The crown as well. It feels nice sharp and grippy and winds smoothly onto the threaded tube. The thing which wondered me slightly was that it isn't signed. There's no inscription or embossing of any kind. It's just plain.
Curved sapphire crystal
Compared to, for instance, a flat Hardlex crystal, a curved sapphire makes a big difference. It looks and feels different, and, of course, it won't scratch. An anti-reflective coating has been applied on the inside, so there's nothing to worry about in terms of damage there either.
Below the sapphire crystal, there are four different dials to choose from. In chronological order of model number, the dial colors are grey-black (SPB143), brown-grey (SPB145), brown-bronze (SPB147), and blue (SPB149). All bezels, except one, are matte-black-based with silverish-white numerals. The exception, SPB147, with its gilt accents on the dial, has a black-based bezel with gilt numerals. The applied or raised luminous index markers give off a high-end character. Especially when their tiny polished frames mirror the light in dim conditions.
Case finishing
The finely shaped and sized case received a circular brushed top-side finish. From the top, a polished chamfered edge brings us to straight — in the longitudinal direction of the watch — brushed sides. These brushed sides change to soft polished edges, on the underside of the watch, for comfortable wear. Then the bottom of the case merges to a solid screw-in case back. Delicately engraved with the necessary information and decorated with the central Great Wave off Kanagawa (神奈川沖浪裏 in Japanese) medallion.
Bracelet and silicone strap
To close this review, I'll shed some light on the bracelet and silicone strap that come with these new SPBs. Let's start with the bracelet. Even for way more expensive watches, we've learned that a bracelet is a very difficult part to get right. Producing (and especially finishing) a stainless steel bracelet is just very, very costly.
When it comes to watches in this price league, I try to temper my enthusiasm. In this case, I must say, Seiko did a good job. The bracelet feels solid, is nicely finished, and has adequate adjustment possibilities, as well as a safety clasp. It even has a never-before-seen type of dive extension. The links are not screw-fixed though. Pins have to be pushed out. And yes, I have seen better bracelets but not on watches in this price league.
…it wears as good as any silicone strap can wear
Equal to the quality of the bracelet, the silicone strap feels good and is finished properly as well. It's very soft and flexible. It wears as well as any silicone strap can wear, and it's fitted with heavy solid steel hardware. It's long enough to wear over a diving suit. For smaller wrists — which will love the size of the watch — the end part of the strap is relatively long. In this situation, two keepers would have been more comfortable than just one, which it has now.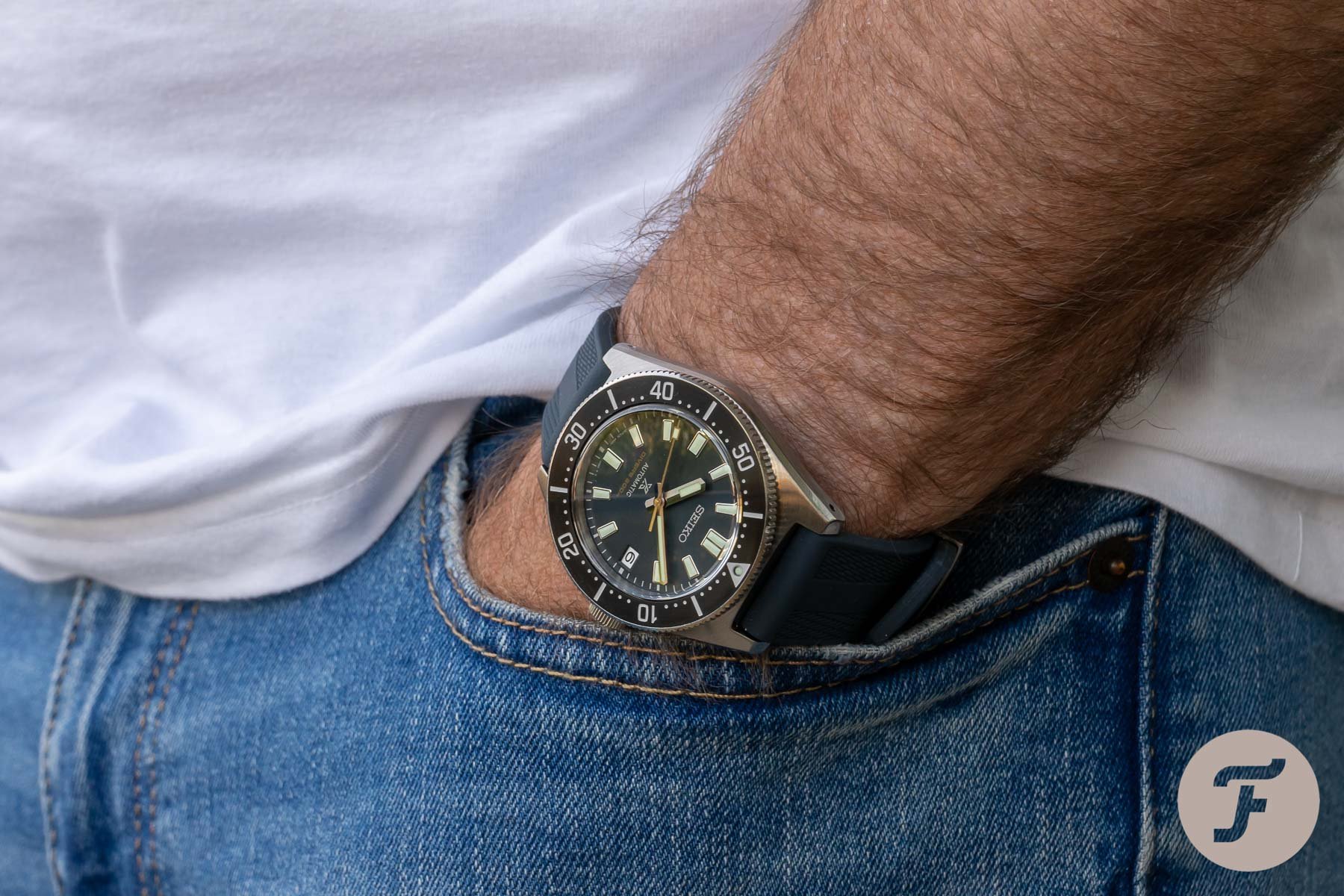 Personal conclusion
These four new SPB models have my name written all over them. At first, I was sure that the SPB149 was the one to have, but now I'm drawn towards the SPB143. After having it on my wrist for a longer time, the fact that the black/blue bezel/dial combo gave me pause for thought. Also, a blue dial is difficult to match with other straps. I know that I like to change straps, and noticed that a brown or a black leather strap both color-wise didn't match the blue dial very well. So probably for me, the more classic and conservative SPB143 will be the one. But what a one it is…
You'll find me on Instagram @gerardnijenbrinks
Watch specifications
Model
1965 Diver's Modern Re-Interpretation
Reference
Prospex SPB143, SPB145, SPB147, SPB149
Dial
Grey-black (SPB143), brown-grey (SPB145), brown-bronze (SPB147), and blue (SPB149)
Case Material
Stainless steel with 'super hard coating'
Case Dimensions
40.5 x 13.2 mm, lug-to-lug 44 mm, lug-width 20 mm
Crystal
Curved sapphire, anti-reflective
Case Back
Solid, screw-in
Movement
Automatic, caliber 6R35, 21,600 vph, 70-hour power reserve, 24 jewels
Water Resistance
200 meter
Strap
Silicone strap and/or stainless steel bracelet
Price
SPB143: €1,250 - SPB145: €1,250 - SPB147: €1,050 - SPB149: € 1,350
Special Note(s)
SPB145 available at Seiko Boutiques only, SPB149 limited to 5,500 pieces