Sunday Morning Showdown: Seiko SLA037J1 Diver's Watch
Rate it or hate it? You decide.
In this Sunday morning column, two of our writers go head-to-head in an epic showdown for the ages. Strong opinions and hysterical hyperbole are welcome (so feel free to join in with the fun in the comments section below). And don't forget to let us know which watches you'd like to see torn to shreds/effusively exalted next week. We'll try and feature as many of our readers' choices as we can. This week, we're reverting to our traditional format. Two writers; one watch. Today, Balazs is gunning to consign "Bobsled Bobby" to his third straight defeat. The object of his disgust? The SLA037J1 55th Anniversary Diver's watch handily reviewed by Jorg for this week's Watch of the Week segment.
Well, well, well. Last week was a stunner. Jorg and Ben gamely stepped up to the plate. Pitting the new Omega Speedmaster "Ed White" against, well, anything might have been a bit cruel. But the Rolex Daytona did itself proud. Sure, it got badly whipped (taking home 33% of the vote), but it could have been worse. In fact, we've seen worse. Whether or not we see that kind of pasting again today has a lot to do with the concerningly streaky form of yours truly. And, if I'm being totally honest, Balazs is not someone I would regard as a "slump buster". That said, I'm going to do my best to convince you that the SLA037J1 55th Anniversary Diver's watch deserves your love…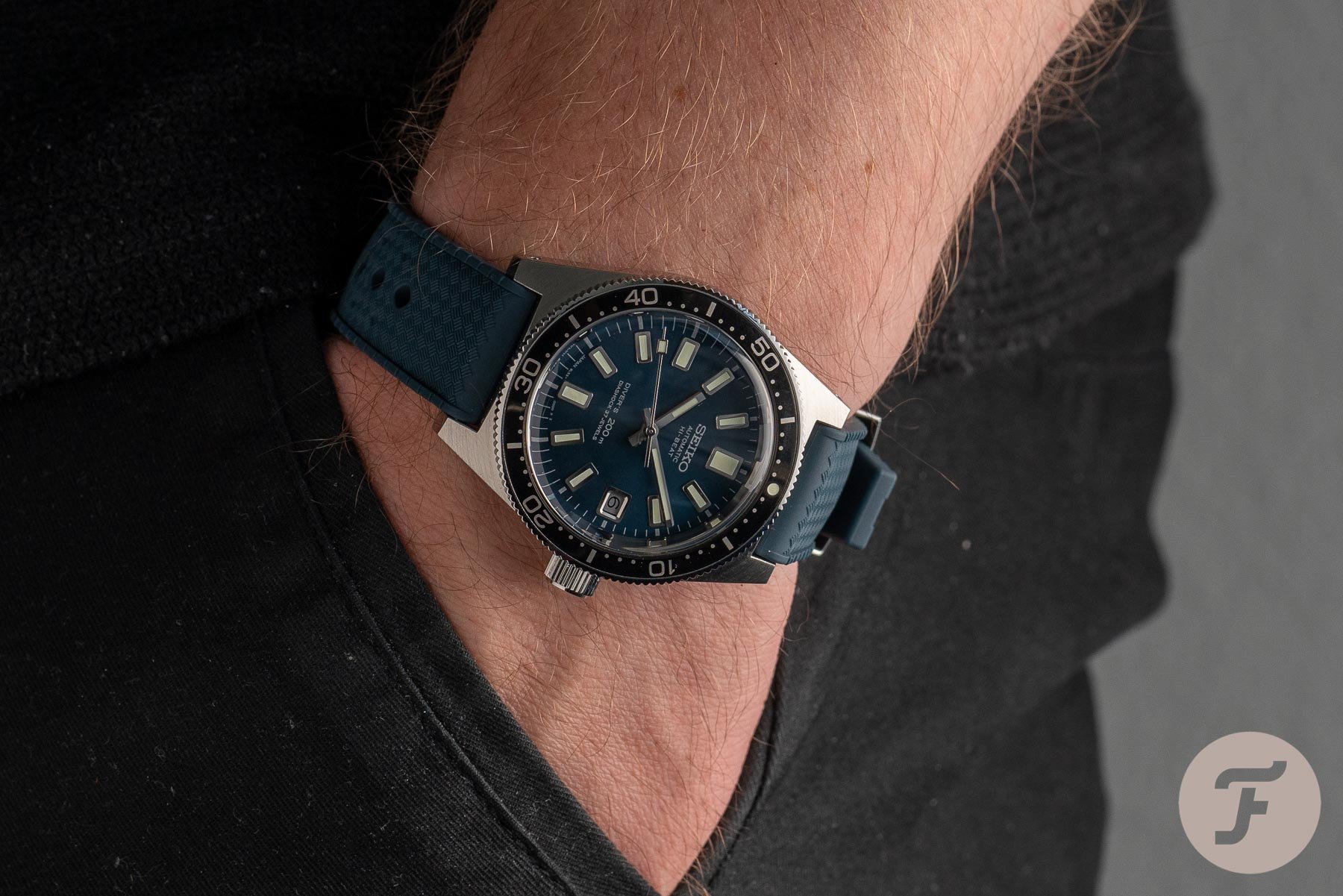 Rob Nudds
We love a bit of Seiko on Fratello. There are few brands that have such a wide appeal. That has a lot to do with some very accessible (if sometimes inconsistent) pricing. A lot of people can buy into this brand, new or pre-loved. The brand has a steadily evolving catalog. The classic models stick around (thankfully) but are often treated to minor functional or material updates and the odd splash of color here and there. This helps keep things interesting. In fact, as a brand, the only thing I could ask of Seiko is more exciting product photography. But, luckily enough, that's where we come in…
…academic interest doesn't always translate into commercial interest.
Jorg's article earlier this week was one of our most-read pieces of 2020. As such, it raised some questions among the team. Specifically, one question we hope to answer today — would you buy this watch? There is no doubt the watch draws interest. The traffic numbers showed us that in no uncertain terms. But academic interest doesn't always translate into commercial interest. Hopefully, Balazs and I will be able to shed some light on what you thought about the Seiko SLA037J1 after you'd read Jorg's piece.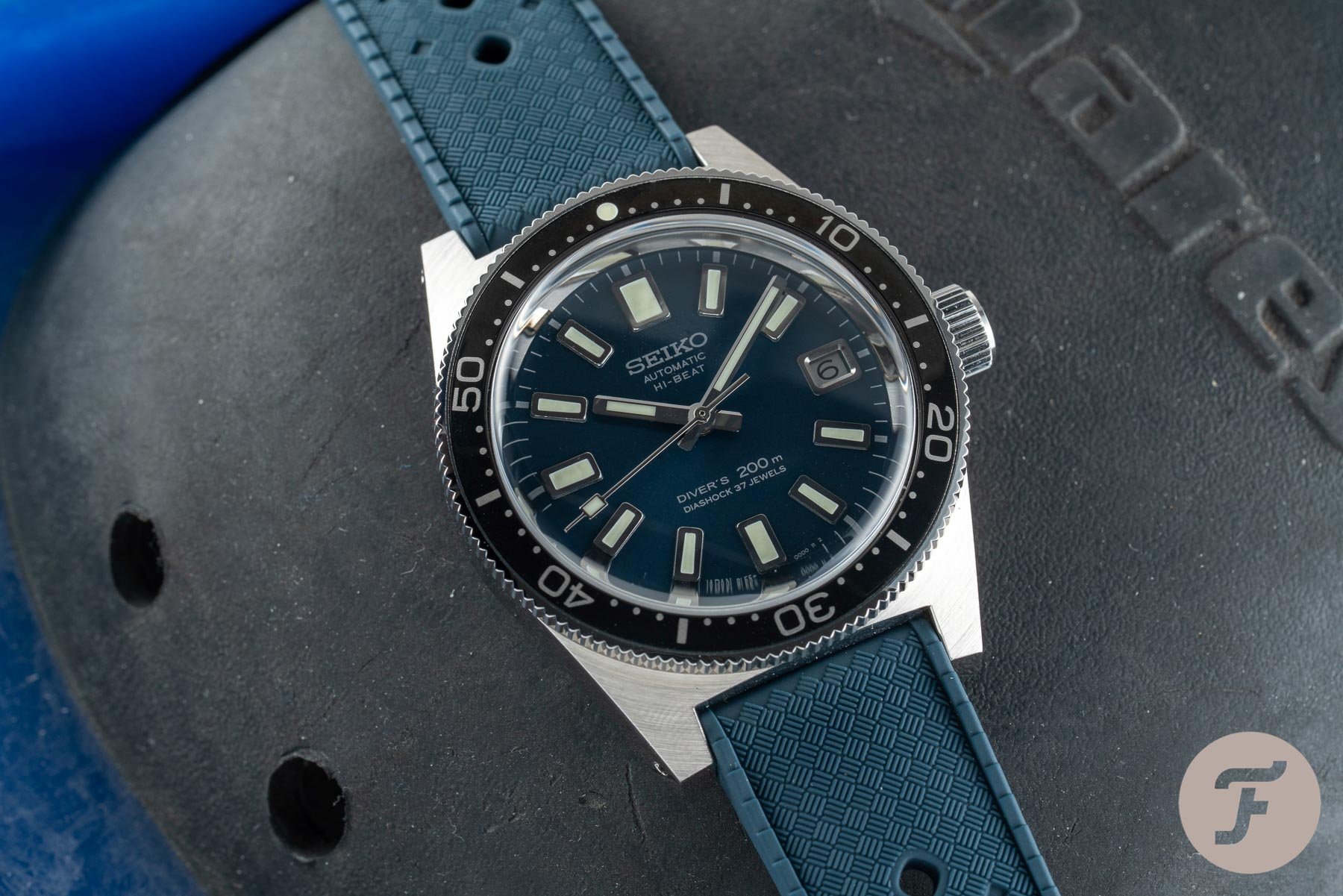 And he really did do the Seiko SLA037J1 55th Anniversary Diver's watch justice. It was a long and studious look at a watch that certainly needs to be dissected to be understood. Why? That hefty price tag, of course. On the surface, this is just a really handsome watch. It is a sympathetic update to a nailed-on classic in a contemporary-yet-timeless colorway. Simply put, it is a triumph. There may be plenty of watch lovers — this writer included — getting a little bit tired of lazy reissues, but this is not that. This is what keeps propelling horology's "heritage craze" forward. This, dear readers, is how you do it right.
…a stout — although wearable — beast on the wrist.
For a moment, let's step away from the context of this watch. Let's ignore the ticket price and its place in the brand's history. Let's just take a moment to look at it from a product perspective. The case is a modern 39.9mm, with a lug-to-lug measurement of 48mm. Thanks to a domed sapphire, however, the thickness is pretty significant at 14.7mm. That, along with the uni-directional rotating bezel encroaching on the dial diameter makes this a stout — although wearable — beast on the wrist.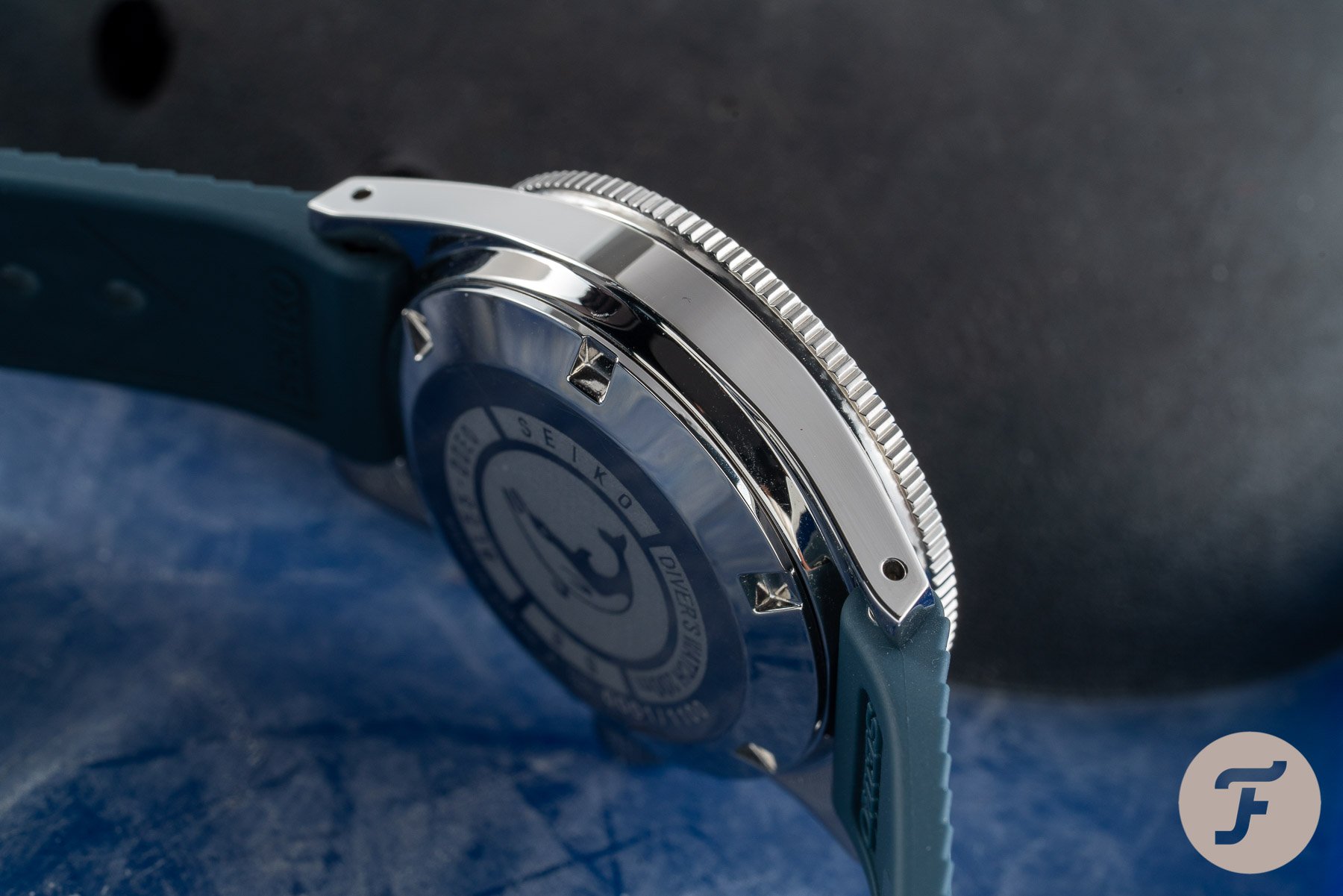 We often talk about "material upgrades" when referencing the benefits of modern remakes over their original counterparts, but it is rarely as obvious as it is with the Seiko SLA037J1. Here, instead of boring old regular 316L stainless steel, the brand has chosen to employ their very own "Ever-Brilliant Steel". And no, this isn't just a fancy new name for 316L dreamed up by the marketing department. This is actually a specially-made alloy that is more corrosion-resistant than regular 316L stainless steel and has a whiter hue to it (a bit like the new type of "Brilliant-Hard Titanium" being used by Grand Seiko). That's a real bonus. In fact, I'd go as far as to say there are few better materials for a dive watch out there (and, yes, I am including 904L in that statement).
…the designers never lost sight of this watch's purpose.
The case back is all business. A shallow but attractive (and fitting) design is surrounded by all the relevant information you would expect to find there. I like this touch. I like the fact that the designers never lost sight of this watch's purpose. The temptation — especially with an anniversary piece like this — is to make too much of a simple thing. Brands are forever lured into throwing the kitchen sink at a design when a touch of restraint would be far wiser.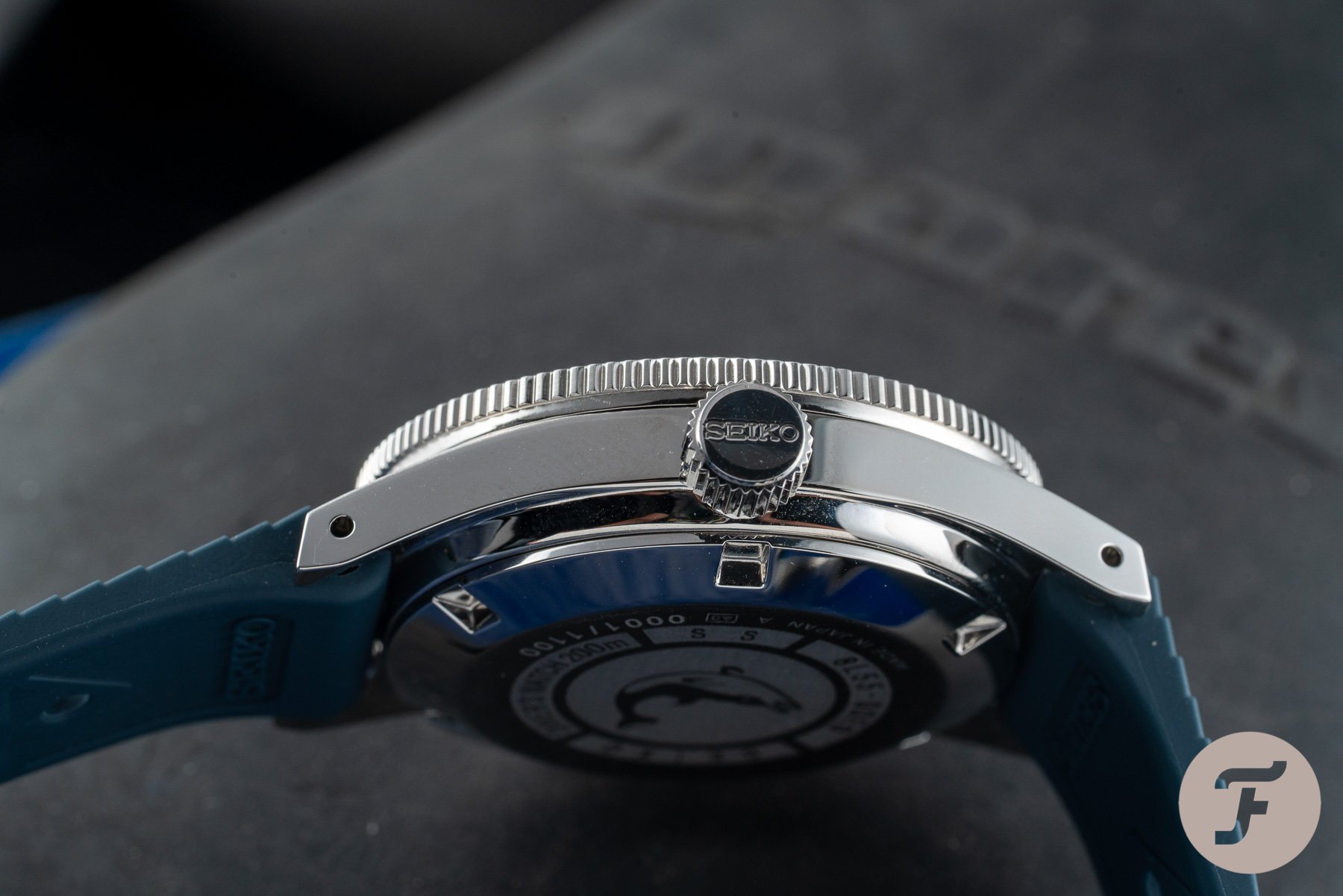 We see that restraint again when we study the crown. It is unusually (in a good way) protrusive and large for a modern crown and reminds me a lot of that era of pre-crown guard Submariners I adore so much. The crown is incredibly easy to use. And this matters to me. As a serial manual-wind wearer, my right index finger is always missing skin around the first knuckle from where I have been forced to wind low-lying crowns. This beauty brings a smile to my face. The simple stamping? I love it. Forget unnecessary flourishes. Let's go diving!
Is it an improvement on the original? Heck yes.
The dial color is gorgeous in my opinion, but this color really comes into its own on the rubber strap. I love a good quality rubber strap and the Seiko SLA037J1 does not disappoint. Basically, it has everything you could ask for from a daily diver that boasts serious dive credentials. Is it a remake? Yes. Is it an improvement on the original? Heck yes. I didn't even mention the hi-beat movement that is reserved for the highest-end Seiko pieces and many of the Grand Seiko models. Does that drive the price up to a pretty heady level? Sure, it does.
…a GS-caliber caliber beating away inside…
There's no denying this is a (really) expensive Seiko. But, honestly, at this point, does it really matter? Could Seiko shift 1,000,000 units if it were priced at 500 bucks? Probably. But would it have a GS-caliber caliber beating away inside it? No. Would it be made from a new, highly-resistant alloy? No. Would it be an aspirational celebration of a company that continues to grow (in the right way) by honoring its past and embracing its future? No, it would not. And I'm happy about that. Word on the street is, however, our resident contrarian is not. Surprise, surprise. Lay it on me, B. What's eatin' you this week?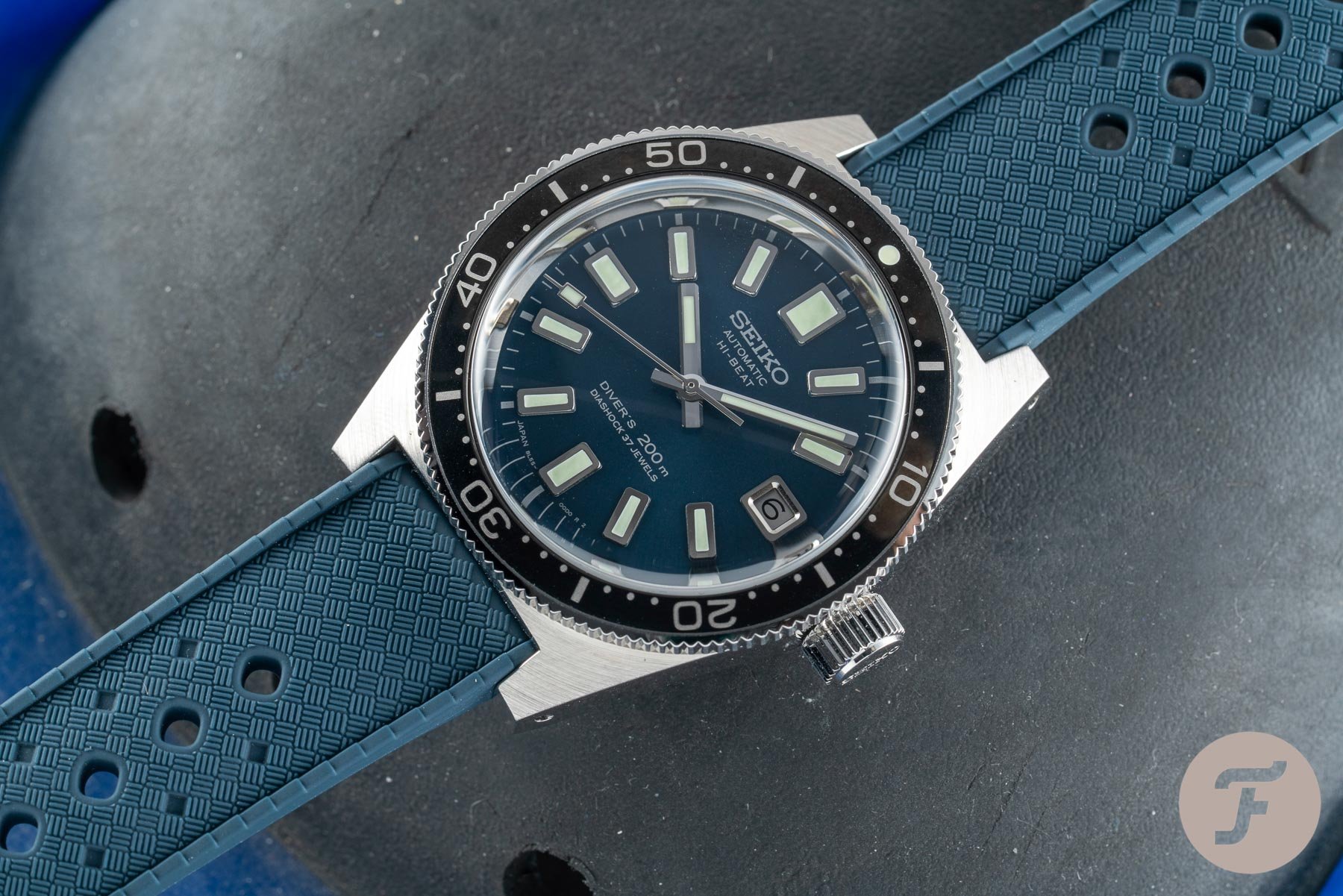 Balazs Ferenczi
Let's start at the beginning. I love Seiko. As a matter of fact, most of us at Fratello do. Truth be told, if it wasn't for the case that I'm around these knuckleheads a good few times a year I probably would not be such a huge fan of the Japanese brand. They've clearly influenced my feelings towards the brand.
…I just don't get it.
I remember being in London during SalonQP (RIP) a few years back and seeing RJ's, King Seiko. Love at first sight. Now my appreciation for Seiko is not on Mike "IPA Killer" Stockton level but it's slowly getting there. I have a vintage King Seiko as well as a Grand Seiko. Being a fan of chronographs, I had to have a 6138 as well as a 6139. They are both amazing timepieces that I enjoy wearing. To me, the SKX is still one of the best value/price ratio watches out there. So, I can't and won't hate the SLA037J1. But I will say this: I just don't get it.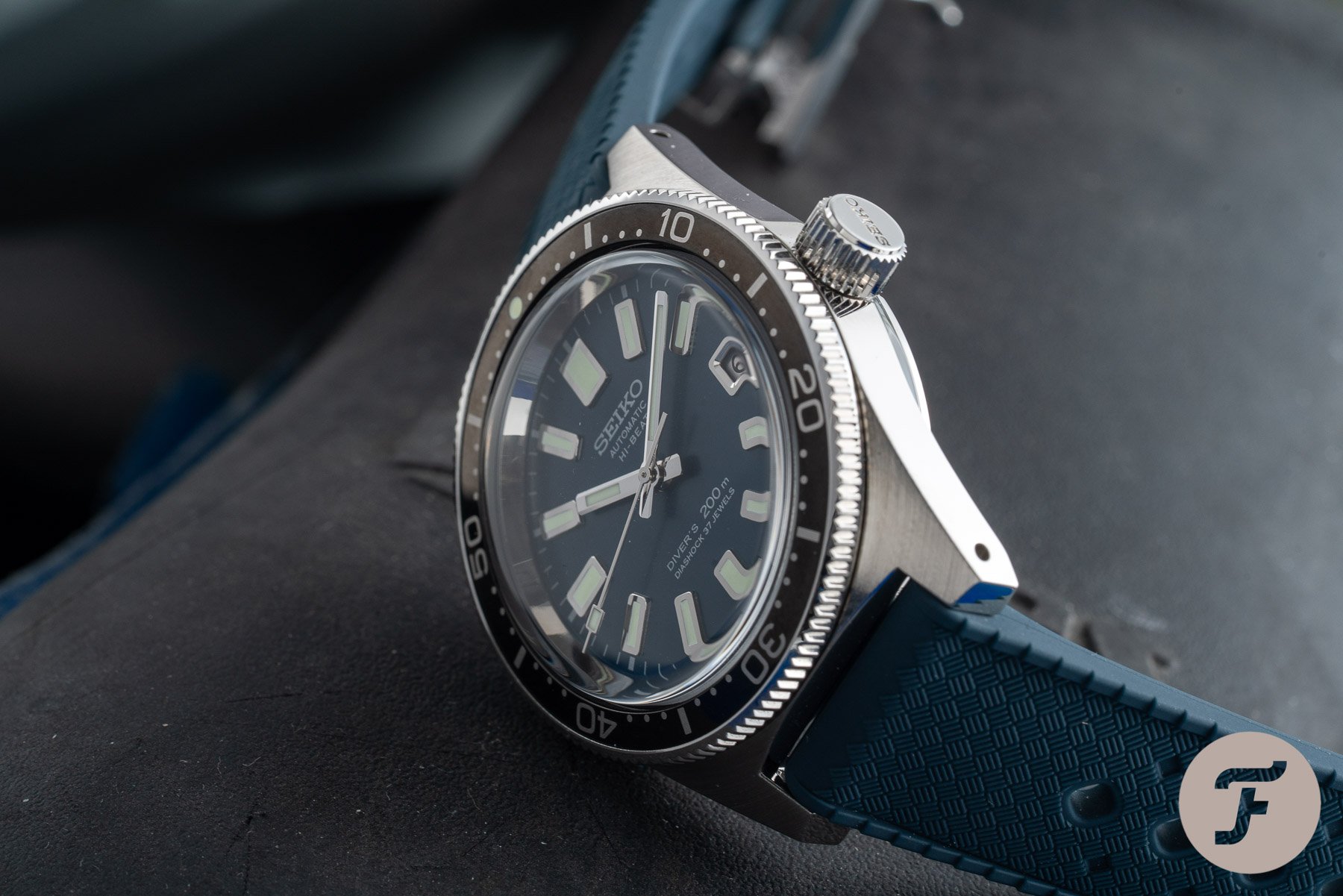 After reading Rob's love letter (yet another one) to the Seiko SLA037J1 and especially the part where he, with a touch of sarcasm, talks about marketing departments "dreaming up" names I can't help but wonder if our beloved Managing Editor perhaps was also dreaming when he penned his rather long text. Jorg wrote a great article indeed, the perfect review. Why did you Rob, have to double up on that one and write this ode to the damn thing is beyond me.
Rob: Let's put it down to respect…
Balazs: Yawn. If you don't mind, I'll try to stay reasonable and look a the watch from an unbiased perspective. Call me materialistic but we have to address the elephant in the room which is what really bothers me; its price tag.
…Rob went on and on (and on and on…)…
The Seiko SLA037J1 is a beautiful timepiece. It is also a limited edition of 1,100 pieces. A successful anniversary model that pays homage to the very first 62MAS. I get it. But is it a €6,500 watch? I guess it would be useless to think about what else €6,500 could buy you from other brands. So I won't go there. However, I fear that although Rob went on and on (and on and on…) about how amazing this piece is to justify the hefty price I'm still not sure if I'd spend the amount on it.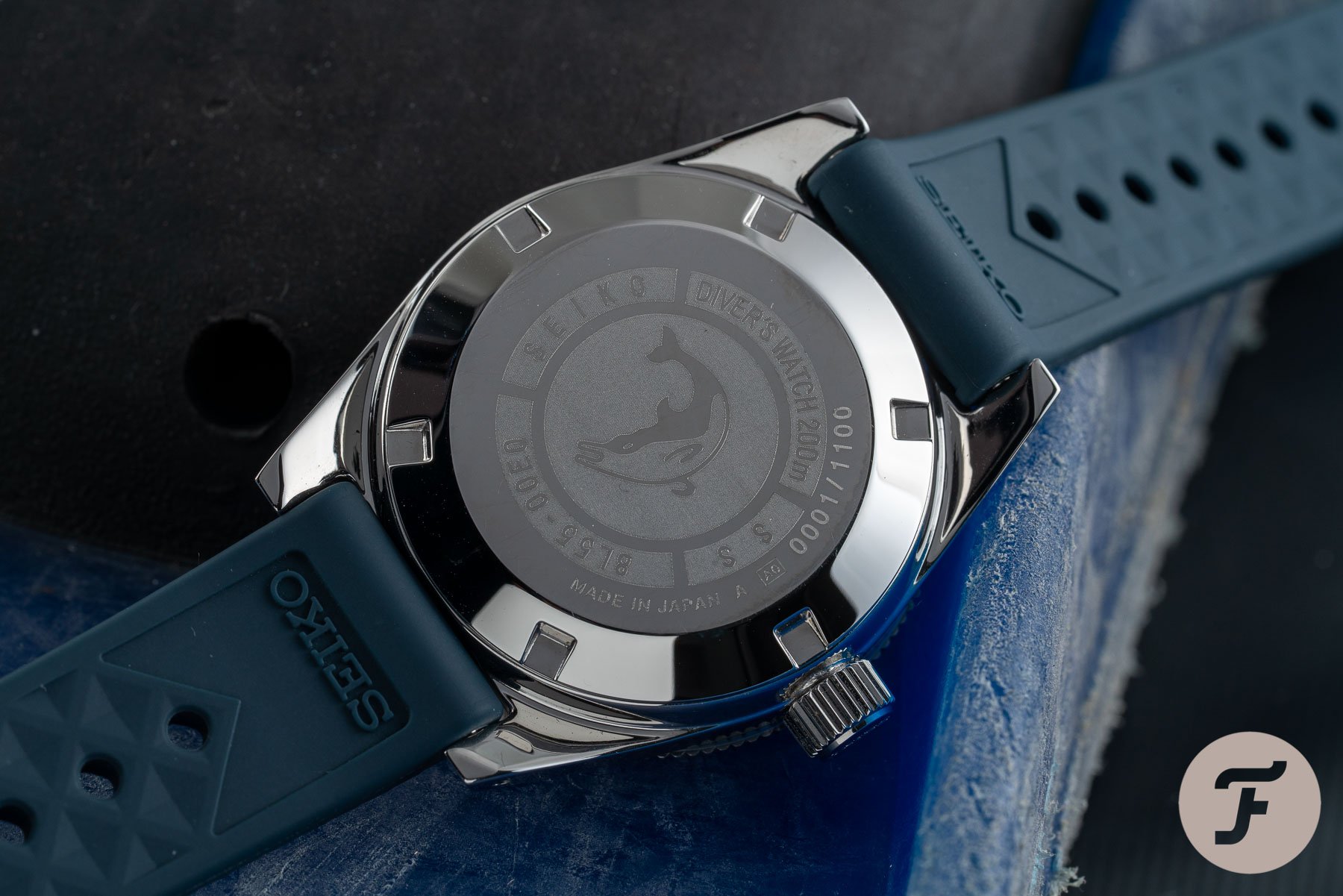 Oh, wait, scratch that. I surely won't. Now, let's disregard the fact that this Seiko is far from being neutral in terms of looks. With its blue rubber strap and dial paired up with a black bezel, you might have trouble wearing it all the time. Although, for many, including yours truly, it is an important factor. Why? Because I don't have 6k watches laying around in every colorway to match my attire. But I hear you, this is a subjective thing. And yes, you can throw another strap on it, that is more classy. Well, then you just bought a watch head. For 6.5k. Nice one.
…you know what other watch looks just like the 62MAS? Its reinterpretation from 2017…
If we take a closer look at the Seiko 62MAS, it becomes obvious how similar the SLA037J1 is to its vintage counterpart. Great job Seiko! Honestly! And you know what other watch looks just like the 62MAS? Its reinterpretation from 2017, the Seiko SLA017. When Seiko introduced the SLA017 a few years back everybody nodded appreciatively and said, that this is the way you pay homage to a vintage legend.
Did the SLA017 come too early? I guess so. It would have been the perfect watch for the 55th anniversary, in my opinion. But the past is the past. That was also a limited edition and secondary market prices are albeit higher than the original retail price was, are still a grand and change cheaper that the new Seiko SLA037J1. Mind you, the SLA017 was €3,800 when it came out. Why the crazy price increase for this model?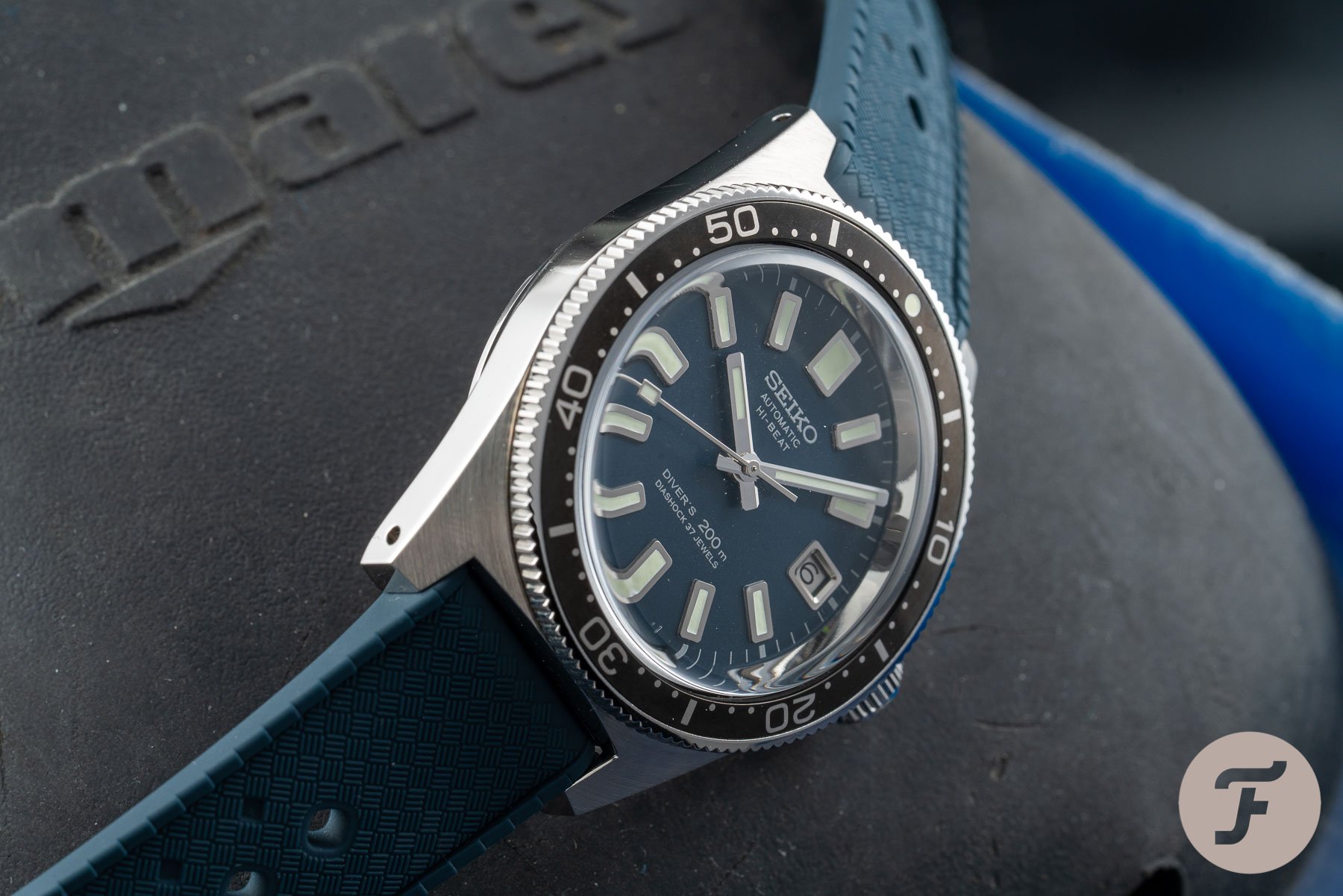 Is it the "GS-caliber caliber", as our Rob puts it? Well, could be yes. There's only one problem; this is NOT a Grand Seiko. If I want to get a hand-decorated, high beat movement I'll get one from Seiko's sister brand. A Grand Seiko will offer you so much more, starting from the design all the way to the  Zaratsu-finished cases (which is partly true for this watch too). While the caliber 8L55 inside this watch is very similar to Grand Seiko's 9S85 is not as highly decorated, neither it is as accurate.
…it cannot be the only reason that justifies the insane price tag.
The only common feature is that both of them are Hi-Beat movements. Don't get me wrong, the worst Hi-Beat movement is better than the best from certain other brands any day of the week. But it cannot be the only reason that justifies the insane price tag.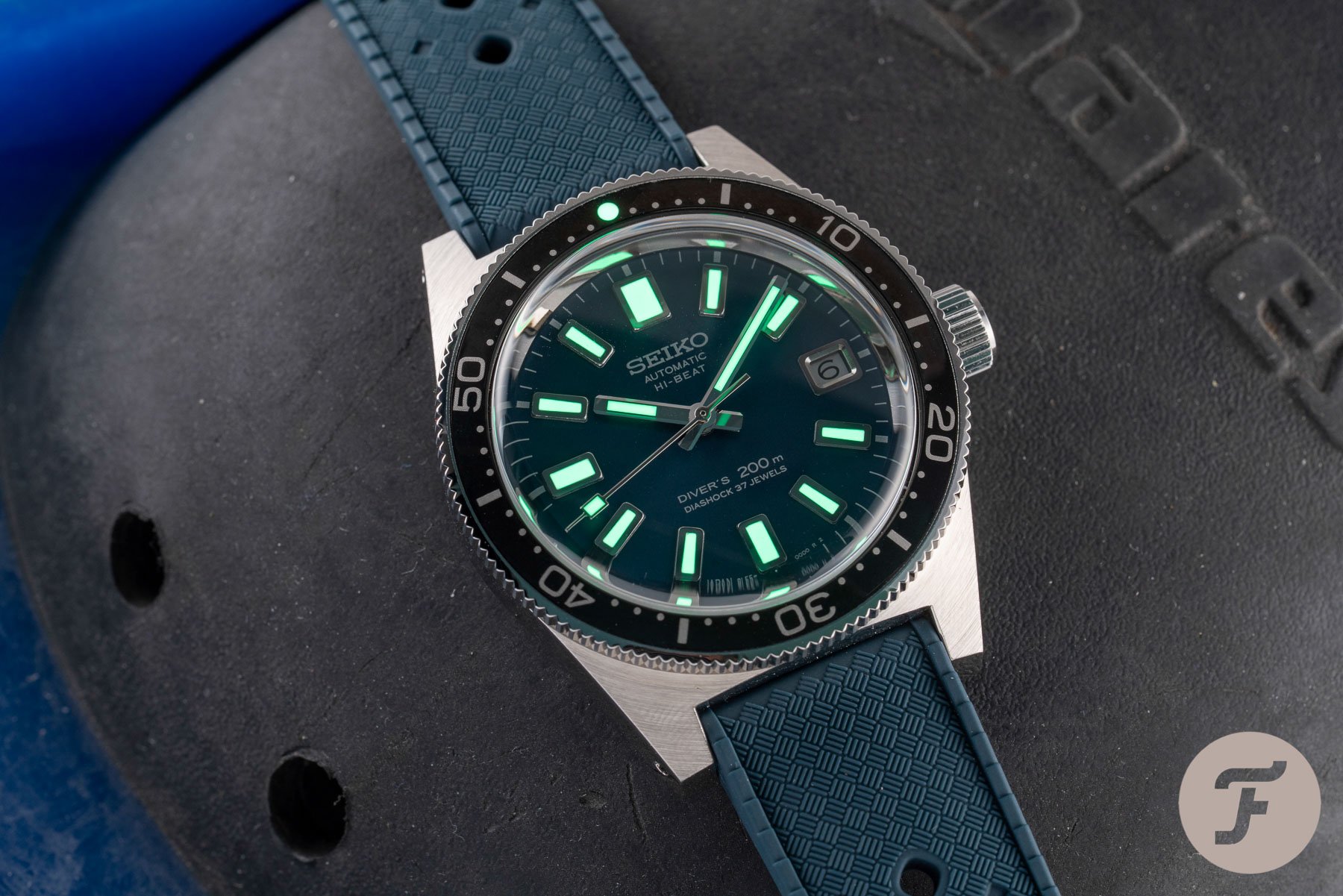 The Seiko SLA037J1 is a divers watch. As such it has a rubber strap and a case that is close to 15mm (!) thick. It's not small or classy like the 62MAs was. Surely, times are changing. Brands have to create larger timepieces.
…as I said it in the beginning, I just don't get it.
I love rubber straps I think they are comfortable and can add a certain chic to a watch. The strap of the SLA037J1 is not my cup of tea though. Too much is going on there; holes and squares, embossed patterns, and raised edges. It just doesn't work for me. Nor does the story about the amazing steel used in the case that is more corrosion resistant than 316L steel.  Because let's be honest, how many of SLA037J1 owners are actually going to use their Seiko for diving? Does it really make such a huge difference? Please let's not bring Rolex Submariner owners into the picture. Let's not compare apples and oranges.
Here we have a Seiko diver in a steel case, with a rubber strap that has a Grand Seiko-esque movement (not) that actually looks like another model from 3 years ago that is selling for €6,500. If the Seiko SLA037J1 was priced at 3.5-4k, which is still not cheap from a brand where many of their models don't even reach €500, maybe I'd think differently. However that is not the case, and as I said it in the beginning, I just don't get it.
Seiko SLA037J1 Diver's Watch