[Video] Hands-On: The New Omega × Swatch Speedmaster MoonSwatch "Mission to Mars"
An unexpected collaboration for the history books
Meet the Omega × Swatch Speedmaster MoonSwatch. A watch made of bioceramic (a unique mix of two-thirds ceramic and one-third material derived from castor oil) that looks very similar to the famous and iconic Moonwatch by Omega. As we're pretty fond of Speedmasters ourselves here at Fratello, let's have a look at this new MoonSwatch and tell you what we think of it.
A week before this official introduction, Swatch Group CEO Nick Hayek, together with Omega CEO Raynald Aeschlimann and Swatch CEO Carlo Giordanetti, invited us to come to Biel in Switzerland where they surprised us (and a select group of other journalists) with a collab that nobody expected to happen. Ever.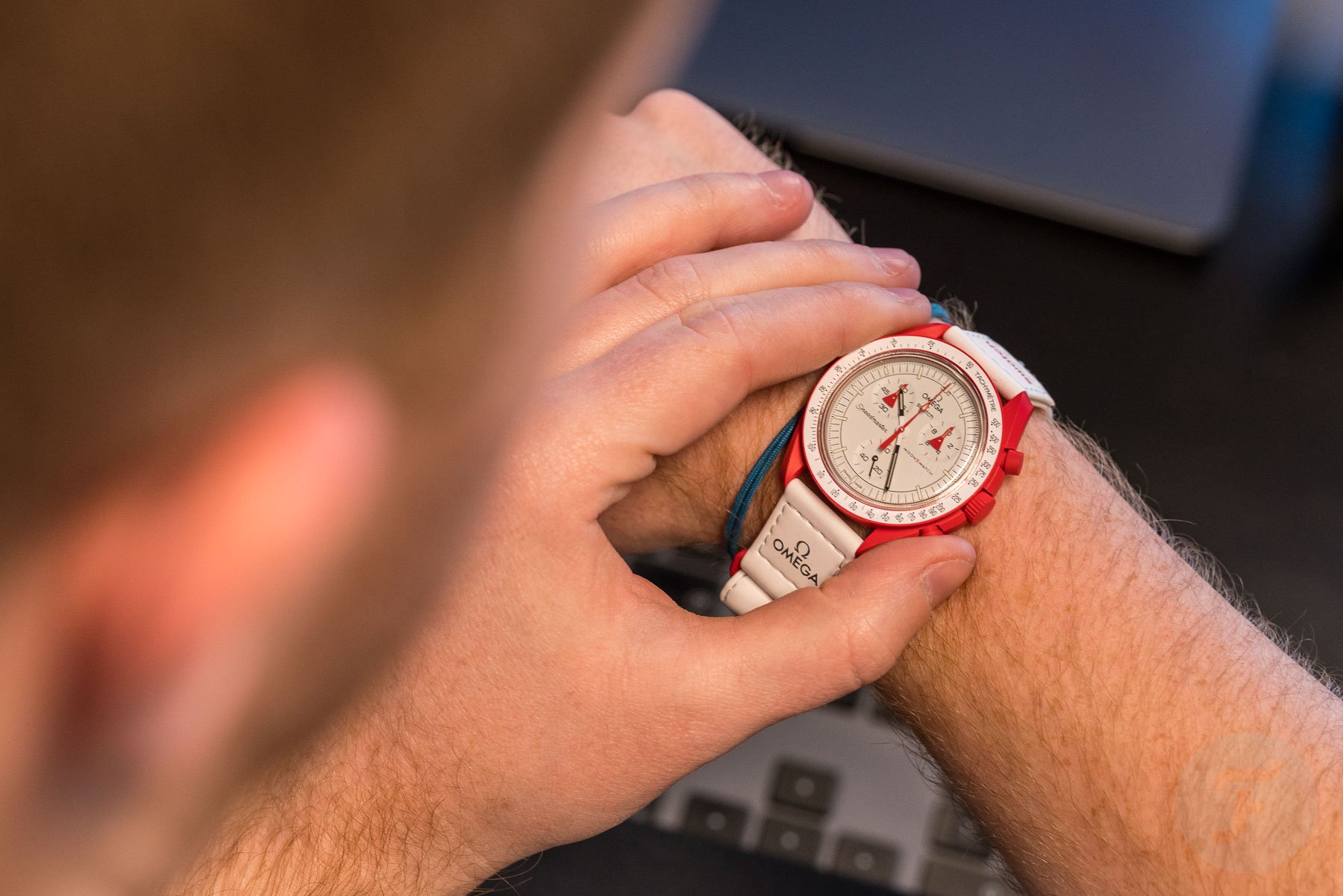 Omega × Swatch Speedmaster MoonSwatch
In total, there are 11 models of the MoonSwatch available, with each one representing a planet, star, or satellite in our solar system. The color of each model's bioceramic case corresponds with an interpretation of its celestial inspirator. There's yellow for the Sun, dark gray for Mercury, pink for Venus, green for the Earth, light gray for the Moon, red for Mars, khaki for Jupiter, taupe for Saturn, light blue for Uranus, blue for Neptune, and light gray with a burgundy panda dial for Pluto.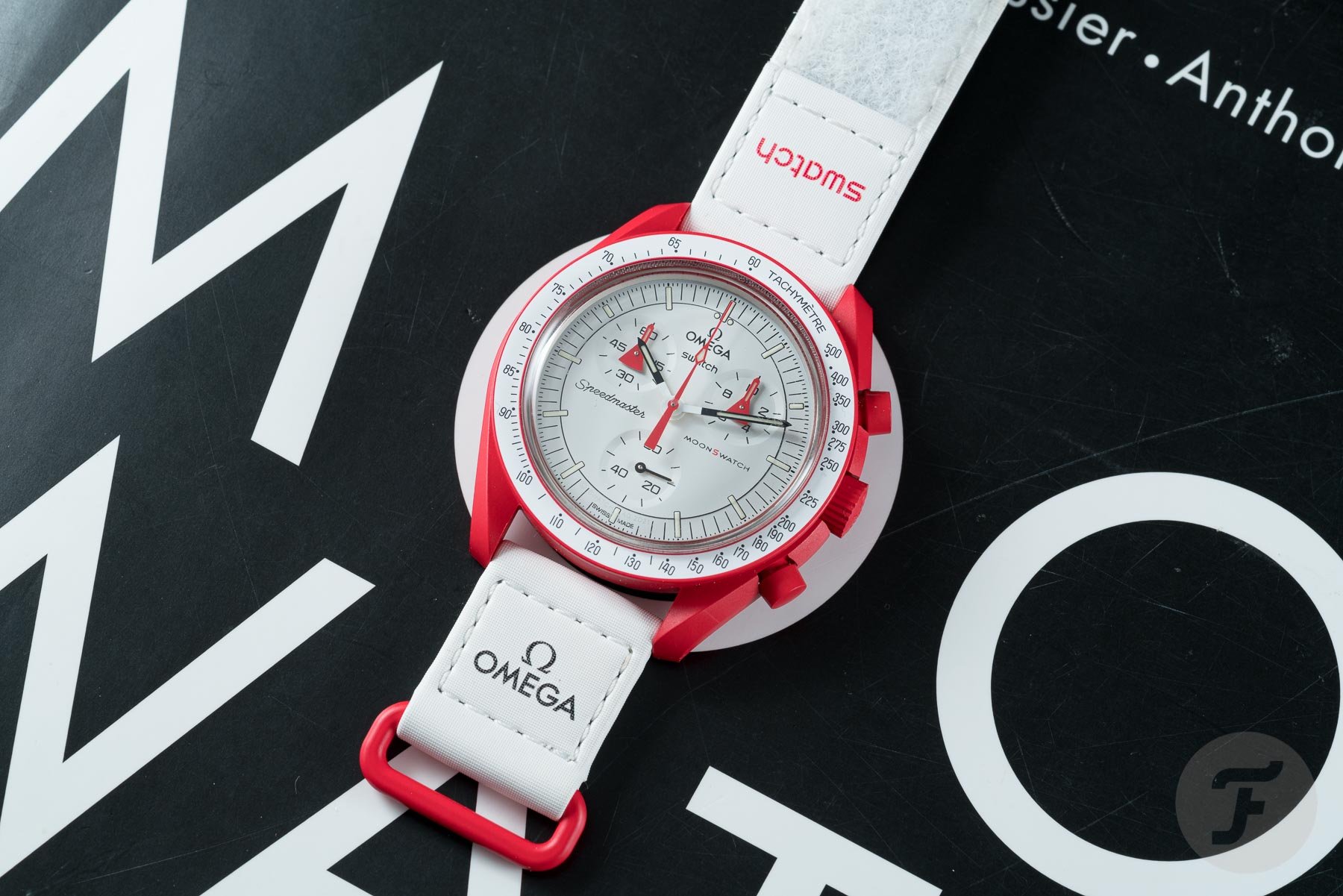 Mission to Mars — Alaska Project
Each of the journalists could pick their favorite version, and needless to say, I have the "Mission to Mars" MoonSwatch here. It is a fully red bioceramic Omega × Swatch Speedmaster with a white bezel, a white dial, and the famous red rocket hands. The rocket hands, just like those on Omega's Speedmaster Alaska Project watches, are inspired by NASA's Mercury rocket. They have this shape to enhance visibility for the astronauts. When the rocket shakes and rumbles, these arrow-shaped hands are easier for human eyes to focus on.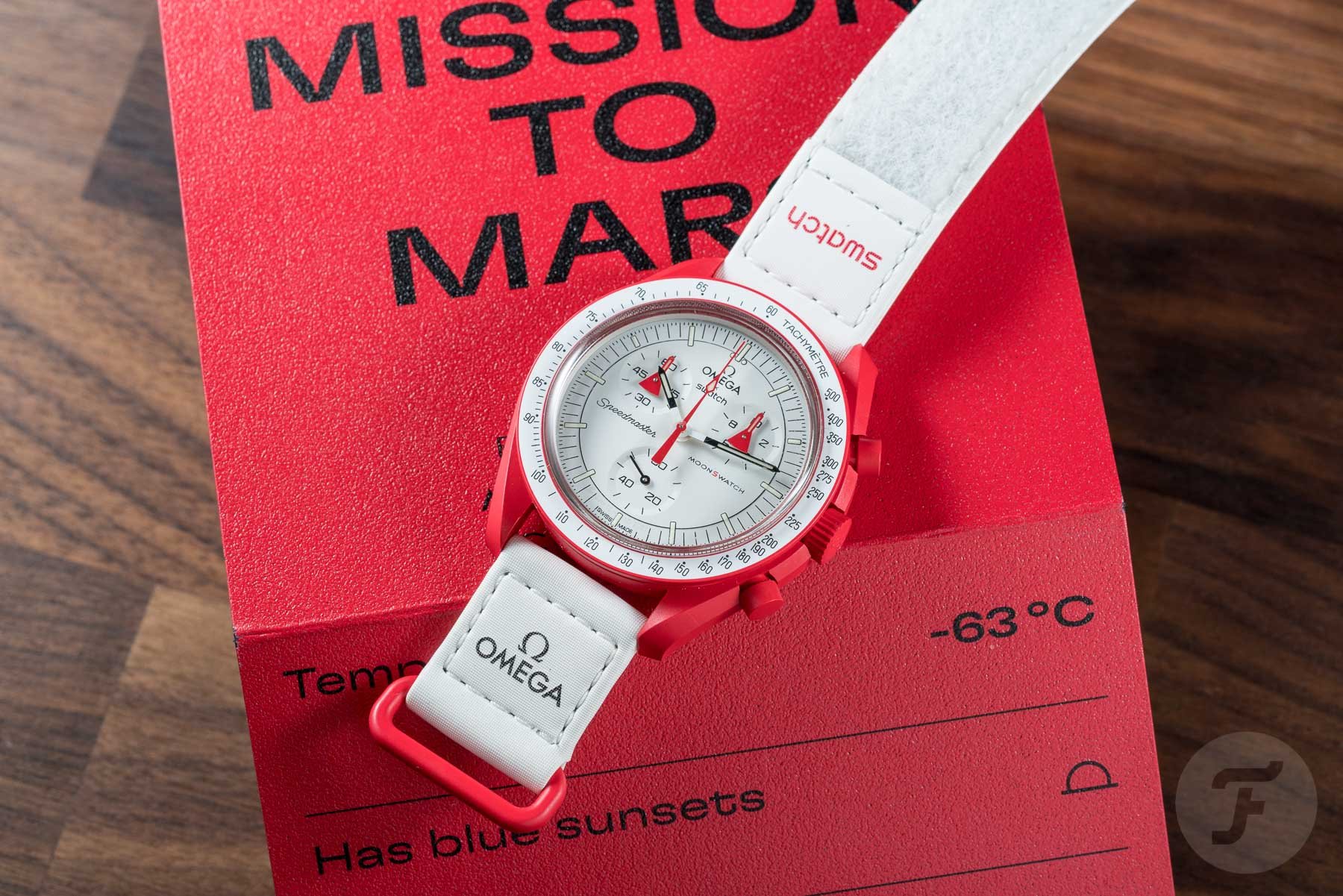 Speedmaster details
When I saw all 11 MoonSwatch watches, I realized that this project could have easily been a disaster. If Swatch had used steel or aluminum, for example, or just a regular Swatch case with some references to Omega's Moonwatch, the final product could have missed the mark. Thankfully though, it's been done in the best way possible, in my opinion, using bioceramic for the case and honoring the Speedmaster Professional's exact dimensions. That means the MoonSwatch measures 42mm in diameter and has the same 13.58mm height. And yes, the lug width is indeed 20mm. On the dial, you will find both the Omega and Swatch logos, as well as the wording "Speedmaster" and "MoonSwatch".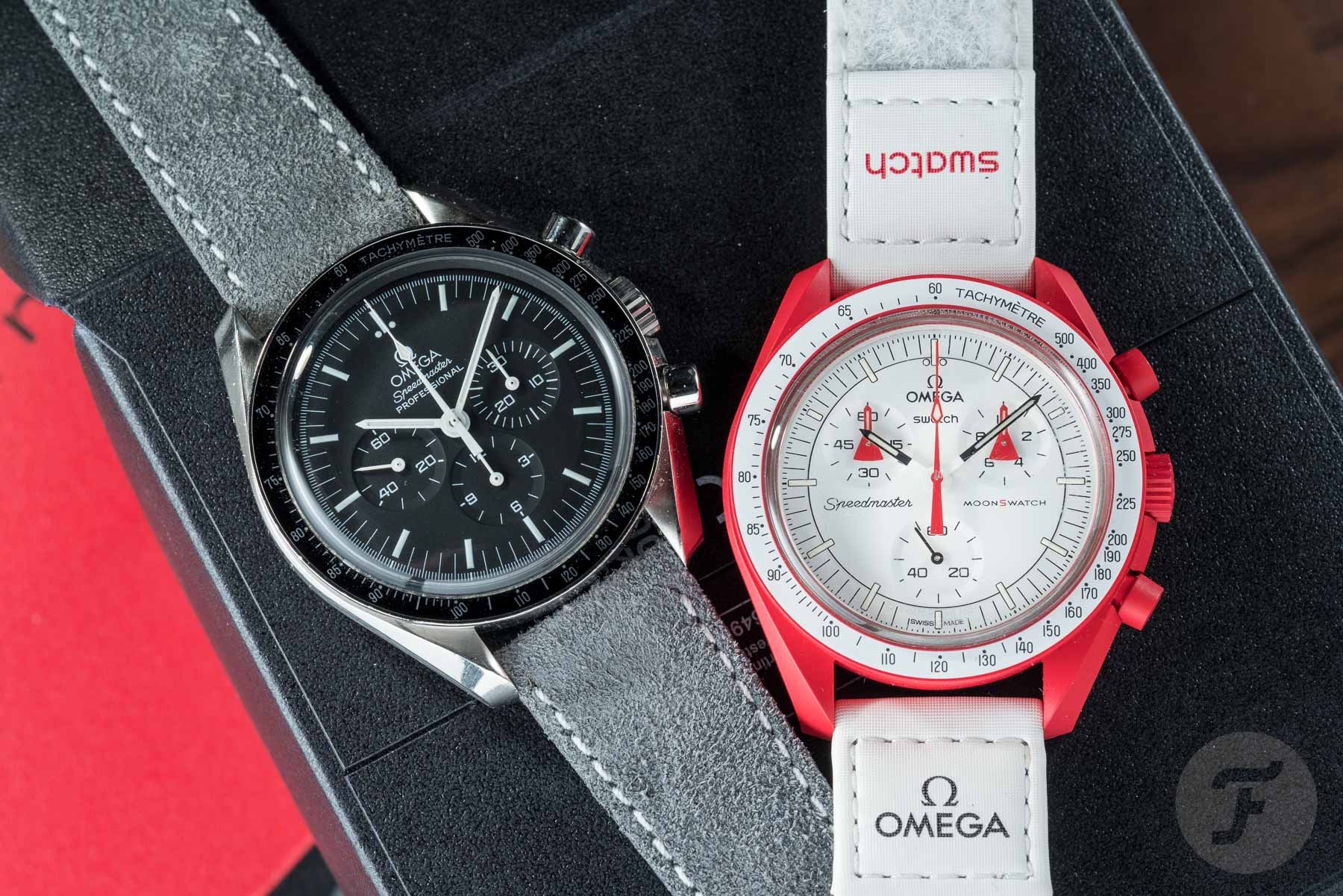 I wondered if it was smart to put Speedmaster on the dial. Had it not been there, however, people might have insinuated that this watch tries to be something it is not. And now, it is an official Speedmaster collab between Omega and Swatch. The word MoonSwatch needs no explanation. As you can see, the 3-6-9 sub-dial layout is not the usual one we find on the Moonwatch. Instead, it is the Swatch chronograph layout, featuring running seconds at 6 o'clock, the minute recorder at 10 o'clock, and the 1/10th-of-a-second indicator at 2 o'clock. That's right, the Swatch × Omega collab uses a quartz chronograph movement that can also be found in other Swatch chronographs.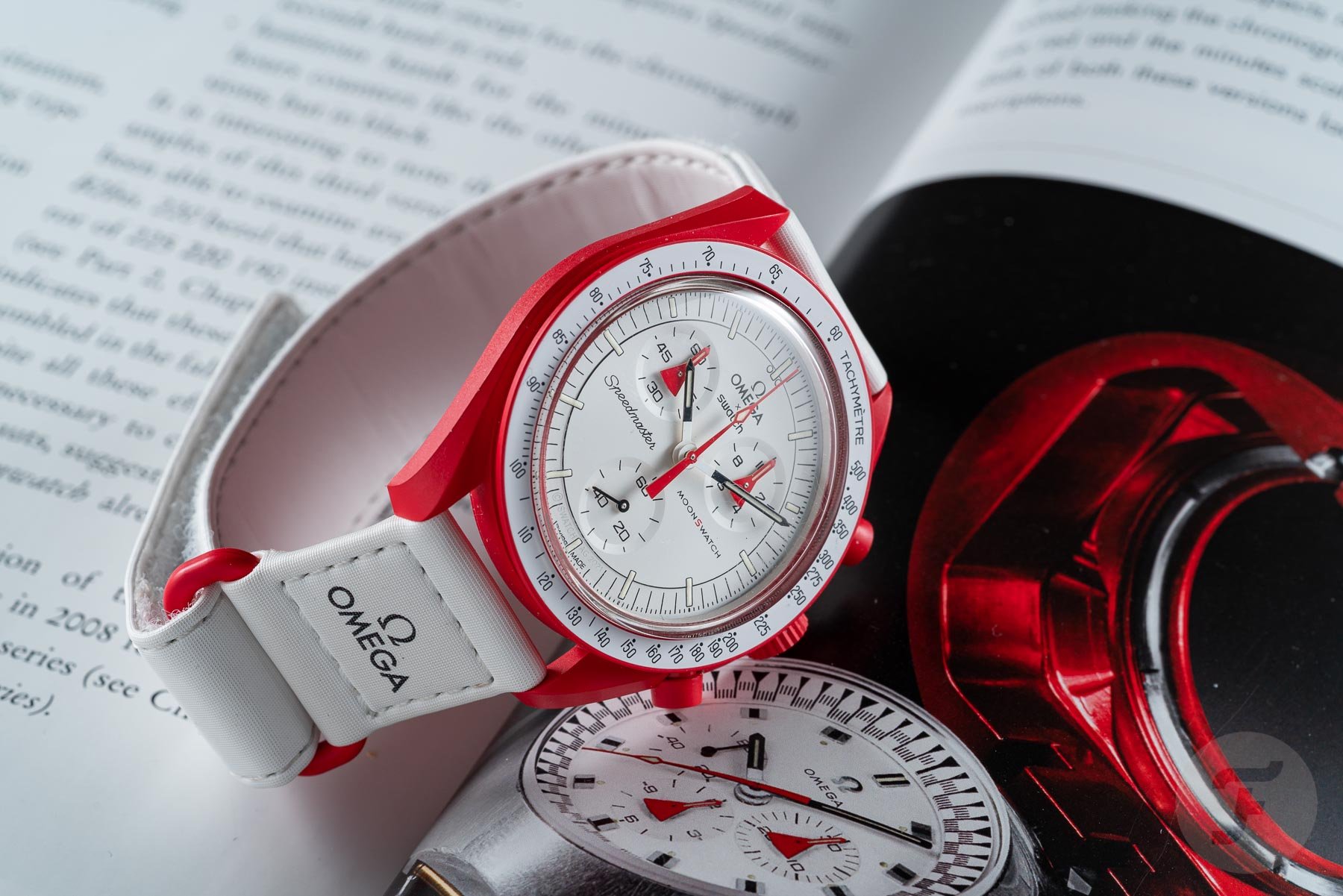 On the crystal, you will find an "S" etched into it where the Hesalite crystal of the Moonwatch normally shows the Omega logo. The bezel features the famous dot over ninety, and the sub-dials have a circular graining motif. And yes, the hour markers and hands are luminous. The sub-dials are recessed, and there's the famous step in the dial as well, all to create not only more depth but also a resemblance to the Omega original Moonwatch.

Battery cap
The case back of the Omega × Swatch Speedmaster "Mission to Mars" shows a battery cap with an image of the planet Mars. The other MoonSwatch models depict their own planet, star, or satellite. Furthermore, there's a lot of text engraved in the case back. Though there's an indication of the watch's water resistance, it doesn't state any specific rating. Unfortunately, it will be only 3 bar (or 30 meters). There is also a small ETA logo, indicating the manufacturer of the four-jewel movement.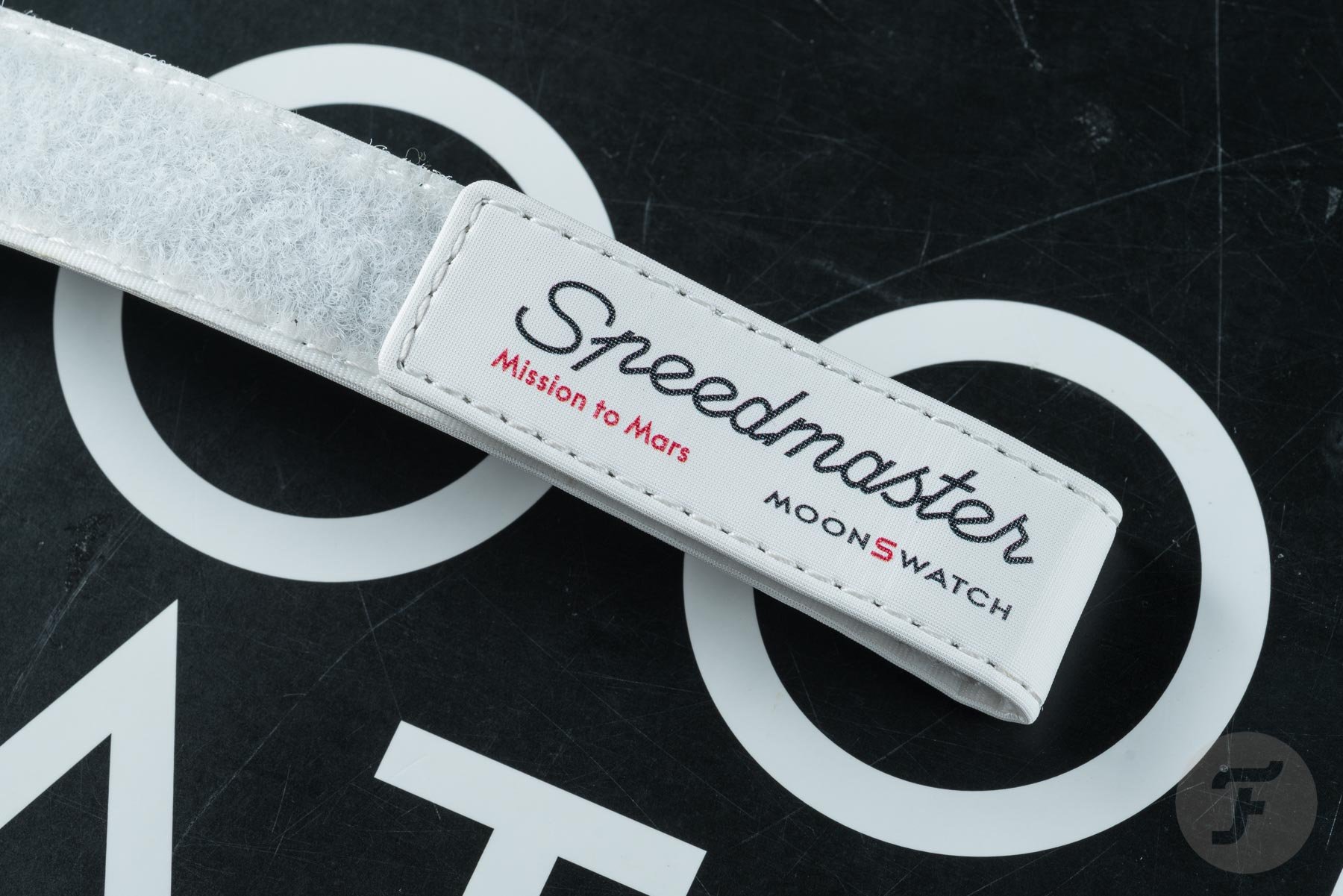 Velcro strap
The Omega × Swatch Speedmaster MoonSwatch "Mission to Mars" comes on a white Velcro strap with a red keeper. On the Velcro strap, you'll find the"Speedmaster" logo, as well as "MoonSwatch" and "Mission to Mars". The Velcro straps on the other 10 models indicate their own missions, of course. And yes, this includes the one to Uranus (sorry, I couldn't help myself). The MoonSwatch "Mission To Venus", with its pink bioceramic case, comes with a shorter strap for more petite wrists and a normal-length strap as well.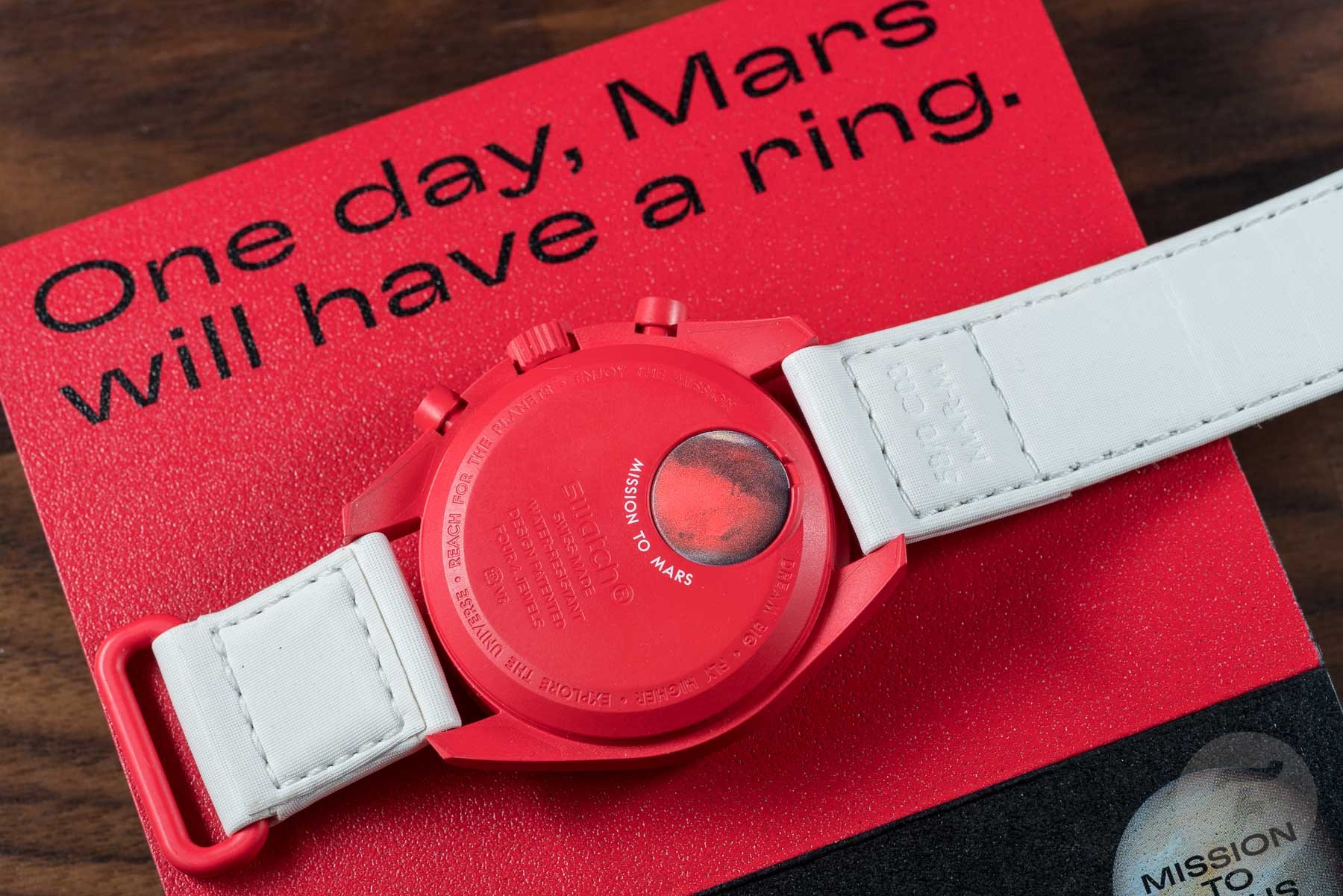 Pricing and where to buy your MoonSwatch
This lightweight MoonSwatch will be available as of March 26th, only in physical Swatch boutiques. Although you might see some of the Omega × Swatch mission cases in displays at Omega boutiques, the watches won't be available there. The mission case is also for display purposes only, and each MoonSwatch will come in its own square box in a color corresponding to the watch you choose. We've been told that the Swatch boutiques will be instructed to sell only two of these watches to each customer. So, if you want all 11 MoonSwatch watches, you know what to do. The price of the Omega × Swatch Speedmaster MoonSwatch is CHF 250 / $260. It's important to know that, for now, Swatch will not offer these watches online.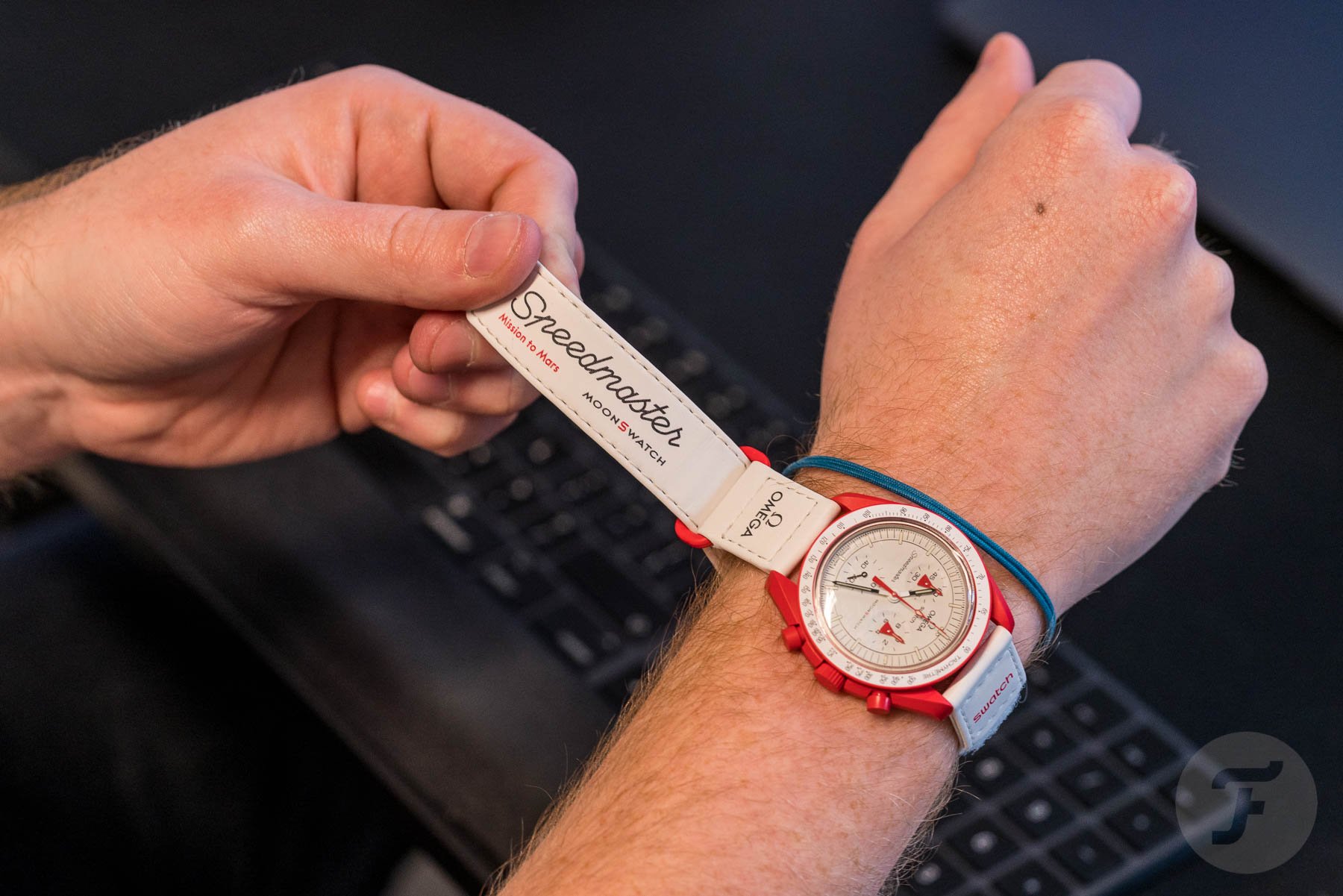 Some afterthoughts
Last week, the question was raised in my Instagram inbox whether I think this will hurt Omega as a brand, or even worse, make the Speedmaster less desirable. I don't think so, to be honest. It is just a fun watch. It's a timepiece to have fun with and enjoy. It is not a replacement for the Speedmaster, and it will not fulfill the desire to own one. However, as a Speedmaster enthusiast and collector, I am incredibly excited by this Omega × Swatch collaboration. At the end of the day, it's just about having fun.
Swatch picked an iconic watch from Omega to recreate in its own bioceramic material and funky interpretations. If the MoonSwatch upsets you, I think you're taking this way too seriously. What it might do, however, is trigger a new (young) audience who will aspire to own the real deal at some point in the future. Who knows? What I do know is that it makes for one hell of a marketing case study.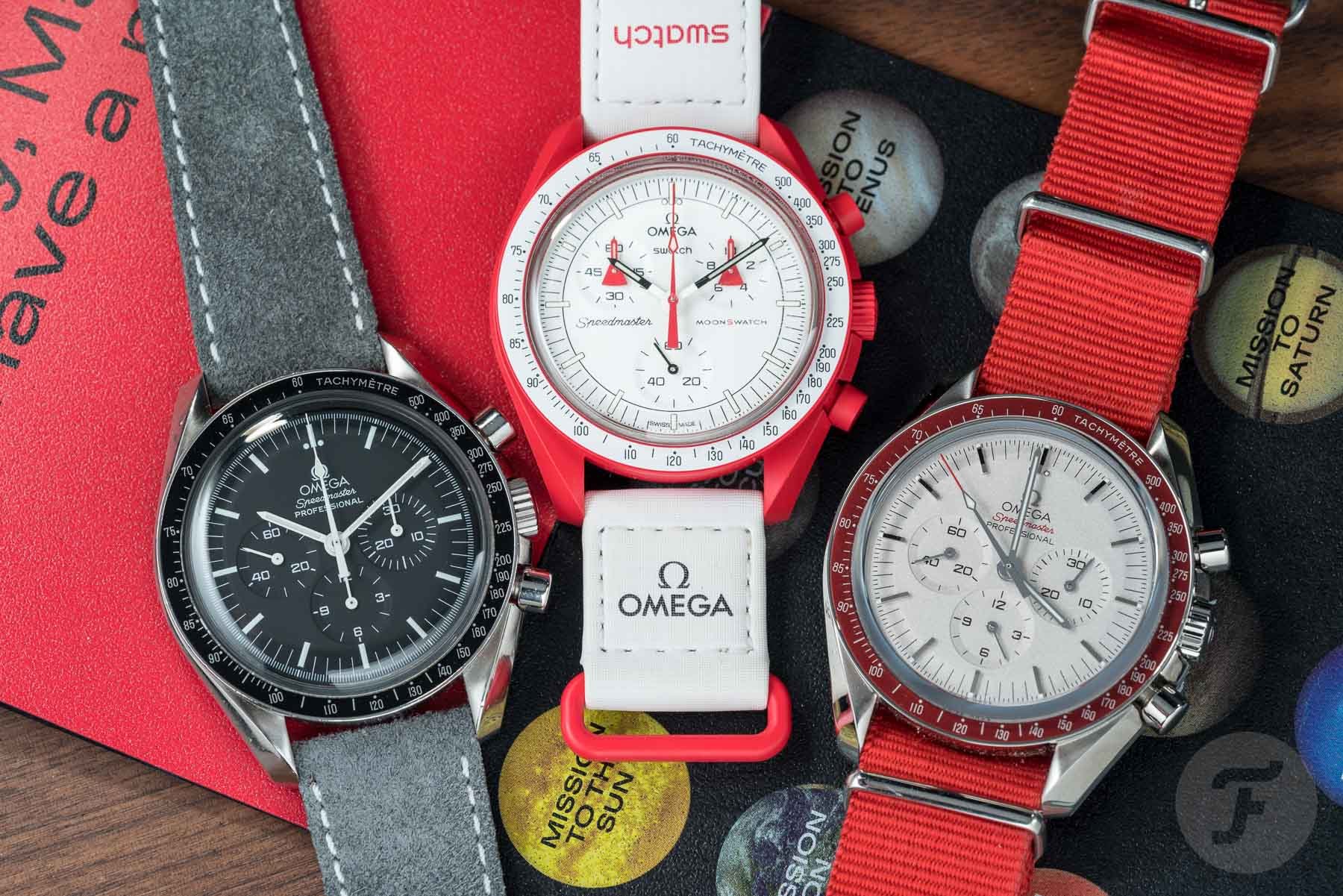 I think it is a cool project, and although I am very happy with this Omega × Swatch Speedmaster MoonSwatch "Mission to Mars", I want a few of the other versions as well. When I showed it around the Fratello office last Monday, it was a big surprise to everyone, and there wasn't one negative comment. Every person on the team picked a favorite and had fun trying the "Mission to Mars".
I am sure it will be a meme fest on Instagram, and there will actually be some funny ones, I am sure. But that will not prevent or stop me from buying and wearing one (and no, it is not a limited edition). Overall, I think this is a genius move by Swatch. The question is, which iconic watch will be next? And will its brand have the guts to go play with Swatch?
Price: CHF 250 / $260 per watch. Available in Swatch stores only, starting March 26th. Not a limited edition.