Hands-On: Experiencing The Net Effect Of The Oris × Bracenet Aquis
Who knew that fishing nets would make for beautiful watch dials?
Oris is one of the frontrunners when it comes to environmentally responsible watchmaking. To shed light on its green activities, the Hölstein house has released an ocean-friendly Aquis with a dial made of fishing nets reclaimed by Bracenet. The question is: is this a green gimmick, or does it make for a truly good watch? Time to find out!
I went hands-on with the 36.5mm and 43.5mm Oris × Bracenet Aquis models to see what is what.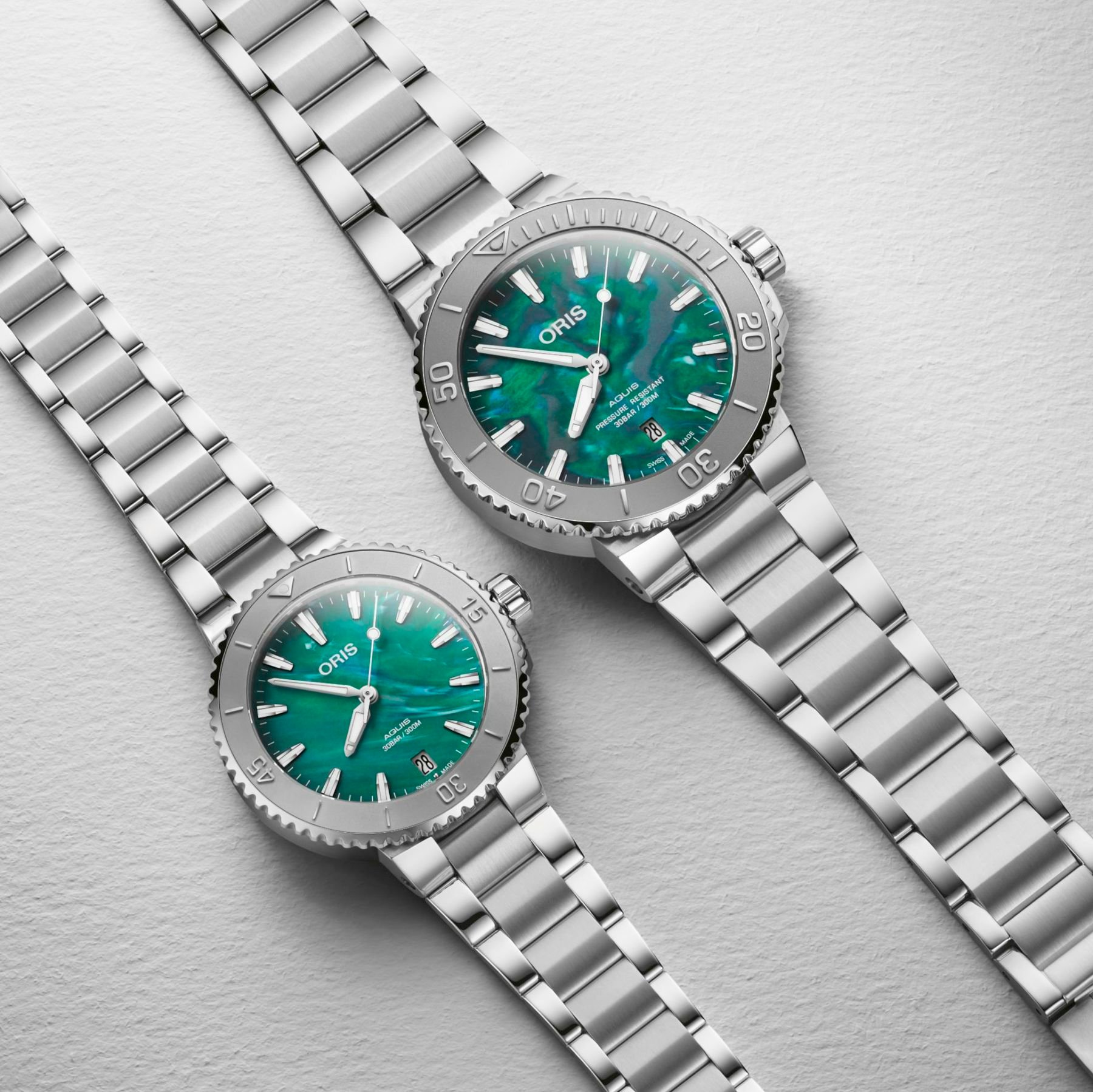 Oris × Bracenet
First things first: what is Bracenet? Bracenet is a company based in Hamburg, Germany, specializing in repurposing old fishing nets. Founded in 2015, Bracenet recovers fishing nets from our oceans, cleans them, and makes them into bracelets by hand, which explains the name. The company then donates part of the profits to primarily ocean-focused charities.
Discarded and lost fishing nets cause massive environmental damage. These so-called ghost nets don't stop catching fish when they are thrown overboard. It is estimated that, unless cleaned up, they will continue catching marine life for 600–800 years. Long story short, this is a serious issue worth combating.
This is right up Oris's alley, so teaming up together makes sense. In fact, the collaboration allows for further upcycling as Oris uses clippings from the bracelet manufacturing process. These blue, green, and white clippings are mildly heated until they melt. The resulting material is cut to size, planed, and sanded down to a thickness of just 0.3mm, resulting in rather striking watch dials. Naturally, Oris intends for these watches to be statement pieces and conversation starters that will raise awareness about the environmental cause behind them. There is no illusion that a few watch dials will have any significant impact on the amount of plastic in our oceans.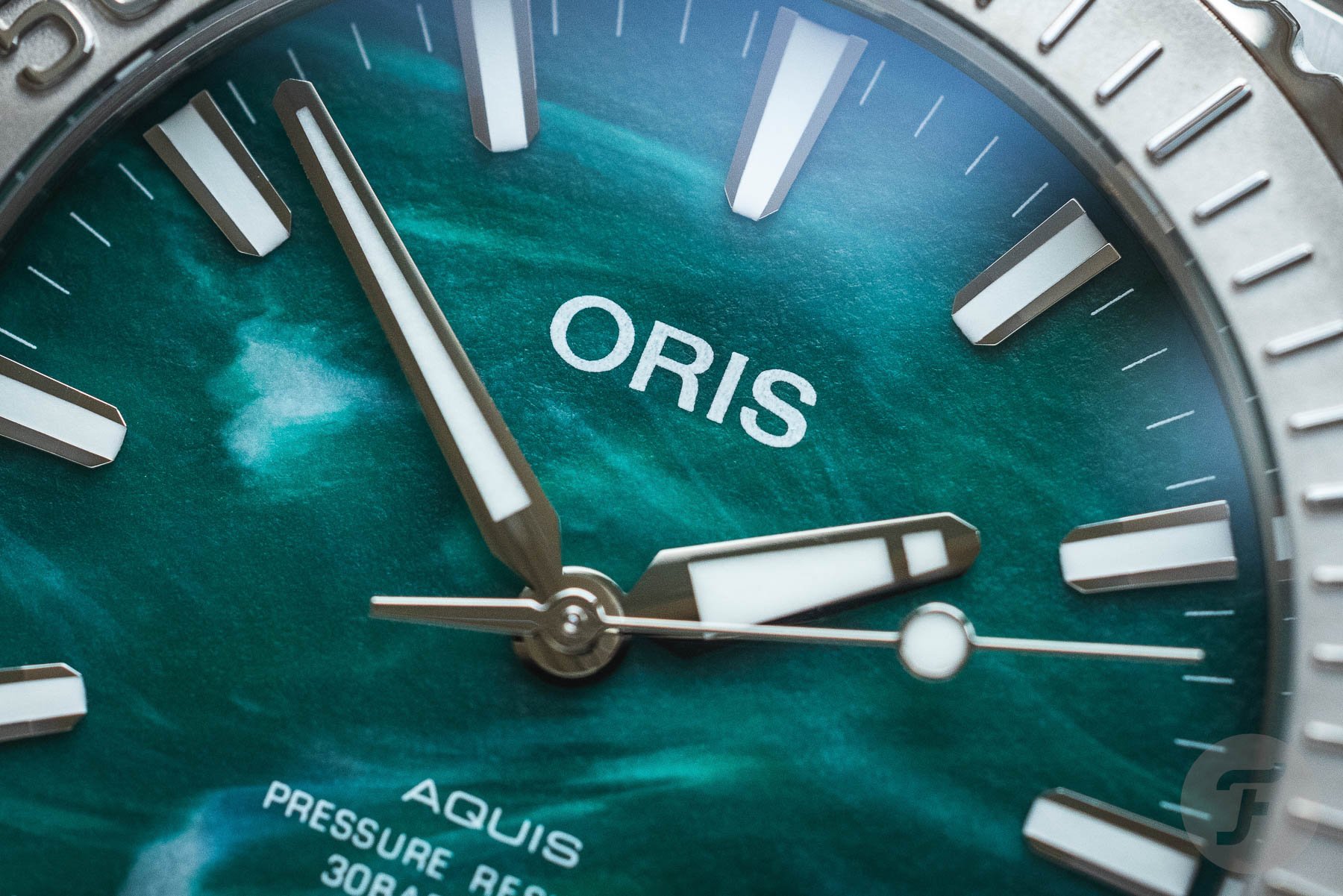 The Oris × Bracenet Aquis dial
The resulting material shows an interesting and attractive marbling of greens, blues, and whites. It reminds me of playing with polymer (FIMO) clay as a kid. If you blended different colors, you would get a very similar marbling and texture.
Unlike most upcycled plastics, this method doesn't require coloring. Usually, the repurposing process turns everything a dull gray, which is then recolored. Here, however, the original colors of the fishing nets survive the process, so Oris claims no additives are needed to produce these dials. The resulting colors are quite beautiful. There are vibrant hues of green and blue in there that you instantly recognize from bits of fishing net you typically see washed up on the beach.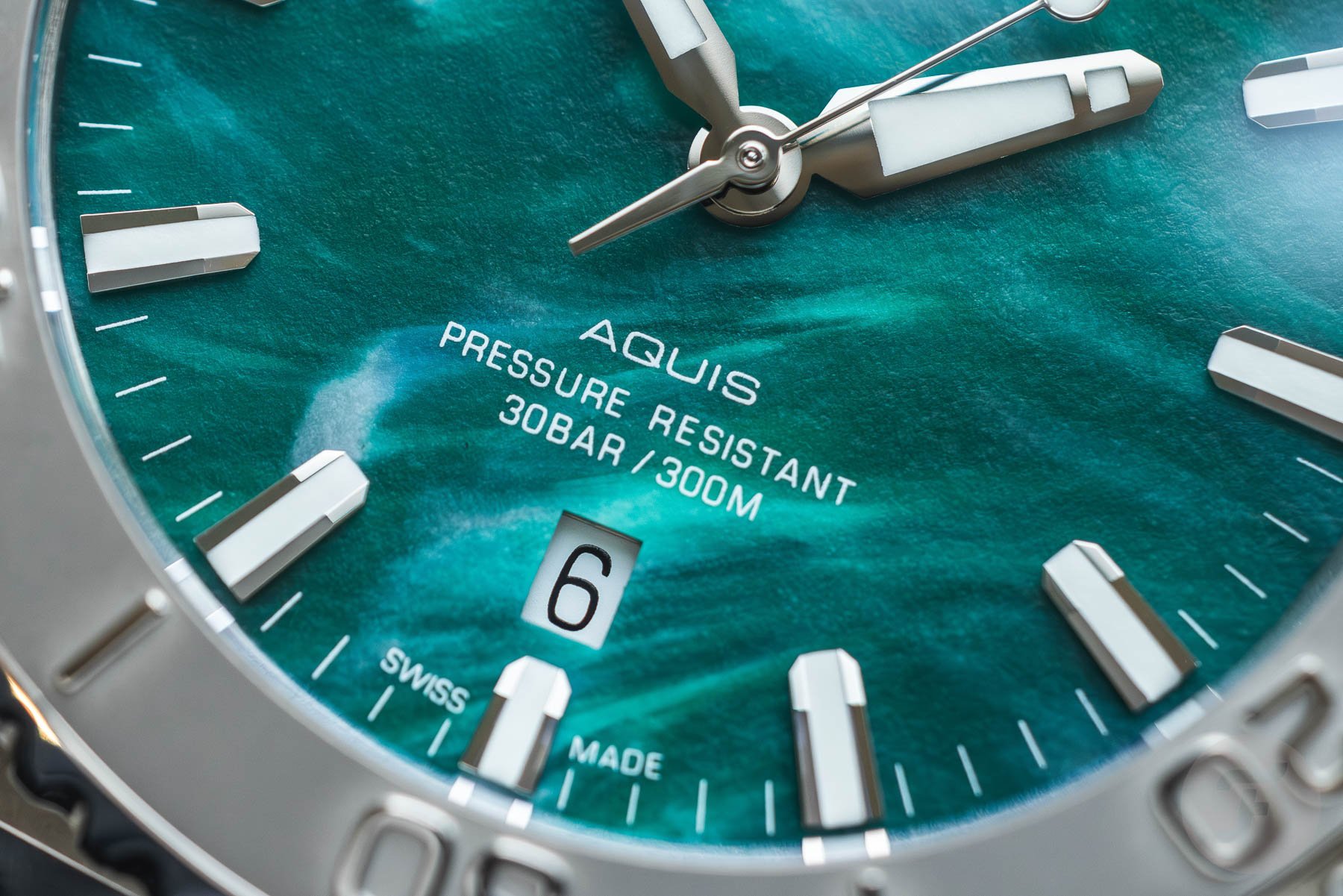 I particularly like the texture too. You get a very matte texture that is reminiscent of high-quality paper. Interestingly, this ensures that legibility isn't compromised even if the colors are very bright. I have seen black sunburst dials that harmed legibility more than this sea of greens.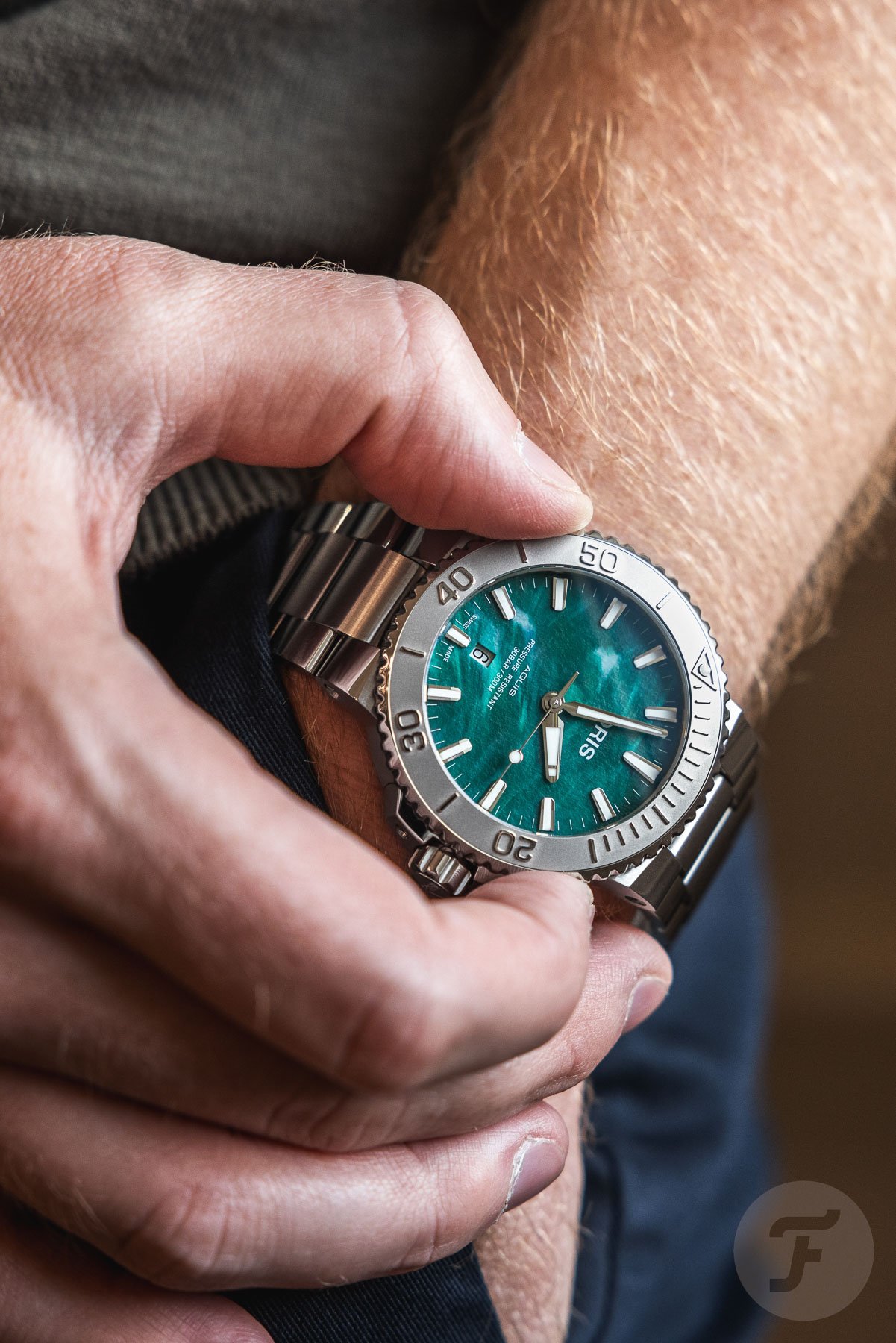 The Oris × Bracenet Aquis specifications
Behind the eye-catching dial, we have an Oris Aquis as we all know and love it. The Bracenet Aquis comes in two sizes — 36.5mm and 43.5mm. A steel bezel insert puts all the focus on the dial. Crisp white BGW9 Super-LumiNova ensures decent nighttime legibility, and the date at 6 o'clock keeps the symmetry intact.
Furthermore, you get the familiar 300m water resistance rating, sapphire crystals on both sides, and the standard steel bracelet. With all of that being familiar, there is one question that remains: do these use the Oris Calibre 400 or not? As you may have noticed from the photo above, no, they do not. Inside ticks the trusty Oris version of the Sellita SW200-1. This is something I honestly like to see as it keeps the price competitive.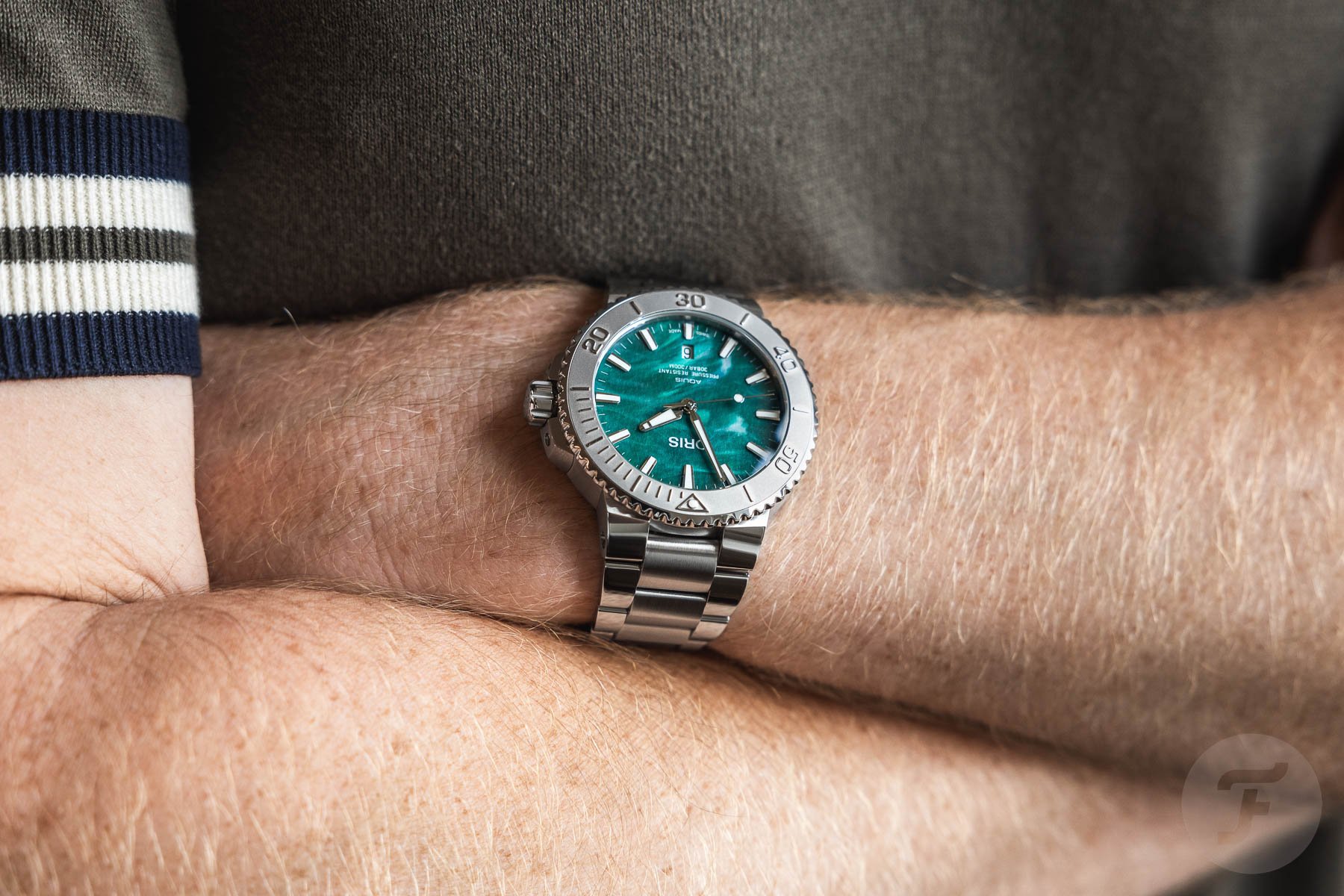 Wearing experience
I had both the 36.5mm and the 43.5mm versions available to me. I fully expected to be "in between sizes," but I am happy to report that I am not. The 43.5mm version wears very well. Sure, it is large on my 17cm wrist, but it's not too large. The Aquis case shape and integrated bracelet sit really well, even though the 50mm lug-to-lug would suggest otherwise. It goes to show once more that specifications tell you very little. Contrastingly, the 36.5mm version felt a bit too dainty for my frame and style.
The Oris × Bracenet Aquis is no wallflower. Its commanding wrist presence, bright steel bezel, polished outer links, and, crucially, the lively green dial really do stand out. If you want your Aquis to be an everyday watch, I would suggest getting the 39.5mm version in black or blue. This one, on the other hand, is a statement piece. At 172 grams, it is a statement you feel on the wrist too.
If I had to place a critical note, I would point at the bracelet. It doesn't feel as solid as I would have hoped. The clasp is decent but nothing fancy. We are probably getting a little spoiled by what some microbrands are offering at the price. What Oris brings to the table here at €2,350 is by no means a dealbreaker for me. It is just not quite as over-engineered as I associate with the Aquis.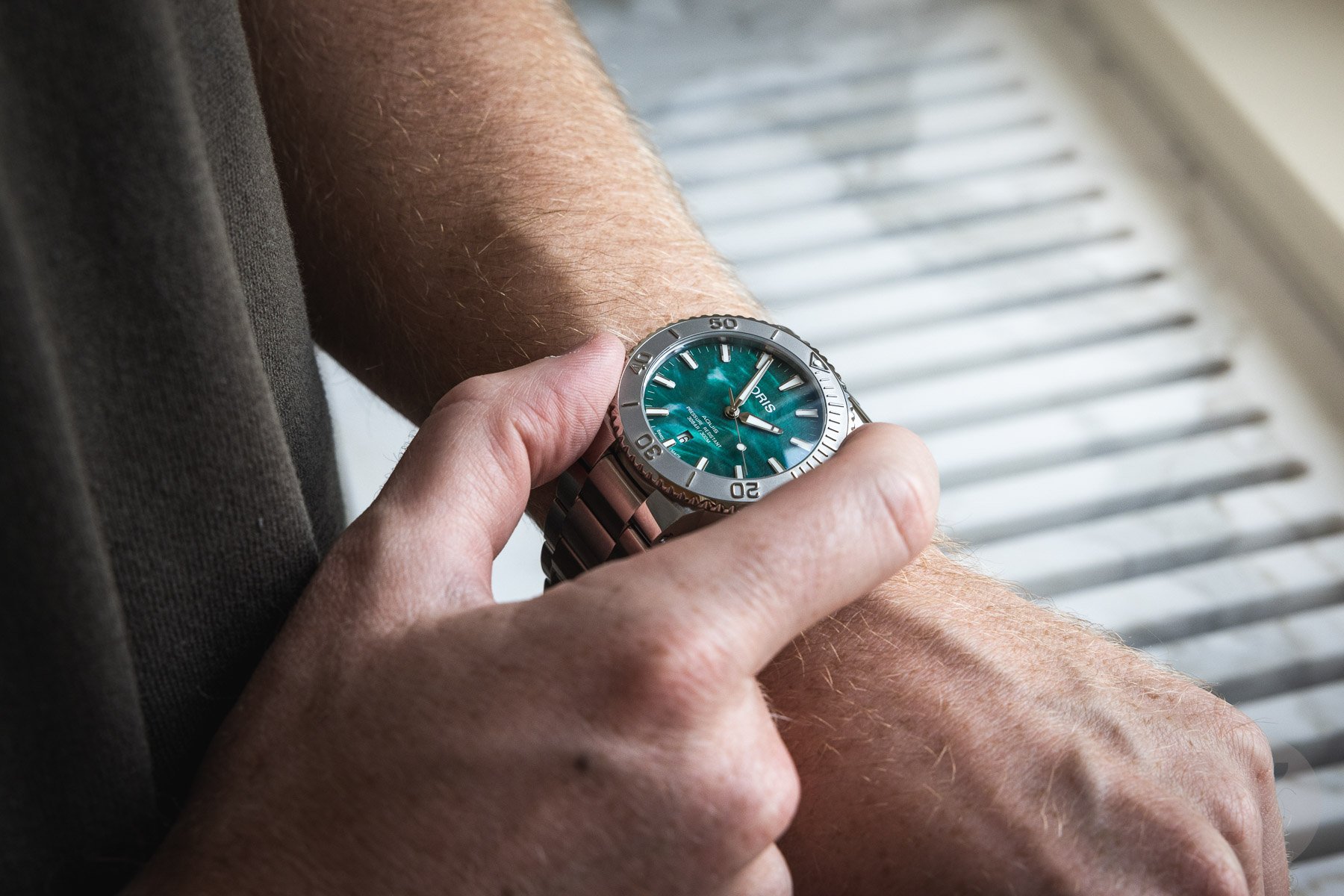 Closing thoughts
Aesthetically, I really like the Oris × Bracenet Aquis. It exudes fun. There is a contrast between the very down-to-business case and the cheerful dial, and it is a contrast I like. I don't usually regard the Oris Aquis as a lighthearted summer watch, but this one can play that role exceedingly well.
So the dial, in that sense, isn't writing checks that Oris can't cash.
I am always slightly apprehensive about wearing statements, which this Bracenet dial is. Either I take action for a cause I believe in, or I don't. I do not feel the urge to put my position on display through bracelets or watches. Furthermore, I cannot imagine going on a tangent about ocean pollution when someone asks me about my cool green watch. But this simply says more about me than it does about the watch or Bracenet.
The great thing is that this watch doesn't necessarily need the connection. It can stand on its own. The paper-like marbled green dial is simply beautiful. And by buying one, you do support the cause financially. It is also good to know that Oris puts serious effort into its positive impact on the world in terms of social responsibility and sustainability. Most watch brands could learn a thing or two from the brand in this regard. So the dial, in that sense, isn't writing checks that Oris can't cash. And that is a good thing.
What do you think of the Oris × Bracenet Aquis? Let us know in the comments below!
Watch specifications
Reference
01 733 7730 4137-07 8 24 05PEB (43.5mm) / 01 733 7770 4137-07 8 18 05P (36.5)
Dial
Marbled green, made of reclaimed fishing nets by Bracenet, with applied luminous indices and a date window
Case Material
Stainless steel
Case Dimensions
43.5mm (diameter) × 50mm (lug-to-lug) / 36.5mm × 42.5mm
Crystal
Domed sapphire with underside antireflective coating
Case Back
Stainless steel with sapphire display
Movement
Oris 733 — Sellita SW200-1 base, automatic and hand winding, 28,800vph frequency, 38-hour power reserve, 26 jewels
Water Resistance
300m (30 bar)
Strap
Integrated but removable stainless steel three-row bracelet with brushed and polished finishes and push-button deployant clasp
Functions
Time (hours, minutes, central seconds), date, 60-minute unidirectional dive bezel
Warranty
Two years (optional one-year extension by joining MyOris)