Hands-On Review Of The Girard-Perregaux 1966 In Pink Gold
Girard-Perregaux is one of the brands that is being undervalued by a lot of watch enthusiasts. Undeserved in my opinion, as it is a true manufacture with their own in-house developed movements with superb level of finish. I noticed that the interest in this brand has been growing over the past 12 months (according to the latest figures from Chronolytics) and also note that our previous articles on Girard-Perregaux (especially the review on the F1 Chronograph and Opera series) are quite popular amongst FW readers.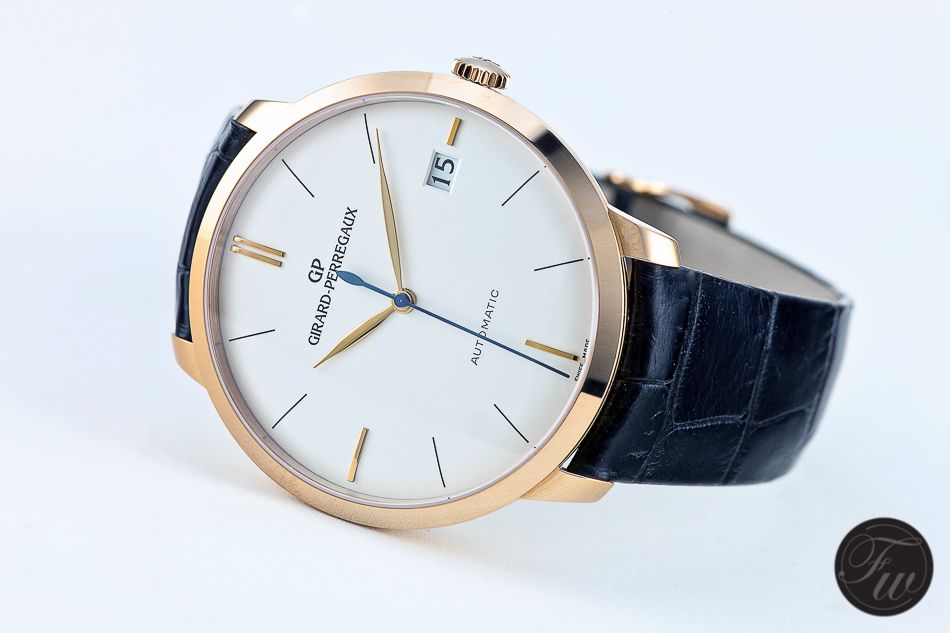 The new Girard-Perregaux 1966 41mm in rose gold is a timepiece that I had on my wrists for quite a while. When I first opened the box, one of my first thoughts were "Finally, a perfect sized classic timepiece in gold.". This 1966 has such a clean dial, that it will never start to get boring to you. I firmly believe that you will eventually get fed up with watches that have certain 'funny' aesthetic characteristics (like using different type of hour markers, too much wording on the dial, odd shaped hands). A clean dial is king in my book.
For luxury watches, pink gold (or red gold) is very popular. I also have to agree with most of the popularity who thinks so, as it is softer on the eyes than yellow gold. At least on my type of skin. The round pink gold case is beautifully design and especially the thin bezel ensures the watch to have its sleek classic look.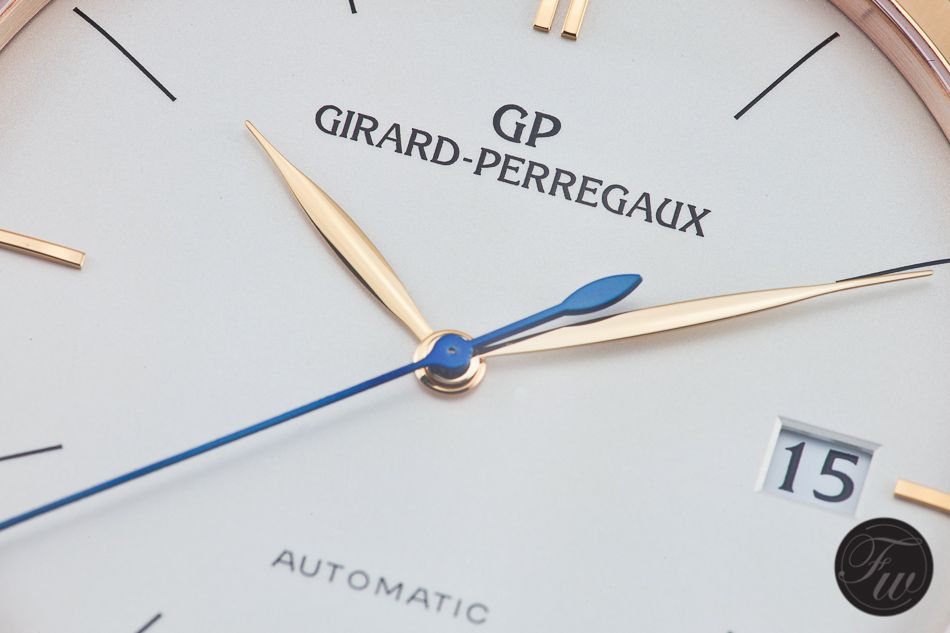 As you can see on the photo above, the clean opaline dial is just WOW. No fancy hour markers, no needless wording. The only playful thing is the blued long and sleek second hand. The polished pink gold hour and minute leaf-shaped hands are just wonderful and I can't think of another type of hands that would indicate time any nicer. On a classic watch like this that is.
To be honest, and I am not the guy that really cares about the brand name on a dial, I really like the Girard-Perregaux wording on the dial. I have the same with Patek Philippe, Jaeger-LeCoultre or Audemars Piguet. It's the double words I guess.
The date aperture is nicely done, but I wouldn't have mind the lack of one to be honest. However, in daily use, a date function is quite useful. The typography of the numbers is quite nice though, that has to be said.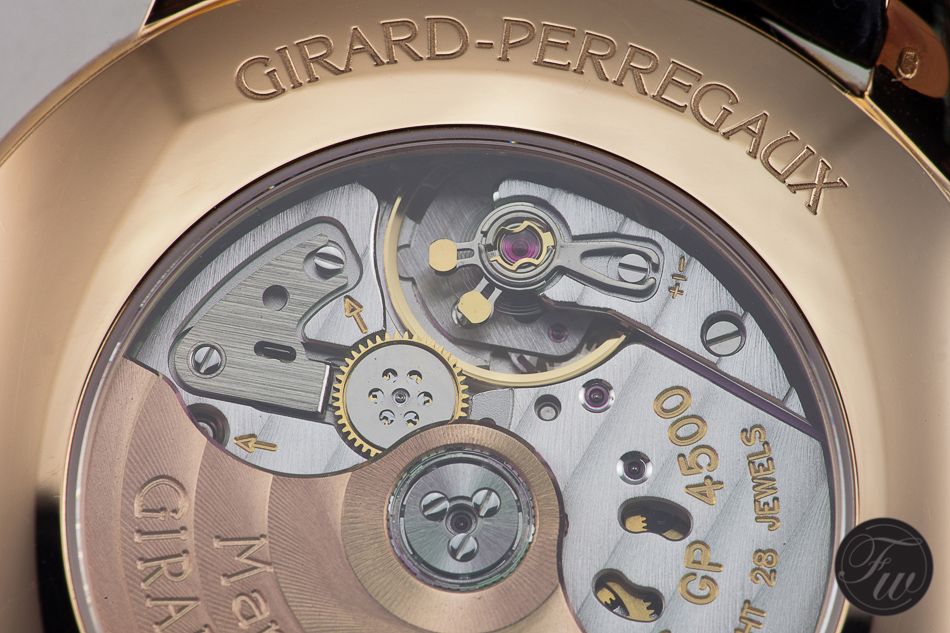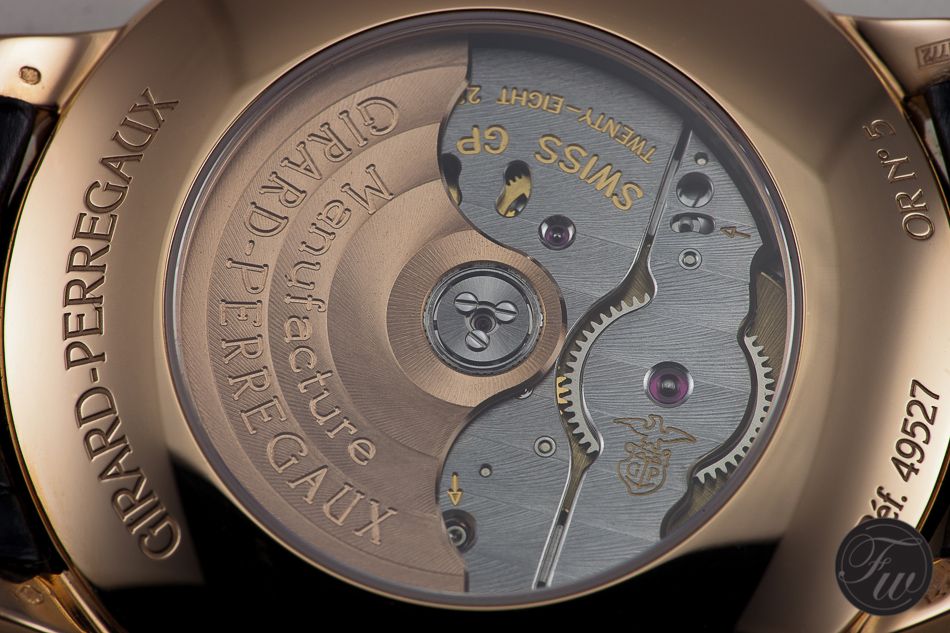 The movement of the Girard-Perregaux 1966 has been developed by the manufacture itself and is being manufactured and assembled in their own workshops as well. For those who fancy an in-house movement in their timepiece(s), you can't go wrong with a Girard-Perregaux. This calibre GP4500 consists of 188 parts and has a power reserve of 54 hours. The 54 hours is enough for a watch that will see some daily wear and also for a watch that has no complications.
As you can see, the movement is beautifully finished with Côtes de Geneve decoration and a pink gold rotor. Something the wearer of the watch will certainly enjoy looking at occasionally.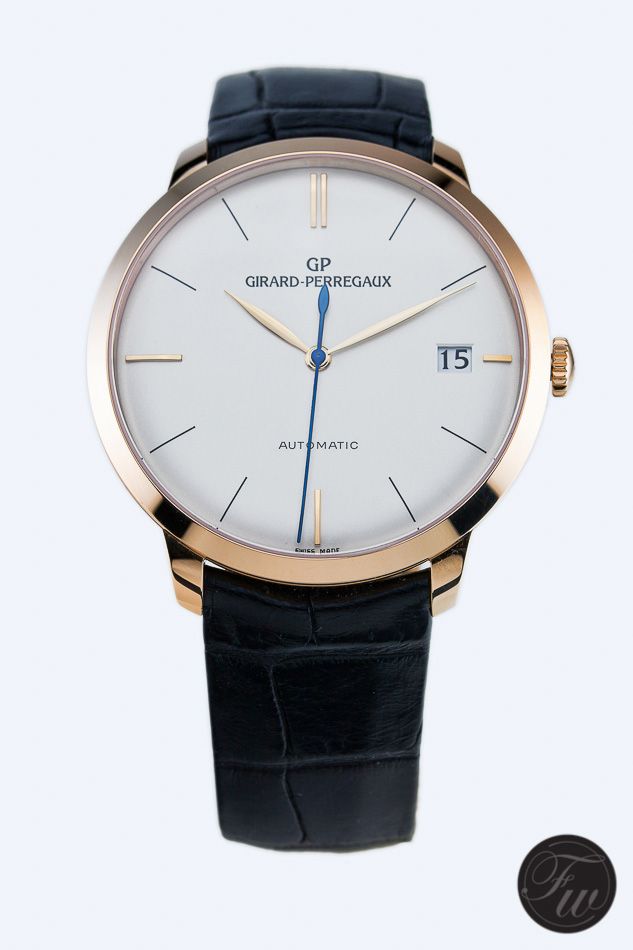 This GP 1966 (ref. 49527-52-131-BK6A) comes with an alligator strap and a pink gold buckle. Regular readers will know about my preference for buckles instead of folding clasps on leather straps.
During the period I wore this watch, I got quite some comments on it. People that have little or no interest in watches mainly commented on how chic it looked because of the classic shape and use of pink gold and dark alligator strap. People with interest in watches were quite curious about the movement. Especially those who are keen on the technical aspects of watches, as Girard-Perregaux used to – or perhaps still do – deliver movements to other brands as well (e.g. Cartier).
In the end, this watch is a good choice for those who want a classic looking gold manufacture timepiece that can be worn on a daily basis. Although its price tag makes you choose from some other big brand name watches as well, this piece has – to me – the right size, the right color, the right dial and a superb movement. Although I am more of a GP Laureato kind of guy, the 1966 collection would be definitely on my radar if I am on a quest for the perfect dress watch.
The price tag on this 1966 41MM is 13.400,- Euro (approx. $17,400.- USD with today's conversion rate).
More information on the official Girard-Perregaux website.