Hands-On Review With The Grand Seiko SLGA007 Limited Edition Watch
We take a close look at the new steel limited from GS featuring a NEW Spring Drive caliber
I've said it before and I'll say it again: in luxury watchmaking in 2021, texture is the name of the game. Dial colors get too much attention; dial surfaces, too little. More and more, we're seeing brands pay attention to the display's background, the forgotten element, the passive superstar that can decide whether or not a watch lives or dies in the minds of our community. How those textures interact with the colors laid upon them matters too, of course. Today, we see Grand Seiko experiment with one entirely new texture and revisit another that has undeniable potential. Has the Japanese giant got it right this time with the SLGA007? Let's find out…
Grand Seiko announced the release of the SLGA007 and SLGA008. We're going to focus on the SLGA007 today because, well, it's the better watch of the two (in my opinion, at least). Also, because it is more versatile/affordable. That's unsurprising considering it is made of stainless steel as opposed to 18-karat rose gold. Both watches use the same movement and feature interesting dial finishes. There's a lot to talk about here so let's not dress this one up with too much pomp and ceremony: the nitty-gritty is really all that matters.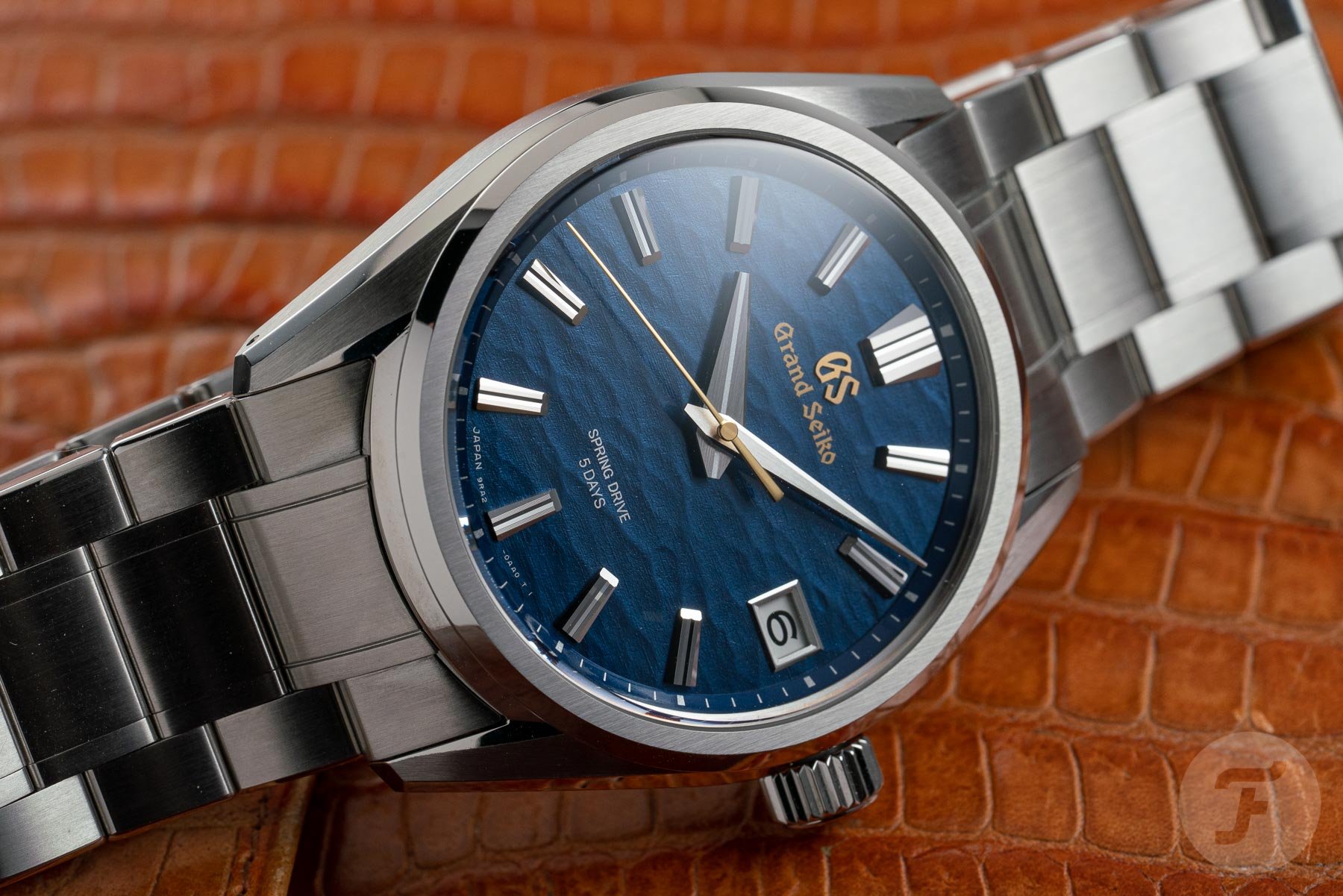 The Specs
This model has stainless steel case and bracelet (with a three-fold clasp and push-button release). It measures 40mm wide and a wearable 11.8mm thick. It is able to be so slim thanks to the 9RA2 being just 5mm thick itself.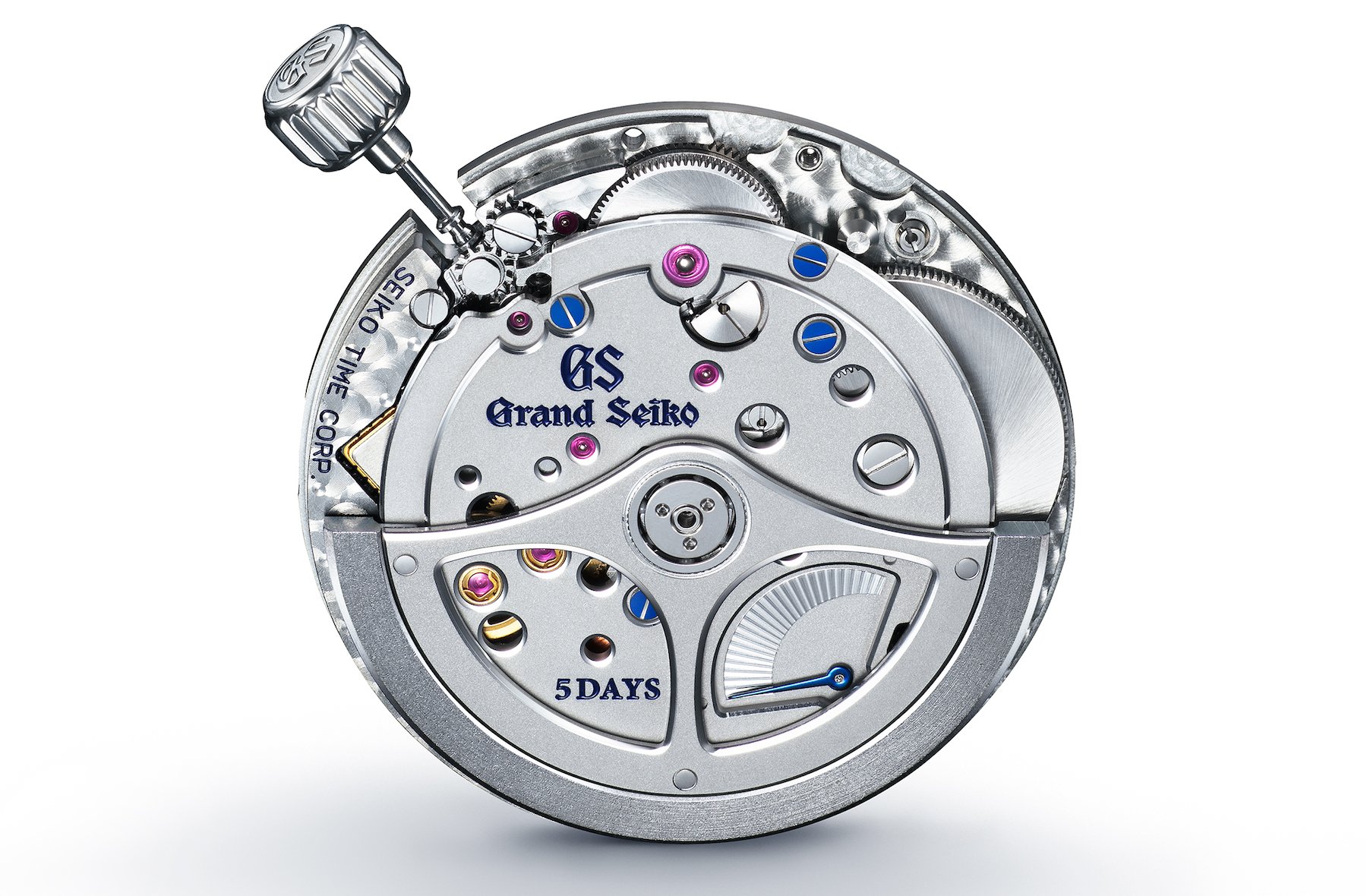 This slimness was achieved by repositioning the magic lever. Consequently, the 9RA2 is the slimmest automatic Spring Drive so far. It is water-resistant to 100 meters and can resist magnetic fields up to 4,800 A/m. It is a fine technical complement to the aesthetic brilliance of the Grand Seiko SLGA007.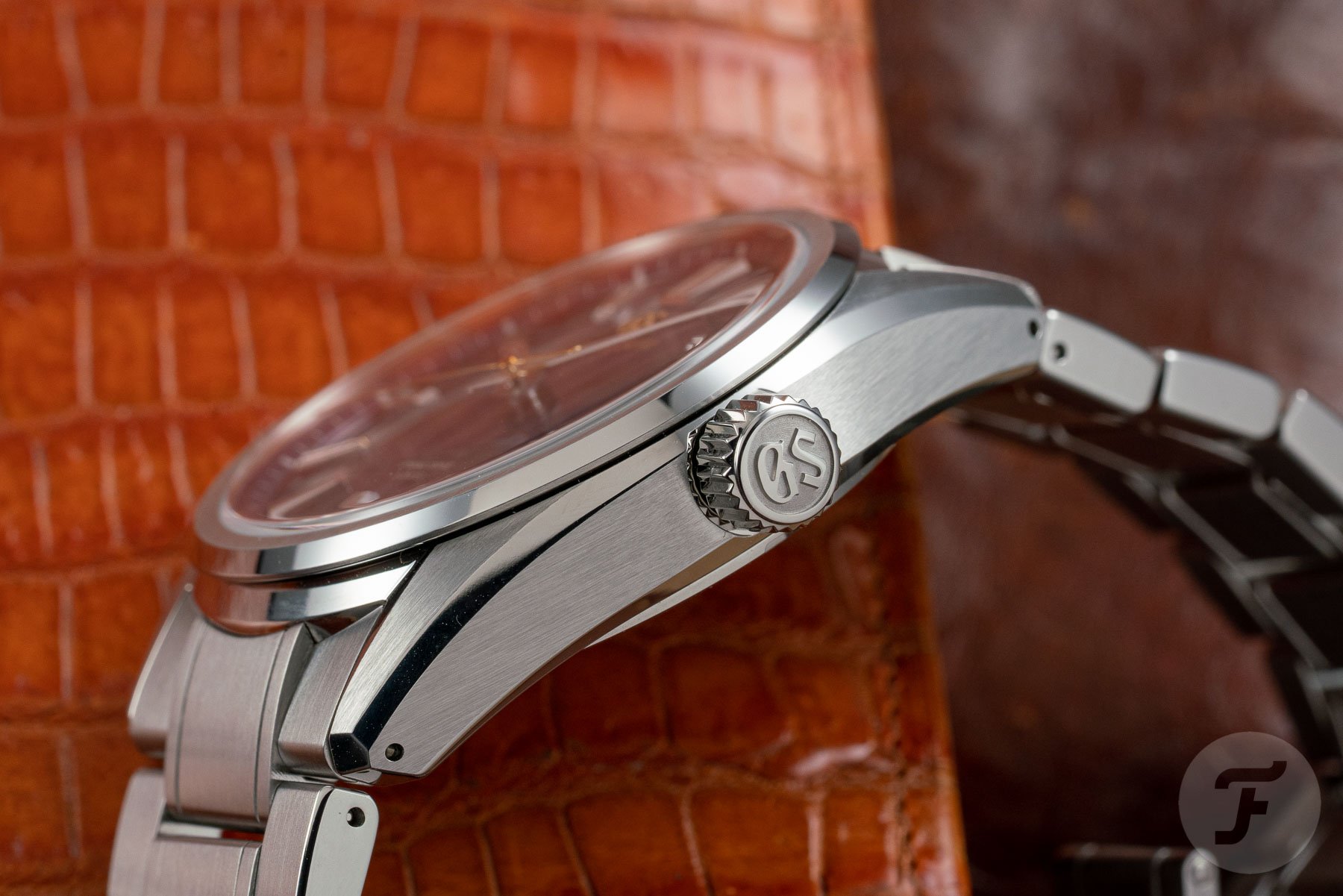 A new movement
The SLGA007 is powered by Grand Seiko's new Spring Drive caliber. The 9RA2 is, in this writer's opinion, the massive upgrade we were waiting for in the Spring Drive department. While it isn't a huge technical leap forward, the aesthetic make-up of the caliber really suits the watch's hybrid heart and offers a wealth of new design options given the oft-derided power reserve indicator now calls the back of the movement its home.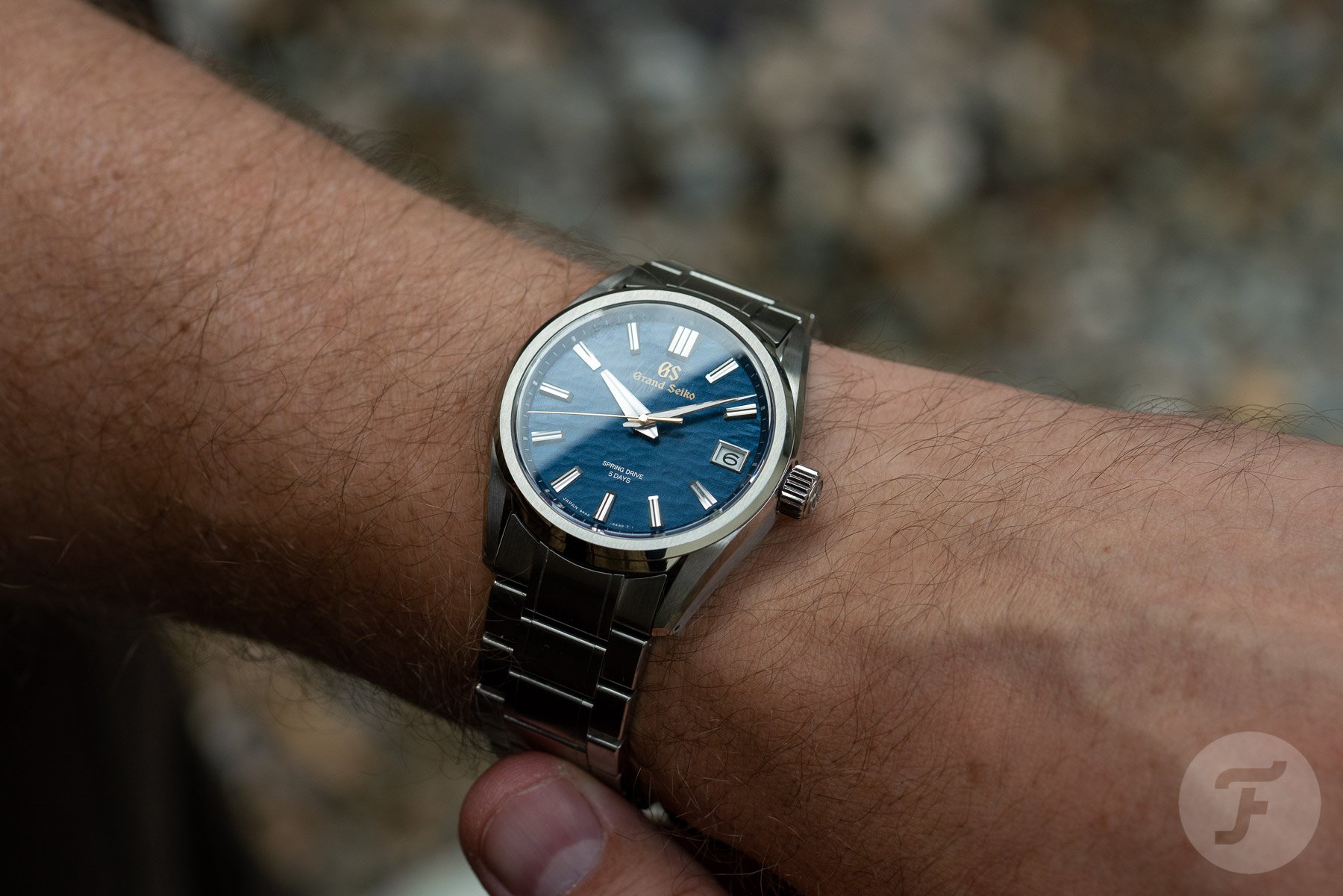 Sure, this is not the first Spring Drive caliber without the power reserve indicator on the dial, but this one is automatic. That's something rather special. Furthermore, its utilitarian, overall blasted finish gives off the right kind of vibe, in my opinion, for a movement that mixes mechanical power with an electronic brain.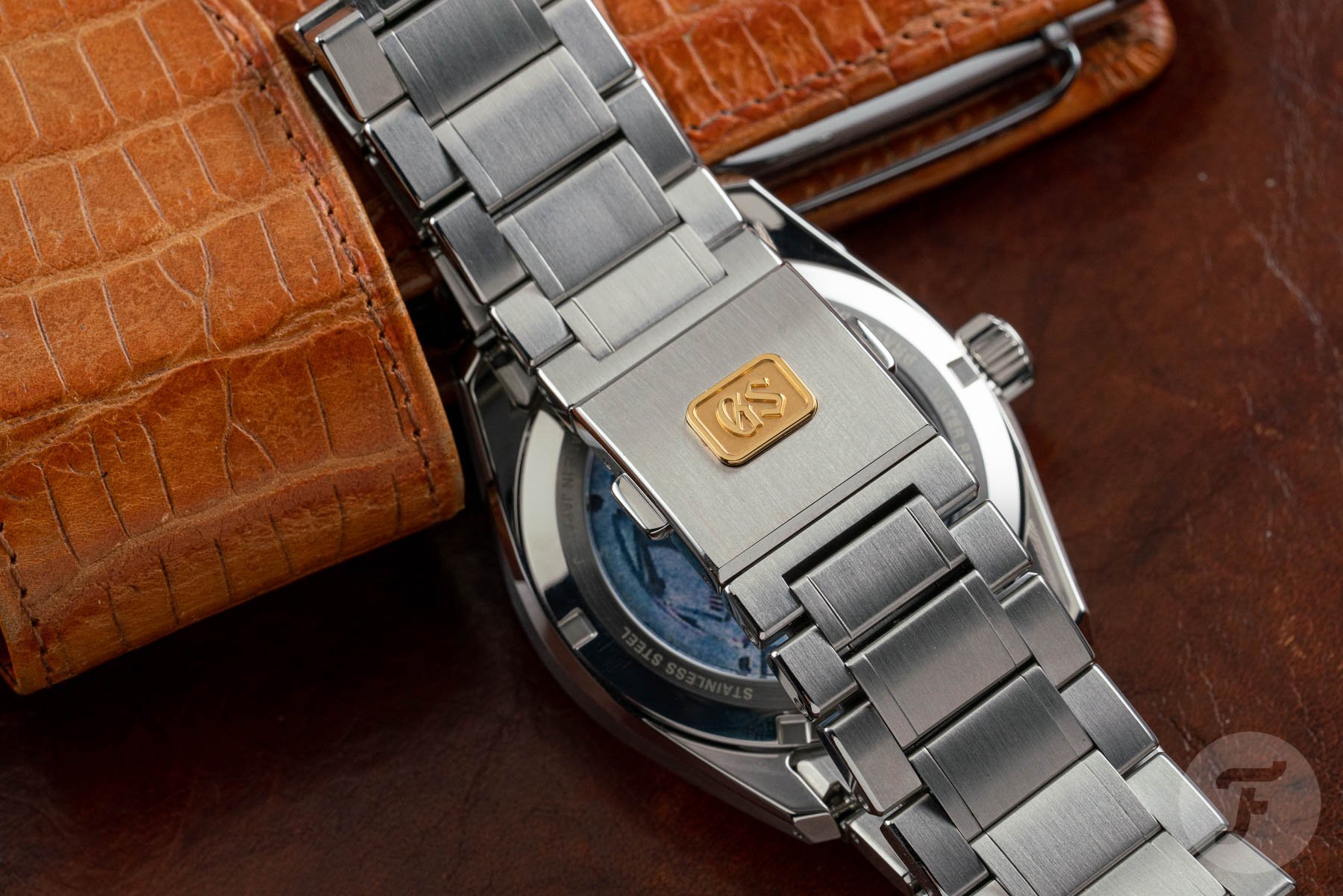 I doubt anyone will gripe at the +/-10 seconds per month timekeeping, or the 120-hour power reserve, so the question will likely come down to whether you actually want the power reserve on the dial. For true Spring Drive fanatics, there is no reason not to have both examples in your collection. Especially now the beautiful and legendary Snowflake and Skyflake models have these beauties to rub shoulders with!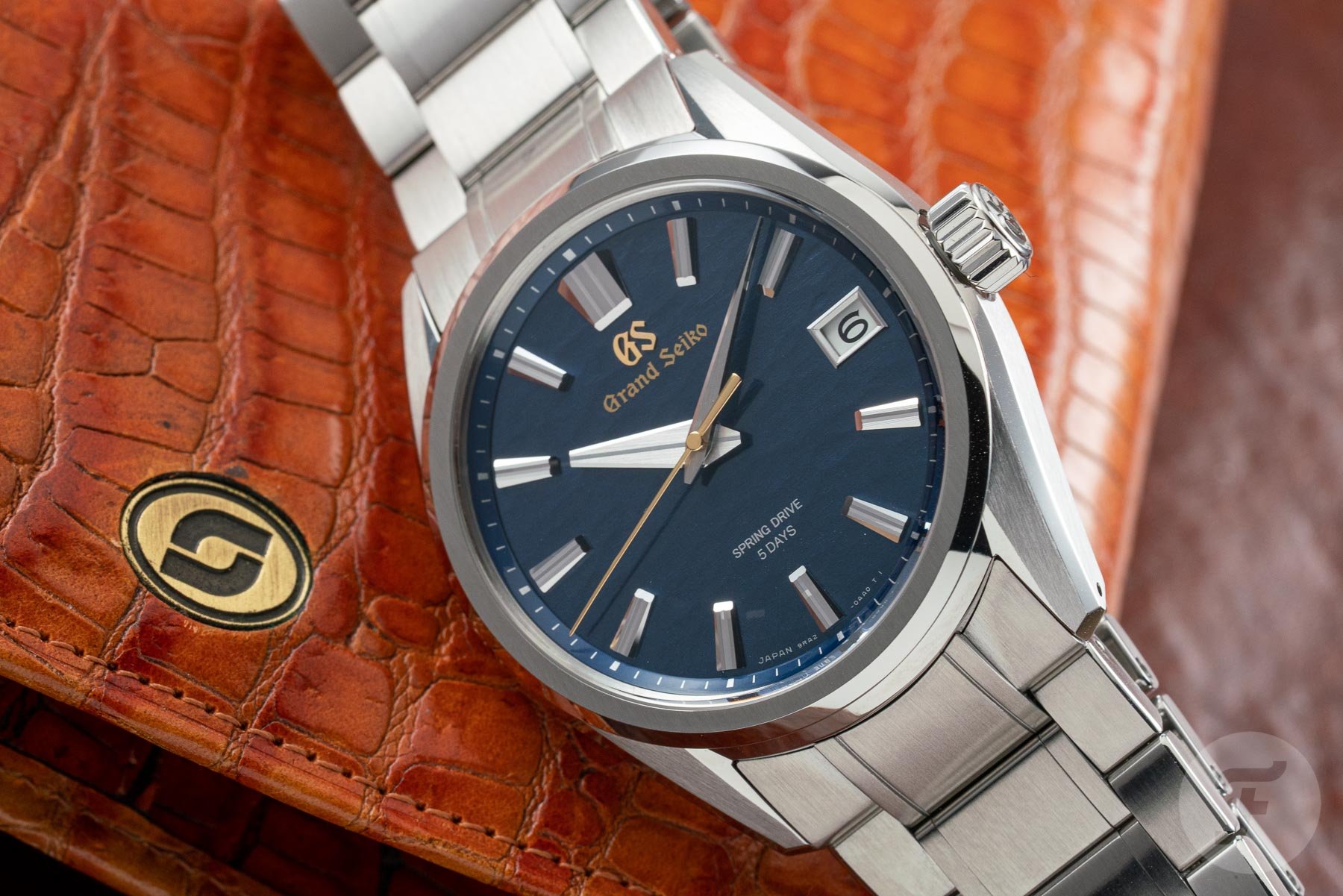 How did we get here?
The release of the Hi-Beat SLGH007 sent a shudder of interest through the industry. Textured dials are something we always look forward to from GS, given the brand's well-earned reputation of finishing excellence. While the jet black tree-ring pattern entertained, it fell short of exciting me. I felt like the color was too dark to allow the texture to show through as often as I would like to see it (personally). The new SLGA008 with its chocolate brown interpretation set within a rose gold case is far superior (although a limitation of 140 pieces and a price of €50,000 means it is only for the very few).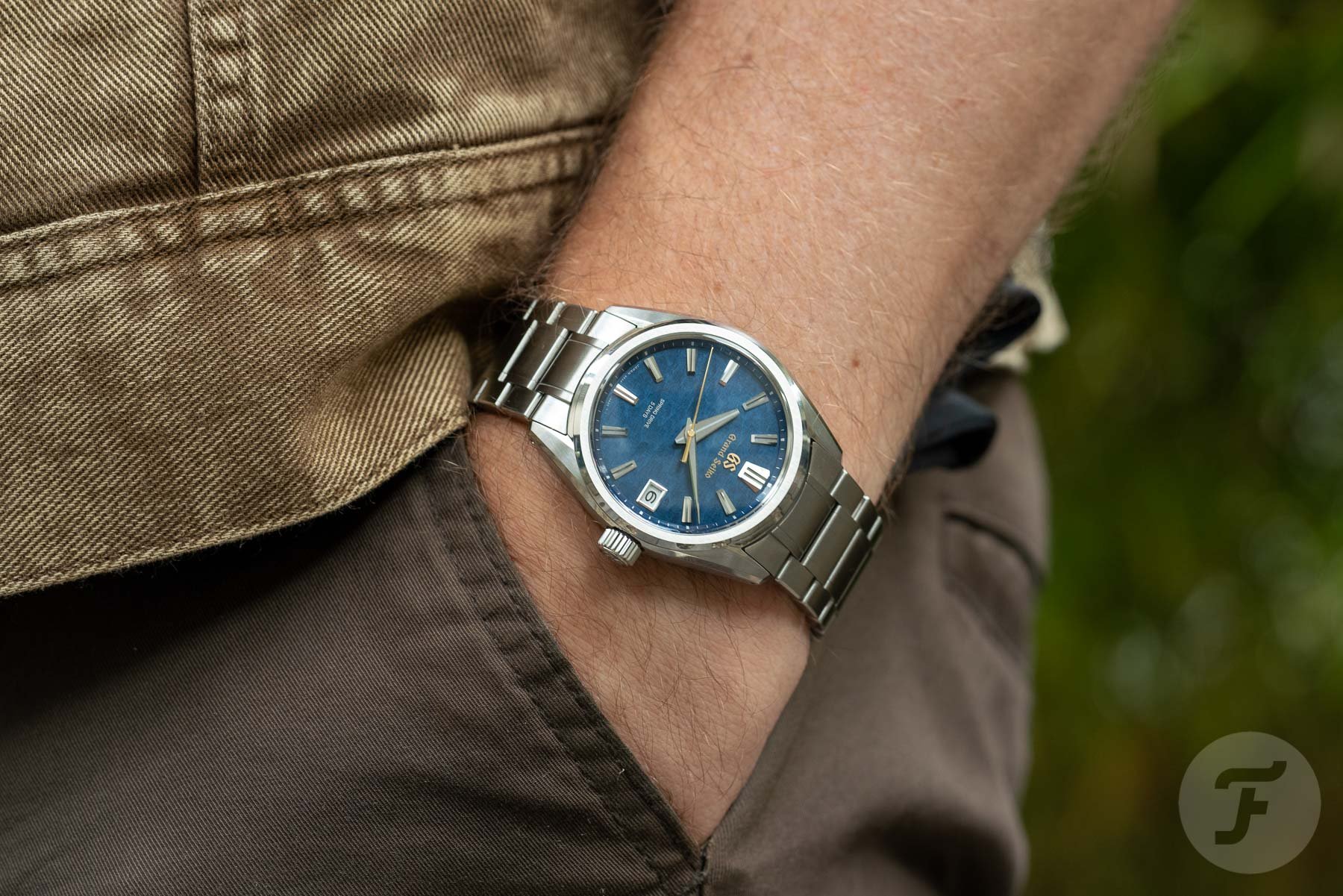 Then came the "Silver Birch". This was a model that split opinions within the team. Some team members adored it, others felt the dial was too silvery and not white enough (watch lovers, eh?). I personally liked the lighter dial because it allowed the texture to take center stage, however, I lamented the fact it too used a Hi-Beat movement (even though it was the super-duper 9SA5, which is my favorite higher frequency caliber from Grand Seiko). What I wanted, was a textured dial automatic-Spring-Drive-powered watch with no power reserve on the front.
Well, it looks like my prayers have been answered…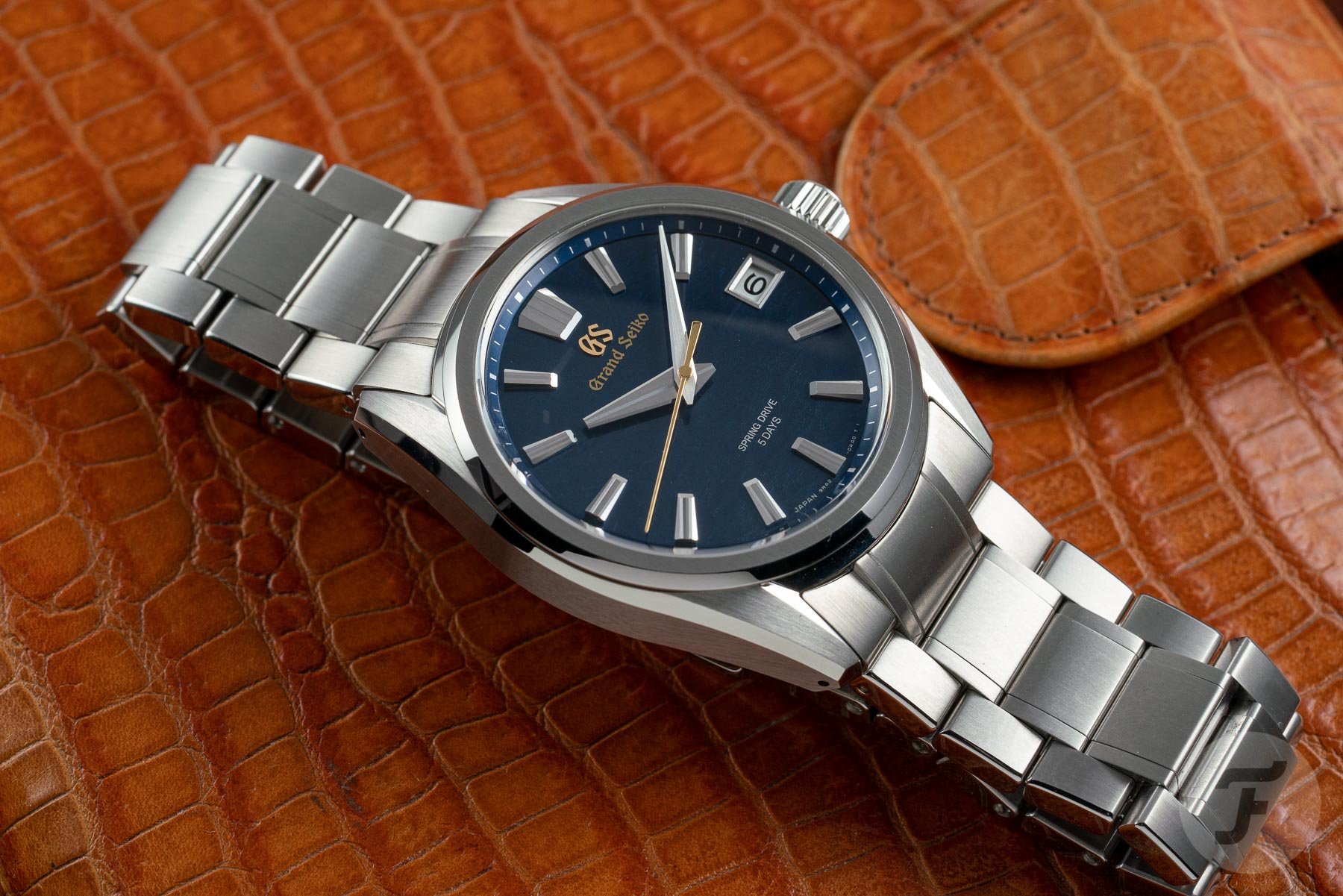 That dial…
I don't know where to start. Honestly, when I first saw this model I was close to tears. I have searched and searched, waited patiently for years, for a Grand Seiko that ticks boxes that, until today, didn't even exist. My one question (and it isn't even a gripe) is how would it have looked with a color-matched date wheel with white print? Too much? Quite possibly. There is something almost charming about the rigidity with which Grand Seiko often sticks to its guns regarding dates. While the brand went to the trouble of color-matching the date wheel for the rose gold/chocolate flavored SLGA008, here perhaps that stubbornness does make sense. Is it highly legible? Yes. Is it less bothersome in real life than on these macro shots? Indeed it is. Is it so blazingly bright it distracts from that sumptuous dial finish? No. I mean, how could it?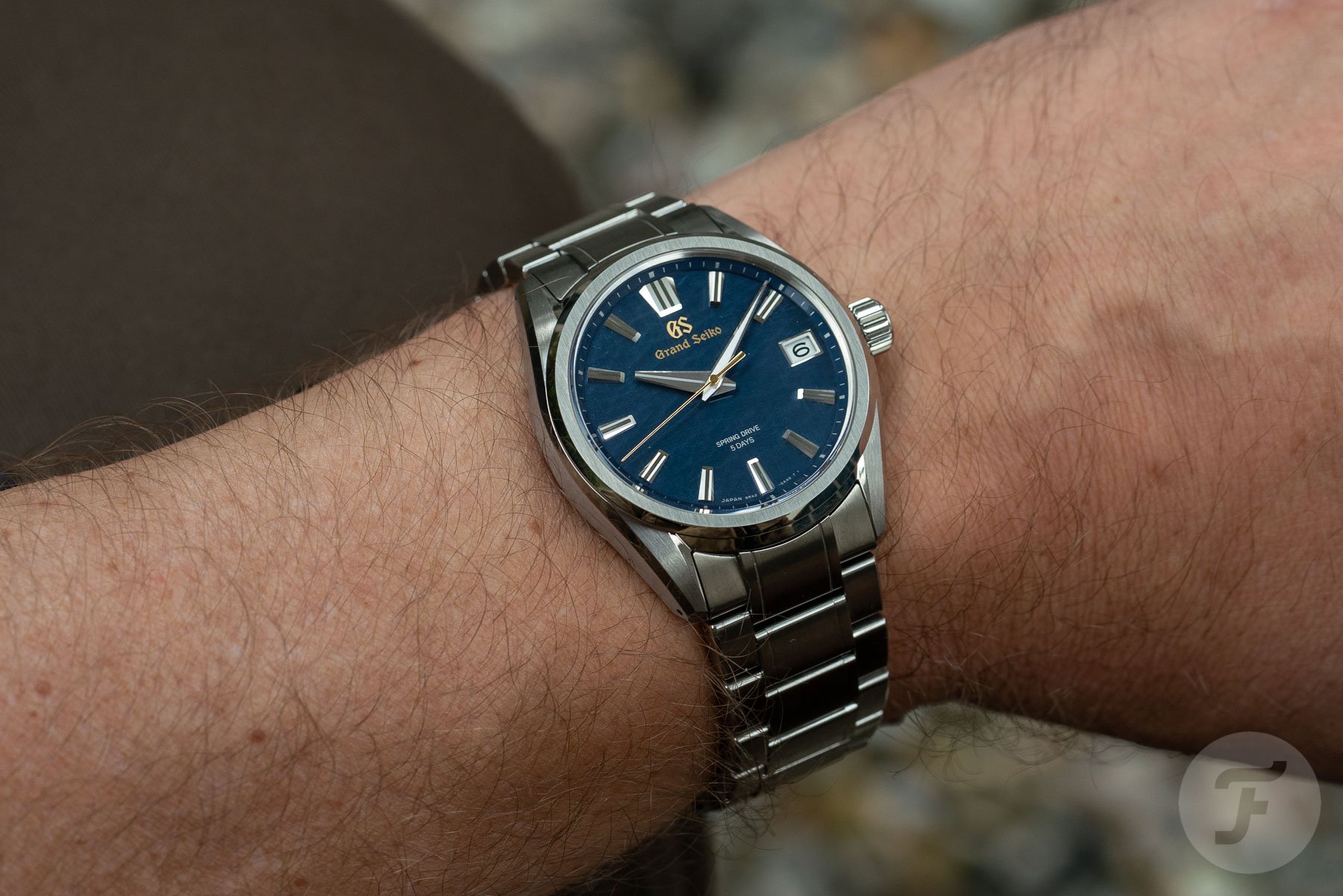 "The watch's dial is inspired by the calm waters of Lake Suwa that lies close to the Shinshu Watch Studio where the watch is made." 
I lifted that directly from the press release so we could all enjoy it together. One of my favorite games to play is to come up with ever more poetic and over-the-top press release justifications for Grand Seiko. It's a source of endless amusement. I'd like to think that the people that come up with this stuff are at least a little bit self-aware and concoct these tenuous links in the hope they'll raise a wry smile, but I'm not 100% sure of that.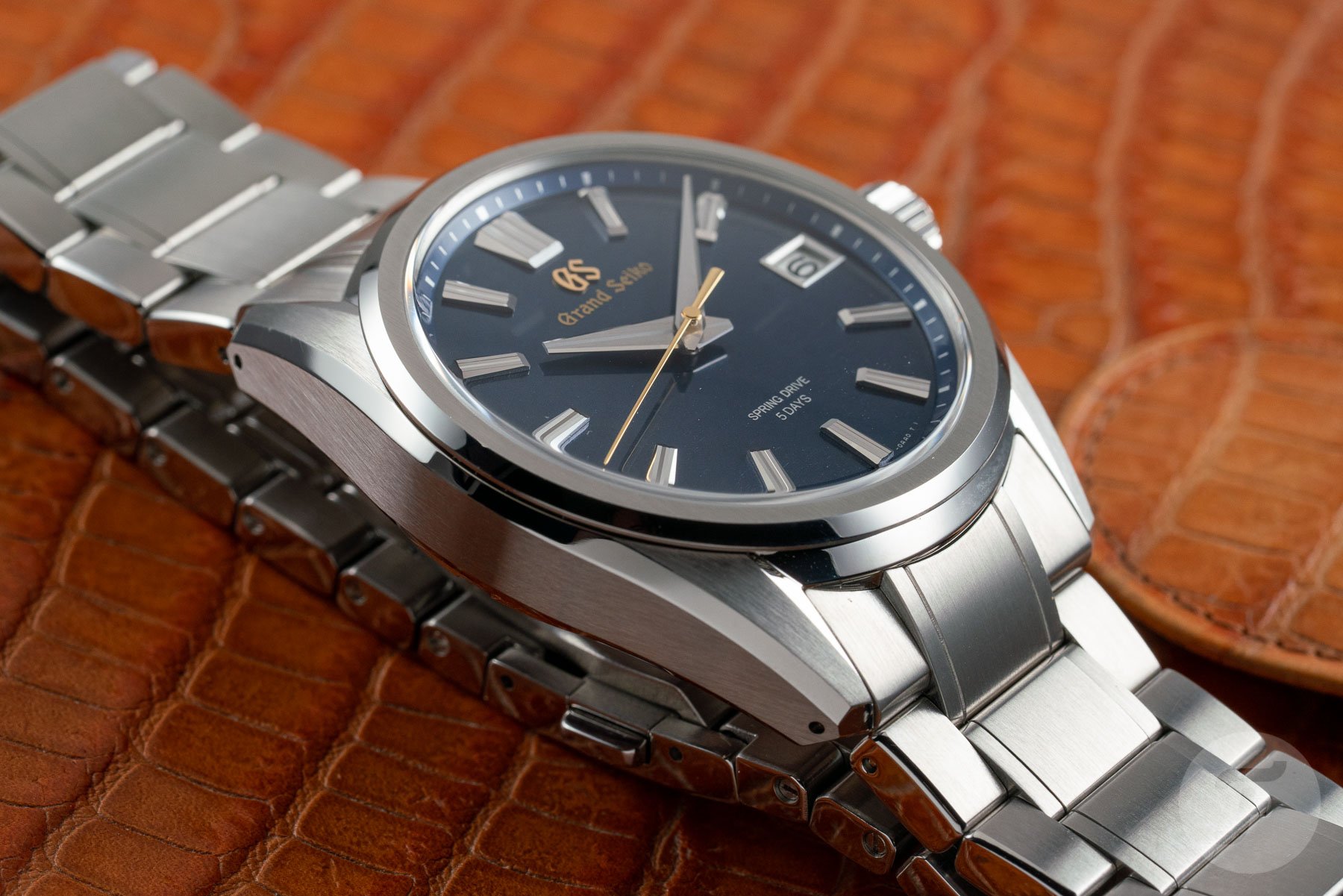 Go and get a nice cup of tea and enjoy this:
"The patterned dial evokes the gentle sway of the water surface of Lake Suwa, with ripples and shallow waves that create a pleasing sparkle at whichever angle the dial catches the light. Combined with the smooth sweeping movement of the seconds hand unique to Spring Drive, the dial captures the tranquil and seamless passage of time. The seconds hand and Grand Seiko letters are in a gold color that echoes the morning sunrise shimmering on the lake's surface."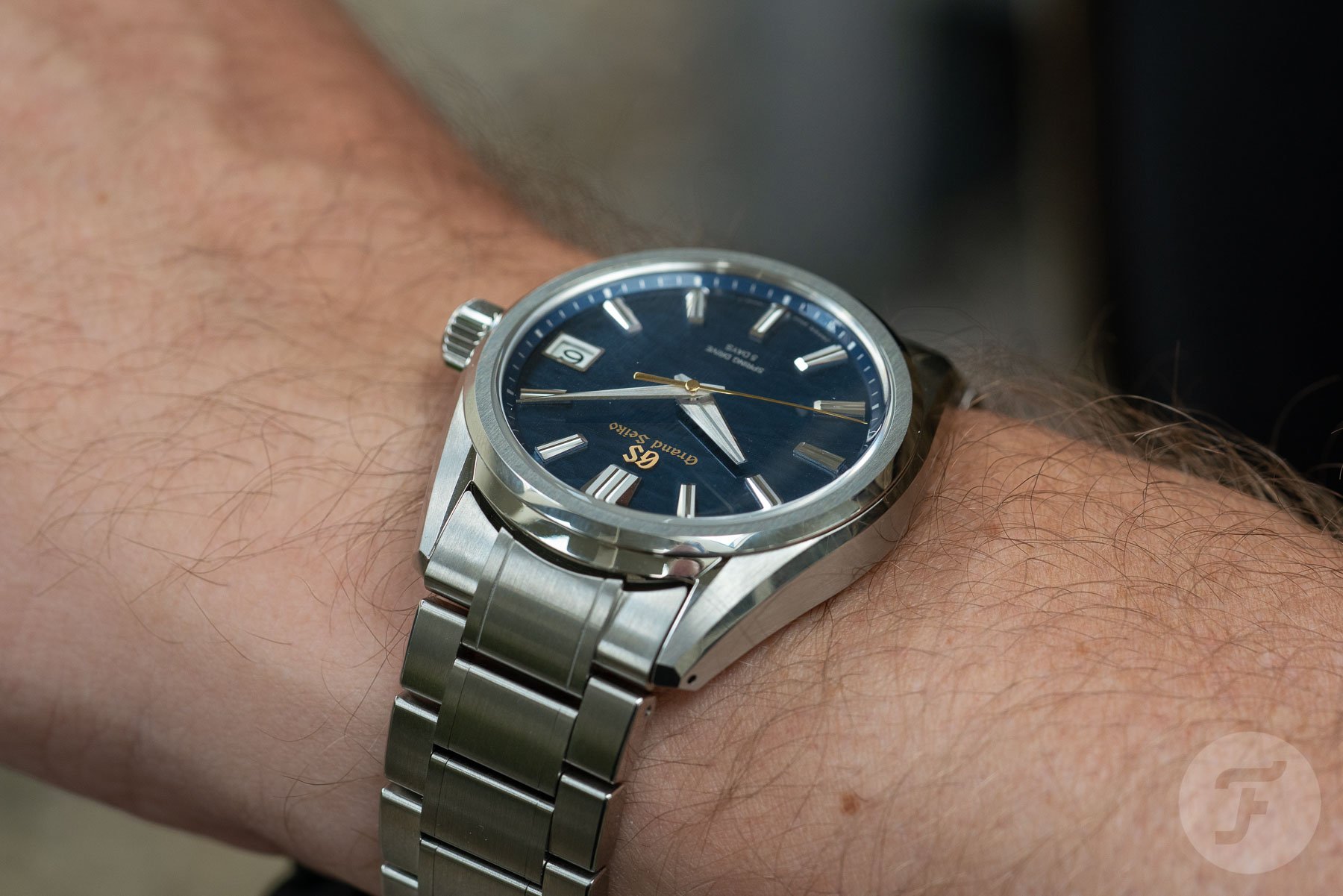 It could be inspired by tinfoil for all I care
Look, even if this dial is inspired by the delicate scent of a blossom-infused breeze blowing from the east on the third Wednesday of May in the year of the Fire Ox by the light of a crescent moon I wouldn't care. Stories sometimes matter in watchmaking. Sometimes execution is all that counts. Here, in the Grand Seiko SLGA007, we have an absolutely stunning piece, limited to 2,021 pieces and priced relatively reasonably at €9,100. Would I have loved it to be €3,000 cheaper? Of course, I would. Then again, I'd like everything to be 3K cheaper. This price seems to fit pretty well with Grand Seiko's international pricing strategy. It will sell out. It will become a classic. Will I regret not being able to afford one right now? I'm absolutely convinced of it.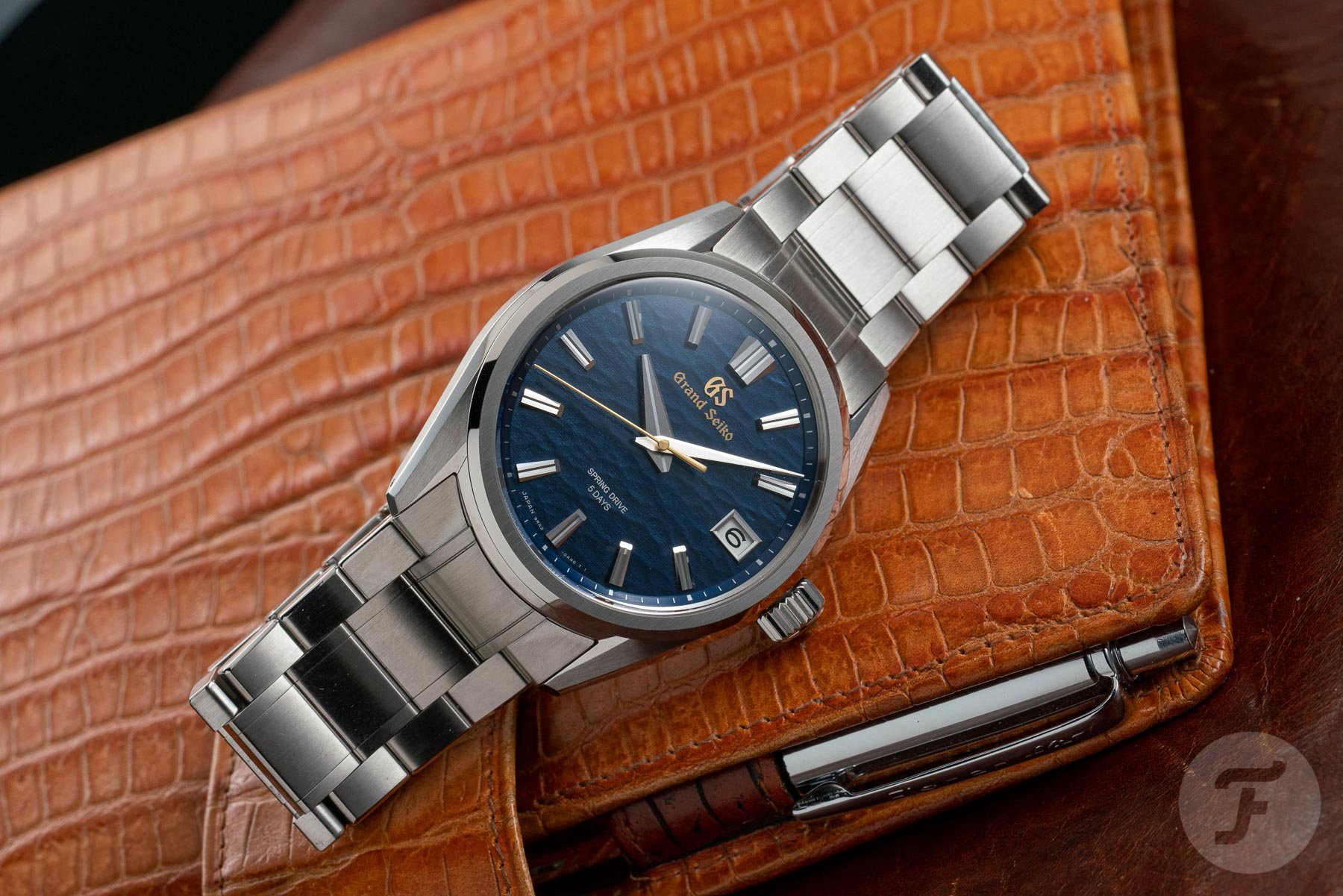 If, however, you have the best part of 10K burning a hole in your pocket and you want a new watch from arguably the greatest Japanese watchmaker to ever do it, the SLGA007 is a very (very) solid choice. While some people will never get the idea of Spring Drive, I find it to be absolute perfection and the most meaningful evolution in mechanical watchmaking for centuries (I really mean that). Having a new caliber that offers an uncluttered display, a healthy power reserve, and superb accuracy is a welcome treat, and the best 140th-anniversary celebration yet. Learn more about Grand Seiko here.