Hands-On Review: Zelos Swordfish 40 In Crystallized Titanium
A super-cool and edgy new material
It's not often I actually put my money out on the table, willing to hand it over. I like my bank account to remain healthy, and spending its contents goes against that mantra. With that in mind, it takes something truly exciting to pique my interest enough to have me opening my wallet and entering those card details at the payment checkout. It seems that Zelos did enough with its new Swordfish 40, featuring a case made of "crystallized titanium".
Zelos is one of the few microbrands which has managed to firmly cement its place in the industry. A mixture of intelligent designs, first-class customer service, and affordable prices has pushed the brand to a level that other microbrands can only dream of.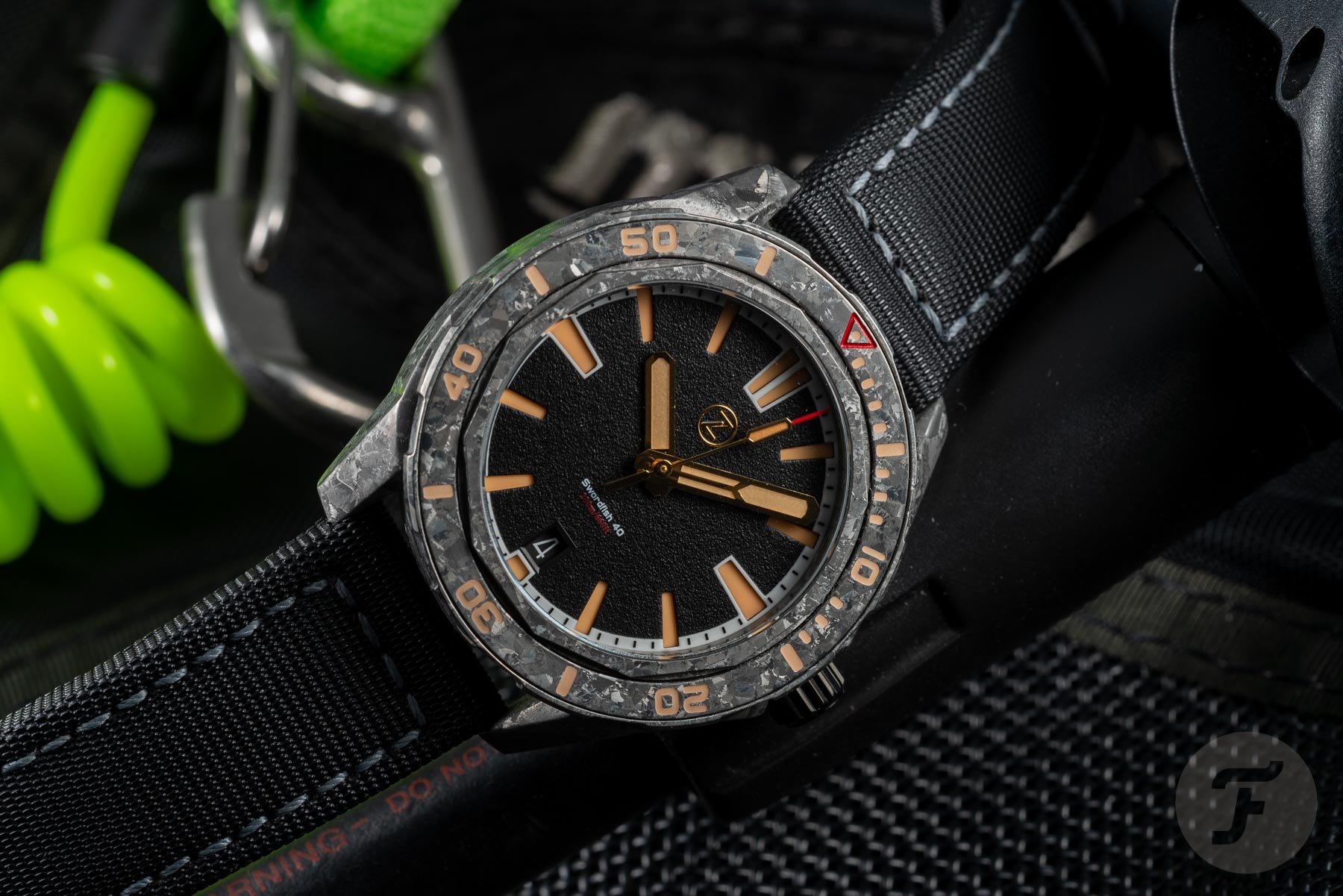 Enter the Swordfish
The Swordfish model line has been doing its thing for a few years now. Initially launched in a 42mm case, the brand made a slimmed down 40mm version of the Swordfish to suit smaller wrists (like mine). The Swordfish model is a popular one for Zelos collectors and the microbrand community as a whole.
The Zelos Swordfish 40 has a nice blend of modern and vintage design cues. I mean, the crystallized titanium only enhances the industrial, almost steampunk charm of the watch. On the specs front, the Swordfish is a pretty standard dive watch. All the features we'd expect to see are indeed there — a unidirectional 60-minute bezel, ample protective crown guards, and a bright and legible dial with large hands. The base specs are what you'd expect from a professional dive watch. You get a 40mm case with 300m of water resistance, thanks to the screw-down crown. The dials and handset are generously lumed too.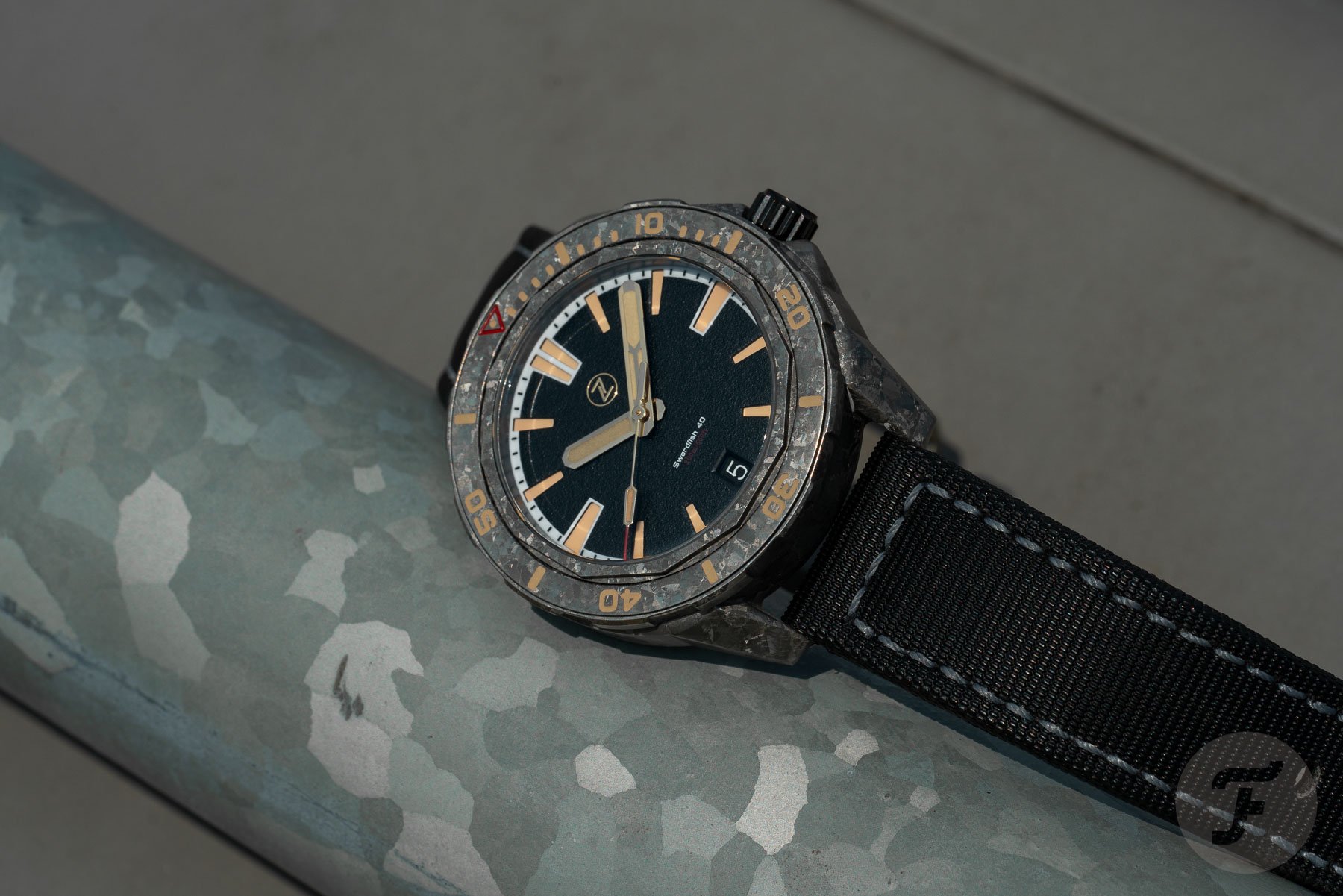 When you look at how quickly Zelos tends to sell out of each Swordfish drop, you can tell that the community agrees and sees real value for the prices. When those prices happen to start at $349 for the stainless steel model with a matching bracelet or the bronze model with a rubber strap, it's not hard to see why.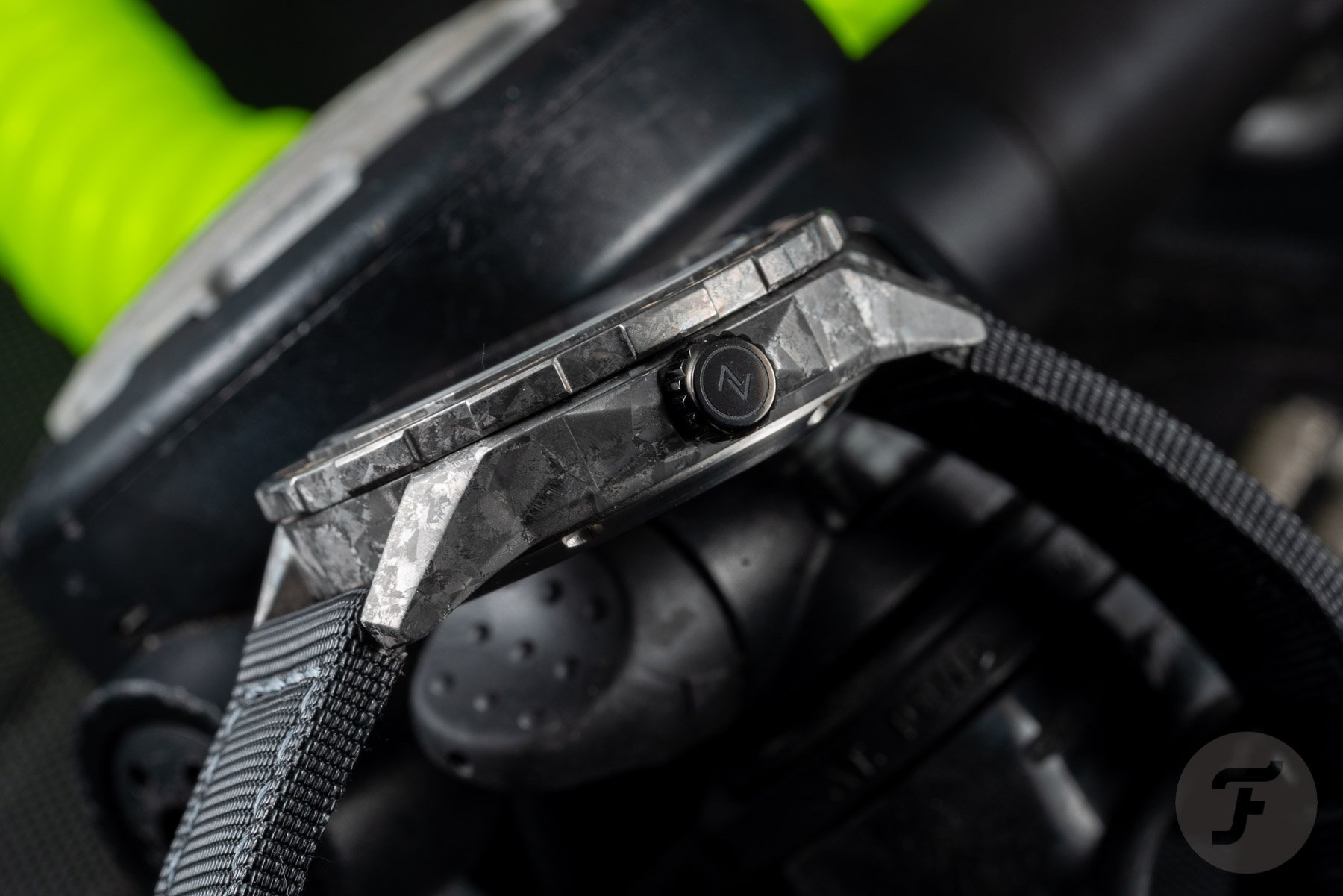 Edgy and angular
The bezel features a chunky, cog-like grip and has a solid and defined action with minimal back play. The case itself is quite angular in design. Still, it has an organic feel to it that is only enhanced by the crystalline surface patterns. The angled edges are defined, but they are polished, leaving them smooth to the touch. The black crown is chunky and easy to operate, but I feel maybe it's slightly smaller than I would have expected. Of course, this could be down to the black color, making it appear smaller. I think a slightly larger crown diameter would be preferable, but I appreciate this is essentially a personal preference. Two pointed, trapezoidal crown guards protrude from the side of the case, fulfilling their role of protecting the crown.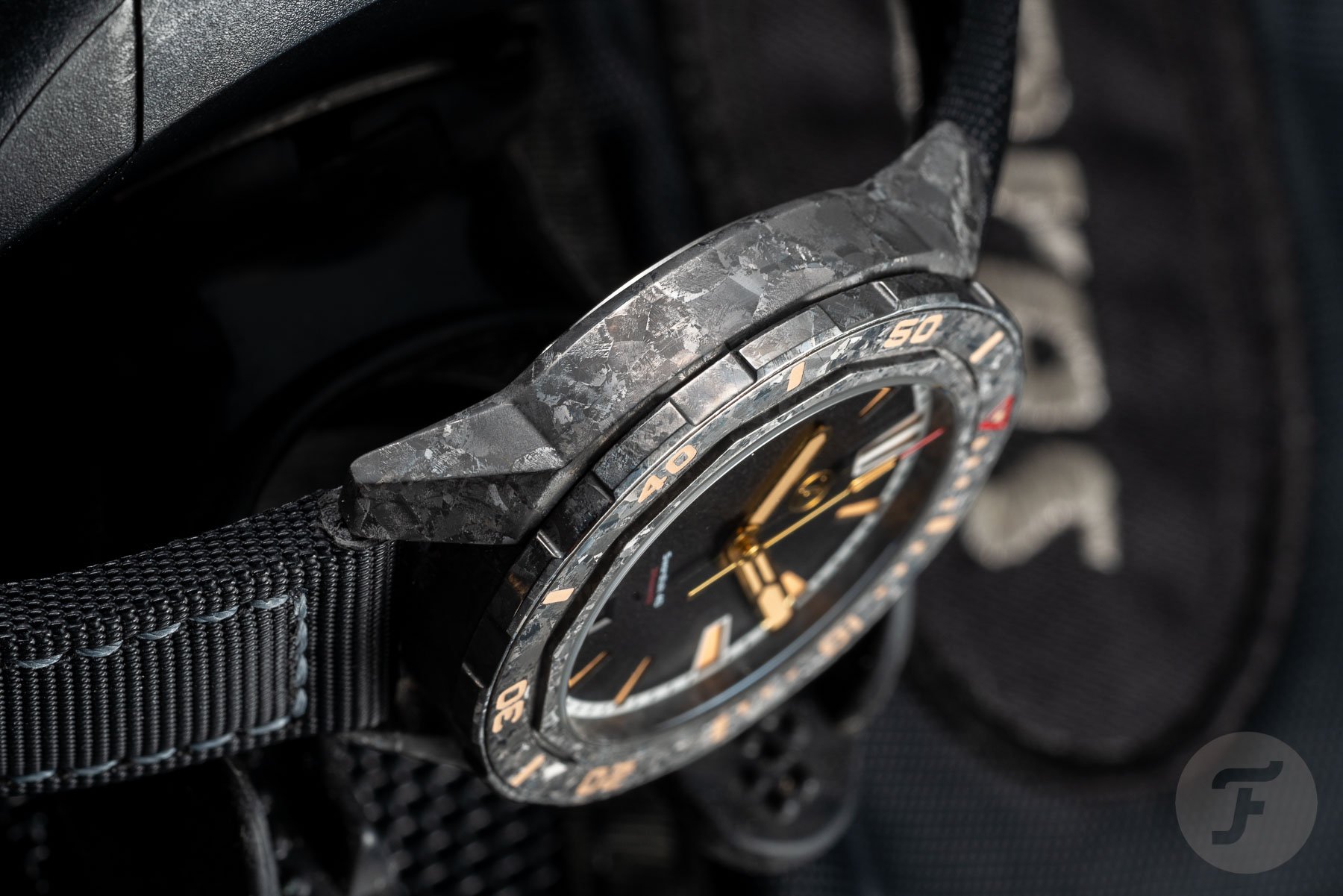 What is crystallized titanium?
The crystallized titanium is a bizarre material for sure. It's almost certainly one of those "love it or hate it" kinds of things. On the first impression, it has a similar appearance to galvanized steel. I have not been able to find a great deal about it by researching online. Unsurprisingly, manufacturers are not keen to divulge their secrets in how it's produced, so I'm taking a semi-educated guess here. I imagine the titanium is allowed to cool very slowly after being cast, thus allowing crystals to grow by extending the transitional phase of the metal. As I said, I don't know this for sure, but it seems potentially logical? If anybody out there knows for sure, please do let me know in the comments. I am fascinated by this stuff and always eager to learn more!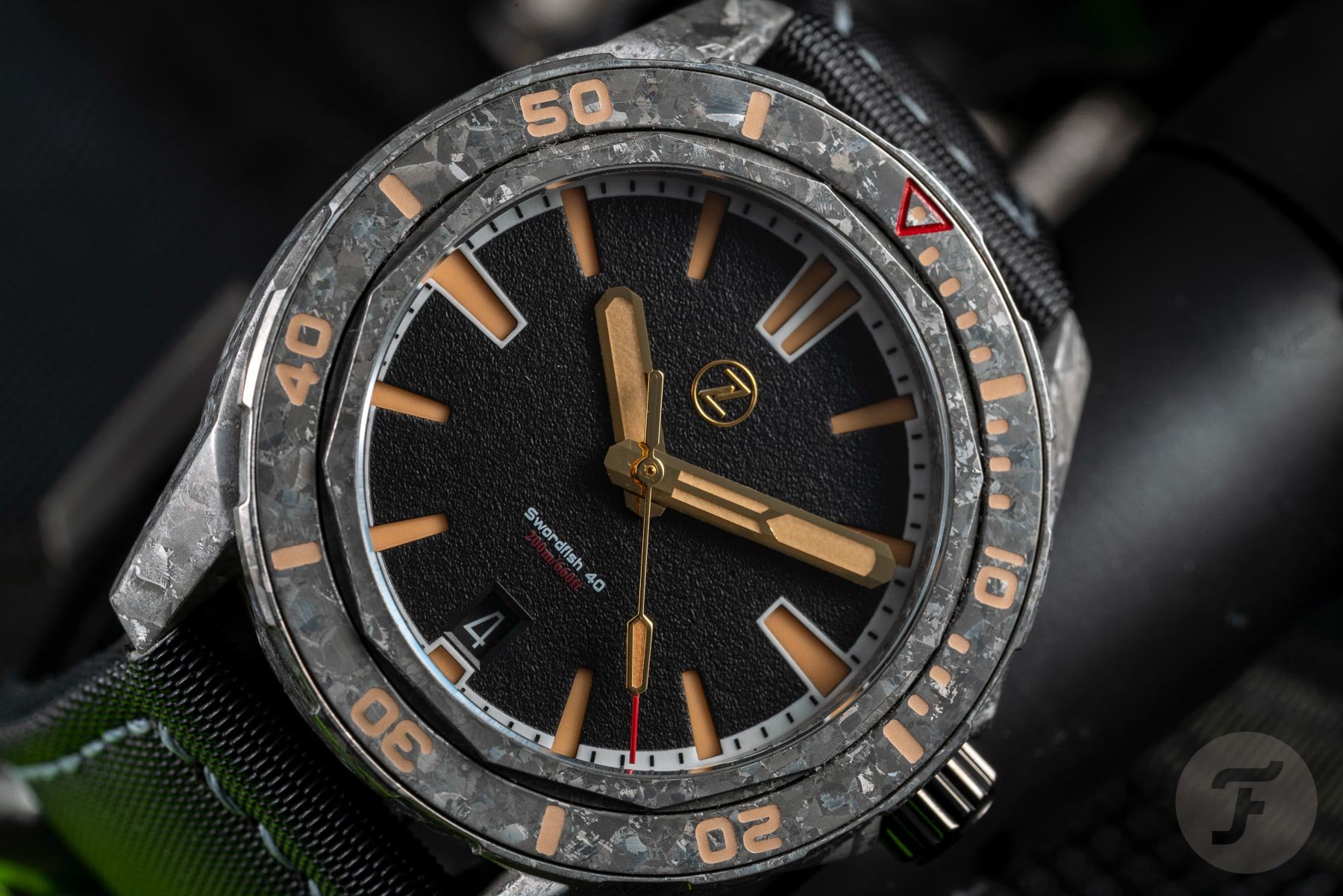 Finding the right strap for the Swordfish 40
Zelos delivered the watch on one of its tropic rubber straps with a titanium buckle. Sadly the buckle was not also made of crystallized titanium — that would have been a very cool detail! The strap was of excellent quality, but the eagle-eyed readers may notice no such rubber strap is present in the images. And you would be correct! As nice as the tropic strap was, I didn't feel it was the right combination for me, so I bought this PVC sailcloth strap with grey stitching. I love the combination now and think that it "completes" the watch for me, nicely complementing the color of the crystallized titanium and the black crown and dial.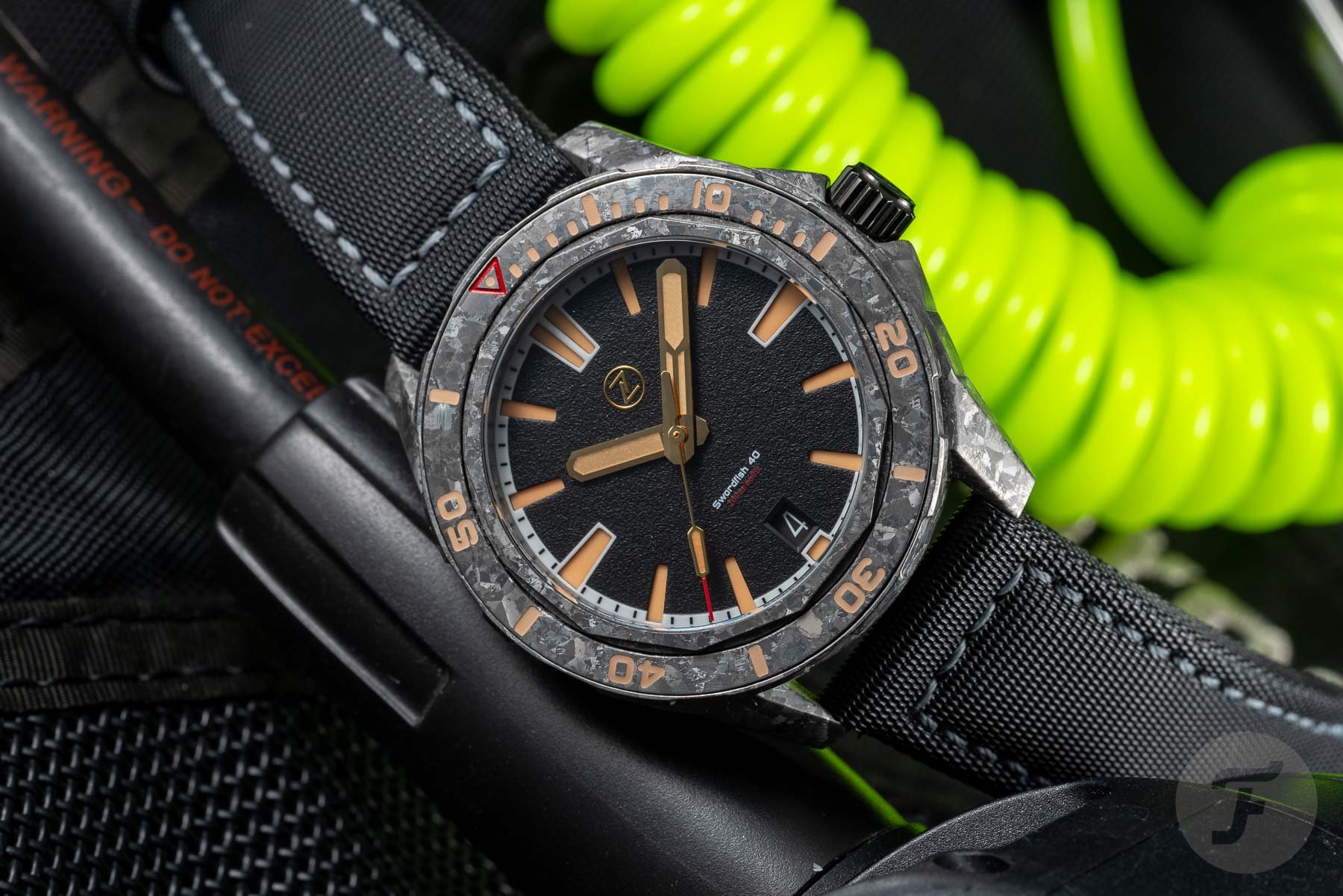 Let's talk about the price…
Inside is a Seiko NH35 with a color-matched date wheel. Give the price of this was $899 when it launched. Some of you may balk at that. Especially when the standard steel models retailed at just $349. Where does that extra cost come from? Well, the price of the material is bound to be quite high. Zelos only made 40 examples of this watch, which means no large bulk-buy of the raw material to save on costs. It's not a readily available material either, and we all know that "niche" often means expensive. I have no idea what it's like to machine the material either. Titanium is not the most straightforward metal to work with, so I can't imagine its crystalized counterpart to be any different.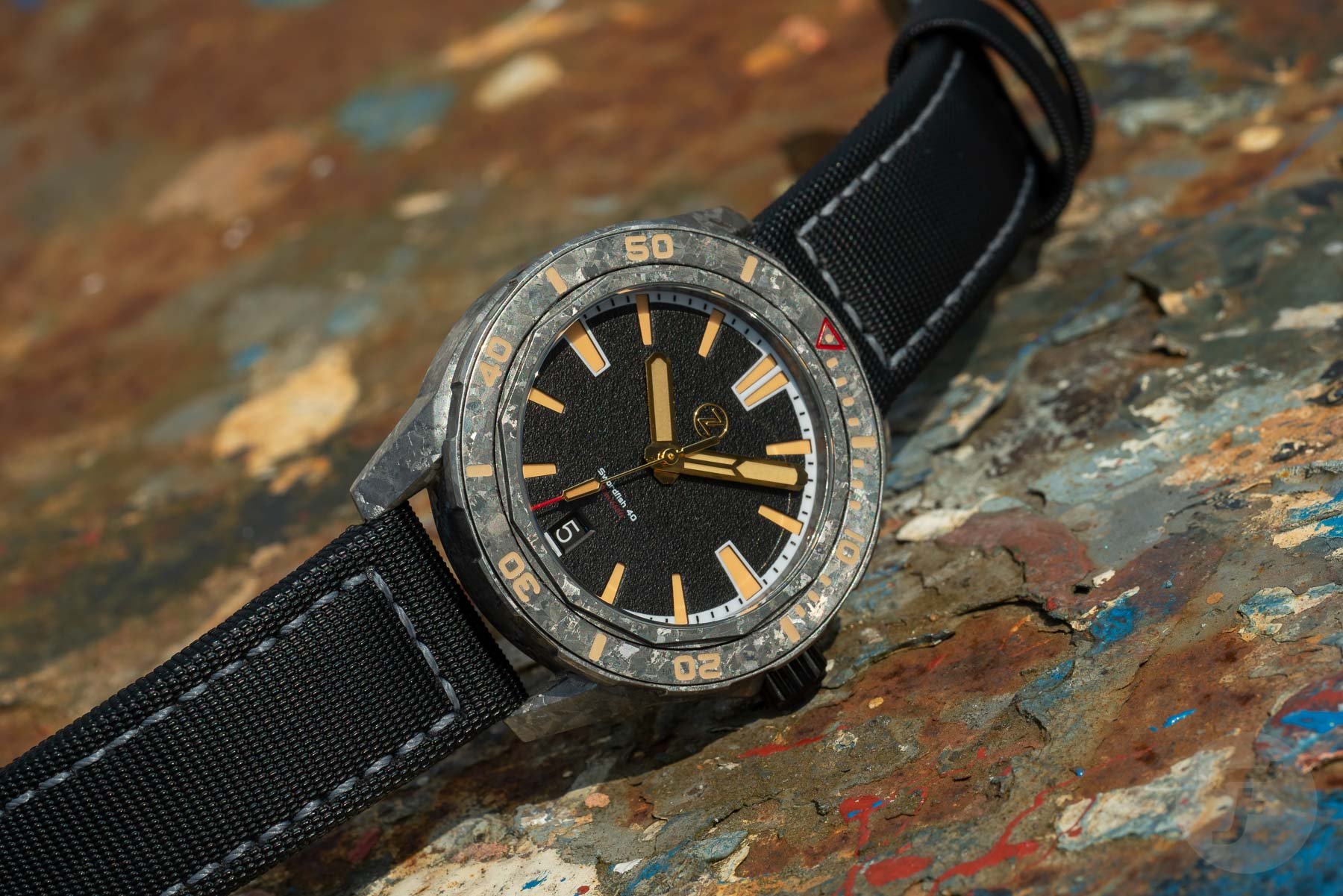 Finally, the finishing is not just your standard polishing job either. From the limited information available online, it seems that the metal needs to be acid-etched before polishing to reveal the crystalline pattern. This is another manual process that adds time and cost. Given the tiny quantity made, I find the pricing is fair. After all, this is the first watch (that I know of!) with a full crystallized titanium case and bezel. Judging by how quickly the 40 pieces sold out, I am hopeful that we may see more Zelos models using this material in the future!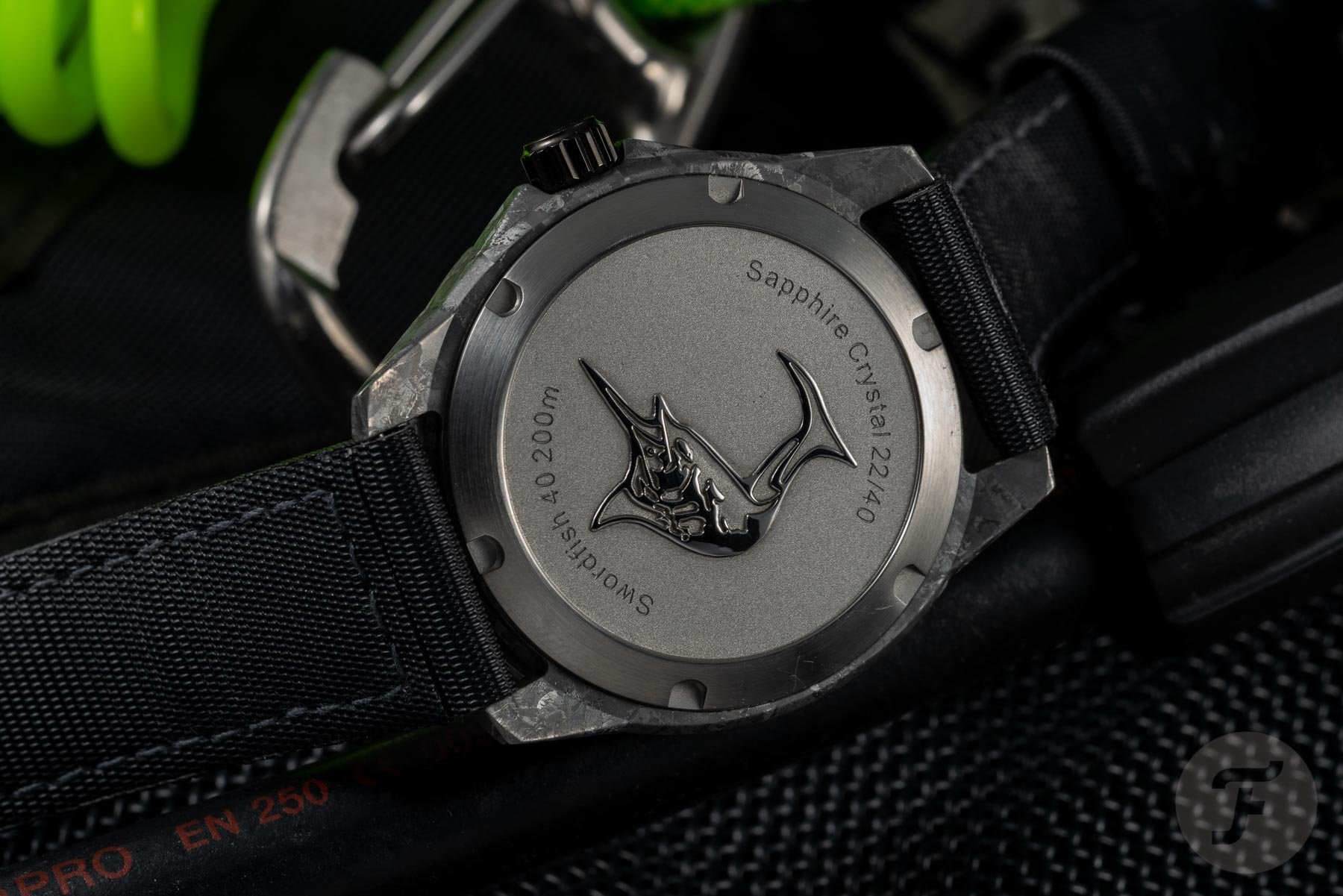 My final thoughts
So there we have it. One of Zelos' classic watch models doing something very different, and in my opinion doing it well. Zelos has to be commended for never just resting on its laurels. Sure it does keep the popular model lines alive and creates iterative updates, but they feel quite natural. Not at all like the way Apple holds back their juicy tech for future models to keep its "loyal" customers buying. Elshan Tang, the brand owner, is always looking to continue innovating, using new materials, and finding ways to push the brand forward. You only have to look at the Zelos Mirage Tourbillon and 8 Days models to see a brand striving for continued excellence. This is definitely a brand to watch (pun very much intended). So don't be surprised if you find yourself with a Zelos of your own in your collection very soon!
The Zelos Swordfish 40 Crystallized Titanium was limited to 40 pieces and is sold out. You can read more about the watch on the Zelos Website.
Follow me on Instagram: @davesergeant