Hands-On: Rolex Sea-Dweller Steel and Gold ref 126603
A Yellow Rolesor Comes to the Sea-Dweller Line
In an odd move, we get a Rolex Sea-Dweller Steel and Gold at Baselworld 2019.
While we're far from closing the books on Baselworld 2019, we are noticing a rather consistent trend in the facial expressions when we ask fellow journalists about the newest releases from Rolex and Tudor: quizzical.  Starting with the Tudor Black Bay P01 that we reviewed yesterday, it's been a strange one.  Keen not to let controversy follow its kid brother, we have the Rolex Sea-Dweller Steel and Gold, which was certainly a curveball.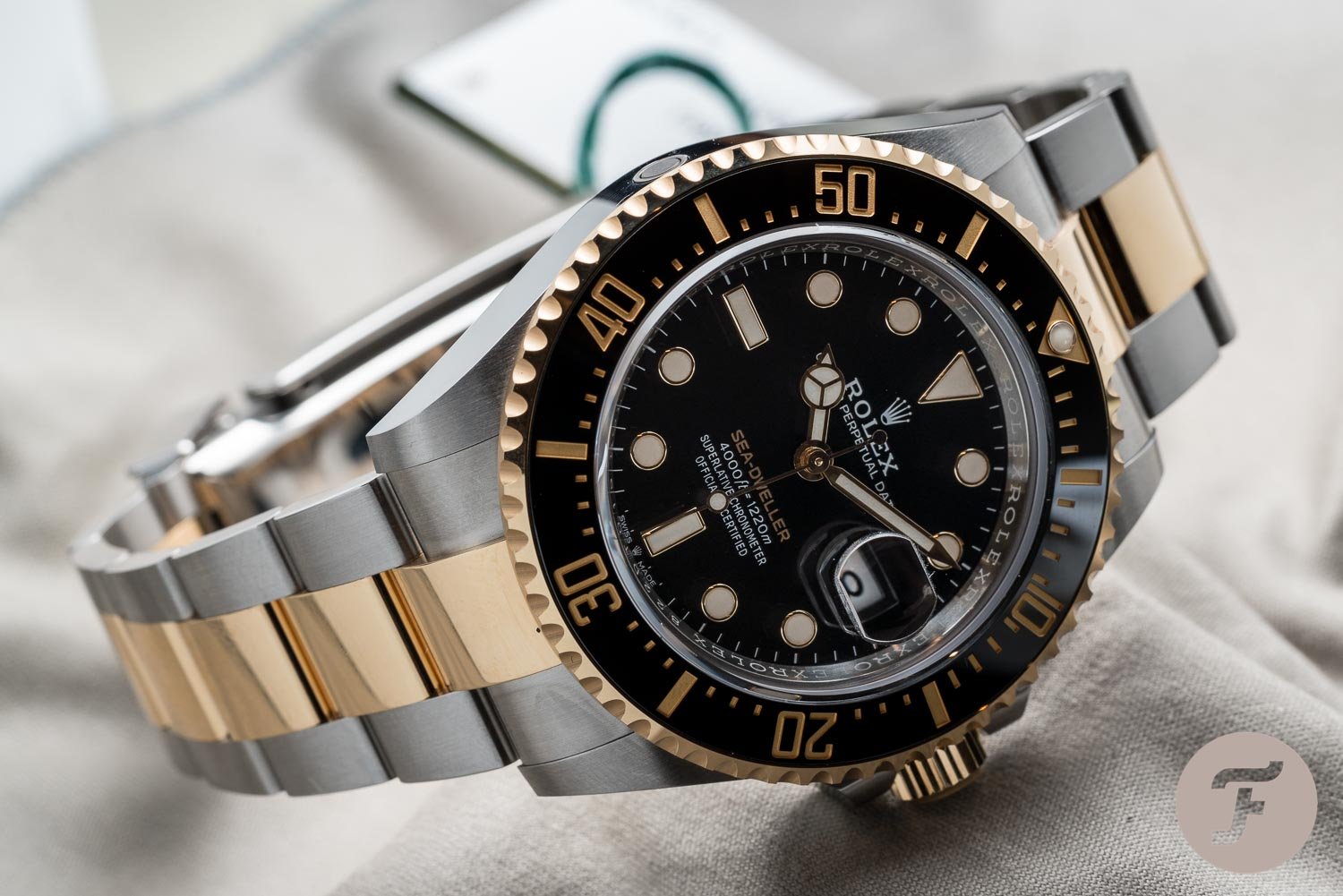 The Rolex Sea-Dweller Steel and Gold ref. 126603
In Baselworld 2017, Rolex debuted a new 43mm Sea-Dweller (ref. 126600) with red writing on its dial to celebrate the 50th anniversary of the original "double red" from back in 1968.  Firstly, the 43mm came across as a surprise, but I suppose it answered the long running complaint from those who feel that a 40mm Submariner is too small.  But then, Rolex decided to give its new Sea-Dweller a Cyclops over the date window, which was an absolute break from tradition on its professional diver.  While it's a good looking watch – it looks like a Rolex dive watch – there are those who simply cannot get past this aberration.  Well, if people didn't like that watch, they'll likely not be impressed with the new Rolex Sea-Dweller Steel and Gold.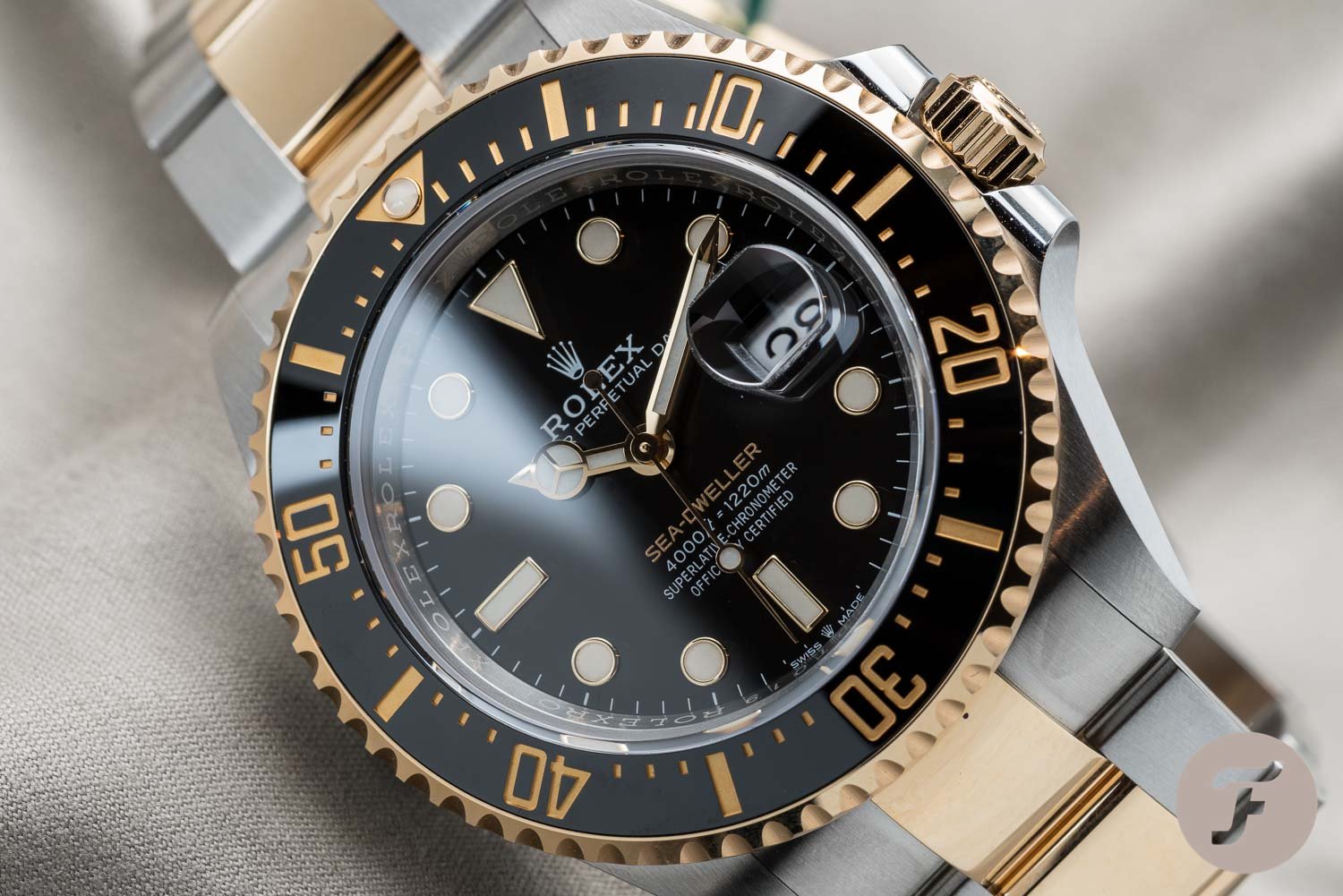 Yellow Rolesor – Yellow Gold and Steel
Also in 43mm, the Rolex Sea-Dweller Steel and Gold (ref. 126603) is referred to as "Yellow Rolesor" by the brand which is Rolex lingo for yellow gold and steel.  It features polished yellow gold center links, a gold Trip-Lock crown, gold bezel with gold numerals on the black ceramic bezel insert.  The hands are also in gold and the "Sea-Dweller" font above 6:00 comes in a creamy color similar to the last year's GMT "Root Beer".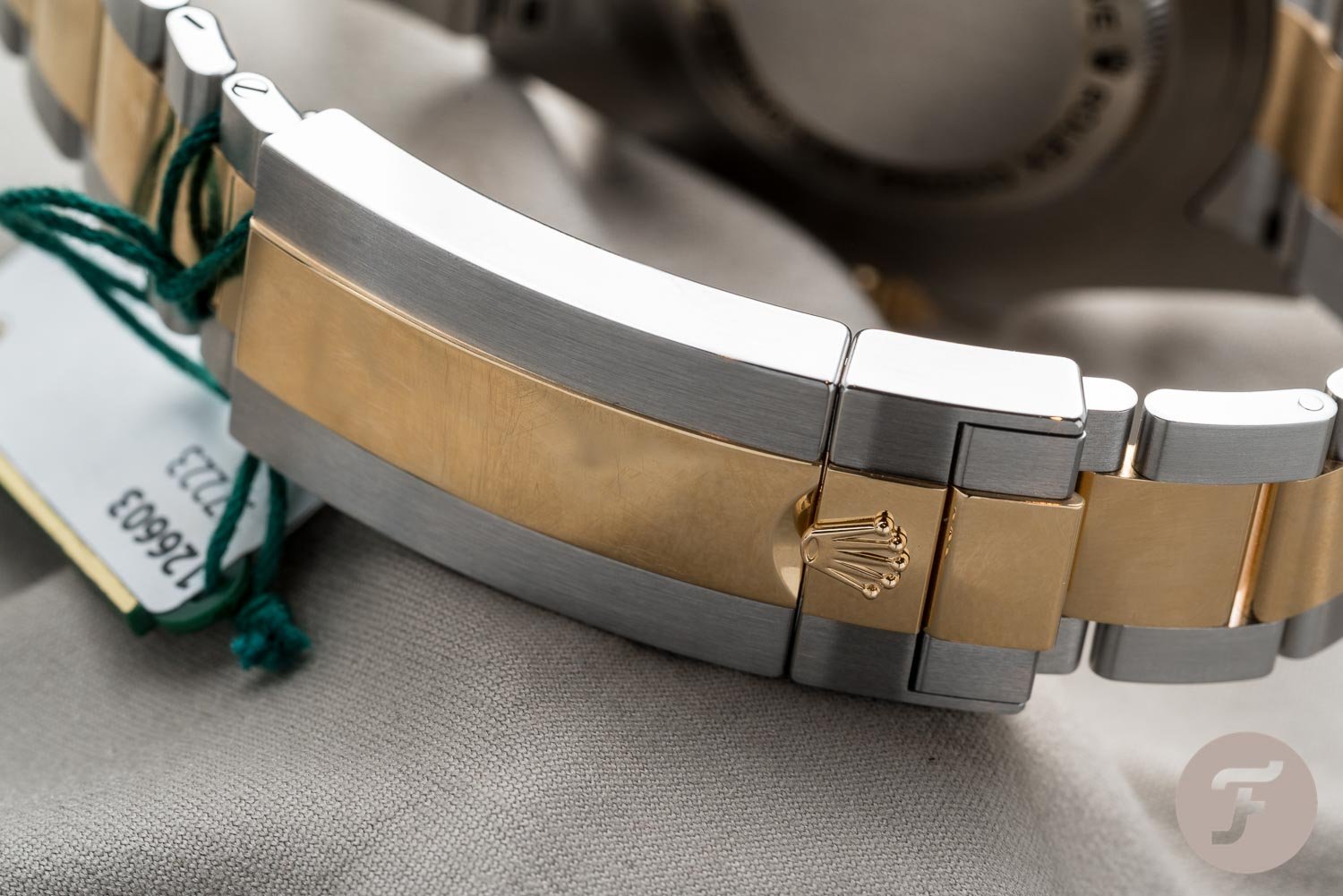 Inside sits the newish cal. 3235 that debuted a couple years back, which contains an anti-magnetic nickel phosphorus hairspring and a power reserve of 70 hours.  Water resistance remains at 1,220M.  Oh, and that helium valve is still there on the left side of the case.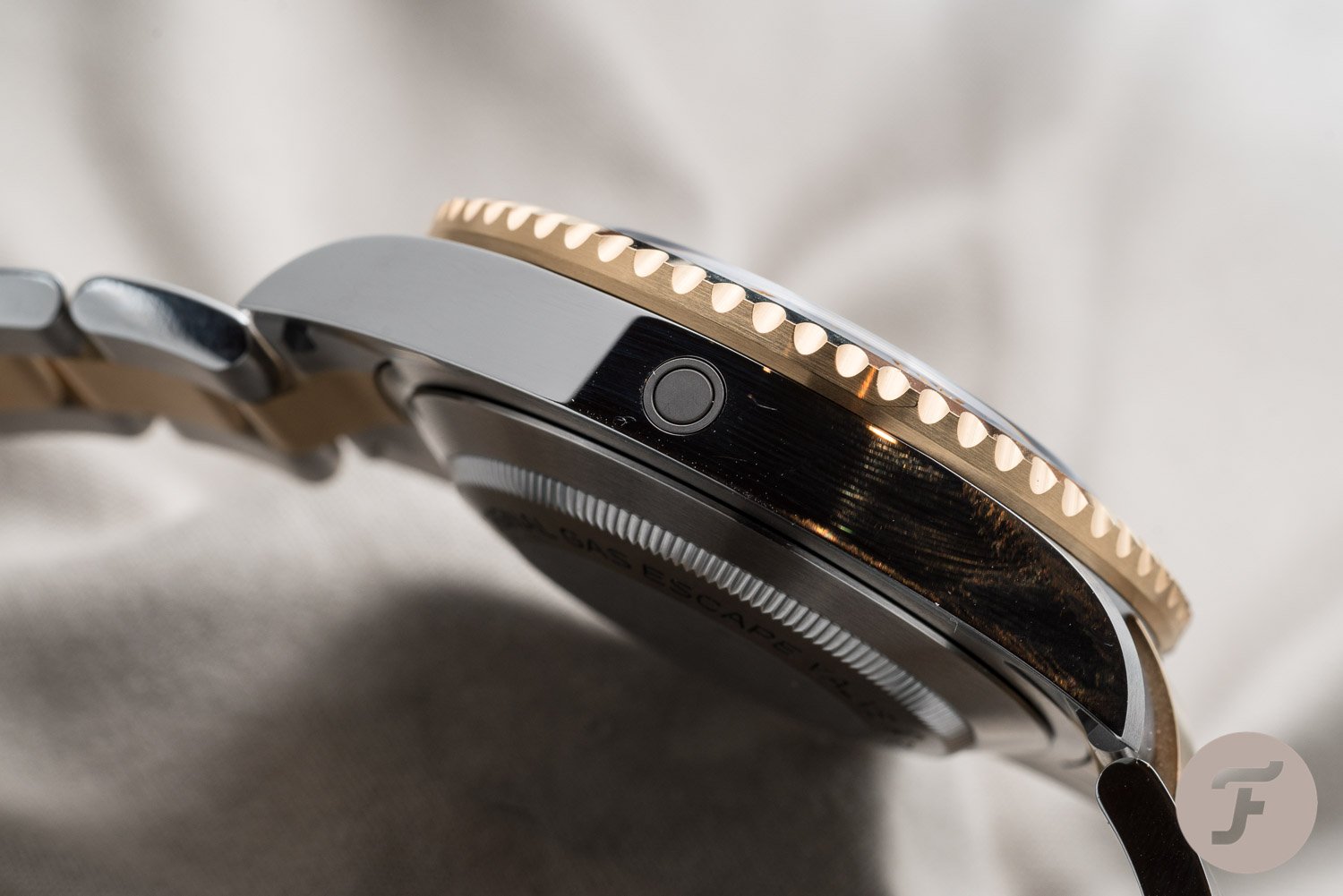 A Luxury Professional Diver
With the details out of the way, let's spend a few words on how we feel about this watch.  Quite frankly, making something like the Rolex Sea-Dweller Steel and Gold is the ultimate admission that no one uses a dive watch for diving any longer.  This is a luxury piece at its core and once again answers the call for a larger Submariner, but in a different finish.  Like the all steel model, there's nothing inherently wrong with the looks of this piece, it's simply one more nail in the coffin of the old Rolex that made a nice blend of highly functional luxury watches along with equally functional tool watches.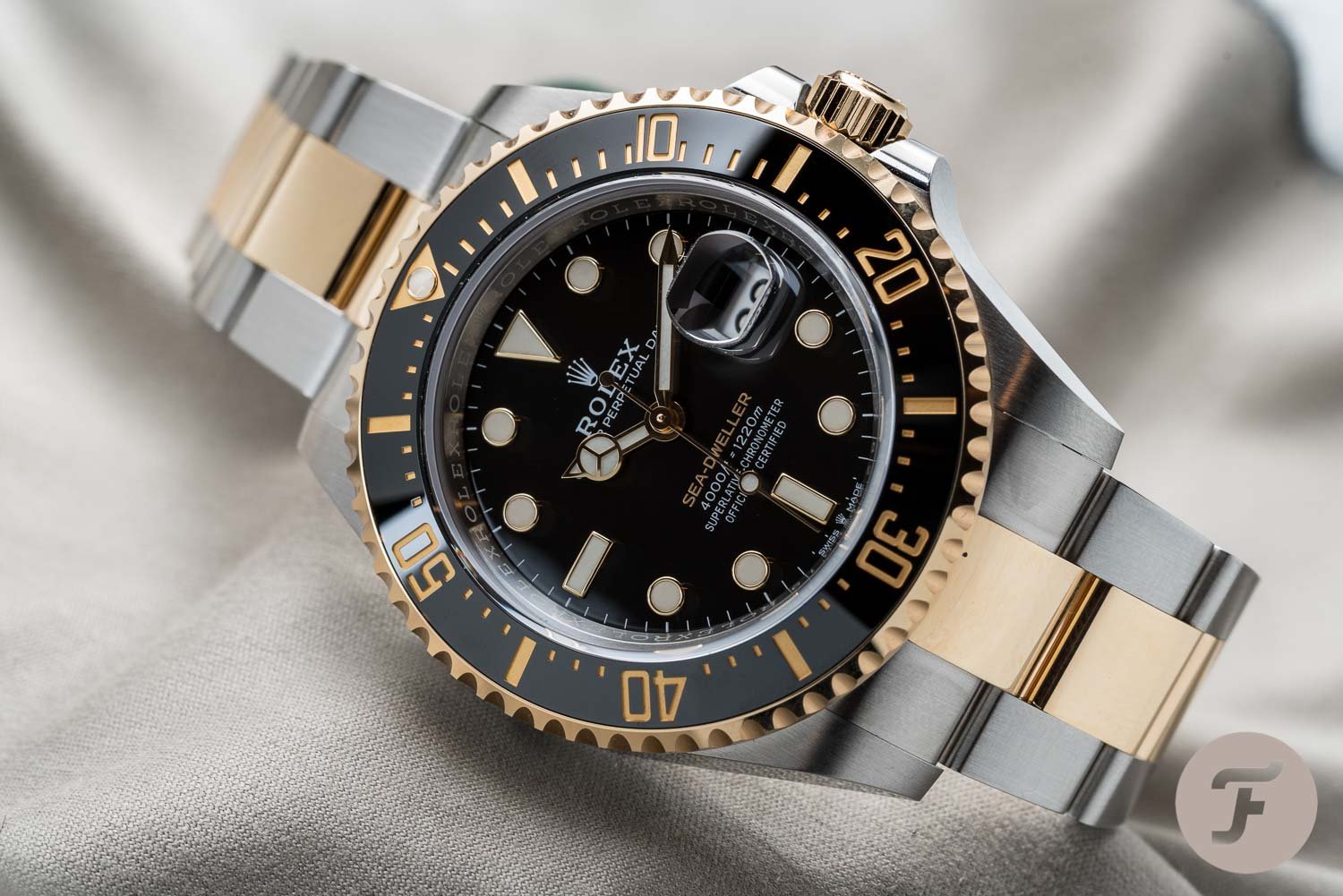 Clear Demand for a 43mm Rolex Diver
It's funny that I am a little perturbed with the Rolex Sea-Dweller Steel and Gold, but it's really because I held the Sea-Dweller in such regard for being a purist's watch.  Granted, any consumer could buy them and the reality is that watches like this stopped being a first line of defense years and years ago, but it was nice that Rolex at least kept things so technically focused until recently.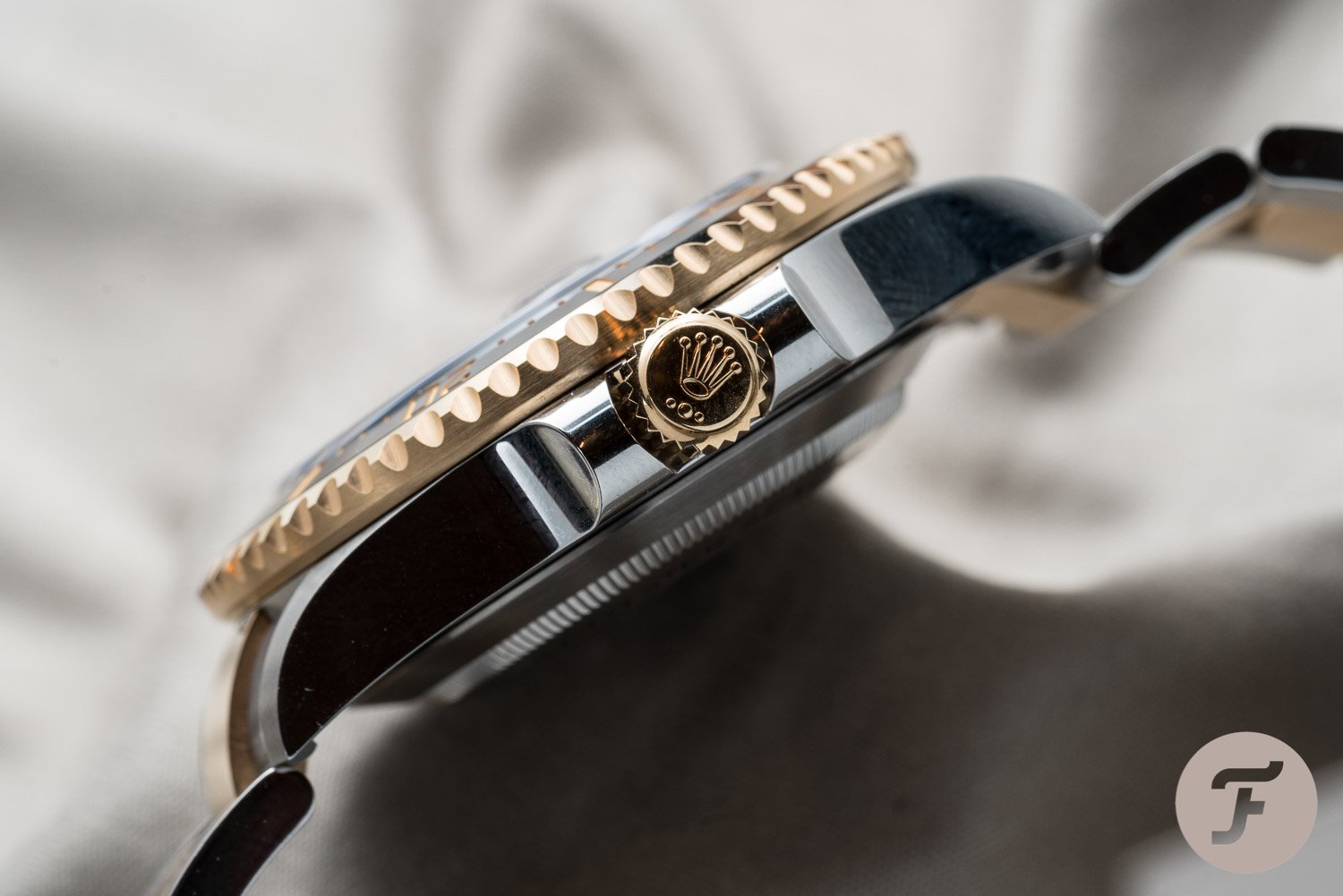 15,300 CHF and Likely a Waiting List
To be clear, we don't abhor this piece.  We simply would have been happier with an updated, slimmer cased Submariner or something of that nature.  The Rolex Sea-Dweller Steel and Gold will retail for 15,300 CHF and if it's like 95% of sports watches from the brand, you'll need to come up with a novel way to kiss your local authorized dealer's ring because there will likely be a long waiting list.
For more information on the Rolex Sea-Dweller Steel and Gold, visit the brand's official site.
Watch specifications