Hands-On: The Fantastic Minase Divido
Spending Time with the Marvel that is the Minase Divido
We spent a serious amount of time with a very serious watch, the Minase Divido.
Despite the noticeable drop in the number of exhibitors at Baselworld 2019, we were busy with appointments.  Additionally, some of us weren't there for the duration of the show and missed the chance to meet with certain brands.  I was one who had to depart a bit earlier and as a result, I missed meeting with Minase at the Hyperion Hotel that stands just outside of the main conference hall.  It was a meeting I regretted missing because, as one who really loves Japanese watches, the brand appealed to me.  Plus, there's no getting away from the unique styling that's present on all of their models.  So, I figured it would be at least a year of waiting in order to see them again, but then we published a brief story showing Japan's Prime Minister Shinzo Abe wearing a purply Minase Divido during the recent G20 meetings in Osaka.  I then knew I needed to get my hands on one and the rest, as they say, is history.  But first, let's get into some actual history.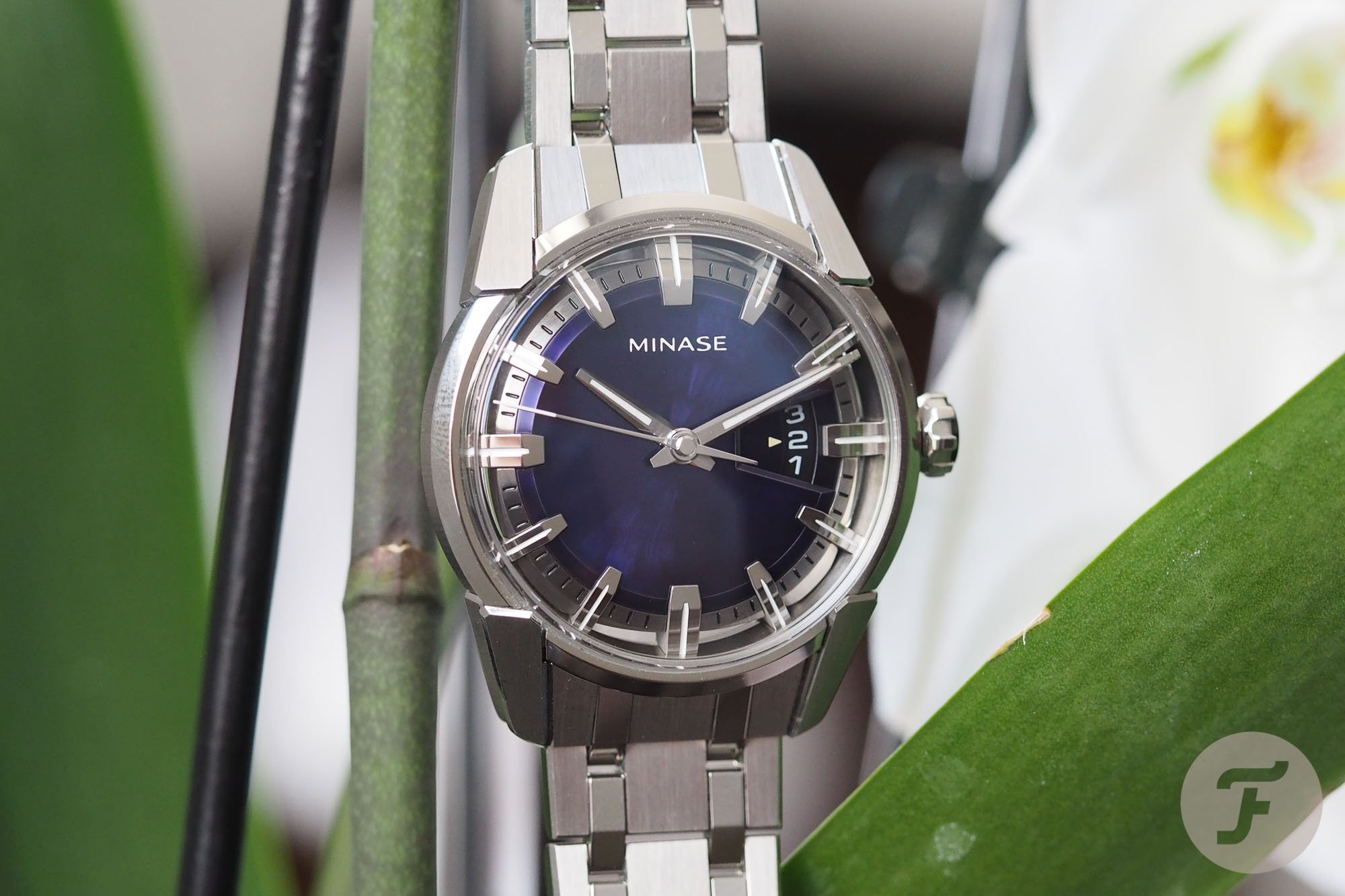 Minase – A Toolmaking History
Minase is part of Kyowa & Co, a Japanese tool maker established in 1963.  That's a part of the backstory that will show its presence throughout this review because a central part of the Minase Divido is its metal work.  The brand is located in the Akita prefecture, which is roughly 500 km north of Tokyo.  With an annual production of roughly 500 watches – including the Minase Divido, Minase claims to be Japan's smallest watch brand.  I was taking a look at the site (by the way, the Seiko name on the home page has no relation to that other big Japanese brand) and it seems that in addition to machine tools and Minase watches, Kyowa also makes private label watches.  I don't exactly know how or why Kyowa chose to start Minase, but it wouldn't surprise me if the owners of the company love watches and decided to put their machining work to the test.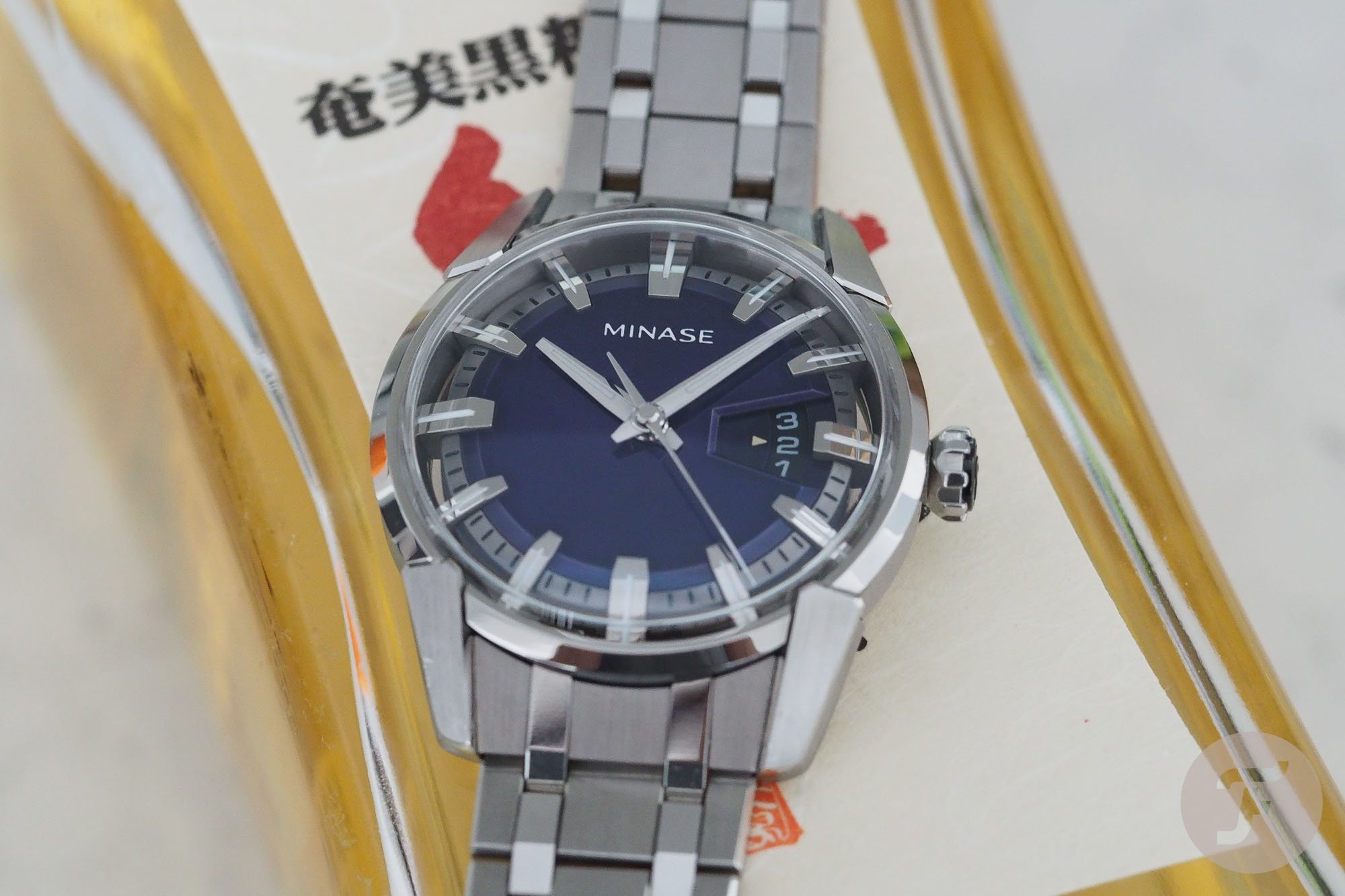 The Minase Divido is Polarizing…
So, for those of you who are still with me, let's address a topic that's likely at the forefront of your mind: the looks.  There's little doubt in my mind that the Minase Divido comes off as ugly or way too "erector set" for some.  And in some ways, I can understand the sentiment because this is a watch with an awful lot going on.  Plus, a date window showing numerals before and after is pretty controversial no matter what watch it's on, so, again, I get it.  But if there were ever a watch that needed to be seen and held in person in order to truly take in all the detail work, it's this one.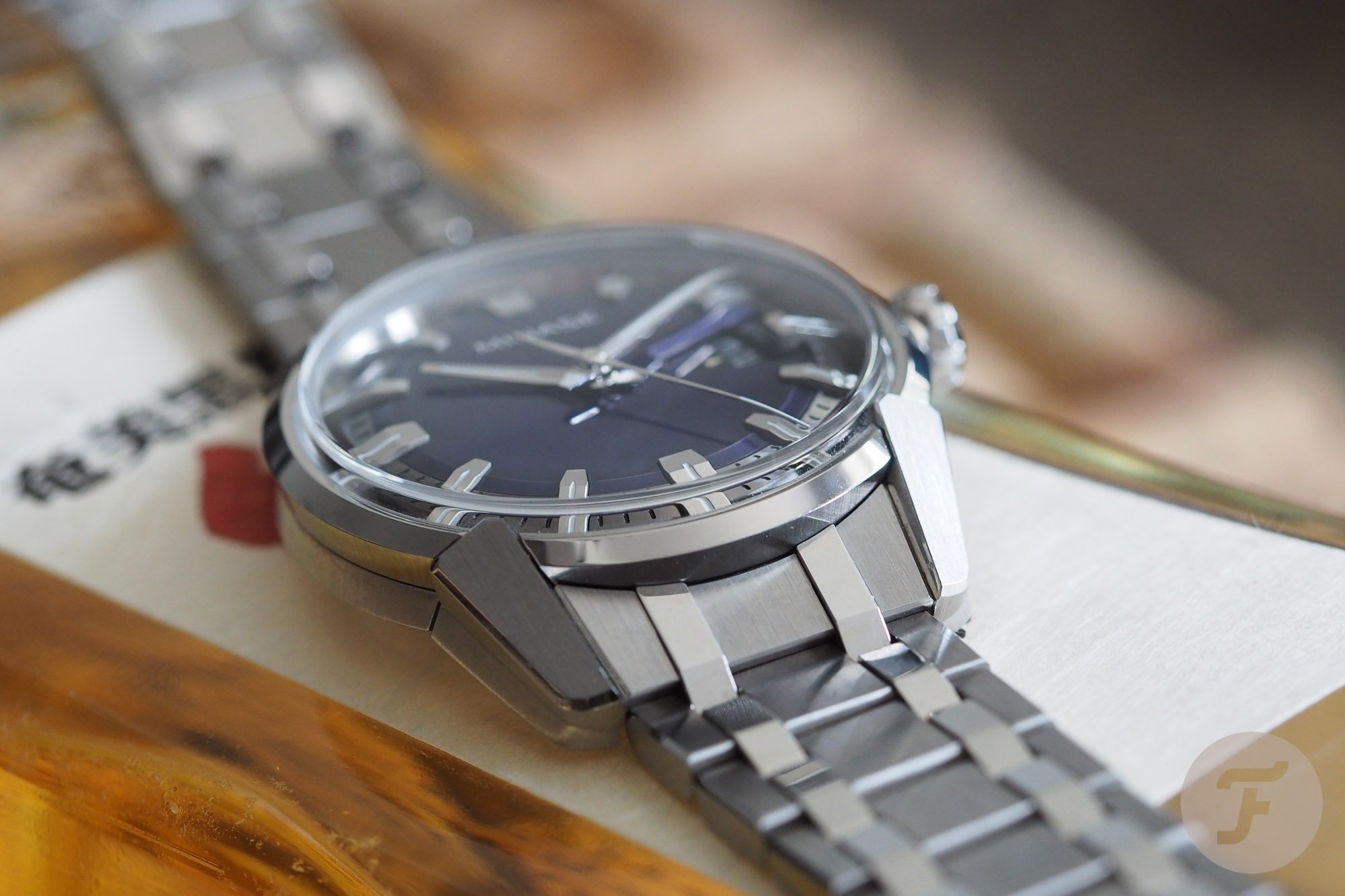 …but the Finishing is Incredible!
As an owner of a Grand Seiko with a very traditional (for that brand, at least) angular case, I'm accustomed to what the Japanese can do in terms of case work.  Sharp angles, alternating polished and matte surfaces – they're all part of what make a high-end Japanese watch unique, or should be in my opinion.  But, I must tell you that anything I had seen before could not have prepared me for what greeted my eyes when I opened the wooden box containing the Minase Divido.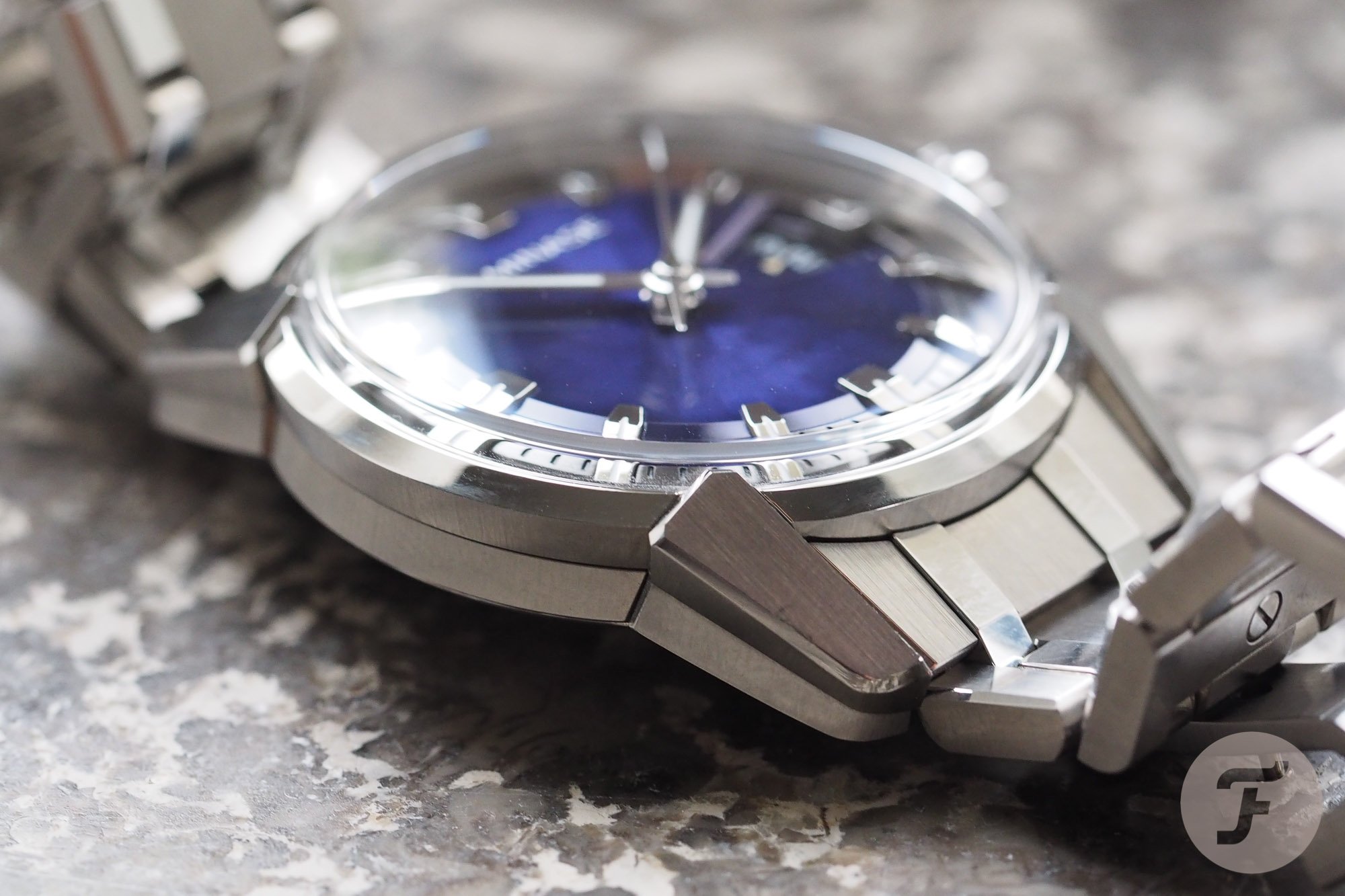 Impressive Surfaces
The Minase Divido is a 40.5mm stainless steel watch that makes about 99% of the watches I've held look like they've barely graduated Kindergarten in terms of surface finishing.  Credit polishing done using a Swiss Sallaz machine.  All of this is done by hand and by one of two craftsmen at Minase.  In between all the polishing, there's a lot of heat treating done.  In fact, the dial indices (attached the main plate of the dial), which actually floats within the case, is created using this method.  Whether in the hand or on the wrist, the case is simply magical.  It's so damn well done that controversial styling choices like the lugs that impede on the bezel fade away.  This is no freaky-deaky cheap micro brand pumping its "new styling" wares on Kickstarter; this is more like art.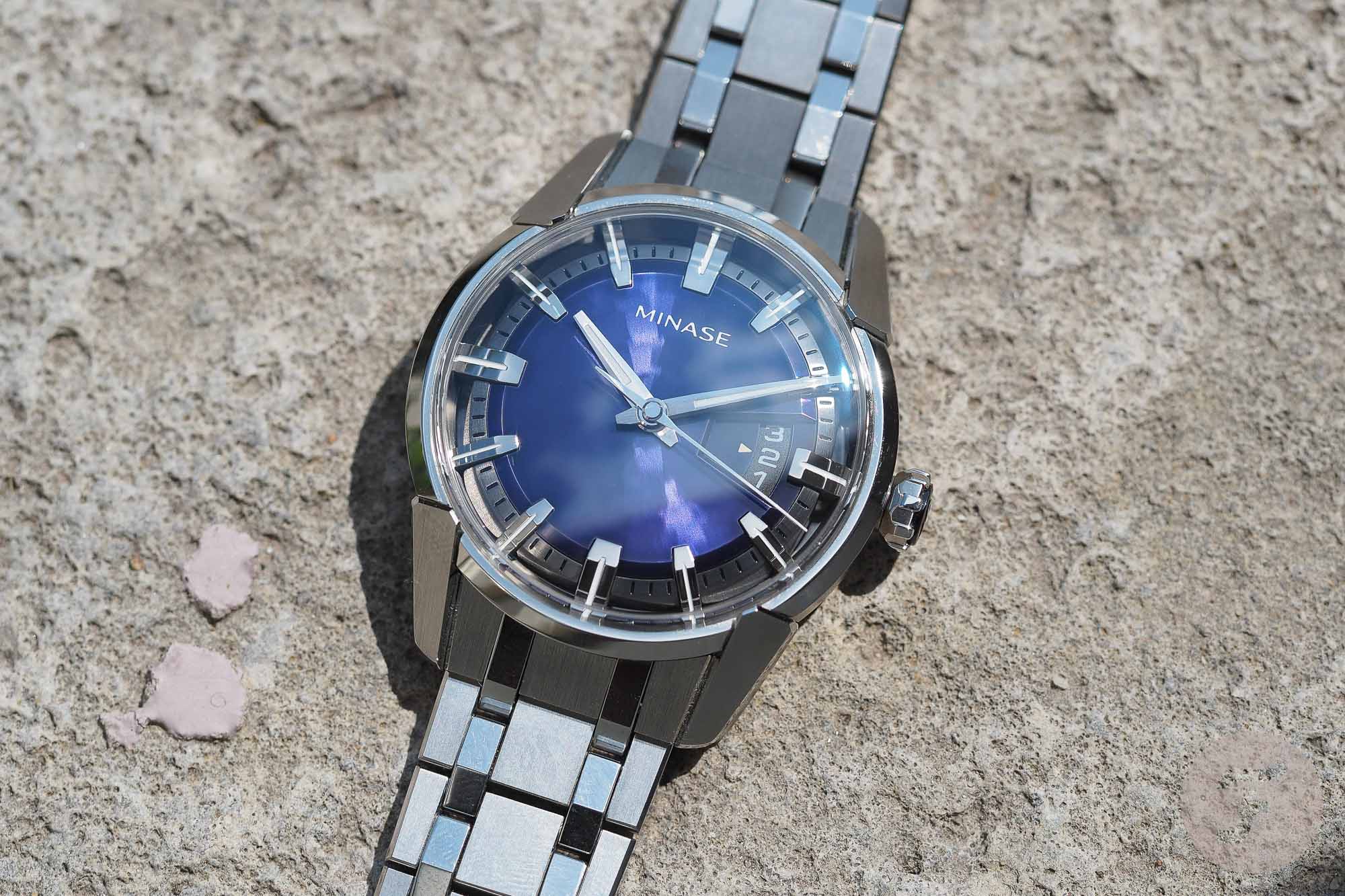 Uniquely Purple
The Minase Divido is offered in something like eight dial colors on a black EPDM rubber strap, but only three dial colors (black, white and purple) on bracelet.  We'll get to the bracelet in a moment, but let's spend some time on the dial and its immediate surroundings.  First of all, the sapphire crystal on the Divido is boxed and while domed crystals are all the rage, something edgy seems more appropriate on this watch.  Moving onto the dial, it's dimpled in a manner that throws light around, but also has a real "technic" feel.  It's mesmerizing and I truly do stare at it a lot while it's on my wrist.  The purply color isn't something I'd normally choose, but I think it fits a watch with this type of bold styling and if I were putting my money down, I'd forego the attractive, but "available everywhere on anything" black or white and go with this.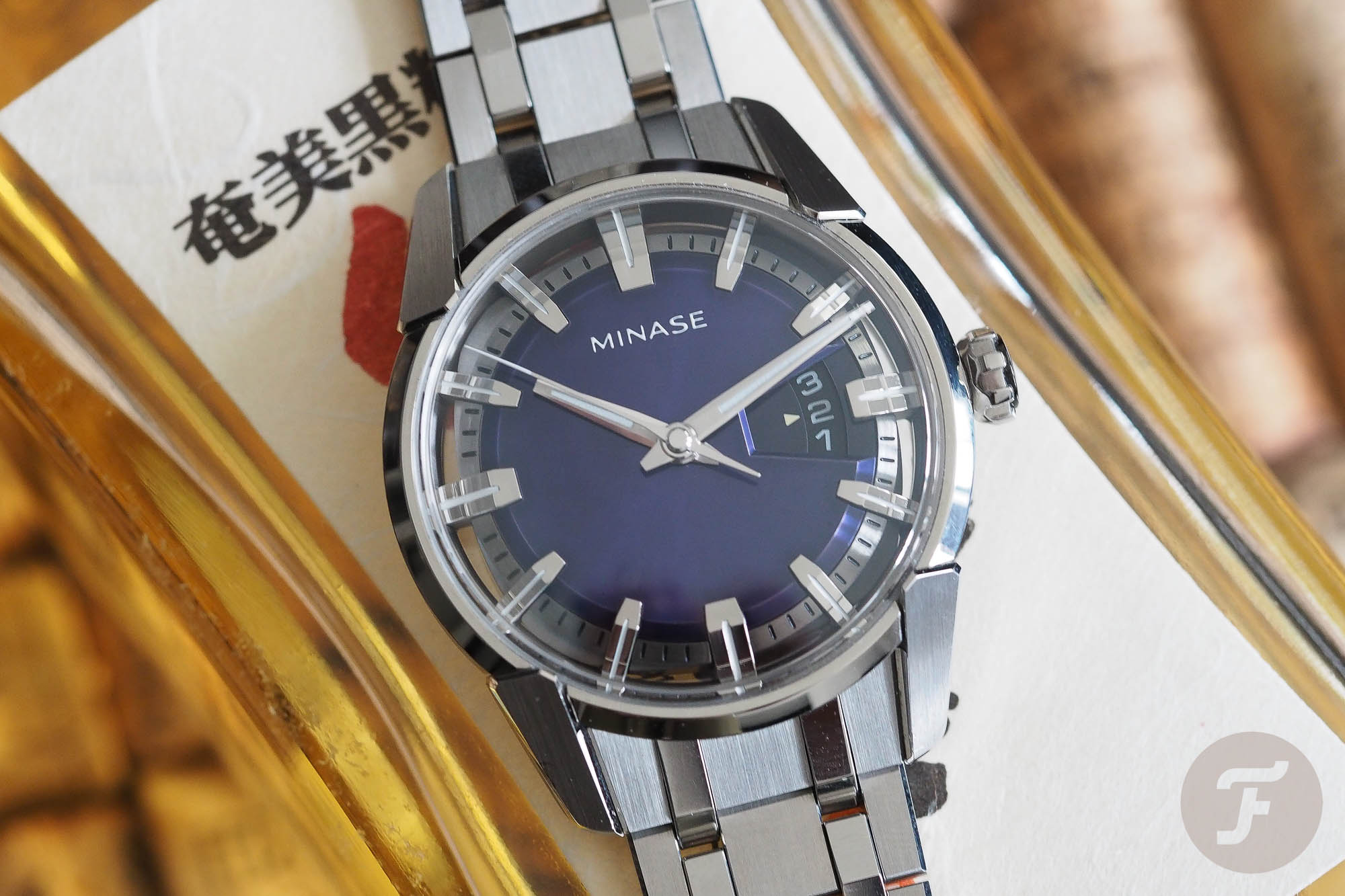 People seem to complain heavily about the date aperture and even bring up the unfortunate period in IWC's history when the Mark XVII carried such a styling trait.  Look, I don't love it here, but it somehow works with the sheer kookiness of the design.  The fact that Minase chose a little yellow arrow to point to the current date is also a bit funky, but I like it.  I know some would love to see no date altogether, but I say bring on the complexity with this piece; it's like another room in the fun house.  I'm also a fan of the hands and the indexes.  They're cleanly designed and blend right in.  In a sharp departure for Japanese watches, though, I didn't find the lume to be very bright.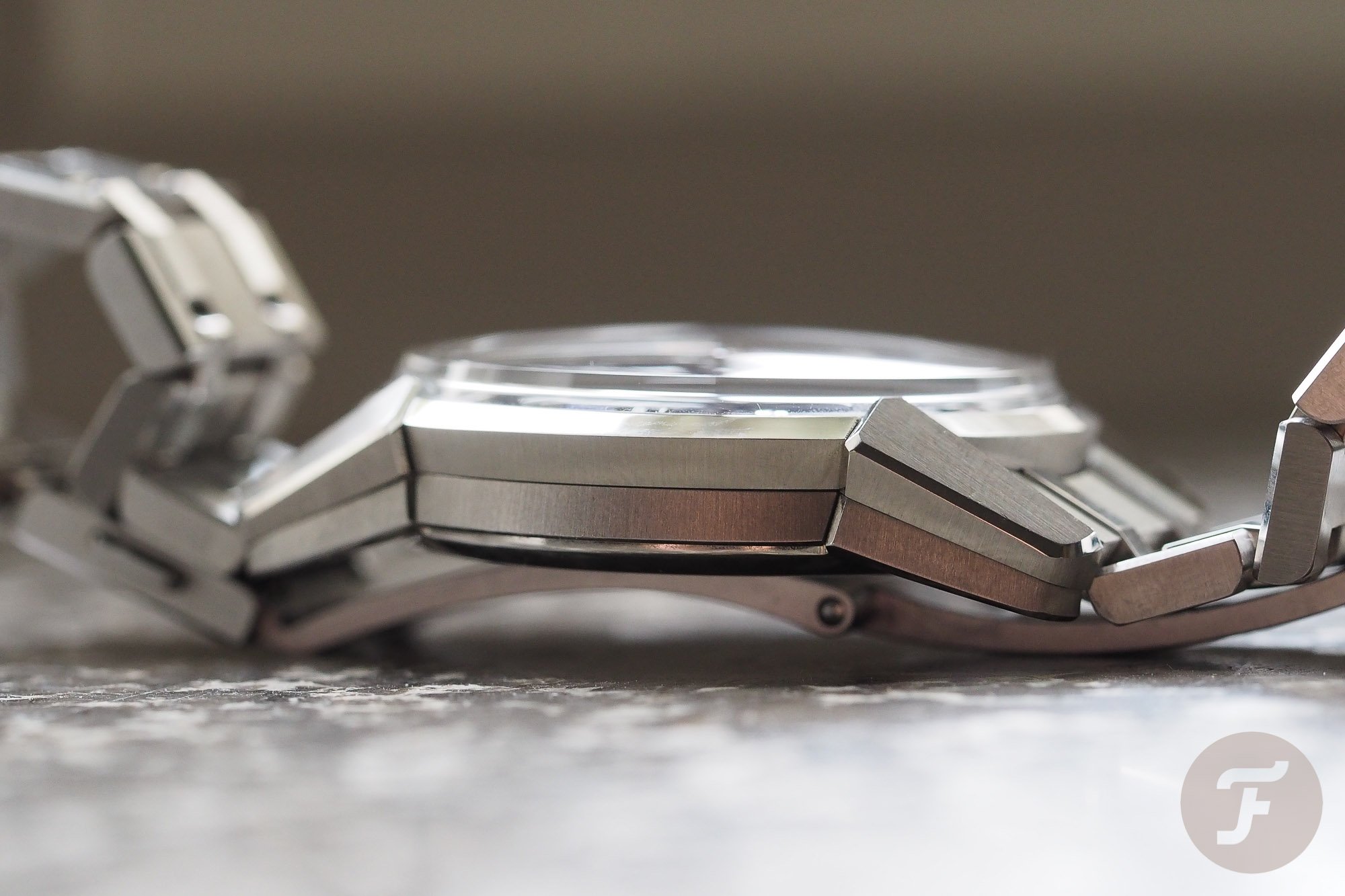 A "Floating" Movement
The case on the Minase Divido continues with its immense attention to detail.  It's actually a two-piece case that's bisected laterally and held together with four screws on the backside.  But the case doesn't come together smoothly; it's two angled pieces that come together to form a unique, inverted side profile.  Again, I really like it.   The case also manages to support what looks to be a floating dial.  There's space between the case and the edge of the dial, which is more easily seen when the watch is off the wrist and held against the light.  The case back is flat sapphire, so the watch is actually transparent.  And if it's not immediately noticeable when on the wrist, it is something to behold when inspecting it from any vantage point.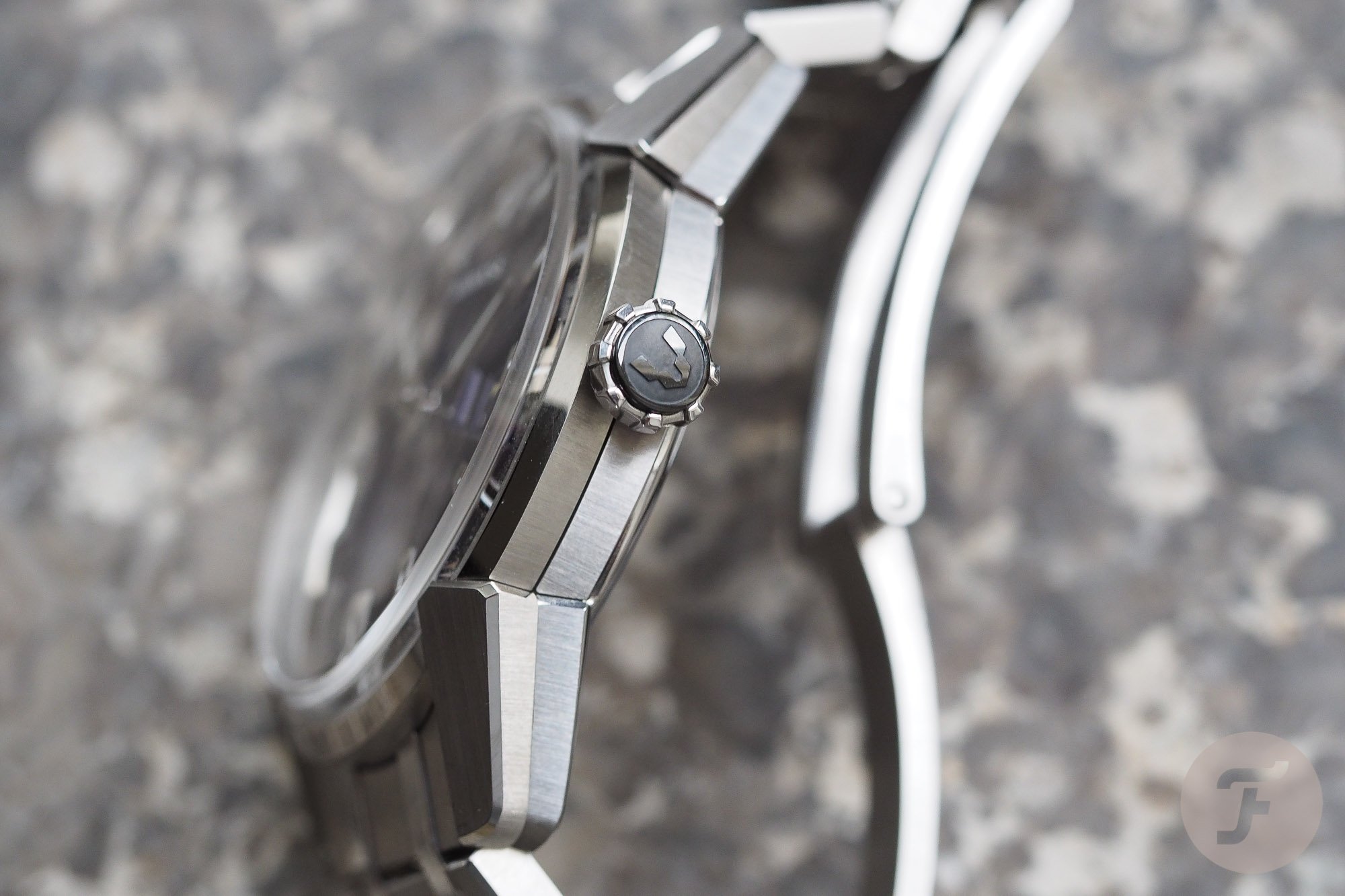 I'd also be foolish to omit a few words on the push/pull crown.  It's also crafted with the same level of detail as the rest of the watch and brings in a separate central piece that is possibly black PVD coated.  The crown is ornate, well sized, and perfectly functional.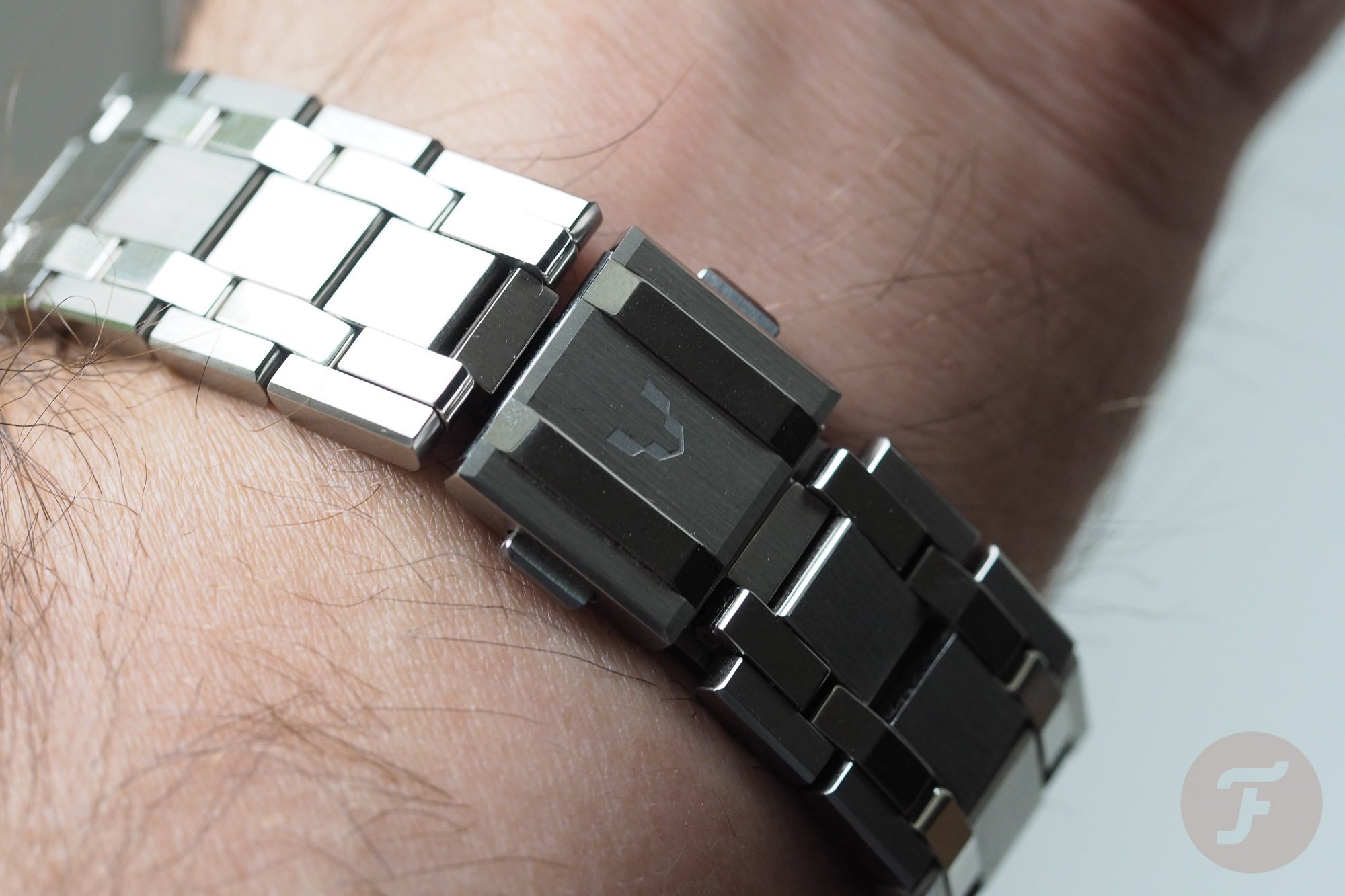 Maybe the Best Bracelet I've Experienced
Despite Shinzo Abe deciding to go with the Minase Divido on rubber, I decided to trial the same watch on bracelet.  Gerard and the rest of the team had told me about Minase's case finishing, but I wondered if, like most brands, they'd lose it on the home stretch and bungle the bracelet design.  Well, folks, pardon my French, but the bracelet you're looking at kicks the living sh*t out of just about every bracelet I've ever handled.  Yes, I am an engineer and a lover of handcrafted metal work, but I think that even the most casual passerby would revel in the glory that is this design.  This bracelet is thin, yet strong, articulates beautifully, and boasts the same type of Sallaz finishing as the rest of the watch.  In other words, this bracelet wasn't farmed out to Shenzhen for construction.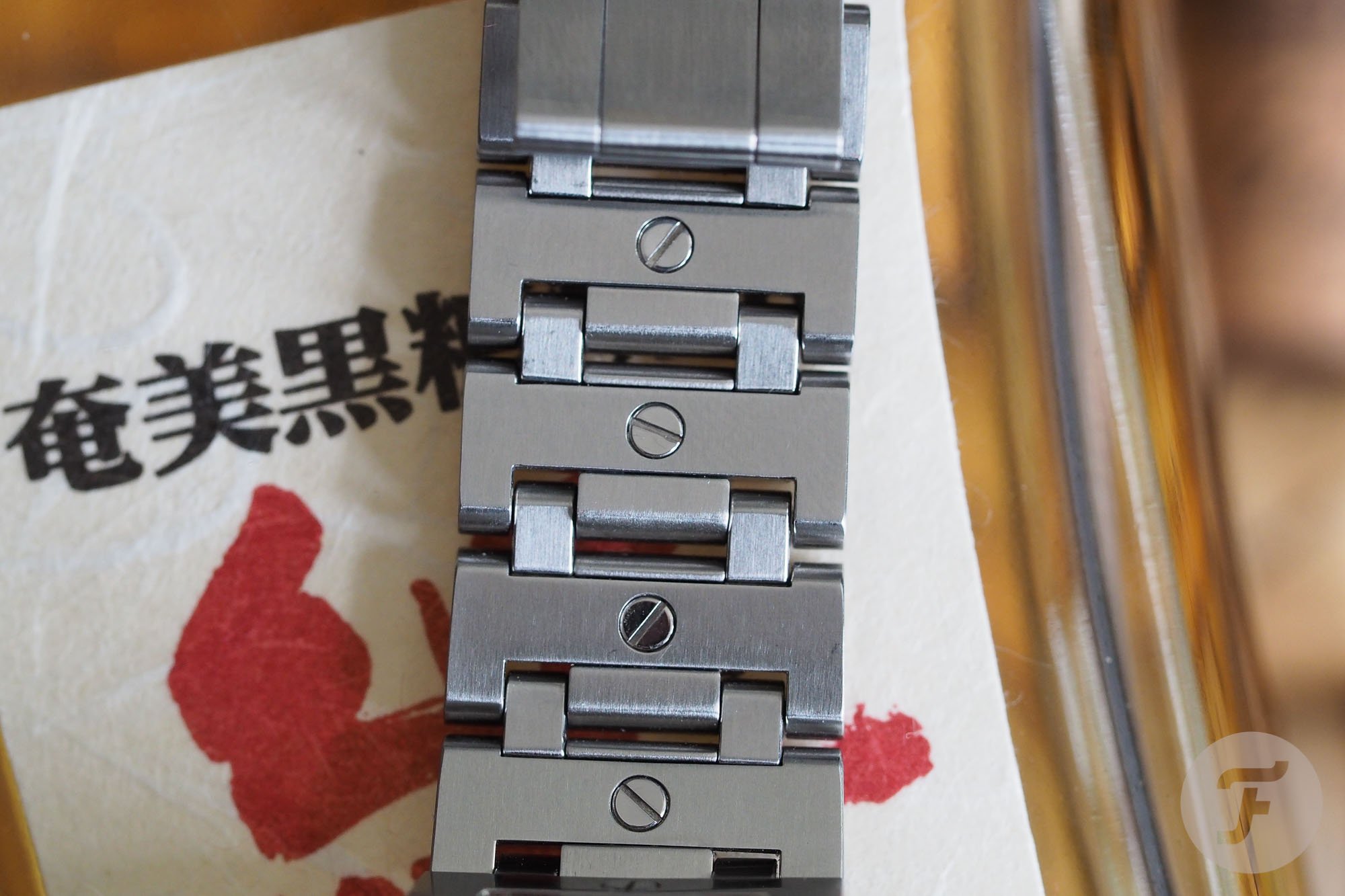 Adjusting it is was a totally satisfying adventure.  Basically, each link is held by a single screw on its backside.  That screw unlocks a sandwich of the main, matte finished link that mounts from behind and the polished core that hooks to the link in front of it.  Interestingly, that "hook" is different for the very last link that attaches to the clasp in order to give that portion more articulation.  I found that out the hard way.   The clasp is a simple two-button locking system that's signed with the Minase logo.  It feels secure and super slim and comfortable.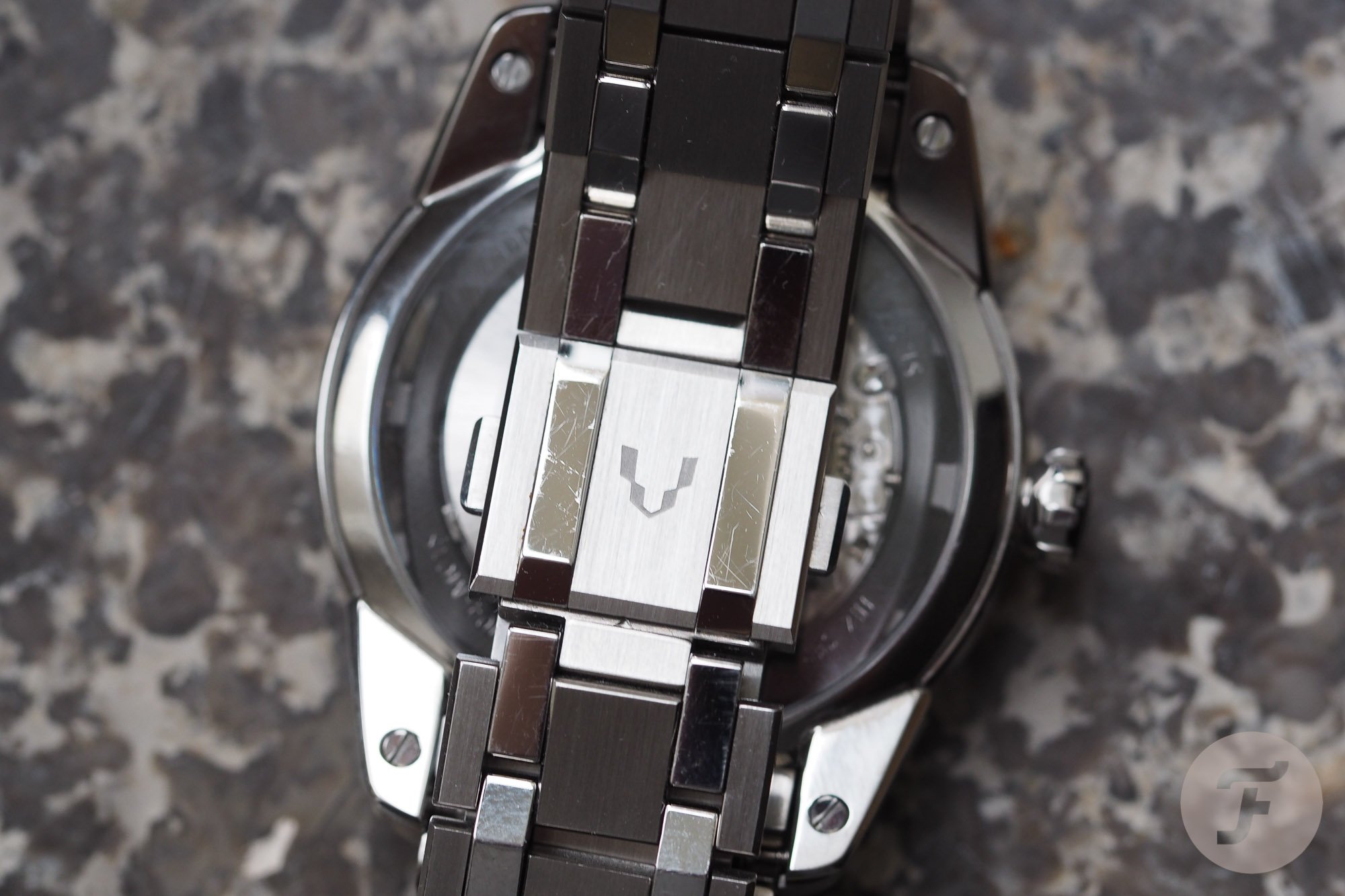 The deployant is also not so long that it overhangs my wrist.  All in all, a flat angular design like this (think AP Royal Oak) usually pulls hair, but I experienced absolutely none of that.  It is quite simply amongst the best engineered bracelets I've encountered.  It could easily live on a 20K Euro watch and, therefore, on any watch.  Complaints?  Very few, but perhaps the lack of micro-adjust and the ease of picking up scratches qualify.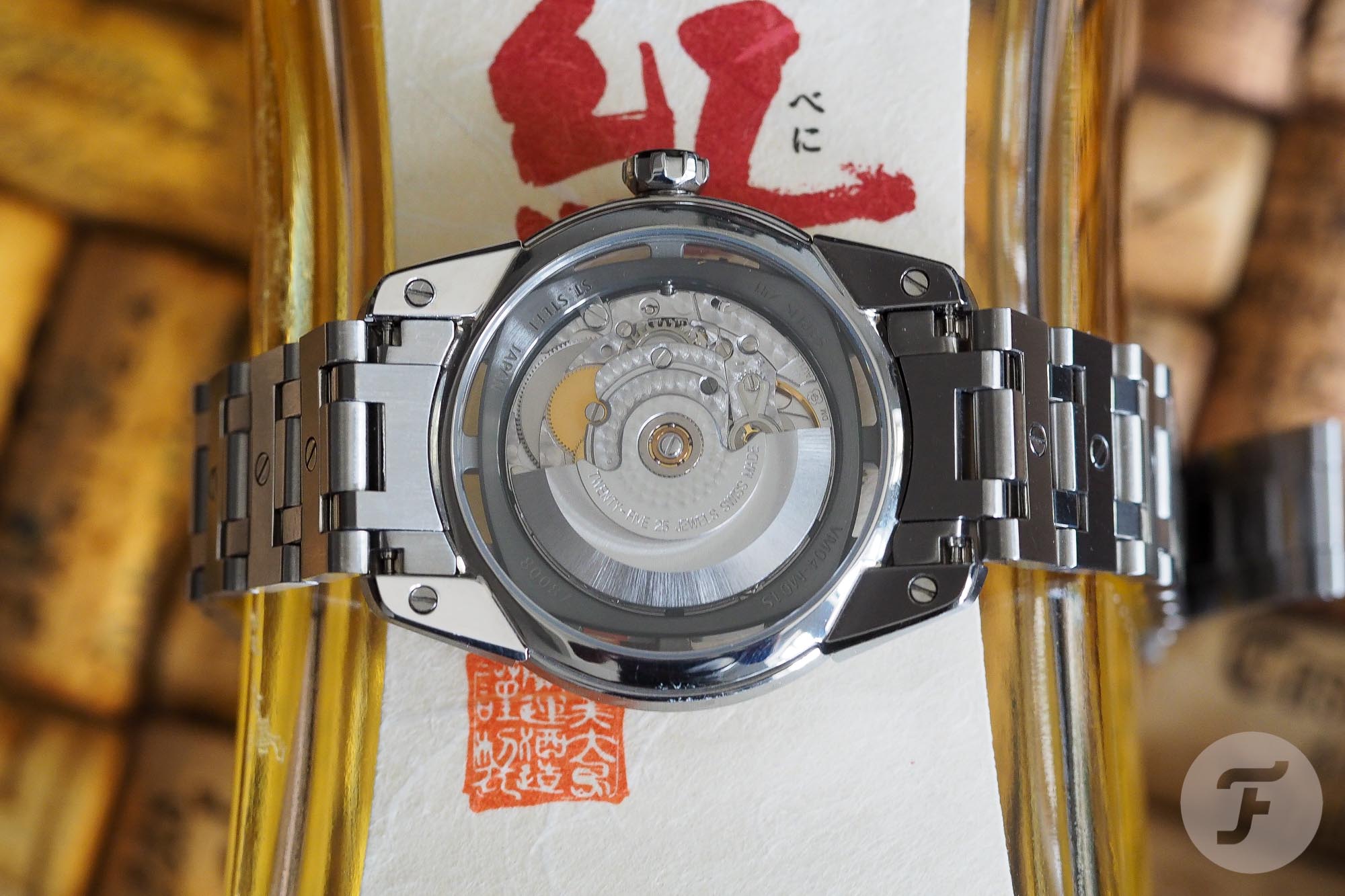 A Robust Swiss Movement
If there's one minor letdown on the Minase Divido, it's the movement.  Minase uses an ETA 2824 automatic and adds some engine turning on the plates and a very slightly finished rotor.  On the one hand, it's a perfectly fine movement that has a reputation for robustness and serviceability, but it simply isn't as "special" as the rest of the watch.  It's also not Japanese, but I suppose finding the local equivalent to this movement within either Miyota or Seiko's catalog might not be doable.  There's little to say about this ever-present ETA aside from the fact that it worked exactly as it should during my experience with the Divido.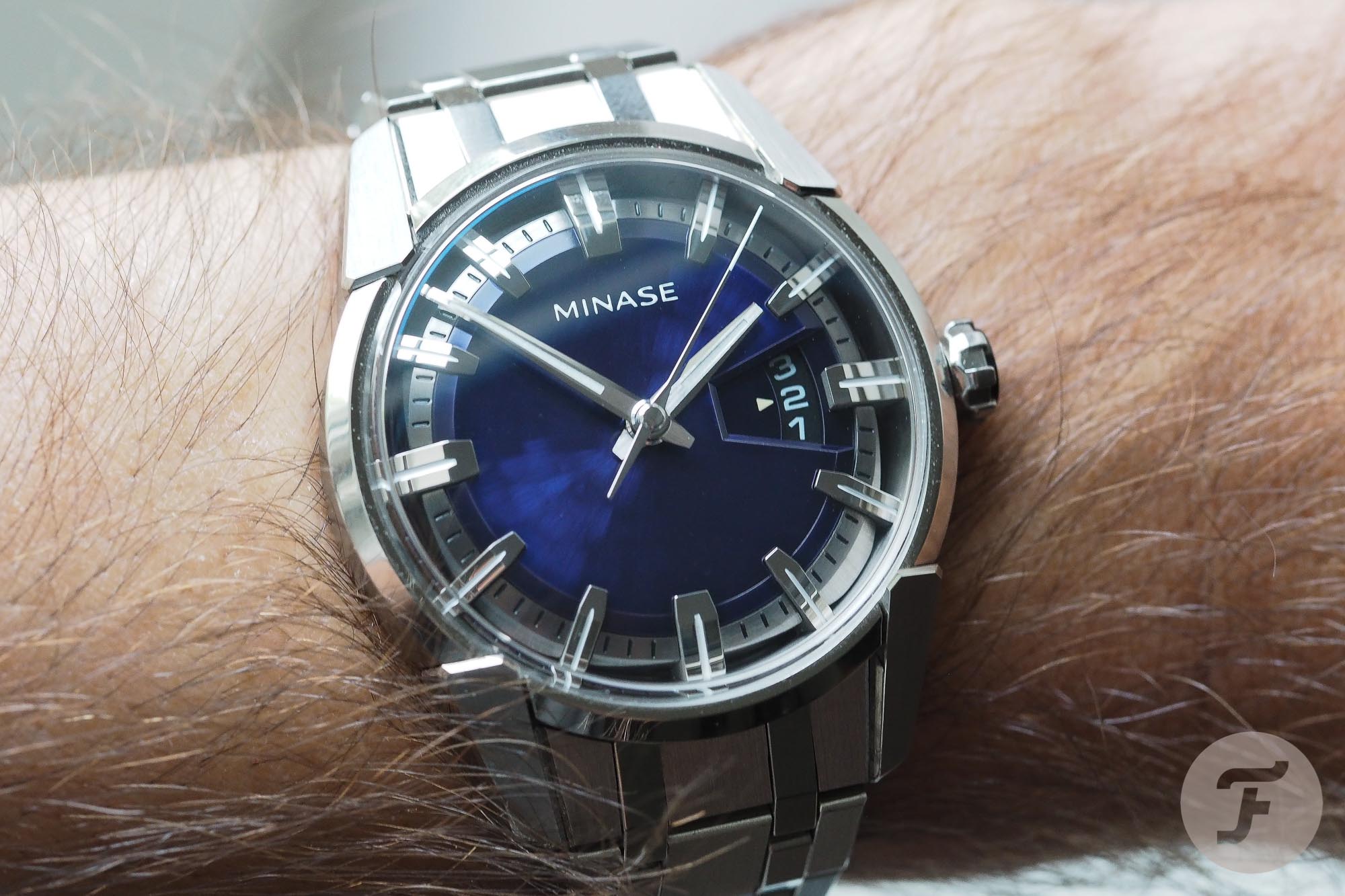 A Non-Stop Attraction
I do wear the watches I review, but if I'm being open and honest, I wear some only once.  I wore the Minase Divido constantly.  With its 48.5mm lug to lug, it doesn't look small on me, but it fits.  And with a thickness of only 12mm, it worked well with long sleeve dress shirts.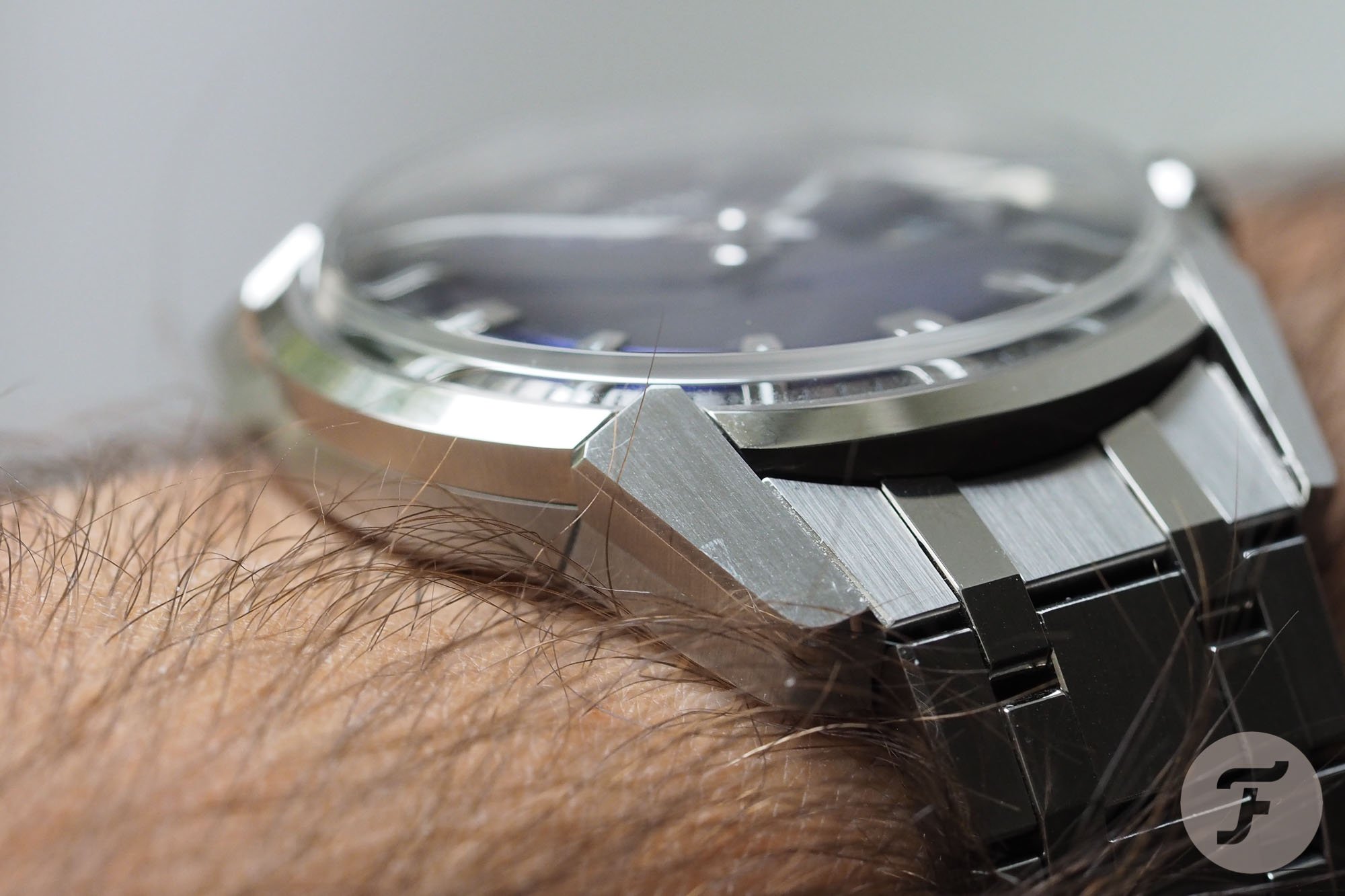 I wore it to work and I wore it casually to the bar and dinner on the weekend.  It definitely got looks, but the bulk of them were from me.  I could not stop checking this watch out and how it played with the light and gave off an air of real workmanship and quality.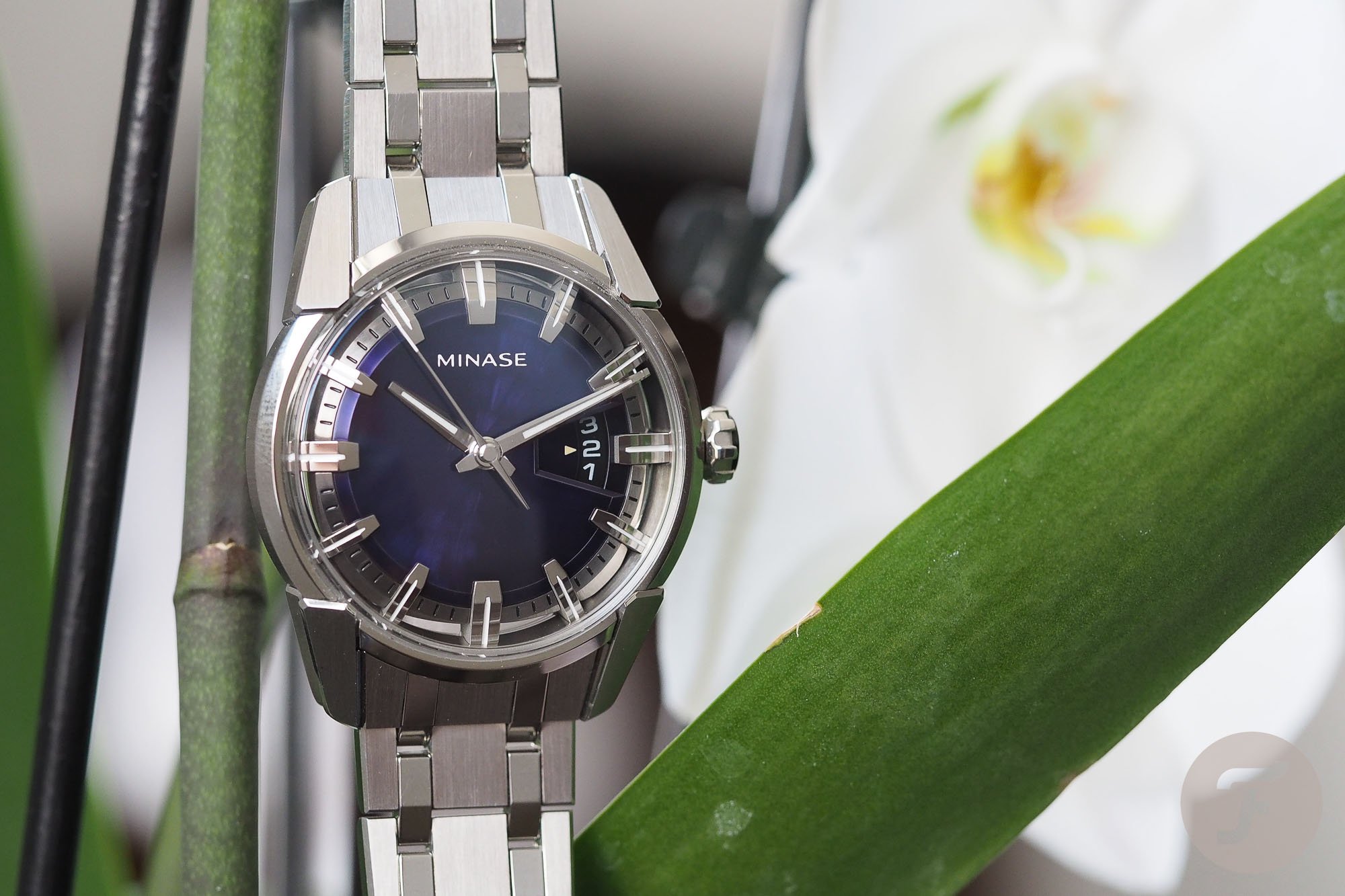 Pricing and Final Thoughts
When it comes to pricing, the Minase Divido isn't inexpensive.  On rubber, the Divido costs 3,380 Euros (3,580 for the PVD-coated model).  With bracelet, budget 4,680 Euros.  Now, there are plenty who will come right back to the pedestrian movement employed and I'd say that they have a point, but it's a debatable point.  This watch is all about serious handcrafting and design and the positive is that it's beautifully built and not the type of faddish style that's ready for the bin in 6-12 months.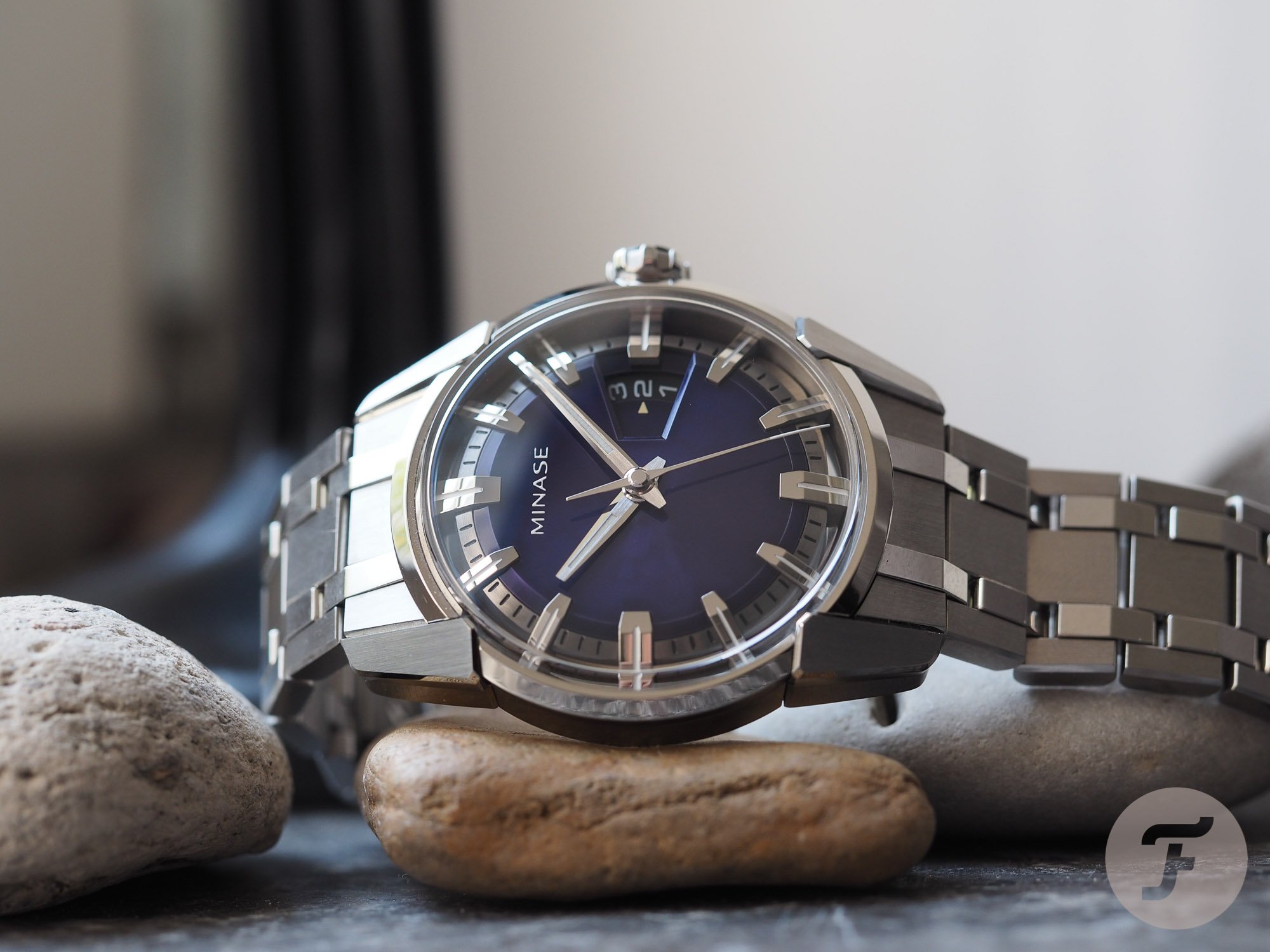 I'd have to reach back to the 60's and early 70's in the automotive sector to find something that remotely compares to this (although I am sure there are plenty of more obvious comparisons to be made) and I think of cars like the Iso Grifo.  This was an Italian beauty that used a relatively normal Chevrolet Corvette engine.  This meant that it was perfectly serviceable mechanically, but the looks were really the draw.  If that's the point of the Divido, I am perfectly fine with that.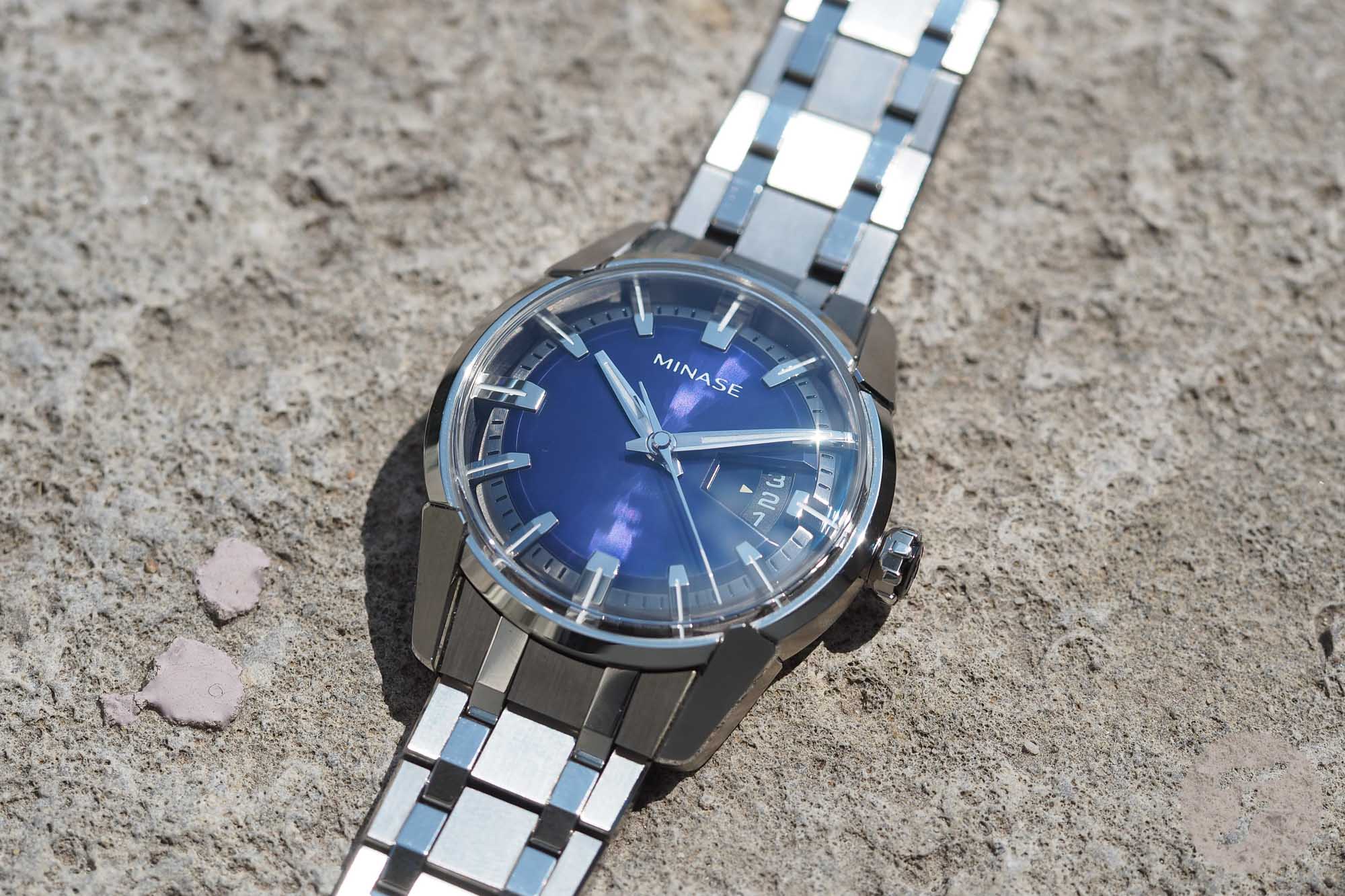 As for who might be interested in the Minase Divido, or a Minase in general, I am not completely sure, but I'd guess finding 500 or so prospective customers isn't too much of a chore.  People who are looking for something different, something Japanese, or perhaps even as an alternative to the highly vaunted (but very common) Datejust could consider a watch like this.  What I do know is that more people should figure out a way to get their hands on this watch.  It's one of the best I've had the pleasure of spending time with in a long time and it's easily in the top couple of watches I've reviewed in 2019.
For more on the Minase Divido, visit the official Minase site.
Watch specifications
Dial
Dimple patterned, purple, with a separate structure for the indexes
Case Material
Stainless Steel
Case Dimensions
40.5mm Diameter, 12mm Thickness, 48.5mm Lug to Lug, 20mm Lug Width
Crystal
Sapphire with anti-reflective coating
Case Back
Flat sapphire display back
Movement
Modified ETA 2824, hacking, quickset date
Water Resistance
50 Meters
Strap
Stainless Steel Bracelet
Functions
Time (HH:MM:SS)
Price
4,680 Euros on Bracelet. 3,380 Euros on Rubber Strap.