Hands-On: The Neotype LM01 — A Distinctly Different French Take On The Ubiquitous Dive Watch
A guest post by Vincent Deschamps
This is just a personal observation, but it seems that independent brands struggle to be different. What has become the norm is to add funky colors or textures to a watch's dial. For example, fuchsia or neon green for the colors, and cobbles or nature-inspired shapes for the textures. While these trends were new and exciting three years ago, now, too many brands follow them. So how can a brand create novelty? In designing a new type of case shape. The Neotype LM01, a brand-new model from a brand-new French brand (phew!), offers a pebble-shaped case which is perfect for this type of watch.
Wouldn't you say it's nice to see something new once in a while? Fratello covers some interesting new brands and models on a regular basis. Some of my recent favorites are the Nezumi Voiture VM1S Chronograph and the Furlan Marri 2116-A "Black Sector" model. The former offers a proper automatic version of a vintage-inspired chronograph. The latter seems to have an obsessive attention to detail. You may or may not like these watches, but you could agree that they stand out. And maybe you will agree that this Neotype LM01 offers something different worth taking a closer look at.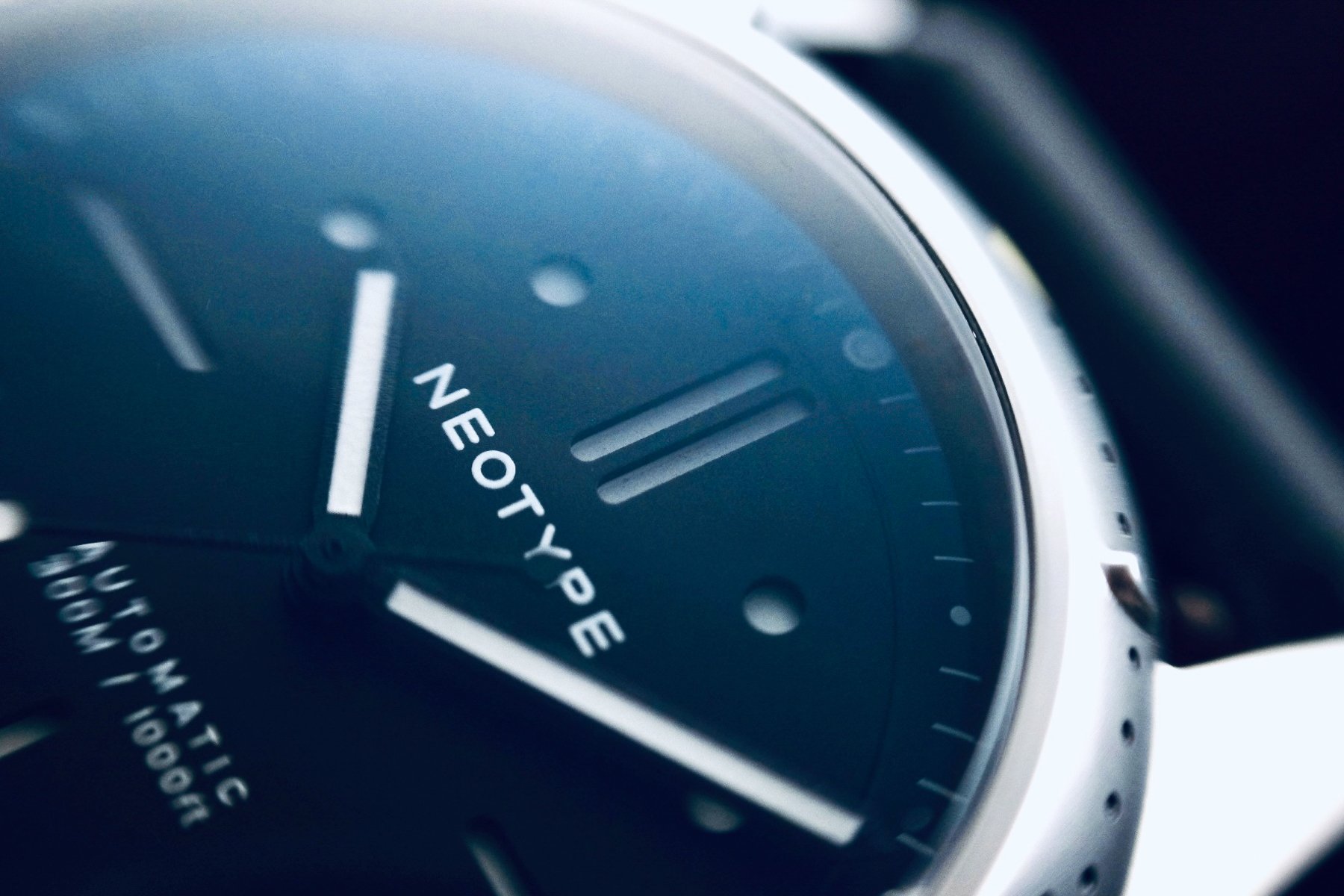 Divers, divers, divers
Yes, dive watches are very popular. They were 50+ years ago, and they still are today. Amongst the offerings from independent brands, we can find exceptionally well-made pieces and pretty bad ones. There are heaps of divers that look like clones of a Rolex Submariner, and there are a bunch that look like poorly made copies of a clone of a Submariner. We've seen it all. However, once in a while there is a brand that offers something different. It offers higher-quality timepieces with original, even unique designs. And it feels good to come across one of these.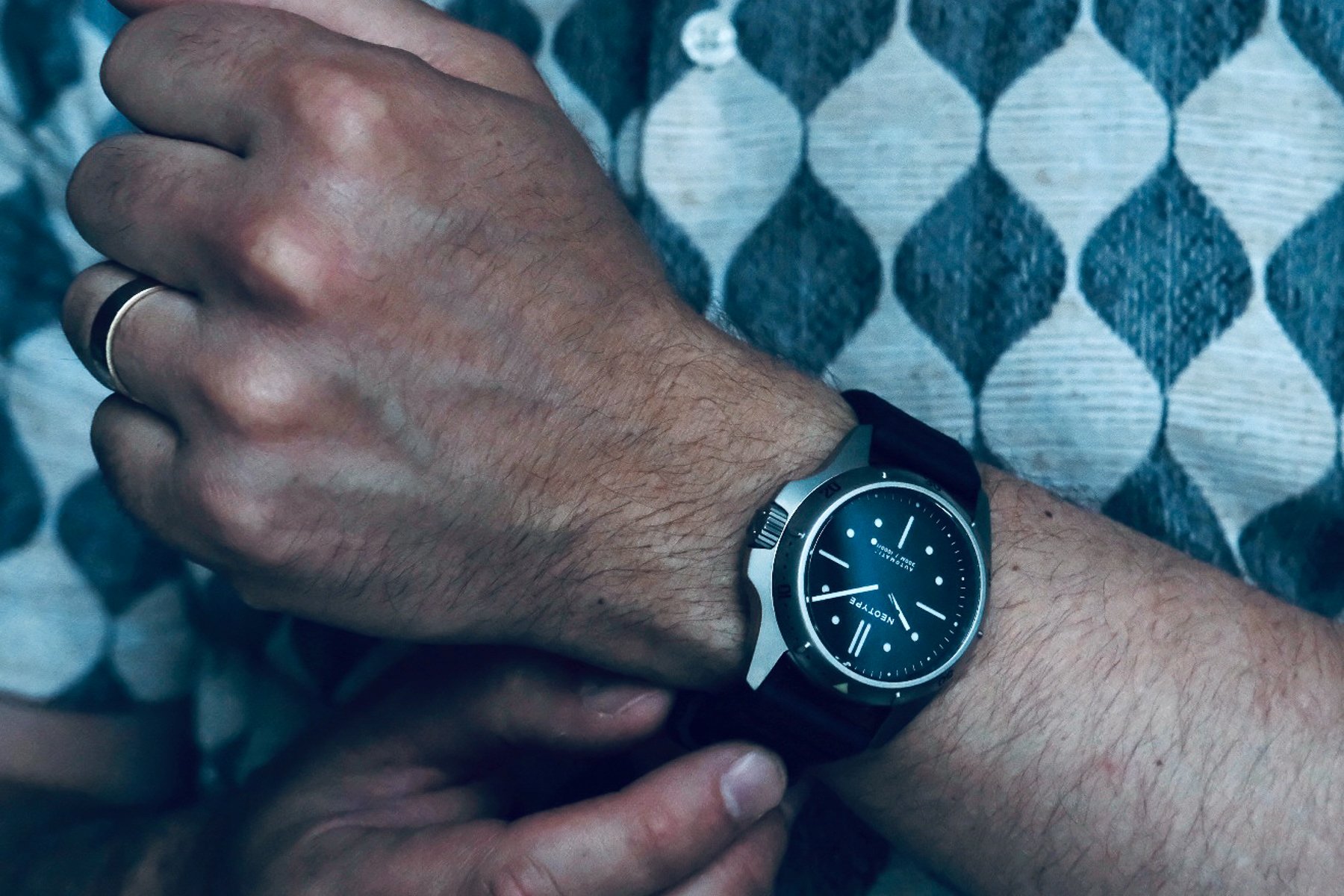 What's the thing about divers though? 
Dive watches are versatile in their design and functionality. A good diver looks as comfortable 100 meters deep in the ocean as it does at the office. It has to have the right proportions and finish. Divers are functional in that they help us keep track of the passing time and make it possible to time events. Be it timing a dive, a boring meeting, or a pizza delivery, there are multiple uses for this timing feature. Divers are also so cool that many brands first release a diver before moving on to other types of tool watches. 
As such, being innovative must be difficult. Any brand trying something new should get kudos.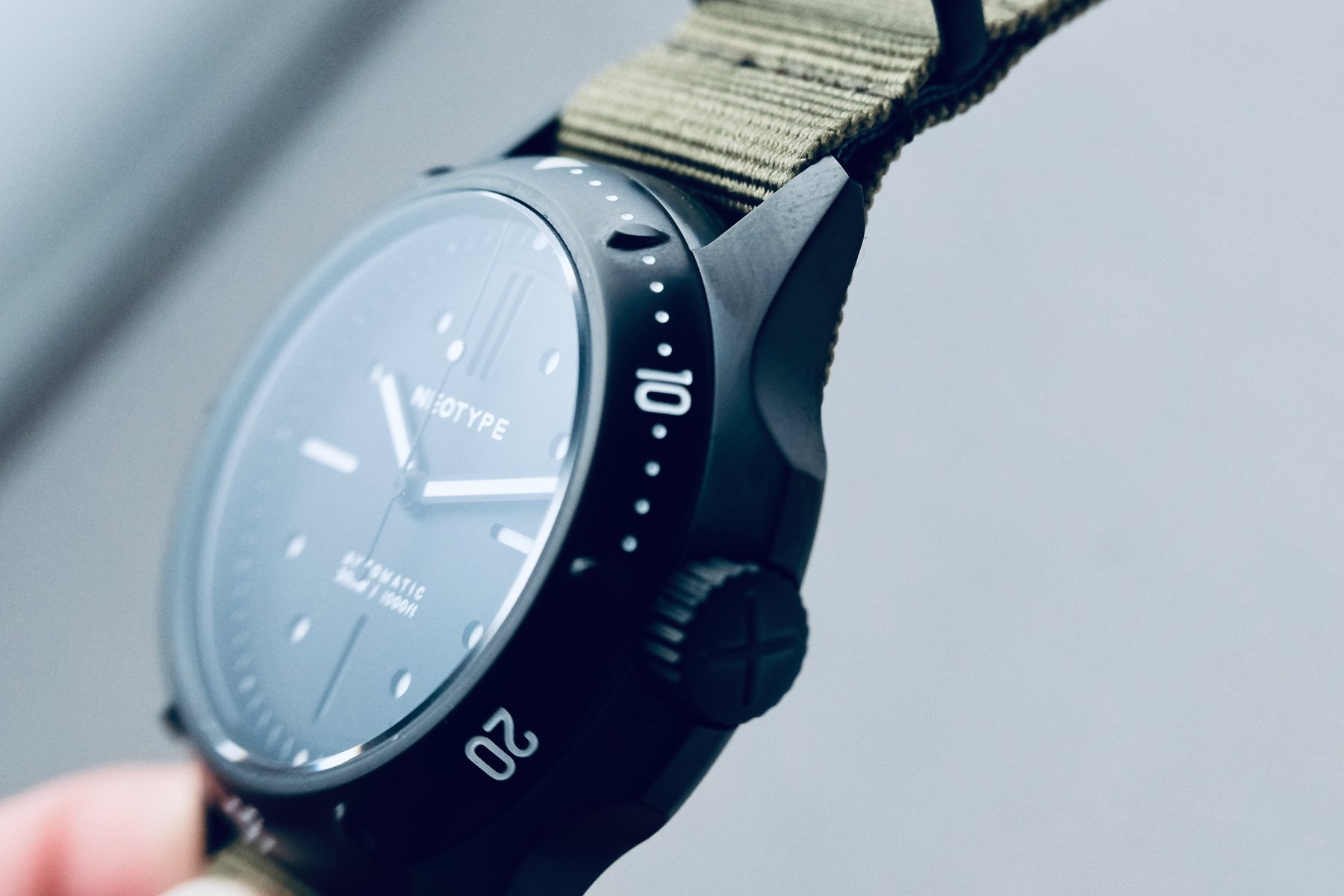 The Neotype LM01 Case Design 
Neotype was founded in December 2020 by two French industrial designers who have a thing for watches. The father of one of the two friends was an accomplished diver who owned several dive watches — you know, from the time before dive computers. When the friends thought of creating their own brand, they immediately decided to start with a diver. They went through numerous concepts and prototypes, but they were never satisfied. The prototypes looked too much like something they had seen before. They realized they had to start from scratch and flip the concept of a dive watch on its head. 
They also thought of finding inspiration in Mother Nature, but not in a color or a texture that would be applied to the dial. Instead, they thought about the things that people see in the sea or at the beach that have classic associations with water. They realized that pebbles have a unique visual aspect, forged over the years by rolling endlessly on the seabed. They thought, "Why not?" and decided the case of their first watch would mimic the shape of a pebble. The case and bezel, therefore, display smooth slopes, and only the crown side breaks this visual dynamism to make space for crown guards. 
However, as we have seen above, much more goes into the LM01. They wanted the watch to be as equally well-made as it looks interesting.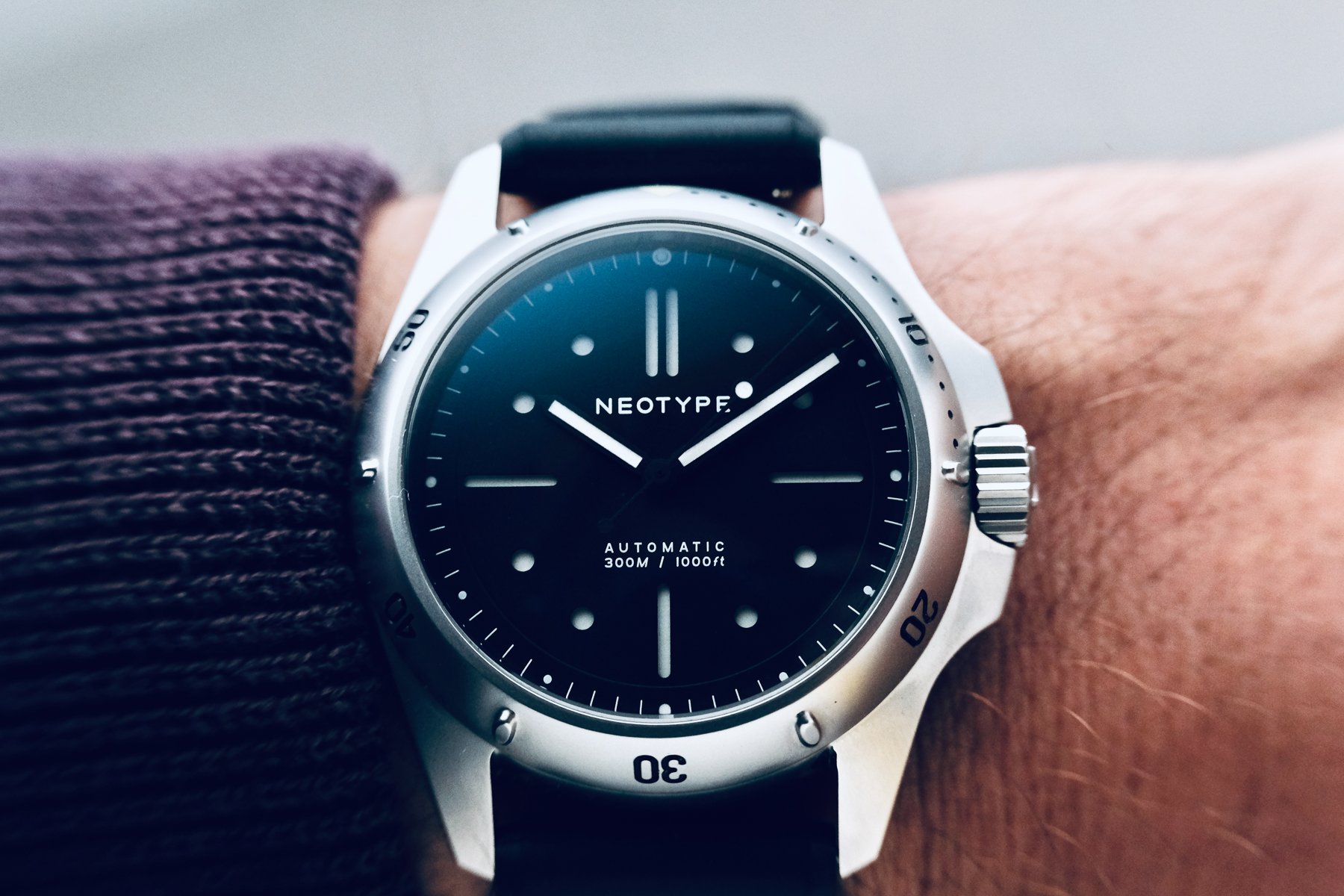 Small details go a long way
The LM01 offers a Panerai-ish dial layout in the way that it looks bare and geometric. To read time, the wearer only has to look at the baton-style and dot-shaped markers and how the half-blacked-out hands meet them at the right spot. There is a discreet minute track that sits slightly higher than the center portion of the dial. This and the "sandwich" lume markers add a subtle sense of three-dimensionality. Text is kept to a minimum with "Neotype" at the 12 o'clock position and the words "Automatic" and "300M / 1000ft" at the 6 o'clock position. 
The aesthetic simplicity of the design is echoed in several places on the LM01, from the dial layout, which we just looked at, to the case back and crown. The former shows a deeply etched "X" running across it while the crown repeats this pattern in relief. Just like the two friends chose the name Neotype for its simple definition and ease of pronunciation in most languages, they stuck with a simple yet effective visual language. 
Last but not least, the bezel is quite different from what you may be used to. It's thin and slopes downward towards the mid-case. This shape makes sense when looking at the overall case design; they went full force on the pebble idea. This uniformity in the design makes the LM01 very pleasing to look at and to wear. And let's not forget the watch dimensions, of course — 40mm in diameter, 50mm from lug to lug, and 15.5mm tall including the domed sapphire crystal.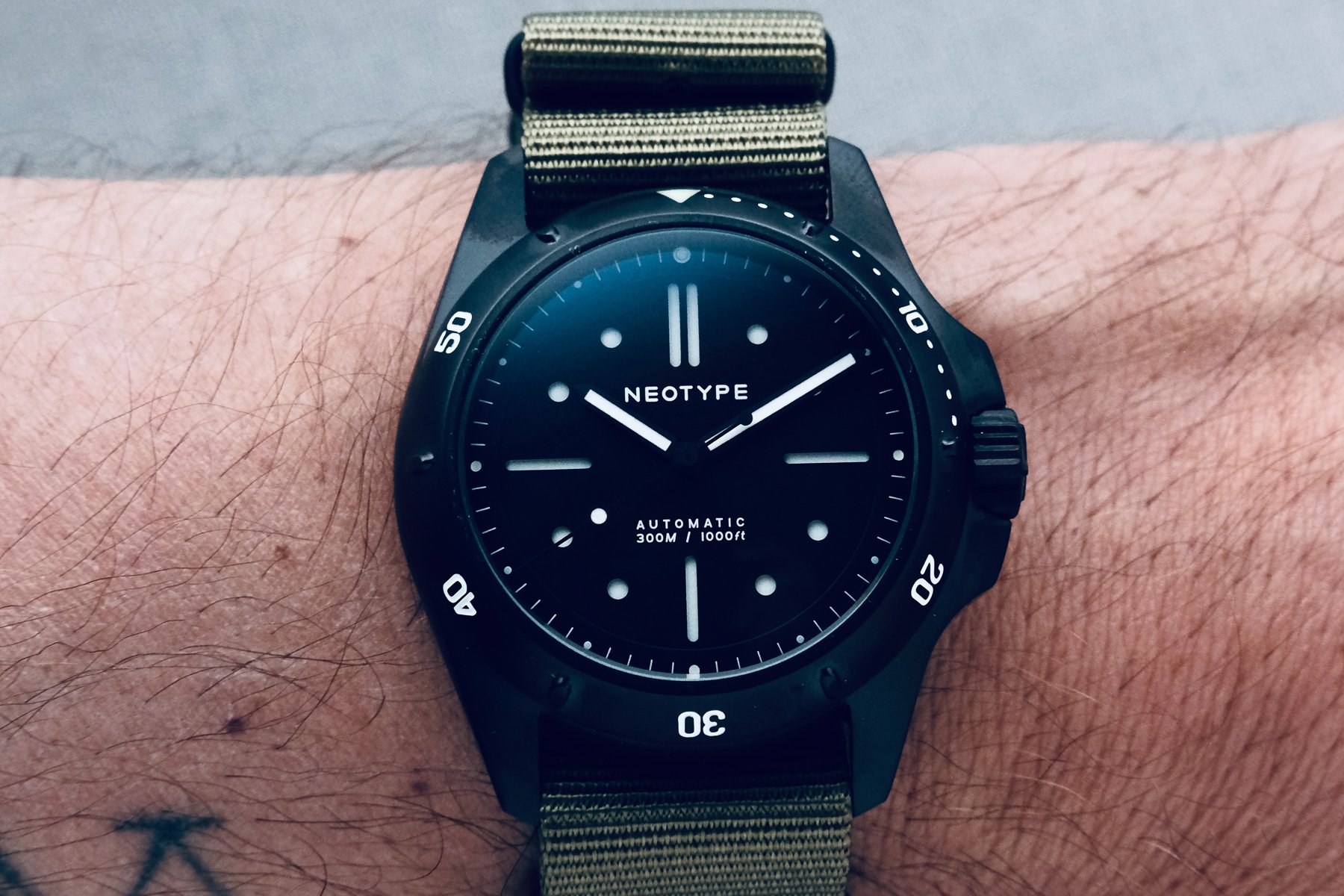 Availability and price
The LM01 is currently available for pre-order on Kickstarter for €545 for the steel black-dial or blue-dial variant, €585 for the all-black variant, and €590 for the gold PVD black-dial or blue-dial variant. Regular prices will be €730, €780, and €790 respectively. Pre-orders will close on July 15th, 2022, and delivery is slated for December 2022.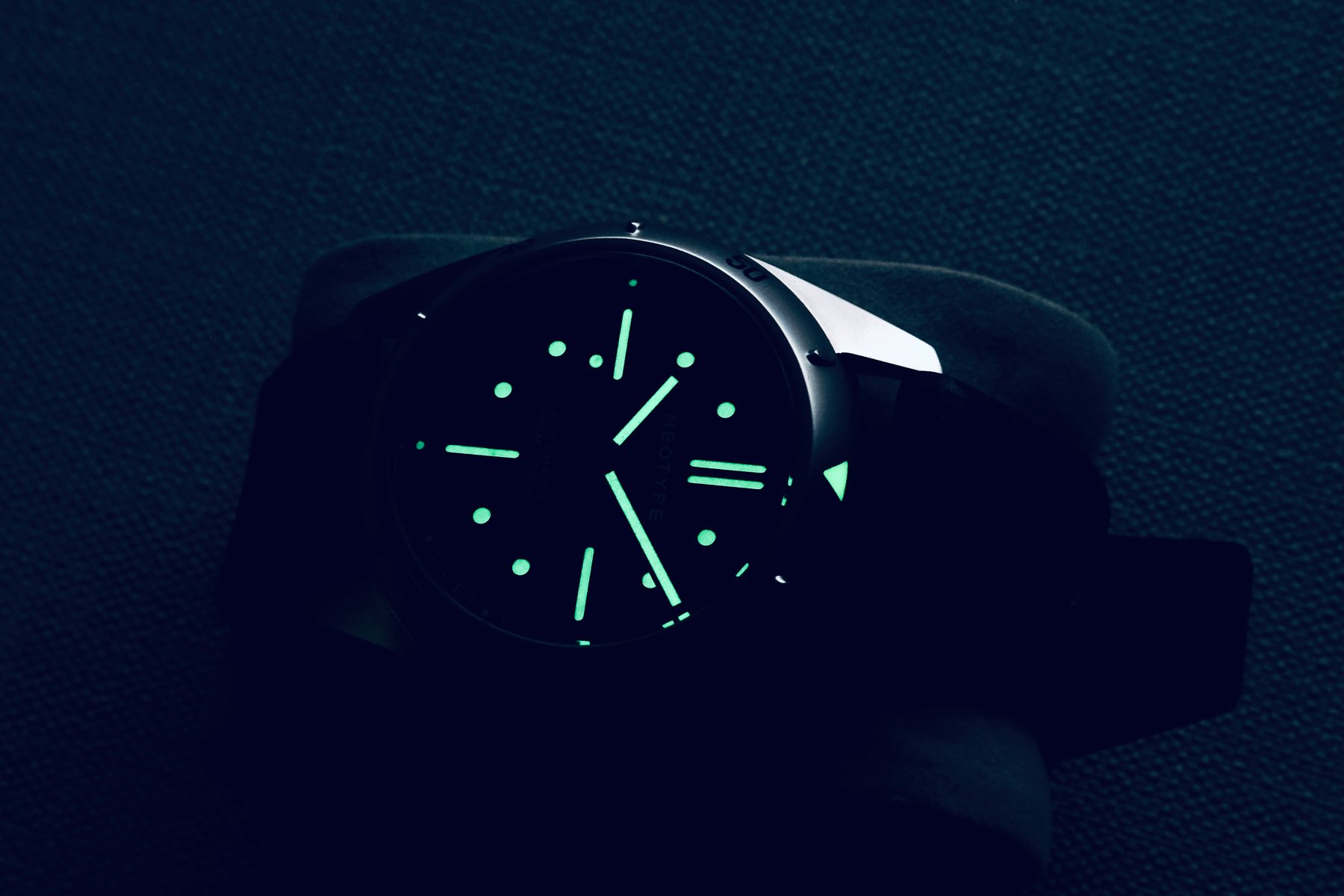 Final thoughts
Knowing that nearly everything in life is subjective, the LM01 may not be your thing. I personally like the design and the attention to detail that went into it. I have it on good authority that Neotype will be creating an ecosystem of products and will not only make watches. Perhaps we will see EDC (everyday carry) items that will complement the LM01. While the dimensions might indicate otherwise, the watch will fit on small and medium-sized wrists as well as large ones. Mine being 16.5cm/6.25″, you can see that it fits just right. If you are interested in the brand, check out the official website and the Kickstarter campaign here for the LM01 here.
I would also like to hear your thoughts about the LM01 in the comments below. Thank you!