Hands-On: The Rado Golden Horse
Seriously Good Change for the Brand
We spend time with the new Rado Golden Horse, a serial production model that just might change your thoughts about the brand.
I know our readers come from all over, but I often wonder how many of you hail from my home region of South Florida.  And if you do, were you alive and cognizant during the late 80's into the 90's?  If you were, you'd no doubt recall this "special" time.  Blousy silk shirts, billowy pleated chinos, gold chains, and slim loafers were all the rage.  And the cars… Forgetting the semi-performance rides that sported colors such as teal and mauve, this was the brief period of the "gold package".  If you could pony up for something like a Cadillac, Lexus or Infiniti (in pearl white or metallic tan, naturally) sedan, chances are that you ordered the gold package and took pleasure in driving your family to staple dining spots such as the Olive Garden, Chili's, Outback Steakhouse, or Red Lobster.  If one of those rides was a little too spendy, perhaps you rocked a Toyota Camry with gold ornamentation.  And the watches?  If you were going big time, it was likely an Ebel.  On the somewhat more approachable side, you had Movado with its unstoppable Museum Watch.  But if you truly wanted to bust a move, you wore a Rado.  Slim, with a shiny black ceramic case, and always quartz, these watches dominated South Florida and to be honest, I found them a wee bit cheesy.  But today is a new day, and while the watch we will spend time with doesn't completely turn its back on the brand's past (in fact, far from it), the new Rado Golden Horse lineup of watches brings a vibe that I think will appeal to potential new buyers who otherwise may have ignored the brand.  Let's see…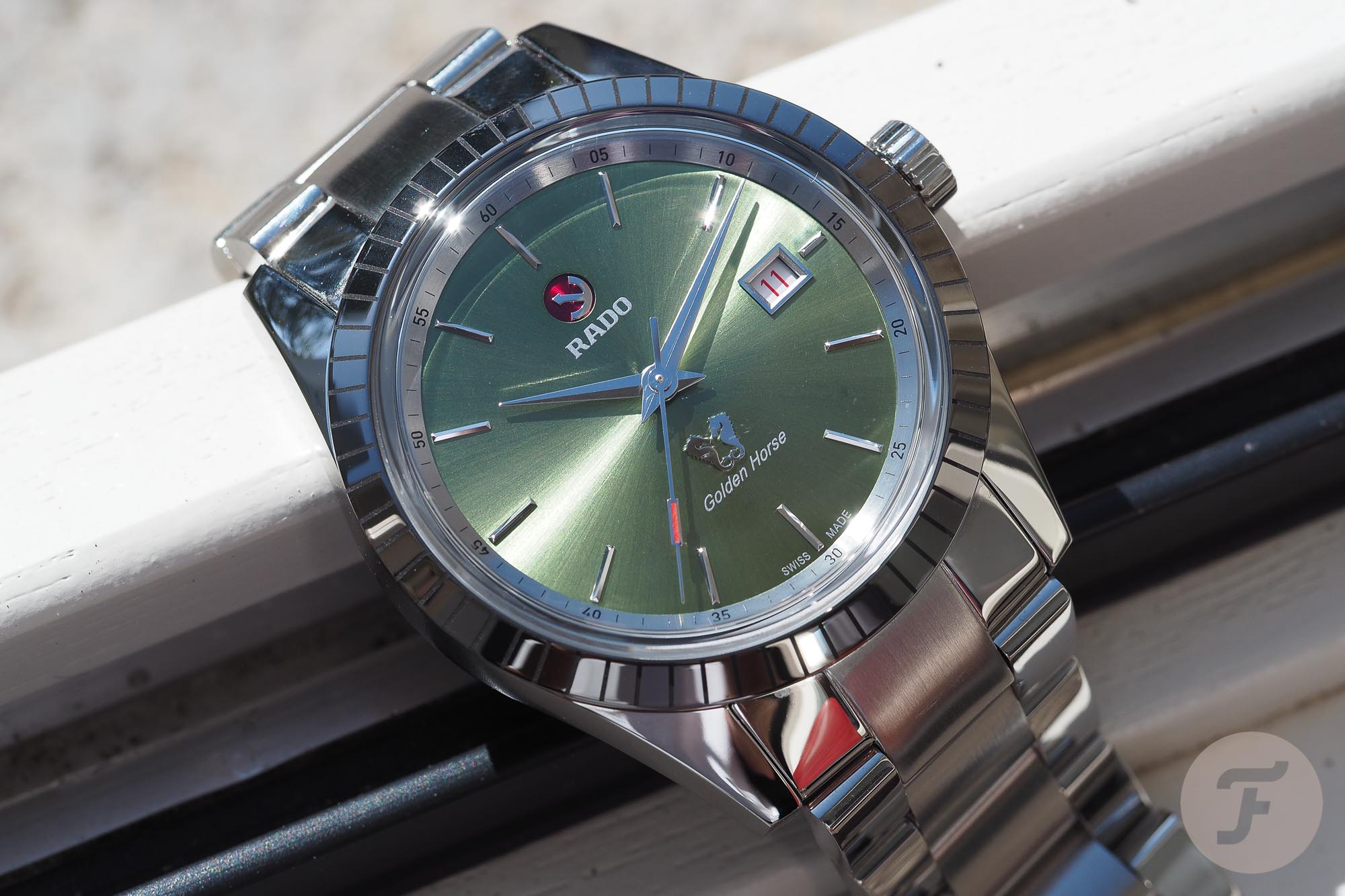 The Rado Golden Horse – the Latest in the Rado Renaissance
Rado has been on a relative roll for the past couple years.  They relaunched the Captain Cook lineup at Baselworld 2017 and I think most would say that the retro limited-edition model was the sleeper hit of the show.  But in addition to that, they added some regular "Cook's" to the kitchen and were able to combine high-tech ceramic materials with the retro design quite successfully.  With the Rado Golden Horse, we're in the midst of a similar story.  Earlier this year, let's say right around Baselworld 2019 (which Rado no longer attends as they're part of Swatch Group), we got our first glimpse at a Golden Horse Limited Edition of 1,957 pieces to commemorate the first year of the line.  We'll review that shortly but take my word for it that it's a lovely piece.  Today, we're looking at a normal run Golden Horse and, if I do say so myself, unless you're lacking in the optic sense, it's a real eye-catcher.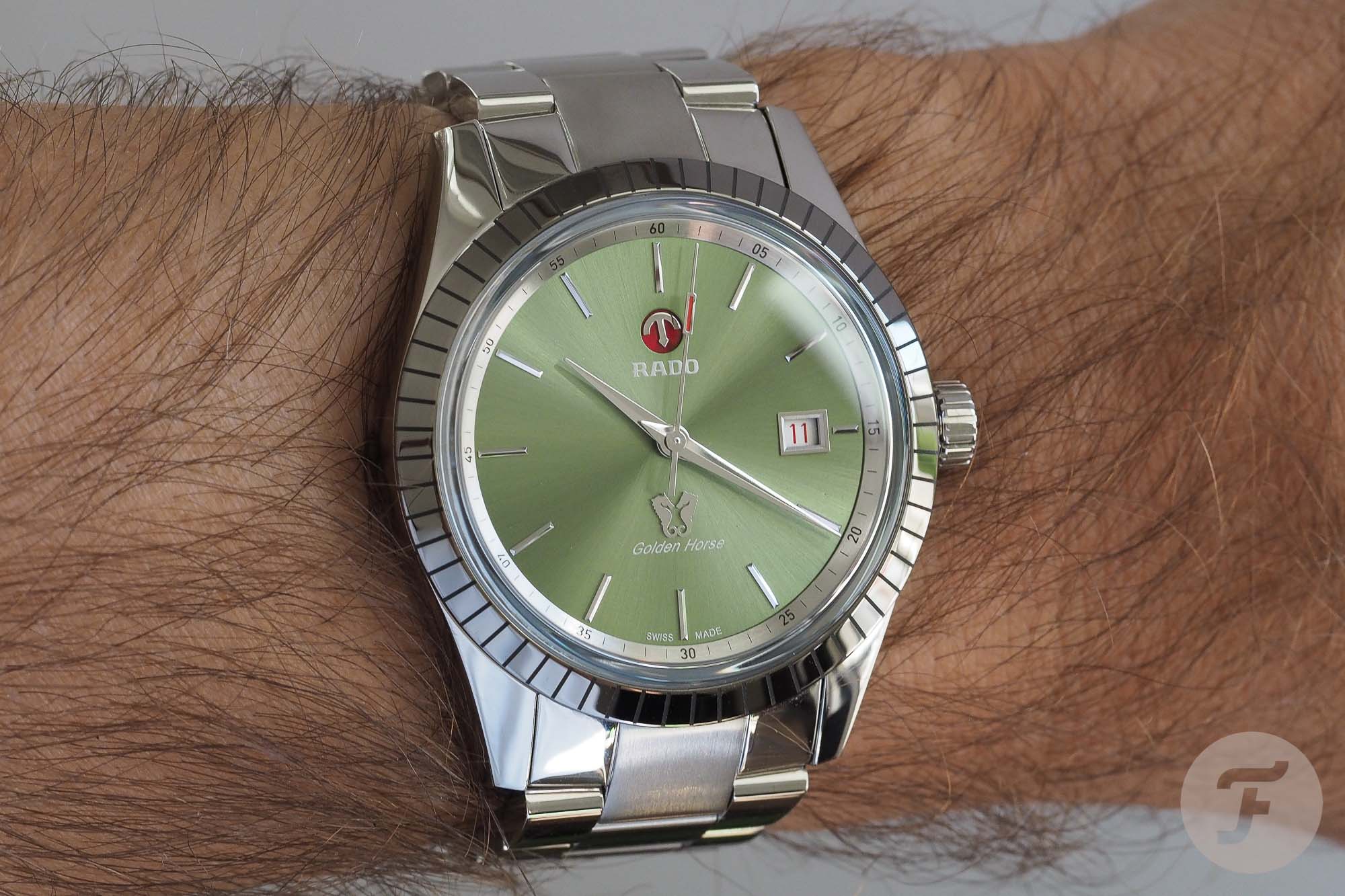 Not a Small Watch, but Highly Wearable
Whereas the limited edition Rado Golden Horse comes in at a nearly vintage correct 37mm, the normal pieces cross the line at 41.8mm with their stainless cases.  There's a 35mm piece as well that's marketed to females and perhaps that's why we have such a large jump to the gents' models.  In my view, 35mm and 40mm still would've been sufficient, but what do I know?  With a thickness of 10.4mm (!!), a lug to lug of 49mm and a lug width of 22mm, the watch isn't small, but that diminutive thickness along with downward sloping lugs helps create a watch that even I can wear.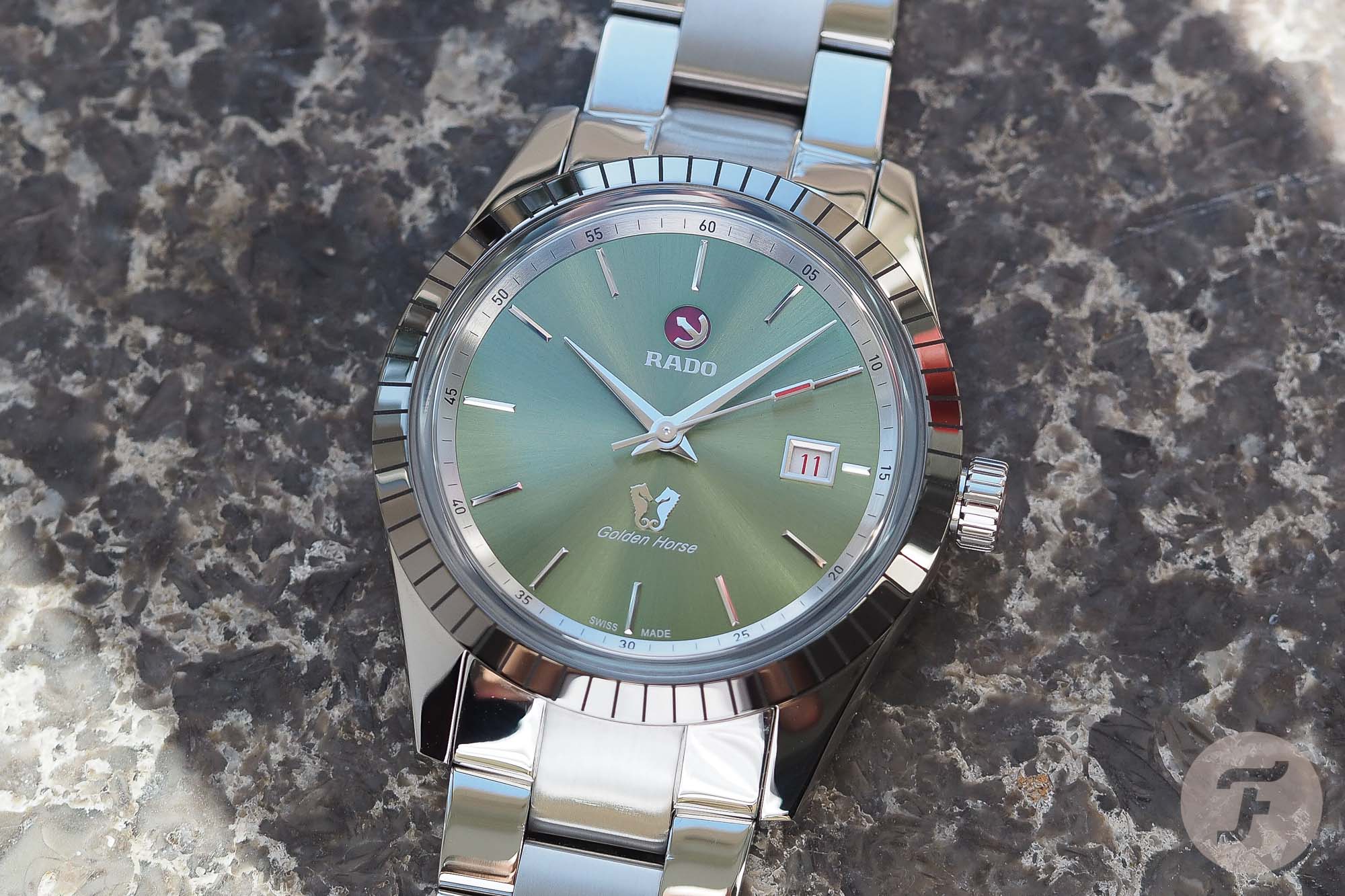 The Powermatic 80 Lurks Inside
Unsurprisingly, the Rado Golden Horse features the ubiquitous Swatch Group Powermatic 80 with 80 hours of power reserve.  It hacks, has a quickset date, and winds quite smoothly.  Honestly, this movement has become so pervasive, I've likened it to the 2.0 liter turbo 4-cylinder that graces just about every VW product in the land.  That's not a bad thing, though, and especially for a brand like Rado where I'm still used to a raft of quartz offerings.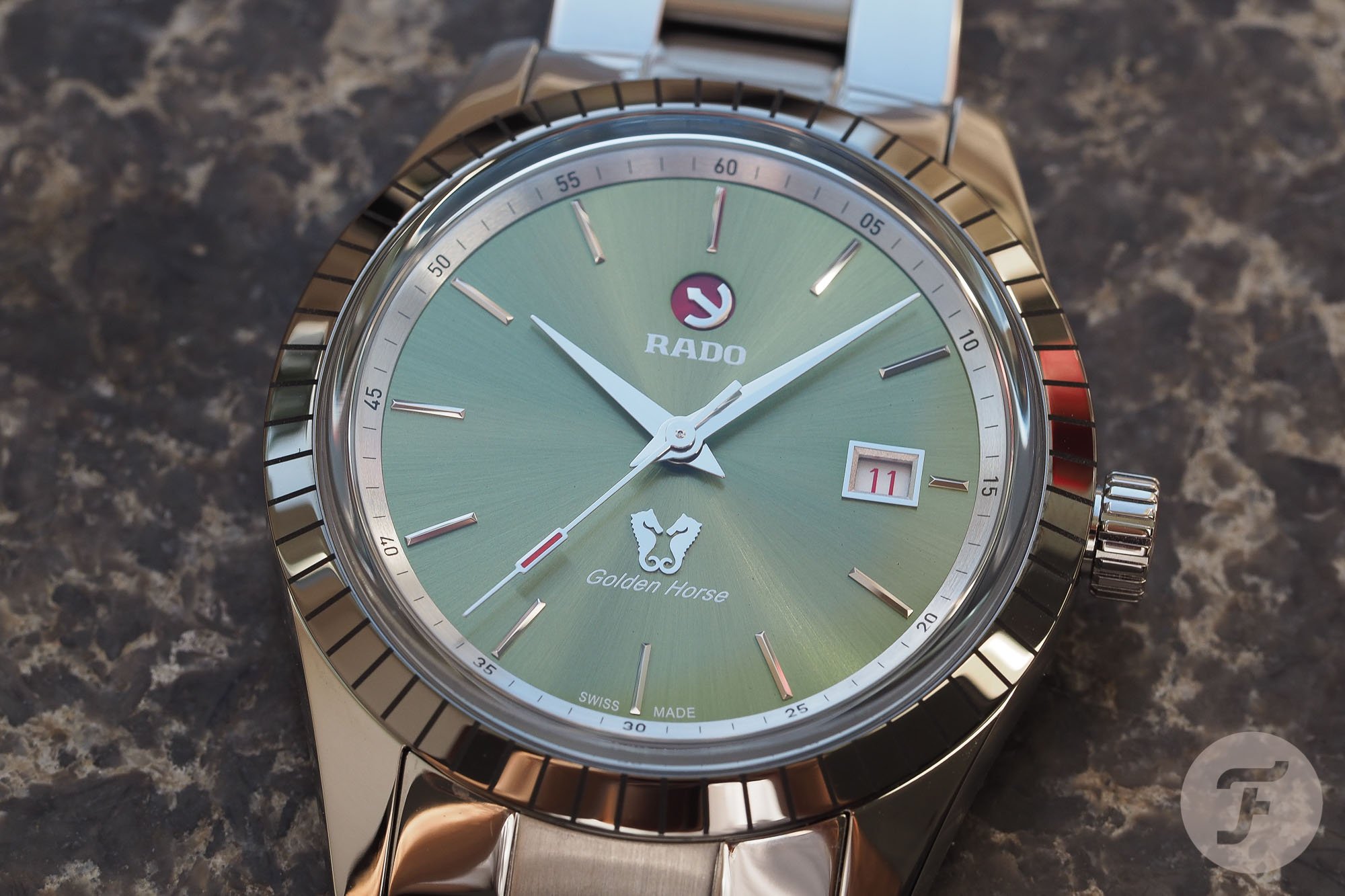 I chose the green Rado Golden Horse for review for one reason and one reason only: it's borderline outlandish!
Mean Green
The Rado Golden Horse also comes in a number of dial colors and each comes with its own choices of bracelet or strap.  There's a rather traditional silver dial, dark grey, one in blue, and this funky green model that I've chosen.  The straps are leather while the bracelets are in stainless (and oddly feature a titanium deployant that's not visible when the watch is on the wrist).  The grey bezels are in "plasma high-tech ceramic" while the gold bezels are in "Ceramos".  A beads of rice bracelet is an option on the blue dial and the green gets this Oyster-style variant with matte center links.  If the Oyster bracelet sets the standard, then I'd assume the beads of rice version also has a very flat butterfly style clasp with two buttons.  Interestingly it opens from both sides, but one side is appreciably shorter than the other.  On the somewhat chintzy front, links are adjusted via a pin and sleeve system, but it does work well.  There is no microadjust, so best to let the watch dangle a touch.  After all, it's still a Rado!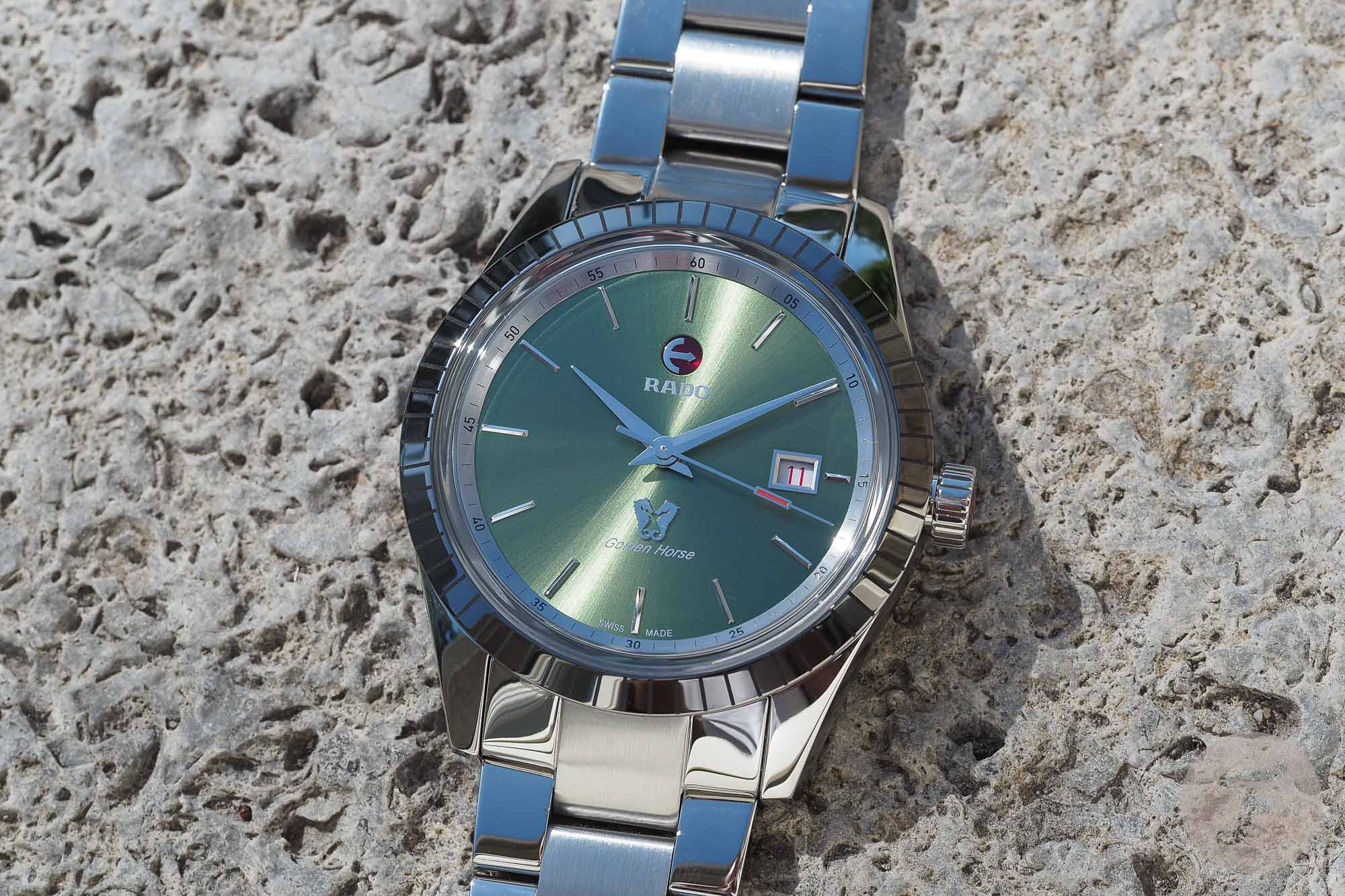 A Lovely Dial
Folks, I chose the green Rado Golden Horse for review for one reason and one reason only: it's borderline outlandish!  Yes, in a sea of blue, black, and silver dials, this is one kooky green.  But guess what?  It's gorgeous and really changes in the light.  It's not forest green or some sort of aqua color, but more like a mid-tone of green.  The sun ray effect on the dial, while not rare amongst watches, is also captivating.  Simple chromed applied indexes along with chromed dagger hands make for a classy, elegant look: there's no lume here. The Golden Horse logo is applied at 6:00 and unless you're like one of our astute readers who thinks it looks like the face of a baboon (can't unsee it!), it's a good-looking motif.  Rado also throws in some color with a red font date wheel that calls on historic versions of this watch and a cool rectangular feature that's filled in with red towards the end of the sweep seconds hand.  Then, there's the little rotor at 12:00 with a maroon background that swings with the motion of one's arm.  It's a Rado trait and was historically used to tell the wearer if the watch is still sufficiently lubricated.  One of my favorite elements on the dial, though, is the angled silver rehaut with minute markers and numerals every 5 minutes.  It looks like something out of an engine room and I really like it.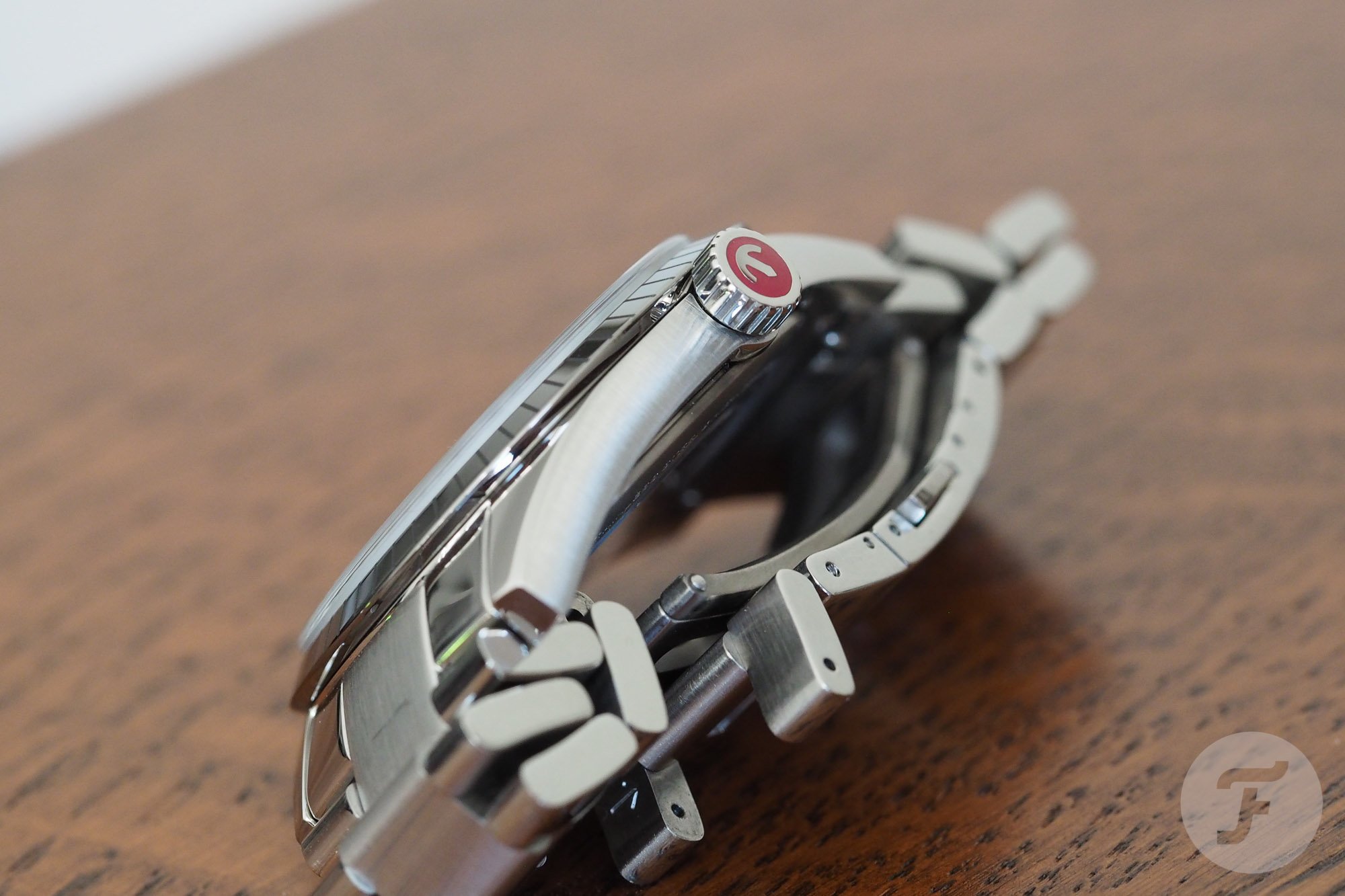 Nicely Detailed Case
With a case that's polished on top and brushed on the sides, the Rado Golden Horse looks like it would be equally at home with dressier clothes or a pair of jeans.  With fine vertical brushing on its sides, the finishing isn't amazing, but it's more than acceptable.  Overall, the watch is not what I'd call overly casual, but if you're thinking Datejust, then you're probably on the right track.  The darker, ridged ceramic bezel helps maintain that comparison as well.  It's a cool feature that's just different enough from what is found on the Rolex that it can stand on its own.  Plus, there's no cyclops here as Rado chose a boxed sapphire crystal with rounded edges.  A large push/pull crown looks perfectly fine from the top, but a nice surprise awaits when viewed from the side as it contains the Rado rotor that's surrounded by maroon.  With 50 meters of water resistance, the watch should be able to handle swimming pool duties, but a screw-down crown would have been nice.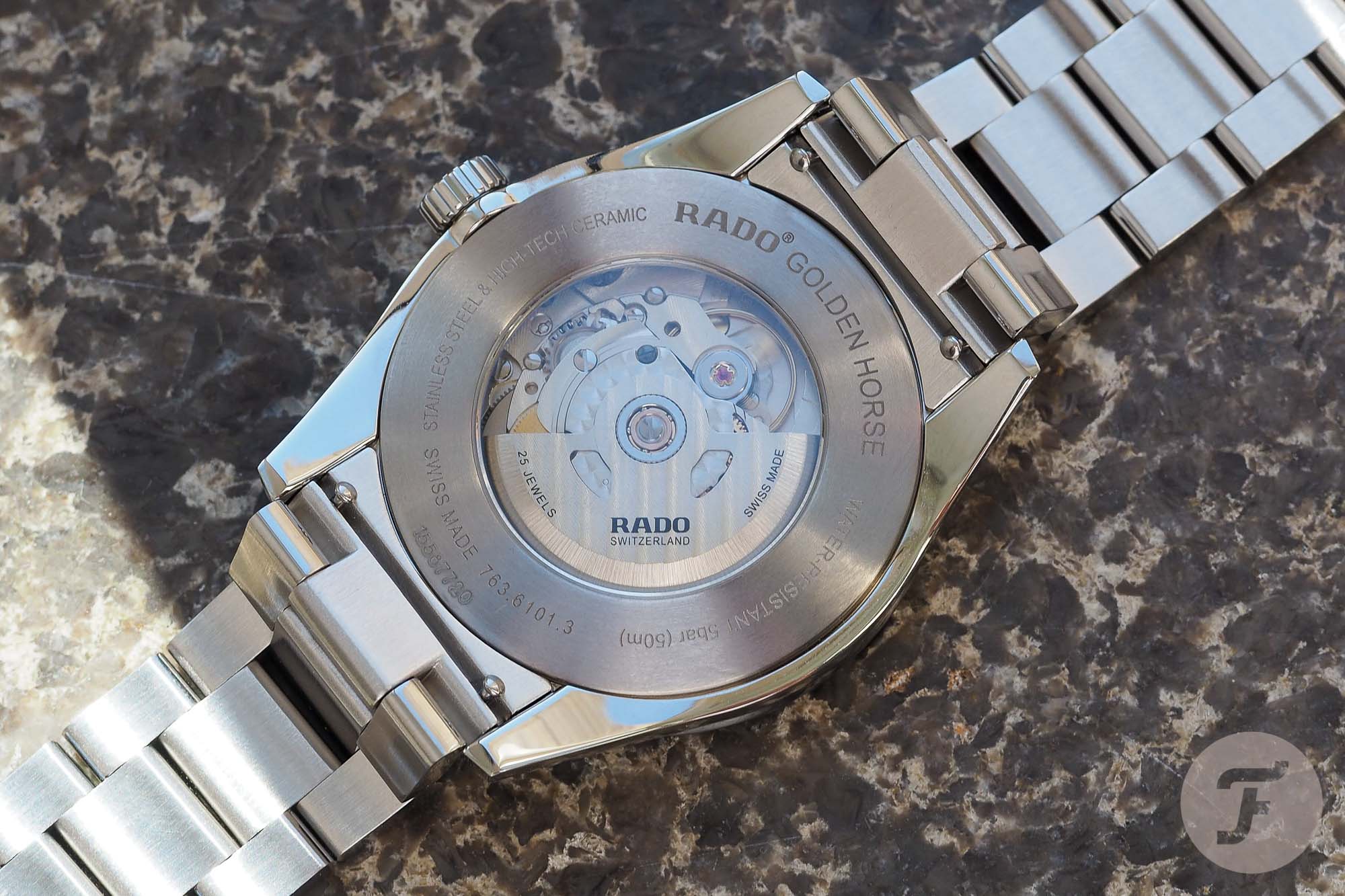 Ditto that for what looks like a snap back sapphire display case back on the Rado Golden Horse.  It does a nice job of displaying the Powermatic 80, which is nicely decorated.  Oh, one little nod to Rado's history I'd like to see is a gold-plated rotor – let's hope.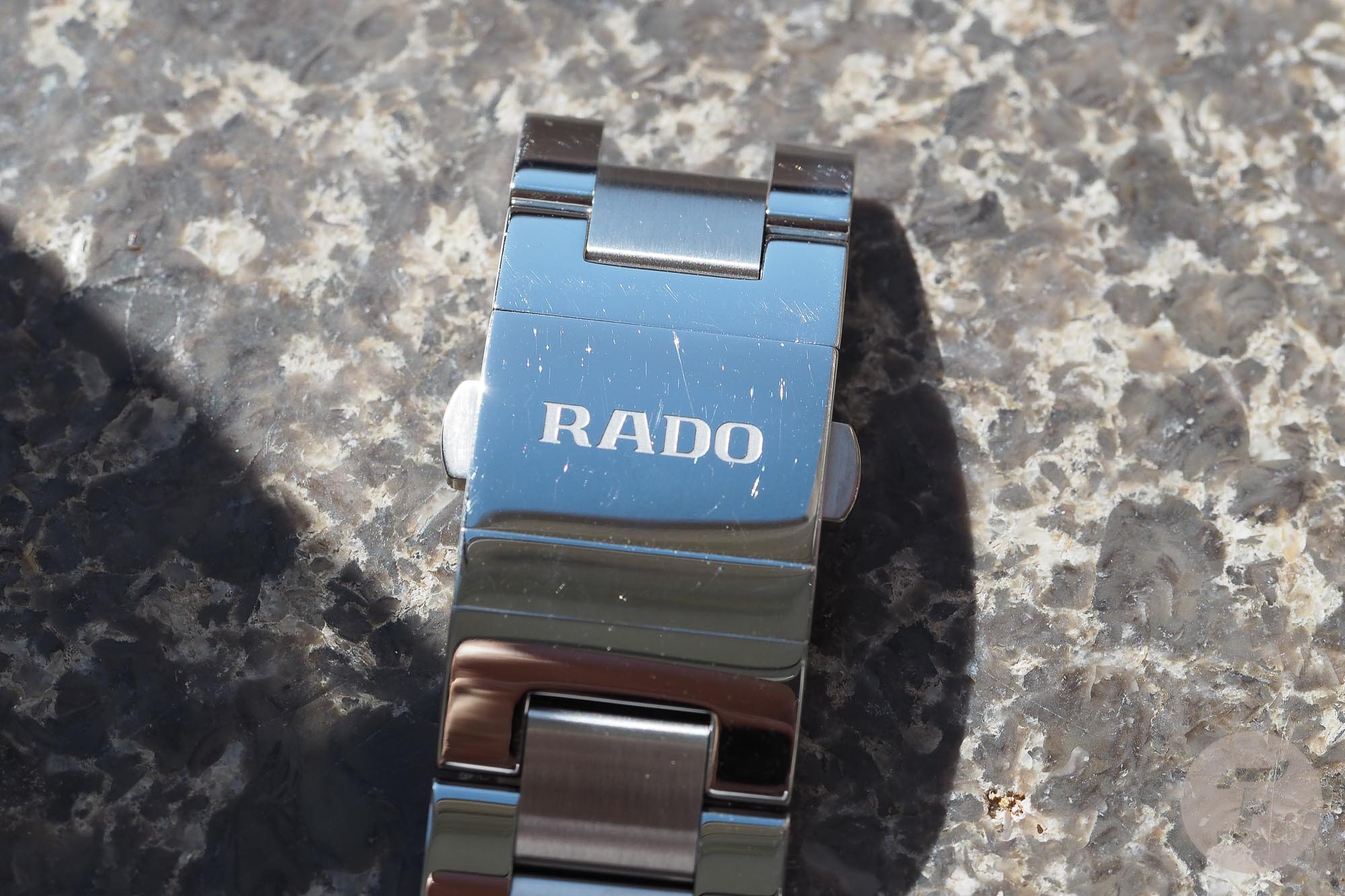 Well-Executed Bracelet
Regarding the bracelet on the Rado Golden Horse, I was pretty surprised by how much I liked it.  Even though it doesn't taper towards the clasp – again, likely in deference to the modern Rado designs of the last 30-40 years – it's really comfortable.  Yes, the polished clasp picks up scratches easily, but that clasp is slim and hugs the wrist beautifully.  I normally dislike polished links, but with matte center links, this is a bit of a positive change-up compared to a Rolex.  One small detail I don't care for is how the polished section of the end link transitions to the matte center portion.  It doesn't come off as extremely finite and looks a little cheap.  On the other hand, those end links are curved downwards nicely to fit the wrist and allow the bracelet to drape.  What's more is that there are quick release "pegs" on the backside of the end links that make strap swaps a breeze.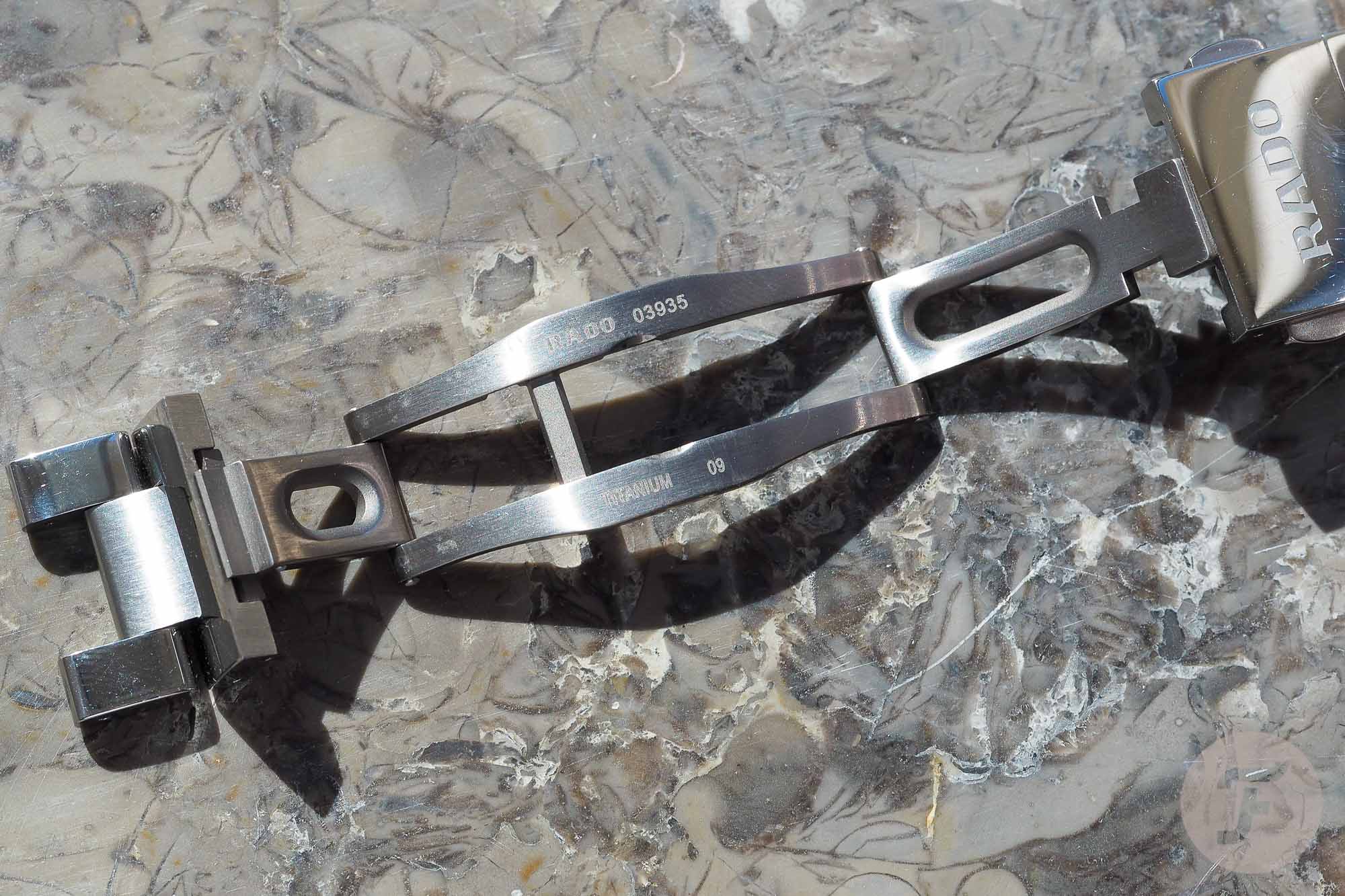 I did mention the pin and sleeve adjustment method for removing links and that's more of a pet peeve of mine than anything else.  The likelihood of going in and making adjustments once the watch has been sized is between slim and none, but I like seeing screws.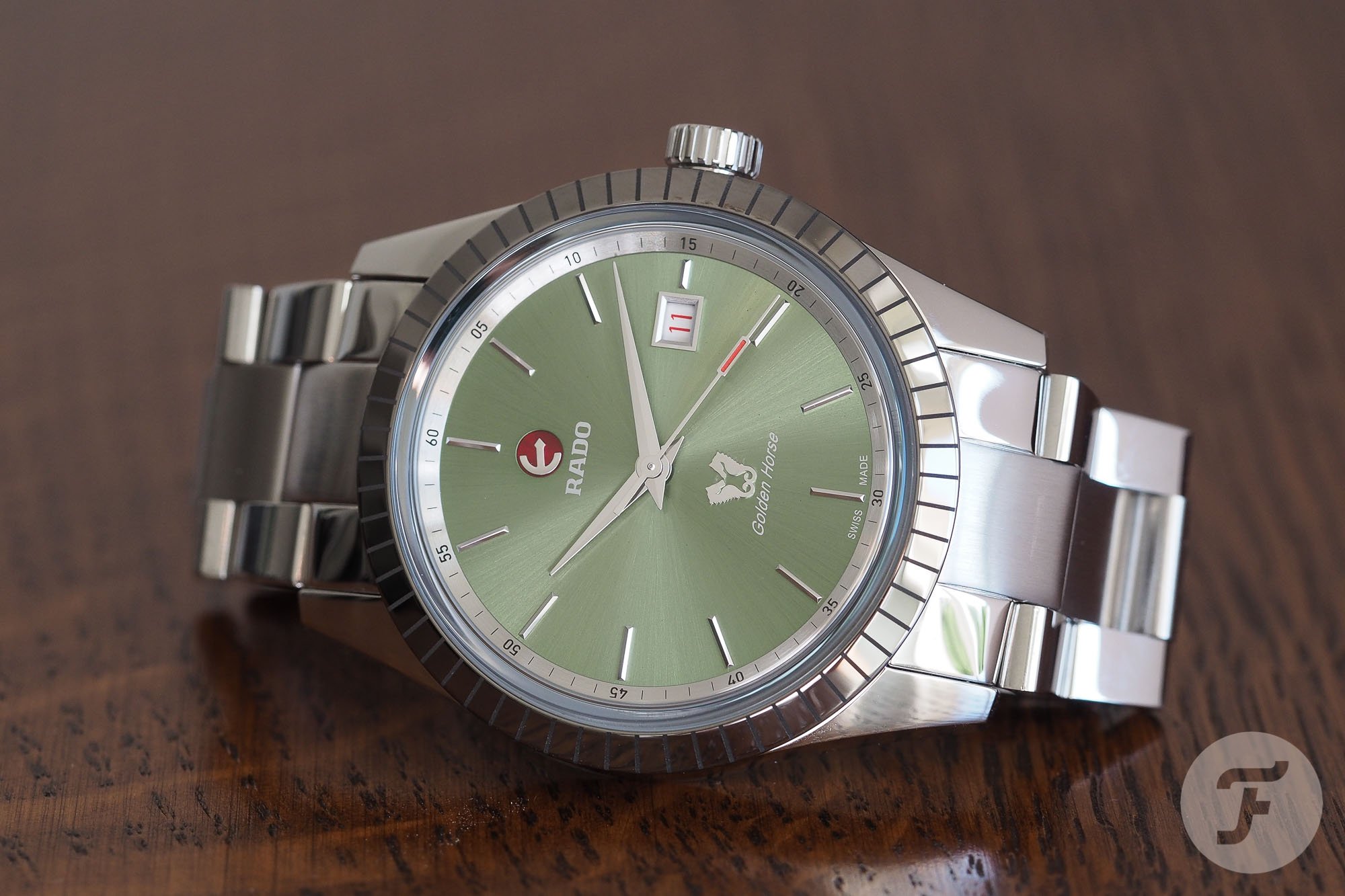 Pricing and Final Thoughts
One of the best things about the Rado Golden Horse is its price.  For a brand that holds some level of premium cachet, this watch retails for 2,020 Euros in Germany (it's the same price for the smaller 35mm model if you're wondering).  Oddly, it retails for $2,000 in the USA – maybe someone within the Swatch Group hedged USD well?  At that price, I consider this watch more than a fair deal and I'm sure there's some haggling to be done to make things even more attractive.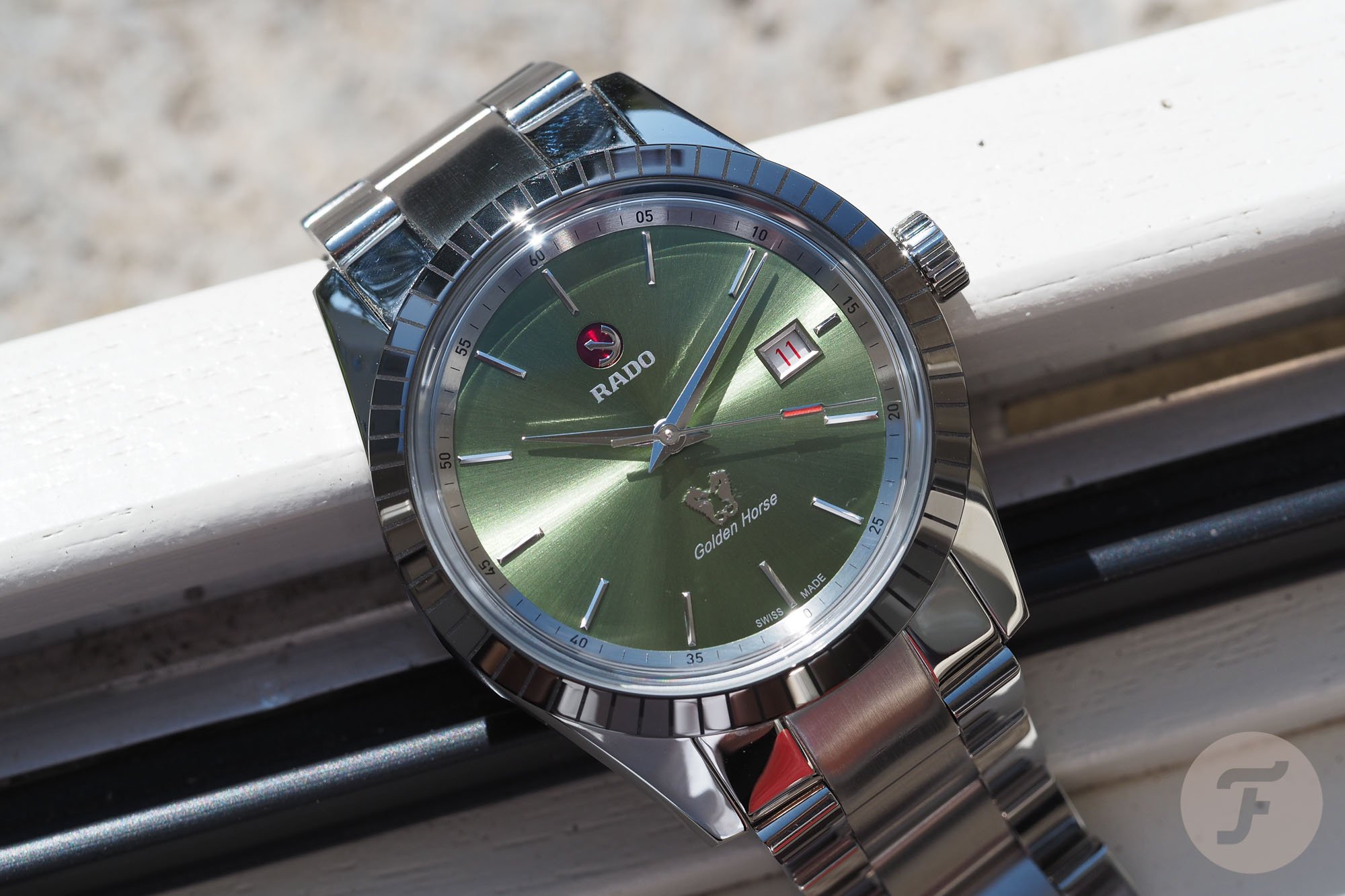 As mentioned before, with the Captain Cook lineup and now this series of Rado Golden Horse models, Rado is back in a way that they haven't been in a long time.  I think they'll actually bring in buyers who never would have considered the brand prior to these releases.  Anyone who is looking for a great daily watch that won't break the bank and deliver a true dose of class should have a look at these new Rado's.  And now, best of all, one won't need to adorn their car with the gold package while wearing one of these attractive pieces.
For more information on the Rado Golden Horse, visit the official Rado site.
Watch specifications
Model
Golden Horse Automatic
Reference
R33101314 | 01.763.6101.3.031
Dial
Green, Sunray Finish with Applied Indexes
Case Material
Stainless Steel
Case Dimensions
41.8mm Diameter, 49mm Lug to Lug, 10.4mm Thickness, 22mm Lug Width
Case Back
Snap back, Sapphire Display
Movement
Powermatic 80 Automatic, Hacking, Hand Winding, Quickset Date
Water Resistance
50 Meters
Strap
Stainless Steel Bracelet with Push-button Butterfly Deployant Clasp
Functions
Time (HH:MM:SS) and Date
Special Note(s)
Available Now