Seiko Presage Sakura Fubuki – 52Mondayz, week #1
A new year, a newly introduced watch! Recently Seiko added two new designs to their 'Cocktail Time' line. I had a hard time choosing but went with the Seiko Presage Sakura Fubuki.
Seiko Presage Sakura Fubuki ref. SRPC03
Ever since Seiko introduced them in 2010 in Japan, Cocktail Time models proofed to be very popular. And I think the four new models introduced lately will be no exception. Both new designs, the blue dialed 'Starlight' and the 'Sakura Fubuki' with white dial, come in two variations. My choice of model was quite clear from the beginning.
Caliber 4R35 or 4R57?
Time only or power reserve as an extra. Exactly because the dials of these two designs are so extraordinary, an uncluttered dial as possible has my preference. However, I can imagine that other would be pleased by the extra feature of the mechanical movement. It's not that often seen at watches in this price league of course (I'll tell more about that later).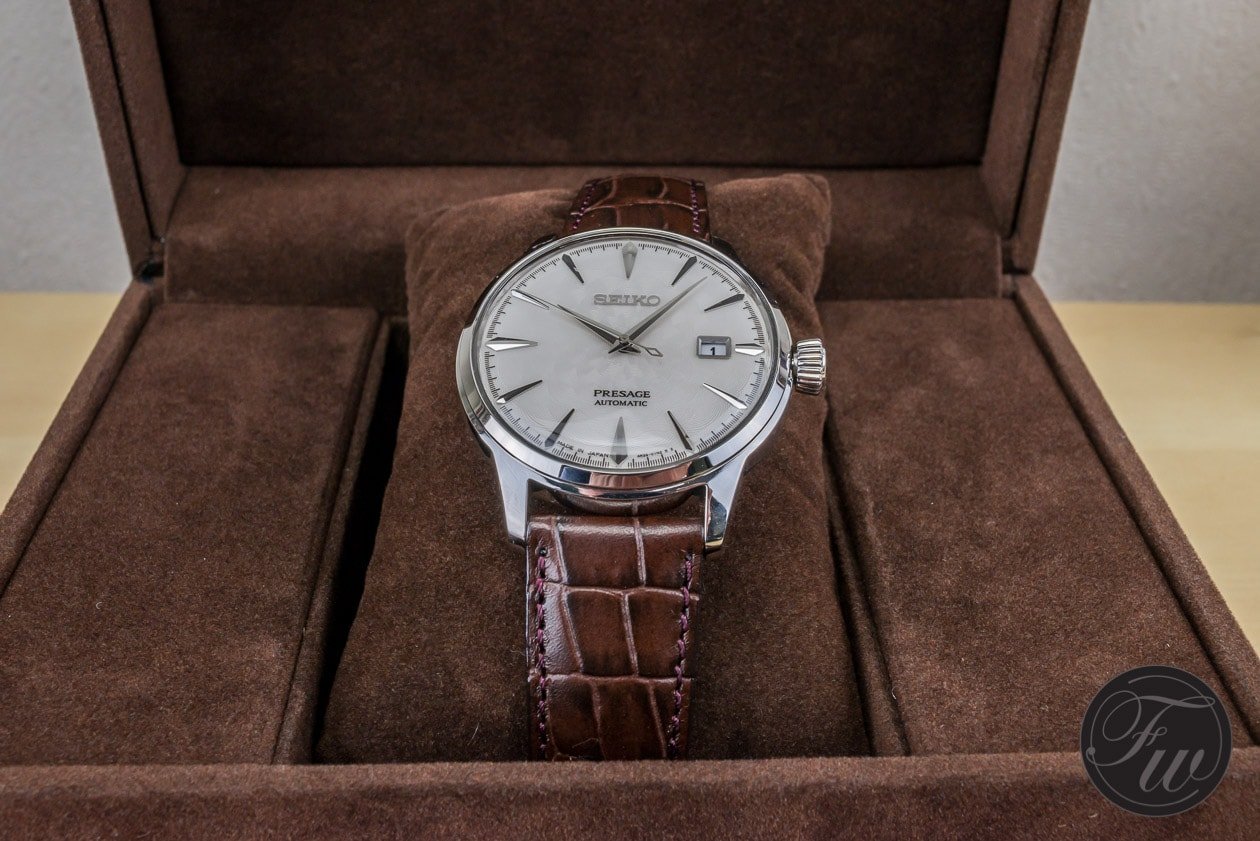 For the time only Seiko chose their relatively new workhorse caliber 4R35. This caliber runs at 21,600/h (that's 6 beats per second), has 23 jewels and an autonomy of 41 hours. The power reserve model is equipped with the 4R57 caliber from the same series. Same frequency and autonomy, however with 29 jewels. Both calibers can, except automatically, be wound by hand. Both have a second hack function as well.
Two extraordinary dial designs
As said, I was struck by both new dial designs. The colors, the depth, the structure. Absolutely great and not something I would expect in this league. I mean all other Cocktail Time dials were great, but these are next level. It was awfully difficult to catch in a picture, I hope you'll get an idea however.
The blue dial has a lighter center and darkens towards the edge. The structure looks like.. well I don't know. Probably little needles all shattered around, or little pieces of fabric. And there's depth in the structure, it's really three-dimensional. The surface of the dial is smooth however. Seiko indicates that it takes several layers of lacquering to obtain this result.
As the white dial, according to Seiko, should have been kind of cherry blossom rose, I really couldn't see that. It's nothing other than slightly off-white. With a very different structure compared to the blue dial. The structure of the white dial looks more like miniature arti stucco work which you might see on white plastered walls. Again with a beautiful three-dimensional effect, and as well with a smooth surface of the dial.
Different hands
I can't see a reason, however the hands of the two models are different as well. The hands used on the blue dial are one-half polished and one-half matt, while the hands on the white dial are completely polished.  Although the half-half hands attract to me very much, it's has to be said that either type of hand is extremely well readable under most different light conditions. Just in very dark situations reading the time will get difficult. There's no lume used on the hands, nor in the dial.
A relatively large crown
Although beautifully shaped, the crown of the Seiko Presage Sakura Fubuki is rather large. One would expect this type of crown on a hand-wound watch, more than on an automatic. It feels like good quality though and the looks are equally good. It's nicely embossed with a letter S and has a deep structure for winding the watch. As mentioned before these newer Seiko movements wind automatically, however can be wound by hand as well. I guess that must have been the reason for Seiko to put a crown of this size and shape on these watches. Did you mention the nice classic double-dome shape of the Hardlex crystal by the way?
Do you want a glass case back on this watch?
Difficult question. Quite personal as well I guess, it depends on where you're taking off from. For some people this might be their first automatic mechanical watch. The price of this Seiko Presage Sakura Fubuki, € 420,= including VAT, is suitable for that. In that case you might be very happy being able seeing how this marvel of technique does it's work. On the other hand this watch might very well be acquired by long-time watch aficionados as well, who have seen other movements. Because, let's be honest, the Seiko caliber 4R35 probably is a good movement. However in this watch it doesn't show any affection towards haute horlogerie finish. It's rather basic, straight forward, which doesn't do any harm to its functioning at all by the way.
On the outer ring of the case back Seiko puts all kind of information about the specifications of the watch. The caliber number is mentioned, and f.i. the water resistance of 50 meters (5 atm). As well, the individual number of the watch can be found. The Seiko Presage Sakura Fubuki is internationally limited to 3.500 pieces (plus 1.300 pieces specially for the Japanese domestic market).
Packaging done very well
Last thing I want to mention is how positively surprised I was about the packaging. The exterior of the box is furnished with a faux-suede fabric. Extra nice about it is that the colors match the color of the watch model, or at least the strap. And each watch is accompanied by an information card about the Star Bar cocktail where it's dial is derived from.
For more information, visit the Seiko Presage website here.