Hands-on: The TAG Heuer Carrera Telemeter Cal.18
Baselworld 2014 was an odd one for TAG Heuer. After a long period of focus on the "avant garde", the brand hit the show with the force of a minor neutron bomb with the introduction of its forthcoming CH80 chronographs.  The CH80's wowed the crowd with their blend of clean, classic good looks coupled with a modern in-house movement and semi-reasonable pricing. Soon after Basel, though, the first warning sign that something was amiss appeared when TAG decided, albeit in a good way, to make minor modifications to the pushers, dial, hands, and crown. Soon after, though, and in shocking fashion, the brand decided to cancel the eagerly awaited CH80 altogether right before it was to enter stores. The reasons given were that it made no sense to have two automatic chronograph movements and also that TAG was going to focus the bulk of its resources on entry level watches. Needless to say, the watch community was deeply disappointed. So, as we neared to 2015 at Basel, or slightly before, we were left wondering whether the brand was brand was poised for redemption with a new release. As you'll read, we've been rewarded, but like so many comeback stories, this one, literally, comes at a cost.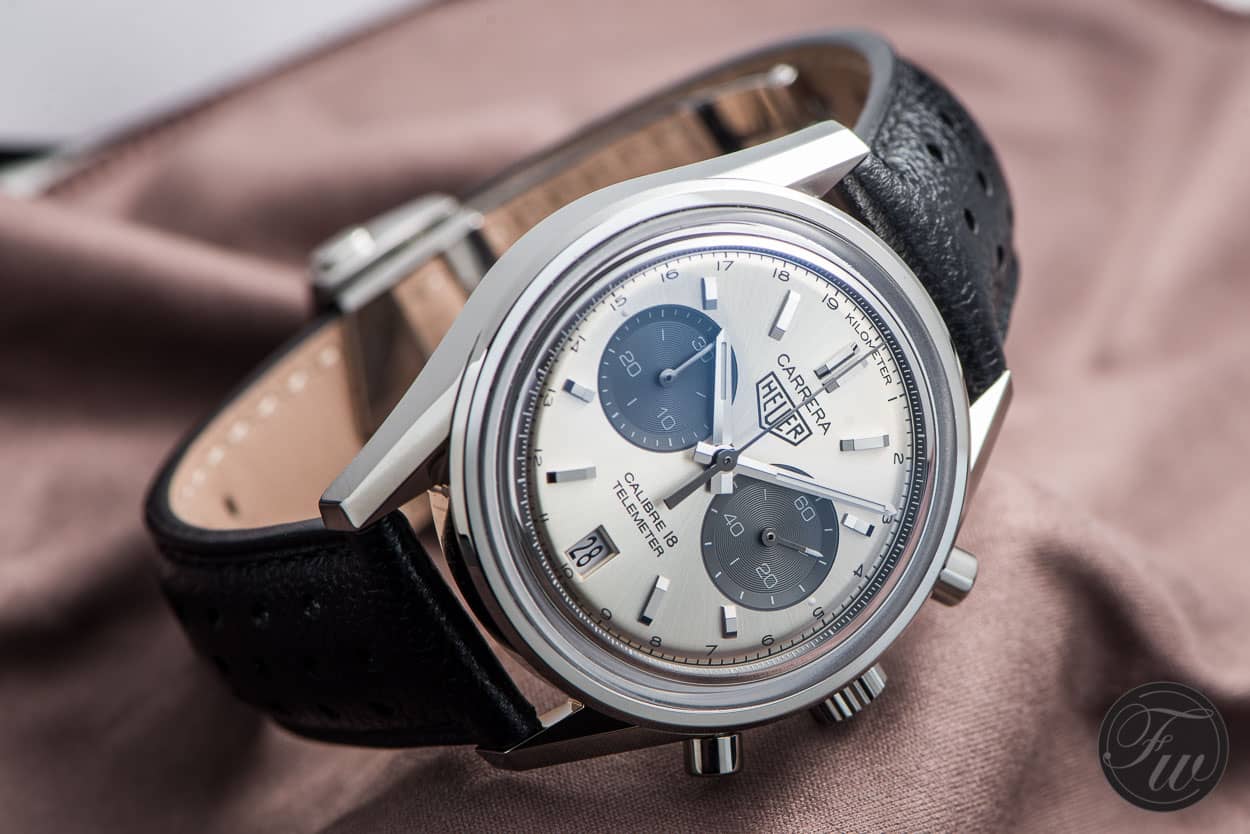 The TAG Heuer Calibre 18 Chronographe " Carrera Telemeter" was first shown a month or so prior to Basel and is on sale as you read this. When viewing the online pictures, I was intrigued, but I wasn't truly convinced. What I mean to say is that I've seen so many different TAG Heuer retro pieces that I've become somewhat complacent and I withhold judgment until seeing them "in the metal." Well, readers, I've seen and held the Carrera Telemeter and I can say that it is one gorgeous piece. It's not without fault, but it is a watch that tells us very clearly that despite the frequent concessions to pop culture by the brand, the purists are alive and well at TAG Heuer. Let's take a closer look, but before we do, let's list the basics.
Model Name: Carrera Calibre 18 Chronograph "Telemeter"
Case: Stainless Steel, 39mm
Crystal(s): Domed anti-reflective sapphire front with display back
Movement: Automatic Chronograph, 2-registers with date
Dial: Opaline silver with anthracite registers and Telemeter scale
Water resistance: 100 meters
Strap: Perforated black leather with folding "Heuer" logo buckle
So, there you have it and if you're like me, you see some serious promise. First off, TAG chose a 39mm case for the Carrera Telemeter and the size is perfect. The lugs mimic the original 2447 and 3647 Carreras from the 1960's and the design still works well today without looking dated. Further, TAG fitted the watch with perfectly simple pushers and a nicely sized Heuer crown. When looking at the watch head-on, it's impossible not to take notice of the thick, almost liquid-esque, domed crystal. I have a real "thing" for domed crystals and this application is no different. I'm sure that part of the reason for its thickness is to provide a relatively beefy water resistance, but there's still no doubt that it enhances the looks of the watch.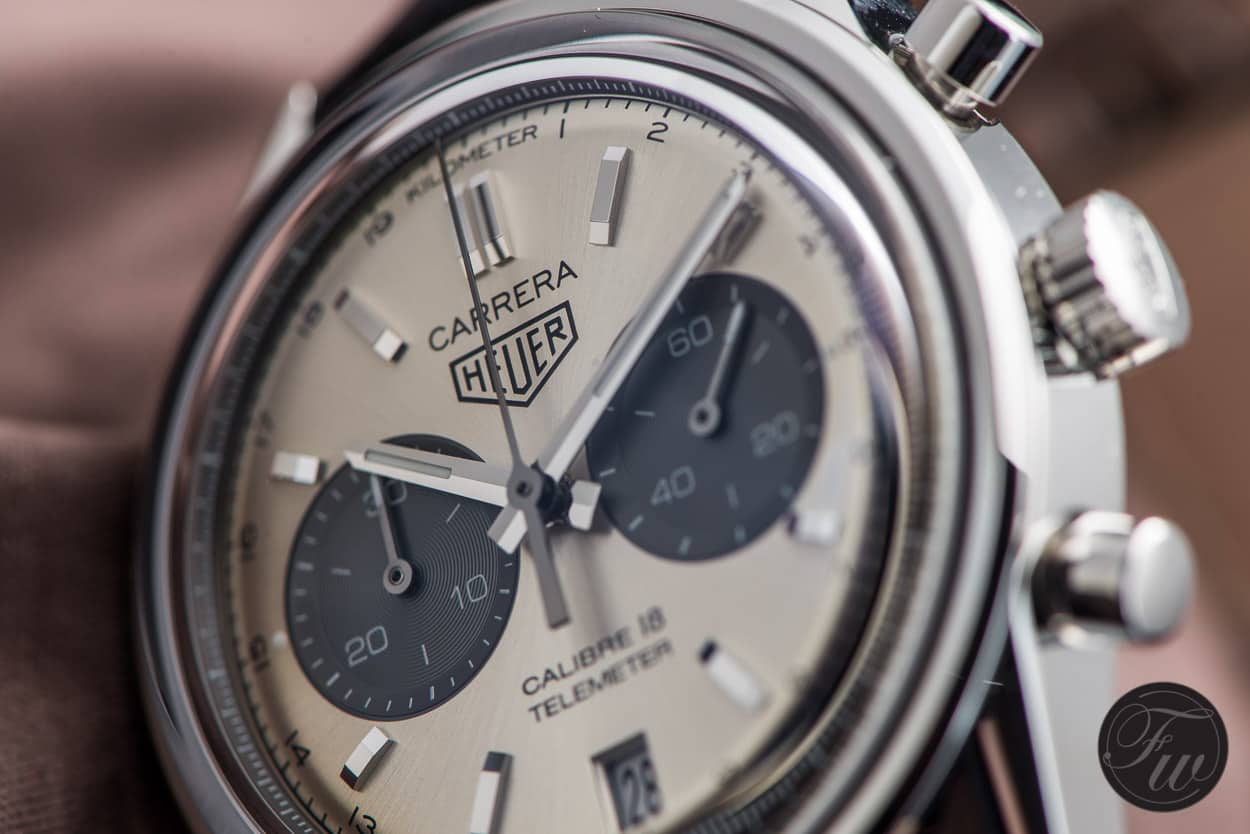 When we take a look at the dial, we're faced with loads of beautiful detailing. From the outside in, we start with a barely perceptible black internal bezel ring. I say it's almost invisible due to the thickness of the crystal but it is certainly noticeable when the watch is viewed from an angle. A telemeter scale then rings the dial, which adds a nice vintage-racing look. Applied metal indices, which, again, remind me of the 2447, mark the hours. Also, notice that small lume pips are applied outside of the hour markers at 3 and 9:00. Again, this is another nice detail. The central timekeeping hands are beveled and finished in a polished steel color and contain thin strips of lume. Shape-wise, they echo the 2447 well and are nicely weighted. The central chronograph hand is done in anthracite as well as the sub-register hands. The sub hands do contain white tips, which are a nice touch. The date window, while unnecessary in my opinion, is rather unobtrusive at 6:00.
When talking about the dial itself, this is where it gets somewhat interesting for me. First off, I am fine with the writing on the dial but I actually find the "Heuer" marking a bit large. It's strange but in person, it feels like it's about 20% oversized. My other points of contention are related to the color selections themselves for the dial. TAG contends that the choice of opaline and anthracite were made to evoke the classic panda color combination. That's fine but in person, I'd actually argue that the watch looks highly aged to the point that stark contrast is lost in the mix between the gray and opaline. In fact, the dial almost appears as yellowish or ecru in person versus silver; this is something that is absolutely not evident in stock photos. Perhaps it is the antireflective coating playing tricks on my eyes in the presence of severely bright show lighting. In any case, I asked the good folks at TAG whether there is any plan to produce the Carrera Telemeter in a reverse color scheme. I didn't even register a hesitation when receiving a solid "no" so let's see. It sure would be nice, though.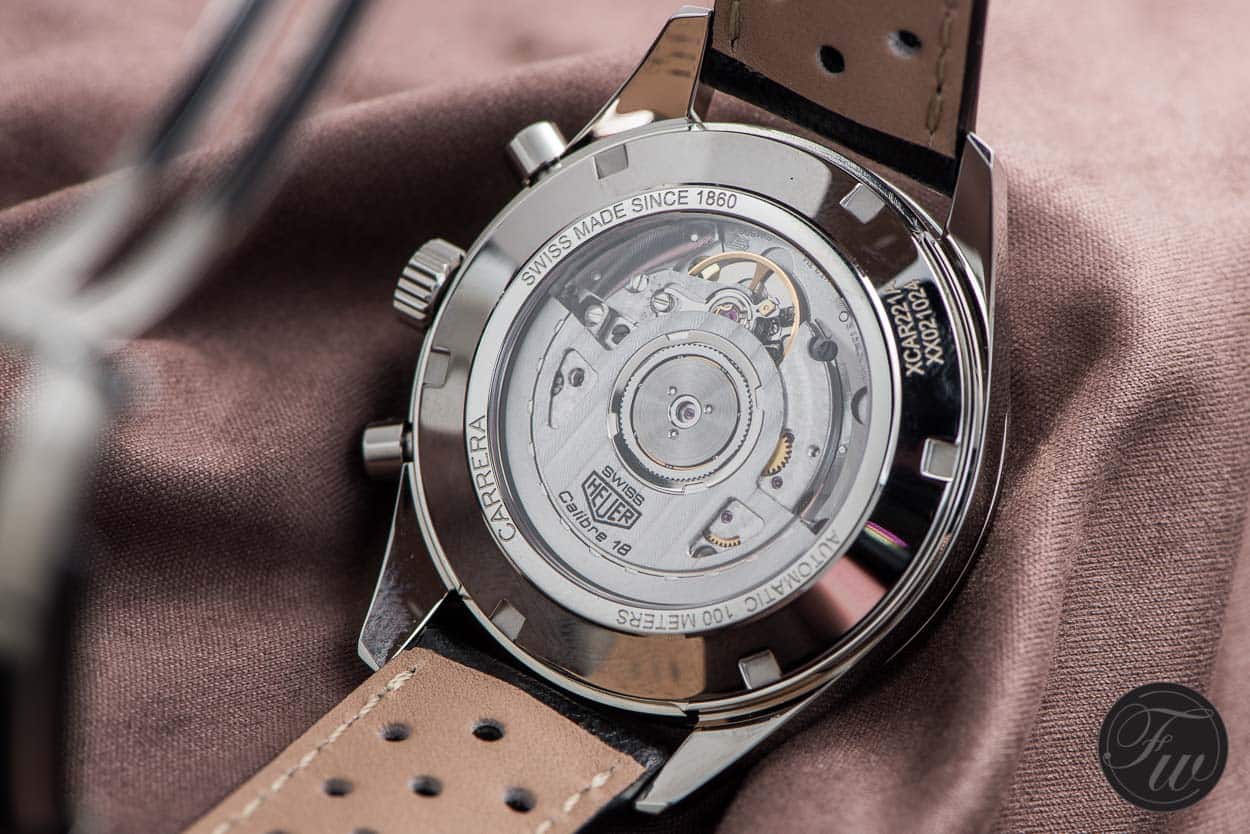 When looking at the case back, one can see the nicely finished Caliber 18 movement through the screw-down display case back. It contains a bold "Heuer" logo on the rotor. This movement is a Sellita SW-300 automatic with a Dubois-Depraz chronograph module. Pusher feel on the Carrera Telemeter has a nice tactile feel and winding the nicely sized crown is also a nice experience for the user.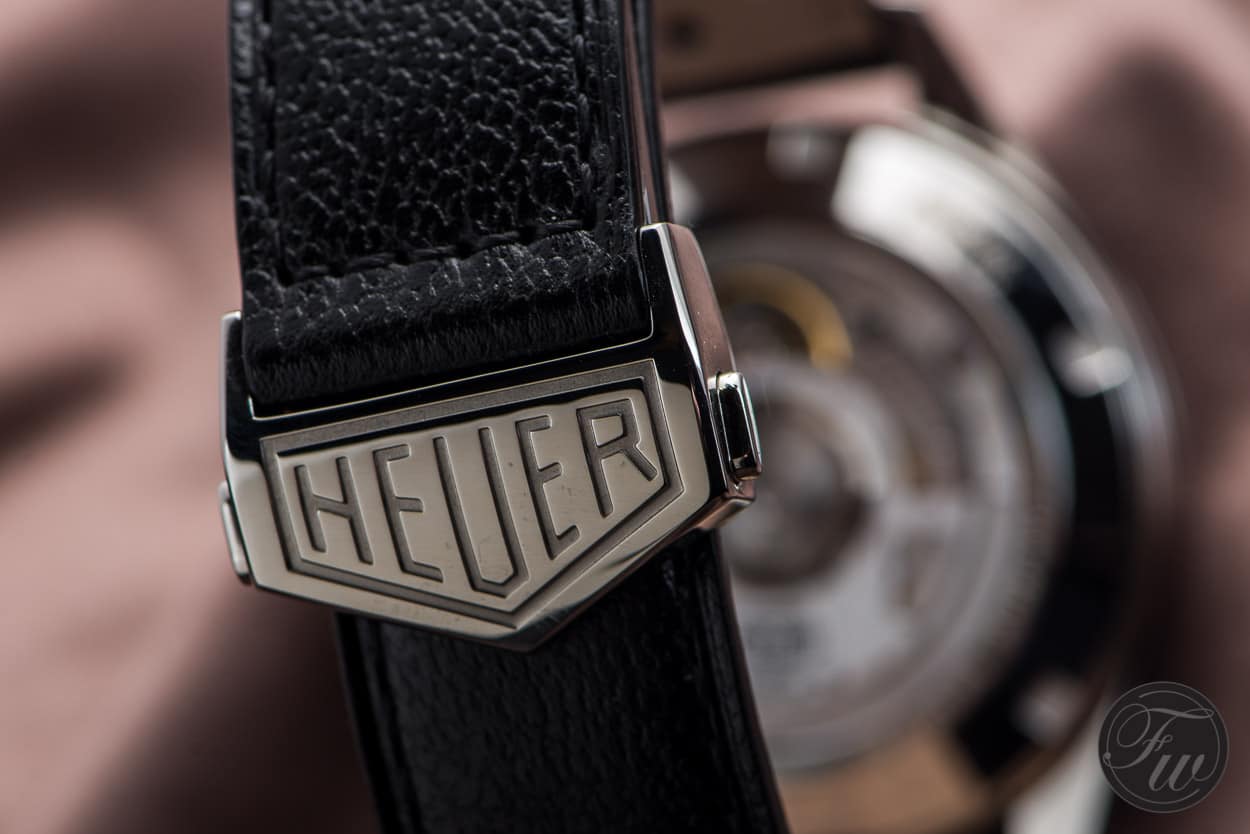 Regarding wearability, trying the Carrera Telemeter on gave a fantastic feeling. It's beautiful on the wrist and is well complimented with a leather-racing strap that has a shiny, Corfam-like look. The big Heuer folding buckle completes the look. Honestly, I was so impressed by this watch despite my middling concerns about the blending color scheme; it just looks so good on the wrist and fits so well. TAG really nailed the size and proportions of the case and other attributes. As I mentioned earlier in the article, I've seen a lot of retro Heuers released, but this piece is the best one since the original Heuer Carrera reissue from years ago.
Opinion
With availability a non-issue and along with my overwhelmingly positive remarks, you're expecting me to make the obvious choice to waltz into my local TAG authorized dealer to plunk down hard earned cash in exchange for one of these beauties, right? Well, it's a fair supposition but you'd be incorrect because despite my glowing review, there remains one big sticky problem: price.
The Carrera Telemeter is priced at 5,900 CHF. You can do the math and come close to pricing in other currencies; trust me, there are no real arbitrage opportunities on any continent. We've known about this price since the watch was released but I thought I'd take the opportunity to air my gripes. Look, I understand that fine watches are expensive. I've also read plenty of complaints all over the web about brands such as Tudor who, until this year, relied on outside movements but priced them as if they were in- house. However, the Carrera Telemeter pricing scheme has to be one of the most egregious I've seen outside of a few small brands, which I won't name here. As an example, I witnessed another watch company showing a brand new chronograph with the exact same movement as in the Carrera Telemeter and listing it for a price of 3,500 CHF. So, no, this price does not make sense to me.
My other argument against the Carrera Telemeter pricing is a predictable one from me since I love vintage watches. Yes, there are many retro pieces available today that have pricing in excess of the original vintage piece that provided the inspiration. The recent Oris Divers Sixty-Five comes to mind instantly as well as certain Zenith El Primeros. However, the gap here is so substantial that one could come close to buying 2 vintage pieces for the price of the new one. Granted, the originals are 36mm versus 39mm, but they wear very well and I'd argue that the thick crystal on the Carrera Telemeter reduces visual mass and makes old and new competitive wrist presence wise. As an example, I saw a very nice 3647, 2-register Carrera sell for under $3K and that was with a semi-exotic dial. 2447, 3-register pieces are as iconic as Speedmasters and Daytonas (read: values continue to rise and are about as sure-fire as it gets from an investment perspective) and can be had for well under 5,900 CHF. The other thing is that these vintage watches can be sold almost instantly if necessary and likely without any loss.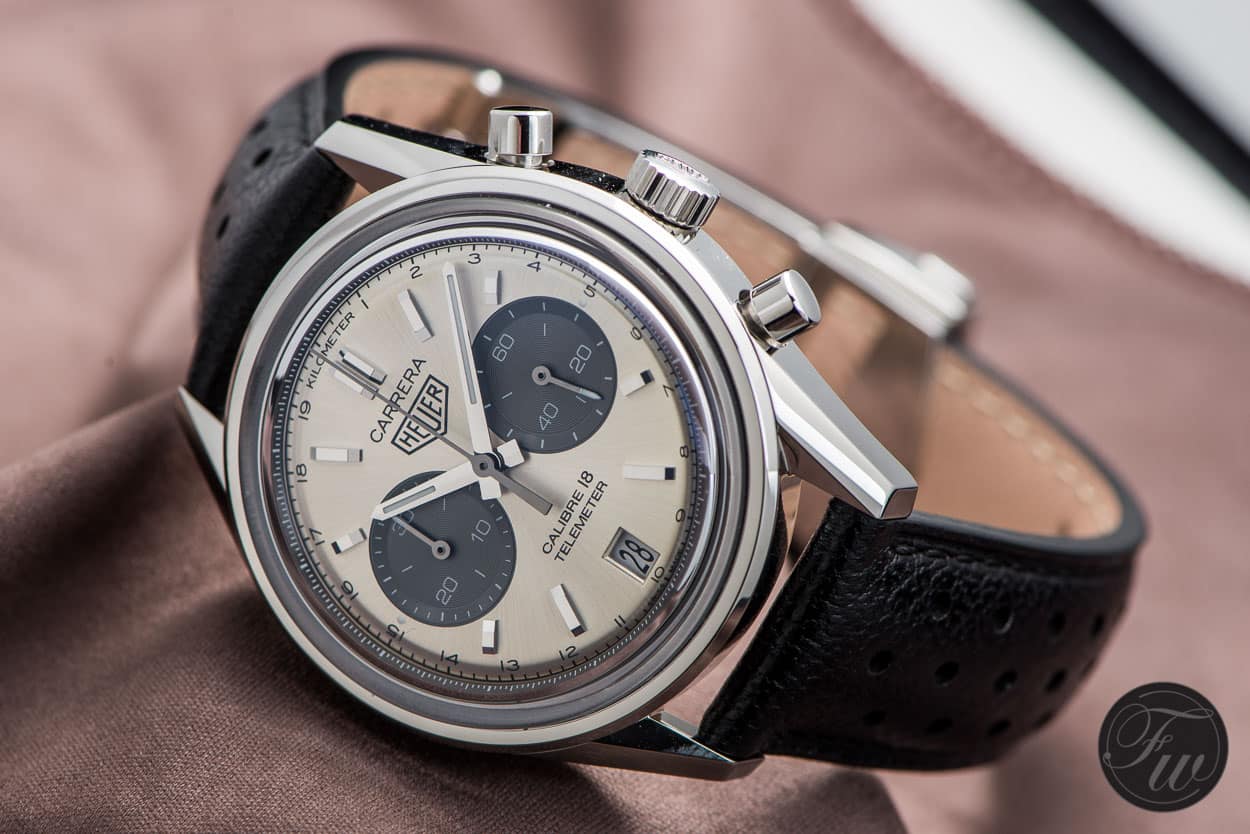 Conclusions
So, in the end, I am torn. I know that TAG is focused on high-end futuristic pieces as well as entry level models such as the Formula 1, but I hope that TAG doesn't abandon the possibility of more vintage-inspired pieces because the Carrera Telemeter was one of the best looking pieces that I saw in person at Baselworld 2015. To give you further evidence, our team member Bert, who took the amazing pictures and is about as stoic as they come, lit up when he saw this watch. Unfortunately, we had the same feelings on the pricing. I could see myself easily wearing this watch as an everyday piece that would allow me to travel without worrying about damaging my fragile vintage pieces. Further, it would work in about every situation and would certainly generate conversation due its fantastic looks. Alas, I'll be left to troll the for-sale ads to see what happens to them on the secondary market in hopes that they become more reasonable. However, if you're convinced that the Carrera Telemeter is the watch for you and want to buy one new, consider making the move to your local dealer relatively soon. While the watch isn't limited, TAG let on that it was produced as a lot and production is finished. I'd love to hear your take on the beautiful Carrera Telemeter in the comments below.