Hands-On With The Tissot PRX Powermatic 80 35mm
A little watch makes for one of this year's big hits
There's no doubt about it: the Tissot PRX is the biggest hit for the brand in a long time. After the quartz and automatic 40mm versions and the 35mm quartz models, in June, Tissot released the PRX Powermatic 80 35mm. This is a watch that I know many of you were waiting for, so I went hands-on with several of them to see if they capture the PRX magic.
Here, we have four flavors of the PRX Powermatic — black, blue, green, and a new white mother-of-pearl dial. Let's dive in and see if these are the Tissot PRX versions we have been waiting for!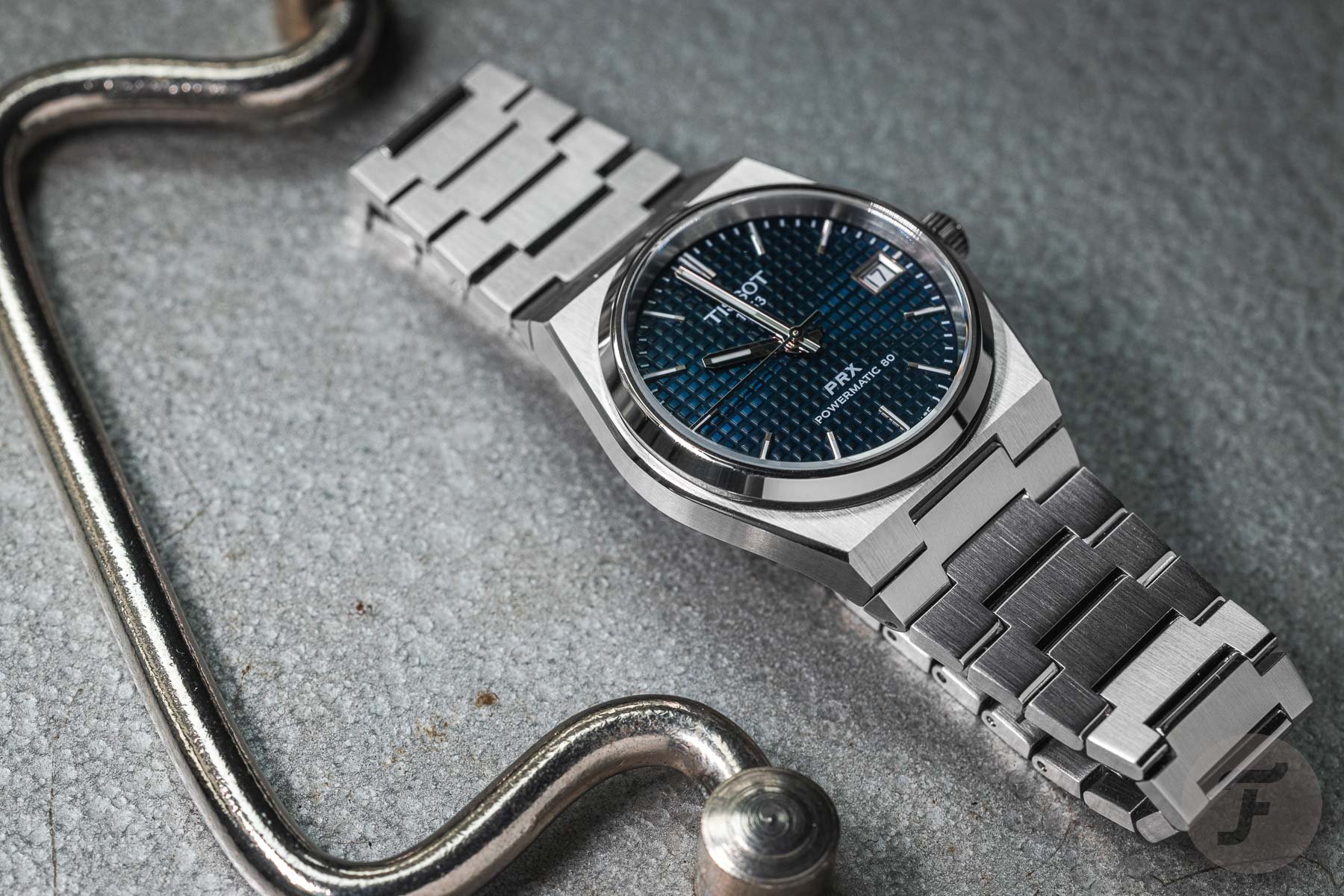 Tissot PRX Powermatic 80 35mm specs
Let's get the spec sheet out of the way first. This is actually quite simple: except for the 5mm size difference, the Tissot PRX Powermatic 80 35mm is the same as the 40mm version. They even share the same price of €745. In short, then, you really do get a clean choice of sizes. This is refreshing because many manufacturers tend to target the smaller option towards the female clientele. No such issues here. You can just buy the size you prefer, regardless of who you are.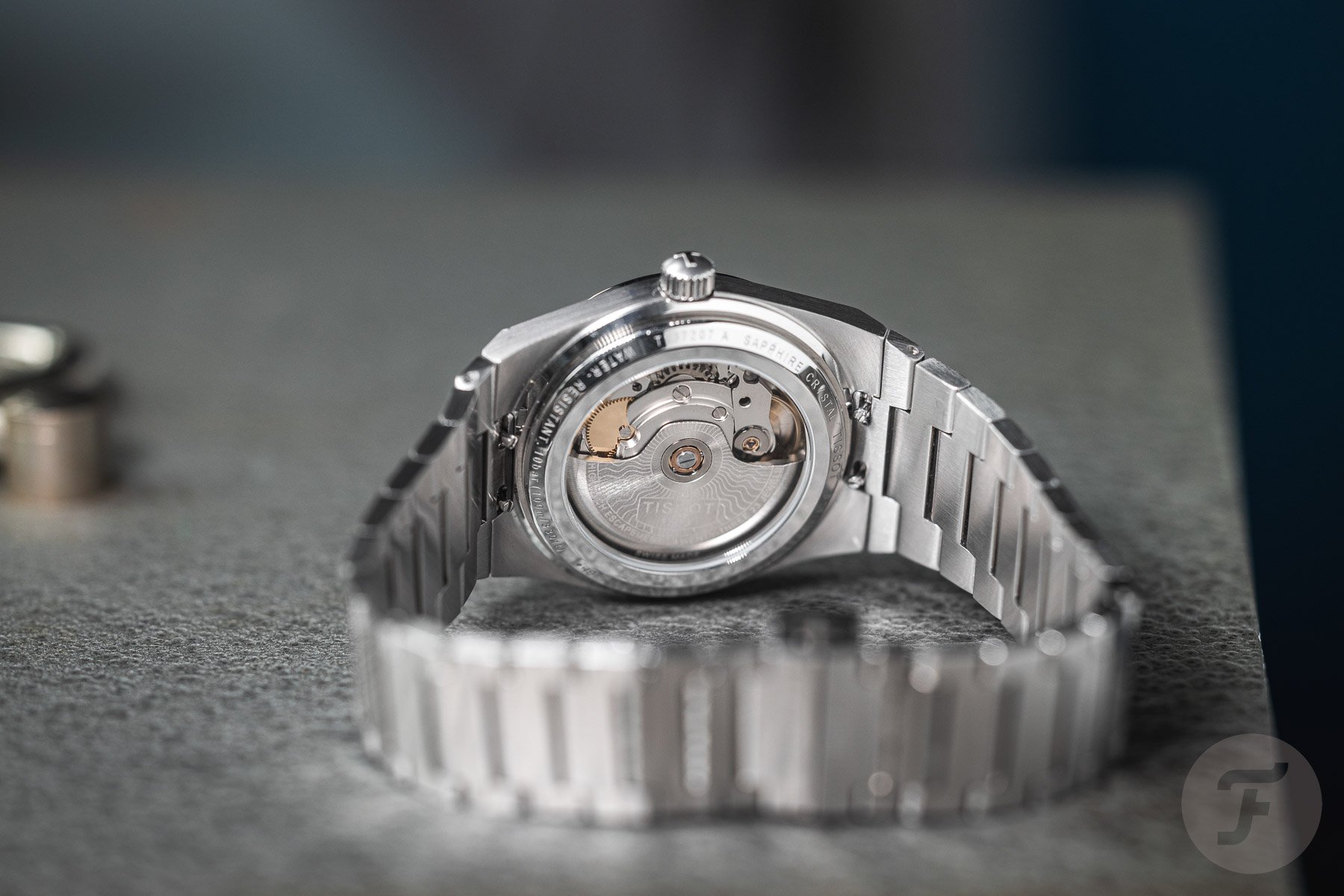 In short, this is still a 100m-water-resistant 316L stainless steel sports/GADA watch with an integrated bracelet. As the model name indicates, Tissot fitted the Powermatic 80 caliber. Essentially, this is an ETA 2824 that had its beat rate lowered from 28,800 to 21,600 in favor of a longer 80-hour power reserve. You can admire it through the mineral glass on the case back. The dial features a neatly framed date at 3 o'clock. The only difference with the bigger brother is the choice of colors. Currently, there are six options, including ice-blue and gold PVD versions not pictured here. Among them, the white mother-of-pearl dial is unique to the PRX Powermatic 80 35mm.
Of course, the star of the show is the integrated bracelet. Again, this remains the same as on the rest of the collection. It is still a one-link construction with a butterfly clasp and a quick-release mechanism. Unfortunately, the quick-release bayonets are tucked between the domed case back and the angled end link. This means they are quite finicky to get to unless you have tiny toddler fingers. It isn't exactly ergonomic on the 40mm model, but it is worse on the 35mm version.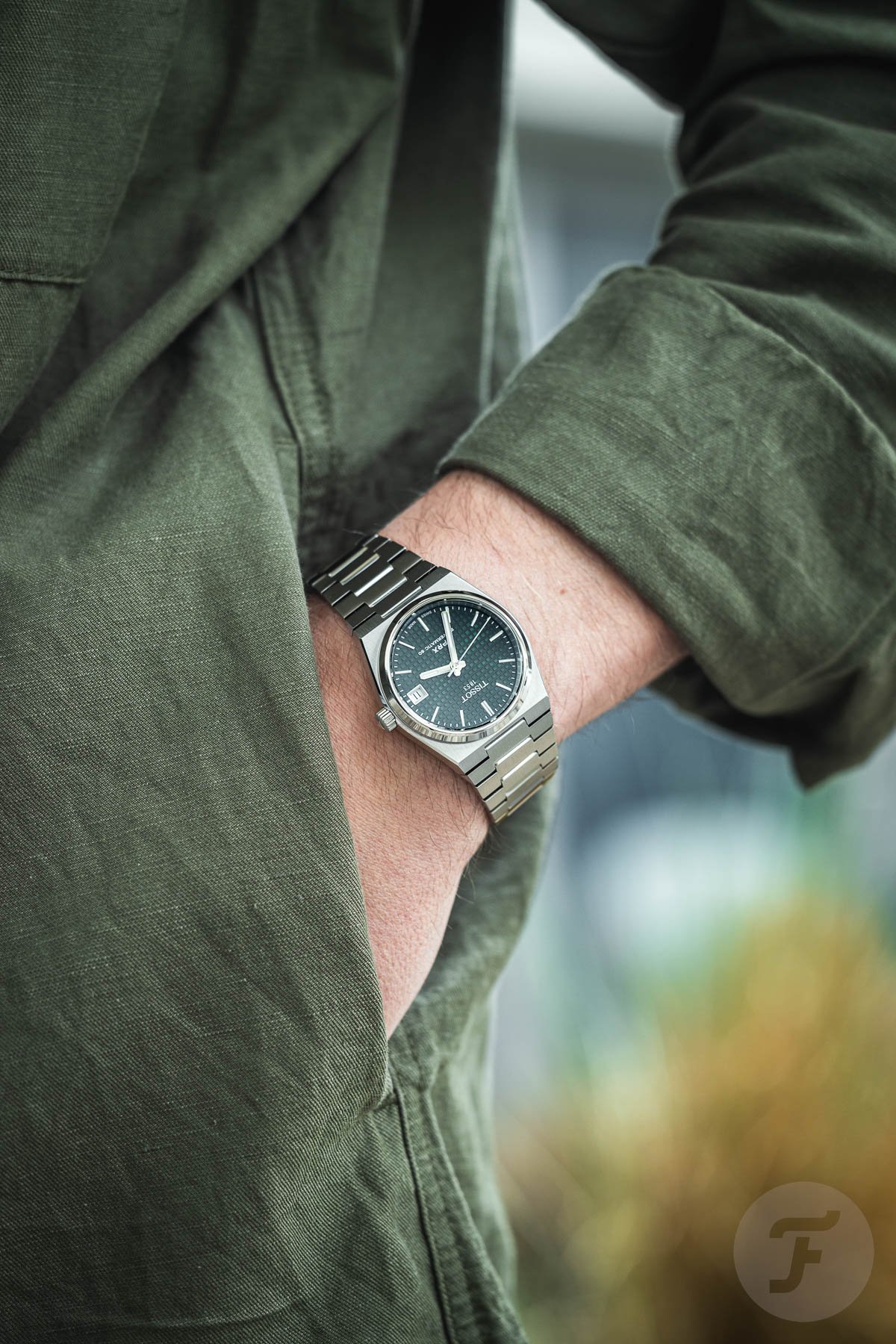 Wearing the Tissot PRX Powermatic 80 35mm
Perhaps you have read my earlier review of the battery-powered Tissot PRX 35mm. You will know that I found it to be one of the most comfortable watches around. The small size, the lightness, and the thin and supple bracelet all come together to create a very pleasant wearing experience. The automatic sacrifices a tiny bit of that, being a little heavier and slightly thicker (11.3mm vs. 9.6mm). But it is still the kind of watch you forget you are wearing quite quickly.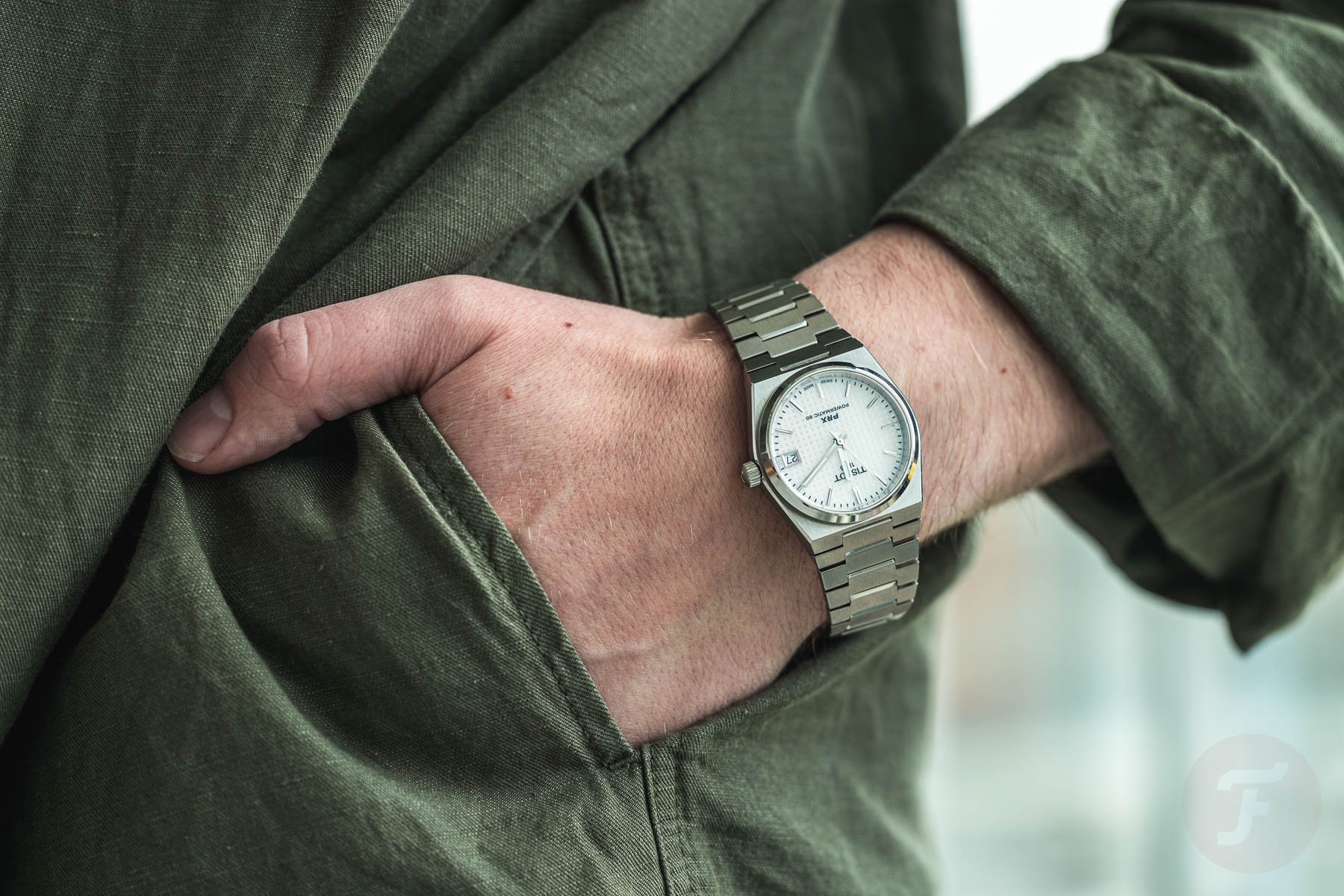 What remains is the fact that this feels like a vintage watch. If you like '70s originals like the 34mm Ingenieur, this is for you. It really does have that same vibe on the wrist. It is not simply a slightly downsized PRX; it is actually a small watch. To be fair, as a modern sports watch, I would have loved to see a 37mm or 38mm version. I feel I am in between sizes, with the 40mm being a little overpowering on my 17cm wrist. This is, crucially, a taste issue. I am sure many smaller-wristed watch lovers are perfectly fine with the 40mm, so don't take my word for it. Try them on, and pick your winner.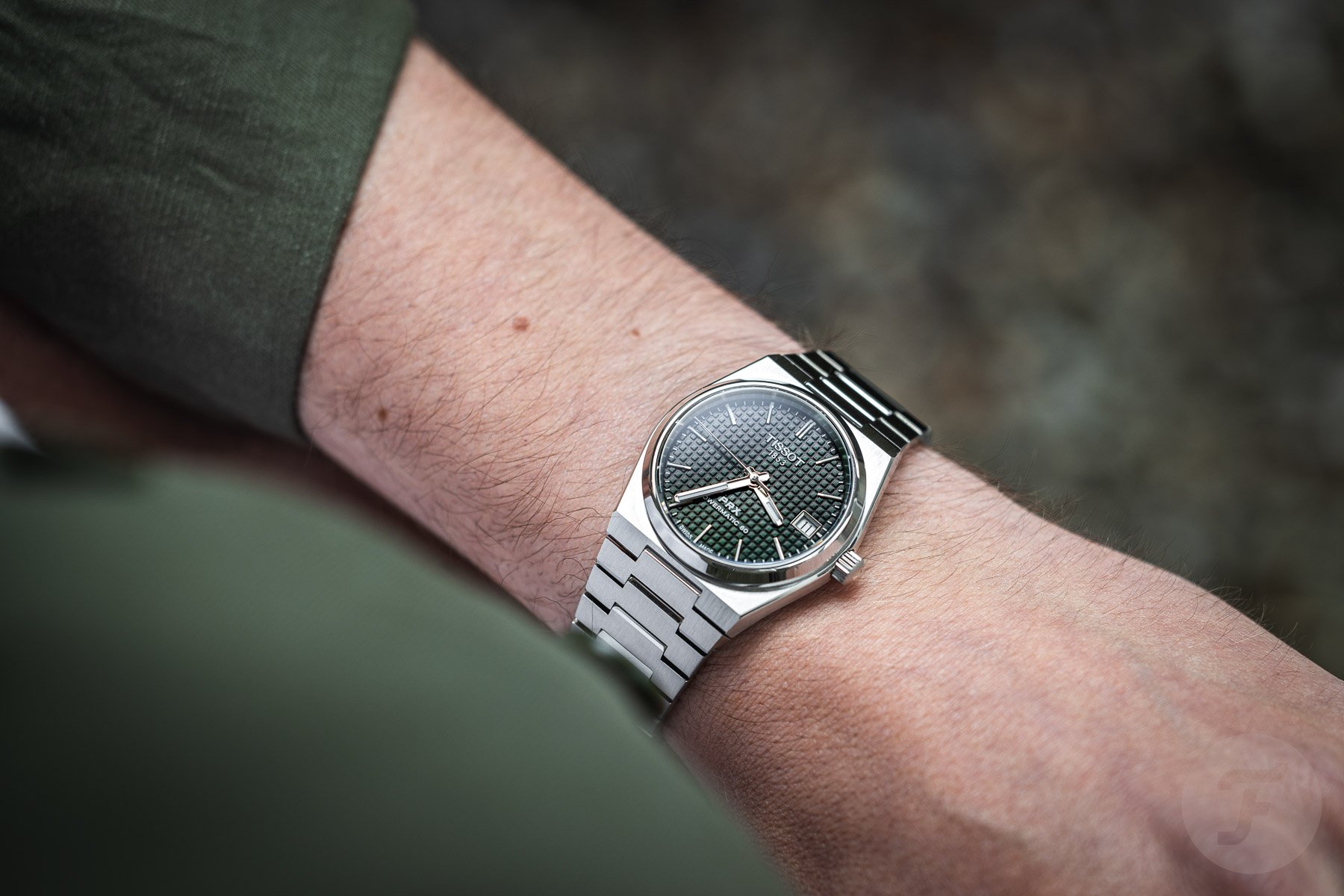 This, decidedly, isn't a women's watch. I am happy to see Tissot market the entire collection as unisex. Why put needless labels on them when you can just let people choose whatever they prefer? Putting the Powermatic 80 caliber in the 35mm version completes the equality in the collection. Now there really is a PRX for everyone.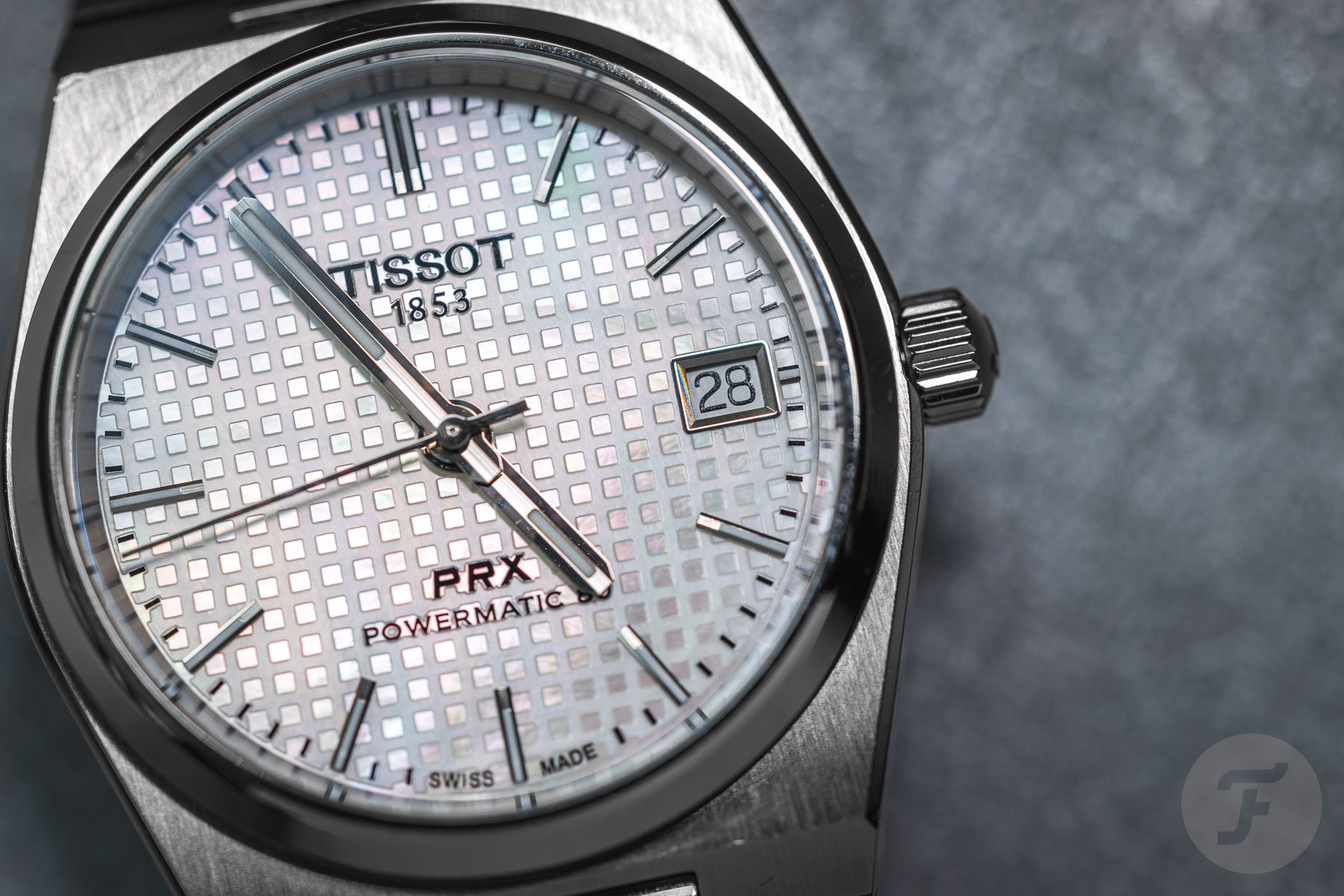 Mother-of-pearl
I want to take a moment to mention the mother-of-pearl version. When I first handled the watches, it was under artificial light, and I thought it was just a white dial. It had a slightly translucent effect as if it was covered in a thick coat of transparent lacquer. Only when I approached a window did I notice that it was a mother-of-pearl dial.
The lacquered dials feature a stamped tapisserie pattern. Naturally, you cannot stamp the brittle mother-of-pearl, so the pattern is reversed and etched on this dial. At this moment, the dial is unique to the Tissot PRX Powermatic 80 35mm.
I don't want to beat a dead horse, but Tissot took the same unisex approach to this dial. The pearlescent effect is enough to make it visually more interesting. At the same time, it is subdued enough to keep it out of jewelry-esque territory. So, again, it isn't squarely aimed at anyone other than whoever likes it.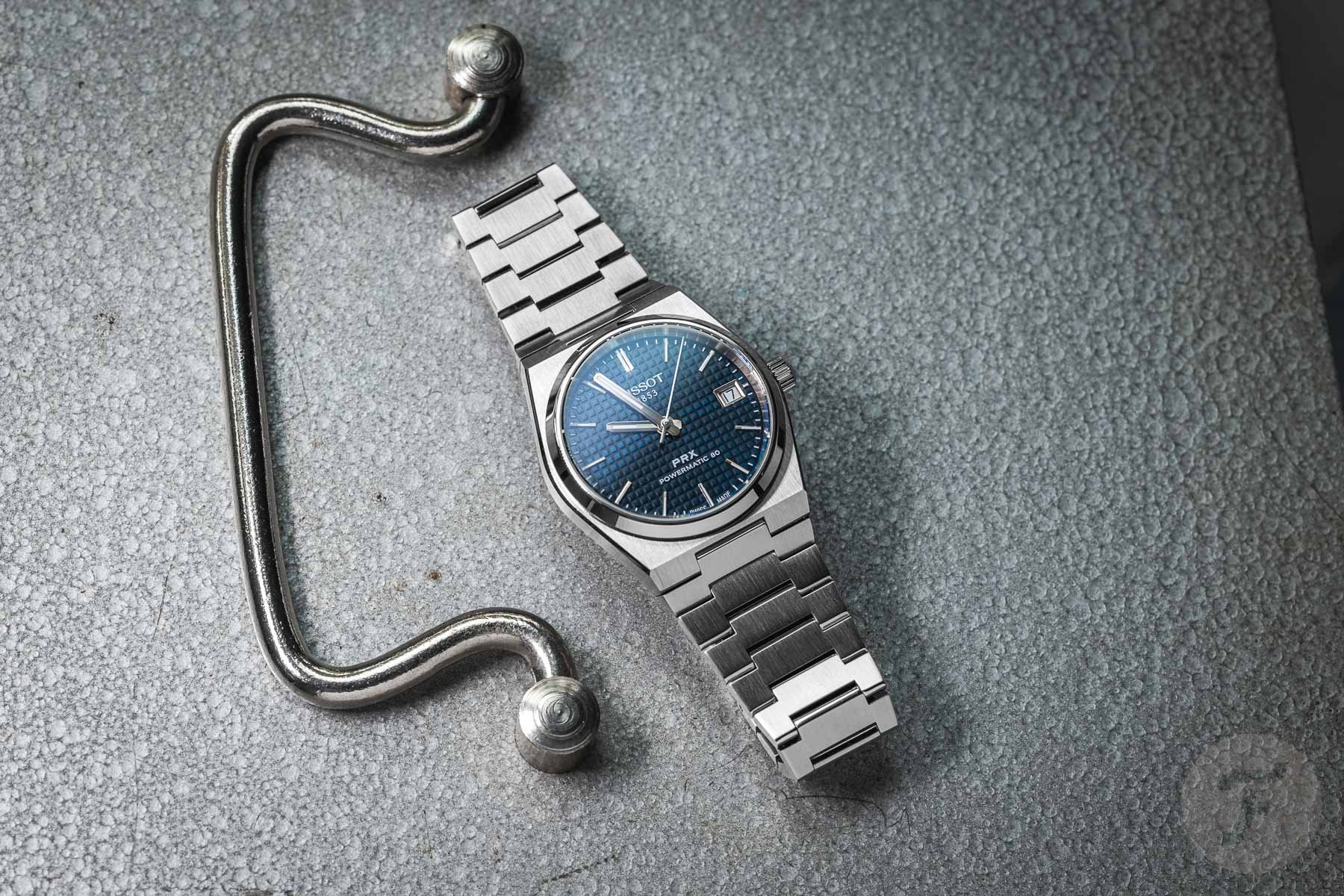 Closing thoughts on the Tissot PRX Powermatic 80 35mm
I know for a fact that many people were waiting for this one. If you love vintage and/or have a smaller wrist, the PRX 35mm could be for you. But then you may have been holding out for a mechanical version. Here it is, and it does not disappoint! It is precisely what we expected, and for once, that is a good thing. Tissot just meets expectations here.
Naturally, it is a hair thicker than the quartz version, but it is still far from tubby. It is still a very comfortable watch that is stylistically versatile. I can see this becoming a gateway watch for many new watch aficionados. If you are looking for your first mechanical watch to cover all your daily needs, this is it. And if it is too small for your liking, pick the 40mm version.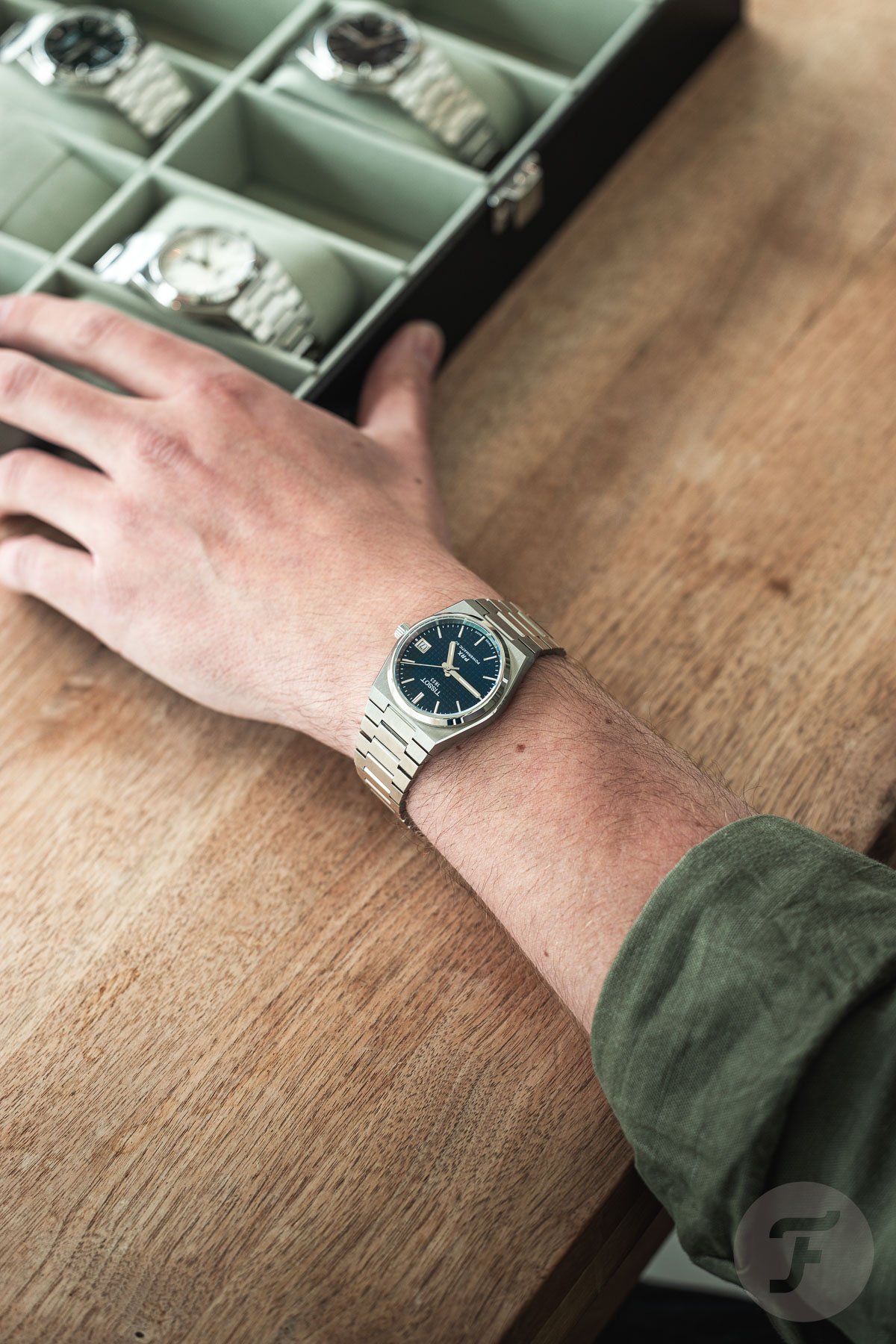 At the same time, I can see seasoned collectors finding this appealing too. It is handsome, versatile, well made, easy to service, and under the radar. This could be your perfect holiday watch. Kudos, Tissot; you now have a perfectly balanced collection with a PRX for everyone!
What do you think of the Tissot PRX Powermatic 80 35mm? Let us know in the comments below, and for more information, visit Tissot's website.
This is a preferred-position post. Learn more.
Watch specifications
Model
PRX Powermatic 80 35mm
Reference
T137.207.11.041.00 (blue) / T137.207.11.051.00 (black) / T137.207.11.091.00 (green) / T137.207.11.111.00 (mother-of-pearl)
Dial
Blue, black, green, white mother-of-pearl
Case Material
Stainless steel (316L)
Case Dimensions
35mm (diameter) × 39mm (lug-to-lug) × 11.3mm (thickness)
Case Back
Stainless steel with mineral glass
Movement
Powermatic 80 — automatic winding, 21,600vph frequency, 80-hour power-reserve
Water Resistance
10 bar (100m)
Strap
Integrated stainless steel with toolless quick-release