Hands-On: The Tissot PRX 35 Pushes Vintage Vibes To The Next Level
Spending some time with the small PRX raises the question — who is it for?
Tissot hit a home run with the release of the PRX collection. The watch propelled the brand back into the collective consciousness of watch lovers all over the world. The on-trend retro styling, integrated bracelet, and great value made it a big hit. Several Fratello editors have bought versions for themselves by now, which is telling. The only thing that was missing was an alternative for the smaller-wristed among us. Tissot answered the call with the PRX 35. I wore a couple of these for some time to see what they are all about.
The main question I will try to answer in this hands-on review is "who is it for?" This version is seriously small. Is it too small? Let's see what it is like in daily life! We have covered the full story of the PRX before, so I will stick to the specifics of the PRX 35 here.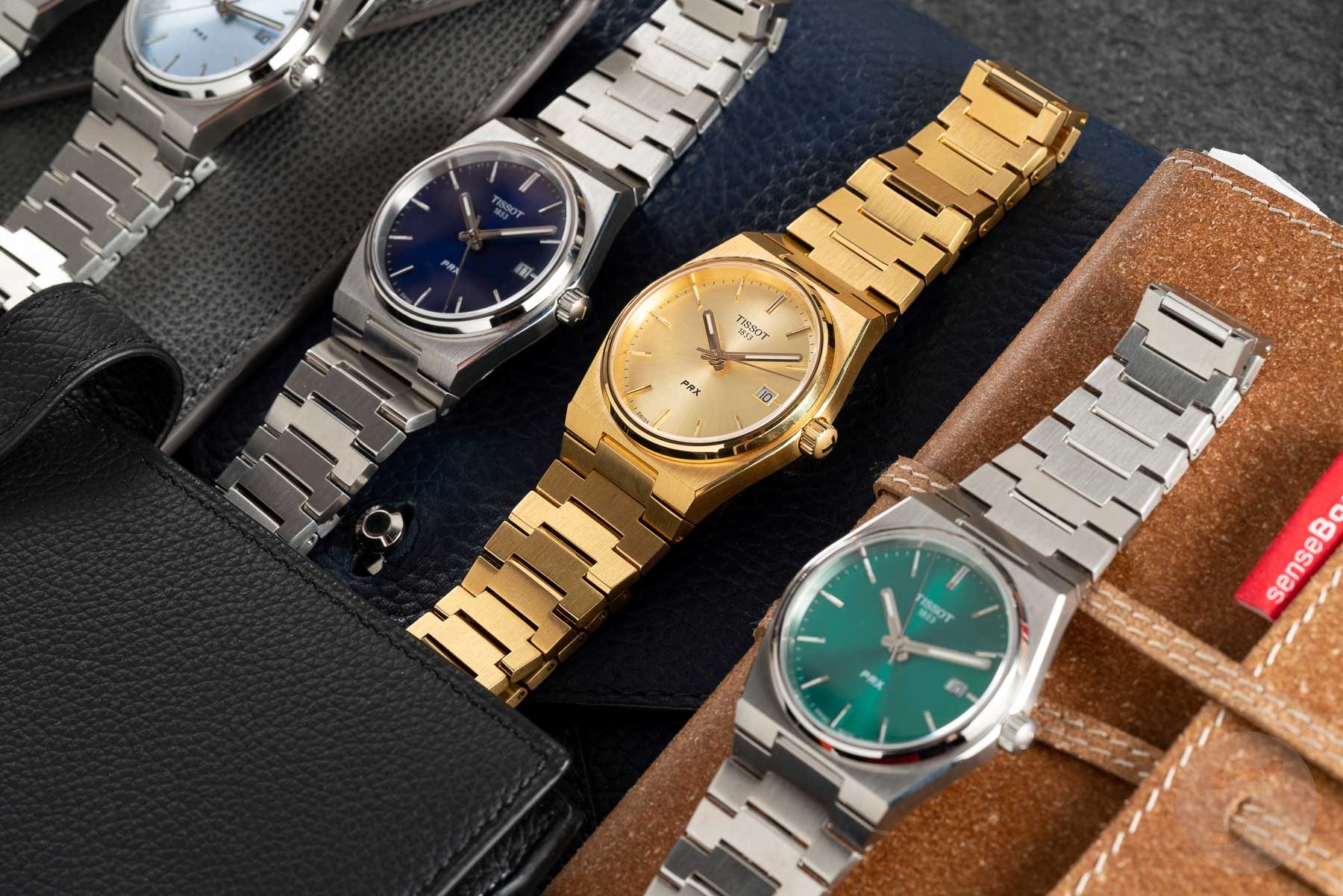 Tissot PRX 35 specifications
The PRX 35 measures — you guessed it — 35mm across. Its lug-to-lug is 39mm, paired with a thickness of a hair under 10mm. That makes this a very compact watch. The integrated bracelet drapes nicely around the wrist and tapers to 16mm. It is only 3mm thick, making for a very comfortable wearing experience. There is no micro-adjust, but the short links and a couple of half links ensure you can get a good fit.
The Tissot PRX 35 is only available with a quartz caliber. If you want an automatic version, you will have to look at its bigger brothers. The caliber inside is an ETA F05.115 with a date and end-of-life indication.
Another key spec is the water resistance. At 10 ATM, the PRX 35 is perfectly capable of handling most of your aquatic antics without issue. Lastly, a sapphire crystal protects your choice of five dial colors. And if you want to go all out, there is a full yellow gold PVD version with a matching dial.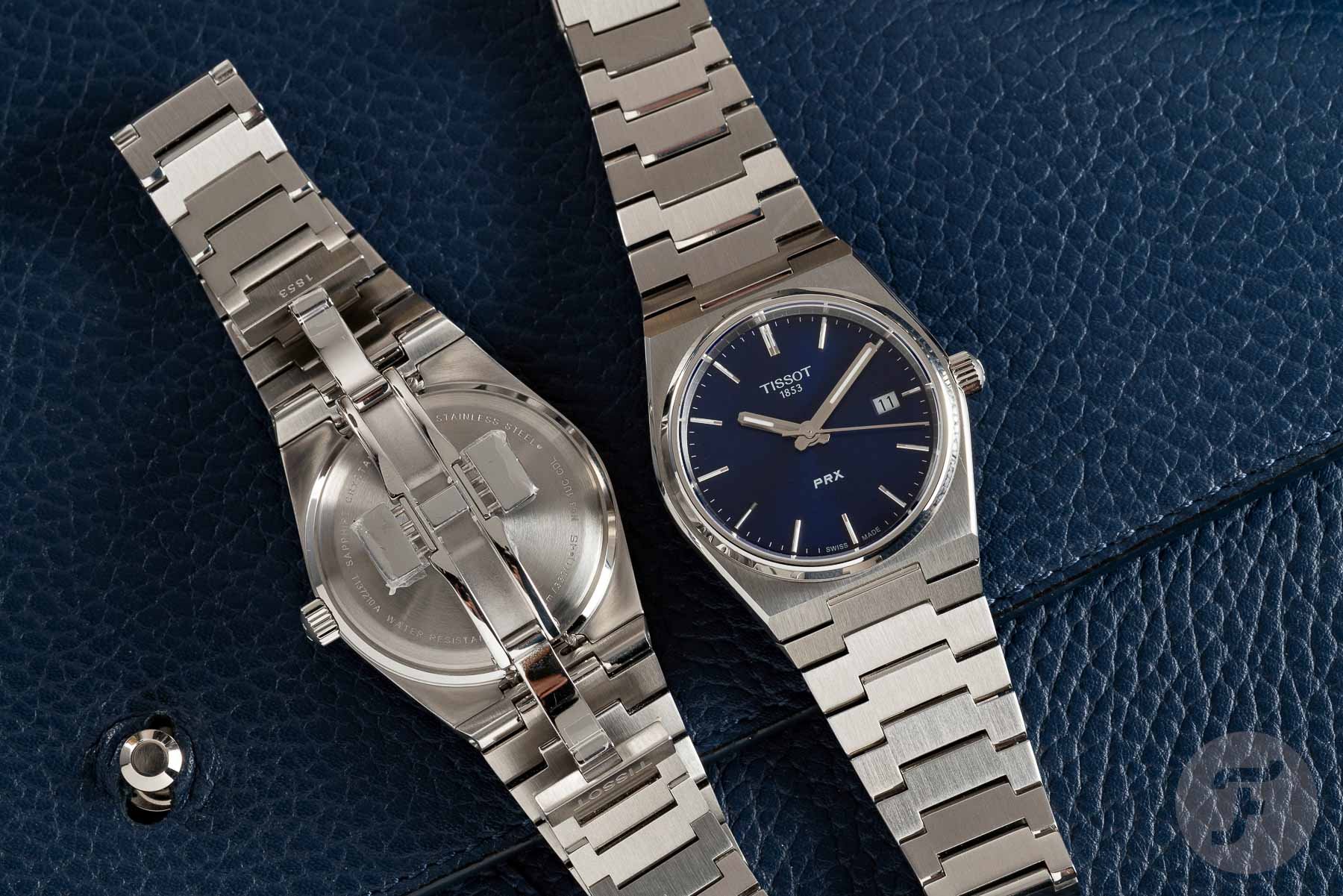 Punching above its weight
The PRX 35 carries the same €375 price tag as its 40mm quartz brother (€100 additional for the PVD gold version). I can also attest — having held these alongside both the automatic and chronograph versions — that the finishing is on par with the rest of the PRX family. And that finishing is awesome at this price. This really does look like a much more luxurious watch than it is.
The same goes for the dials and handsets. They are all quite expertly made. I have seen coarser edges and blemishes on watches that are way more expensive than this.
The bracelet is fitted with a quick-release system, which is great at any price point. At the time of writing, there are no strap alternatives available just yet. Tissot assured me that options will be released in 2023. If the PRX 35 becomes a hit, I am sure third parties will jump in as well.
Wearing the Tissot PRX 35
I specifically requested a long-term loan to get some serious wrist time with the Tissot PRX 35. I had a feeling that the 35mm size might take some getting used to. We will explore that in more detail later. I am happy to report that the Tissot PRX 35 is one of the most comfortable watches I have ever worn. Its subtle size, thinness, lightness, and supple bracelet conspire to form a very enjoyable wearing experience. It only took a few minutes to completely forget I was wearing a watch at all. Combined with the quartz caliber, this really is a watch to wear day in and day out without paying it any mind.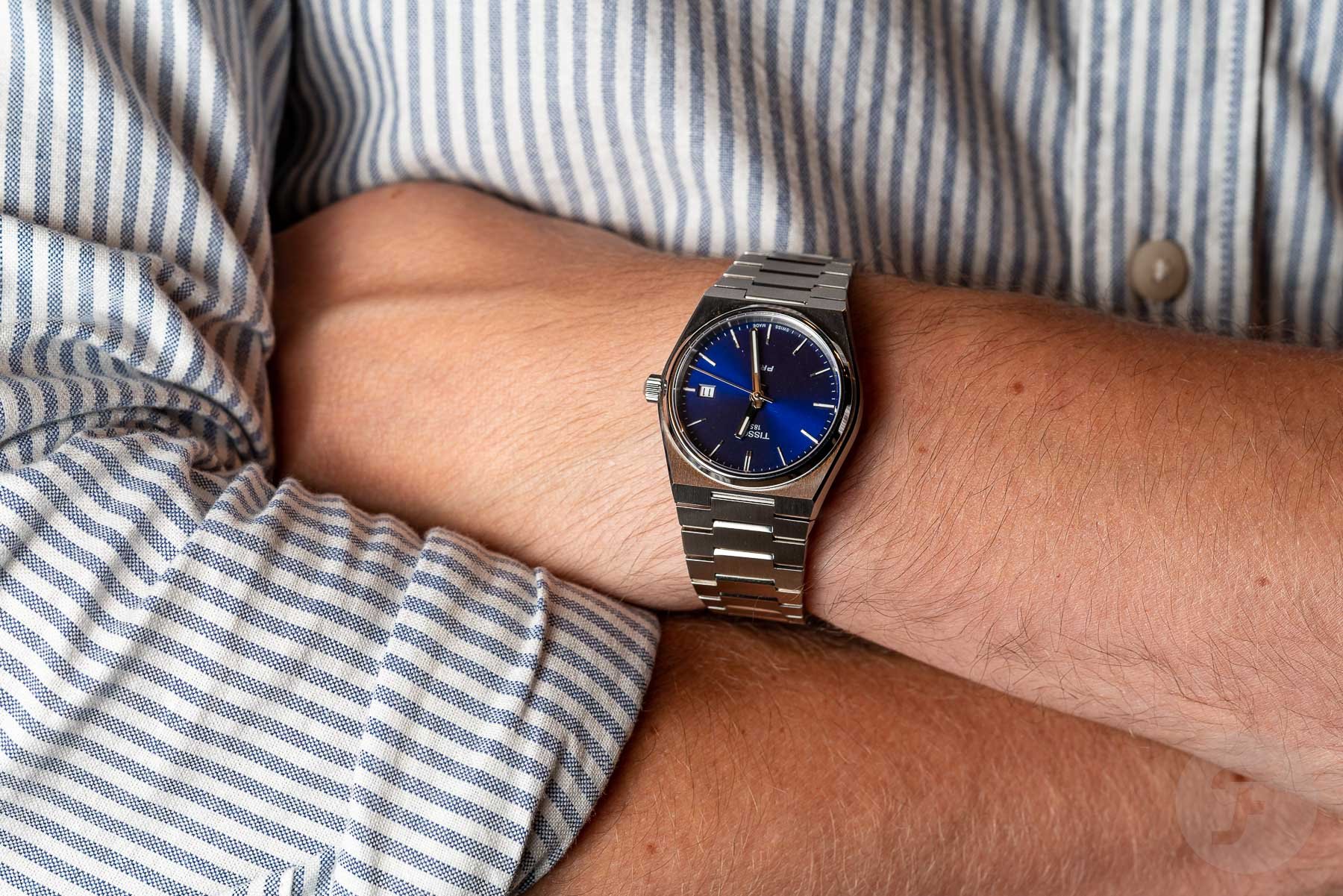 If you pick a dial color that matches the majority of your wardrobe, this is a perfect everyday watch. It has a stylistic versatility that works in formal and casual settings. And you can feel free to jump in the pool with it too.
I also like that it is free of status and a bit of an insider's choice. Much like a Seiko SKX, for instance. It is never offensive or out of place, but at the same time, it does get you the occasional nod from those in the know. Not many watches in this segment trigger spontaneous conversations with strangers that turn out to be fellow watch lovers.
Is the Tissot PRX 35 too small?
On to the elephant in the room. A 37mm version would have been plenty svelte for the smaller-wristed. At 35mm, this is really a diminutive watch. I happily wear 34mm dress watches, but for sporty designs like this, I lean towards a tad bigger. So is this the ladies' version, then?
Well, no. Whenever I switched from a larger watch to the Tissot PRX 35, it felt small. After a couple of hours though, it started to make sense every time. The PRX 35 is sized like a vintage watch. And when you look at it as such, it is perfect.
I have handled many original integrated-bracelet watches from the '70s. Many examples from prime brands were sized something like this Tissot PRX 35. I specifically recall an IWC Ingenieur ref. IW3506 that I absolutely loved. At 34mm, it wore a lot like this Tissot. It is a very different look and feel compared to what we are used to nowadays, but I love that Tissot is offering the option. This is not a crowd-pleaser. The 40mm version is the crowd pleaser. But this is something very cool for those with a taste for "old-school small".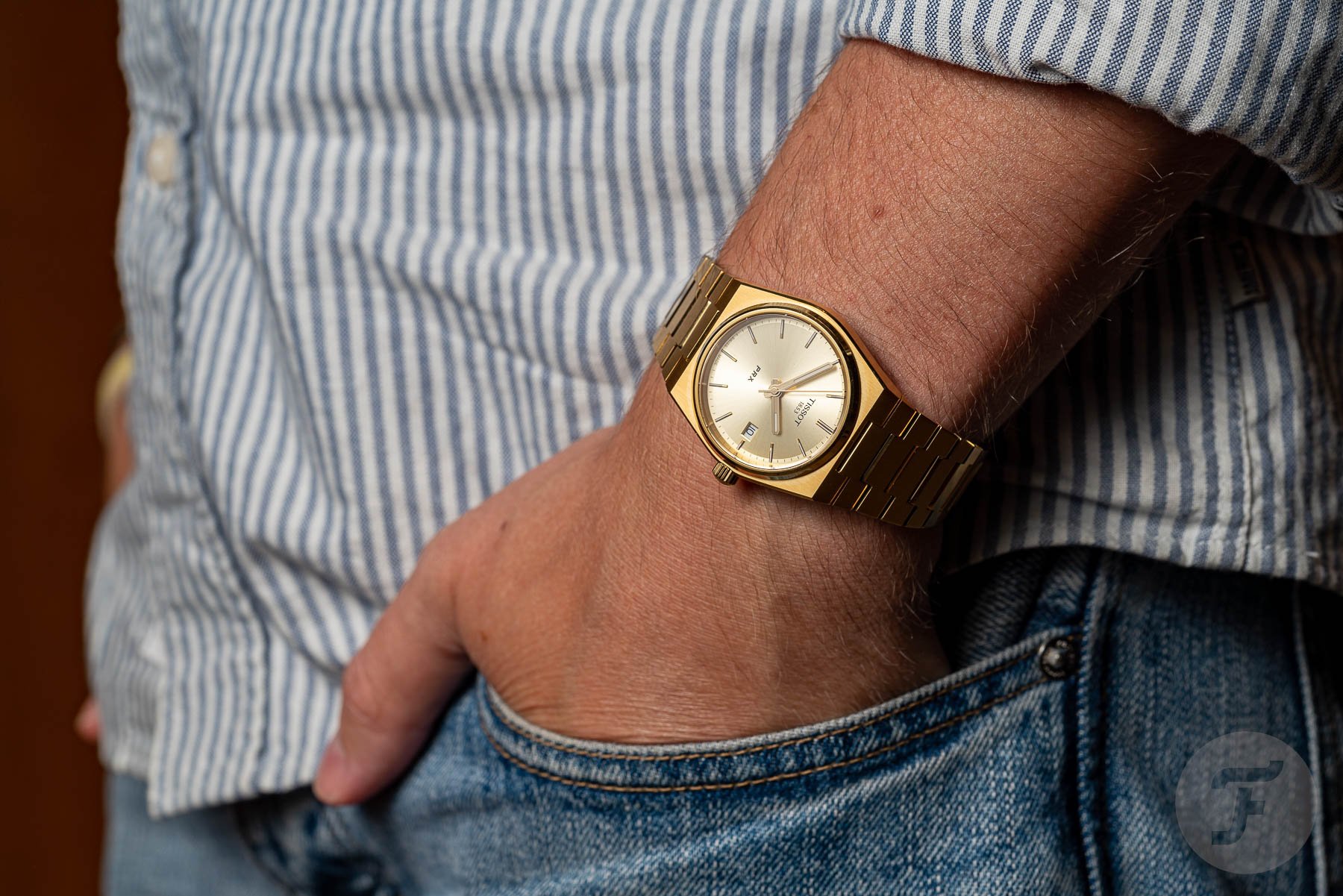 So who is it for?
My girlfriend loves the Tissot PRX 35 as much as I do, and I guess that says it all. It is for anyone who likes it. So don't get snarky in the comment section if it's too small for your taste. There is a big one for you. This is just a different watch altogether.
It is probably good to mention that I have a rather straight, thin forearm with a 17cm wrist. Still, the PRX 35 wears small on me. This means that if your wrist is over 18cm, I think the 40mm models might serve you better. If your wrist is similar to mine or smaller, it might just be a matter of taste. The 35mm and 40mm versions offer a very different wearing experience. I can even imagine people owning both for that reason.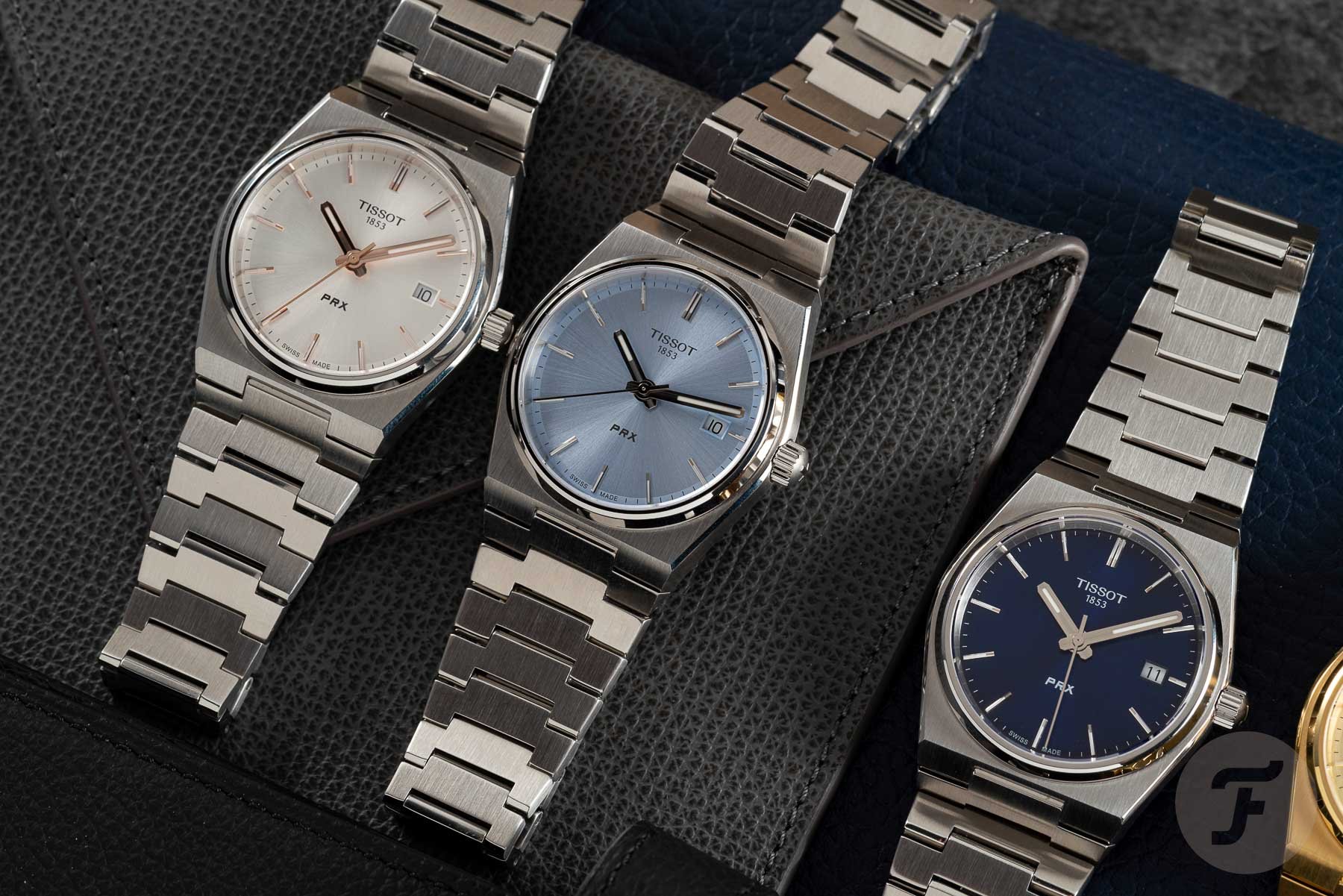 Concluding thoughts
My first response when Tissot released the PRX 35 was, "Too bad they didn't go for 37 or 38mm". But I get it now. The 35 is not intended to fit better on a slightly smaller wrist. It is intended to be a small watch on any wrist. It is just a different flavor. This makes it a perfect unisex watch.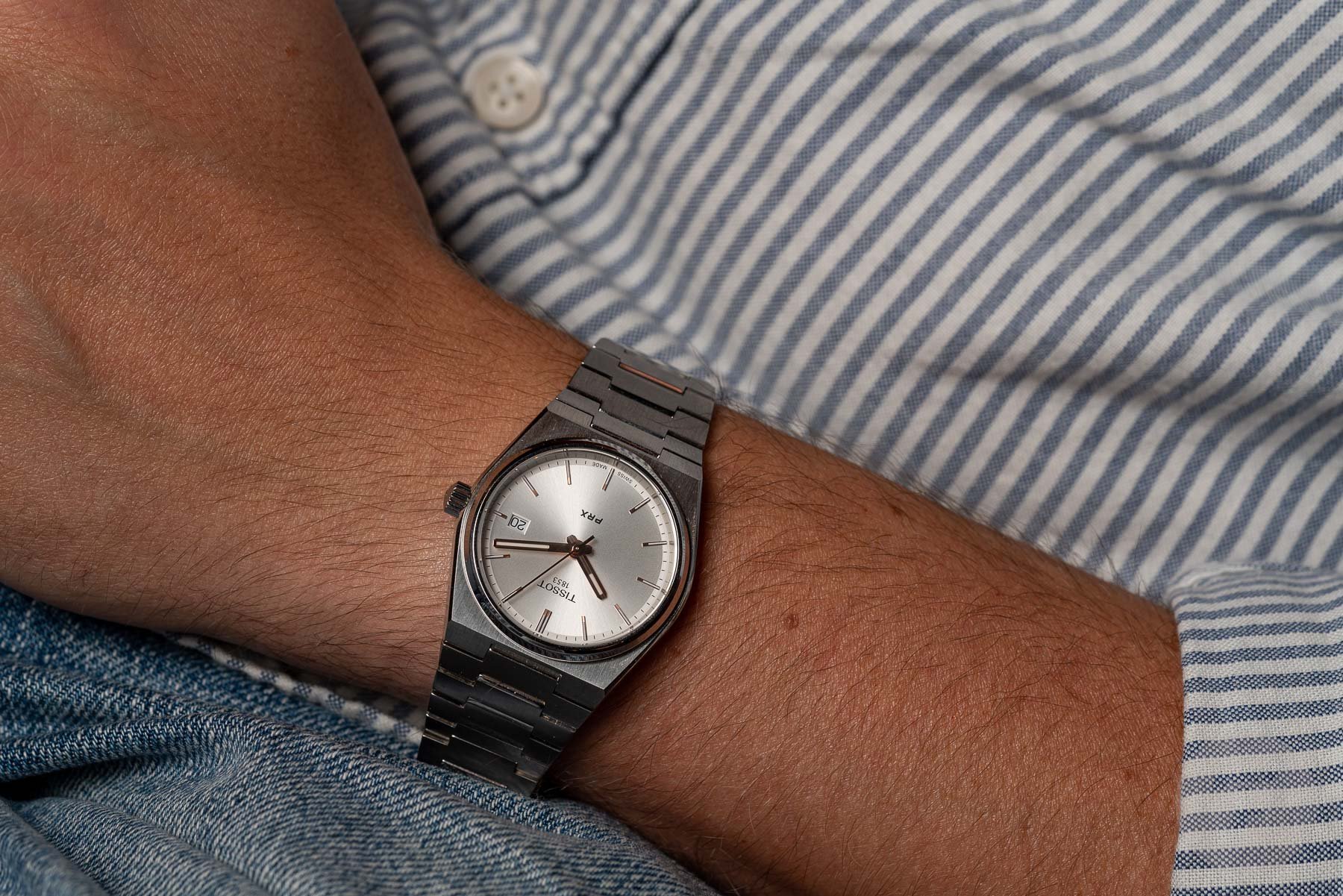 I am glad that Tissot markets it as such. The brand lets the customer decide whether it is for them or not, and that is a good thing. Speaking of marketing, the PRX line is presented as rather fashionable, and I think it is. It is light-hearted and stylish. Still, it speaks to the watch community through its direct lineage to the original 1970s integrated-bracelet design.
I can only applaud Tissot for this release. The PRX line gives the brand back some much-needed street cred. This is the first time in a long time that I have been seriously interested in Tissot's collection. The PRX 35 opens it up to a wider audience. I can only encourage you to try on the different sizes on offer. I am sure one of them will resonate with you.
What do you think of this 35mm version? As always, we will be interested to read your opinions in the comments.
Watch specifications
Reference
T137.210.11.041.00 (Blue), T137.210.11.351.00 (Light blue), T137.210.11.081.00 (Green), T137.210.11.031.00 (Silver), and T137.210.33.021.00 (Gold PVD)
Dial
Blue, Pale blue, Green, Silver, or Gold
Case Material
Steel or steel PVD coated in gold
Case Dimensions
35mm × 39mm × 9.6mm
Water Resistance
10ATM/100 meters
Strap
Integrated steel bracelet with quick-release system
Price
€375.00 or €475.00 for the gold PVD version