Hands-On With A Trio Of Lorier Watches — Precisely As It Says On The Tin
When an honest idea is executed just right
Lorier has been on my radar for quite some time now, but I just never had a chance to check the watches out in the metal. In fact, except for Thor's interview with the brand's owners, we have not yet covered them on Fratello, so it is long overdue. I requested three of the brand's most popular watches for review and spent some time with them on the wrist. This is how I got on with the Lorier Neptune, Hyperion, and Falcon.
In case you are new to Lorier, we are talking about a New York-based microbrand. Its owners Lauren and Lorenzo Ortega are a married couple, former teachers living the watch aficionado's dream. They outsource production but do everything else themselves. Drop Lorier an email, and you will surely get a reply from one of them.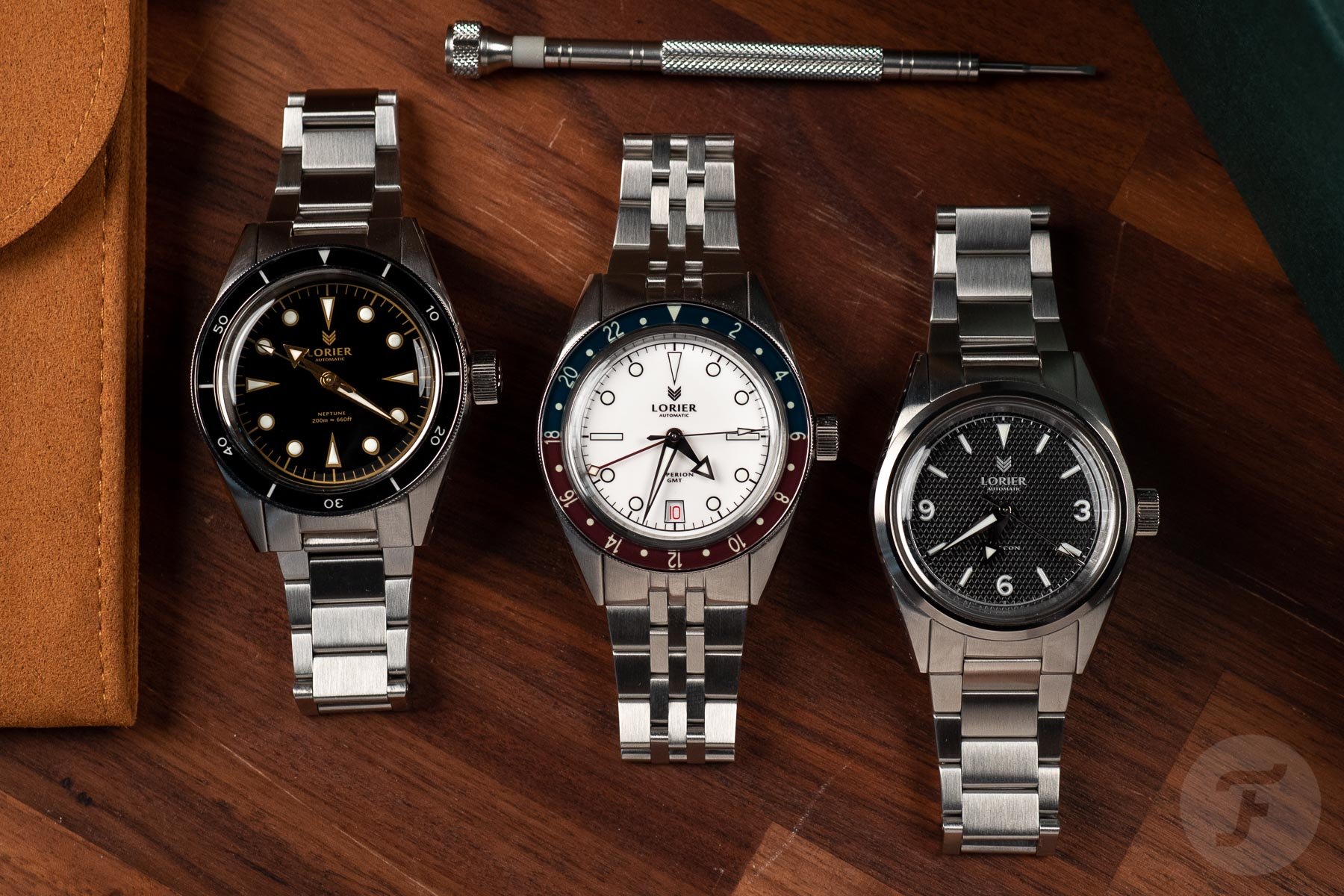 The Lorier brand promise
There is no shortage of microbrands, especially vintage-inspired ones. I find Lorier's approach to be rather refreshing, though. For starters, the watches really go for that full-vintage vibe. The use of acrylic crystals and bezel inlays goes a long way to making the watches feel truly reminiscent of their sources of inspiration from the mid-20th century.
The brand is also very open about those sources of inspiration. Lorier aims to create archetypes of certain watch styles. To do so, the Ortegas take three legendary watches as inspiration to create something new. And they do not shy away from showing which three watches they used. The Neptune, for instance, is inspired by the Omega CK14755, Blancpain MC4, and Rolex 6538. You really do see traits from all three watches in the Neptune. At the same time, the approach prevents Lorier watches from becoming straight homages. This is a clever approach, and I particularly appreciate the transparency.
Next, the brand aims to make this style of watch available to a wide audience, so Lorier watches are sharply priced. The aforementioned Neptune comes in at US$499. You could not even get one of those three original legends serviced for that kind of money.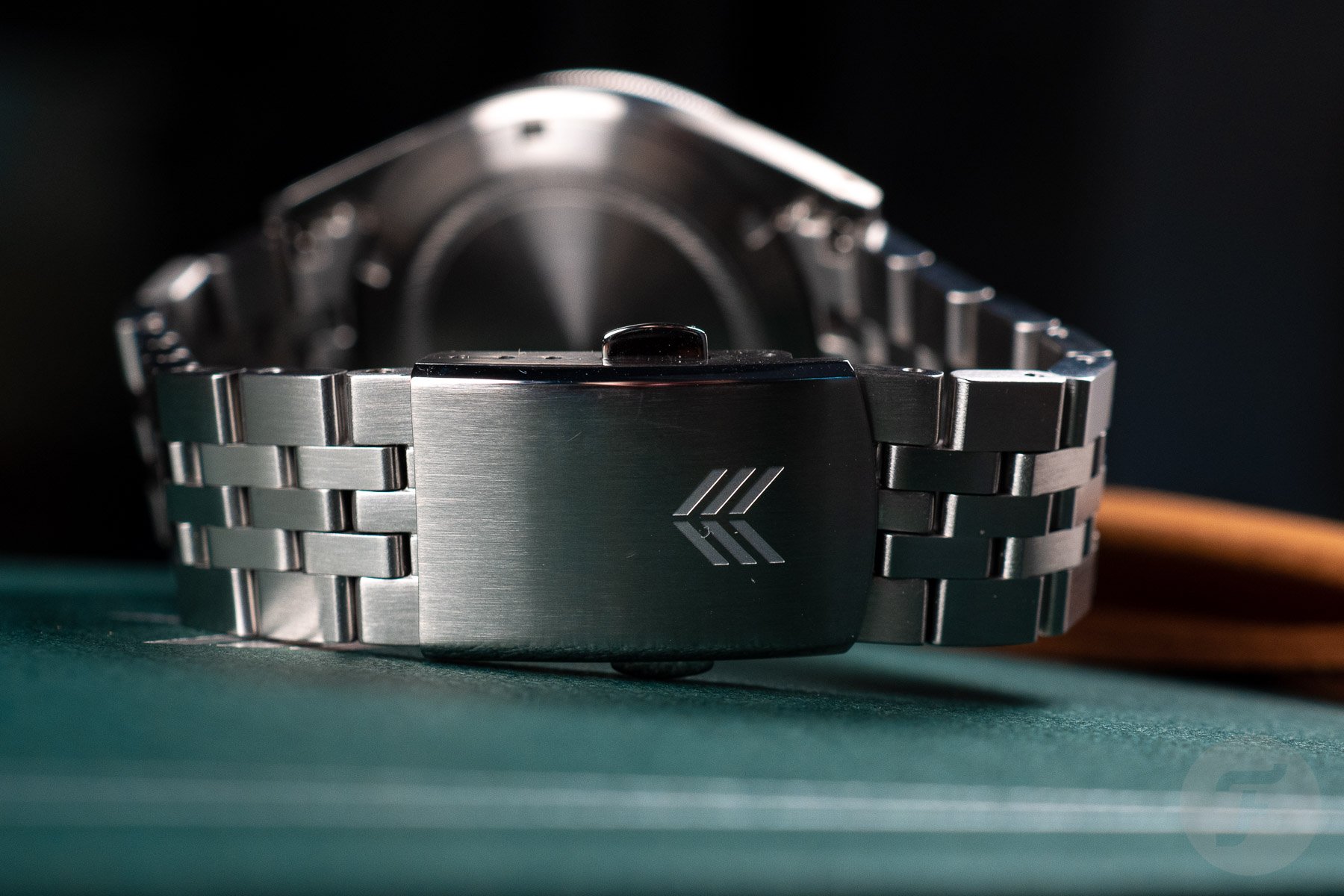 As it says on the tin
The above is a pretty clear philosophy, and I am happy to report that the watches live up to it. I will go into more detail on each later, but overall, you get a vintage-feeling watch at a great price. I say "vintage-feeling" rather than "vintage-inspired" because they are. Having handled tons of those originals, Lorier watches feel like NOS examples of them.
So if you love a rock-solid brick of sapphire and ceramic, look elsewhere. But if you want a taste of vintage watches on an entry-level Seiko budget, Lorier could be for you. It is good to realize that these are not high-end watches at low prices. Lorier uses basic but good movements, and the build and finishing are what you might expect at this price. The designs feel carefully considered, and the resulting watches are downright pretty if you ask me.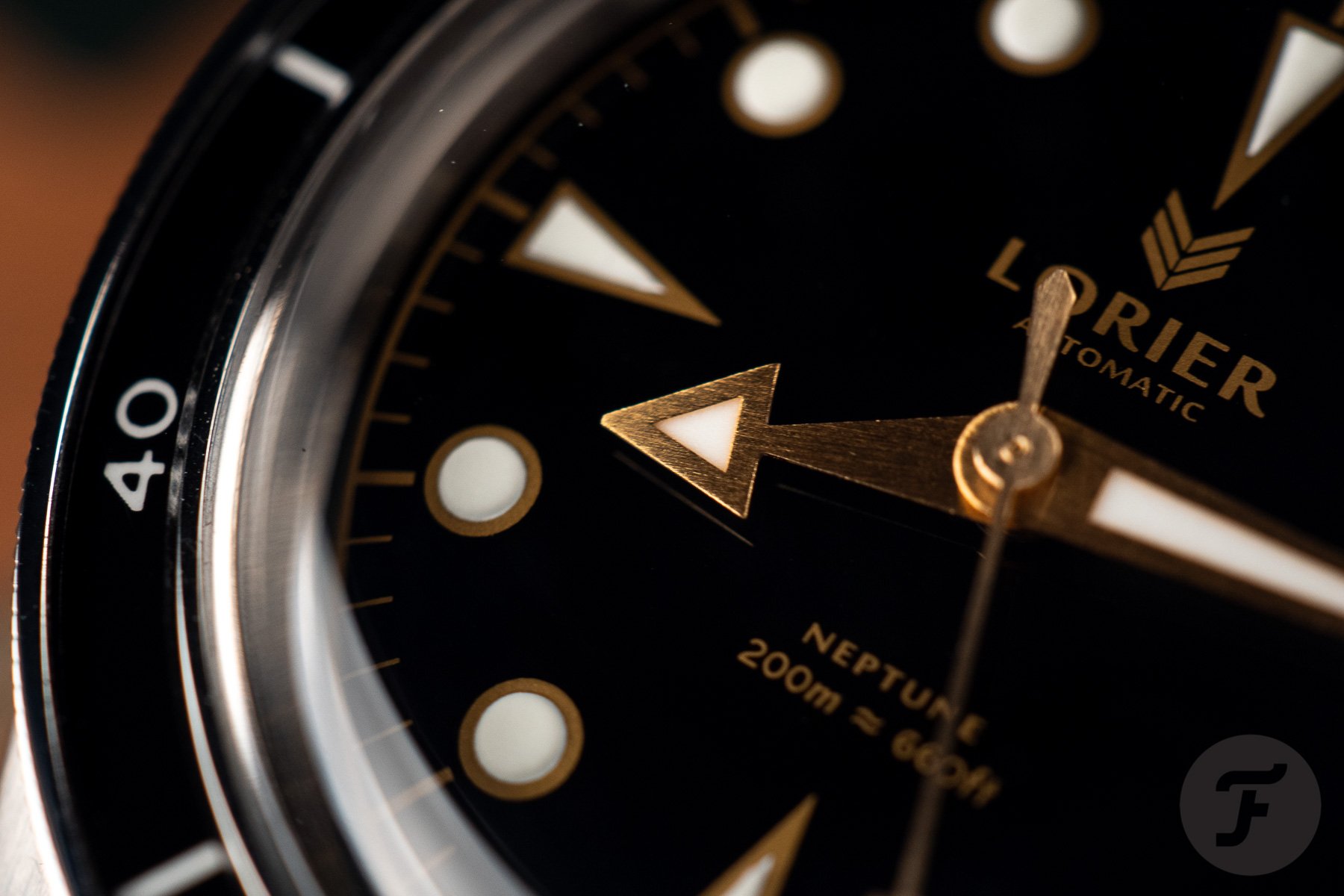 So, where do the savings come from? Well, the finishing is not as fine as on more expensive watches. They are also not Swiss made if that matters to you. The bracelets are charmingly jangly but well made for the price segment, and to be fair, you will be spending three times the price if you want significant jumps in these fields. I think Lorier makes the right choices here, offering entry-level watches that are well worth it. It is all exactly as it says on the tin, which is great.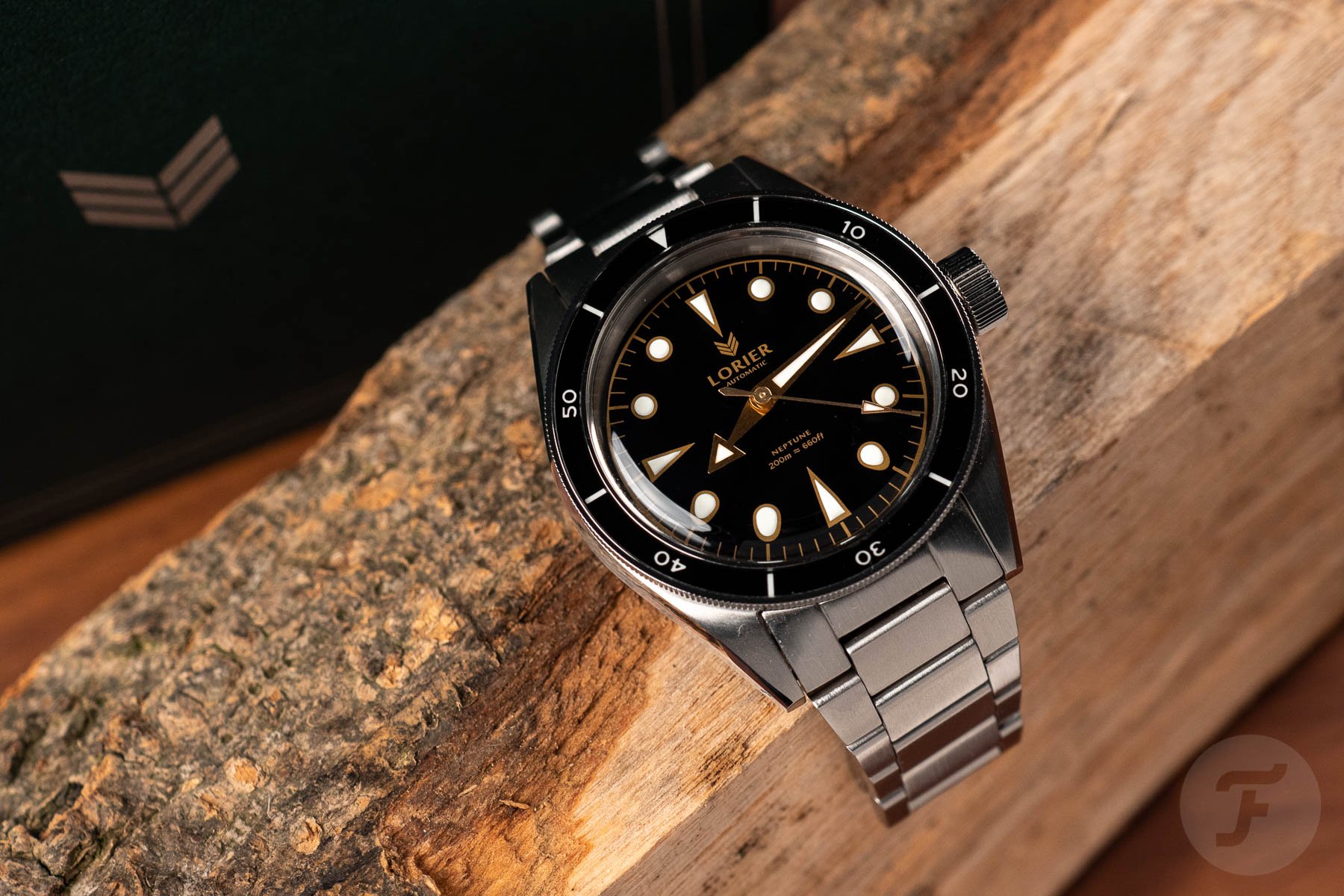 Lorier Neptune IV
Let's kick things off with the original Lorier, the Neptune dive watch. This design has been fine-tuned over time. I have the fourth generation here for review. The product page clearly outlines what has changed since gen 3, and some of these changes make a world of difference to me. I always felt the hour hand was a little off in terms of scale. The completely angular flat-link bracelet was another aspect I disliked. Both have been fixed, resulting in a more balanced overall look.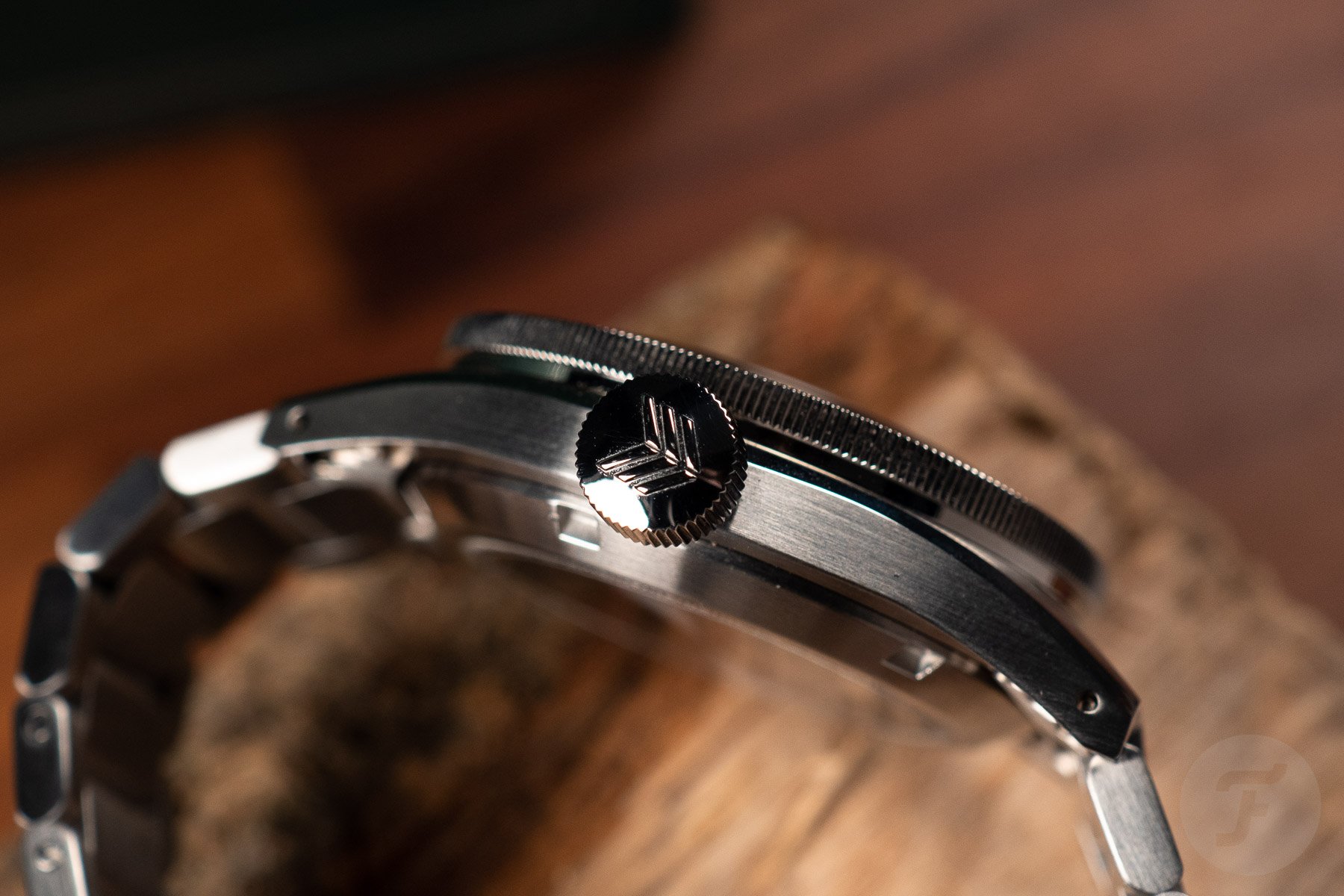 The Lorier Neptune is a 39mm dive watch with a domed acrylic crystal and a 200m depth rating. This is something that took quite some effort. Very few modern manufacturers are able to accomplish such water resistance while using acrylic. The Neptune is beautifully slim at 10.3mm, excluding the 2.3mm crystal. Inside, we find a Miyota 90S5 automatic caliber. It beats at 28,800vph and has a 42-hour power reserve.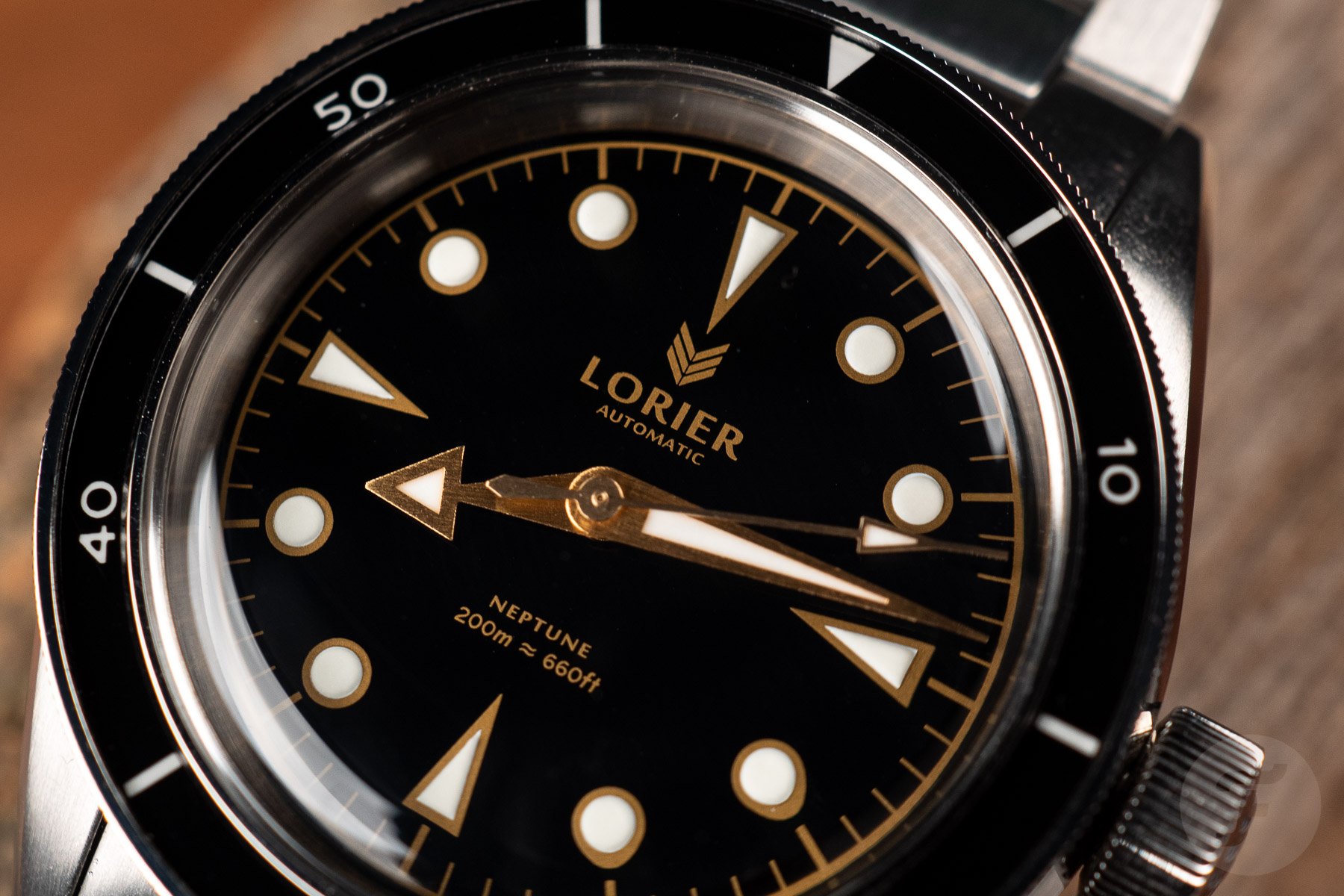 The retro vibes are not just down to the proportions and acrylic. The glossy black dial is also outfitted with gilt-tone accents. Kudos to Lorier for using a nice white BGW9 lume. Something radium-like would have been over the top and less luminescent. An oversized screw-down crown and no crown guards emphasize the mid-20th-century aesthetic, as does the flat-link bracelet. The package is instantly reminiscent of the Tudor Black Bay. This makes sense as both watches draw inspiration from the same originals.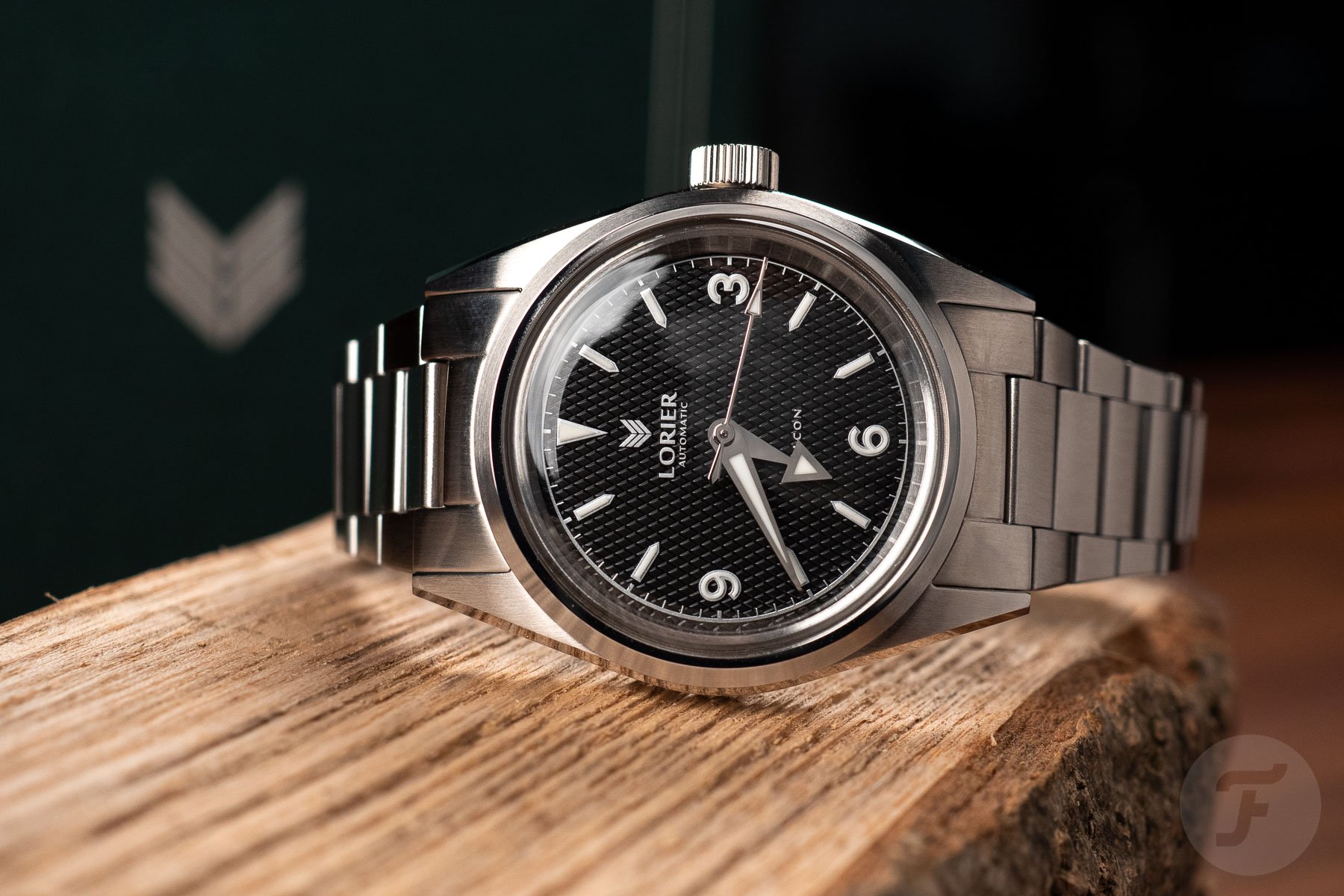 Lorier Falcon III
Next, I tried the Falcon. This is the third iteration of the model. Again, it has an upgraded handset and bracelet. Furthermore, the Falcon has shed its gilt accents with this update. This is a clever move since it makes the watch a little more timeless. This version also gained a 3-6-9 layout, which is a little too Explorer-esque for me. The other two sources of inspiration are the Seiko Alpinist and Omega Railmaster. Unfortunately, all I see is the Explorer because of those numerals and the typeface used.
What I do love is that Lorier equipped the Falcon with a 36mm case. This really helps trigger those vintage associations, making the Falcon instantly feel 60 years old. Another striking vintage feature is the honeycomb dial. This could easily have come out cheesy, especially when done on a budget. I am happy to report that it looks very cool and well executed.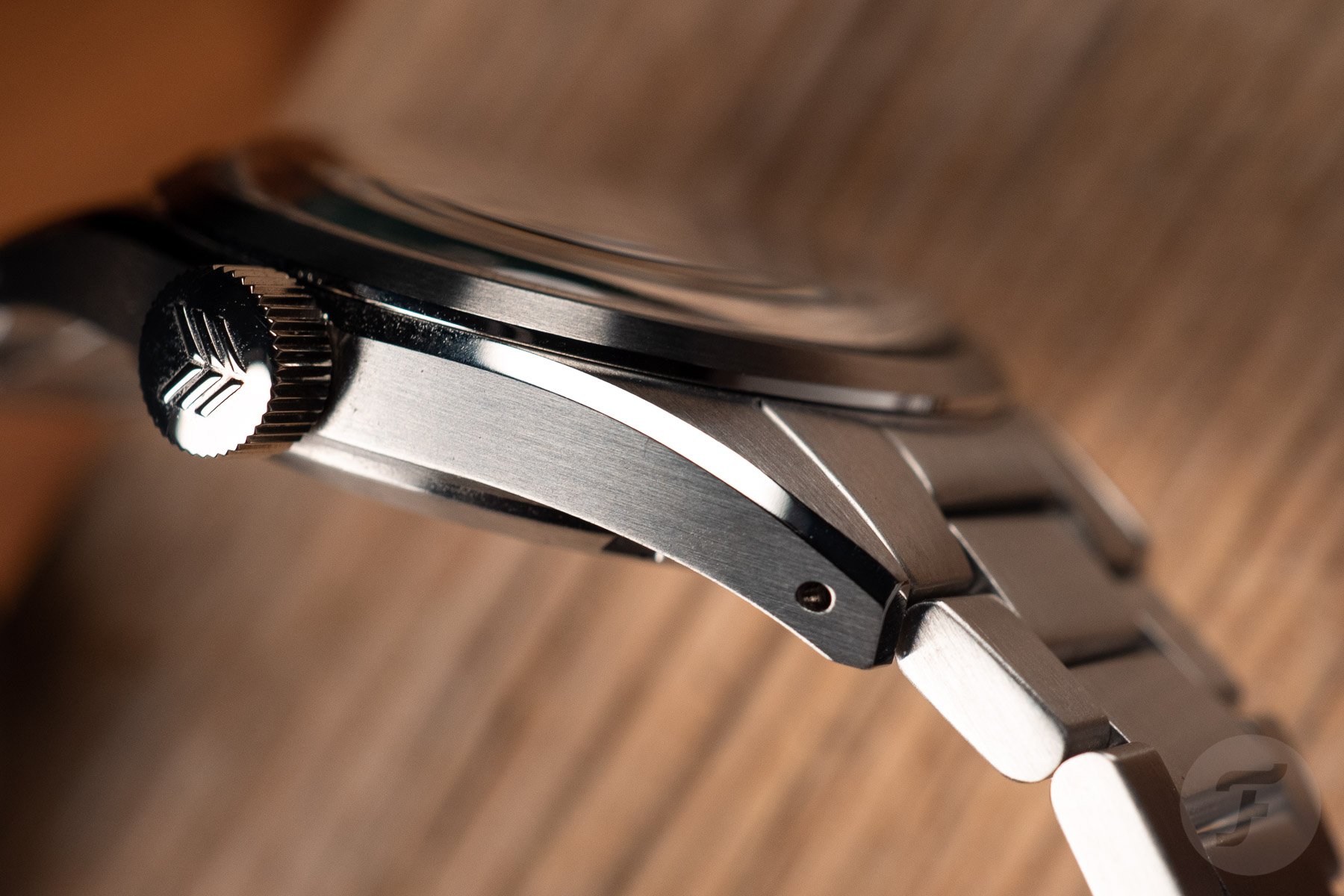 The Falcon, like its water-dwelling brother, is powered by the capable Miyota 90S5 caliber. You operate it via an oversized screw-down crown. You get a comforting 100m water-resistance rating, making this a veritable do-it-all watch. As with all Lorier watches, you get a tube of Polywatch with your purchase so you can buff out any scratches you collect on the acrylic crystal.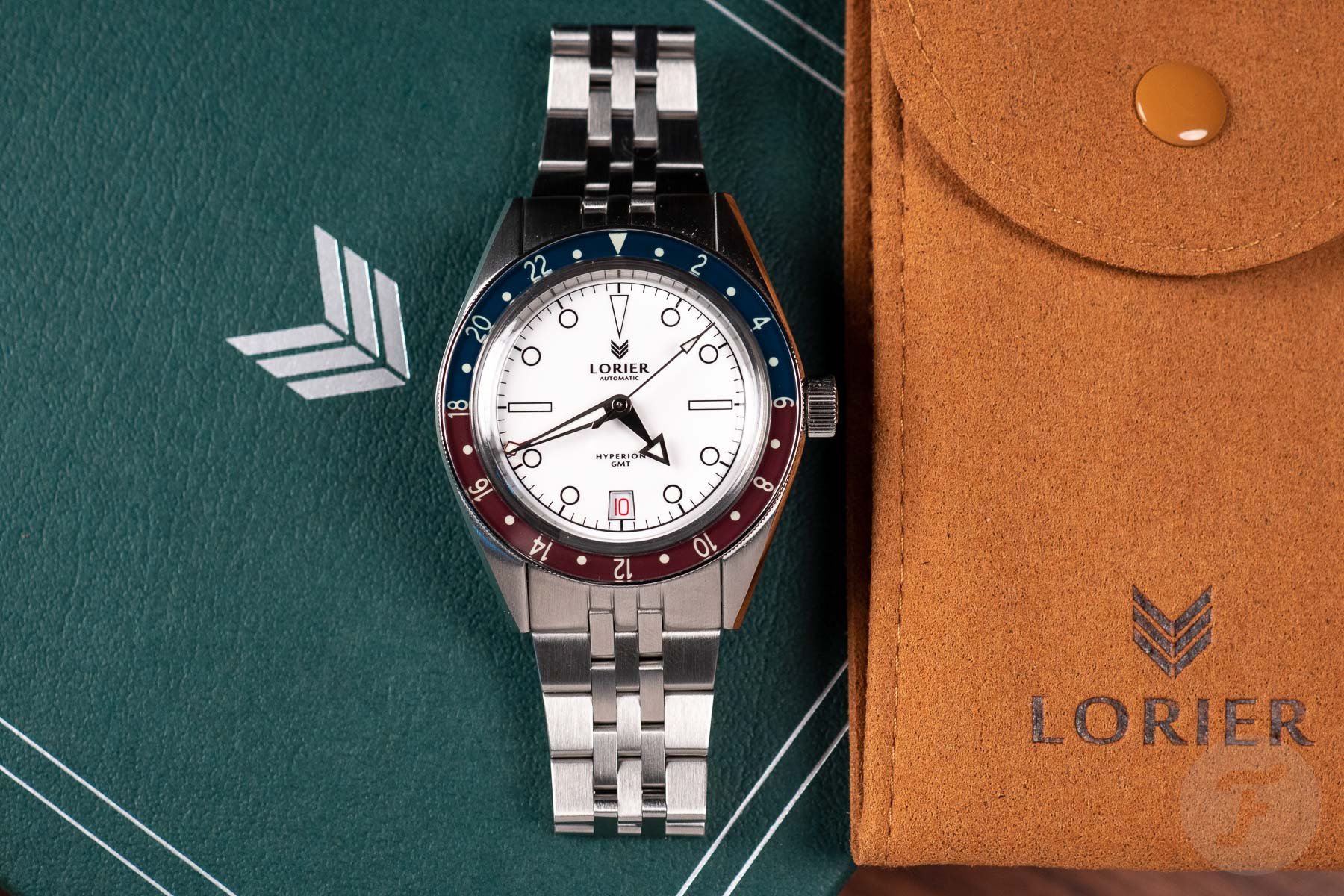 For the globetrotters: The Hyperion Skyward
Lastly, I spent some time with the special-edition Hyperion Skyward GMT. Hyperion was a titan in Greek mythology, father to the gods of the sun, moon, and dawn, also referred to as the sky gods. It's a cool cerebral name for a traveler's watch. The standard Hyperion takes inspiration from the Rolex GMT-Master 6542, Zodiac Aerospace GMT, and Heuer Autavia 2446C GMT. The result is an archetypal GMT with a red-and-blue bezel and a black dial with gilt-tone accents. This special edition, however, features a white dial, black accents, and silvertone hands.
Lorier opted to darken the red and blue, which yields a more formal, subdued aesthetic. I really like this choice, as it puts a little more distance between it and its sources of inspiration. The overall shape of the Hyperion is similar to the Neptune. The Hyperion is slimmer, though, at 8.7mm, excluding the crystal. The tradeoff is a reduction in water resistance to 100 meters, which makes sense on a GMT. Another difference is the five-row "Epsilon" bracelet. It might look like a Jubilee-esque bracelet in the pictures, but it is quite different in real life. The flat, brushed center links give it a different vibe altogether. It is actually more similar to an old Oysterquartz Jubilee, so let's call it Oysterquartz-Jubilee-esque.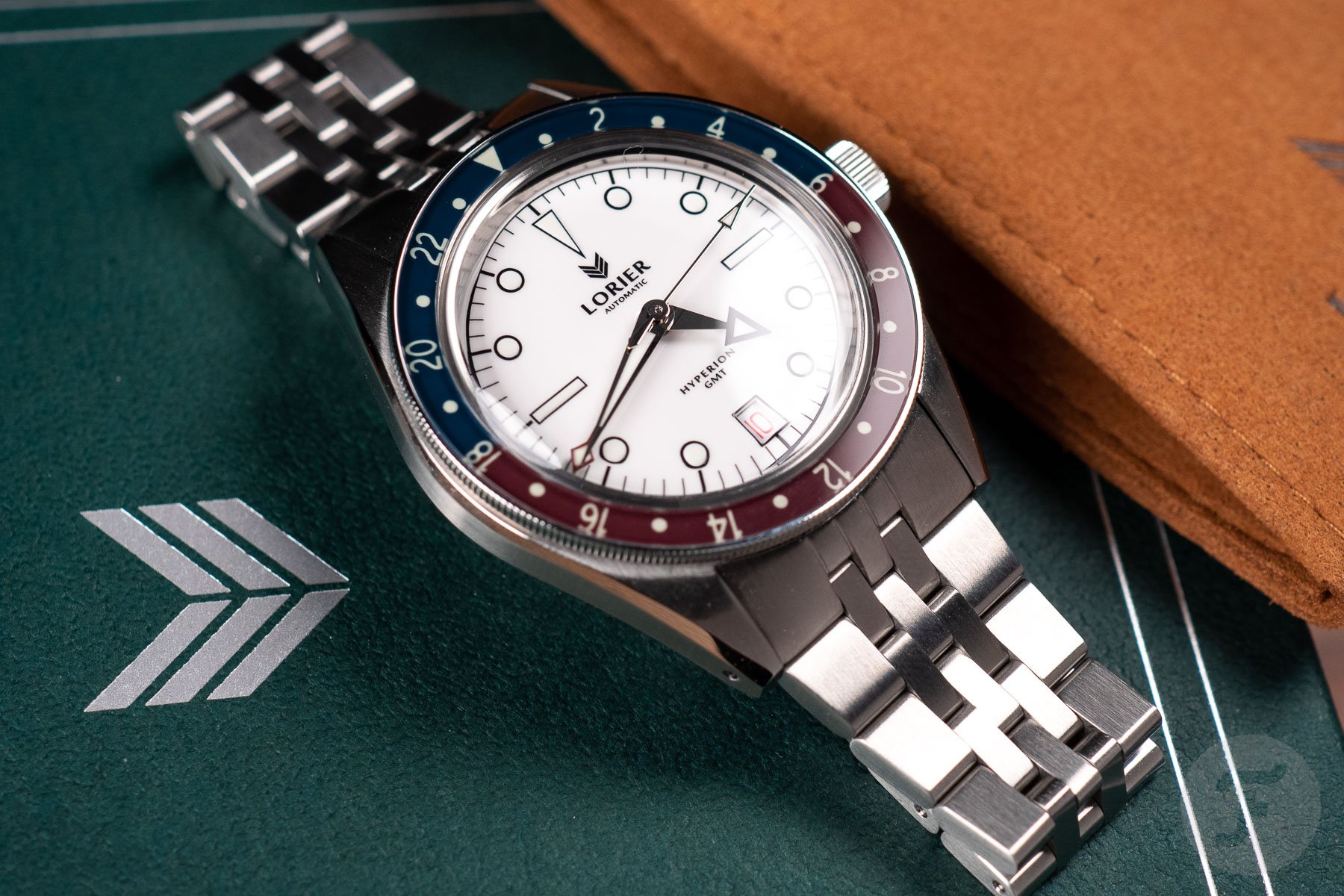 Powering the Hyperion is the automatic Soprod C125 caliber. This movement is a caller GMT with a 40-hour power reserve and a 28,800vph beat rate. One of its main advantages is its slimness, as the Hyperion clearly demonstrates.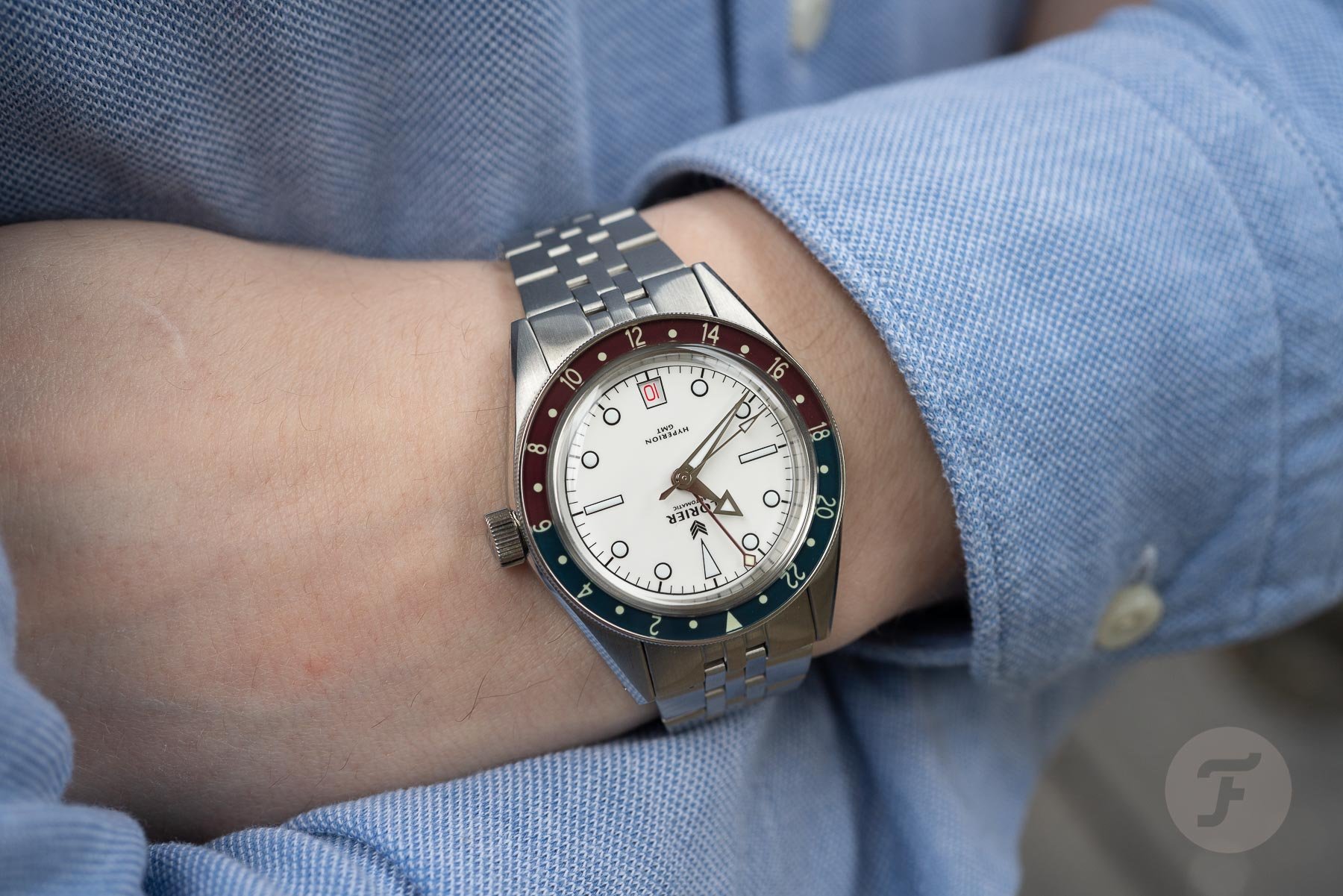 Wearing the Lorier trio
Without exception, these Lorier watches were all a joy to wear. The classical proportions and slim profiles ensure a perfect fit. Speaking of a perfect fit, the bracelets were a breeze to size. Lorier uses nice and thick one-sided screws and no Loctite. The included screwdriver was sturdy enough to pull out the required links in minutes. Three micro-adjust positions in the clasp allowed for further fine-tuning. I really wish to emphasize this point. So many bracelets (even in the high-end realm) are a pain in the backside to size. There are no such issues here, so there will be no awkward trip to the local jeweler after buying your Lorier online; anyone can do this.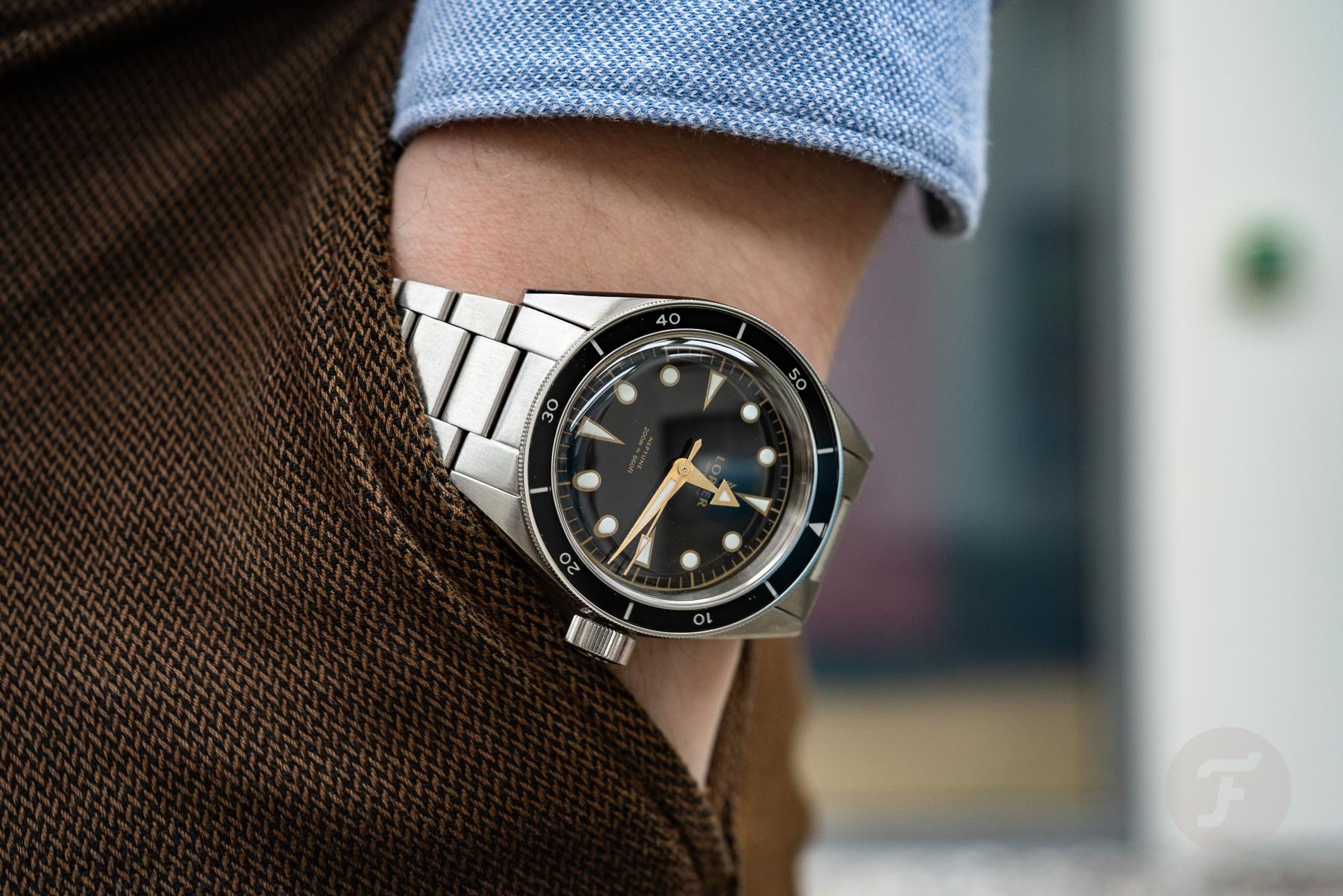 All three watches charmed me with their acrylic crystals. As good as domed sapphire is, the look and feel are different. If I compare the Neptune to a Black Bay, the crystal really helps this feel more like an old watch. The Black Bay is more of a modern luxury watch with vintage aesthetics. There are plenty of sapphire-equipped alternatives on the market. Lorier is clever to stick to its guns here, even if that excludes some who will not consider acrylic.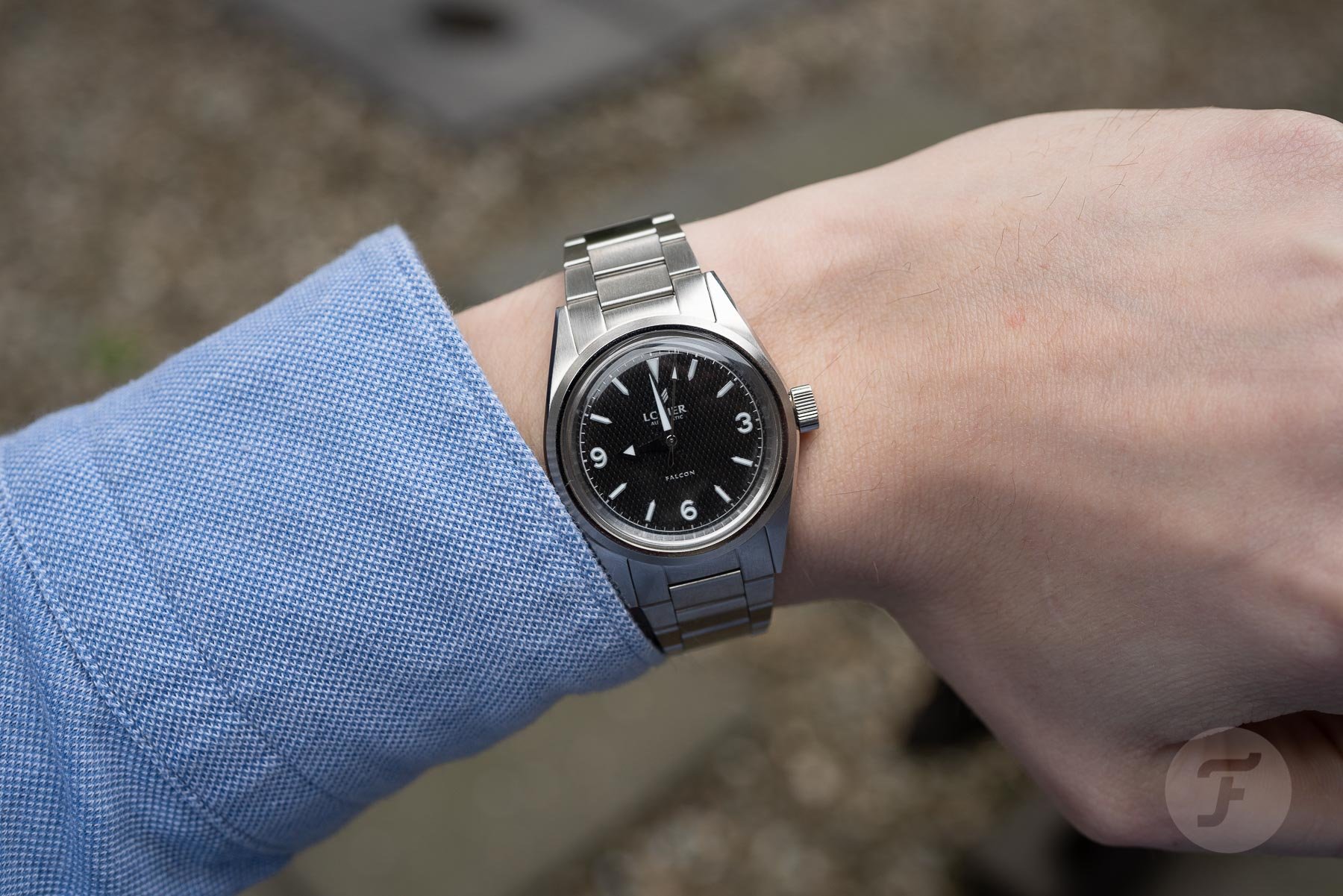 So no quibbles? Well, I am not a huge fan of the lugs. Lorier shortened them with the latest update on all models. But still, they are rather long and pointy. And since these watches invoke such a strong vintage Rolex connection, they trigger associations with overpolished (pointy) vintage Rolex lugs for me. But maybe that's just my over-exposed former vintage dealer's brain. I do love that Lorier manages to fit them with a nice chamfer at this price range. They hug the wrist nicely too.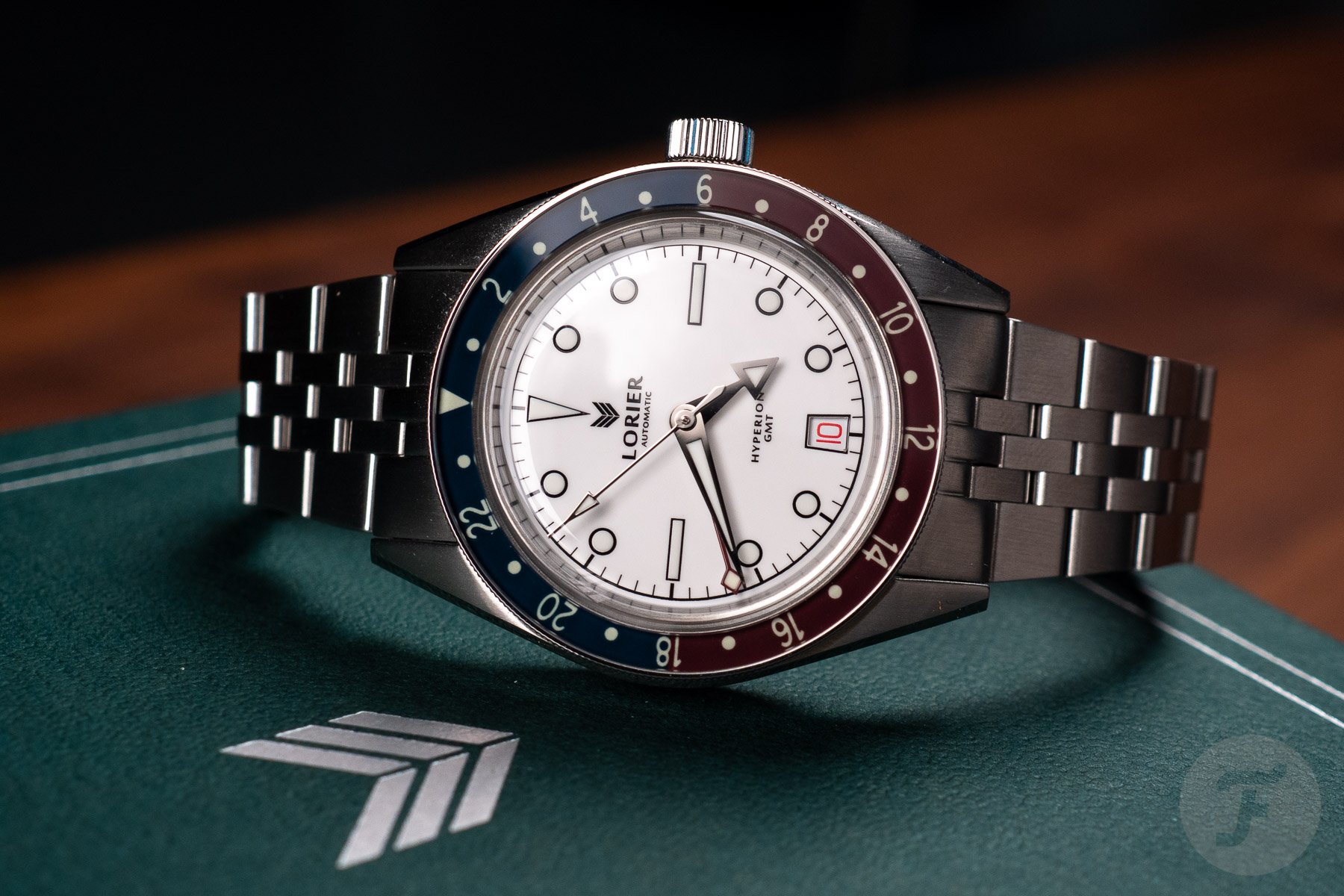 Closing thoughts on Lorier
I think Lauren and Lorenzo are doing a stellar job with Lorier. Since I started my series Building A Watch Brand, I gained more insight into what this sort of business entails. The fact that they have managed to set it up in this way is, in a word, impressive.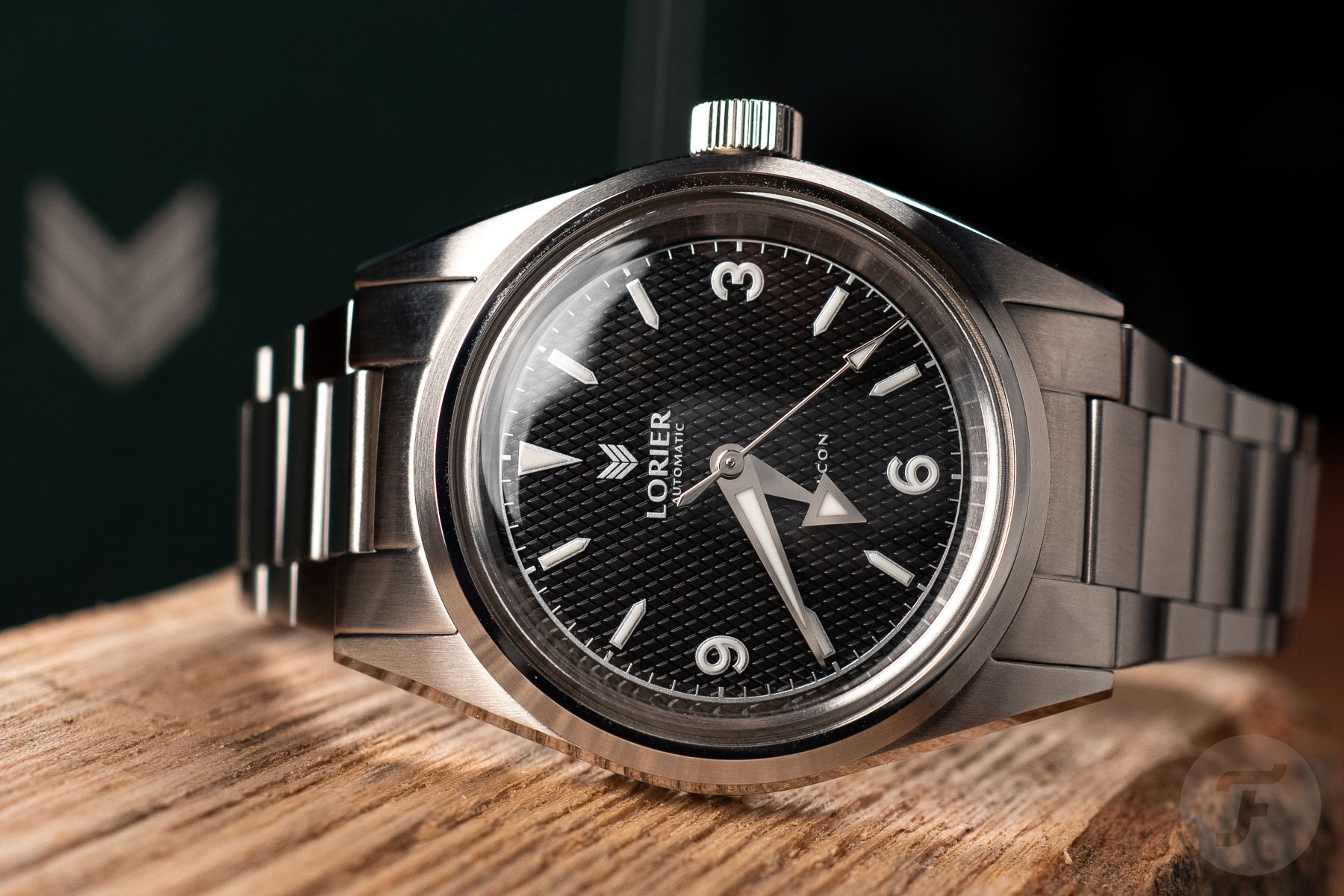 What I particularly like is the company's authenticity. The pair tells an honest story about wanting to bring vintage watches to a larger audience. They are completely transparent about their sources of inspiration, and they offer a very good product at a great price. There is really very little to criticize about that. Had they been priced north of the 1K mark, I would have been more critical of the detailing. But at US$499 for the Falcon and the Neptune, and US$799 for the Hyperion, what's not to love?
Lorier produces its watches in batches and usually sells them out quite rapidly. The Falcon and the Neptune should be back in stock in late March. The Hyperion is scheduled to be available in February. The watches can be purchased from the Lorier website.
What do you think of these three watches and Lorier in general? Let us know in the comments below.