Hands-On With The Blacked-Out Sinn 856 S — A Stealthy Pilot
You want legibility? Sinn's got legibility!
Meet the Sinn 856 S. Zero reflections, maximum contrast. Scratch resistant, water resistant, antimagnetic, and low-pressure resistant. Screw-down crown and AR-coated sapphire — whatever you could require, it is here. So, does a fully checked spec sheet automatically make for a truly great watch?
If you have read my articles before, you probably know my answer: no, it does not. Specs matter far less than we tend to think. So what does this mean for the Sinn 856? Is it any good beyond the technical features? Let's find out.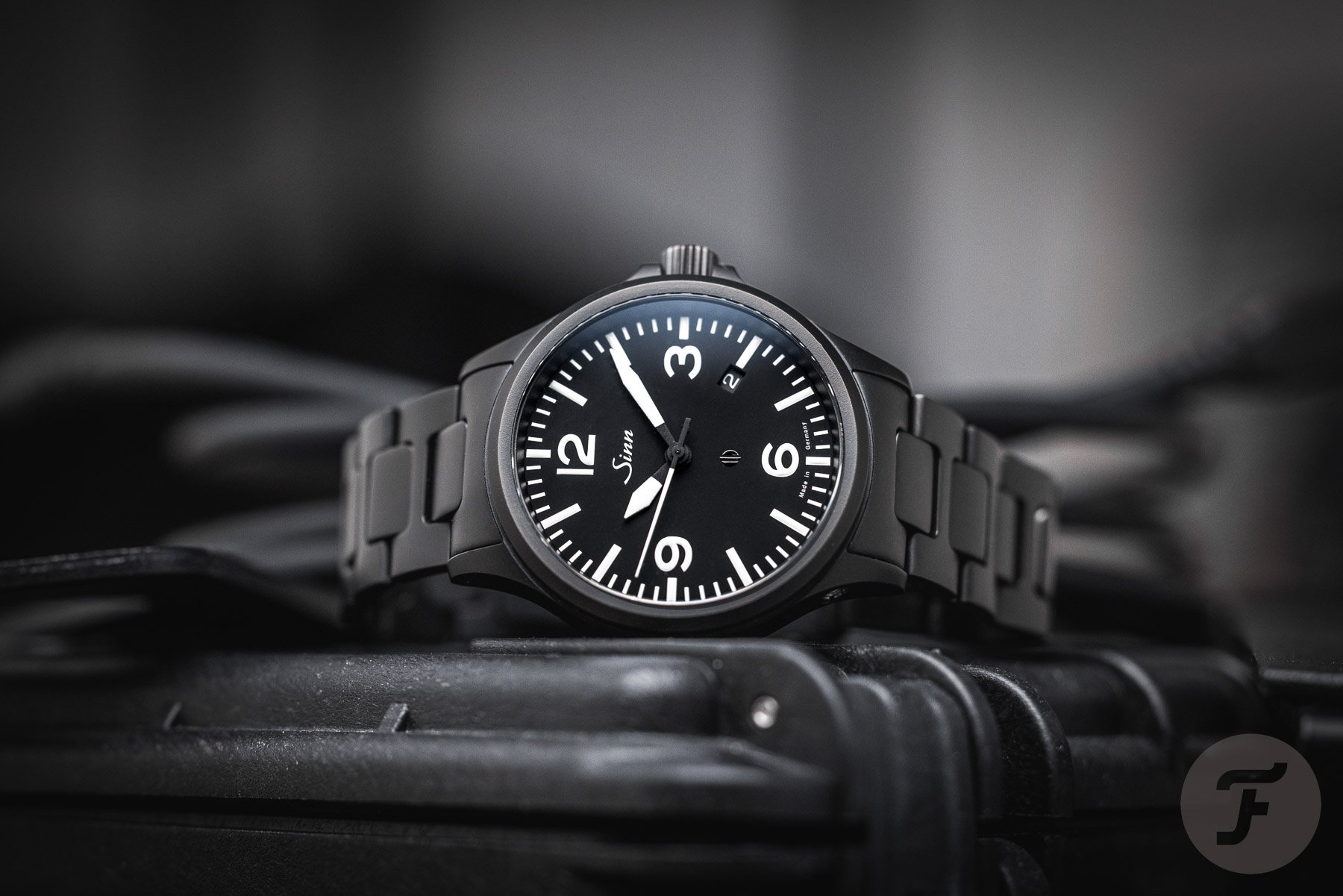 Sinn 856 S — a spec monster
Sinn is known for its very technical and function-forward approach to watchmaking. The 856 is no exception. You get a 200m-water-resistant 40mm case that is Tegimented, hardening the surface to make it more scratch resistant. It then gets a DLC coating, making it even more scratch resistant. Note that neither treatment makes it more resistant to dents and impacts, so you will eventually put scars on the case. The 11mm height and 48mm length provide it with a comfortable yet sporty presence. Additionally, the 20mm lug spacing allows you to swap straps to your heart's desire.
Inside ticks a Sellita SW300-1 running at 28,800vph, with a small date at 4 o'clock. Sinn makes no claims about the accuracy, so that is probably the one spec box not ticked. The movement is protected by Sinn's Ar-Dehumidifying technology. This is to say there is a capsule absorbing any moisture, slowly turning blue as it approaches time for a service. The case is filled with gas, and the seals are made of a more advanced material. Lastly, the watch is resistant to magnetism up to 1,000 gauss.
I am testing the blacked-out version on the matching steel bracelet. As with most Sinns, you can have your pick of a ton of strap options. There is also the non-S version, which omits the black finish. The bracelet is of the H-link style, featuring screwed links and a simple clasp with three micro-adjustment positions. It's worth noting that these require a tool, and there's also no quick-release mechanism on this bracelet.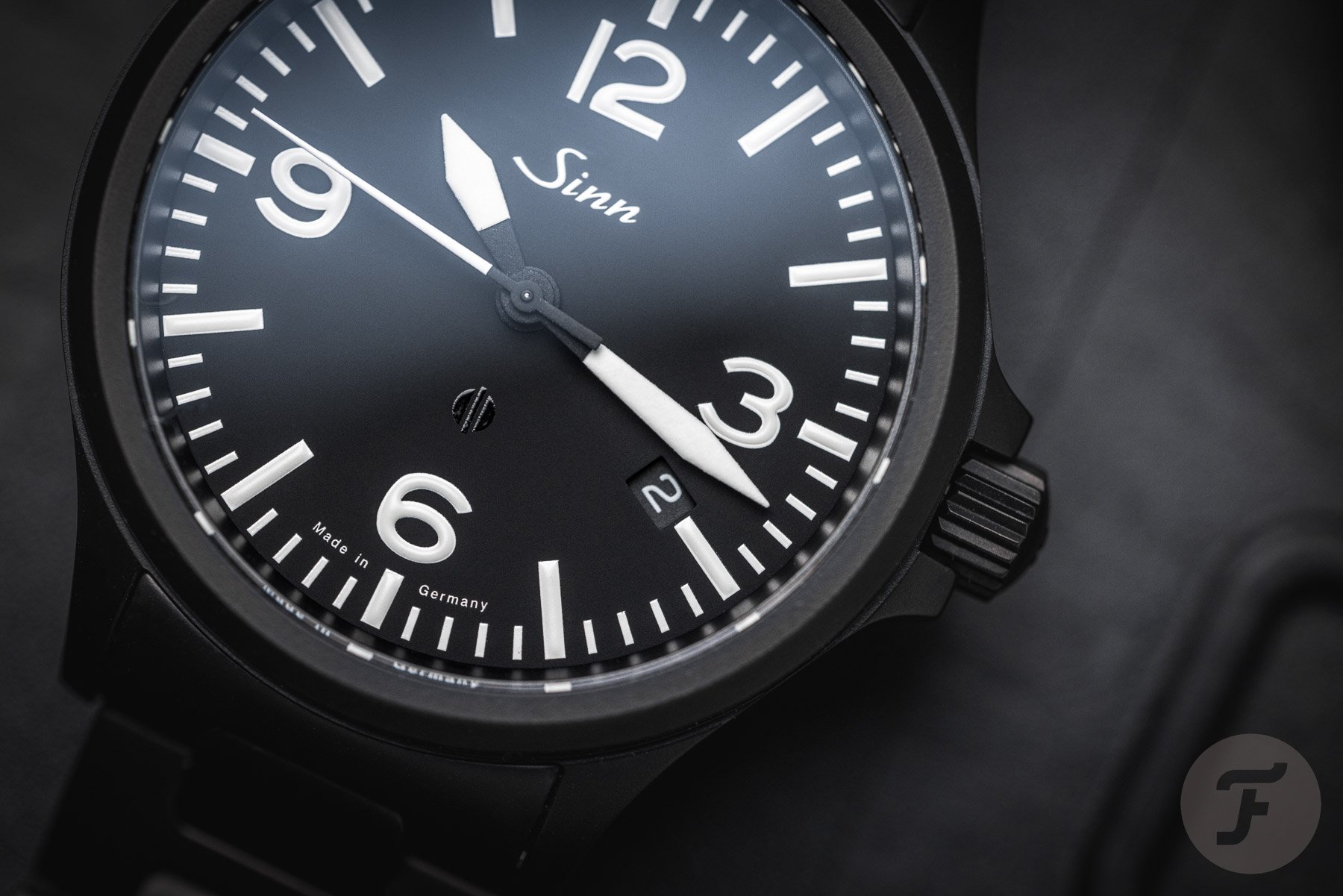 A stealthy pilot's watch
The first thing you notice when you put your eyes on the Sinn 856 S is its stealthy, high-contrast appearance. The matte black case soaks up all light, and even the flat sapphire has minimal reflections due to a double-sided AR coating. There isn't any metal visible anywhere. Even the handset is pure black and white. Granted, the keen observer will notice the tiny dehumidifying capsule with its steel edge and the bead-blasted steel case back. But on the wrist, it really looks all monochromatic.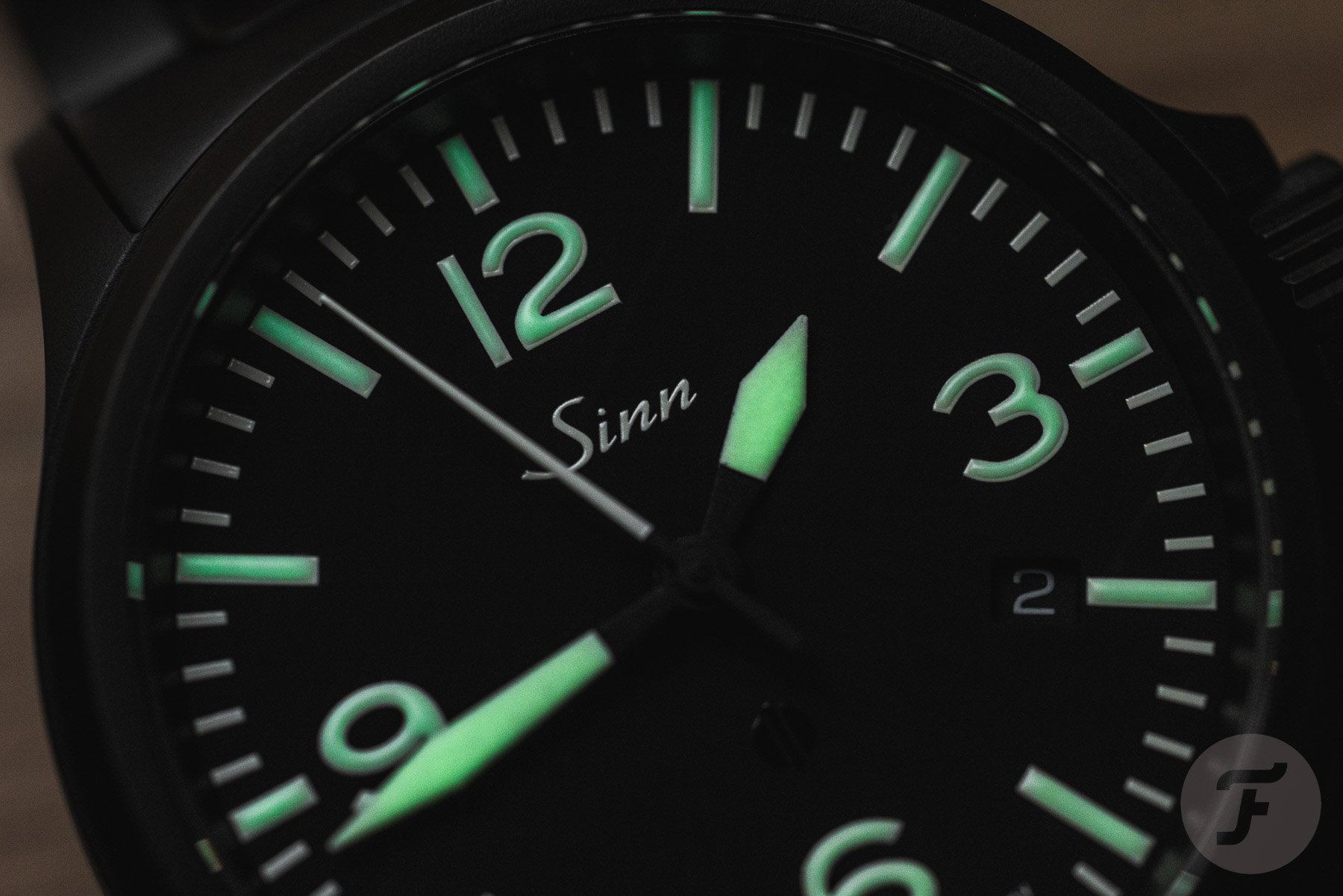 The five-minute markers, numerals, and the hour and minute hands are generously lumed. This thing really lights up like a torch. I was surprised to find the minute track and seconds hand not lumed as they appear the same as the lumed elements under daylight.
The Sinn 856 S pushes legibility to its extremes. It is inspired by airplane clocks, which clearly shows. The thick indices and the numerals conspire with the sword handset for the most intuitive and easy reading of the time you will come across. Plus, there is zero chance of legibility being compromised by glare. This, then, is absolutely perfect as a pilot's watch.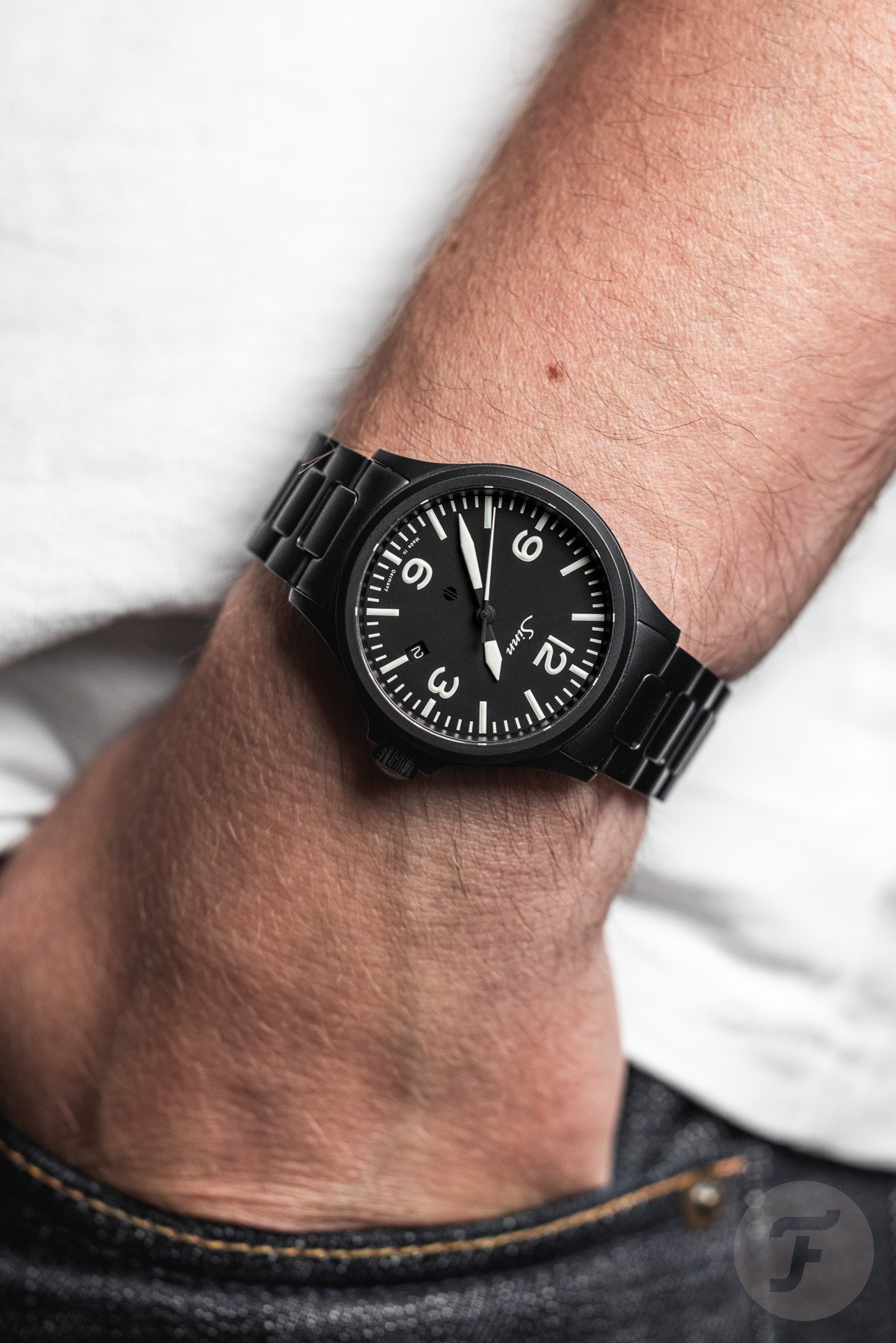 Wearing the Sinn 856 S
The Sinn 856 S wears like a dream. Its 11mm profile may not sound notably thin, but it does wear neatly flat for an out-and-out tool watch. I would say the size is spot on in general. It has the perfect presence on my 17cm wrist for a pilot's watch.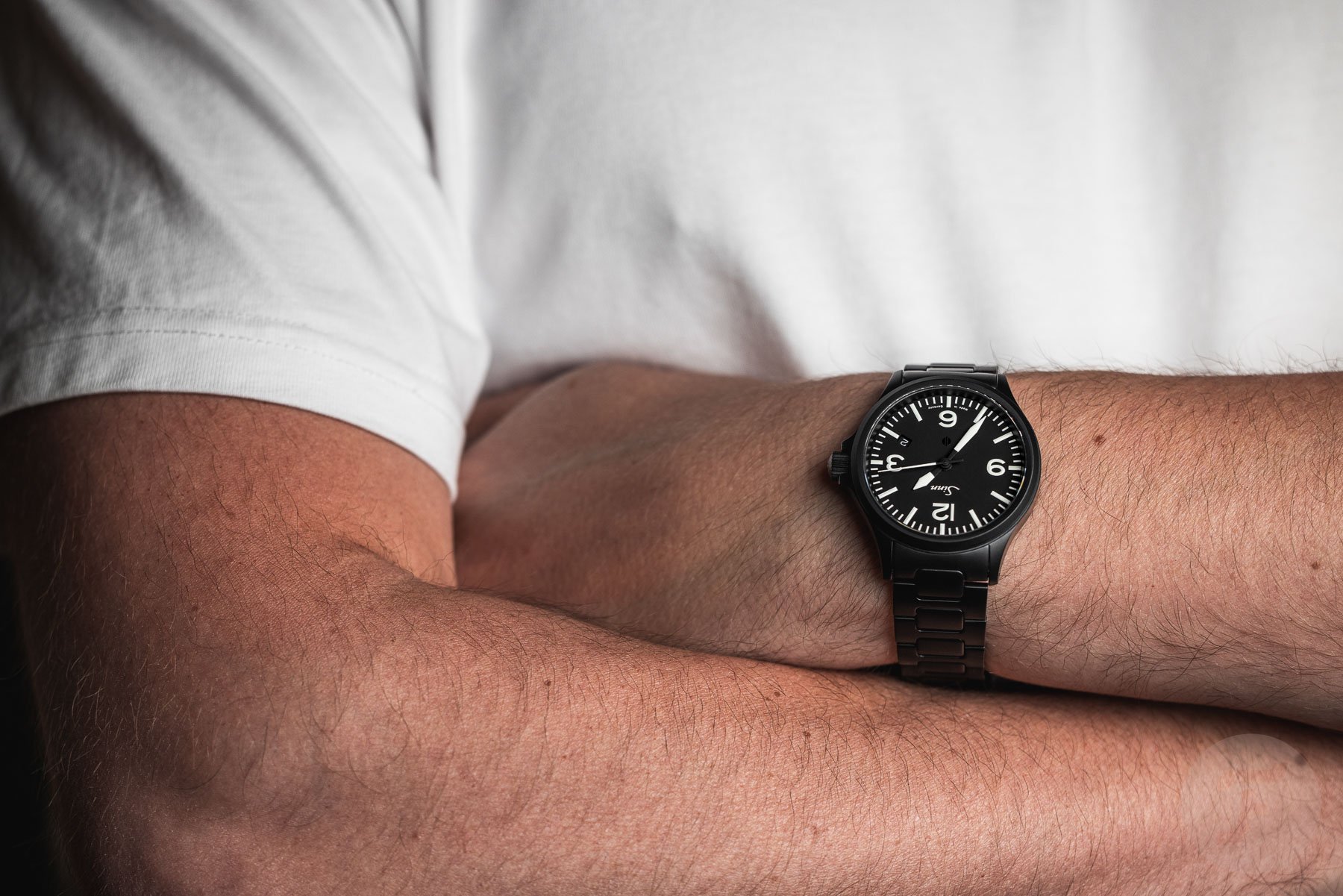 There is no mistaking this for anything but a tool watch, especially in this all-black guise. I think you sacrifice some versatility when going for the S model, but there is beauty in uncompromising functionality. If you want a GADA watch, get the more elegant 556 in steel. This is a stealthy pilot's watch that is designed to survive everything you throw at it and be ultra-legible at all times.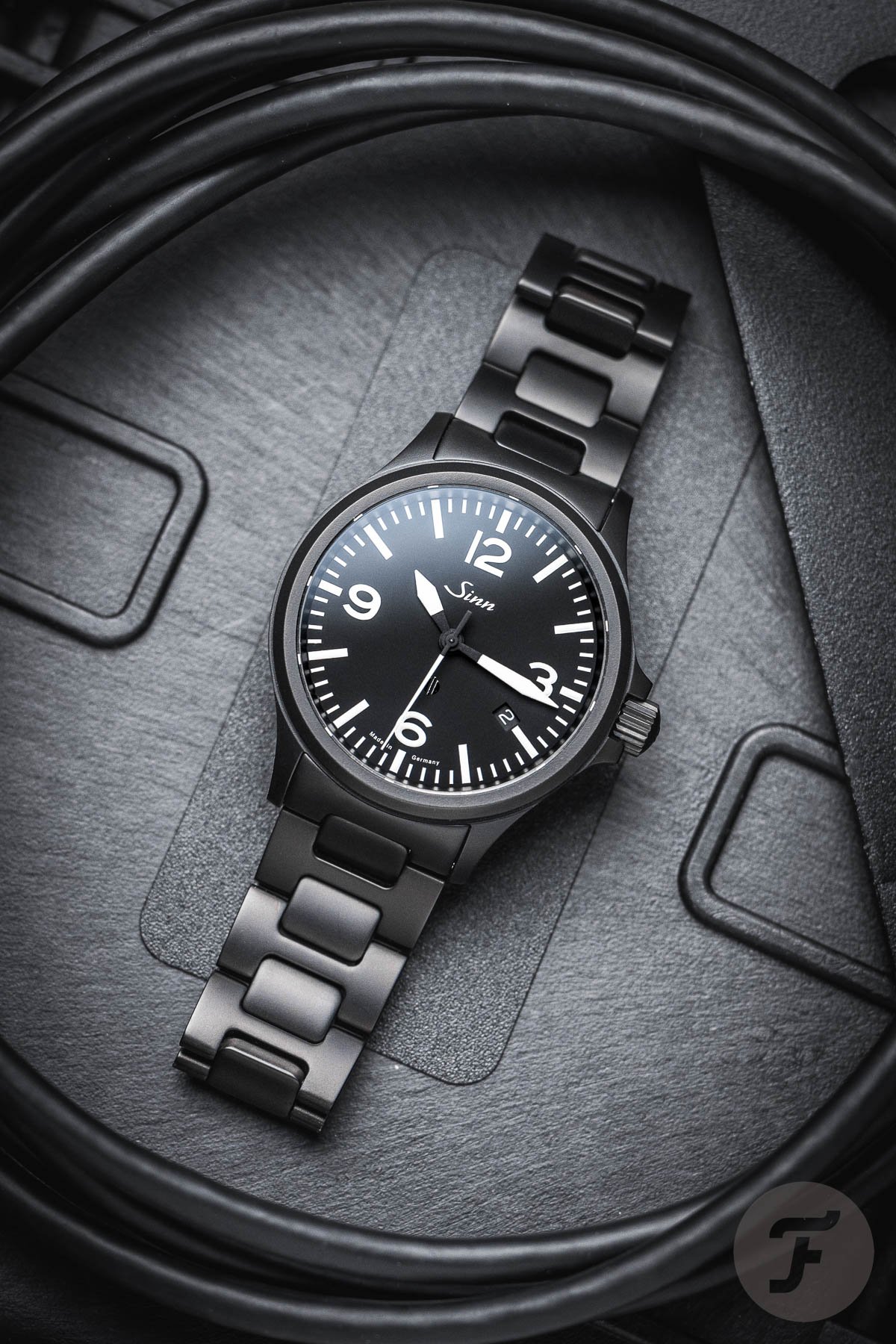 Sinn 856 S: technically great, but is it any good?
As you may know, I am wary of attaching too much value to the specifications. As I have stated many times before, most watches are over-engineered for 99.9% of our activities. And that is great, but it means that you have to look at other things to determine a watch's value. The question isn't if Sinn has delivered a well-made, capable watch. The brand clearly has. Rather, the question is: does it go about its hardcore business with some joie de vivre?
To that question, my dear Fratelli, I am happy to answer with a clear and decisive "yes." The Sinn 856 S is, in my humble opinion, cool. I would opt for the non-S version as I think the black coating cheapens the look somewhat in real life. But overall, the 856 is a joy to behold. It looks adventurous, simple, and balanced.
We are so used to polished and brushed steel that the bead-blasted look of these watches really sets them apart. I love the very sharp case lines, executed in this dull, stealthy texture. Again, I prefer it in bare steel, but the effect is neat in black too.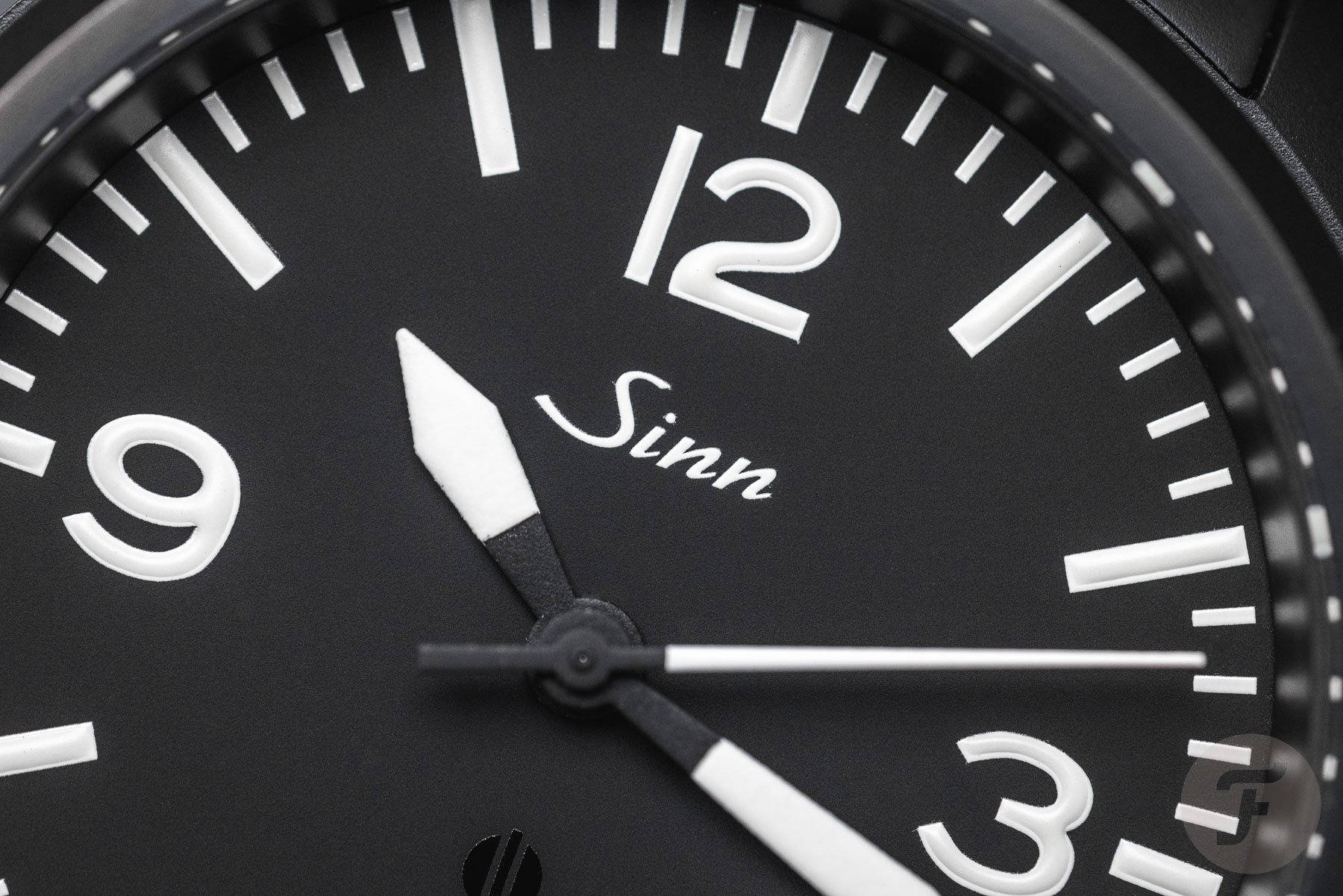 Closing thoughts
I come out of my review period with the Sinn 856 thoroughly impressed. So much so, in fact, that I find myself seriously considering the non-DLC-coated version. It is a good thing that I am on a watch-fast this year because I find this one hard to resist.
The 856 has that very specific aesthetic — inspired by cockpit clocks — that just works. It is a proven recipe, and Sinn has done well to use it in a watch. There are plenty of variants to choose from too. You can get them smaller and more affordable, and you can find them with a GMT complication, dive-time bezel, or both.
The version I have here, the 856 S on the Tegimented and DLC-coated bracelet, comes in at €2,520. To give you an idea of the price range, the regular 856 starts at €1,910 on a leather strap. That is serious money, but I have to say the watch justifies it. Specs-wise, there is little left to desire. And style-wise, the watch really does have a unique and charming vibe of its own. I think I may come back to this one at some point…
What do you think of the Sinn 856 S? Let us know in the comments below!
Watch specifications
Dial
Matte black with painted luminescent indices
Case Material
Tegimented and bead-blasted stainless steel with DLC coating
Case Dimensions
40mm (diameter) × 48mm (lug-to-lug) × 11mm
Crystal
Sapphire with double-sided AR coating
Case Back
Solid stainless steel, screw-down
Movement
Sellita SW300-1 — automatic winding, 28,800vph frequency, 56-hour power reserve, 25 jewels
Water Resistance
20 ATM (200m)
Strap
Tegimented and bead-blasted stainless steel H-link bracelet (20mm width) with DLC coating
Functions
Time (hours, minutes, seconds), date, Ar-Dehumidifying Technology, antimagnetic to 1,000 gauss (80,000 A/m), low-pressure resistant