Hands On With The Breitling Premier B01 Chronograph
It's now been well over a year since the arrival of Georges Kern as CEO of Breitling.  The first releases after his arrival fell into the new "Navitimer 8" series and while they were nice, some felt that they were a touch plain.
Personally speaking, I like them and I think the neutral reception from most was based more upon the shock of seeing Breitlings that weren't in the vein of the blingy Bentley series than anything else.  Still, it was clear that the watch world was waiting for something earth shaking and triumphant as a result of Kern's leadership.  While today's subject still likely lacks the "shock and awe" that most seemingly desire, a closer look will hopefully convince you that Breitling is in far safer hands than it has been in a very long time.  If nothing else (although I strongly feel there's something far more at work here), the new Breitling Premier B01 Chronograph should be taken as a positive omen that serious goodness will continue to come from the revamped brand.
Breitling Premier B01 Chronograph Review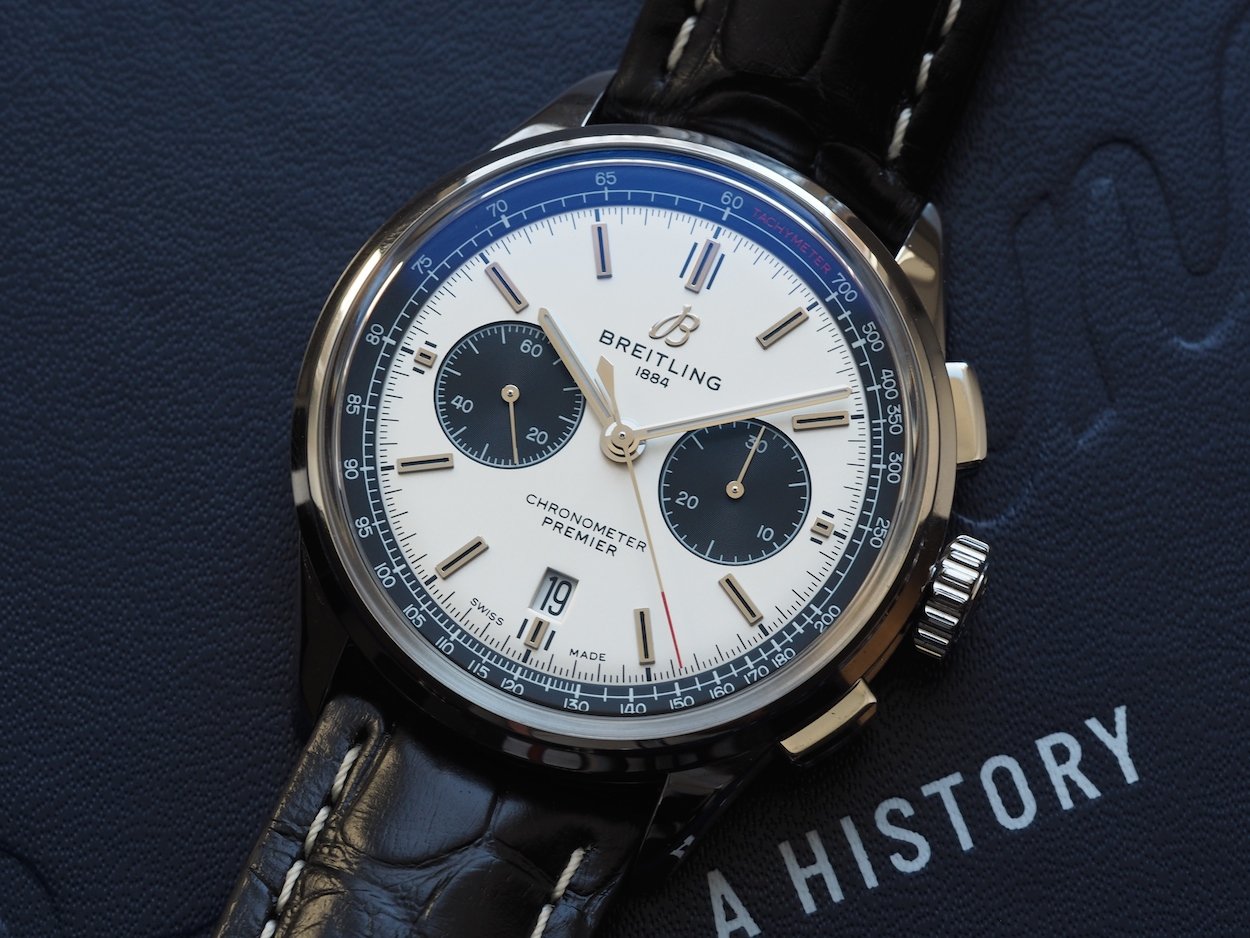 When George Kern Joined
One thing that so many of us watch curmudgeons disliked about Breitling over the past 20 years was its apparent disregard for its back catalog.  Sure, the company was happy to proudly display its founding date, but they consistently threw sand into the eyes of the faithful in several ways such as wrongly reporting the year of the first Navitimer.  Then, abominations such as the wrist-colossus Bentley pieces made their way to the market and it felt as if the brand had reached a point of no return; we'd never see nods to the brand's glorious past.  Well, enter 2017 and Georges Kern joined.  In his prior role, he made IWC extremely successful, but some would say at the expense of keeping the brand's subtle, technical, teutonic styling intact.  So, what would we get with Kern at Breitling?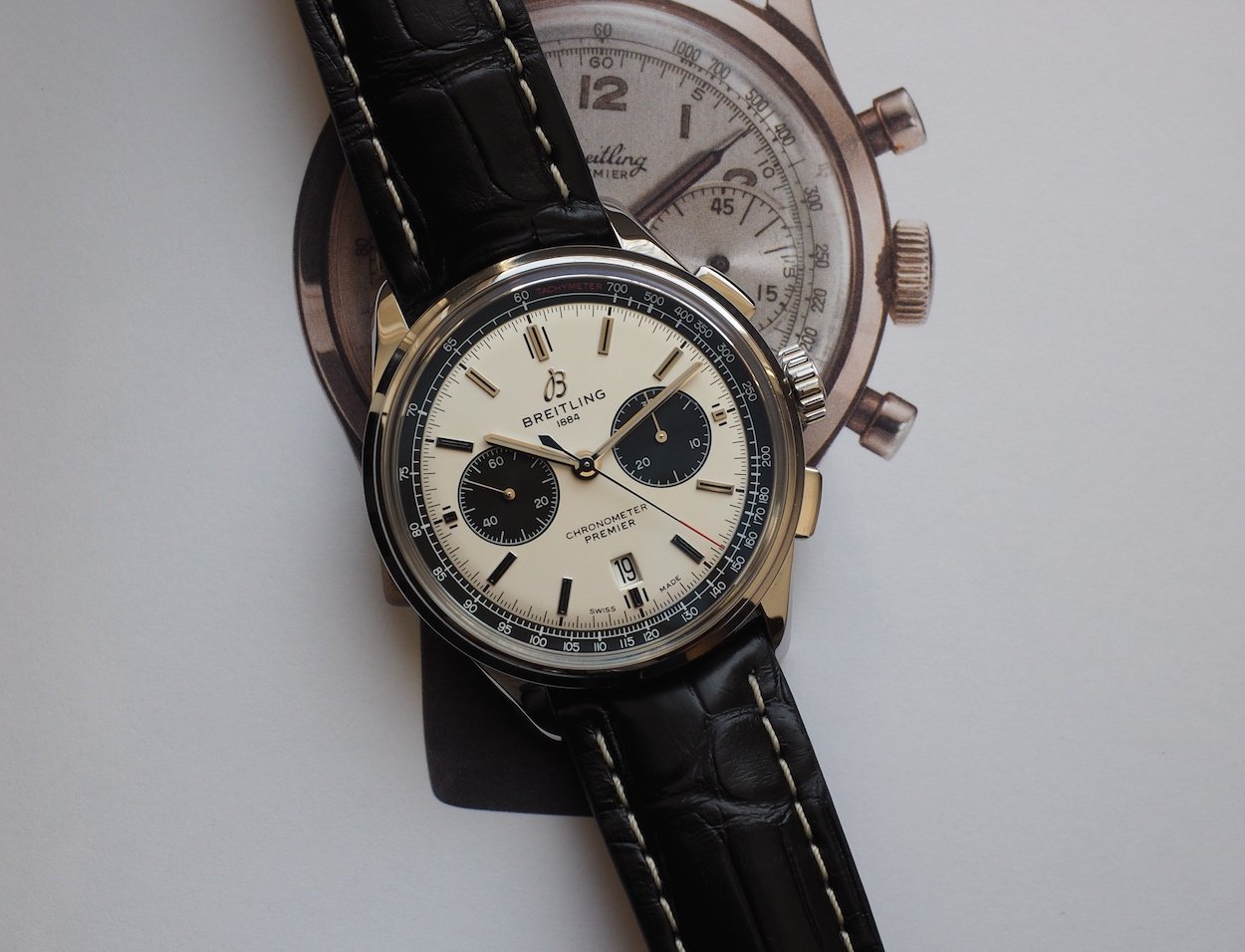 Listening to Breitling Collectors
It's no secret that I have a strong affinity for Breitling's history and its simply ridiculous library of vintage chronographs – heck, I dedicated a good bit of my vacation to compiling the lengthy "Breitling Expert Interviews".  Furthermore, I "virtually" hang out with a gang of Breitling collectors and it's no secret as to who leads this band of thugs: Fred Mandelbaum.  What I can share with you is that prior to Kern's arrival, it was as if someone was constantly poking a voodoo doll in the guise of Fred.  Whether it was the release of another ginormous monstrosity from his most favorite marque or, worse, seeing TAG Heuer grab its, by comparison, relatively slim history by the horns and run with it, it was clearly bothering Fred.  And so, when Georges Kern came on the scene, we heard that he had reached out to Fred and all of us slept a bit better that night.  While I am not here to comment on Fred's involvement with Breitling and its new designs, (we know that he travels extensively with the brand to help shed light on its history to collectors and dealers) something tells me that he at least threw down some guiding opinions on the new Breitling Premier B01 Chronograph.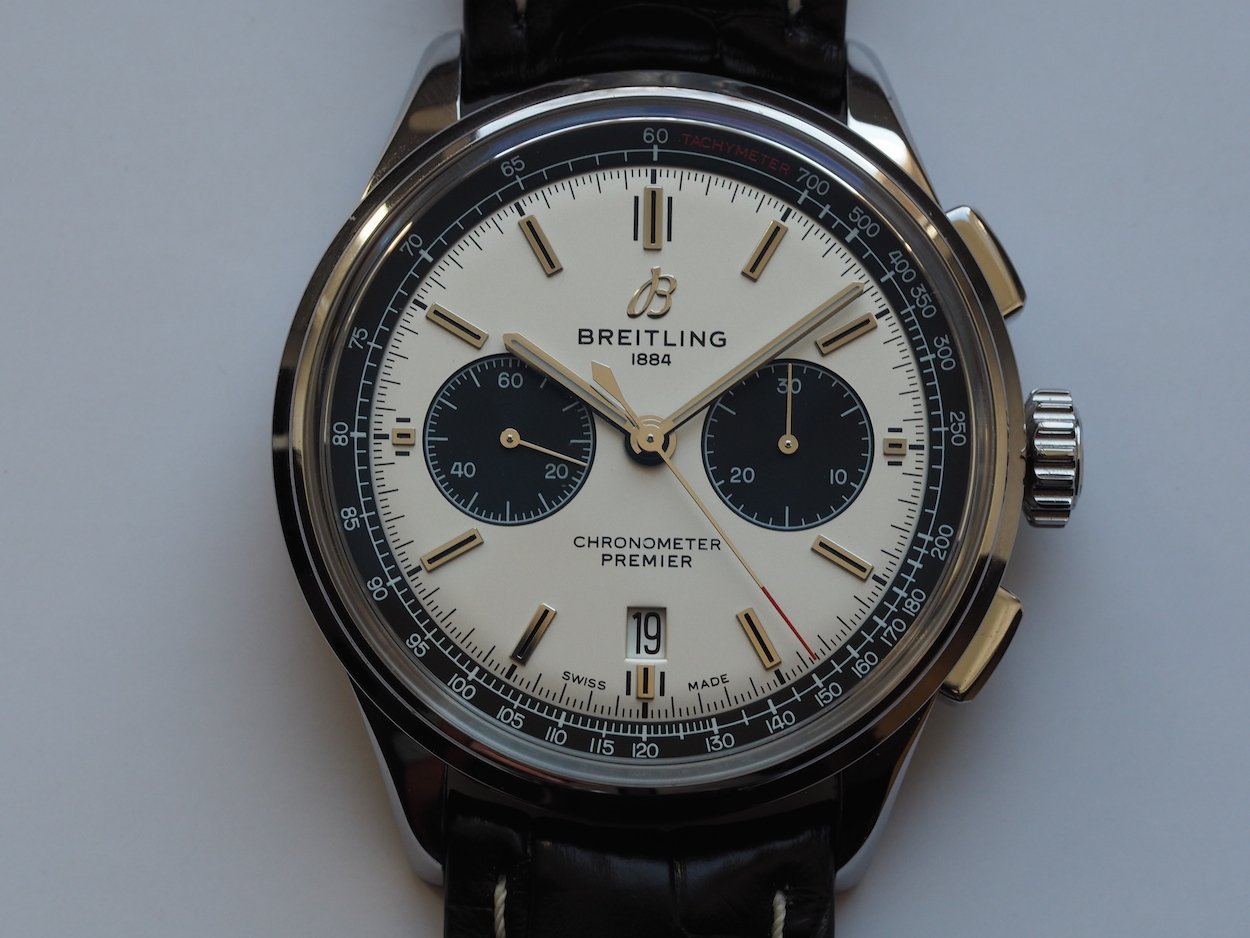 Manufacture Movement B01
The Breitling Premier B01 Chronograph joins a number of other new models within the reissued Premier line.  In addition to the in-house 42mm B01-powered models (there are several dial variants including a beautiful green Bentley version – yes, a beautiful Bentley version), there are 42mm ETA 7750-powered models, 40mm automatics with sub-second dial, and 40mm day-date models.  All of the models can be had on either leather or a stainless bracelet featuring links that are "cut on the bias" as a former boss once said.  Today, though, we're only here to talk about the range-topper and that's the B01 Chronograph.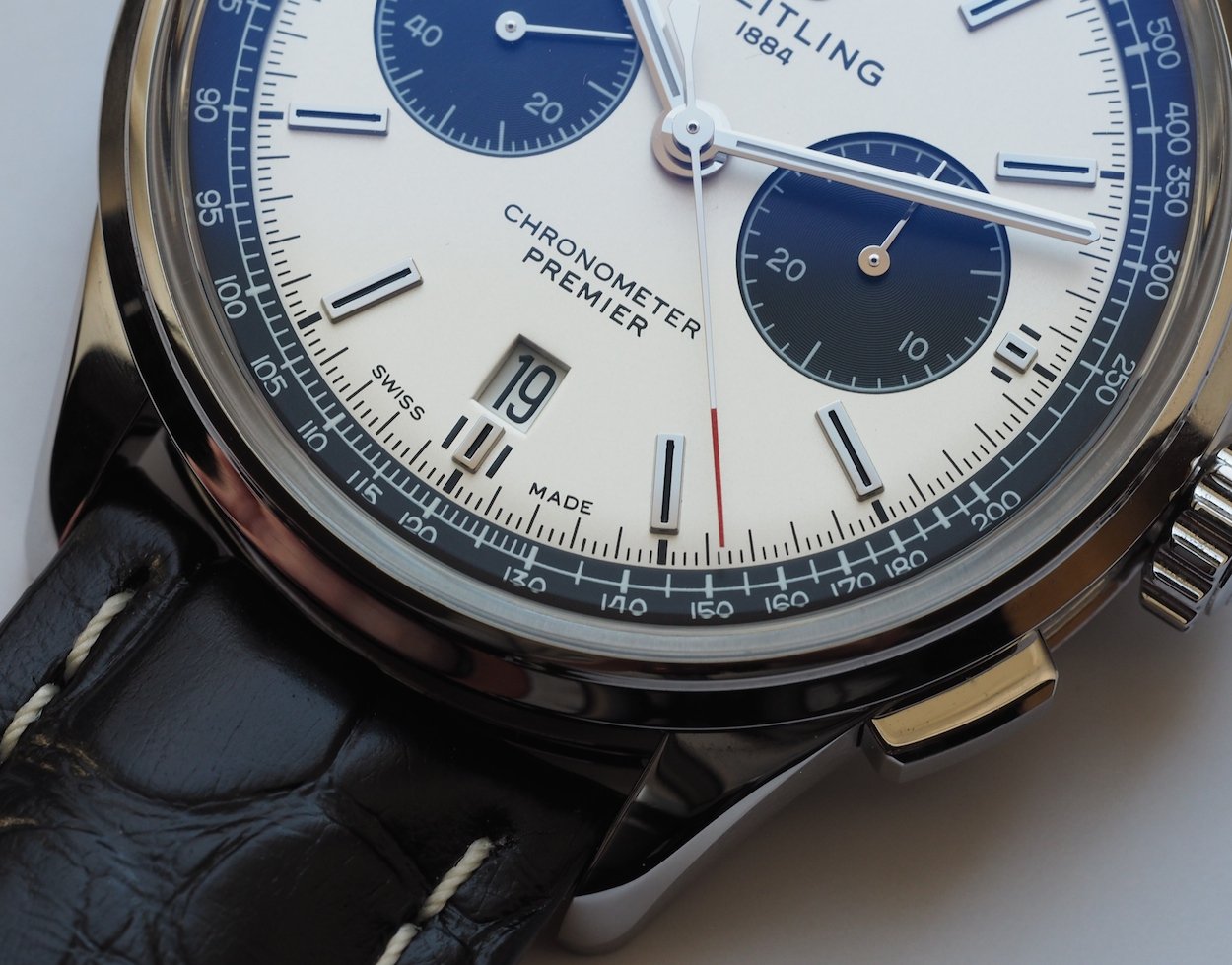 Different Leagues
In order to provide enough contrast, I chose a Breitling Premier B01 Chronograph in a so-called "panda" color scheme as I think the contrast best demonstrates what's happening.  By the way, I chose this colorway for another reason – I wanted to see this watch with my own eyes, under a loupe, and on the wrist in order to tell you, the reader, that this watch is most definitely in a far different quality category than the Hamilton Intra-matic chronograph.  Yes, there was a little blip over the virtual airwaves about how this new Breitling looks a lot like the Hamilton, but that the Hamilton – priced at almost 25% of the Breitling – was such a better deal.  Look, Hamilton hit it out of the park with their retro chrono, but these two watches play in very different leagues.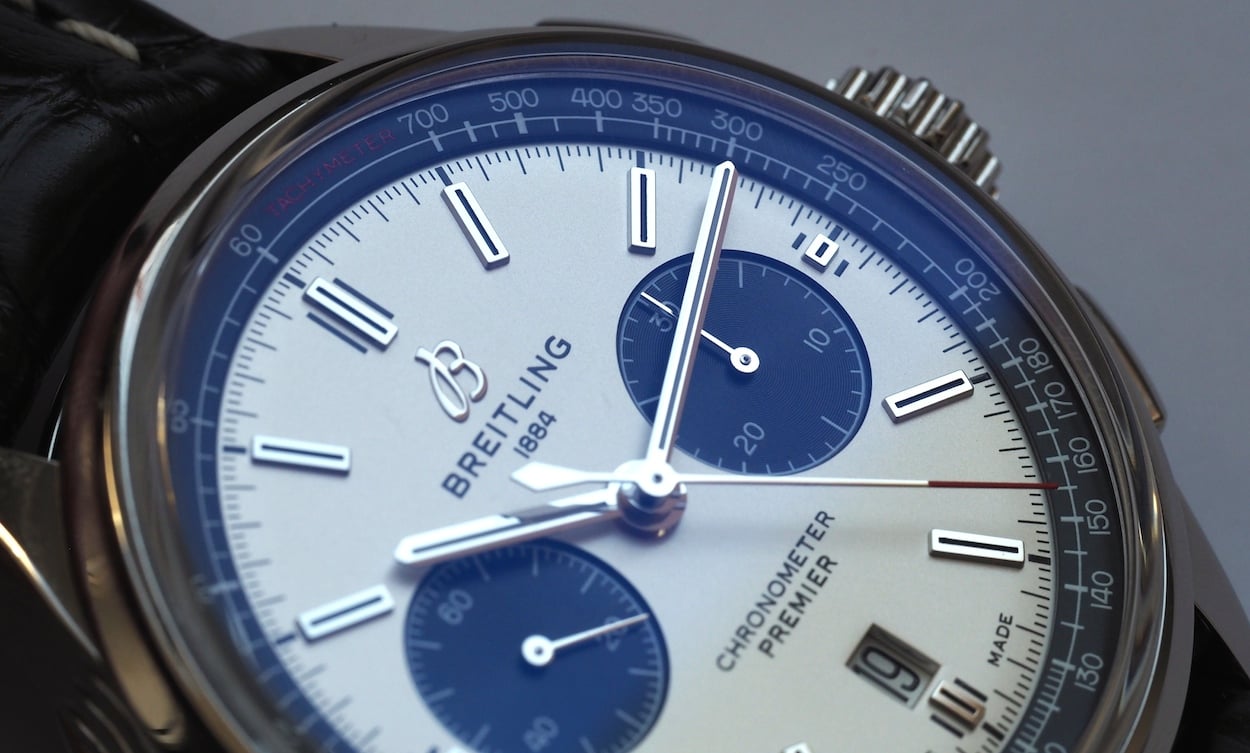 Dressier Models Don't Need Wings
The detail work and finishing on the Breitling Premier B01 Chronograph are nothing short of fantastic.  The applied hour markers, the fonts, the hands and touches like the ultrafine ridging on the sub-dials all speak to a very high level of attention.  Don't miss the thoughtful red tip of the central chronograph hand!  I'm also a big fan of the applied "B" script logo and understated branding versus the winged logo that was phased out over the past 18 months.  Those wings simply wouldn't work on a dressier model such as this Premier.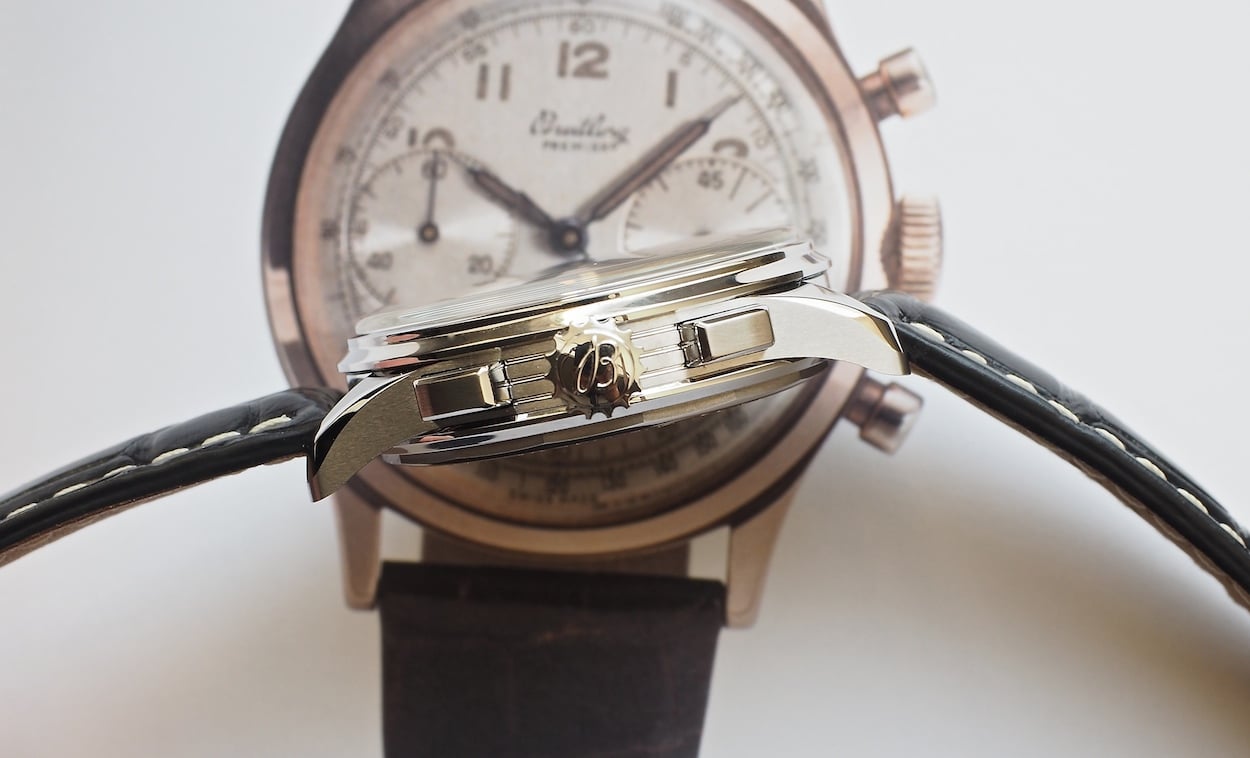 Round versus Square
Speaking of more formal, it's notable that the brand chose rectangular pushers for the Breitling Premier B01 Chronograph.  For sure, chronographs with this style of actuator tend to be less sporty, but that's not the case here.  Apparently, round pushers would have been the easy choice to ensure water resistance, but Breitling's engineers worked to create a system good enough to reach 100m of depth.  That's no small feat and it was extremely expensive.  If I'm honest – and I tend to be – I prefer round pushers on my chronographs, but historic Premiers offered both.  I'm also guessing that Breitling wanted to offer something rectangular to help differentiate the Premier from its other lines.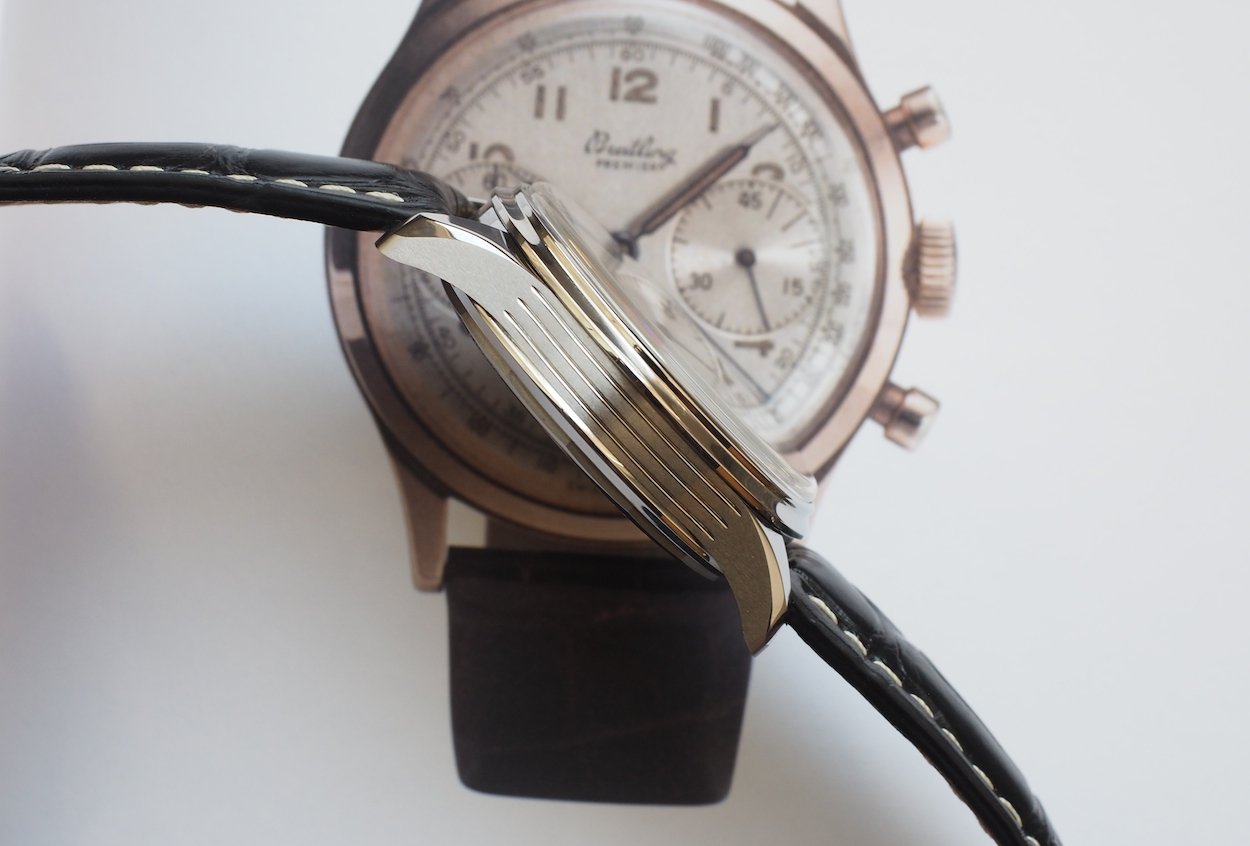 Case Details
When we take a look at the case of the Breitling Premier B01 Chronograph, there are a few items worth discussing.  First is the thickness at 13.65mm.  The watch isn't thin, but it somehow wears well.  Here again, making it thinner was impossible due to the high water resistance desired by the brand.  Breitling employed three cut lines on case sides in order to break up the thickness – something we often see on cars as well.  I wasn't a fan from seeing pictures, but we're in safe hands here as the cuts are done with serious precision that actually looks good.  Hopefully, from my pictures, you can see that the insides of the slices are polished and contrast nicely against the matte case.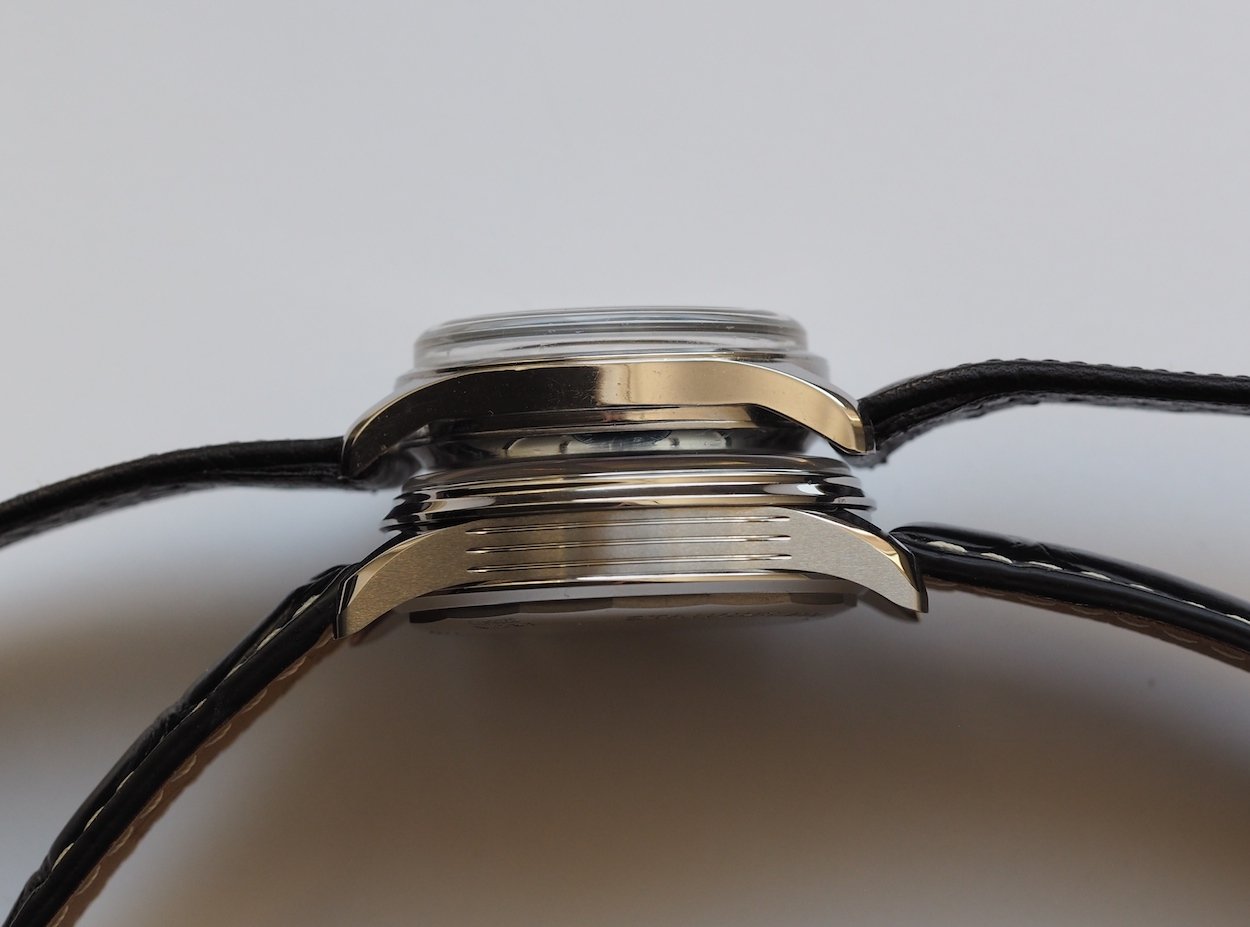 The other surprise for me was the choice of rounded lugs instead of using the brand's historic triangular chamfers.  It seems that Breitling chose to bring back a look from one of its other famous vintage chronographs: the mid 1960's ref. 810 Mark 1 Top Time.  Take a look above and see how the lugs are nearly exact recreations.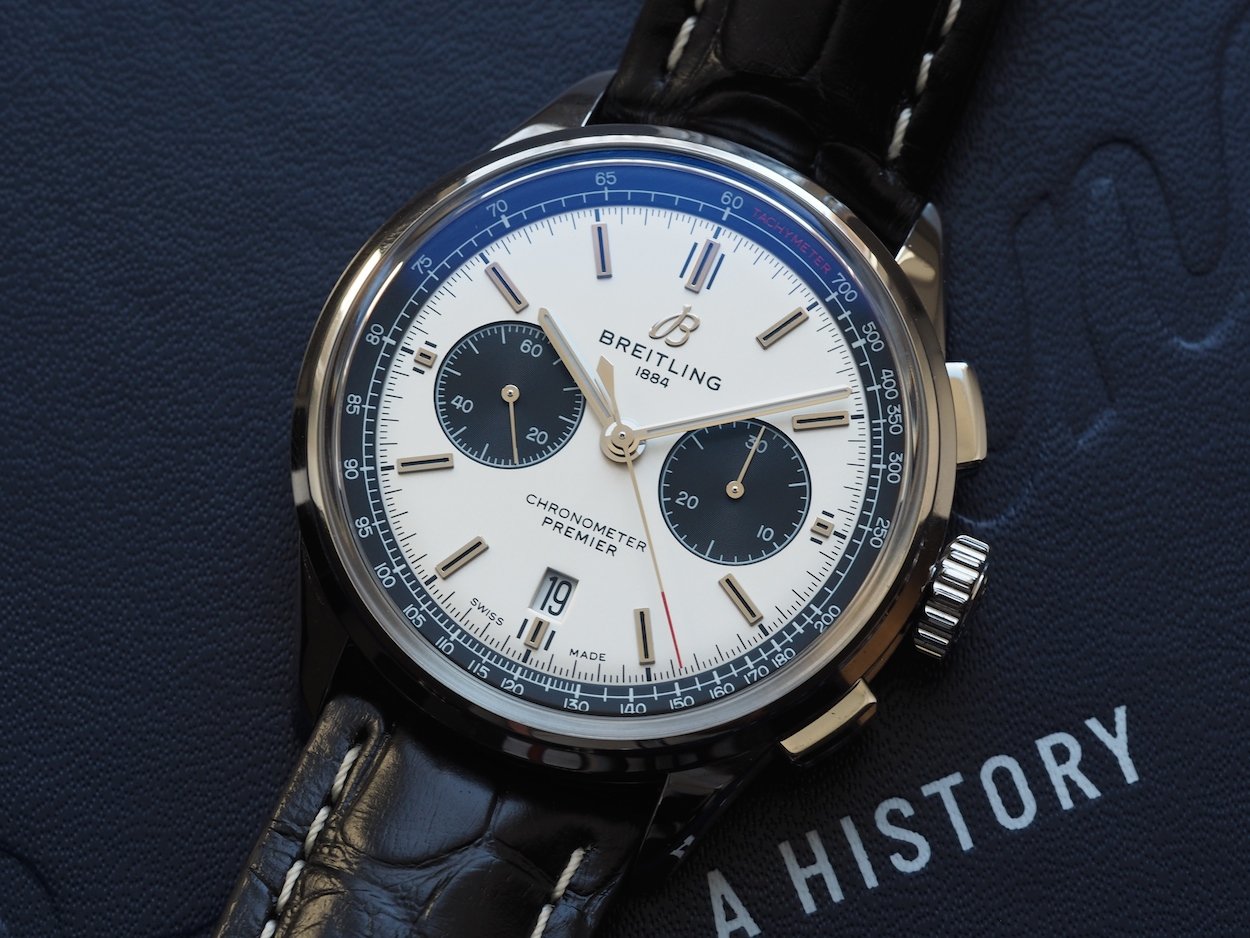 Not Navy Blue
The sapphire crystal found on the Breitling Premier B01 Chronograph contains some serious anti-reflective coating.  In fact, there's so much that my wife thought the watch was navy blue in certain lighting.  It's also quite flat, which makes viewing the entire dial easy and enjoyable.  The black outer tachymeter scale – I love that subtle red "tachymeter" script – contrasts perfectly with the whitish silver dial and it's all on display due to the well-designed crystal.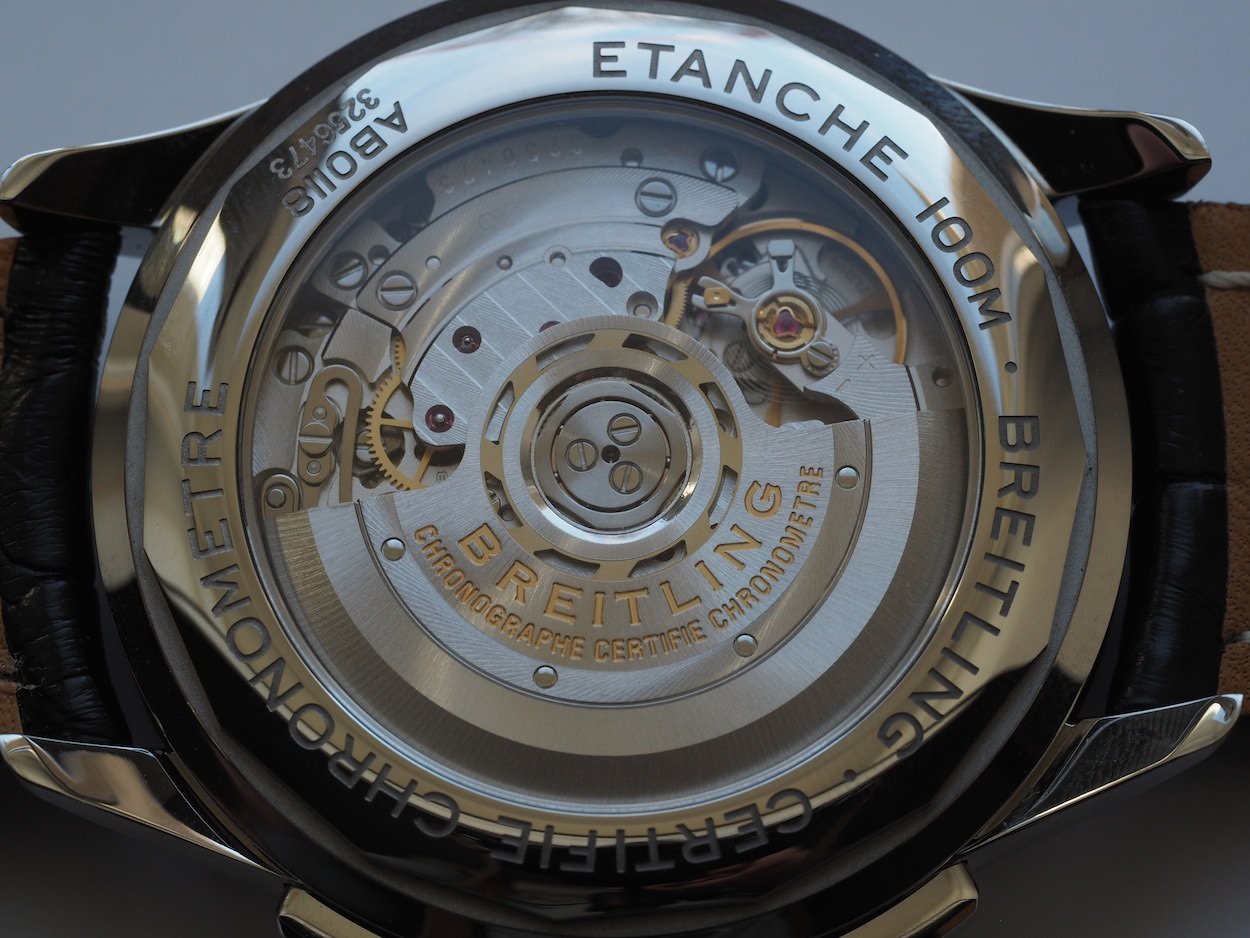 Column-Wheel Chronograph Chronometer
I've not had much experience with the B01 movement used in the Breitling Premier B01 Chronograph, but the column-wheel engine was a smooth runner and easy to operate.  It hacks, features a quickset date, and is chronometer certified.  You can see it via the case back and I think, due to the finishing, it's a worthwhile piece of machinery to view.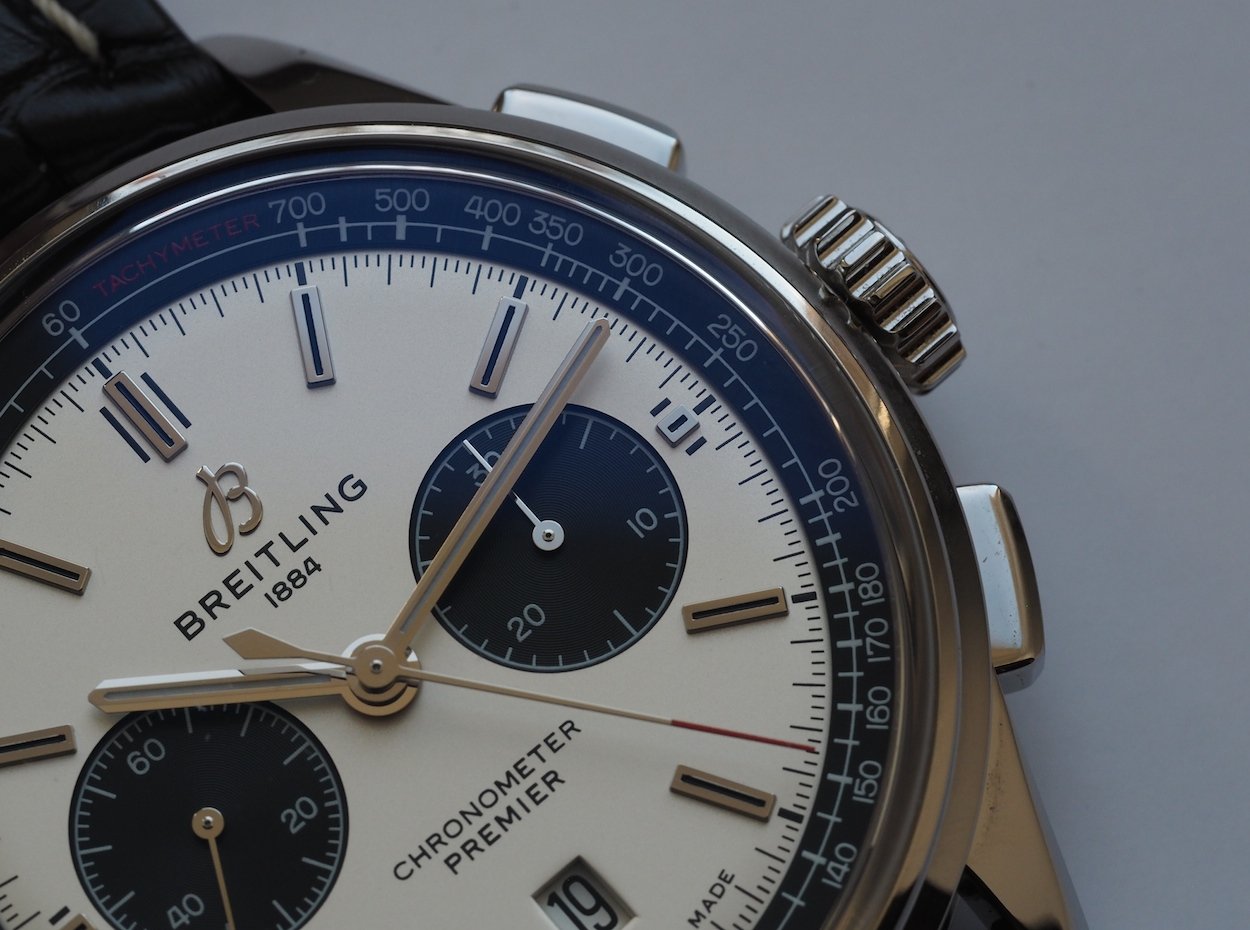 One complaint I do have is the size of the crown.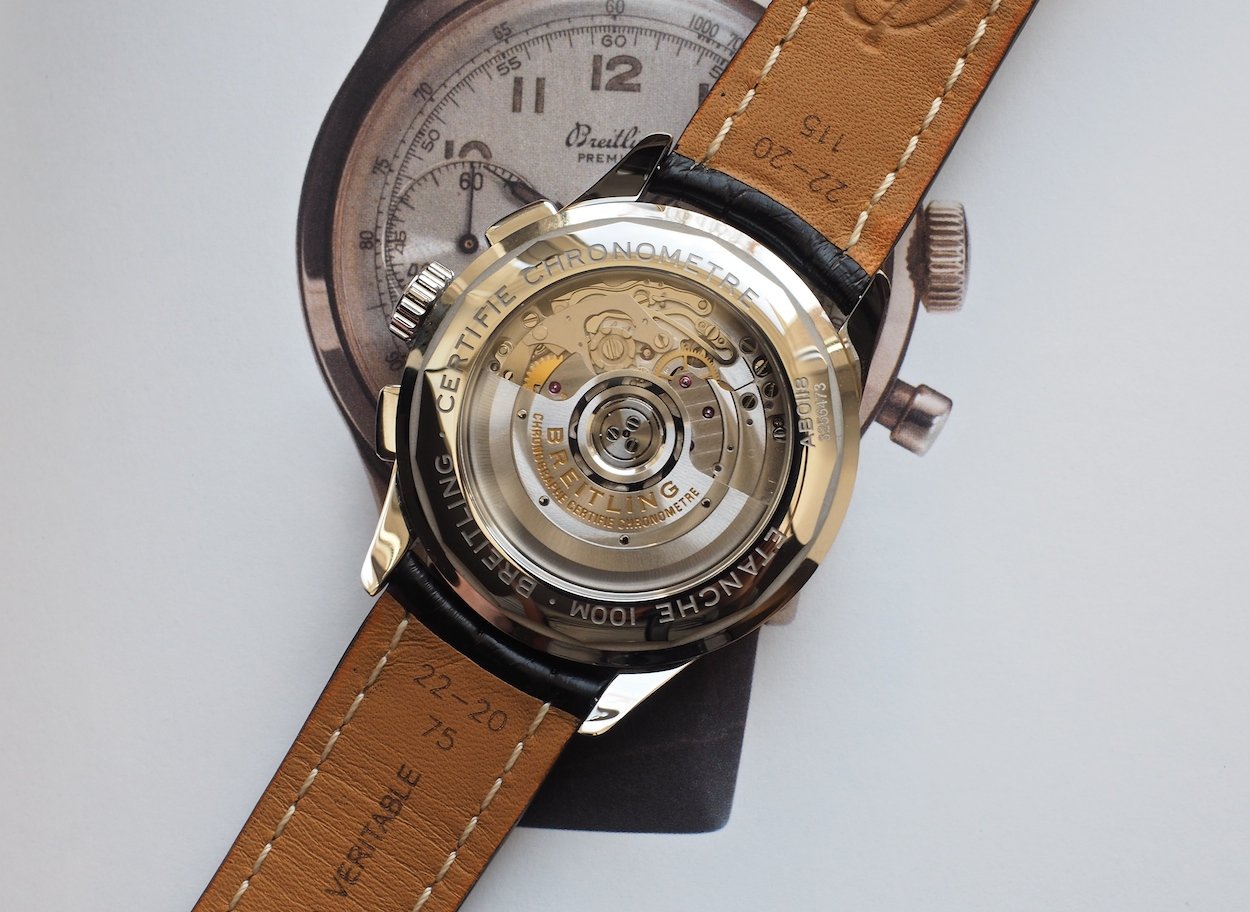 Sure, it makes operating the watch more than easy, but it looks out of proportion and too casual.  Again, no deference to the brand, but it reminds me of the aviation-inspired watches from Fortis and that's a whole different price level.  It's also an easy fix for Breitling, so let's hope they consider the feedback.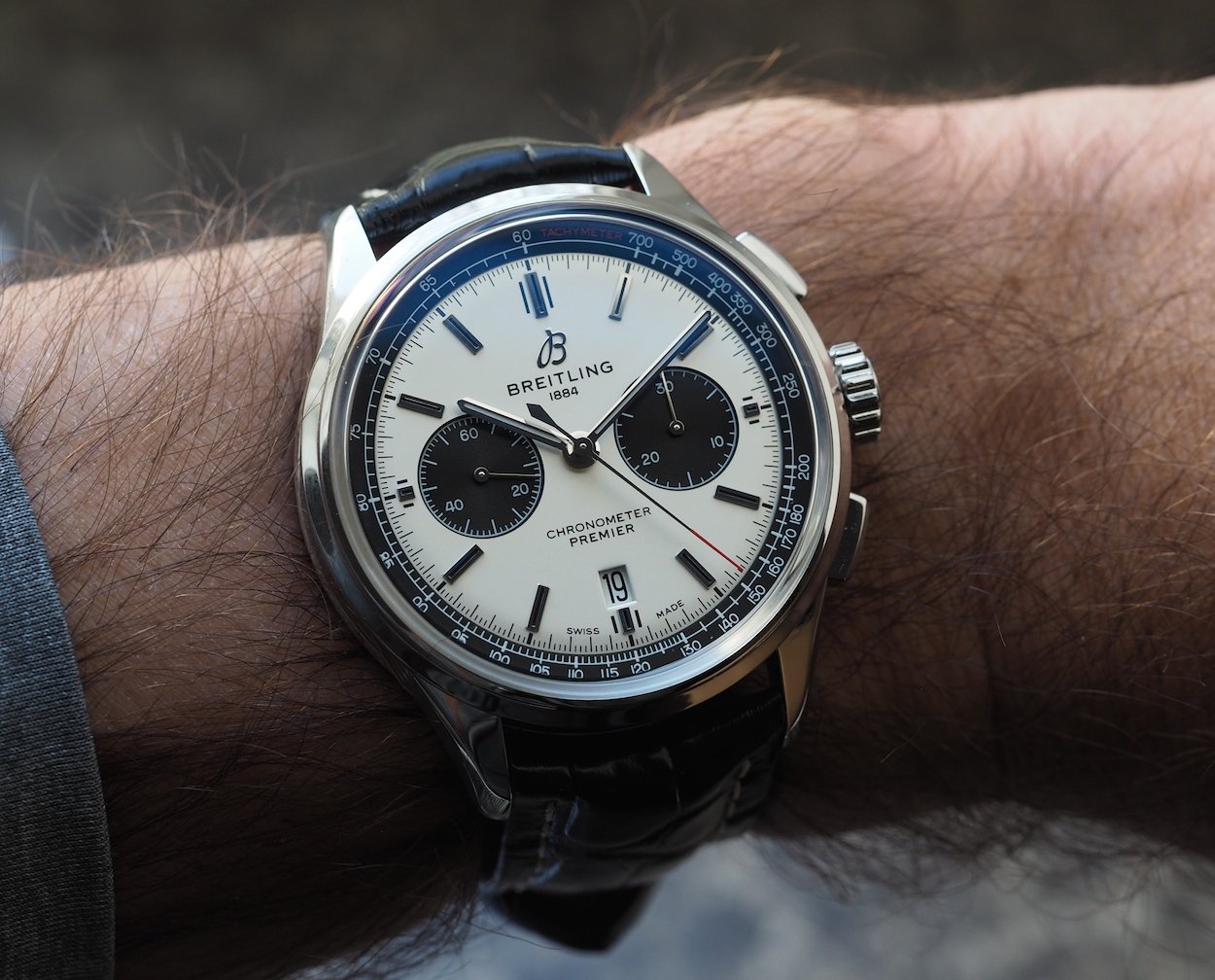 Specifications Might Deceive You
A lot of folks have expressed their concerns about Breitling's watch sizes and at 42mm, the Breitling Premier B01 Chronograph straddles the line between fairly sized and large.  For my tiny wrist, it would come in as too large when looking at the specs.  Add to this the relatively thick case and it all seems to be a non-starter.  However, the team at Breitling has worked some wizardry because this watch really hugs the wrist.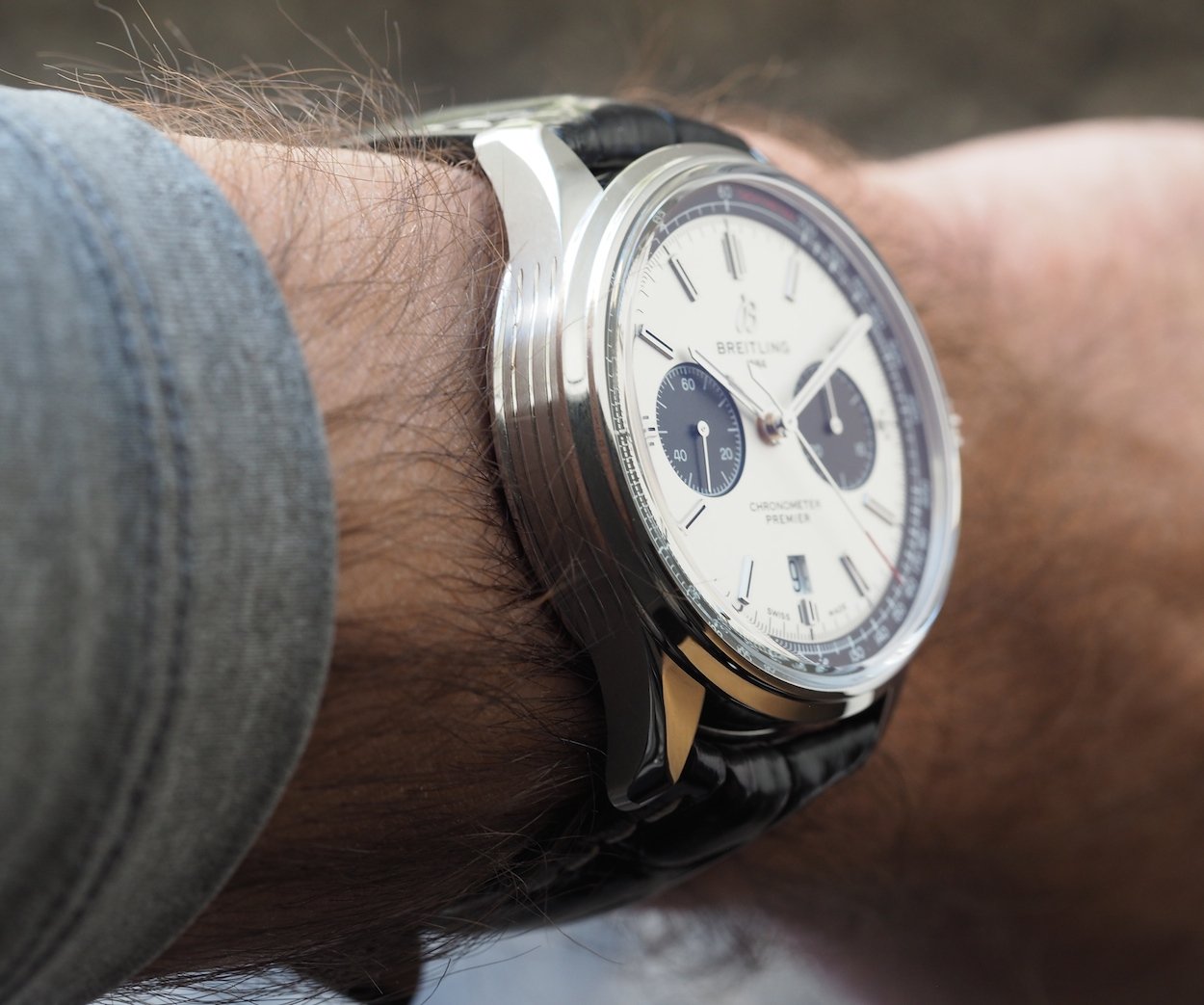 Those lugs drop downward in dramatic fashion and it helps create the illusion that this watch is highly curved.  At 50mm lug to lug, the chronograph somehow works well on my wrist.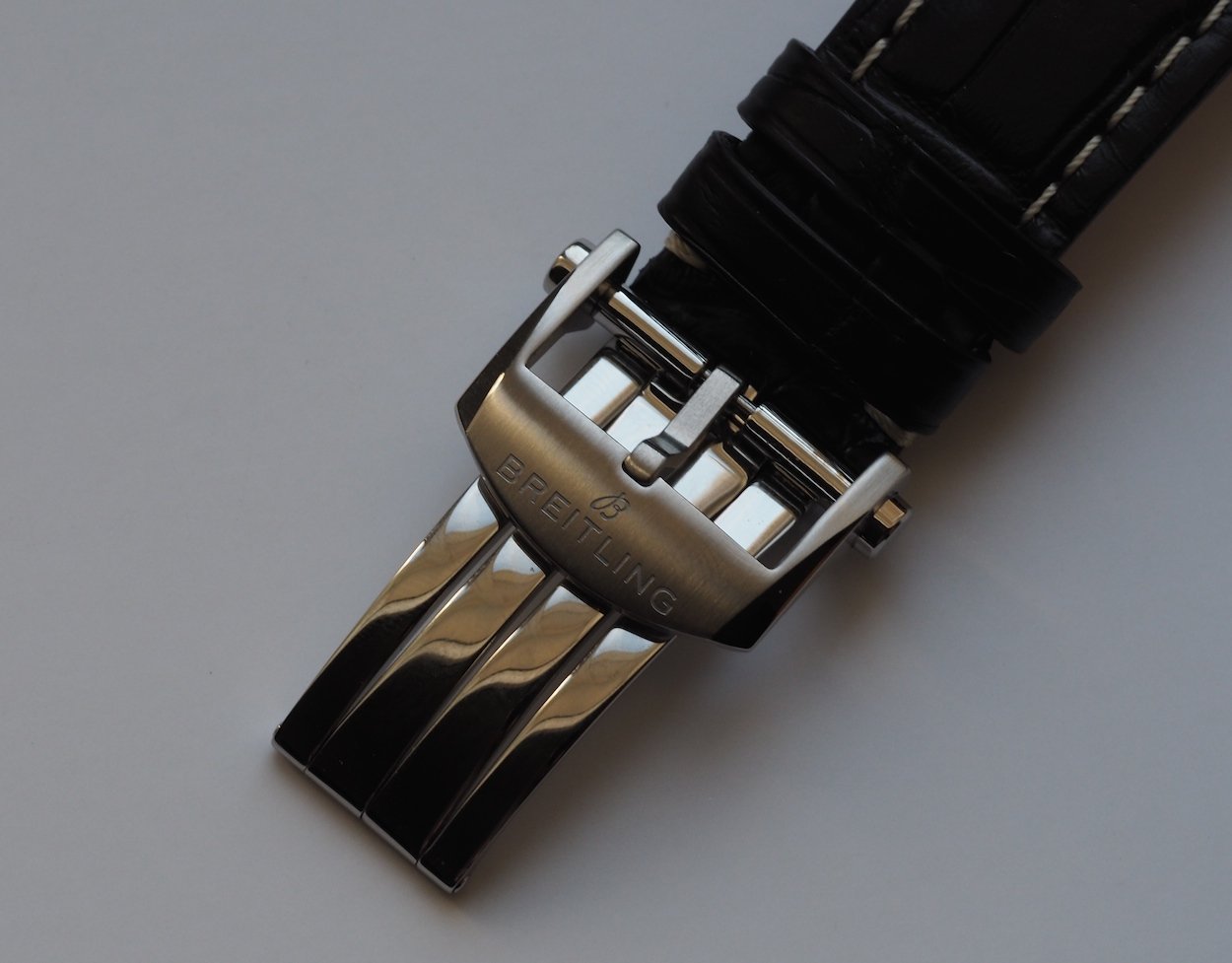 I'd also like to give fair due to the high-quality crocodile strap and the push button deployant clasp; it all looks the part and works for me.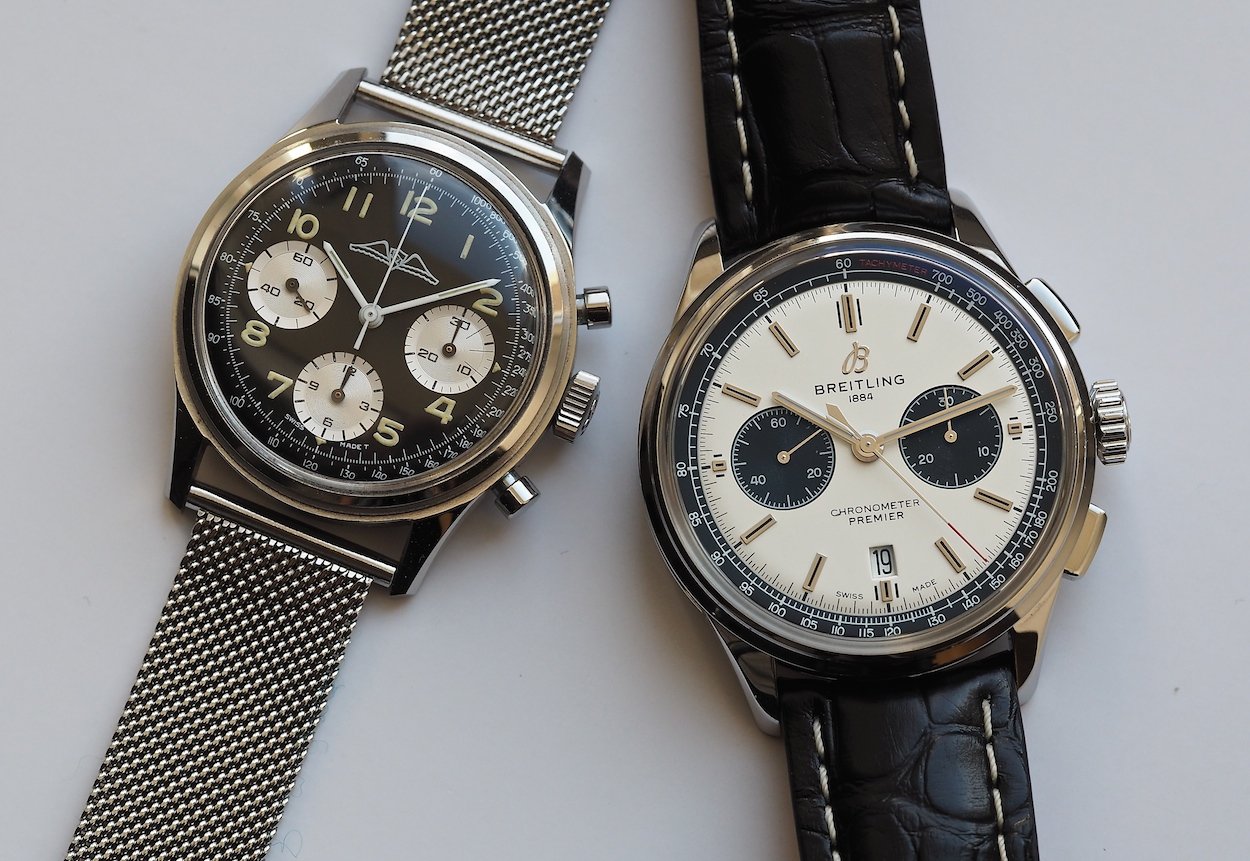 The Competition
The Premier always represented Breitling's top tier, so it's nice to see that the flagship has returned.  Above, you can see an example of one of the last Premiers (a 765 AOPA) alongside the new model – it's been over 50 years since the line disappeared, so it was about time to bring it back!.  To be fair, Breitling needed something less macho/toolish, yet still in keeping with the brand's DNA.  As for competitors, the $8,400 (7,700 Euros in Germany) Breitling Premier B01 Chronograph has many.  The $7-10K chronograph landscape is a busy one with many competitors.  The 44.25mm Omega Speedmaster Moonwatch Co-axial comes in at $8,600.  The 42mm Zenith Chronomaster El Primero lists for 6,900 Euros.  Sorry for the mixed currencies, but just for the heck of it, the steel Rolex Daytona checks in at 11,300 Euros.  So, yes, the Breitling is in a busy spot.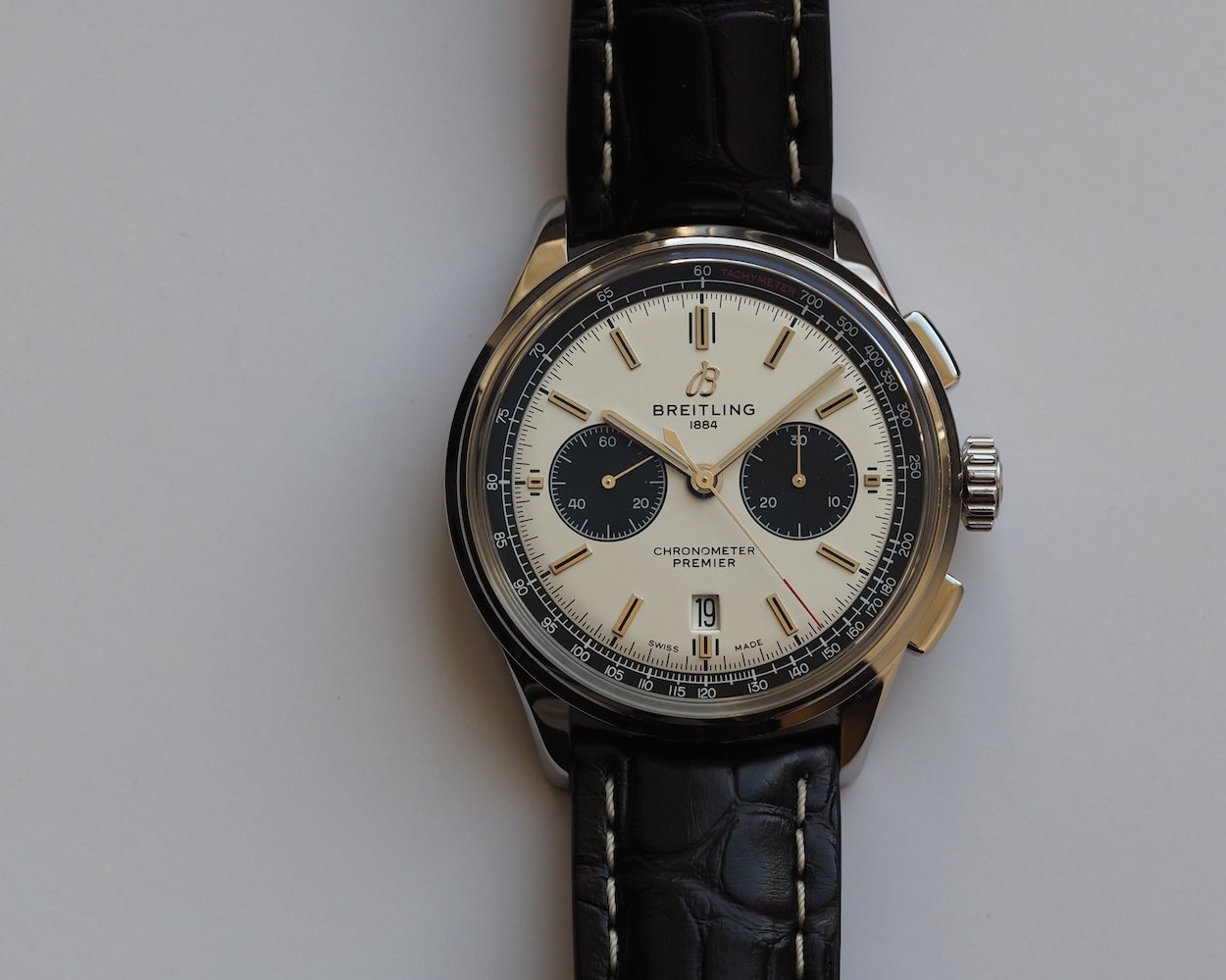 Conclusion
I spent a good amount of time with the Breitling Premier B01 Chronograph and my ultimate feeling is that they've introduced a viable competitor to the market.  It's beautifully made, comes in plenty of dial choices, and is quite capable as a daily watch.  After all, it's formal enough for the workplace but has the capability to do duty in about any type of environment.  Whether or not you feel Breitling did "enough" with the Premier to shake up the establishment is a personal decision, but I like it.  Plus, I take this watch, more so than with the Navi 8, as a real sign of things to come – and the watch world is better for it.
For more information on the Breitling Premier B01 Chronograph, head to the official Breitling site.