Hands-On With The New Tool Watch Co. Diver — Launching On Indiegogo Today
The titanium Diver offers a lot of value for very little money
In the last couple of years, we've seen many watch brands increase their prices. That trend makes some of the classic brands less affordable and less attainable. But it also means that new brands can move into the void that was left, and that's exactly what Tool Watch Co. is doing. Pieter Jansen van Rensburg, the brand's founder, started in 2021 with the Arctic Field, which had a meteorite dial. Then he introduced the AMA diver with mother-of-pearl dials. Both models were made out of titanium and cost €1,000 and €600, respectively. I won't tell you the price of the Tool Watch Co. Diver that I'm discussing today just yet. All I'll say is that I think it's quite impressive how much value the brand can deliver at a fraction of what bigger brands usually charge.
Two years ago, Nacho took a look at Tool Watch Co.'s first watch, the Arctic Field. This titanium crossover between a skin diver and a field watch came with a meteorite dial and an automatic Sellita SW200 movement. At that time, Nacho was already impressed with what Pieter was able to deliver for €1,000, especially because it was his brand's debut model. And now Pieter is introducing a new dive watch, which is in titanium but with a much cleaner design, mainly noticeable on the dial. All right, let's take a look at the impressive Tool Watch Co. Diver.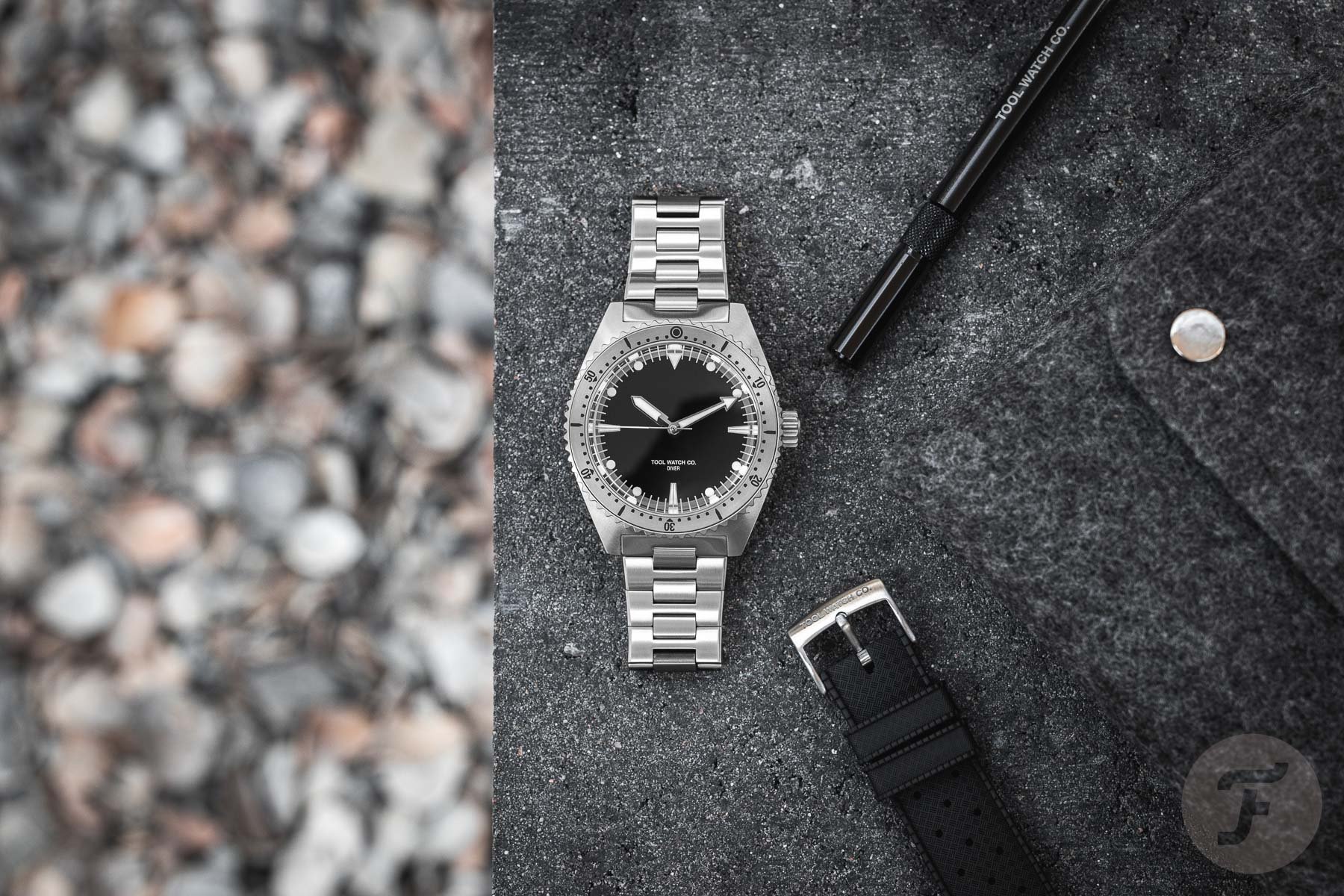 The Tool Watch Co. Diver
That's right, it's simply called "Diver" — nothing more, nothing less. And that name very much suits the no-nonsense design language of the watch. This one also has a skin-diver-style case, just like the company's previous watches. And it actually shares the very same dimensions with the AMA, meaning it's 41.5mm wide, 48mm from lug to lug, and 12.8mm thick. For my 17cm (6.7″) wrist, it's definitely on the larger side, but because of the modest lug-to-lug distance, it's still very wearable. And maybe it's more about the fact that it looks bigger than it is. I think that has something to do with the superbly clean dial and the bezel that stretches to the far ends of the case.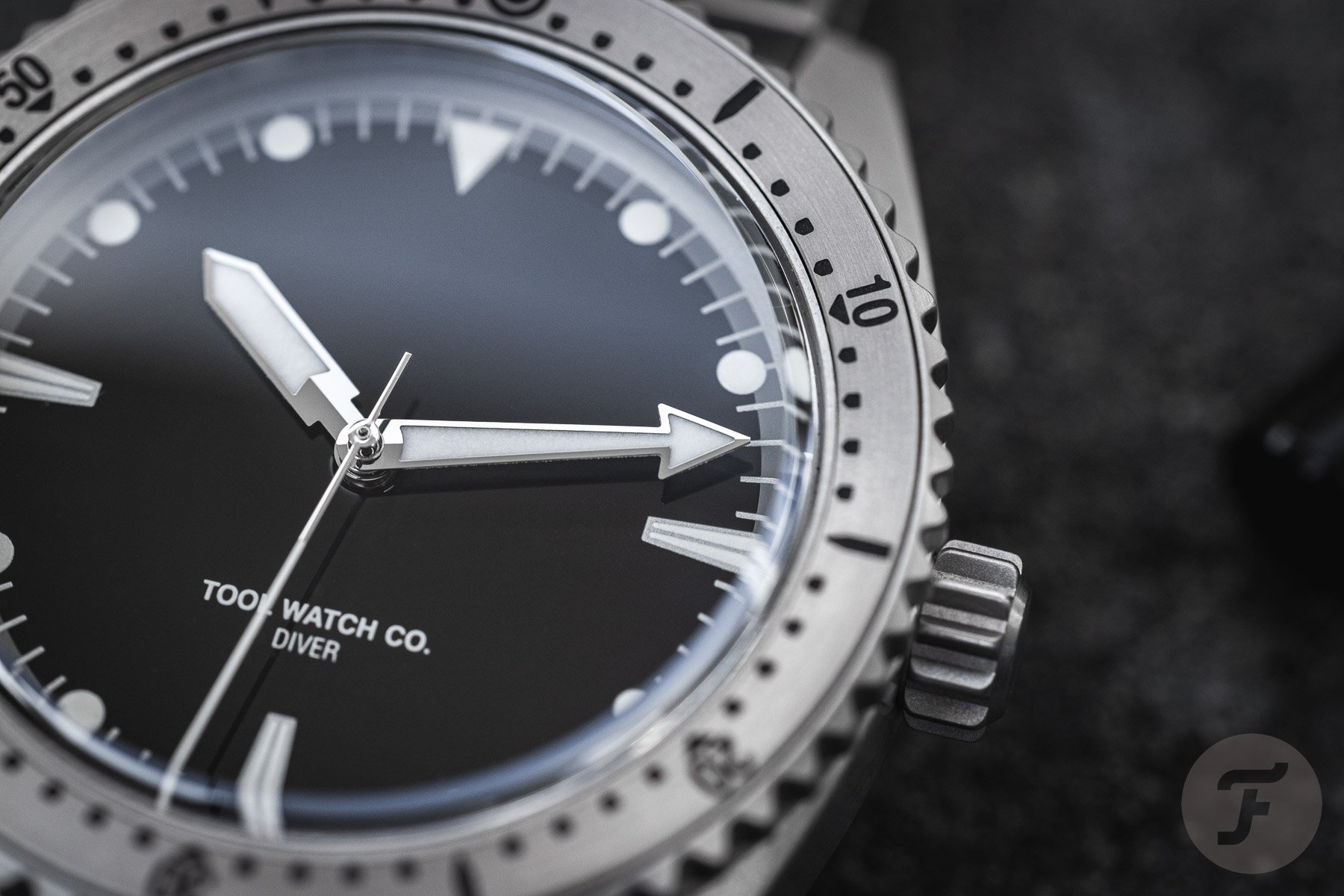 The teeth of the bezel almost look like they interlock with the similarly shaped teeth on the screw-down crown. That's a nice detail for a watch from a brand called "Tool Watch Co." Inside the titanium bezel, there's a brushed aluminum insert, resulting in a very nice monochrome look. The markings on the bezel insert are not merely printed on top but are etched and filled in, which is a nice touch.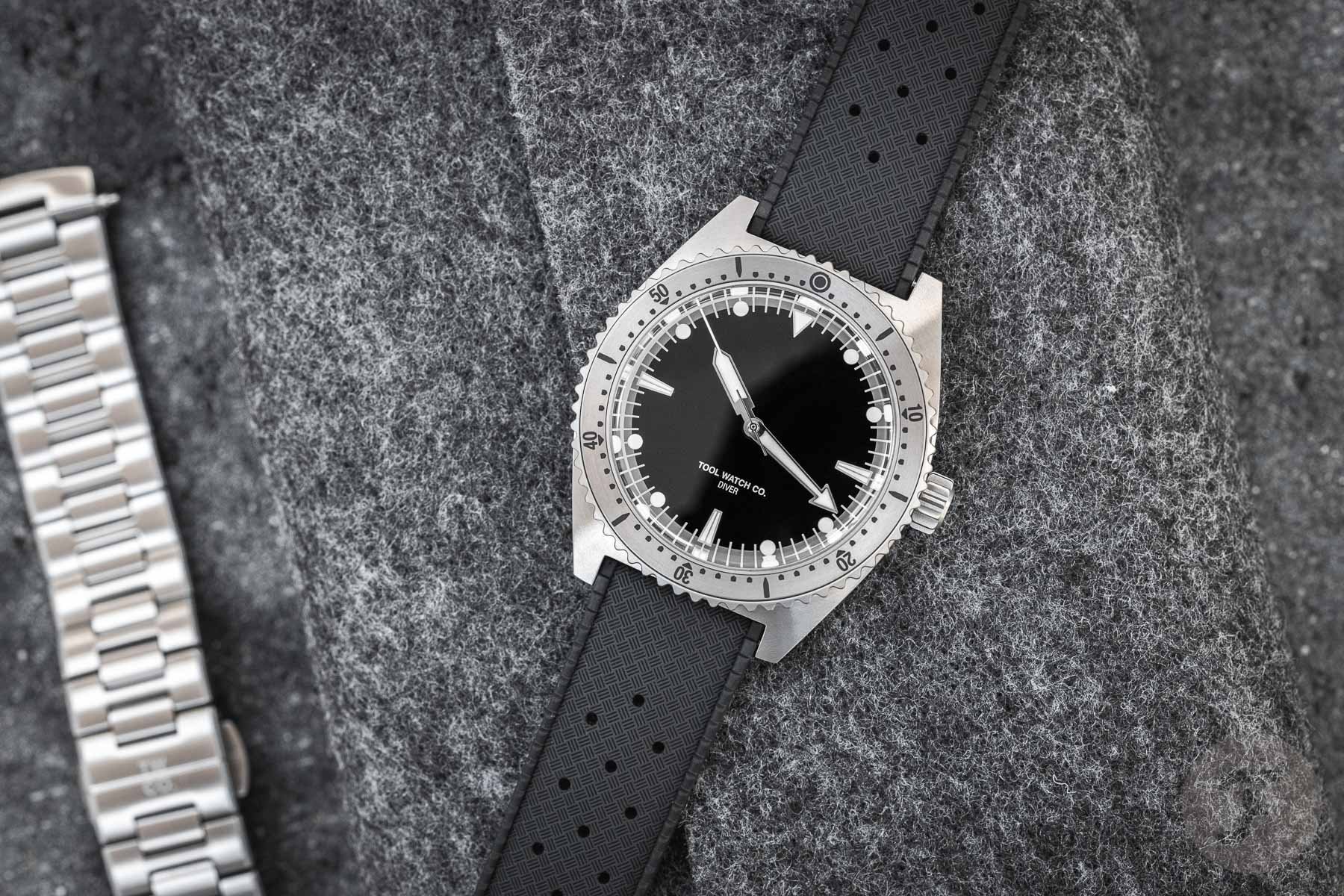 Recognizable design language
The Tool Watch Co. Diver uses a very similar dial layout as the brand's previous two models did. The only thing is that there's no text to be found at 12 o'clock. That, in combination with the receded hour markers, makes the dial look a little naked in my opinion. On the other hand, it also makes the original hands that Nacho liked so much stand out. There are, of course, other brands that don't have text or a logo at 12 o'clock on their dials. Take a look at Serica and Unimatic, for example. But I get the feeling that their dials are a bit more in balance than the one on Tool Watch Co.'s Diver.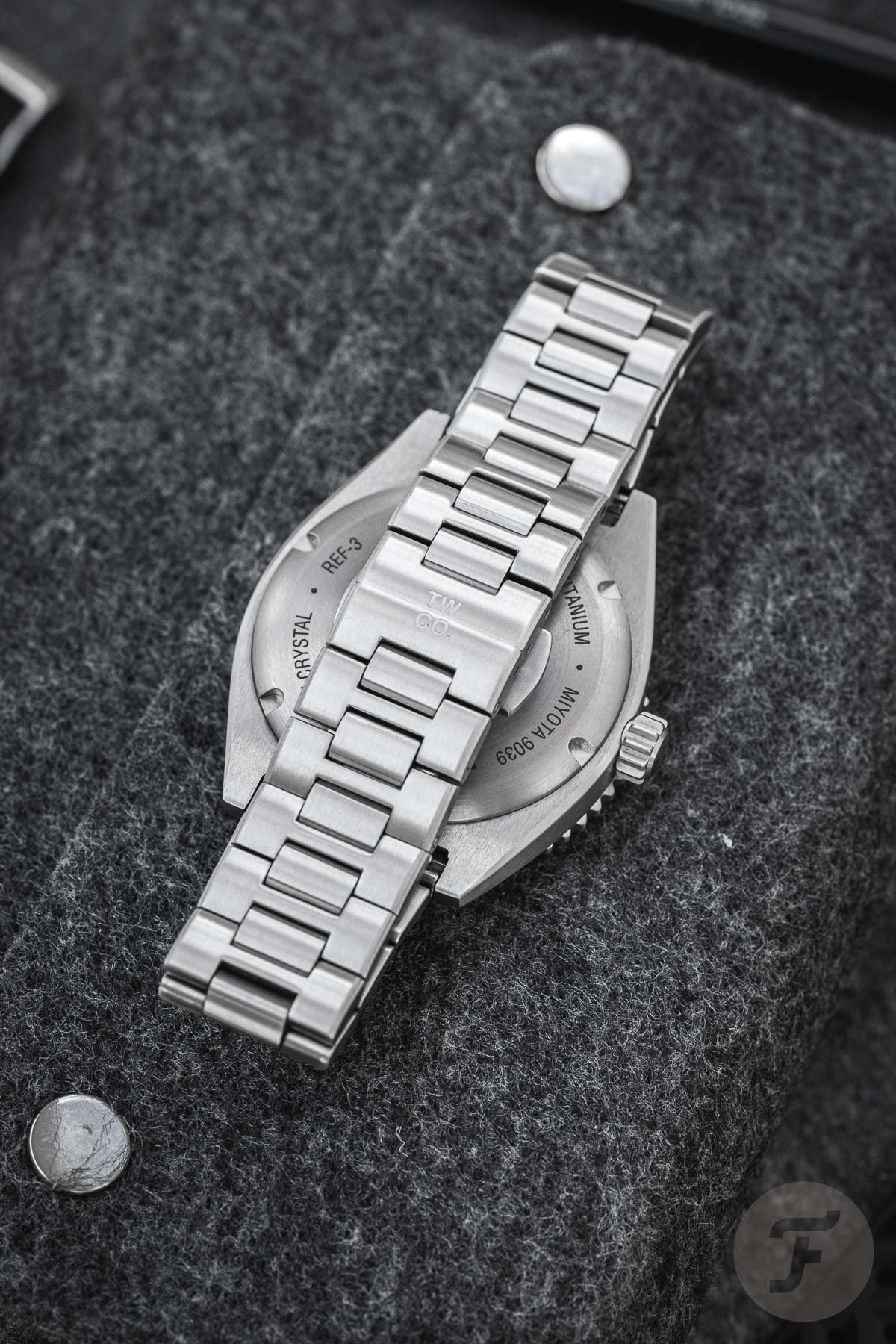 A 4mm-thick single-domed sapphire crystal covers the back-to-basics dial. In combination with the screw-down case back and crown, this helps make the Diver water resistant to 300 meters. And the very sturdy H-link titanium bracelet from the brand's previous models will ensure that the watch stays on your wrist. It's not the flimsy kind of bracelet you often find at this price point, and the quick-release end links fit perfectly between the lugs. You can use the screws to size it, and the butterfly clasp also feels solid. I also like that it doesn't matter which side you close first since there's no overhanging logo or anything, just "TW" and "CO." etched on either side. The only thing missing here is the possibility of micro-adjustment.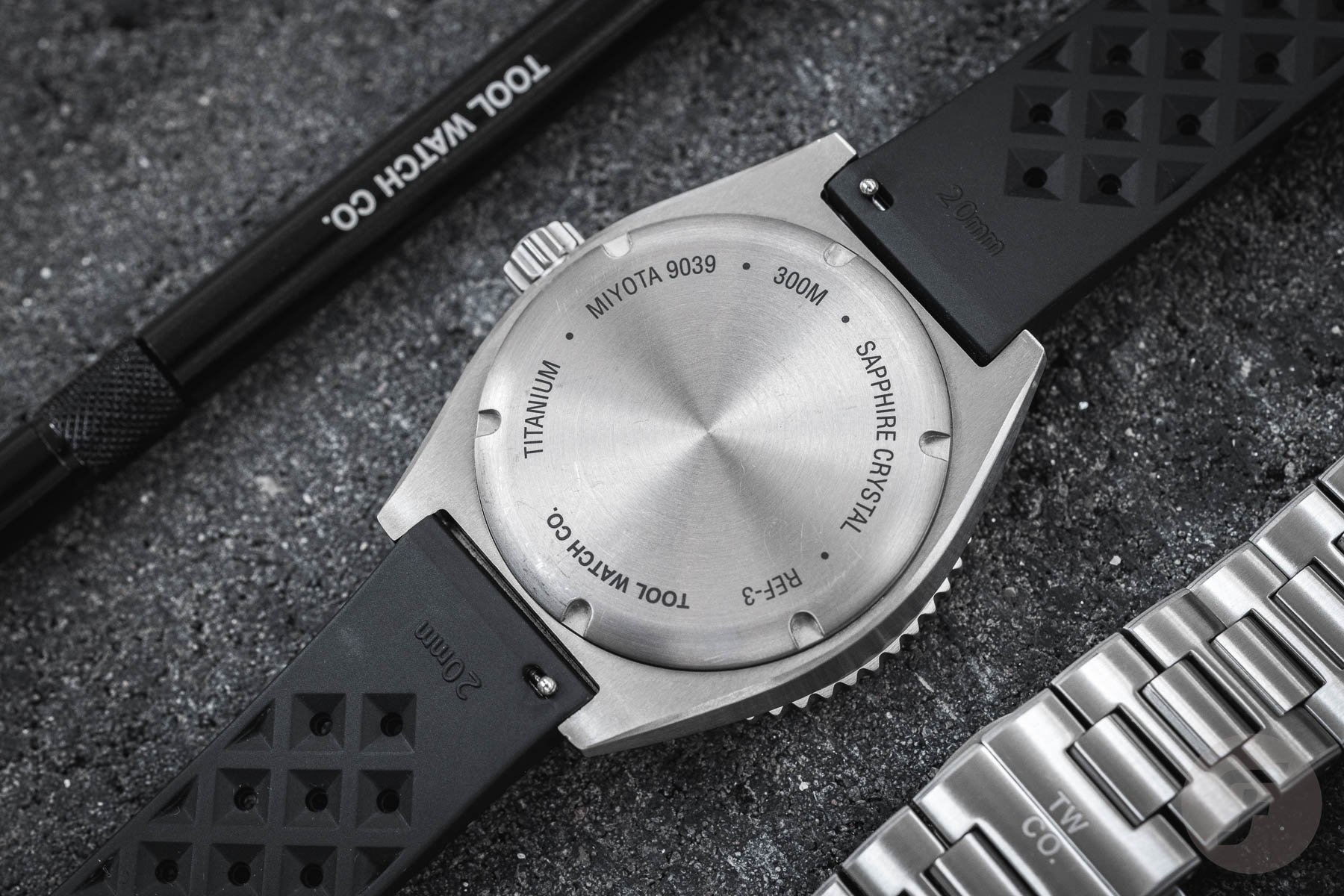 A move from Switzerland to Japan
Just like the AMA, Tool Watch Co.'s last model, the Diver has a Miyota 9039 automatic movement inside. It runs at 28,800vph and has a power reserve of 42 hours. Some might be disappointed that the company's founder moved away from the Swiss Sellita movement that was in the Arctic Field. But on the other hand, this choice makes the AMA and the Diver a lot more affordable.
And now that we're on the subject, let me tell you the price. The Tool Watch Co. Diver will be available as of today through the company's Indiegogo crowdfunding campaign. During this period, you'll be able to order the watch for US$295, and after that, the Diver will cost US$500. Even at its regular retail price, I think this watch delivers a lot of value for its money. But especially at that lower introduction price, it feels like an absolute steal. A titanium dive watch with an automatic movement, 300m water resistance, a sapphire crystal, a very decent titanium bracelet…should I go on? I think that's really impressive for less than $300!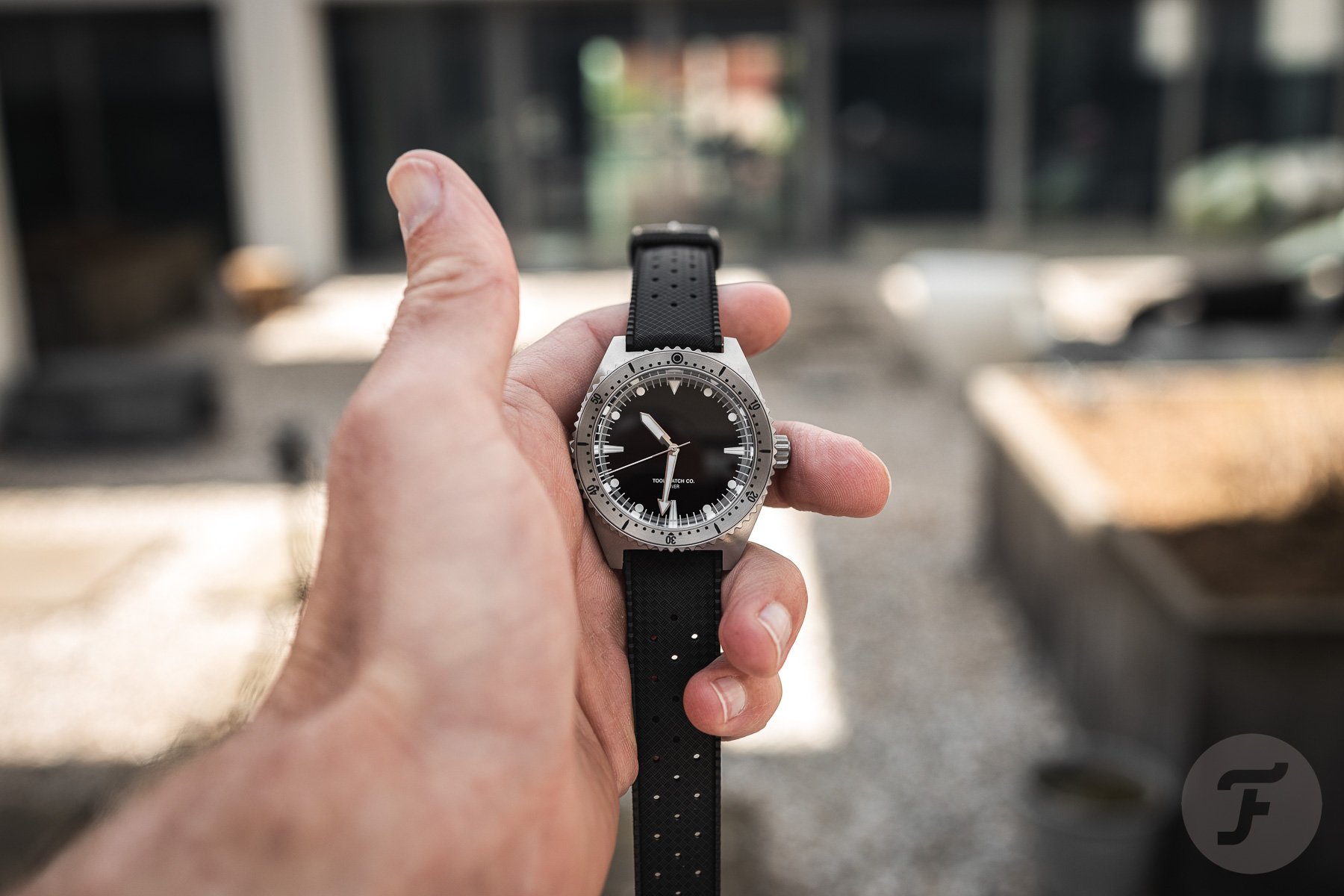 Final words on the Tool Watch Co. Diver
So, even though I might not be the biggest fan of the Diver's ultra-clean dial, I still think this is quite the watch, especially for the money. I know many watch enthusiasts look for a nice beater watch for the summer months, but many people also want to see what it's like to own an automatic watch. In both those cases, I think the Tool Watch Co. Diver is a great option.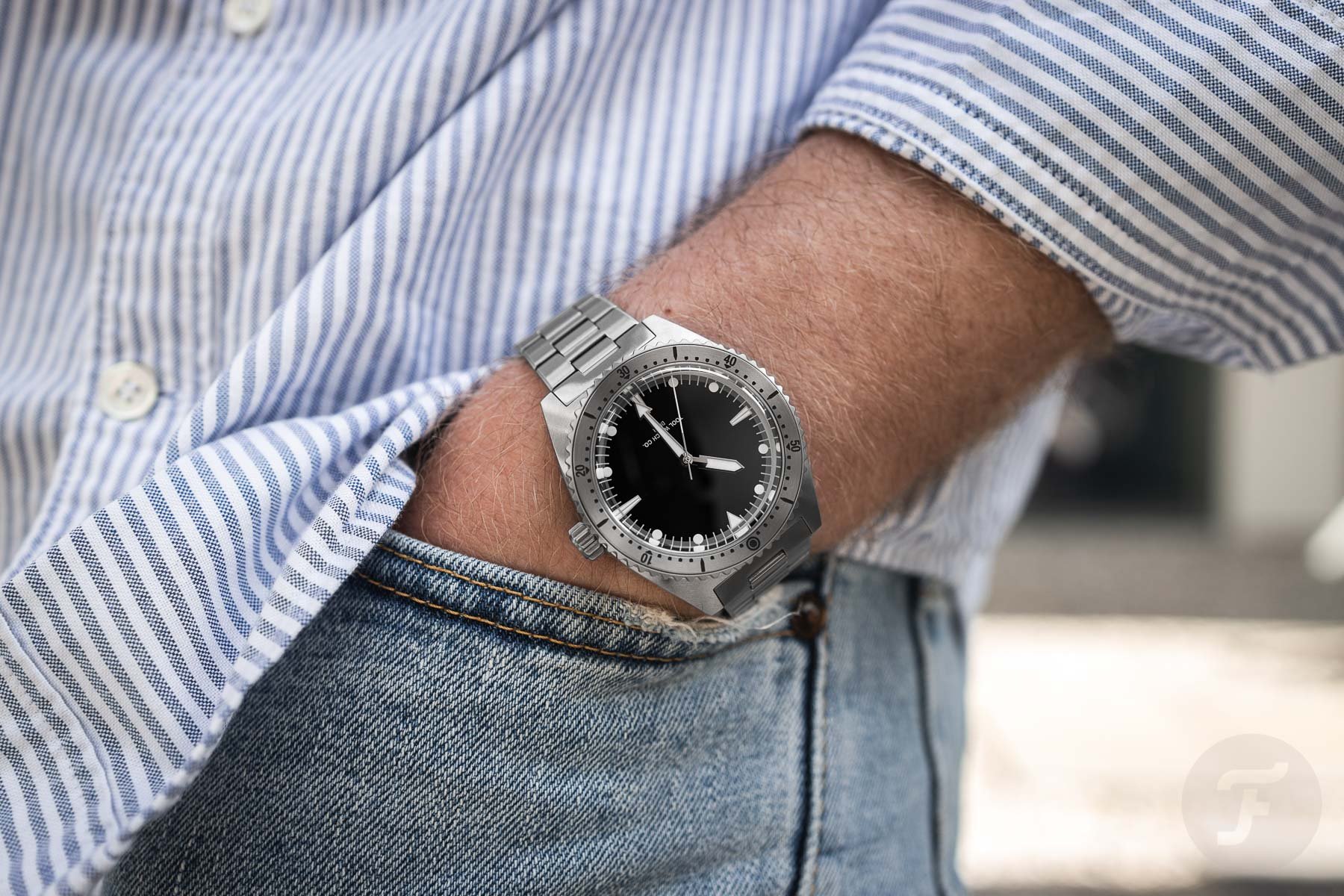 Apart from the all-titanium version that we had the chance to try out, there is also a version with a bronze bezel and matching gold-plated hands. In addition, there is a white-dialed version with a DLC-treated bezel and gunmetal-finished hands. All watches come with both the titanium H-link bracelet and a black Tropic-style rubber strap. Also included in the box is a strap-changing tool. For more information, please check out the Indiegogo page and the official Tool Watch Co. website. The watches are launching today, June 1st at 17:00 CET.
Let me know what you think of the Tool Watch Co. Diver in the comments below.
You can also find and follow me on Instagram: @fliptheparrot
Watch specifications
Case Material
Scratch-resistant titanium with aluminum bezel insert
Case Dimensions
41.5mm (diameter) × 48mm (lug-to-lug) × 12.8mm thick
Crystal
Single-domed sapphire crystal
Case Back
Screw-in titanium case back
Movement
Miyota 9039 — automatic winding, 28,800vph frequency, 42-hour power reserve
Strap
Titanium H-link bracelet with push-button butterfly clasp and additional black Tropic-style rubber strap
Functions
Time only (hours, minutes, central seconds)
Price
US$295 (introductory price) / US$500 (retail)