Hands-On With The Optimus Prime Of Watches — The Formex Reef GMT
What if you packed a watch full of all the specs you could desire and made it customizable to boot?
I recently wrote about watch specifications being overrated. The Formex Reef GMT is possibly the worst watch for me to review immediately after writing that article. Why? Because Formex seems to have filled out a fantastical dream spec list and then built the watch to fulfill it. If you like playing wristwatch Top Trumps, this watch might be just right for you. But rest assured, there is more to this one than just the numbers.
Formex has flown under my radar for some time. It's one of those brands I was aware of but never really looked into. I decided it was time to change that, so I requested two watches for long-term reviews and spent some real time with both. I find that just going about my regular daily life is always the best way to test a watch. Here are my findings on the first of the two, the Formex Reef GMT.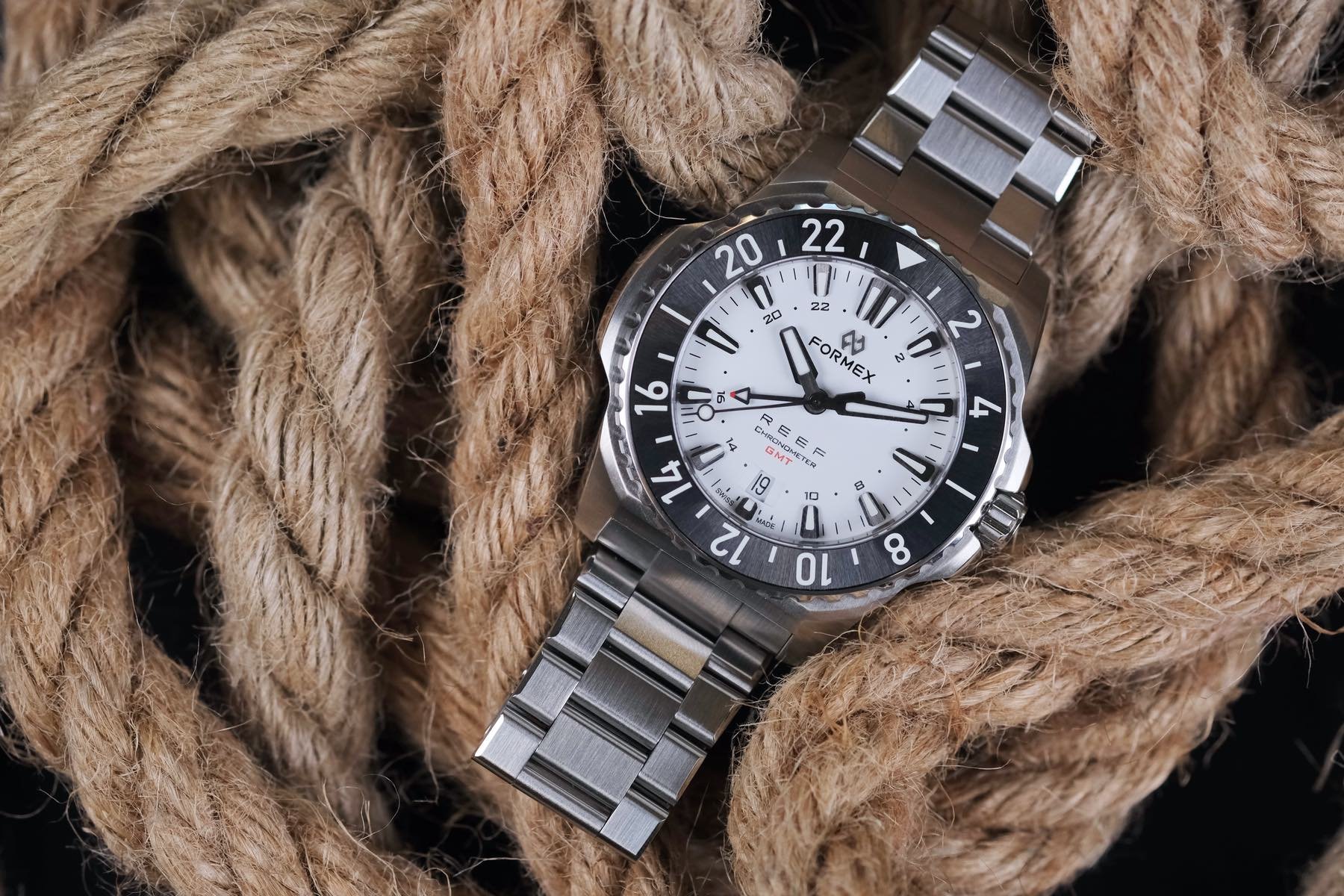 Optimus Prime
Call me stubborn, but I still refuse to kick off with the specifications. Instead, let me start by looking at the concept behind the Reef GMT. As the name suggests, this is the new GMT version of Formex's Reef dive watch. Formex does not position this as a diver, but it is built on the same platform. There are some differences, though. For one, the Reef GMT is fitted with a Sellita SW330-2 caller-style GMT movement. Second, the bezel now allows for 48 bi-directional clicks and is fitted with a 24-hour scale. In combination with the 24-hour scale on the dial, these changes allow for the tracking of three time zones.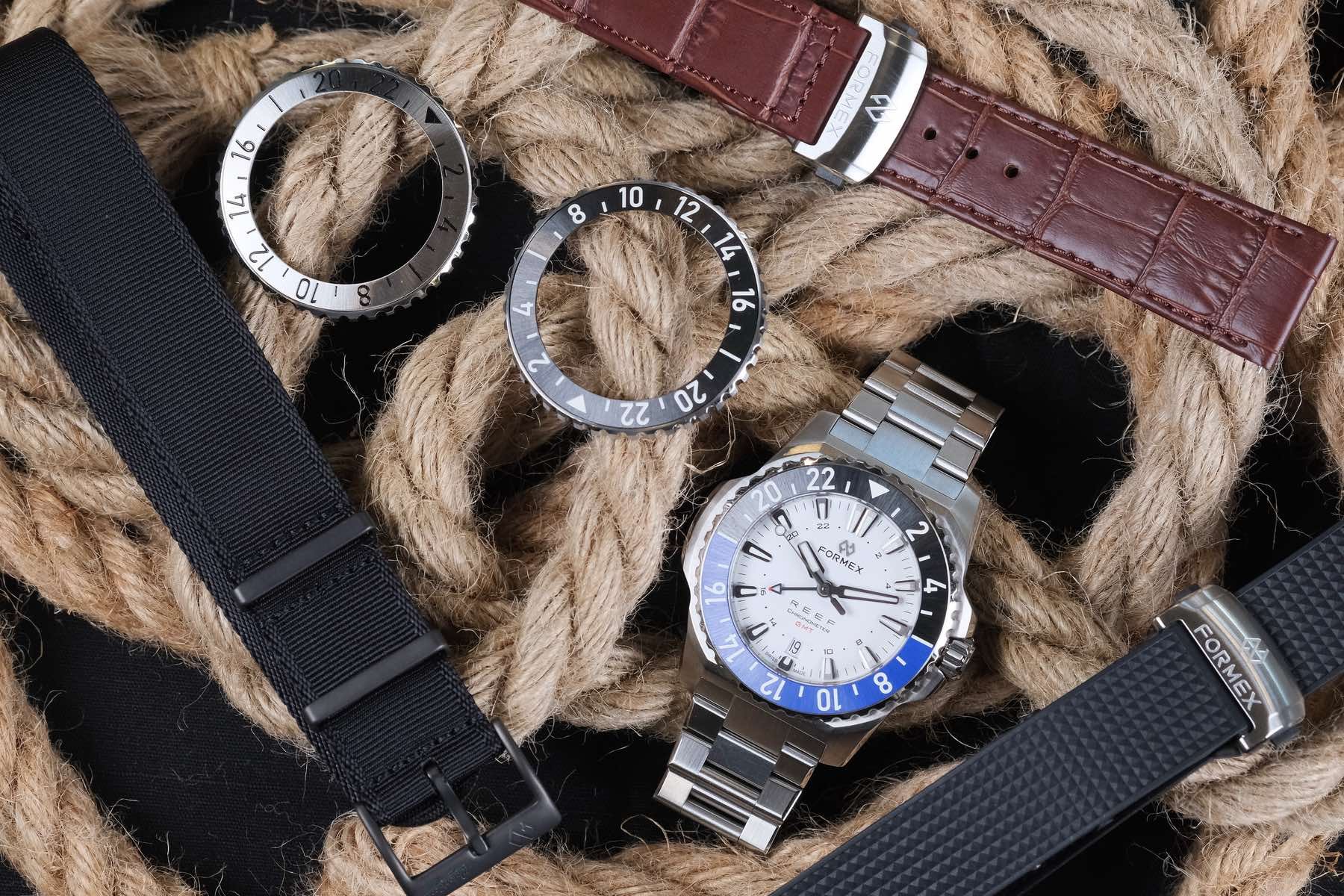 But its party piece is what remains the same as the standard Reef — the customizability. This watch is a true Transformer. Indeed, it is the Optimus Prime of wristwatches. The bezel can be clicked on and off without any tools. A range of different colors is available for you to swap as much as you like. You can have a Batman in the morning and a Kermit in the afternoon. I have to add, however, that I am only referring to the color scheme here. The Reef GMT has an absolutely unique aesthetic that is otherwise nowhere near hommage territory. In case you were wondering, the bezels of the regular Reef fit this one too, but they will be bi-directional here.
But that is not all. A collection of bracelets and straps is available, and everything is quick-release based. That includes the innovative folding clasp, which you can move from a rubber strap to a crocodile strap in a jiffy. If you stock up on some bezels and straps, you really do have several watches in one. The configurations in the pictures shown here are all based on one white-dialed Reef GMT with some accessories.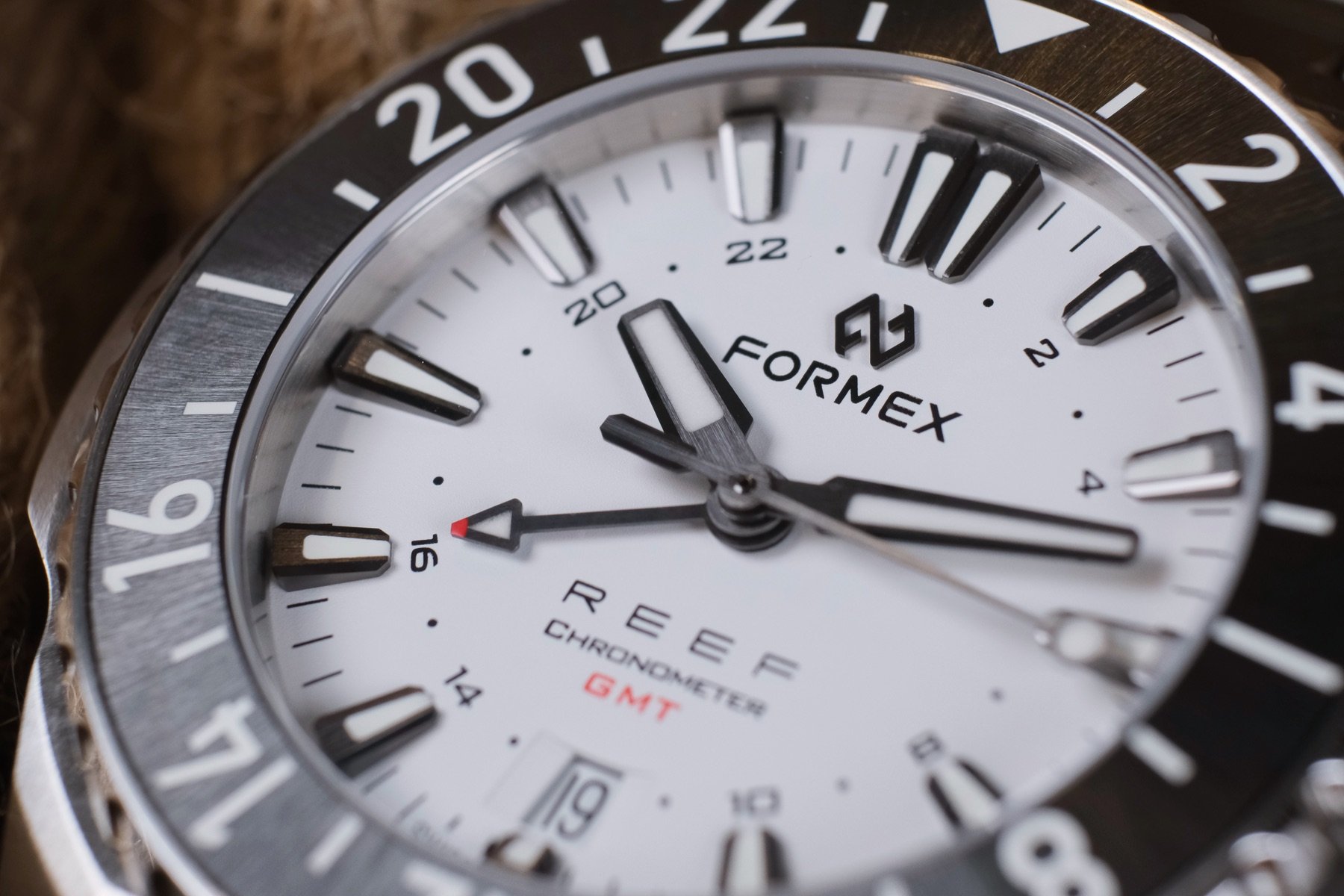 The Formex Reef GMT style
That said, the Reef GMT does have a rather strong visual identity at its core. It is a very techy, modern-looking watch. It shares its aggressive style with the aforementioned Transformers. This means that it might be customizable, but I would not label it as particularly flexible.
Even in a subdued color combo on a crocodile strap, I would certainly not wear this on formal occasions. The Formex Reef GMT is unapologetically sporty, so consider it a customizable sports watch that you can have a whole lot of fun with. It is not a one-watch collection to cover all possible bases.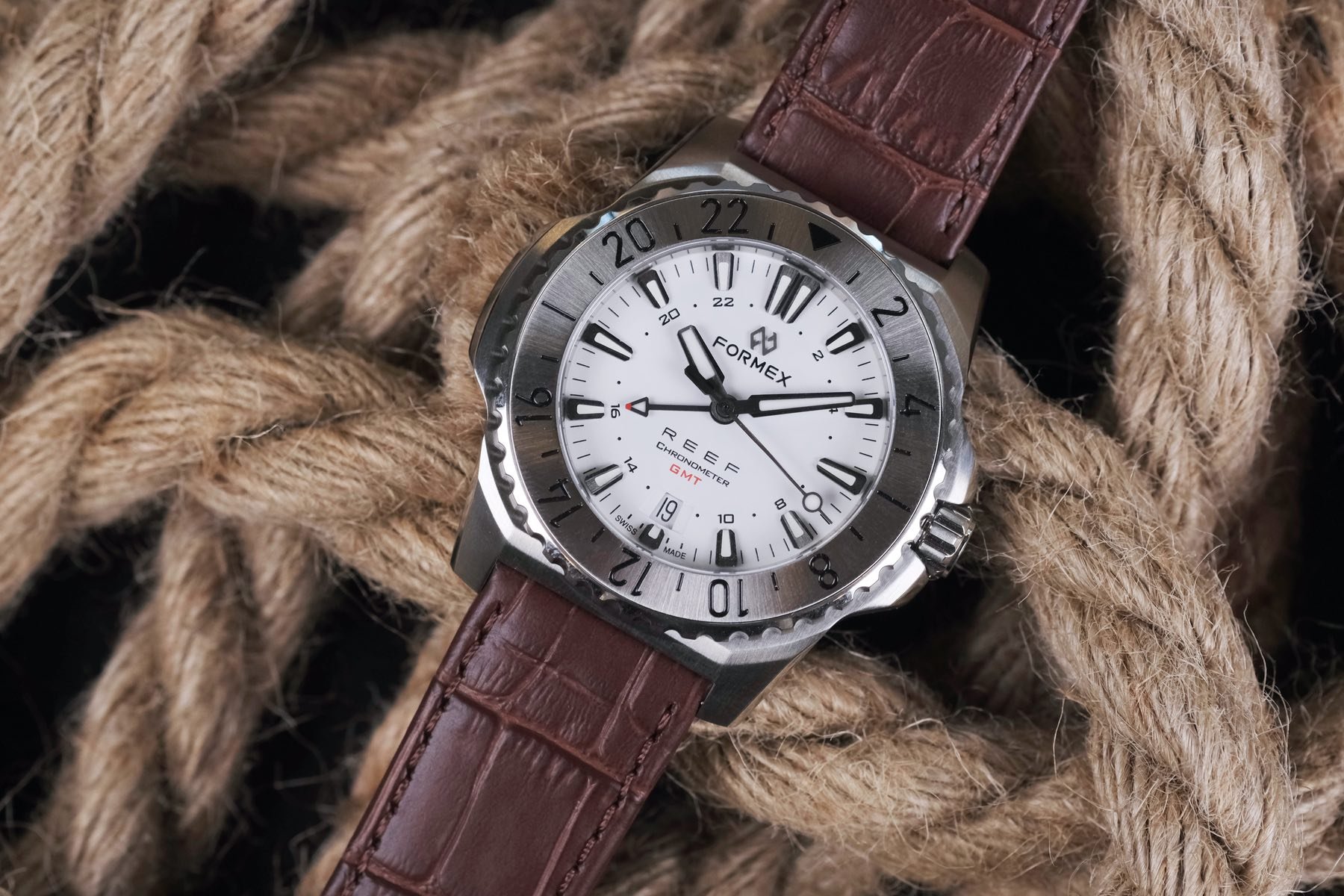 The Reef has an architectural, brutalist flavor to it. It is also quite large, although it wears exceptionally well. I have a smallish 17cm wrist and a taste for small watches. This 42mm beast was absolutely fine for me, though. We probably have the modest 47mm lug-to-lug and 11.4mm thickness to thank for that. Still, the flaring sides and broad lugs provide the Reef GMT with plenty of wrist presence. For once, I do not cry out for a smaller version. This size is just right for this style of watch.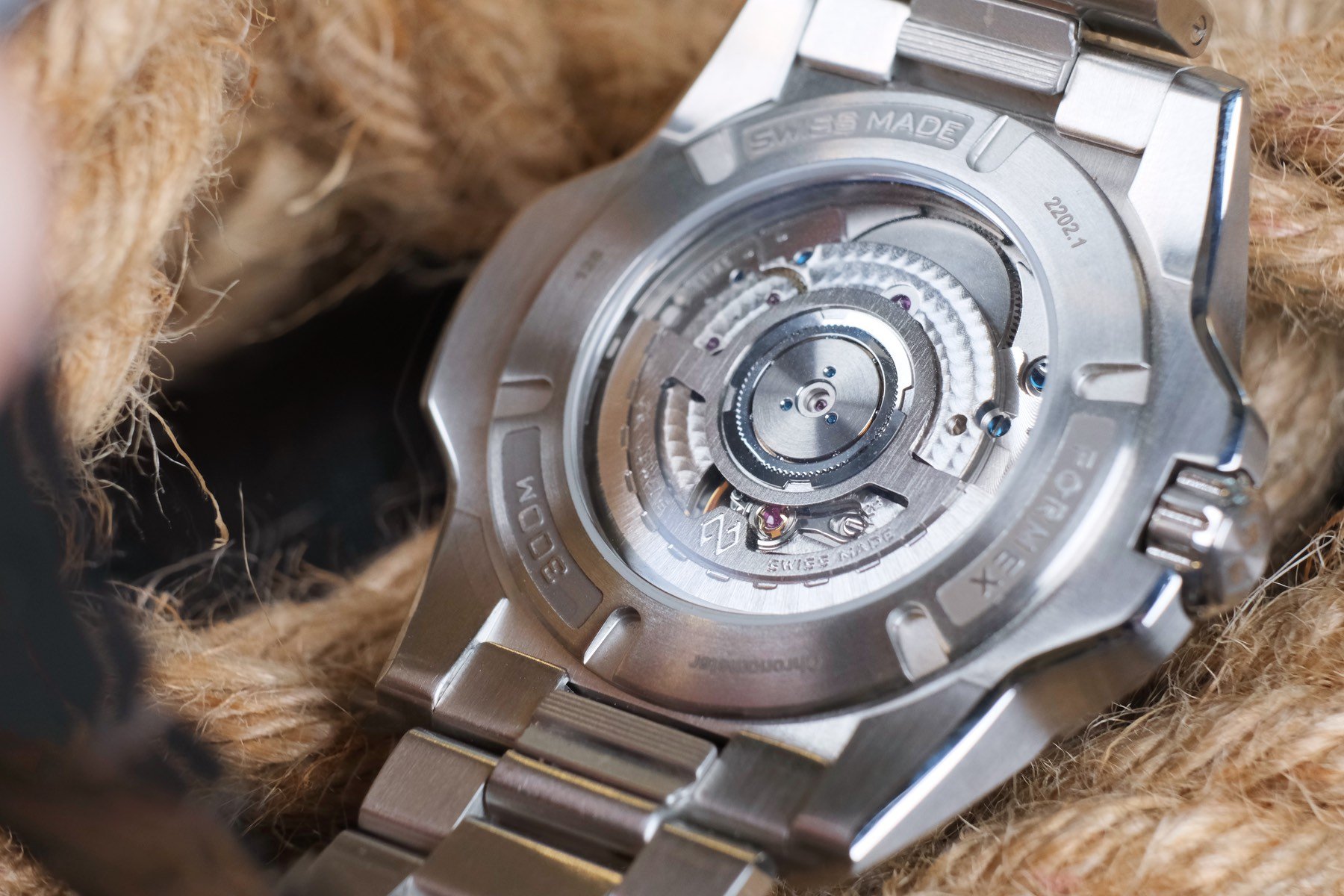 Specifications and value
I will include a full spec list below this article, but let me just state that the Formex Reef GMT is quite impressive on paper. How about 300 meters of water resistance, chronometer certification, quick-releases everywhere, a full centimeter of micro-adjustment on the bracelet, micro-adjustment on the (partly forged carbon!) folding clasp for the other straps, links held together with thick one-sided screws, brushed ceramic bezels, super-bright BGW9 lume (also on all but the gilt-print bezels), and lastly, color-matched date wheels for every dial option.
You get all of that at a starting price of  €1,770 / US$1,835 including VAT and shipping. That, my dear Fratelli, is a value proposition. But beware; it can get out of hand once you start adding bezels, bracelets, straps, and clasps to your cart.
Still, let's say you were to get the Reef GMT on the bracelet with three bezels in total. You then added a rubber strap and a croc with the matching folding clasp. The resulting package would come in at €2,724 / US$2,784. That would offer you nine possible configurations still a hair under the price of a Longines Zulu Time.
Wearing the Formex Reef GMT
As stated before, the Formex Reef GMT has a great stance on the wrist. I wore it primarily on the very supple steel bracelet, which can be micro-adjusted to a perfect fit. If I could change one thing, I would put a more aggressive taper on the bracelet. Otherwise, there was nothing to complain about in the comfort department.
The whole thing feels very well made. Everything is solid and has an over-specced vibe to it. I would not be surprised if archeologists centuries from now dug up a couple of fully intact Formex Reefs. If you own one, I would love to hear how all the interchangeable parts hold out over a longer period of intensive use. If they remain as tight and solid as they are out of the box, Formex really has a winning concept. I am given to understand that the changeable bezel system has been put through thousands of cycles of testing without showing fatigue or wear. That is comforting to know, as I found myself fidgeting with it all the time.
Closing thoughts on the Formex Reef GMT
Okay, as you can see I am thoroughly impressed by the Formex Reef GMT. It has a crazy feature set and a solid build, and the design language is congruent all across the platform. I am not as impressed with the finishing. I would love to see slightly sharper transitions and edges here and there. The brushing could be a little deeper as well. But overall, it is as you can expect at the price range and most certainly acceptable. I guess the problem with such impressive watches is that you hold all details to the same high standards. In this case, I would give it a 10 for features and a 7 for finishing.
I am afraid the Formex does prove my point about specs. They mean nothing if the watch itself does not speak to you. And I am afraid it does not really speak to me. It leaves me with the same feeling as the Omega Seamaster Aqua Terra 38 did. It is just a bit too modernist and intricate for my taste. A bit too techy. I admire it as a technical feat, but I am not too eager to wear it to my next party. Maybe I should have a look at something simpler from Formex… Oh, wait… Stay tuned, Fratelli.
The above is merely a matter of personal taste. If you like what you see, I really cannot put forward a single reason why you should not go for one. The Formex Reef GMT is clearly a very well-thought-out and well-executed concept. And having the option of adjusting it to your mood or attire in the morning is just plain fun. It is actually quite a lot more fun than I expected beforehand. Kudos, Formex!
The Formex Reef GMT is available on the Formex website. Let us know what you think of it in the comments below.
Watch specifications
Reference
Reef GMT Automatic Chronometer 300M
Dial
Black, Black and gilt, Gray, Green, Green and gilt, White
Case Material
Stainless steel
Case Dimensions
42 × 47 × 11.4 mm
Crystal
AR-coated sapphire crystal
Case Back
Display case back
Movement
Sellita SW330-2 automatic caller GMT — Central 24-hour hand and date complication — 56-hour power reserve COSC-certified chronometer
Water Resistance
300 meters
Strap
Your choice of a steel bracelet, steel mesh bracelet, or multiple leather, nylon, and rubber straps
Functions
Time, date, GMT, rotatable 24-hour bezel
Price
Starting at €1,770 / US$1,835 including VAT and shipping
Special Note(s)
Interchangeable bezel system