Hands-On With The Polo Ralph Lauren Vintage 67
Pocket-watch charm in a wrist-friendly format
Sometimes curiosity gets the best of you. This is what happened to me when I was asked whether I'd be interested in checking out the new Polo Ralph Lauren Vintage 67. Only having been provided a couple of press images, I looked past my gut reaction to what I couldn't help but believe was just another fashion watch. What I saw was something rather interesting — a well-sized, charming, slim, hand-winding watch, and on a Bund strap, no less. Now, I've never been shy to admit that I do love a good Bund strap. Perhaps not on every watch, but the vintage-inspired aesthetics of the Vintage 67 certainly seemed to suit it nicely. A few days later, the watch arrived. Without giving too much away, I'll say that my feelings remain somewhat mixed. 
Now, if you were to have a look at the press release, you'd see a gentleman fully clad in an outfit straight out of Peaky Blinders. And though I think most of us won't go that far in our appreciation of early 20th-century aesthetics, this watch provides a more subtle way to do so. My first reaction was to put it in the Michael Kors tier of watches, but quickly I learned that Ralph Lauren takes its watches quite seriously. And whereas some of its offerings certainly fall on the "fashion watch" spectrum, this certainly goes beyond. Like the much-praised Slim Classique collection, this is a proper watch. And those of you who enjoy the look will be pleased to hear what lies behind it, as well as the fact that it falls into a somewhat more reasonable price point than previous higher-end offerings from the brand.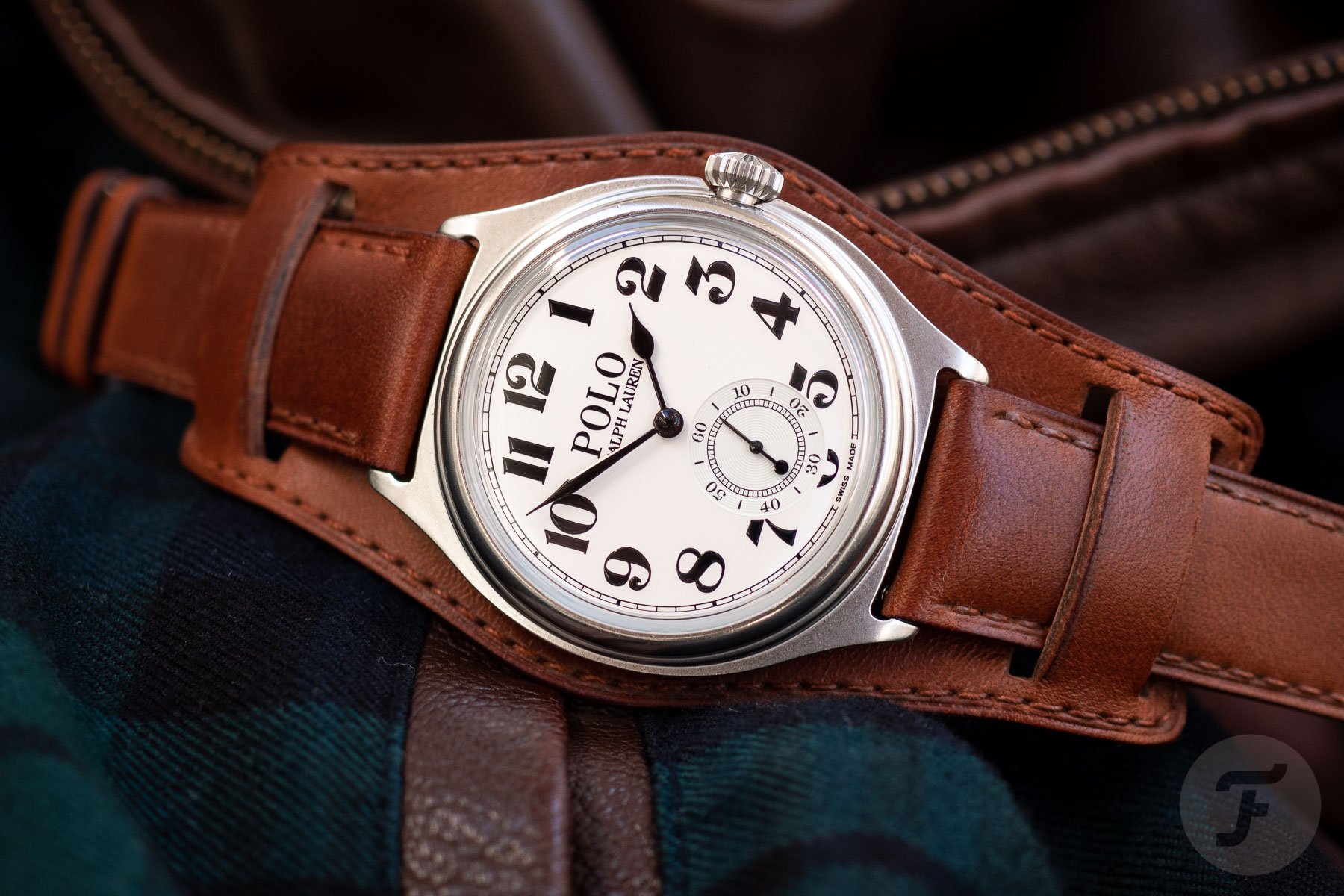 The Polo Ralph Lauren Vintage 67
Let's first run through the basics. The Polo Ralph Lauren Vintage 67 comes in a 40mm case. The stainless steel is given an aged or "distressed" finish, which you can see in the pictures. It's not quite brushed, yet it's not bead-blasted either. It gives the watch a rather unique look and feel. Its slim (9.1mm) tonneau case is faceted nicely, and the lugs taper down to accept a 20mm strap. Despite how they may look, the lugs are not fixed. The ends curve into the strap yet house a standard quick-release spring bar. On the left side of the case, a big onion crown matches the pocket-watch-inspired aesthetics. Whereas RL paired it with early 20th-century British fashion, Lex and I found that it suited a more western aesthetic rather nicely, and I genuinely enjoyed some time with it on the wrist.
The watch's dial has a large Polo Ralph Lauren logo at 12 o'clock. In true pocket-watch style, its crisp opalescent white backdrop hosts oversized black lacquered numerals. The perimeter is marked with a classic railroad minute track, and a nicely executed small seconds sub-dial sits at 6 o'clock. All three of the watch's hands are painted with black lacquer to match the numerals. Legibility is a given, thanks to the size of both the hands and numerals. This is enhanced by their contrast with the pearl-white backdrop. An AR-coated box-domed sapphire crystal keeps the dial safe from harm and prevents unwanted reflections. The watch has a 50m water resistance rating, which means that it will stand up to surface-level splashing around. But clearly, this isn't one to take along for a day at the beach.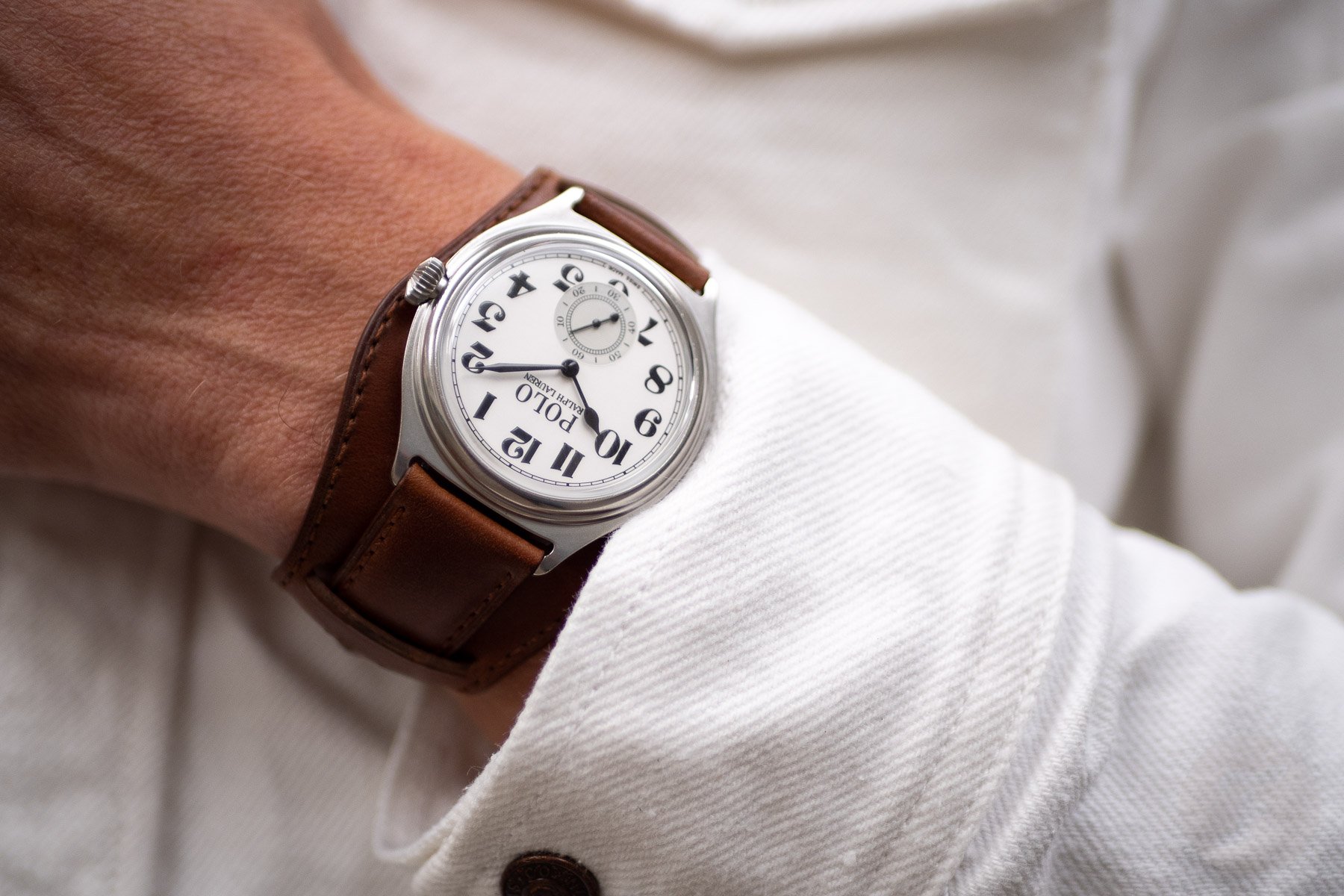 Final thoughts
Inside the watch, visible through the sapphire case back, you'll find a La Joux-Perret caliber 7380. This hand-winding caliber offers about 90 hours of power reserve. Decorated with Côtes de Genève and perlage, you may even be tempted to remove the watch from its Bund strap to get a better look. It's worth mentioning that the burnished calf leather strap is truly great. Ralph Lauren proves that it really has its eyes on the smallest details, and it shows.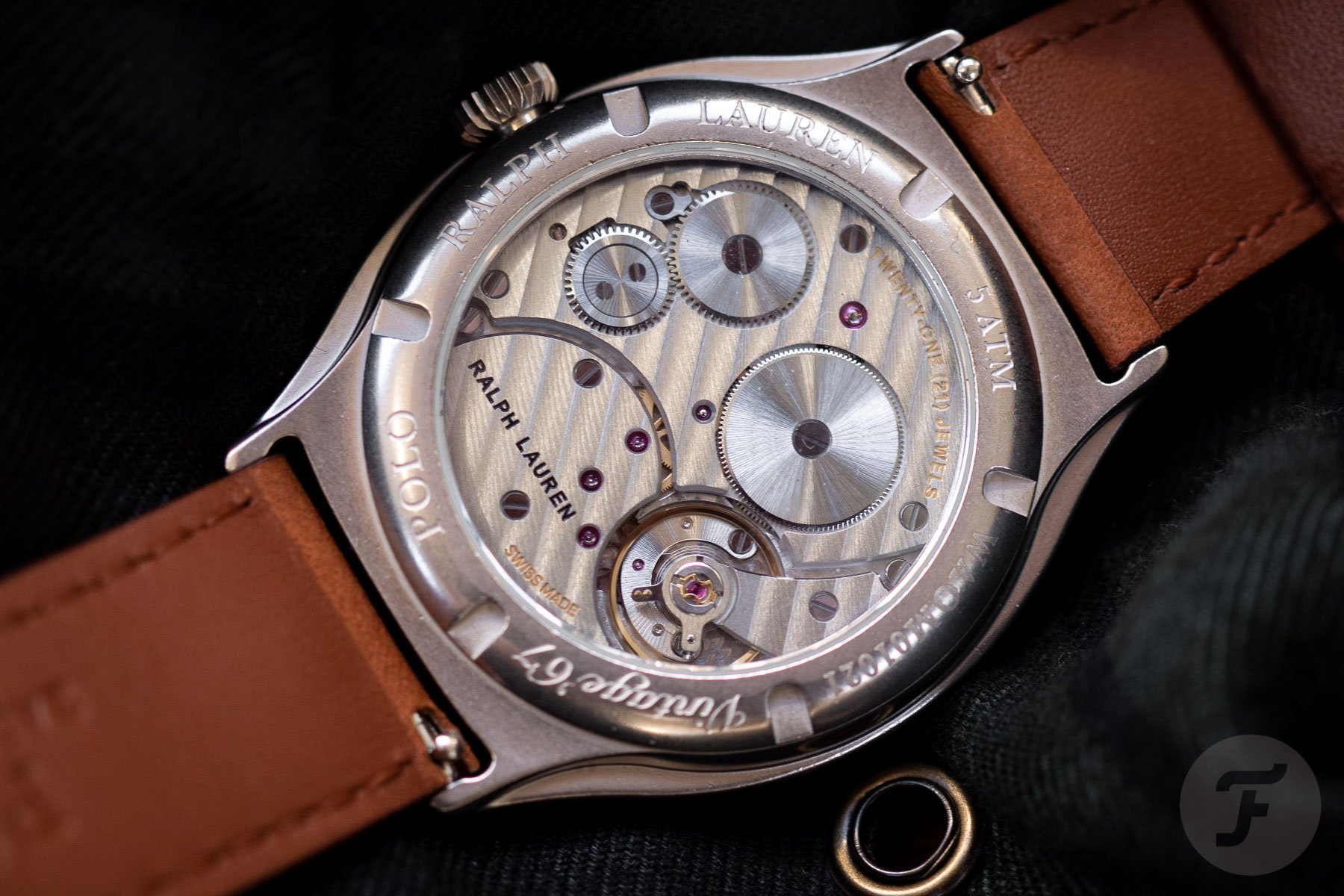 Sure, the watch itself is maybe not everyone's cup of tea. The most polarizing factor — the Bund strap — is optional, yet its retro looks will certainly also not be to everyone's taste nor the most versatile choice. However, variety is the spice of life (or so they say). And should you be in the market for a pocket-watch-inspired timepiece with a great hand-winding movement and ready to happily embrace the Bund strap, you could certainly do a lot worse.
The Polo Ralph Lauren Vintage 67 will retail for about €2,460. For more information, please visit the Ralph Lauren website.