Hands-On With The Yema Superman GMT With An In-House Movement
Is it the deal of the year?
French brand Yema never ceases to amaze me. Its soon-to-be-released Kickstarter campaign will offer a flagship Yema Superman model in bronze boosted by a GMT model built onto an in-house movement. All of that (with a sapphire bezel to boot) for the eye-popping price tag of €750. That sounds aggressively good to me and quite scary to the competition.
To get a look and feel we don't have to wait until the Kickstarter campaign is over. Yema sent us at Fratello a fresh prototype so we can inspect it closely! You be the judge of what's in the game and join our readers vote to see if the new Yema Superman GMT is worth spending some bucks on.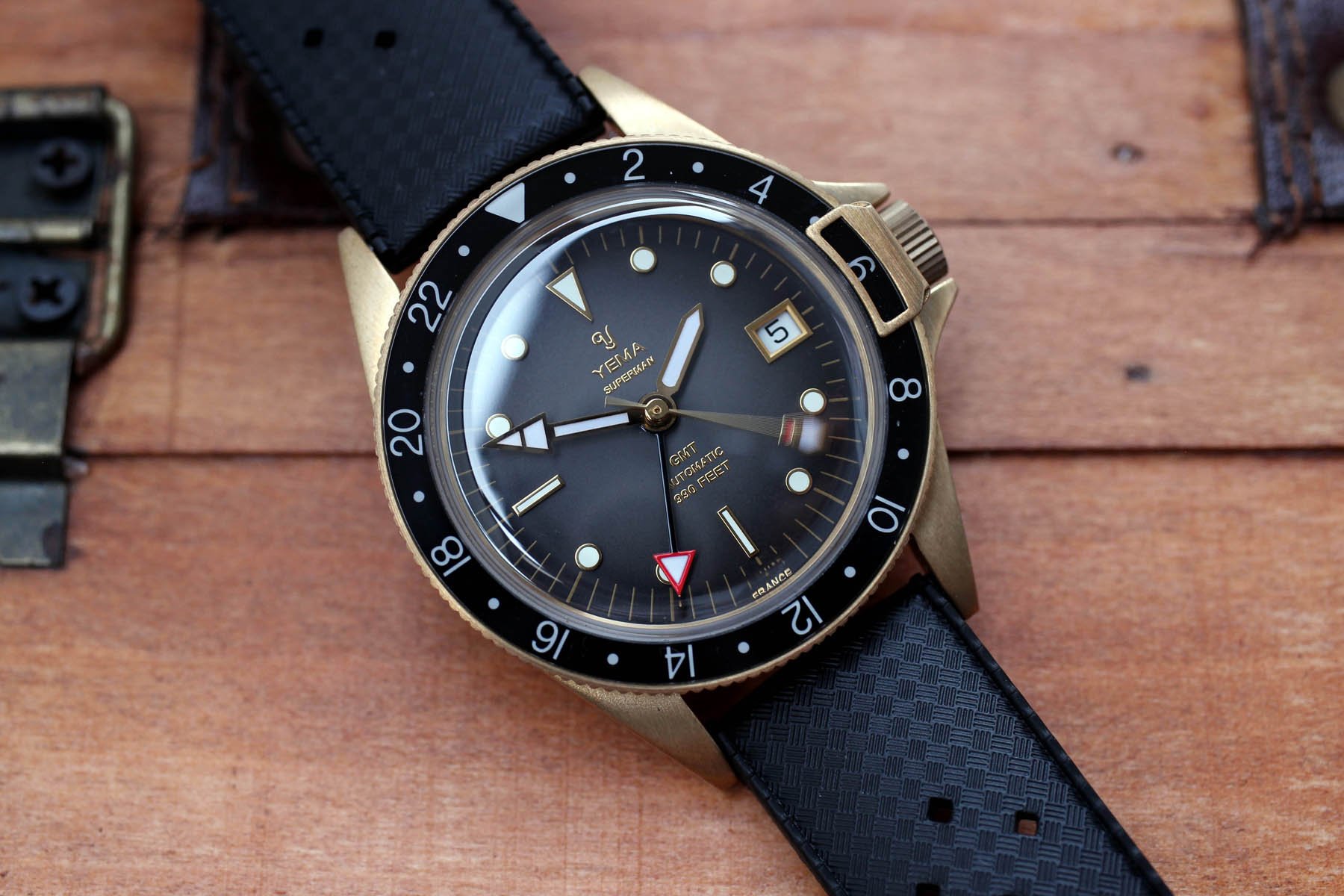 Bronze Yema Superman with extra hand
One important note to myself: I am really surprised by how much Yema can squeeze out of their Superman Heritage model. Honestly, if you told me any brand would be releasing the same watch all over again, I would turn away with a yawn. I looked at the Yema website a few moments ago, there are three other almost exactly the same Superman GMT watches. Plus there are two bronze models and a few others with square indexes. But here we are, another Superman release and again I'm drooling over the offer. Why?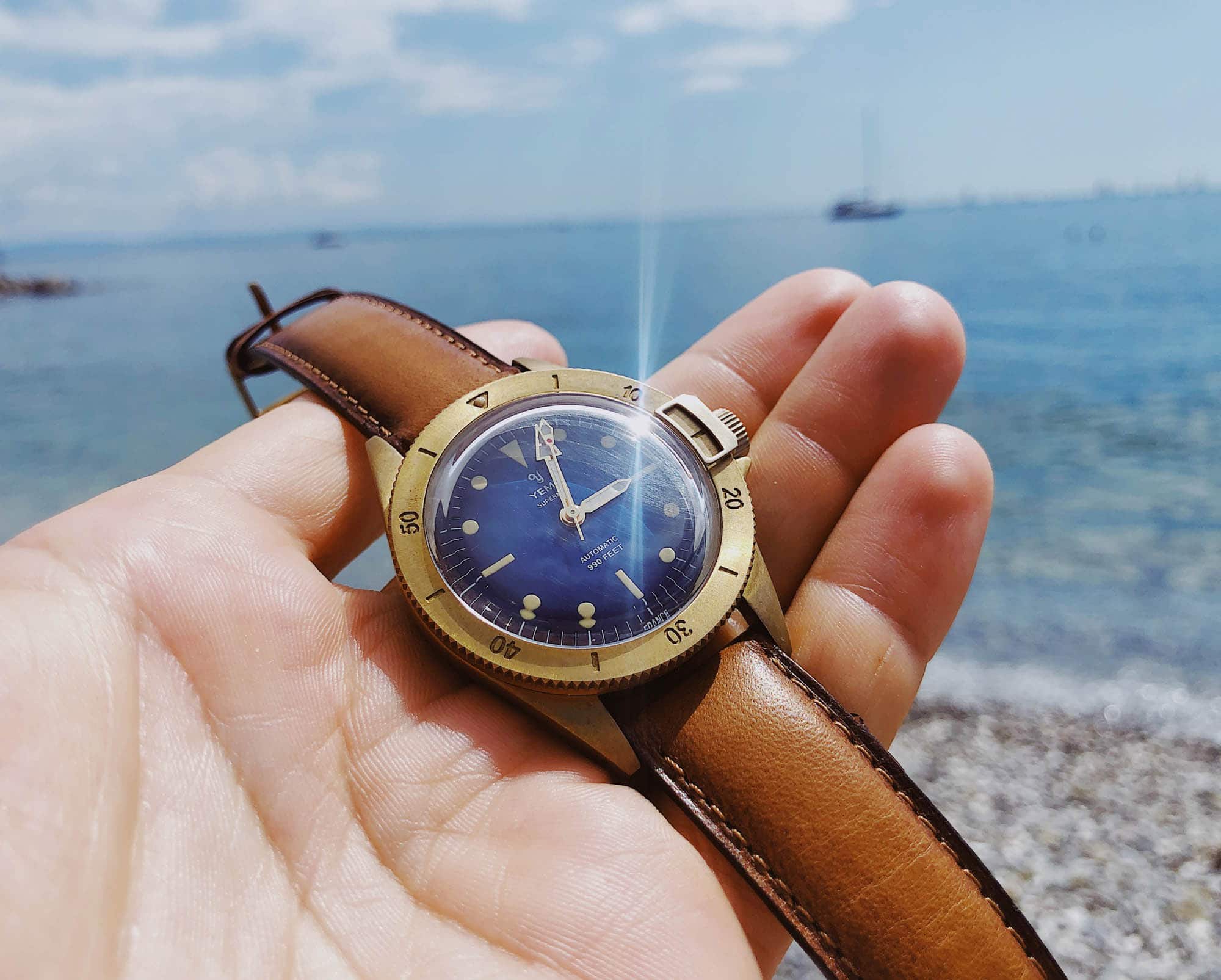 Kickstarter works for Yema
Time for another "déjà vu" moment. It's June last year, I am sitting behind my desk and writing a review of the Bronze Superman Heritage campaign on Kickstarter. I was equally excited because it was the first time we'd seen a bronze Superman equipped with an in-house MBP1000 movement. Not to mention the out-of-this-world €699 price tag. If you're wondering about the final result, there were around 1,200 other similarly excited watch fans that pledged almost €1,000,000 in total.
Fifteen months later, Yema is back on Kickstarter again. I couldn't have imagined a better deal than last year's Bronze Heritage. But it turns out my imagination is lacking. Yema has really brought the fire this time. A GMT complication built onto the brand's own in-house movement for the same price? That's crazy talk, right? Surely I've made a mistake.
Allow me to fact check that for you: Yema's three ETA-powered Superman GMTs in steel retail for €1,499. The new Bronze GMT with an in-house caliber Yema 3000 will come in at half the price.
Two sizes to choose from
The project is set exactly as it was done last year. If you decide to pledge, you can choose if your model comes in 39mm or 41mm. Last year I opted for the 39mm and I could not be happier about it. Thanks to the finish, there is no doubt you are looking at the modern watch. The decent 39mm keeps the vintage DNA and all the elements well balanced. A year after my initial purchase, my preference for the 39mm is even stronger.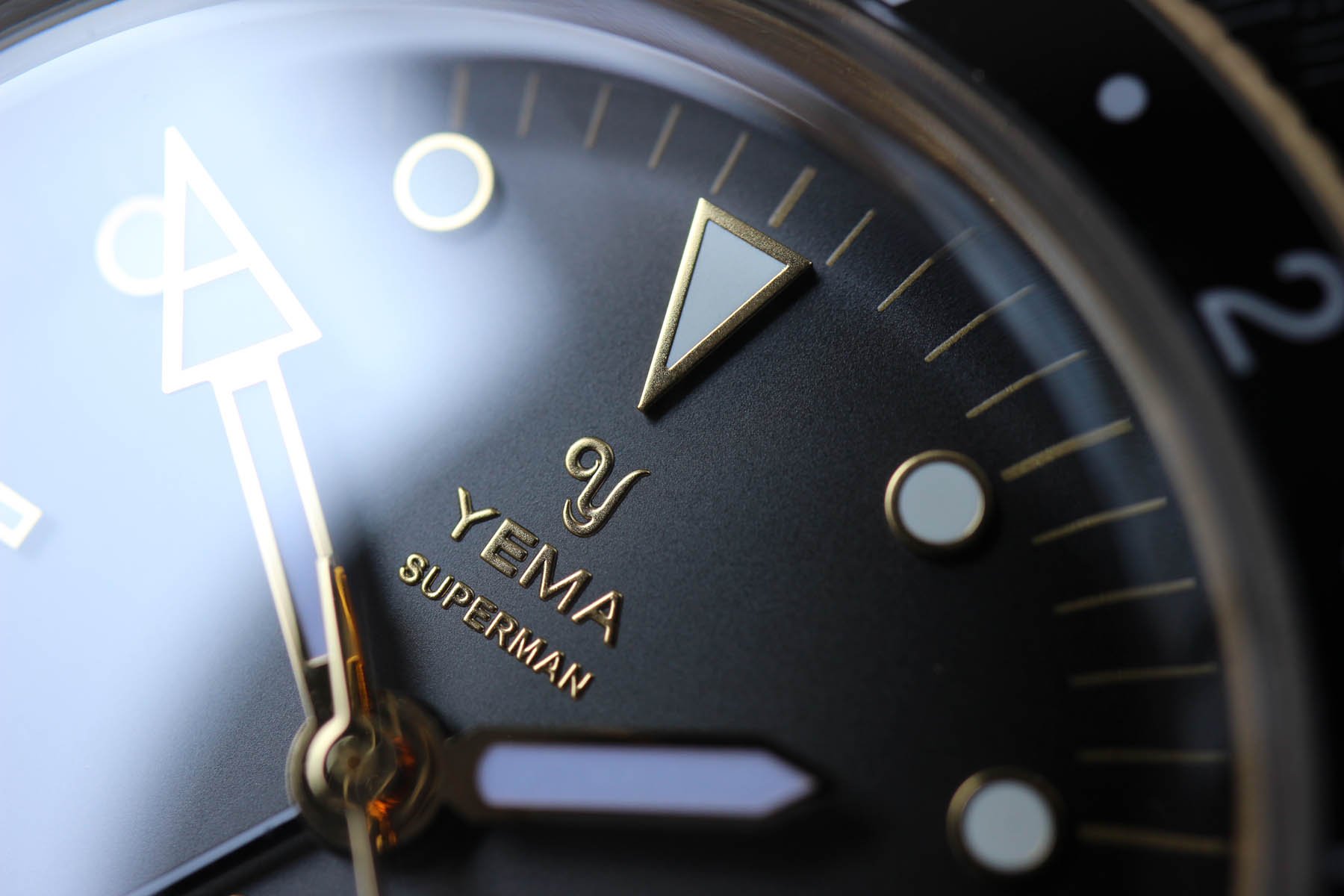 Two colors to choose from
While last year it was only the diameter you could choose, this year Yema is making it more challenging. This year, you have two dial/bezel options to decide between. Besides the black you are looking at here, there will be also a blue version. Smart readers already guessed my preference. And I have to admit, it was very quick decision.
I don't think I reached for the black because I bought the blue one last year. They seem to be very similar, but I see a huge difference. Last year's model had a blue dial, but the bezel was full-bronze. The numbers on the bezel were embossed. The new release comes with a colored sapphire bezel and, in my view, there is too much blue now. Press pictures show the blue model fitted on a black leather strap, which is also slightly off.
The shiny bronze frames look like little private lume ponds.
In comparison to the last year's bronze Superman model, the major change to the dial are the lume plots and the way the lume has been applied. The Swiss Super-LumiNova C1 is poured into shiny bronze frames that look like little private lume ponds — reserved for your eyes only. The date window also got a warm bronze frame, as did the rectangular index at six and nine. The master triangular index comes in the same style — geometric poetry.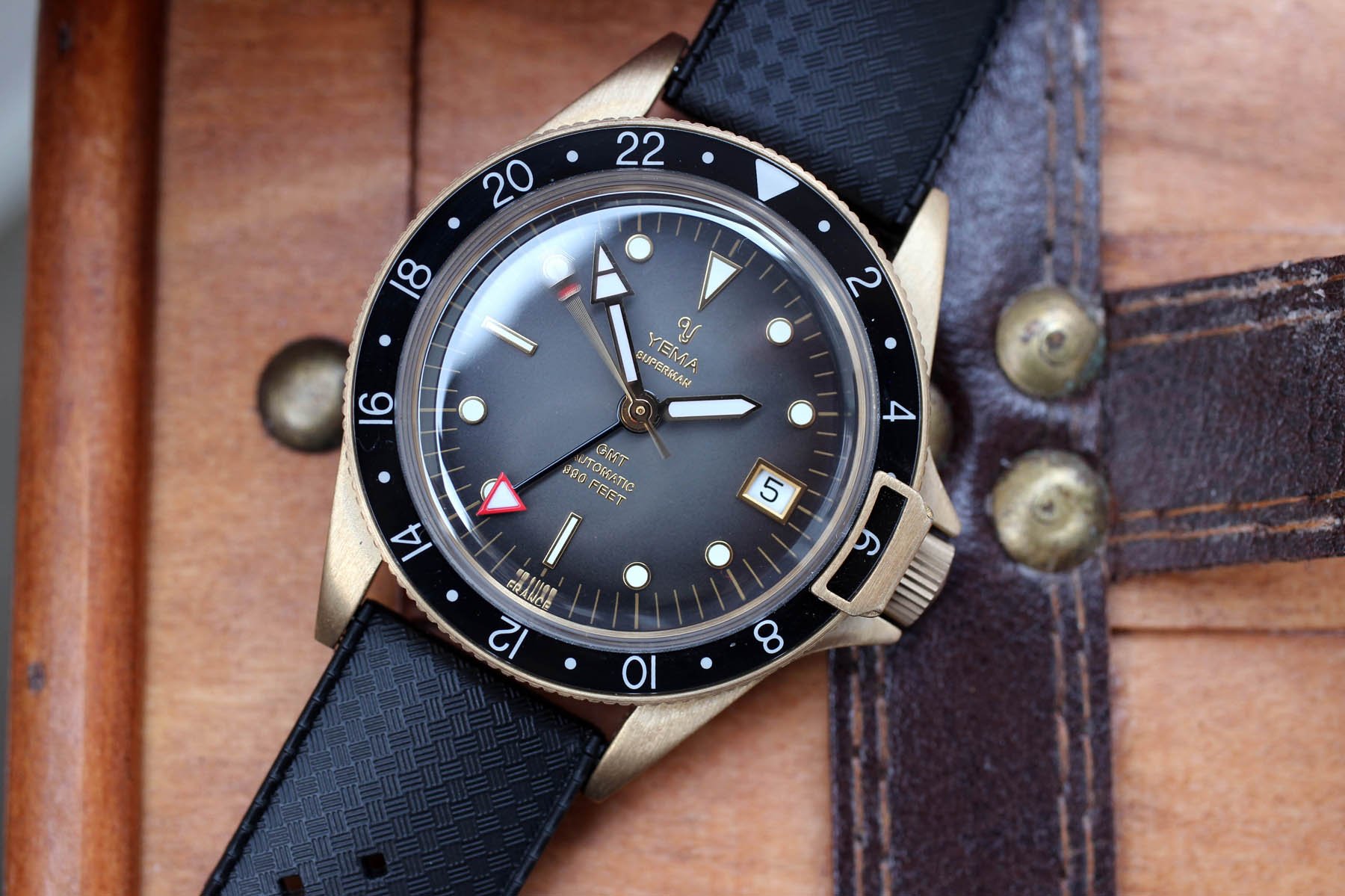 Bronze art
After a week on my wrist, I've come to a conclusion. The new Superman GMT Black offers a bit more on top of last year's proposition. It feels exclusive. All the inscriptions with a gilt effect look like they are formed of hot liquid bronze. The bronze application is flawless even on the tiniest letters. It makes for an amazing view under the magnifying glass. No jokes, I would not be ashamed of sliding it in my watch roll next to some fancy divers with a tenfold acquisition price.
Pale black
I also appreciate the black gradient dial that feels paler as you progress to the center. It's unusual and also fits the lume. When I said that the new Yema Superman GMT feels much more contemporary, that's where the scratch-resistant sapphire crystal bezel with a high-quality, glossy render comes in. The Yema patented bezel lock and the shovel hand are must-haves. Yema thankfully did not experiment with the GMT hand. It's just a decent black stick with a typical broad triangular tip in red to indicate the second time zone.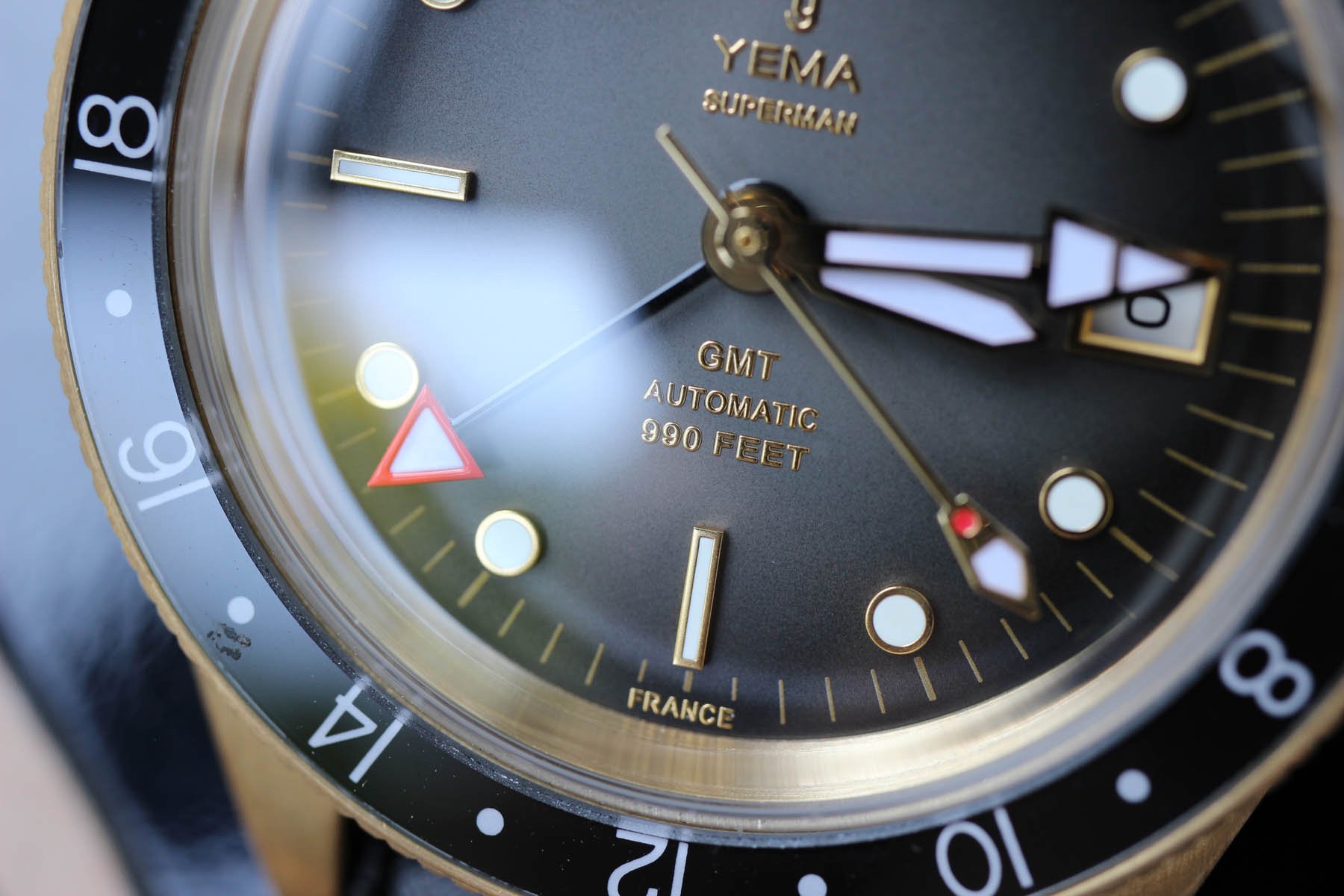 Movement
The only disappointment for readers will be the fact we can't say much about the movement that has been an evolution of the MBP1000 Caliber. The new movement is a secret until the official launch. The prototype we received was fitted with a standard movement. As far as we know so far, the new GMT Yema 3000 movement will have 29 jewels. "Yema 3000 will be the first French GMT in-house caliber in this price range," says Vanessa Ke, Yema Press and Public Relations Manager. It will be adjusted in 4 positions and the accuracy rate will be granted within +/- 10 seconds. The only downturn of this review is that we have to wait until the release to tell you more about how the Yema 3000 swings and wears. The case back seems identical to the previous one that displays the brand's historic crest beautifully embossed with a hydraulic press.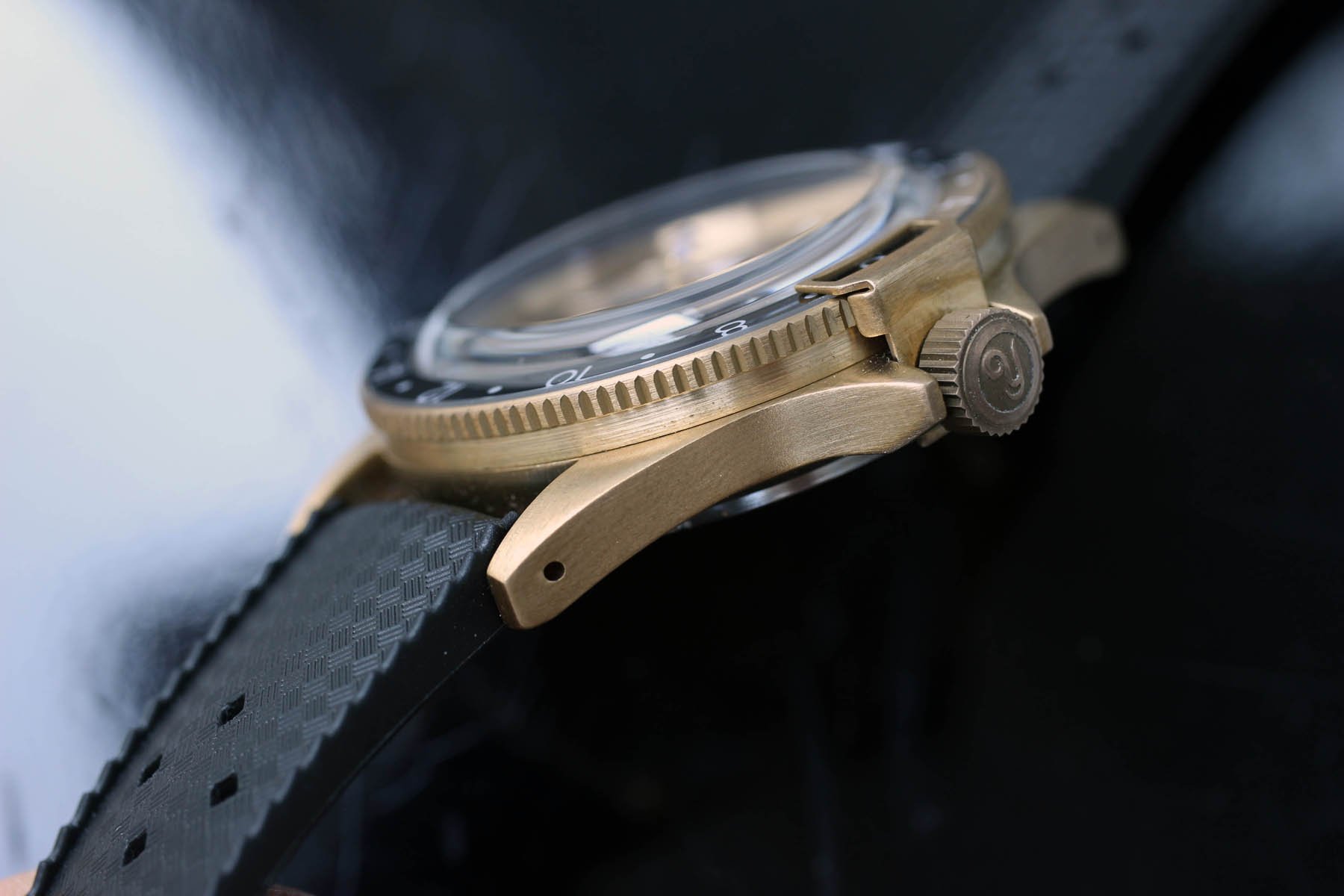 New release in COVID comeback
I asked Vanessa about the sales traction in last year's model. "We had a few pieces left after the Kickstarter campaign and we were quite surprised that people would purchase it even at the full price. It's sold out now, not even one piece left." Due to the second wave of Covid-19 stirring through Europe, I am really curious to see where the final pledged sum will end. After a short thought and a look at my wrist, my bet is it won't be significantly smaller.
Unexpected story
I posted my blue bronze Superman maybe three times over the last 12 months and got two direct buying offers.  As I couldn't part with it, I declined them. I was resistant until the moment a very special person contacted me. It doesn't happen often a respected painter living in the US whose work you and your wife admire, asks you for your watch. I couldn't say no. I am happy I didn't sell it to a stranger, but rather that I passed it on to somebody that gives it a more adventurous life than the one it had sitting in my safe. Though, I have to admit I have missed it from the minute FedEx picked it up.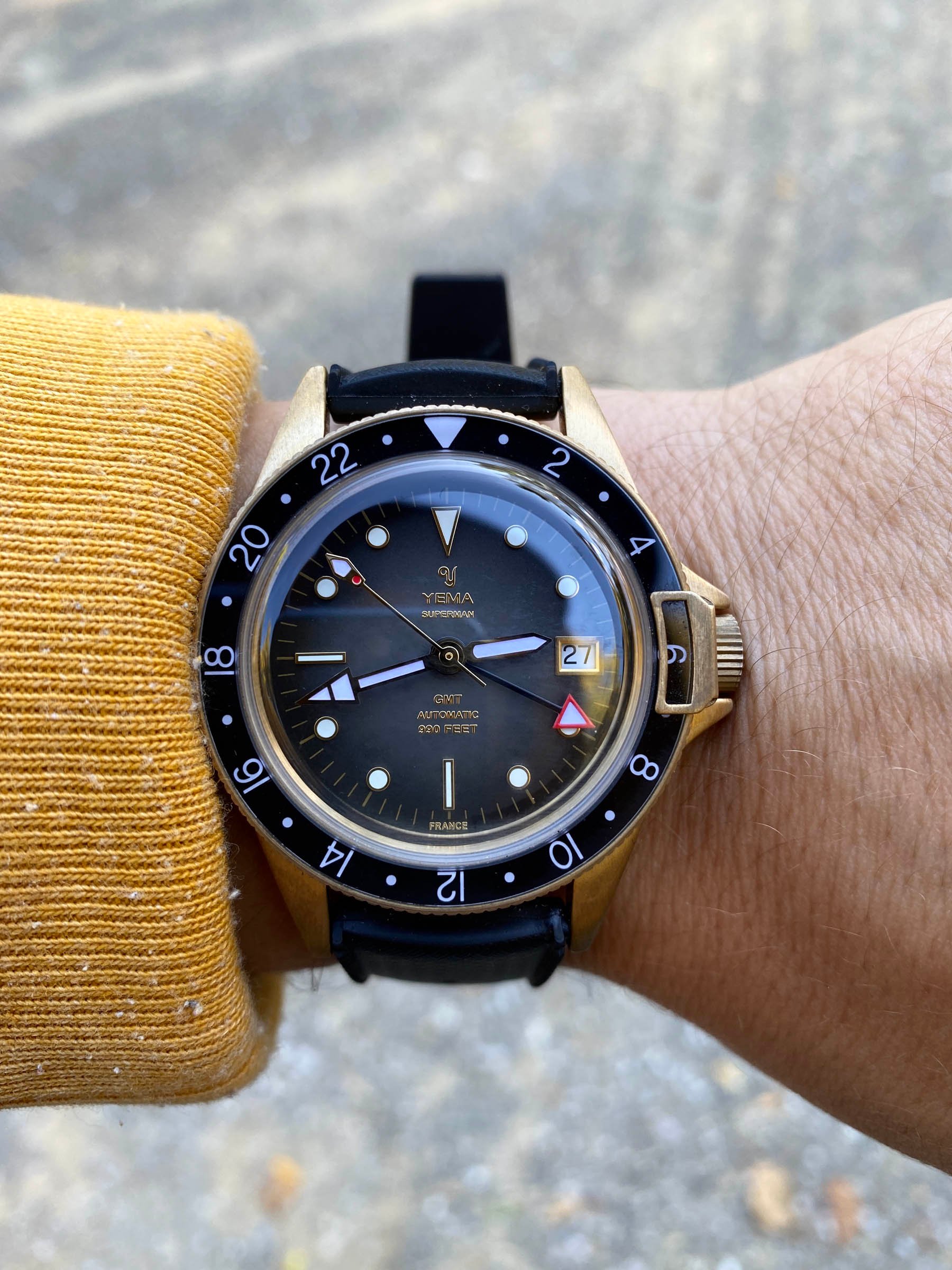 Verdict
Even if I had kept my first bronze Superman, I would buy this one too. Why? This year, we're being offered even more for the same money. I know the Yema portfolio quite well. I have tested most of the brand's recent releases. A bronze Superman GMT with an in-house movement for €750 is an outrageously good deal. I am in and I choose the 39mm man in black.
The Yema Superman Heritage Bronze GMT will be limited to 1,948 pieces, each individually numbered. And that's the total run size. So to make it clear, there won't be 4 × 1,948 pieces, just one customized run of 1,948 pieces altogether.
What's your take on the new Yema Superman GMT Bronze?
Watch specifications
Model
Superman GMT Bronze Black Limited Edition
Dial
Black gradient dial, gilt embossed markers, polished and applied by hand
Case Material
Brushed bronze
Case Dimensions
39mm (41mm optional)
Crystal
2,60 mm thick sapphire crystal, double-domed with light magnifying lens effect for better dial readability
Case Back
Non-transparent, individually numbered 0001-1948
Movement
In-house YEMA3000 GMT Caliber, self-winding with ball bearings rotor, 29 Jewels, 28 800 A/h, Daily Rate +/- 10 seconds per day
Water Resistance
30 BAR / 990 Feet / 300 m
Strap
Leather / Made by a French manufacturer, Tropic / TPU (Thermoplastic Polyurethane) rubber-like material, extremely flexible, durable and smooth to the touch
Functions
Hours, minutes, seconds, date, GMT
Special Note(s)
Unidirectional GMT bezel with a 0-24 scale with aluminium insert under sapphire ring. Bezel with lock mechanism at 3 o'clock.