Hands-On With The Tempest Commodore
Tempest might not immediately ring a bell with you, to be honest it didn't ring a bell for us either. This changed when distributor FORaSEC contacted us and introduced us to Tempest watches. An appointment was quickly made and we received a couple of Tempest watches to write a review and take some pictures. Keep on reading if you want to learn more about this micro brand and the new Commodore watches.
Tempest is a so-called micro brand and focuses on delivering interesting and unique designed watches for an attractive price. Unique designed means that it is by no means a sticker brand, so all parts are made on the specification of Tempest (with the exception of the movement of course) by several suppliers.
We received the Tempest Commodore watches to give them a spin. I have to state that when of the review, the watches were not finalized yet. However, no big changes were to be expected, only small tweaks to ensure a high quality finish.
Besides an attractive price tag on this micro brand (more on the price later), it is also an attractive idea to many watch consumers out there to own a watch that is not the 10th Rolex (or even Seiko) that they'll come across on an average day. There are a lot of followers of these micro brands out there and admitted, here on Fratello Watches we do not always pay enough attention to them.
For me personally, it is interesting to see how a watch like this Tempest Commodore compares to an affordable watch brand from one of the big Swiss houses. The Tempest Commodore is being manufactured in Asia and – as mentioned earlier – completely to the specifications of the owner of the brand. This means that – for example – the titanium case is exactly manufactured with all its details and finishing to match the standards of Tempest and not just using a case from a selection of possibilities in the catalogue of a supplier.
Tempest Commodore
The Tempest Commodore is a diver's watch of which Tempest claims that they all have been individually tested. The level of water resistance is 500M, which is quite a bit more than the 200 or 300 meters that other diving watches have to offer. I am by no means a diver, but I can imagine that any watch that actually can be used up to 50 meters below surface would be enough. Diving or swimming and the movements made during these activities need more pressure resistance than just 50 meters (5ATM) so normally we'd say that everything above 100M is suitable for diving. Watches that are resistant to 3ATM (30 meters) or 5ATM (50 meters) are OK for showering and probably will survive a few lanes in the swimming pool.
Original case design
It is very difficult to come up with a watch design that doesn't remind you of an existing model out there. Or at least discover influences from other familiar watch designs. With over 500 watch brands out there, it is also not said that watch designers are conscious about copying / using existing design elements. This Tempest Commodore is clearly a diving watch by design, but I couldn't recognize a design from existing watches out there. I do see certain design aspects that I recognize from other diving watches I've seen and tried, but I guess that certain elements belong to a certain style of a wrist watch. The exception might be the design of the bracelet. TAG Heuer used to have a collection called Kirium that had a similar designed (integrated) bracelet, with a raised centre link. However, it is not an exact copy and it is merely a resemblance that came to my mind. The bracelet of the Tempest Commodore has a an easy to adjust clasp. With small clicks the bracelet can be sized very precisely. As you know, climate or moment of the day might influence the circumference of your wrist a bit. With its micro-adjustment, there is always a right fit.
The 44,5mm case is large, but fits wonderfully on my wrists. I do not have exceptionally large wrists, so I can't judge how this watch would fit a small wrist. The weight of the case and bracelet (143,6 grams) is quite comfortable and suitable for daily wear. It is not super light-weight (despite being titanium) but that's also something I wouldn't want it to be.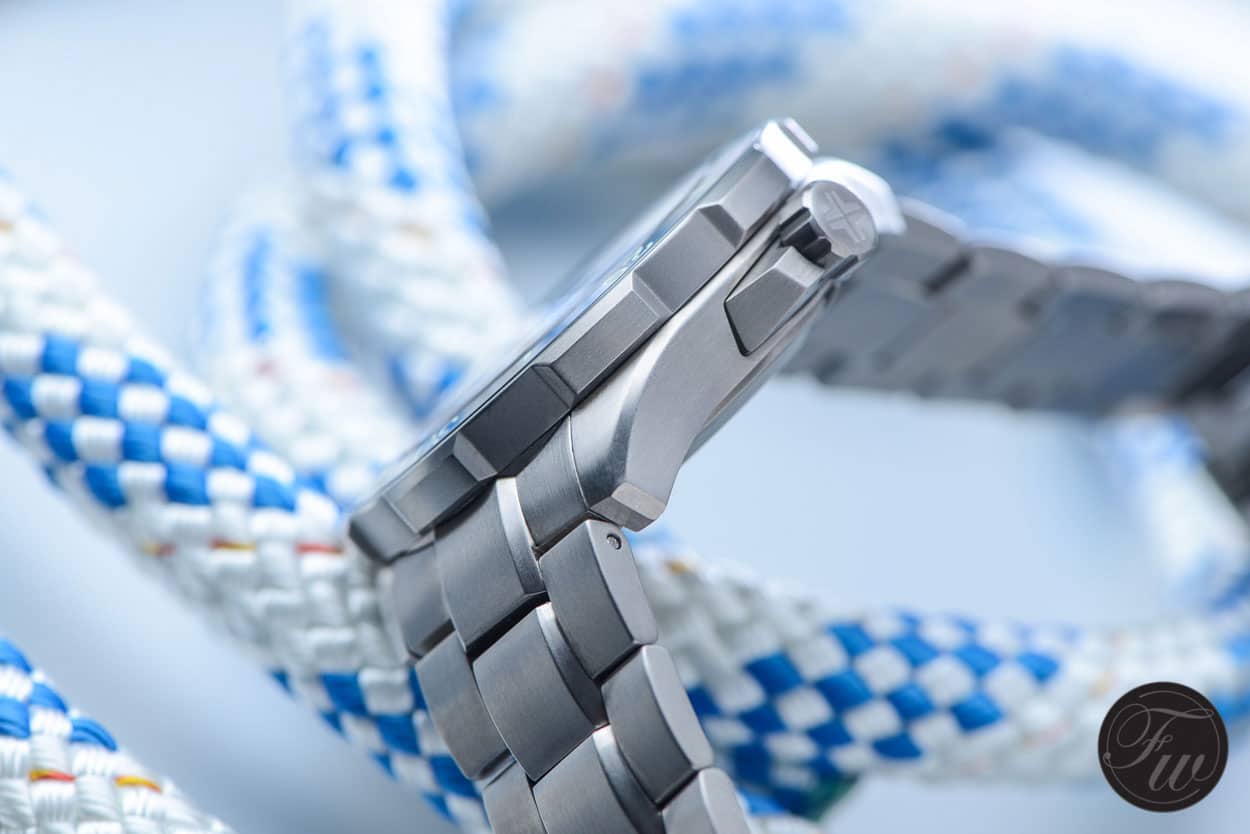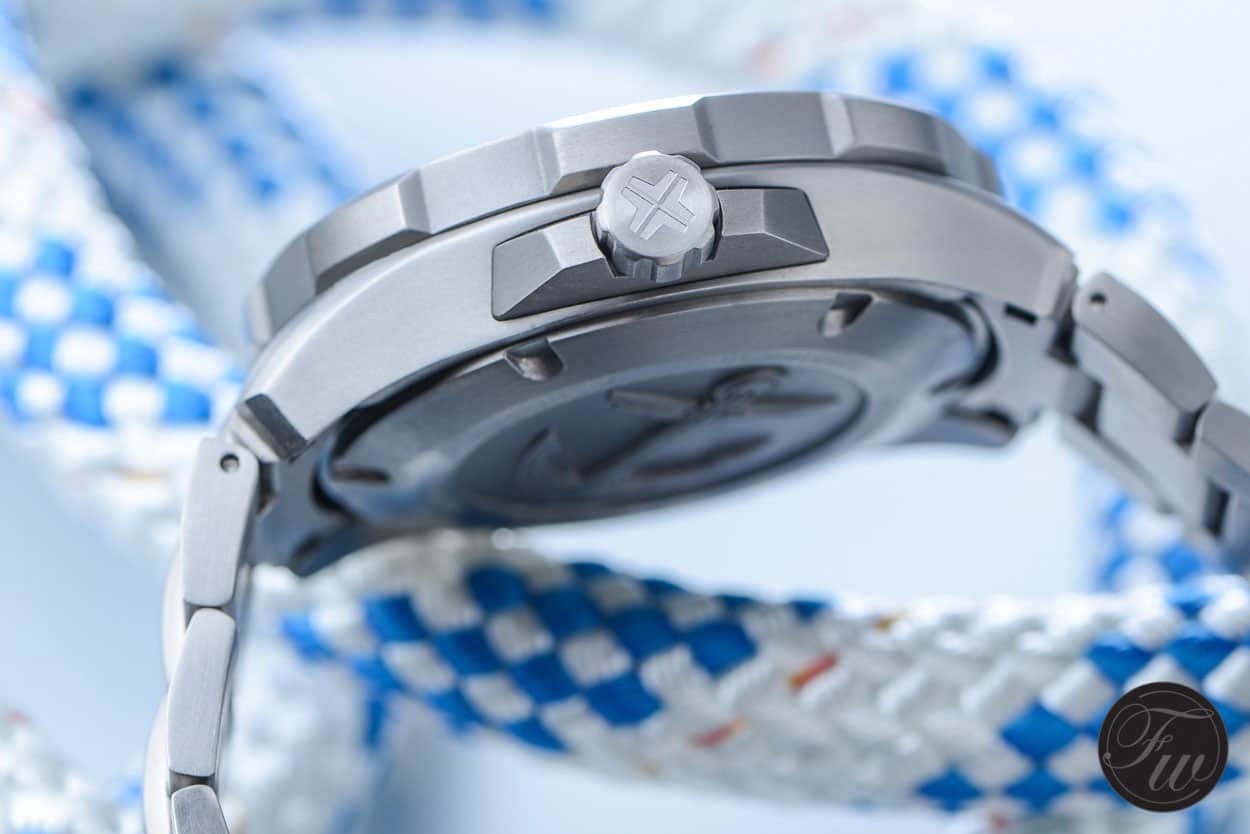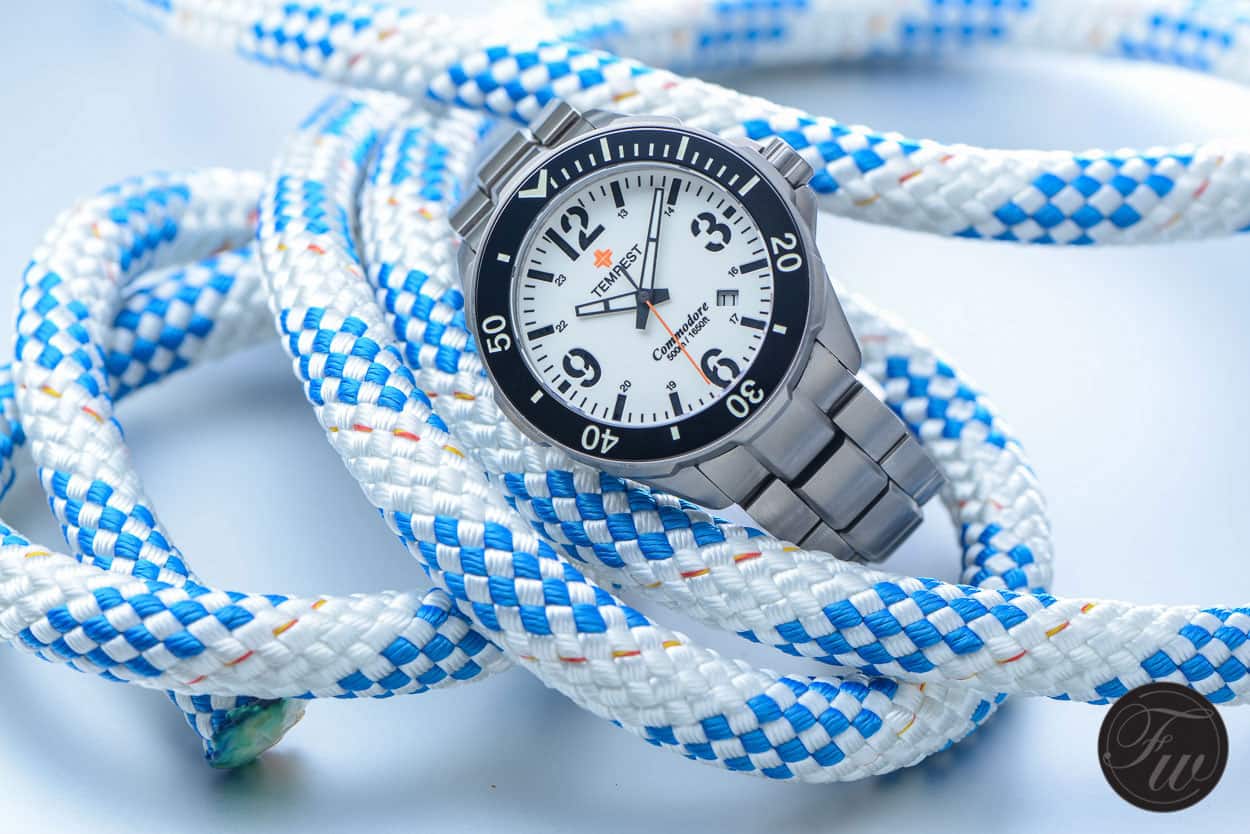 On top of the case you'll see the ceramic unidirectional diving bezel that will make a full turn in 120 clicks. There was no substantial play during the use of the bezel, no more or less than other (much more expensive) watches I've worn. The big size makes it easy to grasp and use the bezel. The numerals on the dial are luminous.
On the back side of the watch there is a screw-down case back. In the centre, there is a large anchor embossed out of the titanium case back. A very nice and original design. At first I was afraid that at the end of the day I would have an anchor pressed in my wrist, but you won't feel it is there when it is on the wrist nor does it leaves traces. If you don't wear the too tight around your wrist, that is. The beautiful anchor shows the eye for detail by Tempest. The case back has a few engravings as well, indicating the model name, the movement caliber, water resistance, use of a sapphire crystal and the material of the case. Some of this information is perhaps obsolete or duplicate, but it looks nice and seems to give a well-balanced appearance on the case back.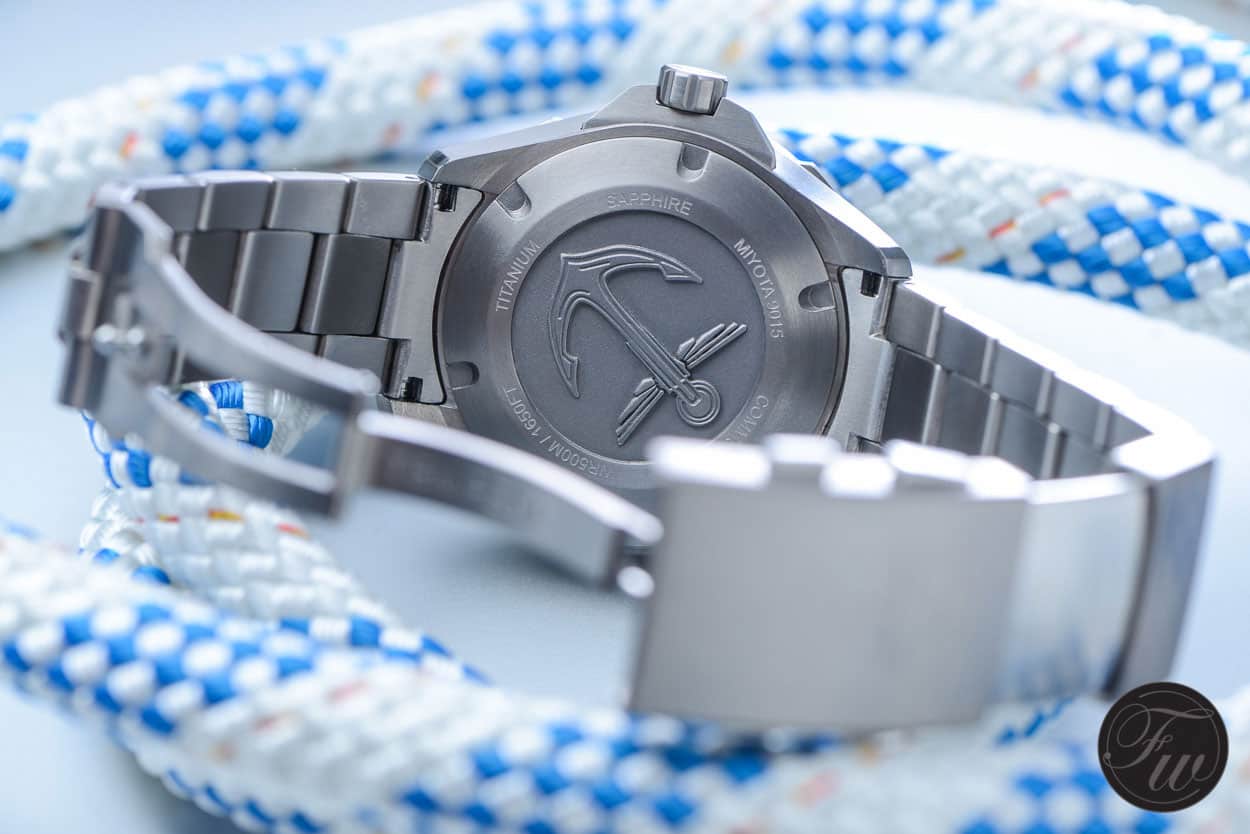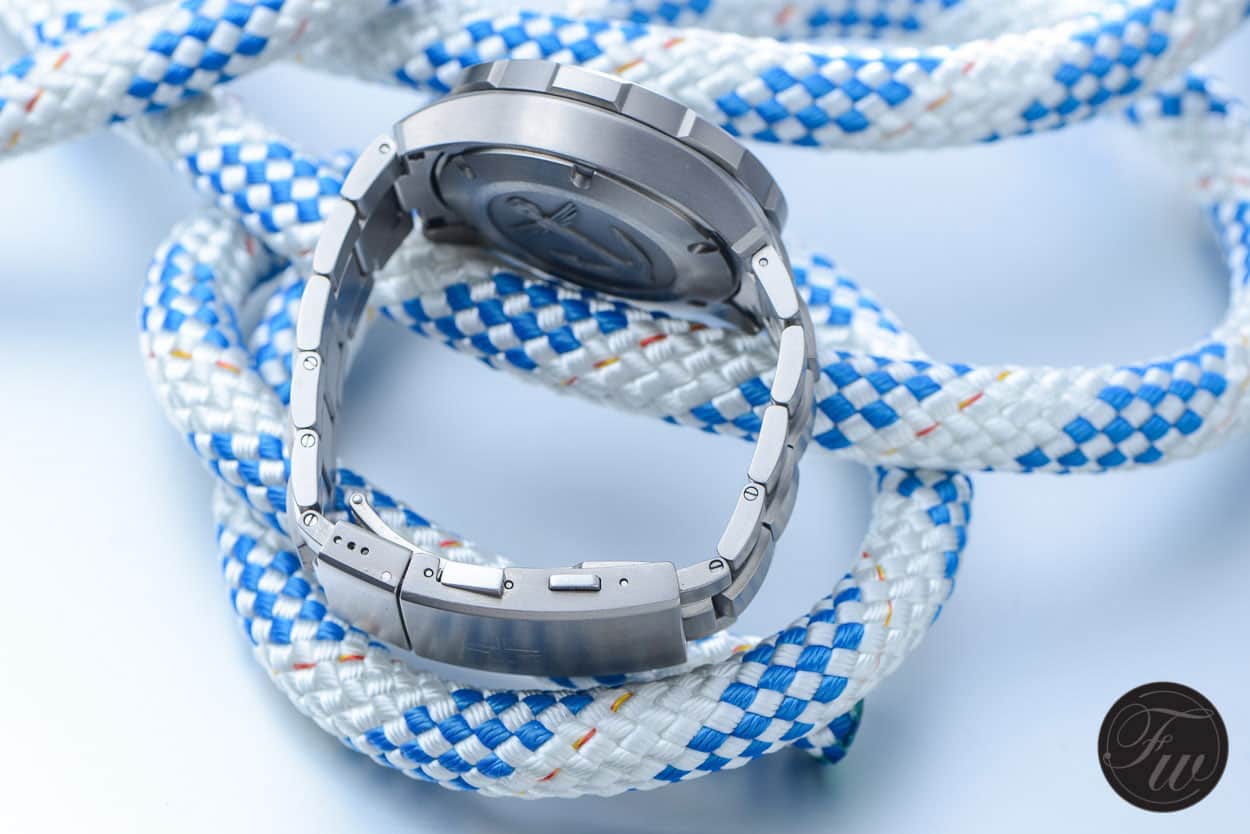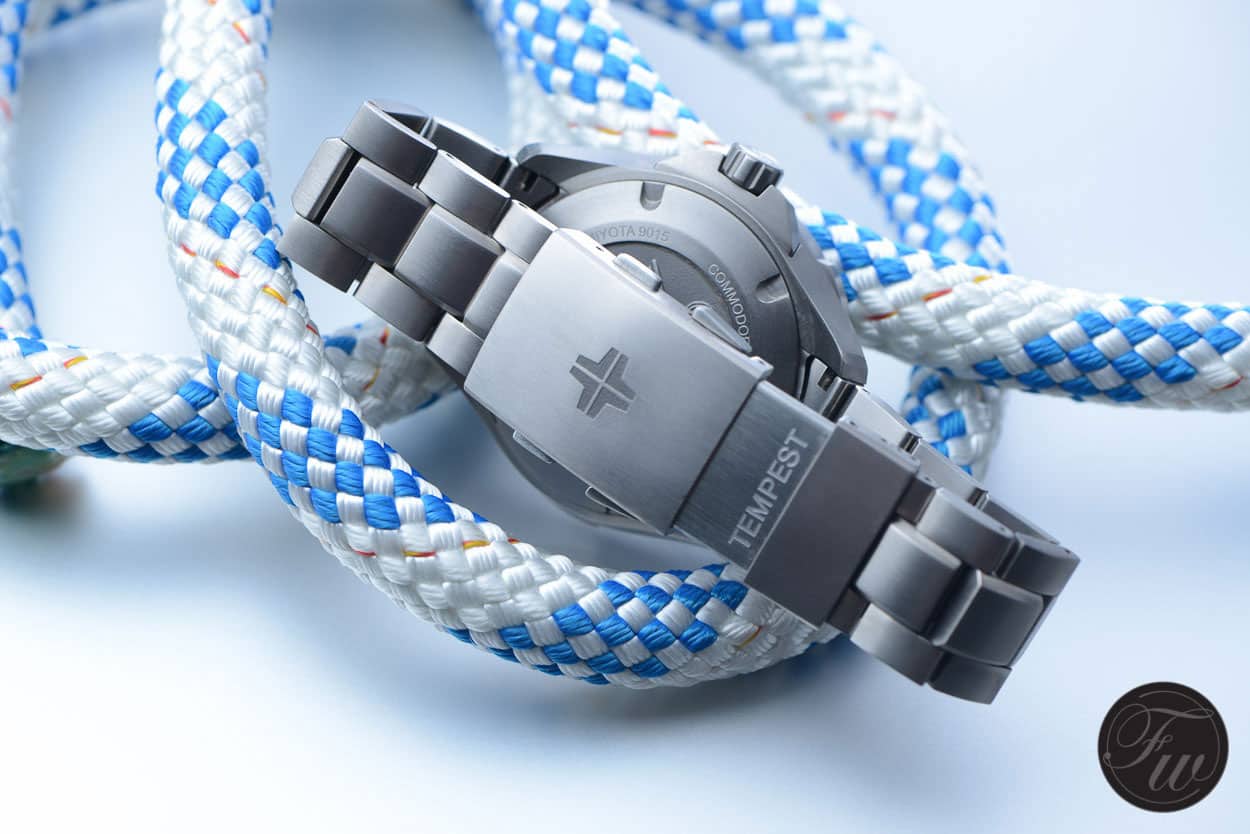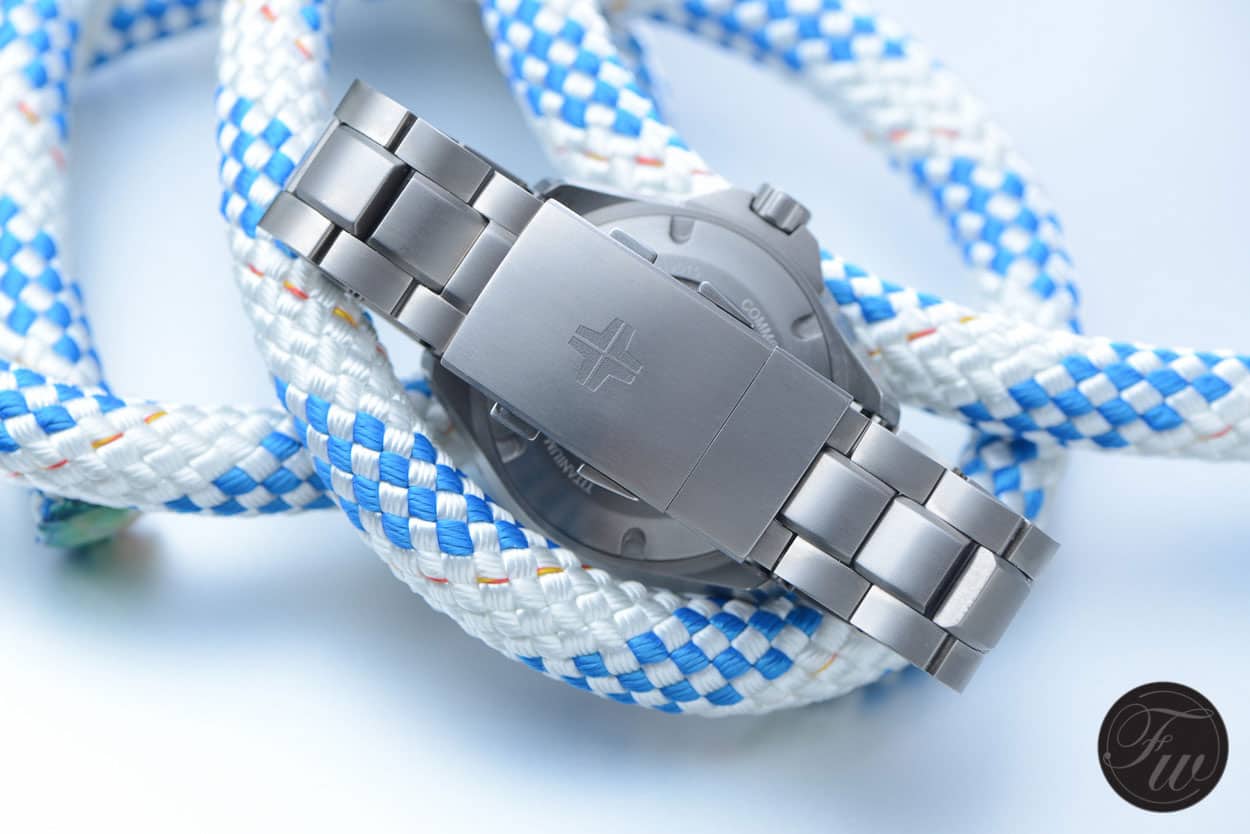 Dial
The dial on this watch is a so-called sandwich dial. Panerai was the first, or at least one of the first, to use sandwich dials where the dial consists of two layers. The numerals and hour markers are cut-out and the underlying dial with luminous material gives the dial a bit of depth. Another recent example of such a sandwich dial is the Omega Seamaster 300. The dials are available in black, blue, green and white and come with either Roman numerals or stick markers.
The date aperture is located at 4.30 and the disc wheel is black (except for the white dial version, where the date disc is also in white). Something I really like, as this position does not interfere with an hour marker or numeral. The Tempest logo and brand name are printed at 12 o'clock on the dial and below, at 6 o'clock you will find 'Commodore' and the level of water resistance. No mentioning of other things, like the type of movement ("Automatic") used. Which is fine, I like dials on 'tool' watches to be as clean as possible.
One of the key features of the dial – and something you will notice very quickly – are the luminous dial and hands. The white dial version, as can be seen on the photos, has a dial that is entirely luminous. It is bright. Very bright.
A sapphire crystal covers the dial of the Commodore, with an anti-reflective coating on the inside.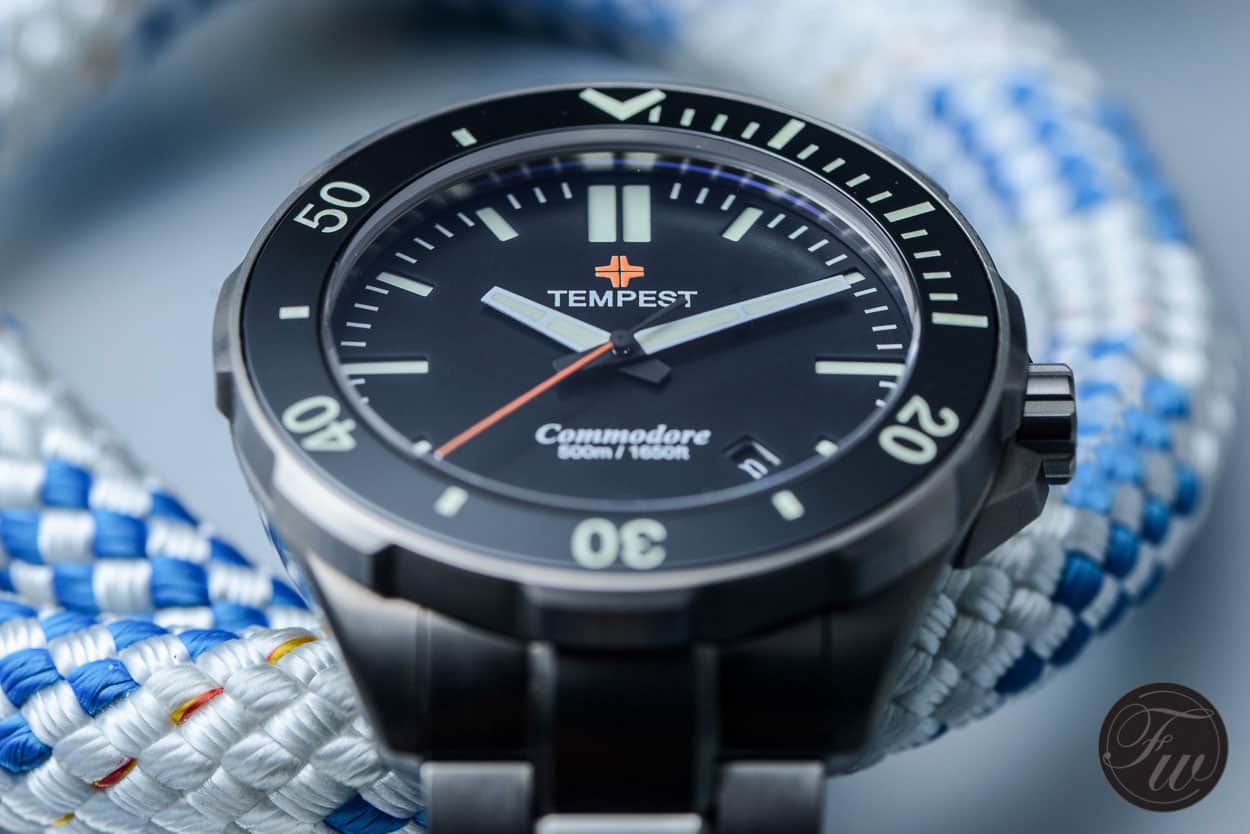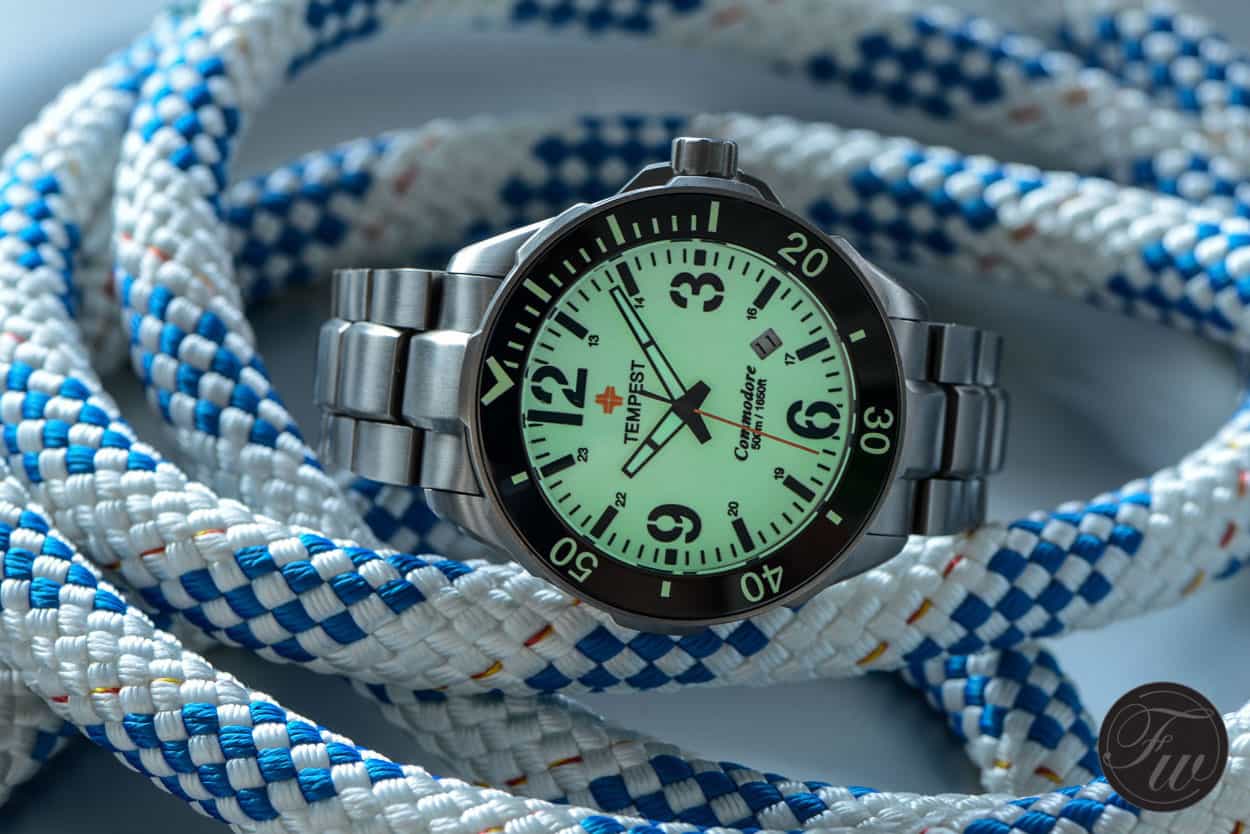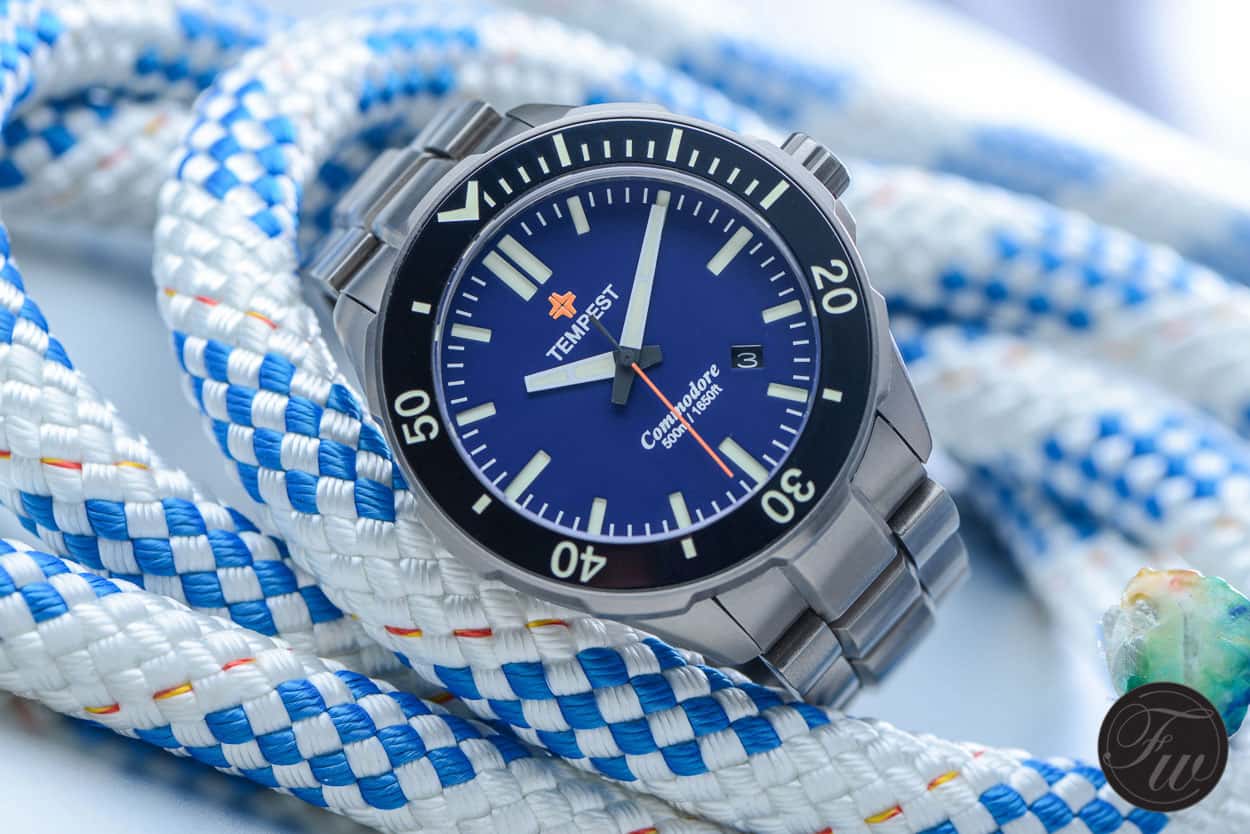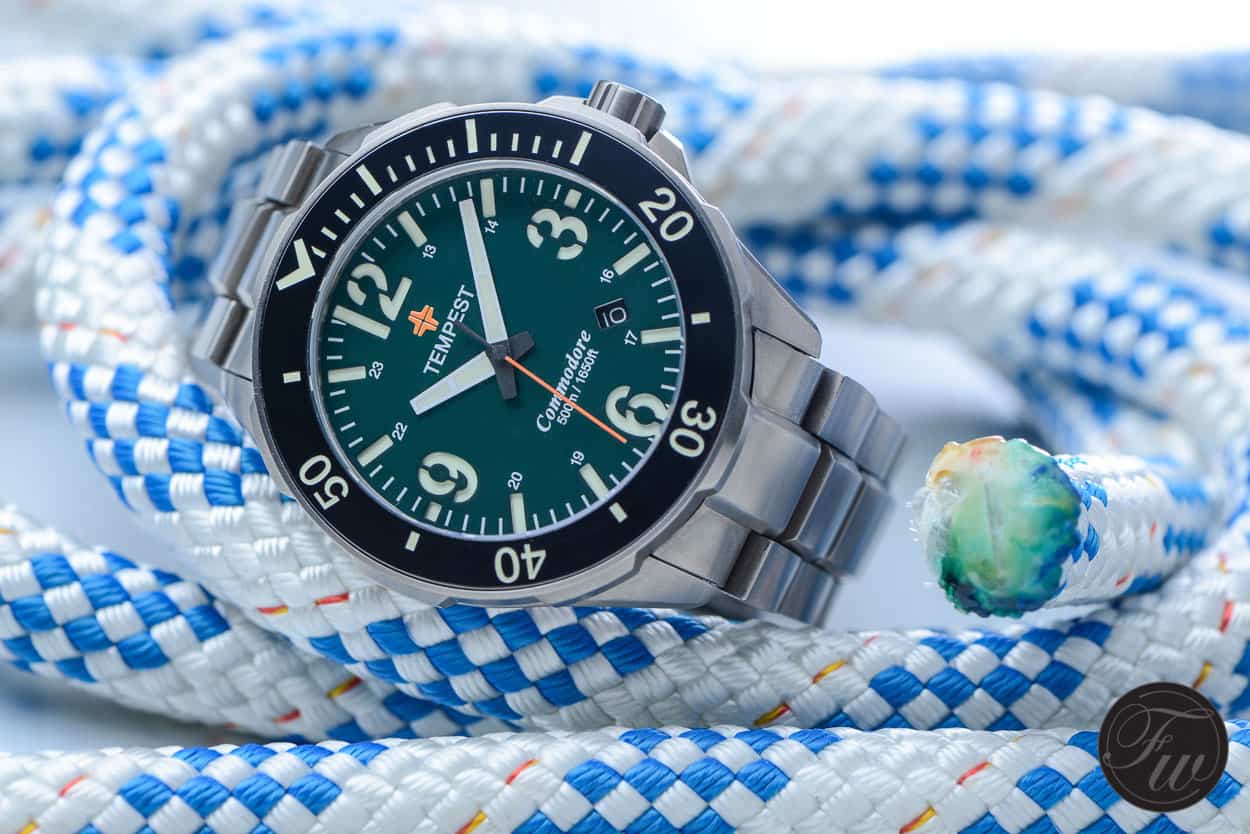 Miyota movement
Inside, the Tempest Commodore uses a Miyota caliber 9015 movement. This automatic winding movement features a hacking seconds mechanism in order for you to precisely set the time. It has a power reserve of 40 hours – which is not that relevant on an automatic watch to be honest – and operates at 28.000 beats per hour. During the test period of the watch, there was no significant gain or loss in seconds. The movement can also be wound by hand, something that is not always the case with Miyota movements.
Overall Impression
Although I had all models pictured in this article at my disposal, I chose the black dial version for my trial period. To me it is the most clean Commodore watch and probably the one that will keep my interest the longest. However, I can also imagine adding a white dial or blue dial version for example, to compensate for all black dialed watches in one's collection.
As aforementioned, the watch is very comfortable on the wrist due to the size and weight. A well-balanced watch that you can easily use as a daily watch.
So, how does this watch compares to one of the big brands from Switzerland? Well, in all honesty it doesn't take long to see and feel the difference between an Omega Seamaster or Rolex Submariner and this Tempest Commodore. However, I don't feel that this would be a fair comparison. Perhaps a better comparison would be a watch by Tissot, Marvin, Certina or other sub 1000 USD timepiece. In all honesty, I think the price tag of 630 Euro is a fair price. Would it be more expensive, than it might be interesting for buyers to buy a Hamilton or pre-owned Longines or Sinn for example. The watch is now available for pre-ordering for 535 Euro including VAT. After the pre-ordering period, the price of the watch increases to 630 Euro.
Although the quality might be equal to the sub 1000 USD brands mentioned, I suspect that buyers of this Tempest Commodore are partially triggered by the fact that it is a micro brand and (for once) not one of the big brands.
In the end, it is a great value for money timepiece and you will be probably sure you don't end up seeing it everywhere around you. The unique design features, high quality case and bracelet and very luminous dial could be the right elements for a long and happy marriage.
More information and (pre-ordering) for the European market via www.forasec.com
The rest of the World: www.tempestwatches.com