Hands-On With The IWC Big Pilot's Watch [VIDEO]
With the F1 of Spa-Francorchamps coming up this weekend we look back at our trip there some weeks ago. We joined IWC and AMG for the 24hrs of Spa and had the opportunity to wear an IWC Big Pilot's Watch. Having that watch on the wrist for a few days, I got quite used to it despite the fact that I feel that 40mm is the perfect size for a watch. That being said, let's have a look at the IWC Big Pilot's Watch IW501001 and if I would buy one.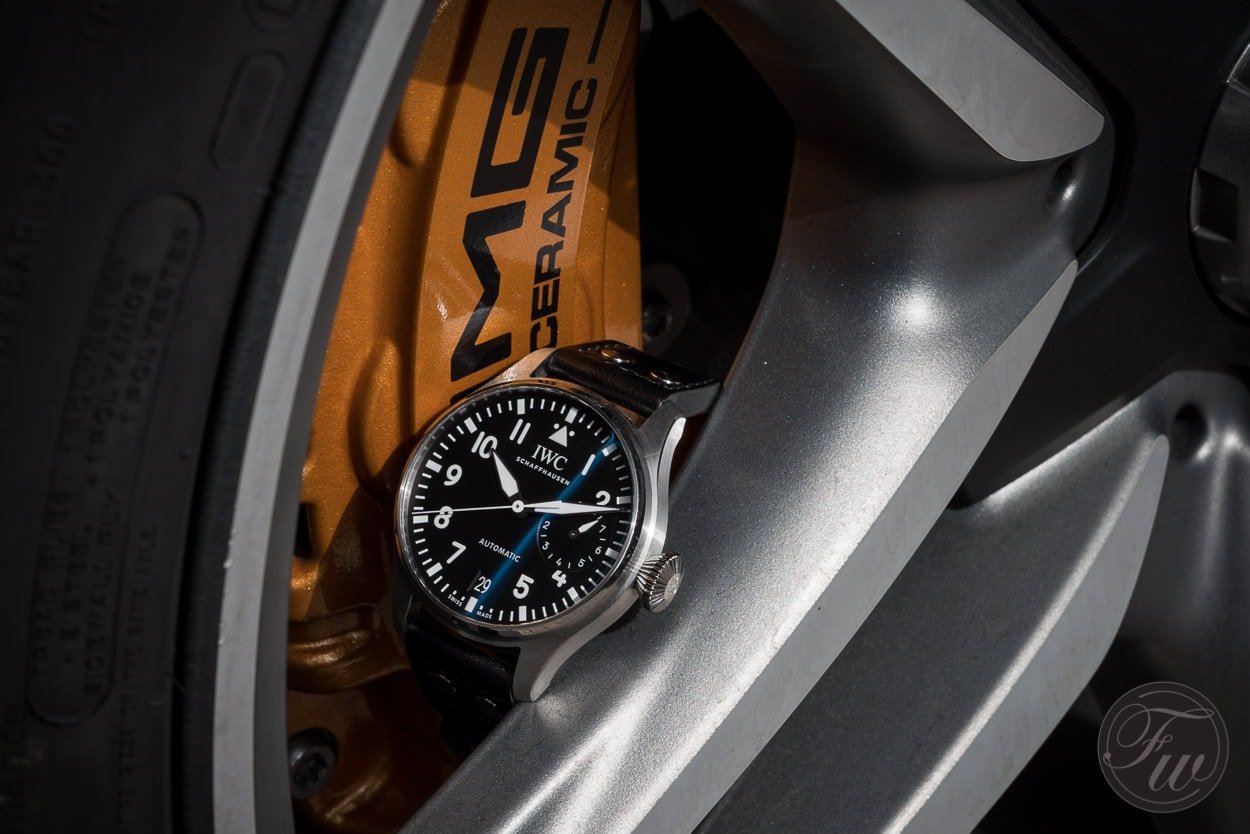 IWC Big Pilot's Watch First Impressions
My initial thought when opening the box was that it's clearly called Big Pilot's for a reason. With a stainless steel case that measures 46.2 mm it's one of the biggest watches I have ever worn. With a thickness of 15.6 mm it's not easy to hide it under your sleeve either. But when compared to the original model, which dates back to the 1940's, you could actually say the current model is modest in size. The original IWC Big Pilot's watch came in a whopping 55 mm and added 17,5 mm to your wrist.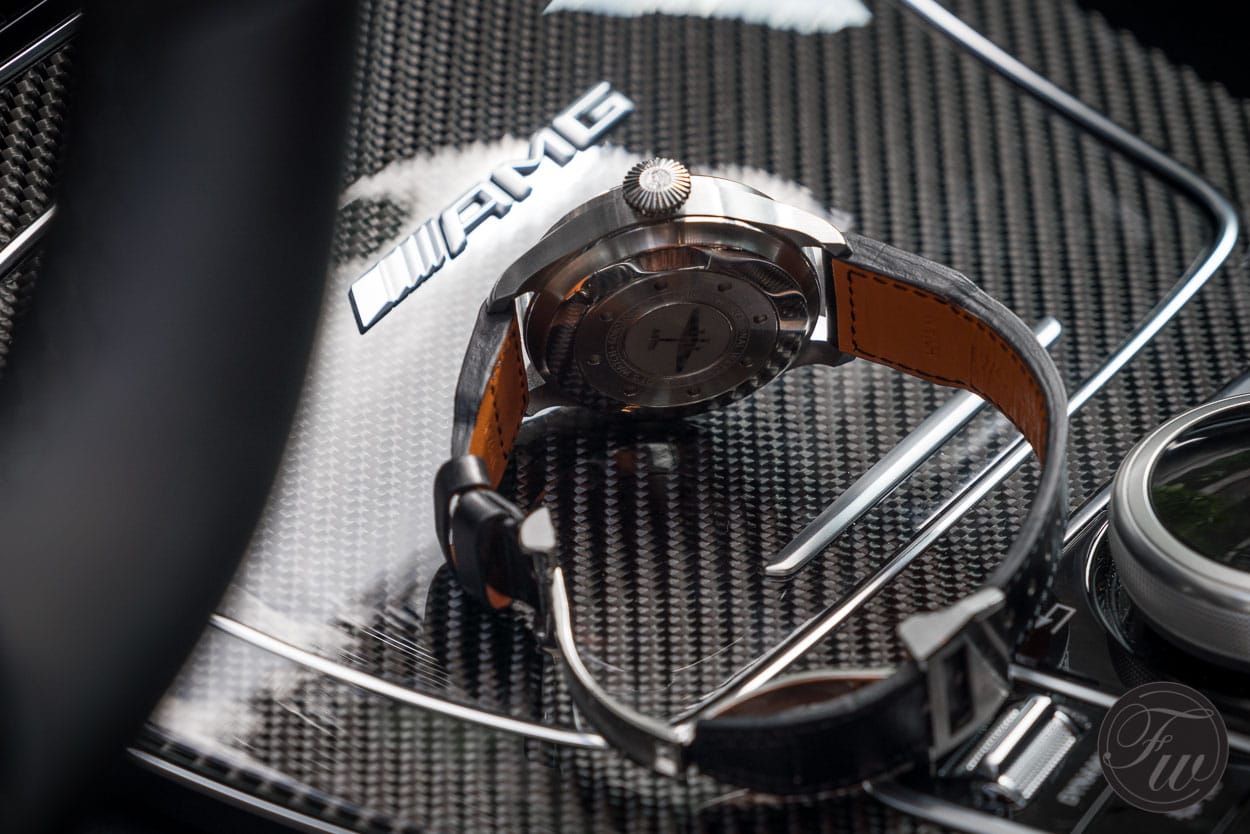 The design of the IWC Big Pilot's watch remained faithful to the original model. With its iconic big crown which makes the watch easy to recognise from miles away. It was designed to be operated with one hand while wearing gloves. Even the design of the leather strap hasn't changed much as the stitching and eye-catching rivets remained very similar. However, the leather straps are now made by Santoni who are renowned for their quality leather shoes and accessories. Looking at the strap you can tell it's very high quality right away.  It looks robust while being smooth and soft to the touch. It closes with a stainless steel folding buckle.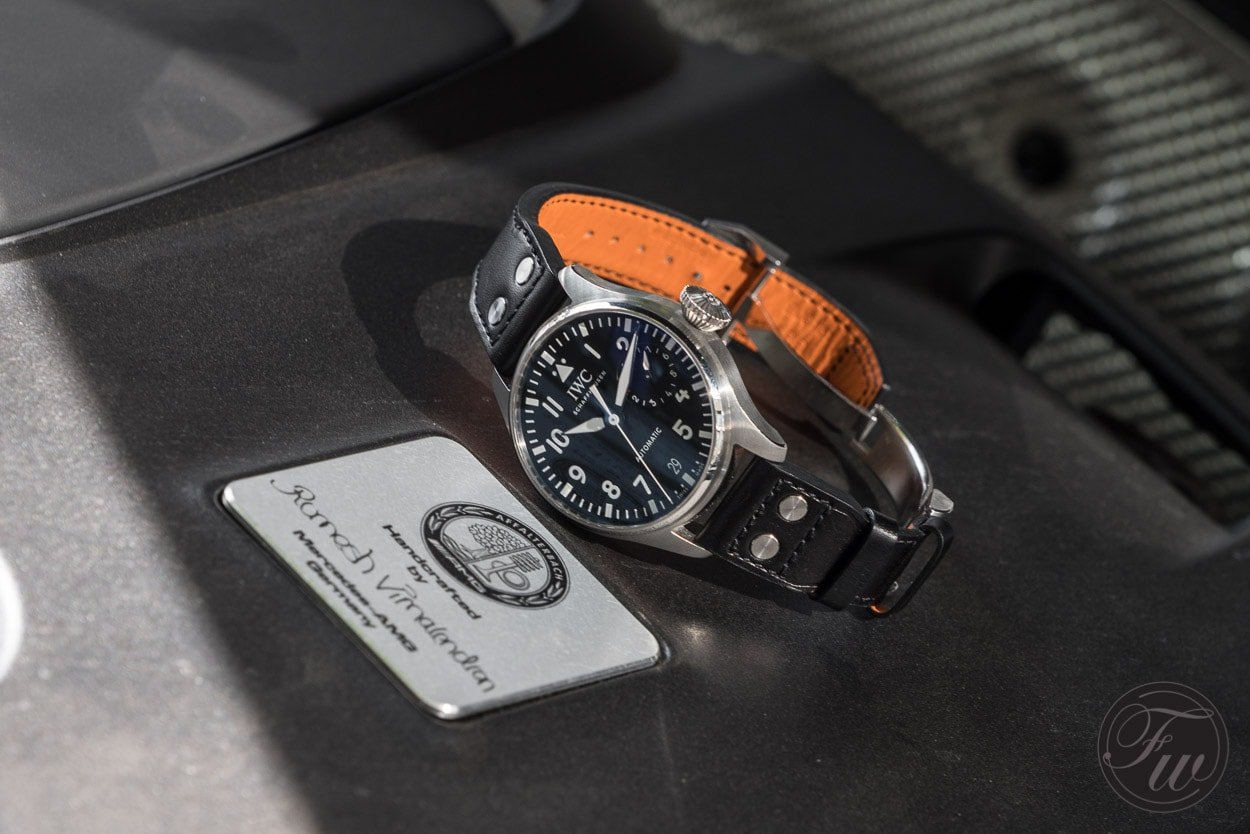 Getting Used To Big Watches
Where I am not a fan of big watches, in general, I have to say that I got used to it quite fast. Where I was quite aware of the presence of the watch on my wrist in the beginning, after some time of wearing the IWC Big Pilot's I hardly noticed it. Even the big crown didn't bother me at any moment. Perhaps this is due to the fact that I wear my watches on my right wrist. Something I started doing because of watch crowns sticking into my skin too much many years ago.
The more time I was wearing the Big Pilot's on my wrist, the more I started to like it. A high level of finishing and a design which is simply spot on. Although the big dial is quite clean with a power reserve indicator at 3 o'clock and a small date at 6 it just looks good.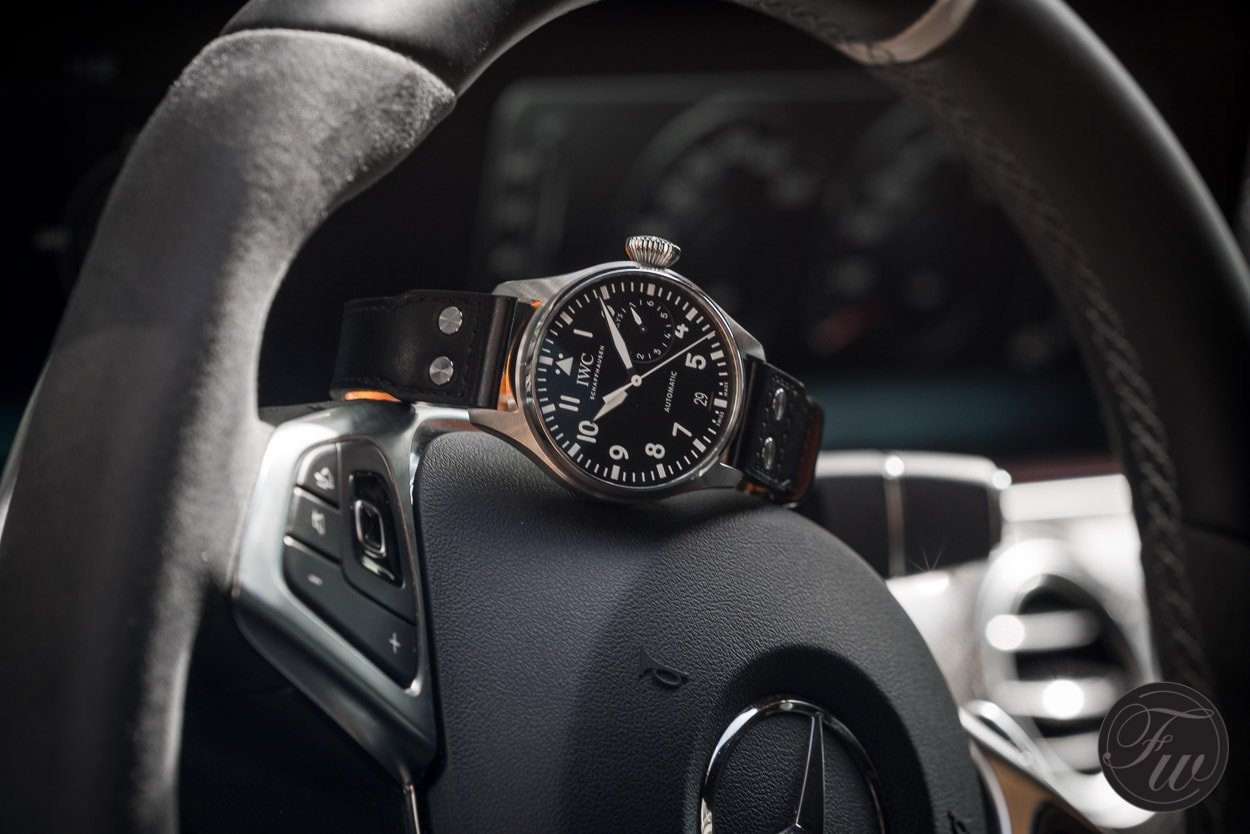 In-House Big Calibre
Out of sight behind the closed case-back is an in-house movement. The Calibre 52110 is an automatic self-winding movement with a 7-day power reserve. In all honesty, I always wondered why one would need such a big power reserve in an automatic watch. As I change watches regularly I'm used to winding them when putting them on the wrist. But with the Big Pilot's I never had to get it going again. The winding of the double barrels went surprisingly fast. With just a few rotations of the crown, you could see the power reserve indicator moving.
The 52XXX series calibre first saw daylight in 2015 and has since powered several IWC watches. It comes with the patented bi-directional Pellaton winding system which stores energy in two barrels. Parts of the movement (winding pawls, automatic wheel and the rotor bearing) have been made in ceramic and therefore IWC claims that they are practically free of wear and tear. Something we will learn in the long run.
Would I Buy One?
So the IWC Big Pilot reference IW501001 is pretty impressive and I easily got used to the size. I actually enjoyed wearing the Big Pilot. During the weeks we had this watch on loan it got quite a lot of wrist time. That being said, I could actually only find one big downside to it which is the hefty price tag. Adding this watch to your collection will set you back no less than 13.800 Euro. That would be the only reason (for now) that this watch isn't on my shortlist.
For more info head over to the IWC Website.
Gallery