Hands-On With The Reverso Tribute Small Seconds
Trust me, I tried and tested the Jaeger-LeCoultre Reverso more than once, but it is not for me. And I feel bad, because I love the looks and want to like it, but I just can't. Rectangular watches are not for me, there, I've said it. But if there is one rectangular watch to buy, it is the Reverso in my opinion (no offence to all the Cartier fans). I've tried many different versions and sizes, at some point even there square shaped Squadra, but that didn't work at all for me. I have the same issue with the classic Heuer Monaco for example. It is not for me. I tried again this time with this blue Reverso Tribute Small Seconds from Jaeger-LeCoultre. Let's have a closer look.
Beautiful Blue Reverso Tribute Small Seconds
A few weeks with the Reverso Tribute Small Seconds reference 3978480 didn't change a thing, unfortunately, as I really love the blue dial and blue strap designed by Fagliano, the renowned Argentinian bootmaker. Although I was a big fan of the Reverso Tribute to 1931 (which I reviewed here back in 2013) because it only said 'Reverso' on the dial and had dimensions very close to the Reverso watches from the 1930s, this blue version did not disappoint at all. Whether it says only 'Reverso' on the dial or has 'Jaeger-LeCoultre', it has the same effect. Those who know a thing or two about watches are aware that the iconic Reverso belongs to Jaeger-LeCoultre. Those who don't have a clue about watches, probably never heard of these names anyway. That's also what I like about Jaeger-LeCoultre, and Reversos for that matter, that it is a watch for those who love and appreciate fine watchmaking.
Classy Dial
Besides, double names on a dial rock (coming from a guy with a double forename, so this is slightly subjective). The 'Jaeger-LeCoultre' on the dial just looks chic, especially in combination with a very classy dark blue colour as a background. As you can see in the photos, the dial has this Sunray-brushed finish and 12 applied hour markers. The small seconds, hence the Reverso Tribute to Small Seconds model name, are located at 6 o'clock. A pair of polished Dauphine hands indicates hours and minutes.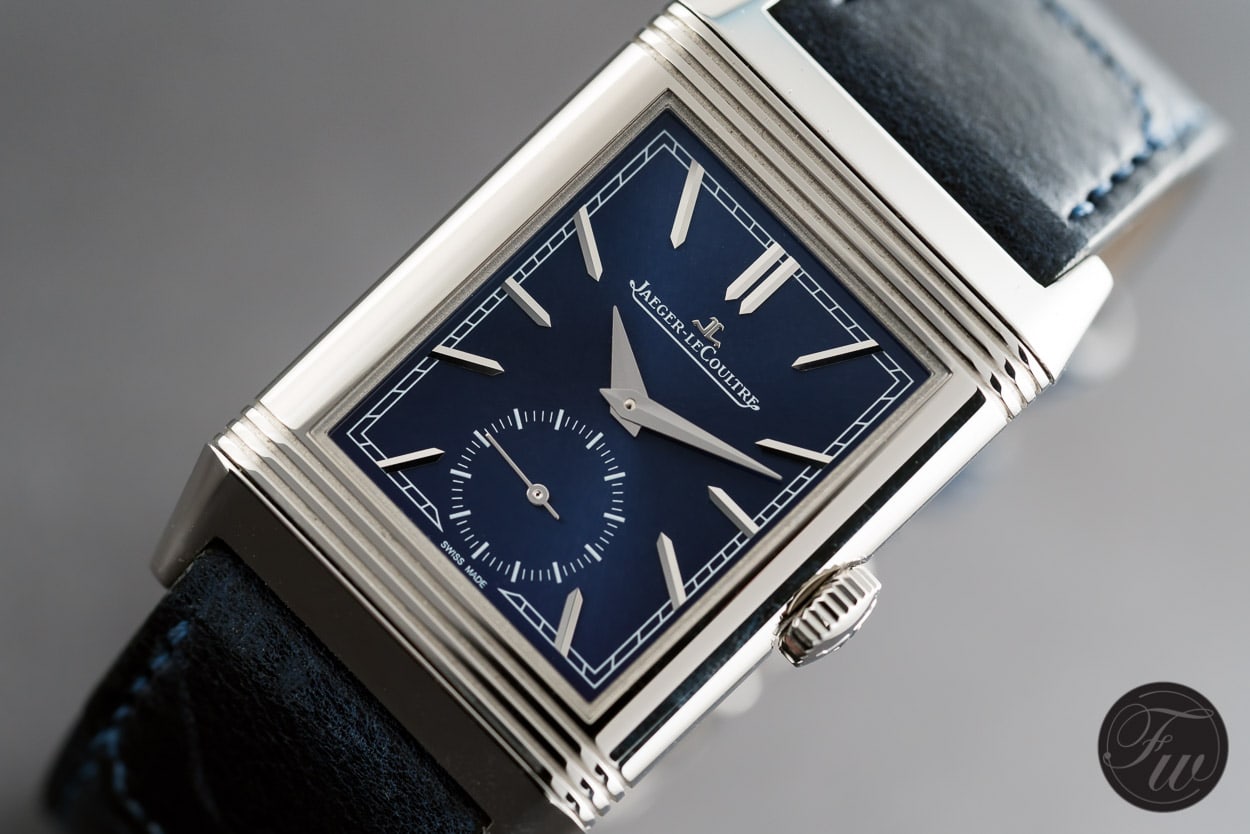 The stainless steel case has very nice dimensions, 45.6 x 27.4mm with a thickness of 8.5mm. It fits my 18cm wrist perfectly. To turn the case around, or 'reverse' it, just give the case a slight push on the left (to the right) and then turn it around. On the back side, there is nothing by default, but the place to have a personal message engraved. A long time ago, I think the early 2000s, I read a post on the TimeZone forums that someone had it engraved with 'Will you marry me?' and presented it to his wife. Well, I believe that this Reverso Tribute to Small Seconds is more of a gent's watch, but it can be done, or another message of course.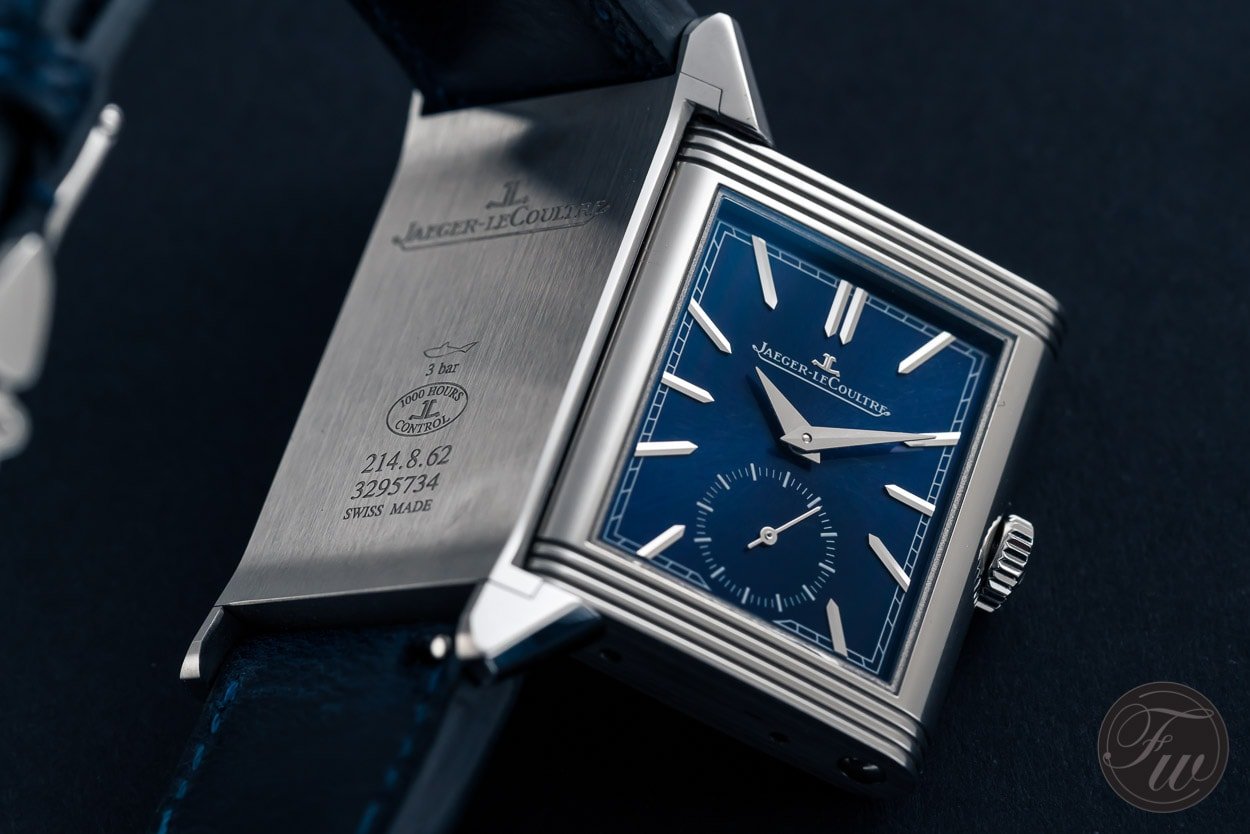 On the case back of the watch itself, you will find some mandatory engravings from Jaeger-LeCoultre of the brand's name and logo, that it went through 1000 hours of control (which is JLC's own QC basically) and the reference number. It also states that the watch is water resistant to 3 bar (~30 meters). On the 1000 hours of control we spoke in the past in more detail.
Details
The cool thing about the Reverso Tribute to Small Seconds is that it is a very toned down watch (like many Jaeger-LeCoultre's are), but far from boring. I already mentioned the beautiful dial, but there are also a lot of details to discover in the case for example. It has a lot of interesting lines and angles to explore. Find a few impressions below.
Manual-winding
Although Jaeger-LeCoultre has some Reverso models with automatic movements, I feel that they should all be manual-winding, to be honest. A rotor in a rectangular watch case just doesn't connect in my head, but it is very well possible that I am very alone with this opinion. Luckily though, the Reverso Tribute to Small Seconds has a manual-winding movement. It is their calibre JLC 822/2 movement, that comes with 45 hours of power reserve, ticks at 21,600vph and consists of 108 components. It is 2.94mm thick and has, you could have guessed it, hours, minutes and small seconds as functions.
Conclusion – Reverso Tribute to Small Seconds
Although this Jaeger-LeCoultre Reverso Tribute To Small Seconds didn't convert me to become a rectangular watch guy, I do appreciate the iconic design, blue Sunray-brushed dial and beautiful blue strap. I am not too familiar with Polo boots, but I checked with our diva watchmaker Paul who sports Fagliano loafers in 7 different colours and he let me know they are the cream of the crop. A very comfortable strap indeed and fitted on a double folding clasp. I wouldn't have imagined a strap like that on the blue Reverso Tribute to Small Seconds, but an alligator instead or something. But it looks very cool and makes the watch look a bit more casual, which I like very much. If you prefer an alligator strap, you can order one for this watch via the Jaeger-LeCoultre e-boutique for €355.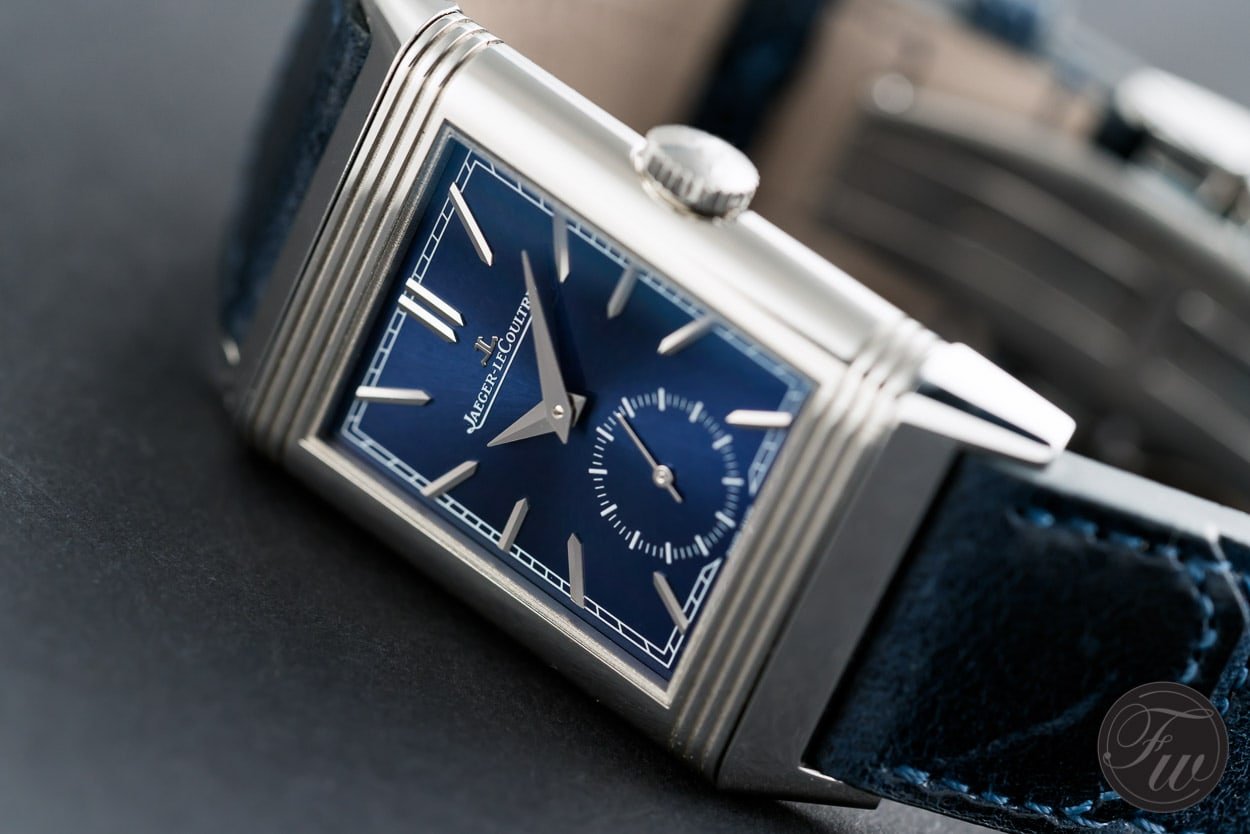 Fun aside, this watch is a serious piece of horology and I am surprised that – compared to some other brands from the Richemont stable – the prices are relatively sane. A large Reverso starts at €6300 and for that, you will get this iconic design with, of course, an in-house developed and manufactured movement. Smaller sizes start at lower prices. This blue Reverso Tribute to Small Seconds has a retail price of €8000, including taxes (US$7950 excluding sales taxes). I still feel Jaeger-LeCoultre is a bit undervalued, compared to some other brands that are a true manufacture as well. The Reverso Tribute to Small Seconds breathes quality and is haute horlogerie for sure. Again, I wish I was able to wear and love rectangular watches, the Reverso would be definitely in my collection.
More information on the official Jaeger-LeCoultre website (and e-boutique for certain markets).