Hermès Gets All Sporty With The Cushion-Shaped H08 In Titanium
And it does so in great style
It's one of the few independent luxury Maisons that plots its own course. But that doesn't mean Hermès doesn't know what's happening in the world around them. Sports watches for instance are what's happening. Their new cushion-shaped H08 in titanium is a sports watch that doesn't get lost in the crowd.
Hermès H08
Let's first address the elephant in the room. The all-new Hermès H08 doesn't come on a leather strap. Hermès, arguably most famous for its craftmanship and artistry in leather, didn't kit out the new H08 with a leather strap. No calf, no ostrich and no alligator. No sustainable vegan leather either. Rubber in two colors and a titanium bracelet is what you'll find on the H08. And it makes sense. I wouldn't go swimming with an ostrich, would you? A practical sports watch dismisses leather on practical grounds and that's what Hermès wisely did.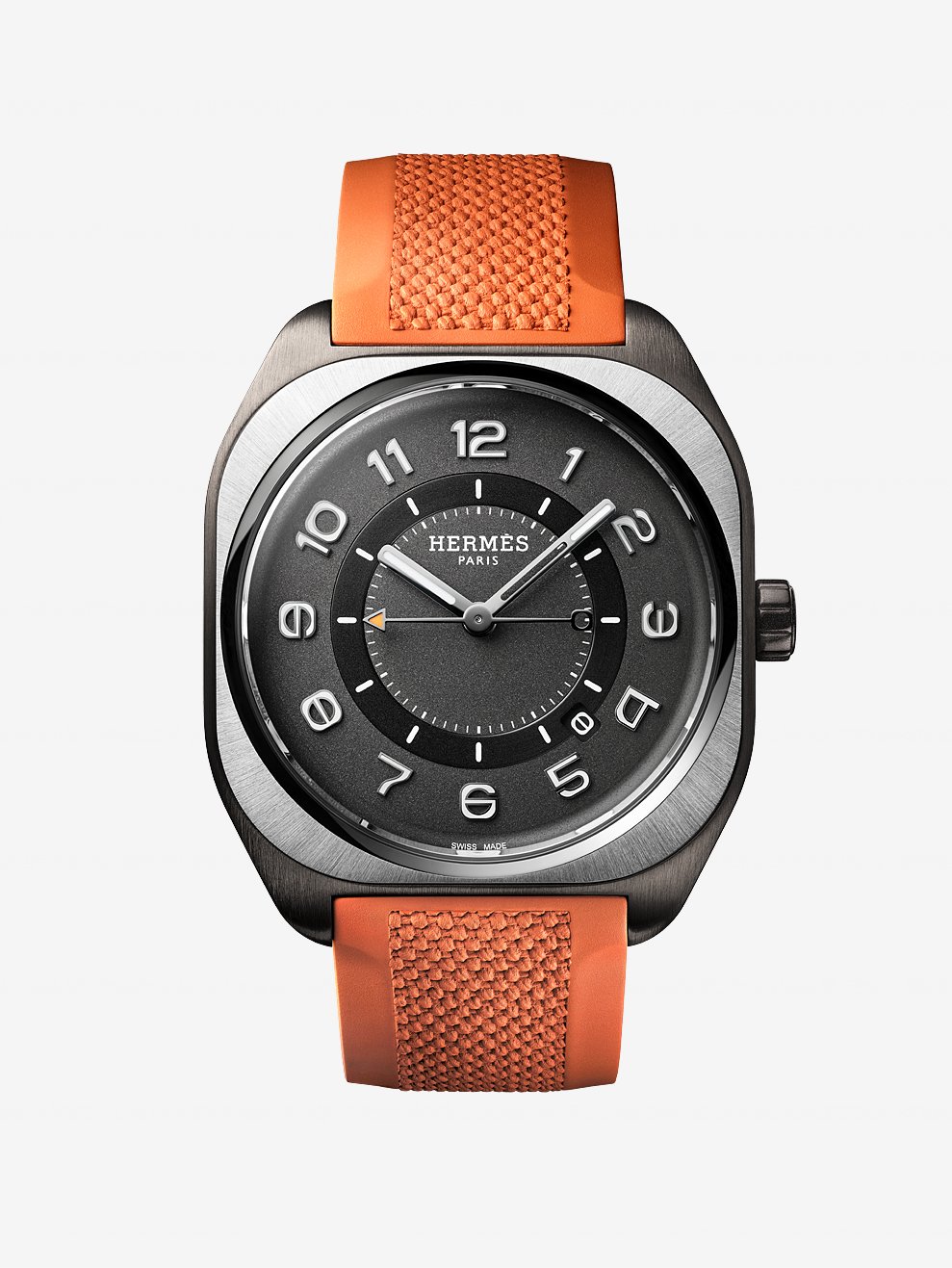 A graphene-filled composite case tops them all
Let's talk watch now. Hermès may well be all about leather but it's also all about shapes and detailing. And there's a lot of nice design details in the H08. Close inspection of the five H08 executions presented during Watches and Wonders 2021 proves just that. The overall appearance is robust and the detailing is on point. But first let's have a look at the basics. The 39 x 39mm cushion shaped titanium case features a screw-down crown to underline the H08's sporty character. The top version for now is the H08 with a case made out of a hybrid material. This H08 shows a graphene-filled composite case topped by a satin-brushed and satin-brushed ceramic bezel with mirror-polished chamfers. The black gold-coated dial shows a minutes track, luminescent Arabic numerals, and black nickel-coated hands displaying the hours, minutes, central seconds, and date at half past four.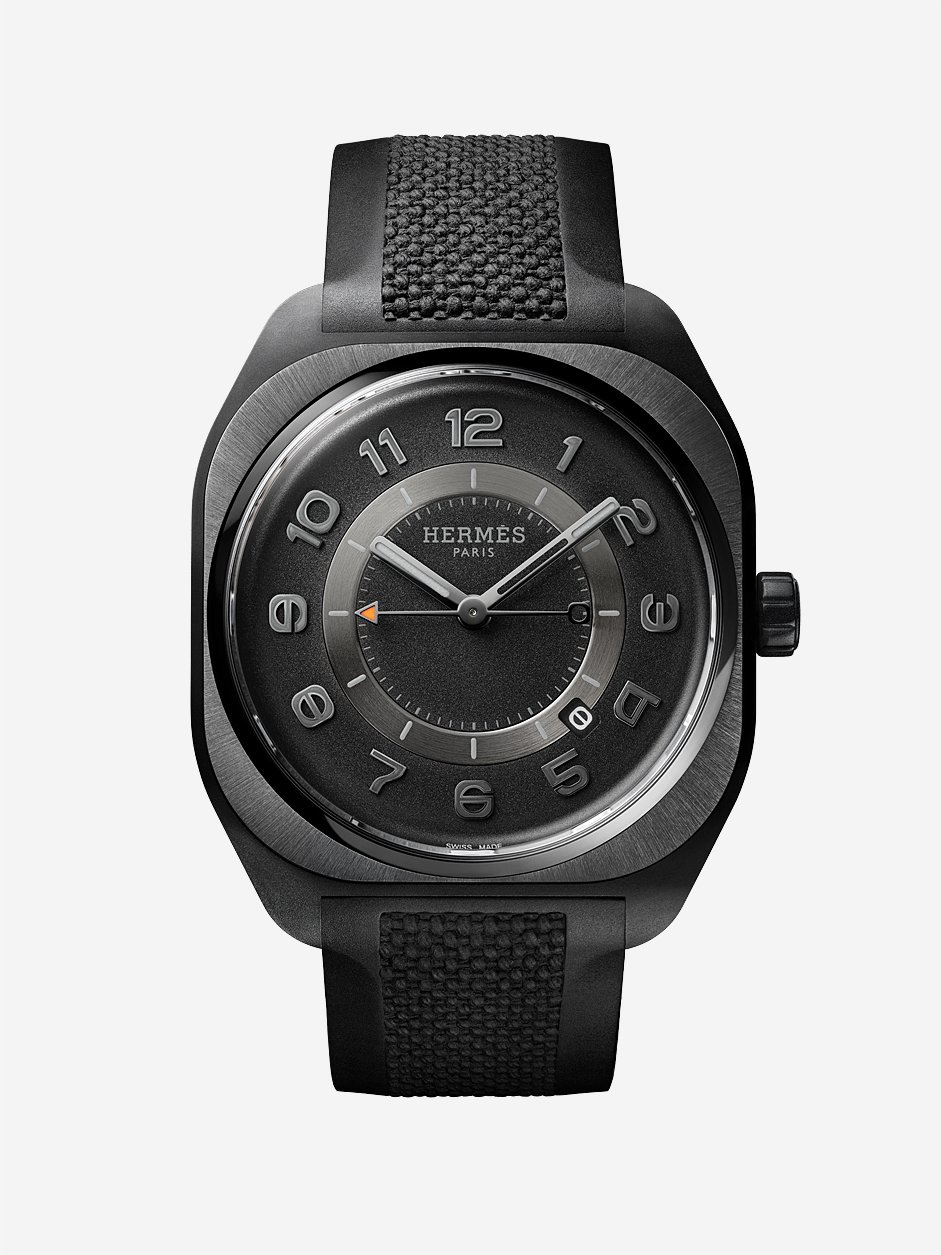 Matt-black DLC-coated and satin-brushed titanium
Apart from the composite case there are two versions with a matt-black DLC-coated titanium case and three in satin-brushed titanium. All models have a screw-down crown and are water-resistant to 10 bar.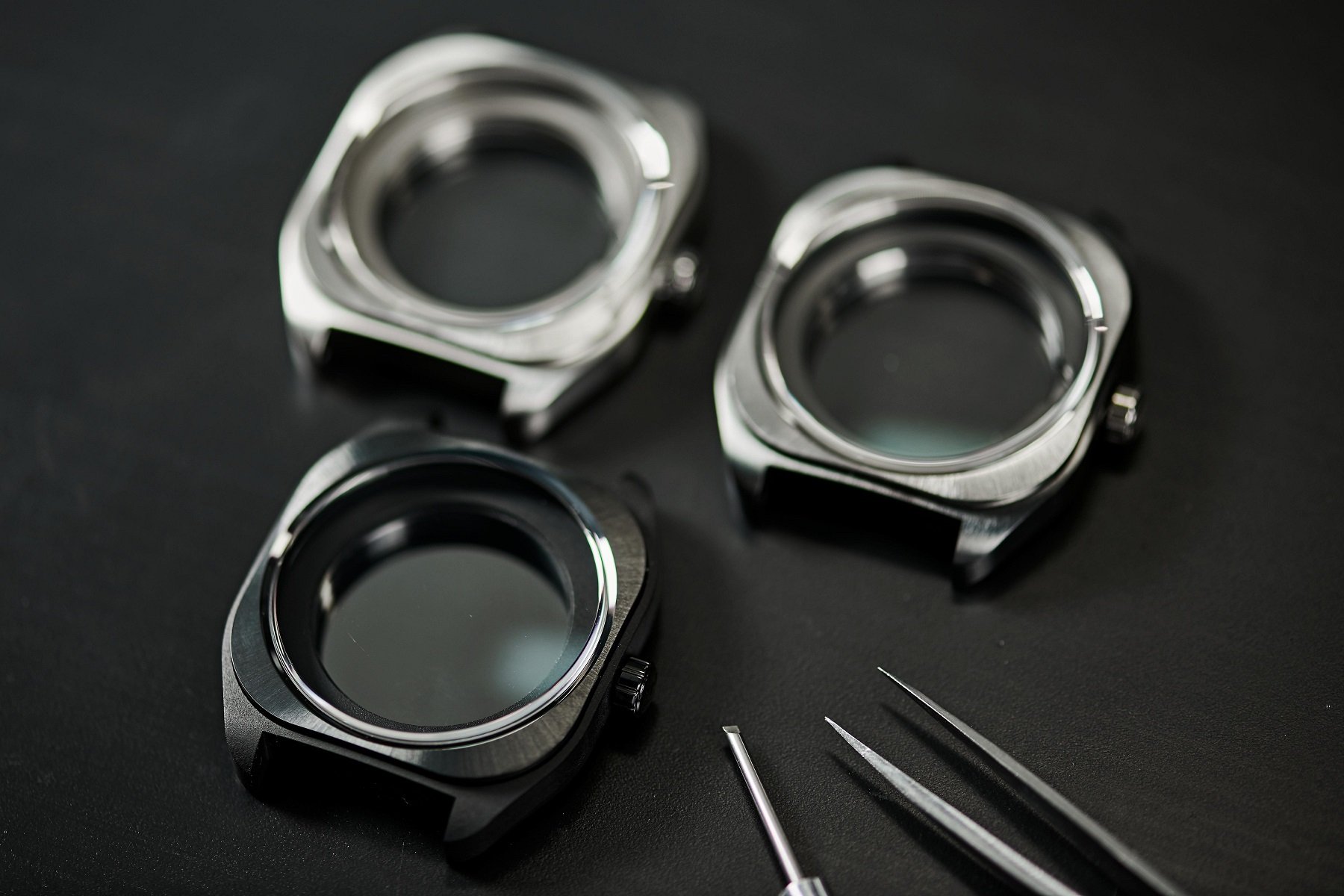 A 'tractor' works inside the 39 x 39mm cushion-shaped case
Inside all of the H08's beats the Hermès H1837 movement. This automatic caliber named after the brand's year of founding, is made by Vaucher Manufacture Fleurier and debuted in 2012. Hermès holds 25% of the stake in the movement specialist that is owned by the Sandoz Family Foundation. Is it an in-house or 'just' a semi-manufacture movement? I leave that judgement up to you. What is clear is that it's a 'tractor' in the best ETA 2892 traditions, the movement it was designed to replace.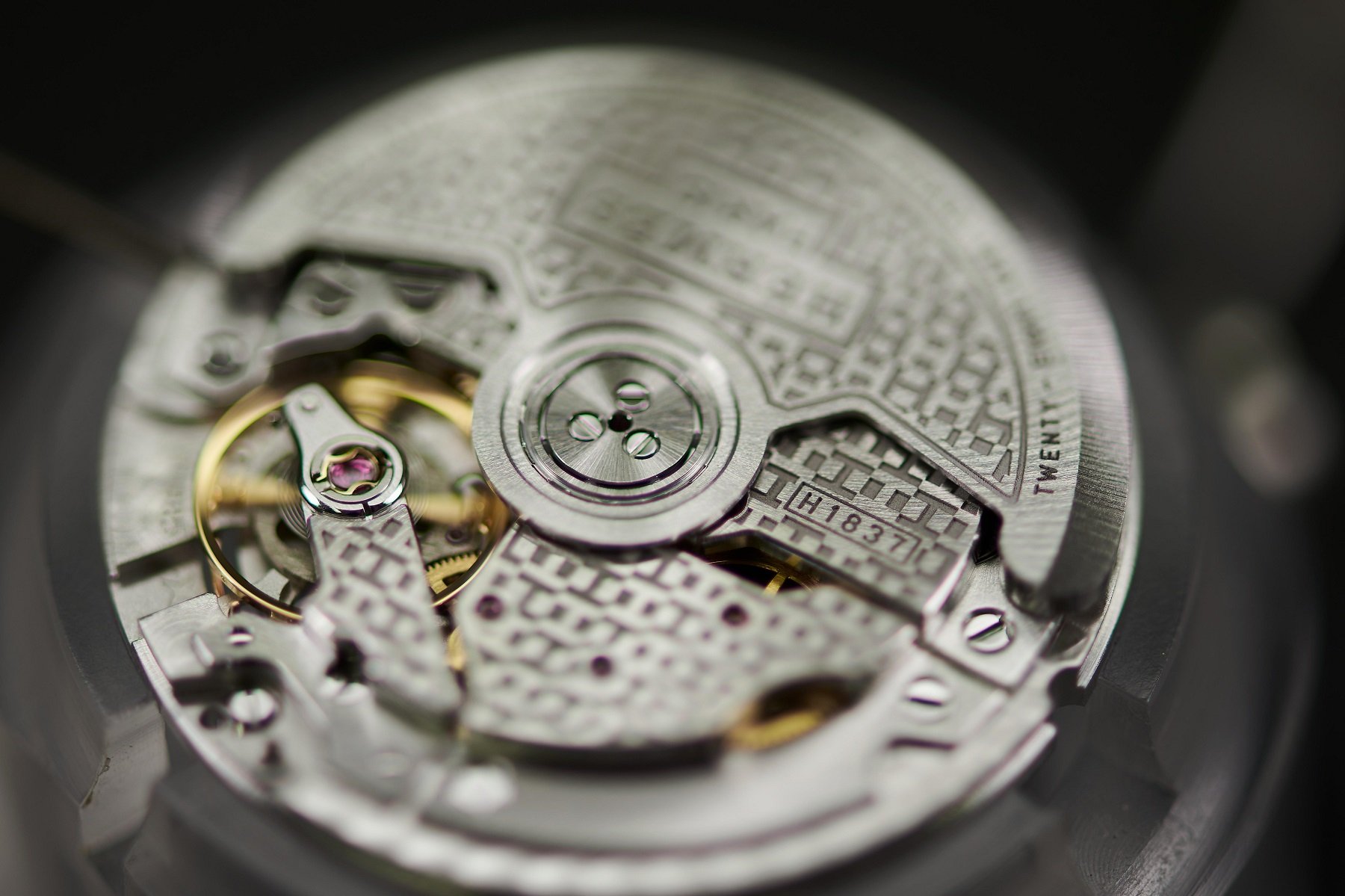 Calibre H1837 is an automatic, double-barrel movement
Caliber H1837 is a 11/½ lines (a diameter of 26.6mm) automatic movement with a central rotor and a thickness of 3.7mm. It has a double barrel, a power reserve of 50 hours, and runs at a frequency of 28,800 vibrations per hour. The caliber is visible through the sapphire case back but only the version in black composite gets a black-tinted sapphire. But let's get back to the design since that's what the H08 is all about.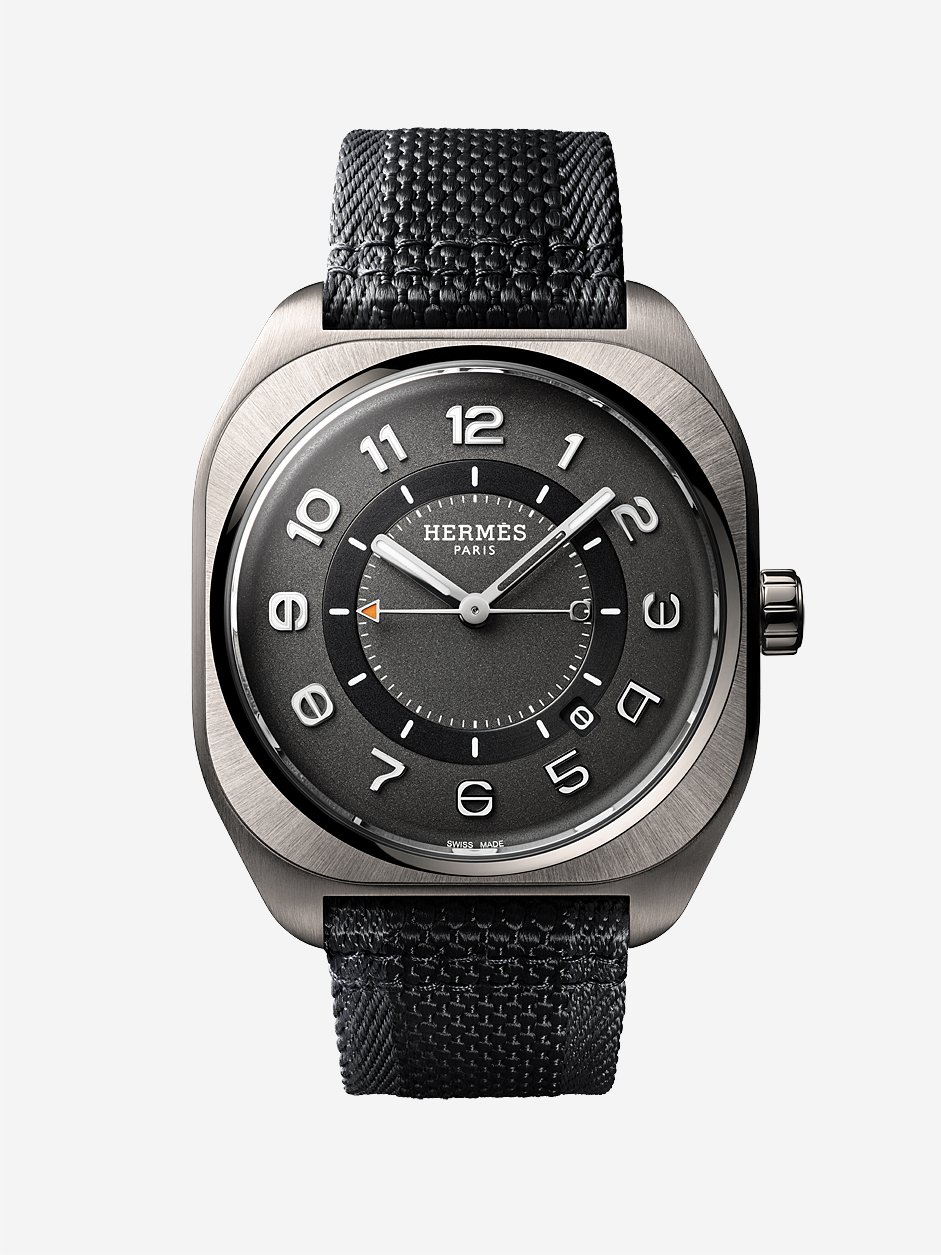 Titanium butterflies
The size of 39 x 39mm shows restraint on the part of Hermès. They didn't fall into the big and bulky-trap. The size they choose to go with is for everyone. Wear it on a small wrist as a size L, and on a bigger one in a comfortable size M. The rubber looks good – especially in distinct Hermès orange – and the way the 20mm strap meets the case looks clean and neat. The titanium butterfly clasp is a luxurious touch, but a pin buckle on a sports watch seems more appropriate. Also because a rubber strap can handle the wear and tear of a pin buckle with ease.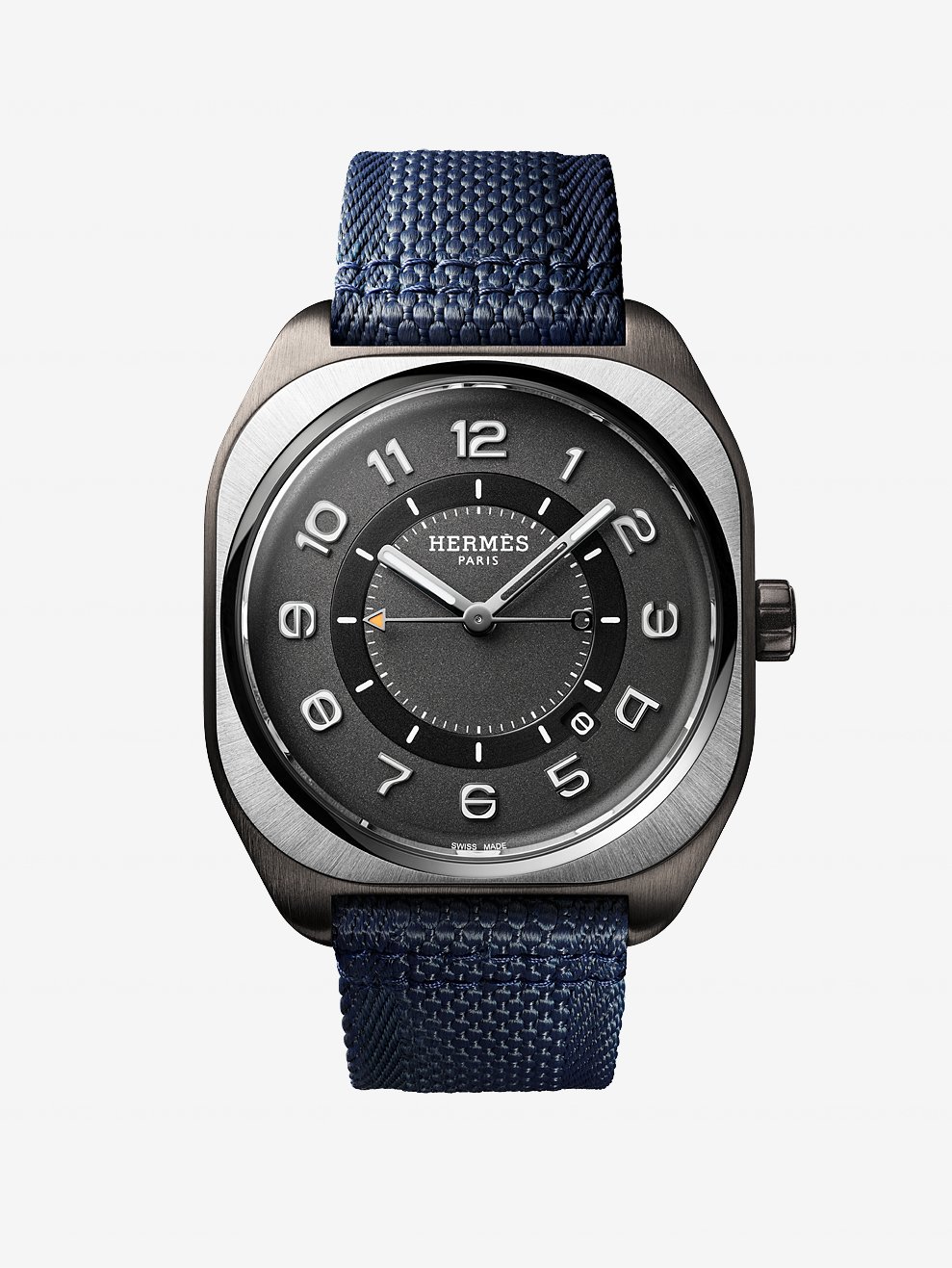 Outside the Hermès universe
So, no leather but rubber. And also woven straps. Straps in blue and back that are specially developed for the Hermès H08. Theay are entirely consistent with the world of Hermès menswear – please check your wardrobe to verify that. The fabric strap looks a bit more casual and nonchalant. A bit retro even. And then there's a third option, a satin brushed titanium bracelet that blends into the case. Integrated indeed. A watch and bracelet combination I can't wait to put my hands on. This version with its satin brushed titanium case seems to be the most serious H08 of the lot. It looks mature and rugged. It could well attract people from outside the Hermès universe.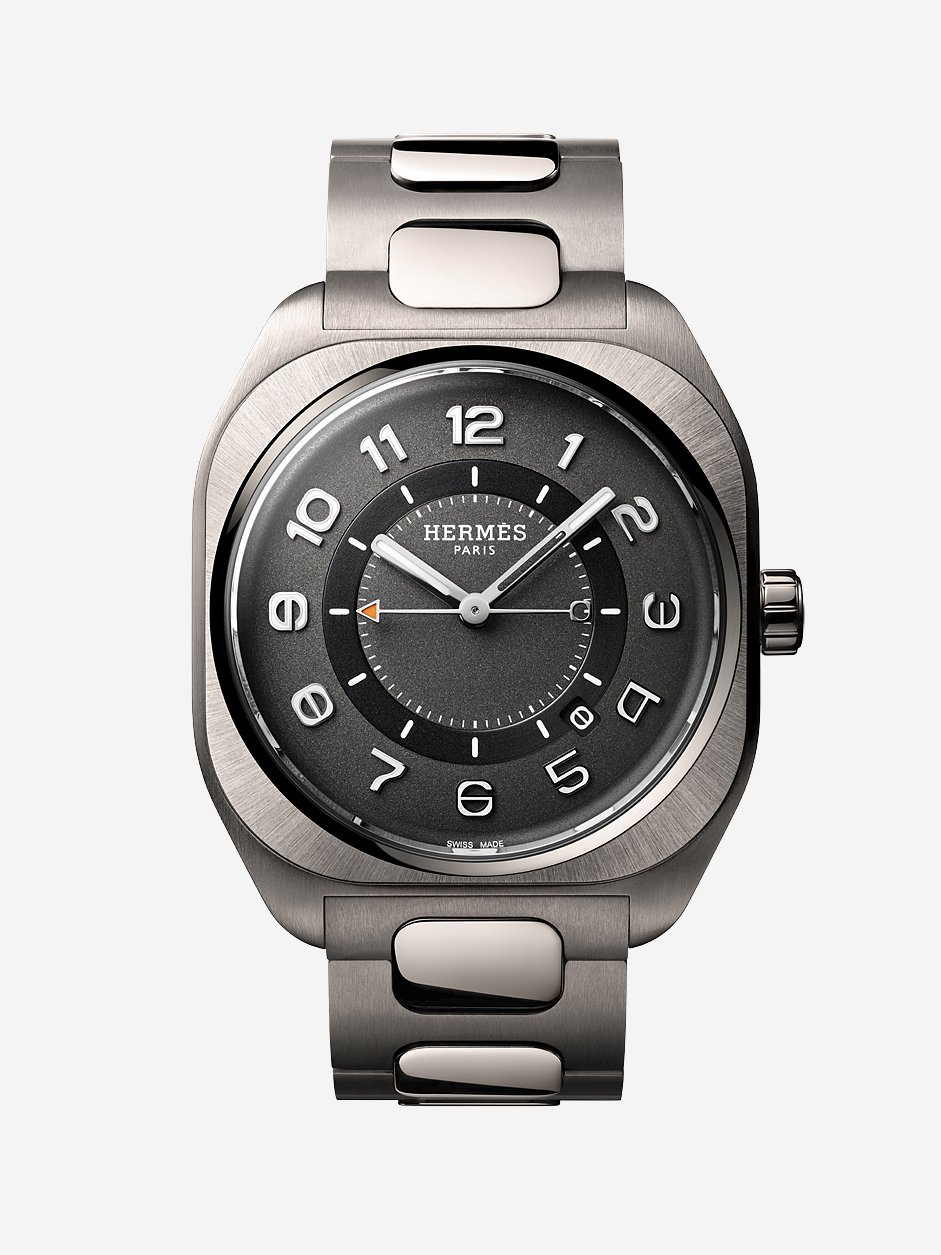 A delightful minute hand
The dial looks just right. It shows great attention to detail in the shape of nickel-coated Arabic numerals enhanced with Super-LumiNova, a circular satin-brushed minutes disc, and a transferred white minute track. Same goes for the finely grained center.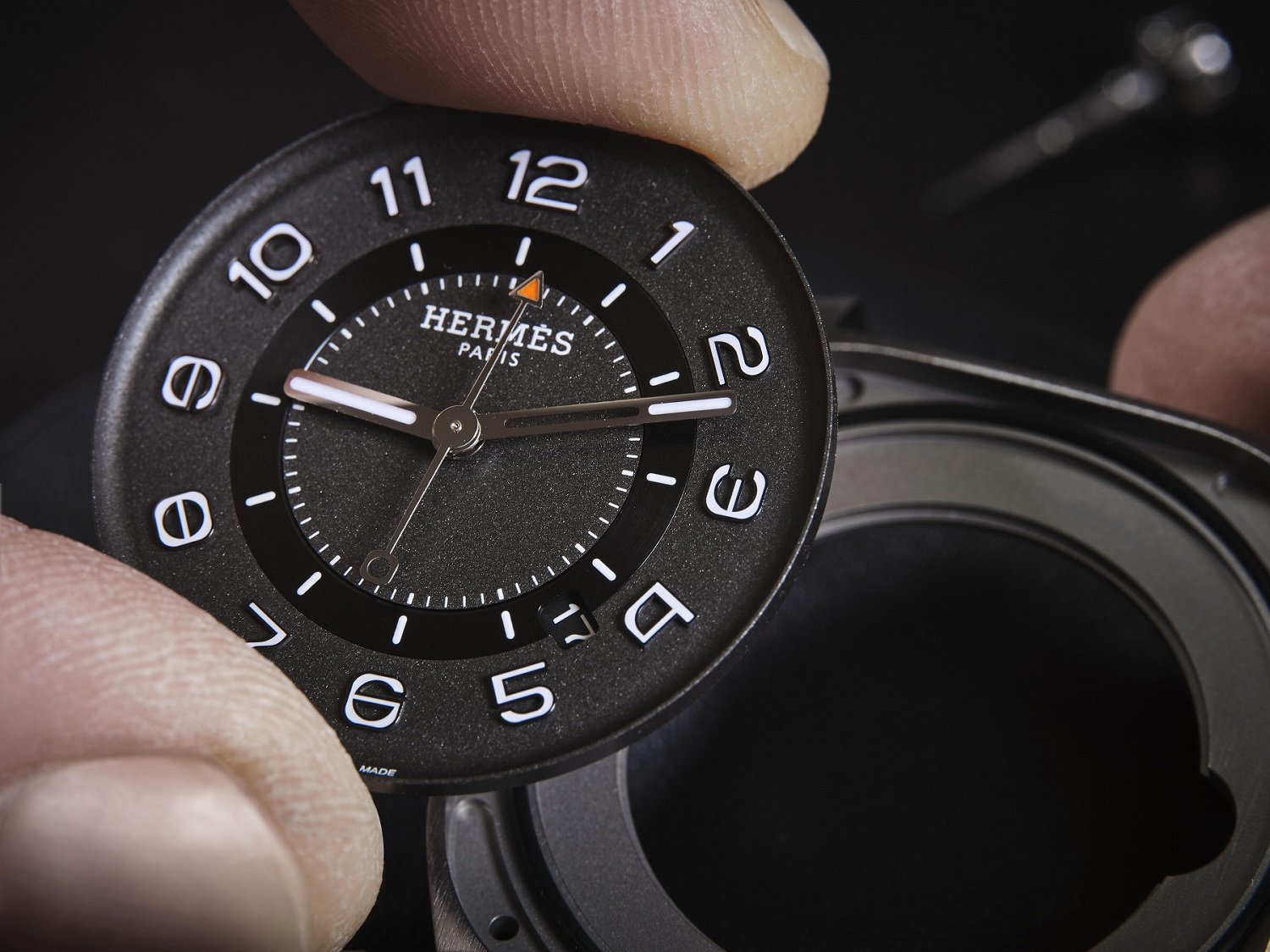 But what I like best here are the shape and size of the different hands. They all have just the right length. The central second hand is the star of the show with its orange tip and round open-worked counterweight. The way it fills the dial and touches the minute track is delightfully subtle.
Variations and prices of the Hermès H08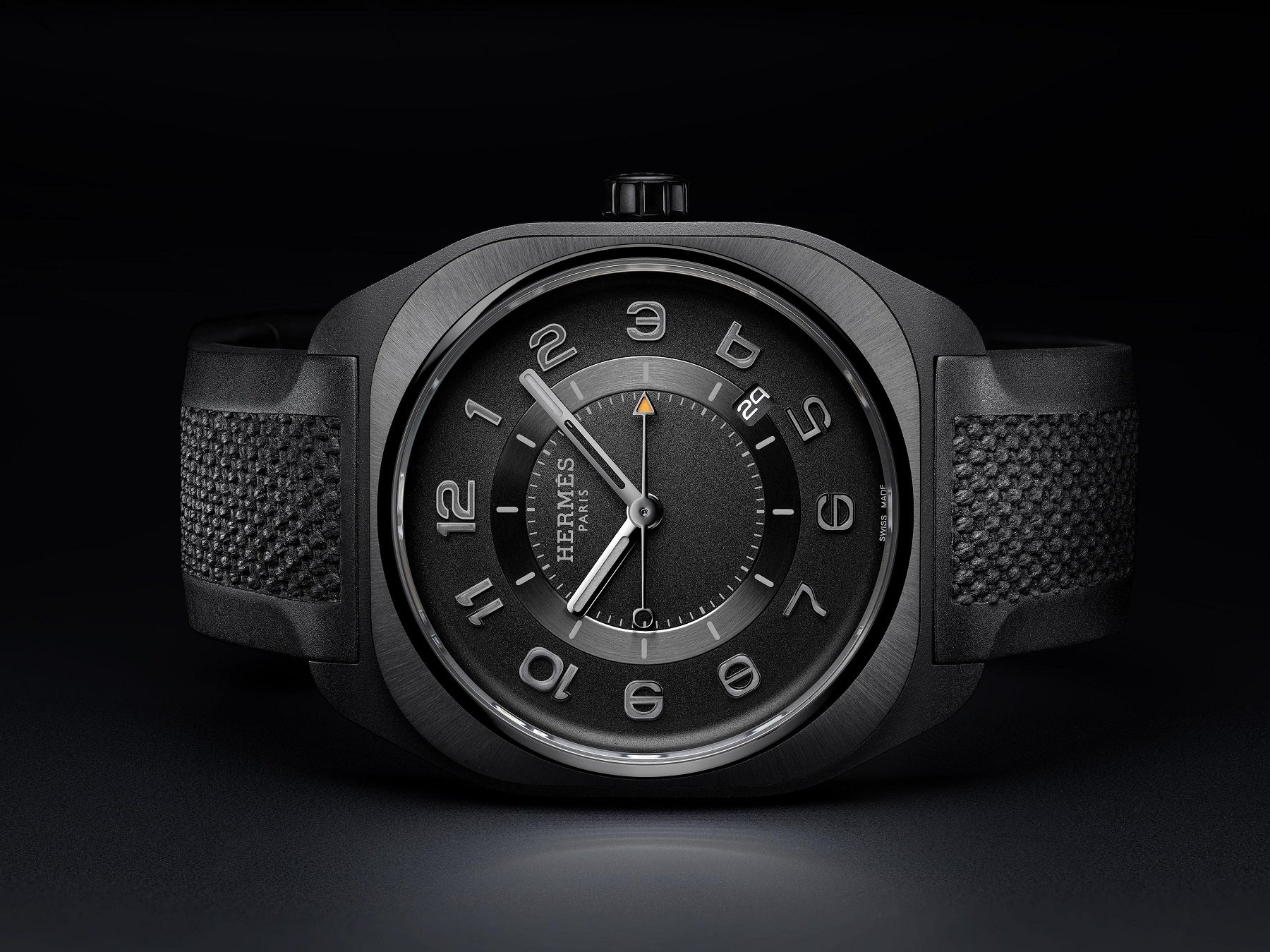 Hermès H08 Graphene on black rubber strap: £7,260
Hermès H08 matt-black DLC-coated titanium on a fabric strap in blue or black: £4,620
Matt-black DLC-coated titanium H08 on rubber strap in black or orange: £4,620
Hermès H08 satin-brushed titanium on fabric strap in blue or black: £4,440
Satin-brushed titanium H08 on rubber strap in black or orange: £4,440
Hermès H08 satin-brushed titanium on titanium bracelet, £4,890
For more information please visit Hermès
Please follow me on Lex Stolk Instagram