A Perfect Watch For A Monday Morning — The Caffeinated Hublot Big Bang Unico Nespresso Origin
A second-life luxury product crafted in an aluminum alloy containing four recycled Nespresso capsules
Who would have thought? Hublot and Nespresso teamed up to create the perfect watch to feature in Monday Morning Coffee Corner Watch Talk, the Big Bang Unico Nespresso Origin. This 42mm chronograph is a limited edition of 200 pieces, and the lightweight alloy used for the case, bezel, pushers, and crown contains 28% aluminum from recycled Nespresso cups. The watch comes in a box made from traceable oak, while the two straps are made from recycled materials and contain a small percentage of coffee grounds. But despite the presence of this ingredient, the straps don't have a coffee aroma. The new "green" and bright green Big Bang is a second-life luxury product that won't save the planet, but it can create awareness. It also provokes quite a few thoughts and questions.
Nespresso is a Nestlé brand, and Nestlé is a Swiss multinational food-and-drink corporation headquartered in Vevey, Vaud, Switzerland. Hublot calls Nyon home. And that town on the shores of Lac Léman is, just like the largest publicly held food company in the world, situated in the canton of Vaud. The collaboration between the two "neighbors" is part of Nespresso's Second Life initiatives that started seven years ago. A Hublot watch has already been featured in a campaign highlighting the high Swiss standards of doing things, and now it's time for a collaborative project. The result is a watch made with recycled aluminum Nespresso capsules and even coffee grounds, the very green Hublot Big Bang Unico Nespresso Origin. But the big question is this: is it your cup of coffee?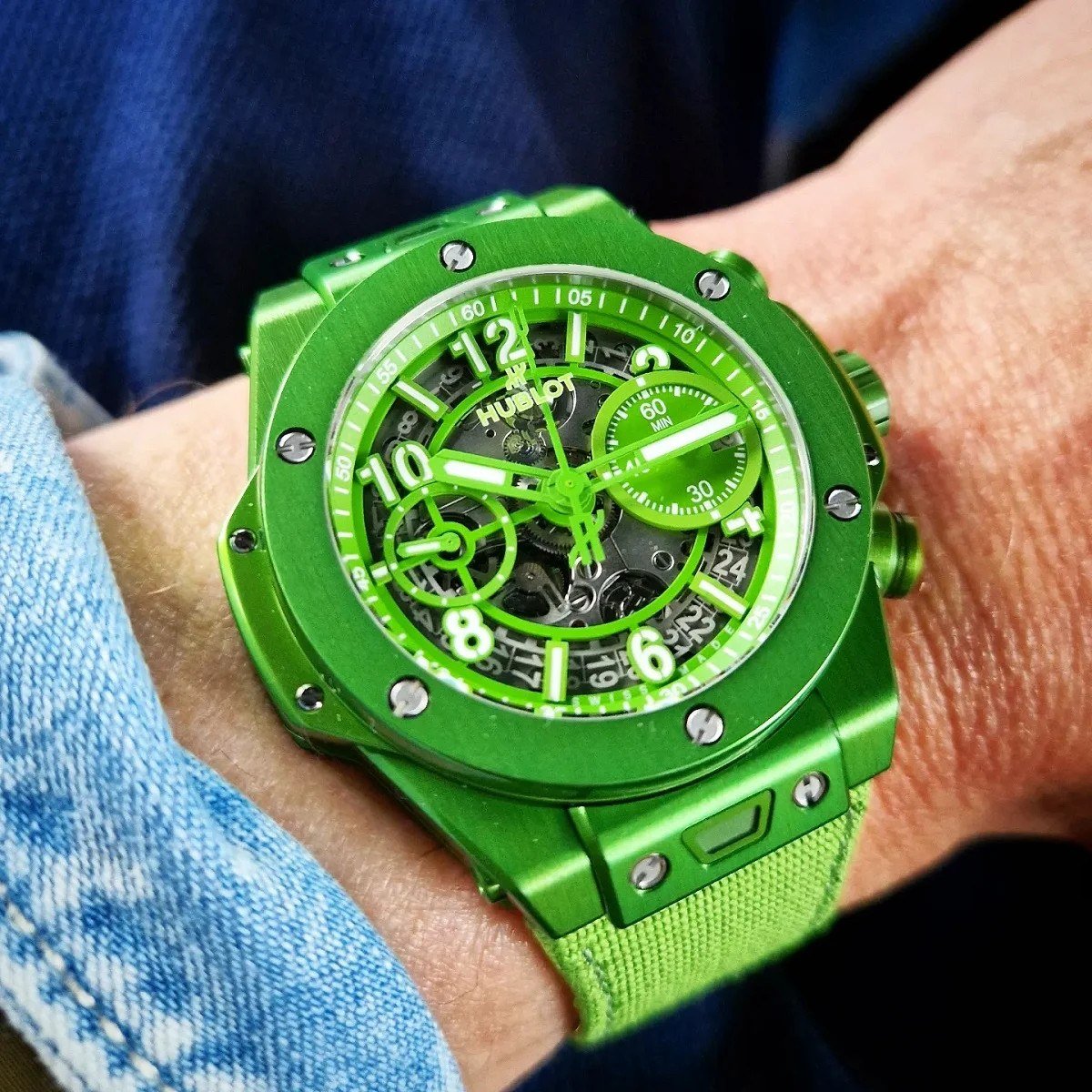 The Hublot Big Bang Unico Nespresso Origin doesn't smell like coffee at all
Remember those vanilla-scented rubber straps? I thought — no, I hoped — when I first saw the Hublot Big Bang Unico Nespresso Origin from a distance that the rubber strap it comes with would smell like Master Origins Peru Organic. That's the fruity, biological coffee made from Arabica beans that comes in the same shade of green as the latest Big Bang. But it doesn't. There's coffee in it, though. The bright green strap contains 4.1% coffee grounds, 8.2% recycled white rubber, plus the new rubber that Hublot usually uses. More coffee can be found in the additional fabric strap. This strap from SingTex — that's one of Nespresso's partners that uses recycled coffee grounds to produce a fabric called Scafé — is composed of 5% coffee grounds and 95% recycled polyester. And just like the rubber strap, it doesn't smell like coffee.
200 watches, 800 Nespresso capsules
The watch itself does look a lot like a Peru Organic aluminum capsule. Indeed, the case, bezel, crown, and pushers are in the same shade of brightly anodized green. There's even Nespresso's "N" engraved on the crown. The 42mm Big Bang Unico Nespresso Origin's aluminum parts, which are partly brushed and polished, are made of an alloy of which 28% comes from Nespresso coffee capsules. Blocks of recycled, compressed aluminum made from Nespresso capsules are sent to a smelter in Italy. After that, another type of recycled aluminum is added to the final alloy because the capsule material is too soft to use for watch parts.
The 28% boils down to roughly four Nespresso capsules per watch. Since this is a limited run of 200 watches, the collaboration gives a second life to 800 Nespresso capsules. And since people drink an average of four cups of Nespresso a day, one average person can provide the production run with sufficient capsules in a little over six and a half months.
Hublot is not going to save the planet
The Hublot Big Bang Unico Nespresso Origin is, of course, not going to save the planet. Not even the recycled Eco-Titanium case back, movement holder, or folding buckle for the rubber strap will help achieve that. But maybe the watch can create more awareness of the importance of recycling, says Hublot CEO Ricardo Guadalupe in an interview just before the joint launch of the watch:
"A mechanical watch is the most sustainable object I know. It can last an eternity if taken good care of. Nespresso approached us with an idea to create a watch by recycling and upcycling. And since, in my opinion, a second-life product can be a luxury product, that's why we embraced the idea and accepted the challenge. I believe that the watch is a product that connects with the evolution of taste of the contemporary consumer. Also, the mix of luxury and sustainability fits our Art of Fusion philosophy. As Hublot, we also bring a high-end positioning for Nespresso. And through Nespresso, the name Hublot is introduced to many, many people, a very large audience, of which some probably never heard of us before."
A nearly 100% auto-efficient manufacture
Ricardo Guadalupe, who is a cappuccino guy until 11:00 AM and then switches to strong coffee with a maximum of four cups per day, also pointed out during our talk about sustainability and taking care of the environment that the new Hublot manufacture H3 under construction in Nyon will be very sustainable. "It's built using recycled materials and will be almost 100% auto-efficient. The goal of the new production facility is not to double our production but verticalize it. We are going to build more of our own movements and produce more materials like carbon fiber in-house."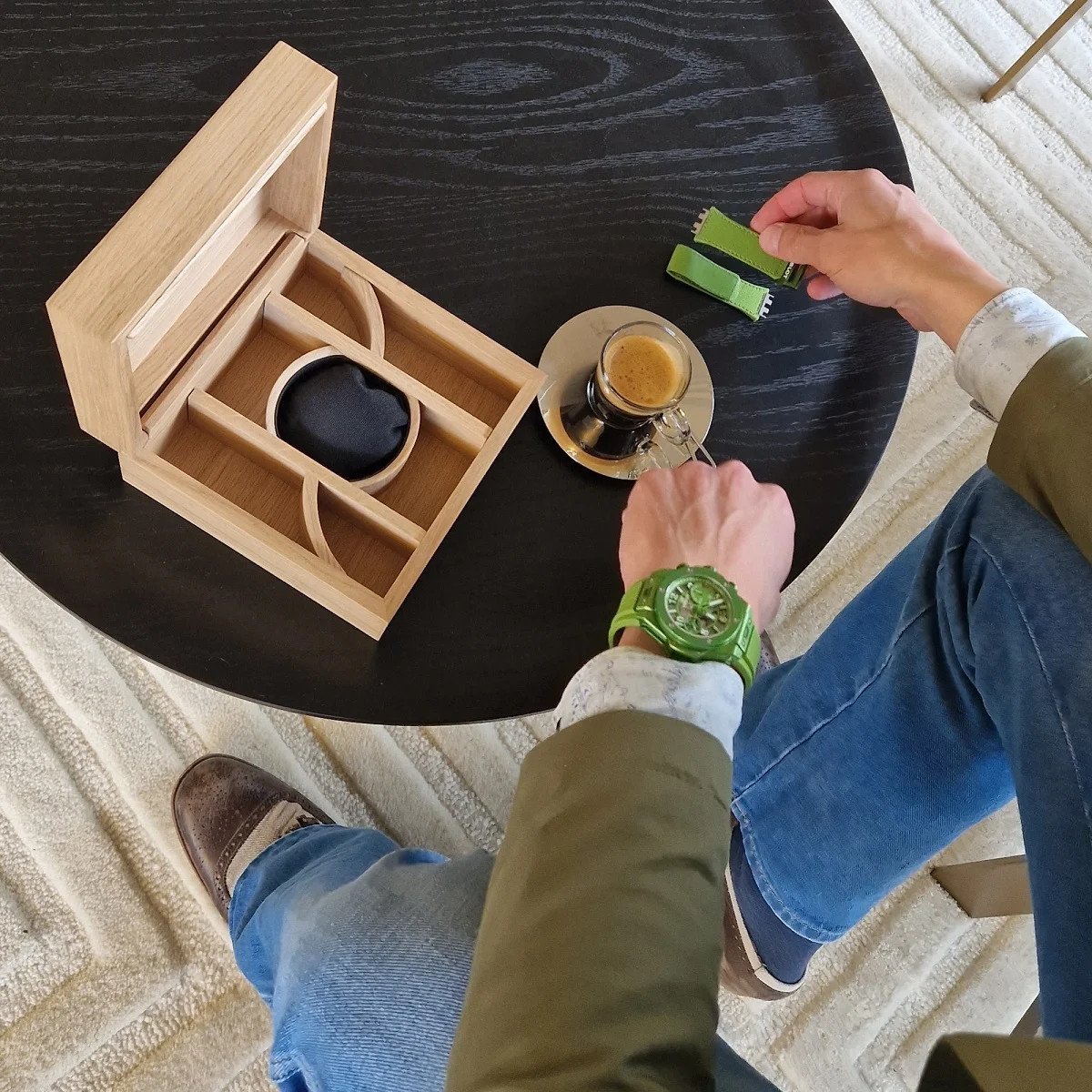 The reusable Hublot Greenbox case
The very green Big Bang Unico Nespresso Origin certainly fits the color palette of Hublot. The brand's customers are no strangers to brightly colored watches in exotic materials. Therefore, the €25,500 Big Bang Unico in metallic green won't surprise them in the slightest when it comes to price or design. The bright green timepiece doesn't look like it will be someone's first (Hublot) watch either. But the brand has other watches with a more introverted blend of colors and materials to fill that role. And above all, the Big Bang Unico Nespresso Origin is a symbolic watch. It is a creation that wants to outline that it's possible to add value to recycled raw materials.
And to stay on theme, the watch comes in the Hublot Greenbox case. A brand-new case will be used for all future watches. It's made entirely from traceable oak, including its hinges, and it's designed to be a reusable item. When you remove the interior made from 98% eco-friendly and recycled components, you can put your car keys inside. Or even tea (!).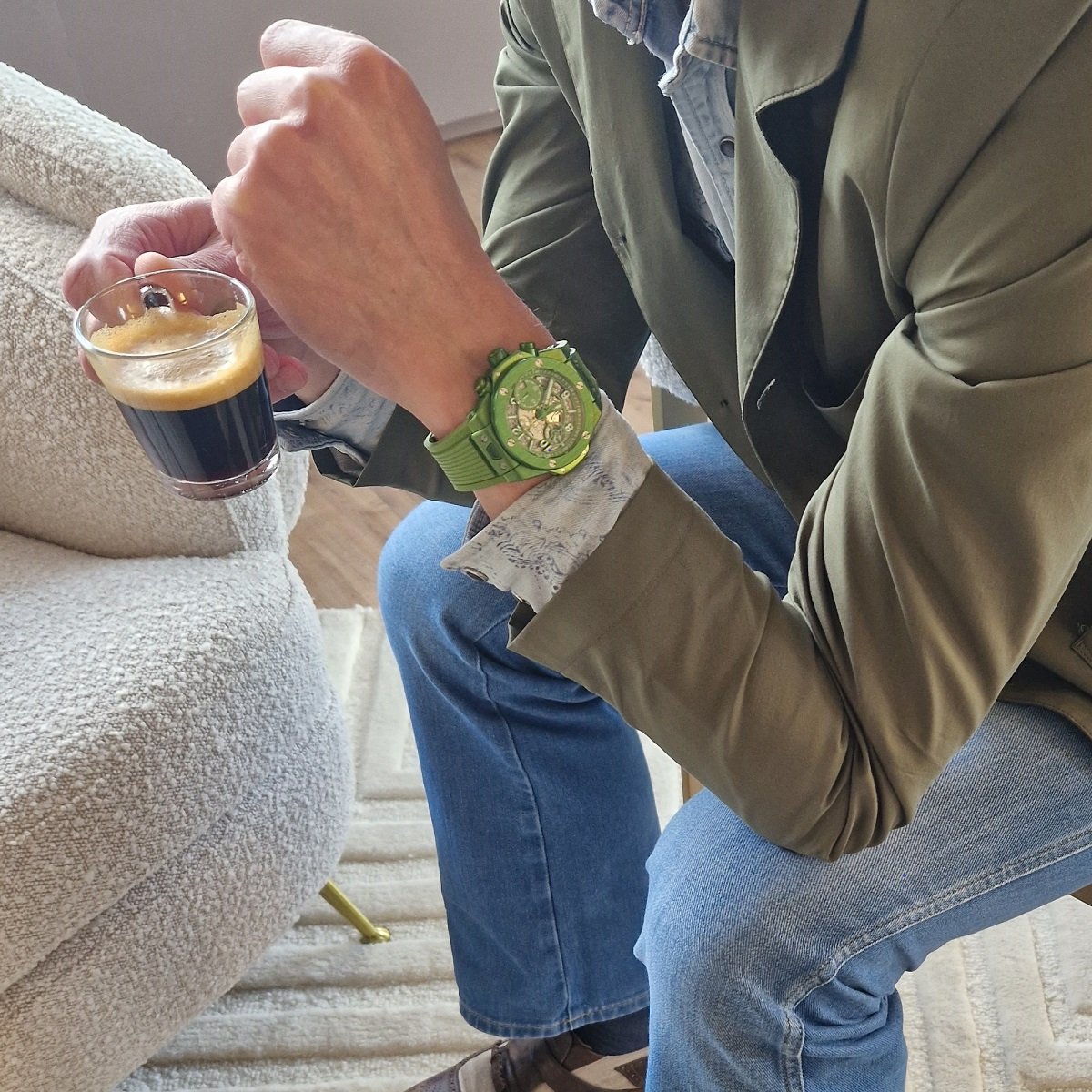 Some discussion points for the coffee corner
Aluminum is a popular metal for good reasons. It's both lightweight and multifunctional — you can make bicycles from it as well as capsules that keep coffee fresh. Also, as the most recyclable industrial material, aluminum can be remelted and used again without a loss in quality. And recycling aluminum requires just 5% of the energy needed to extract new aluminum from ore. On Stanford University's website, I read the following: "Recycling of aluminum cans saves 95% of the energy required to make the same amount of aluminum from its virgin source. One ton of recycled aluminum saves 14,000 kilowatt hours of energy (…)" 
But what would happen if, instead of aluminum, Nespresso chose a biodegradable material to make its capsules? That would be even more sustainable because it would completely remove everything involved in the recycling process, from trucks driving back and forth to ovens smelting aluminum. Well, there is a new home-compostable paper-based capsule on the way. The capsules contain 82% paper as well as a biodegradable polymer. After finishing your morning coffee, the used capsule goes into the home composter with all the other organic waste. The new Nespresso biodegradable capsules are getting a pilot run in France and Switzerland this spring. There are also plans for a broader European rollout later this year. Clearly, Nespresso is reacting to the availability of third-party compostable capsules like those from Woken and Halo.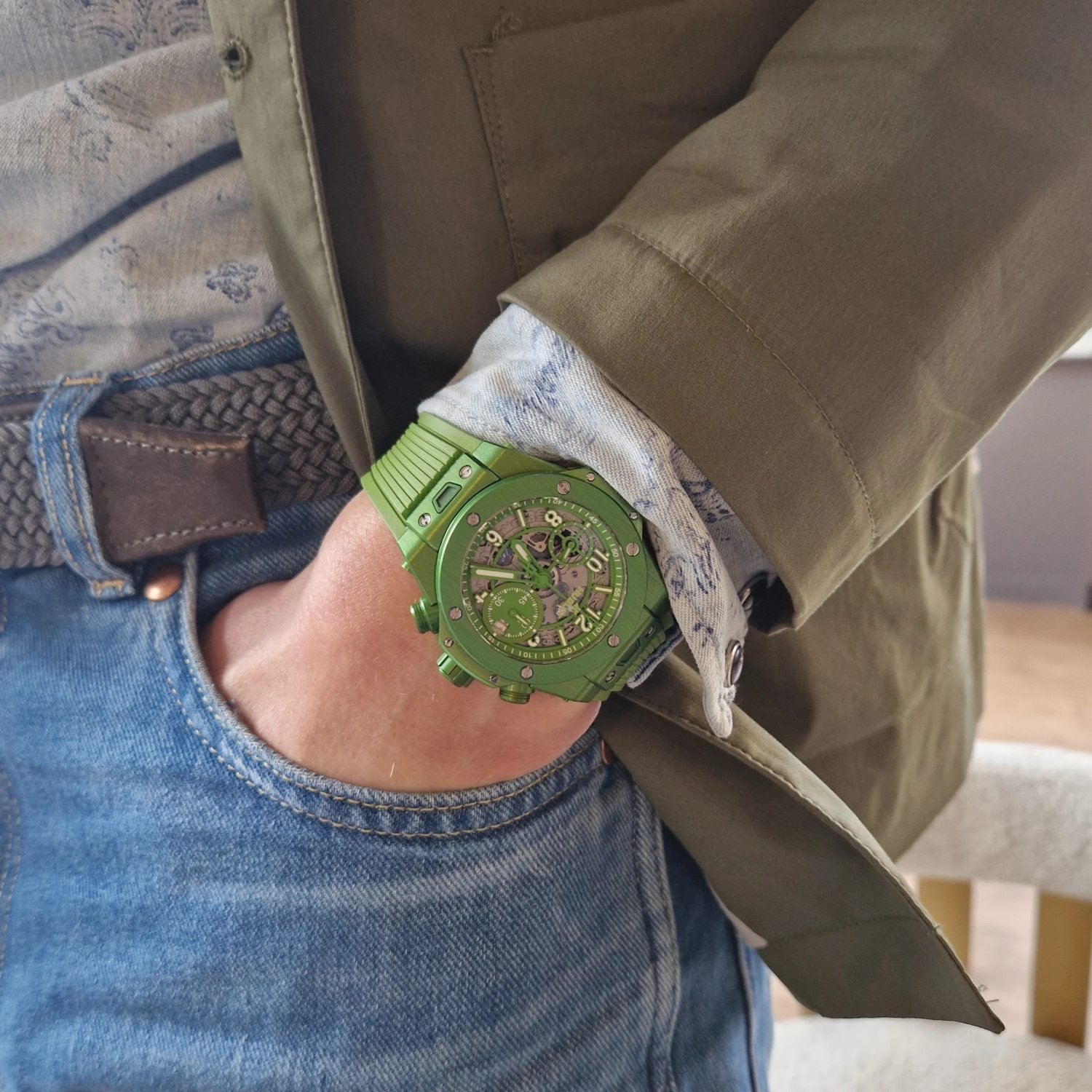 Is the Hublot Big Bang Unico Nespresso Origin your cup of coffee?
If Nespresso stopped the production of its aluminum capsules altogether — that's highly unlikely for the near future since, for example, the latest Vertue system is only two years old — a whole range of Hublot Big Bang watches in the colors of the most popular coffee flavors is out of the question. But since the collaboration between Nespresso and Hublot is not a one-time deal, the next Big Bang in recycled aluminum might be colored purple. Why purple? Well, if you have to ask, you're not a Nespresso drinker. Purple is the color of Arpeggio, one of the all-time bestselling flavors.
Is the caffeinated Hublot Big Bang Unico Nespresso Origin your cup of coffee? Do you have a color/flavor in mind for the next collab? And finally, do you drink Nespresso, or do you prefer other ways of making coffee? Let me know in the comments.
Find and follow me at Lex Stolk • Instagram.
Watch specifications
Model
Big Bang Unico Nespresso Origin
Reference
441.UG.5220.RX.NES23
Dial
Matte green skeletonized dial with luminous indices and hands
Case Material
Satin-brushed and polished green anodized recycled aluminum (28% from Nespresso capsules)
Case Dimensions
42mm × 52mm × 14.5mm
Crystal
Sapphire with anti-reflective treatment
Case Back
Eco-Titanium with sapphire exhibition window
Movement
HUB1280 Unico — self-winding flyback chronograph, 28,800vph frequency, 72-hour power reserve, 43 jewels, column wheel, double clutch
Strap
Bright green rubber strap made with recycled coffee grounds on Eco-Titanium folding clasp. Additional green hook-and-loop Scafé fabric strap included.
Functions
Time (hours, minutes, small seconds), 60-minute flyback chronograph, date
Special Note(s)
Limited edition of 200 pieces