Introducing: Oris × Bracenet Aquis Date Dive Watches
Aquamarine allies with cool dials to boot
When Oris released the Upcycle Aquis with dials made of melted PET ocean plastic, it was a novel and radical approach to incorporating ocean plastics into a watch. It resulted in unique watches (both conceptually and individually) that have become fan favorites and conversation starters. Now Oris is back with another collaboration, a pair of watches championing ocean clean-up, and incorporating upcycled materials into dials. The Oris × Bracenet Aquis takes a similar approach as the Upcycle Aquis, except this time using discarded ocean "ghost nets" to create the dials. The result? Swirling blue-green dials that evoke the dream of a pristine ocean.
Oris and ocean conservation go hand in hand. The brand's list of watches made in collaboration with organizations dedicated to ocean cleanup and conservation is too long to include here. But chances are, if it's an Aquis model and a limited edition, it's doing something good for waters somewhere. This collaboration and pair of limited-edition watches are no different, except that they're not limited. Partnering with Bracenet — a creator and retailer of everyday products and fashion accessories made from reclaimed "ghost" and end-of-life fishing nets — Oris has found another way to support ocean health.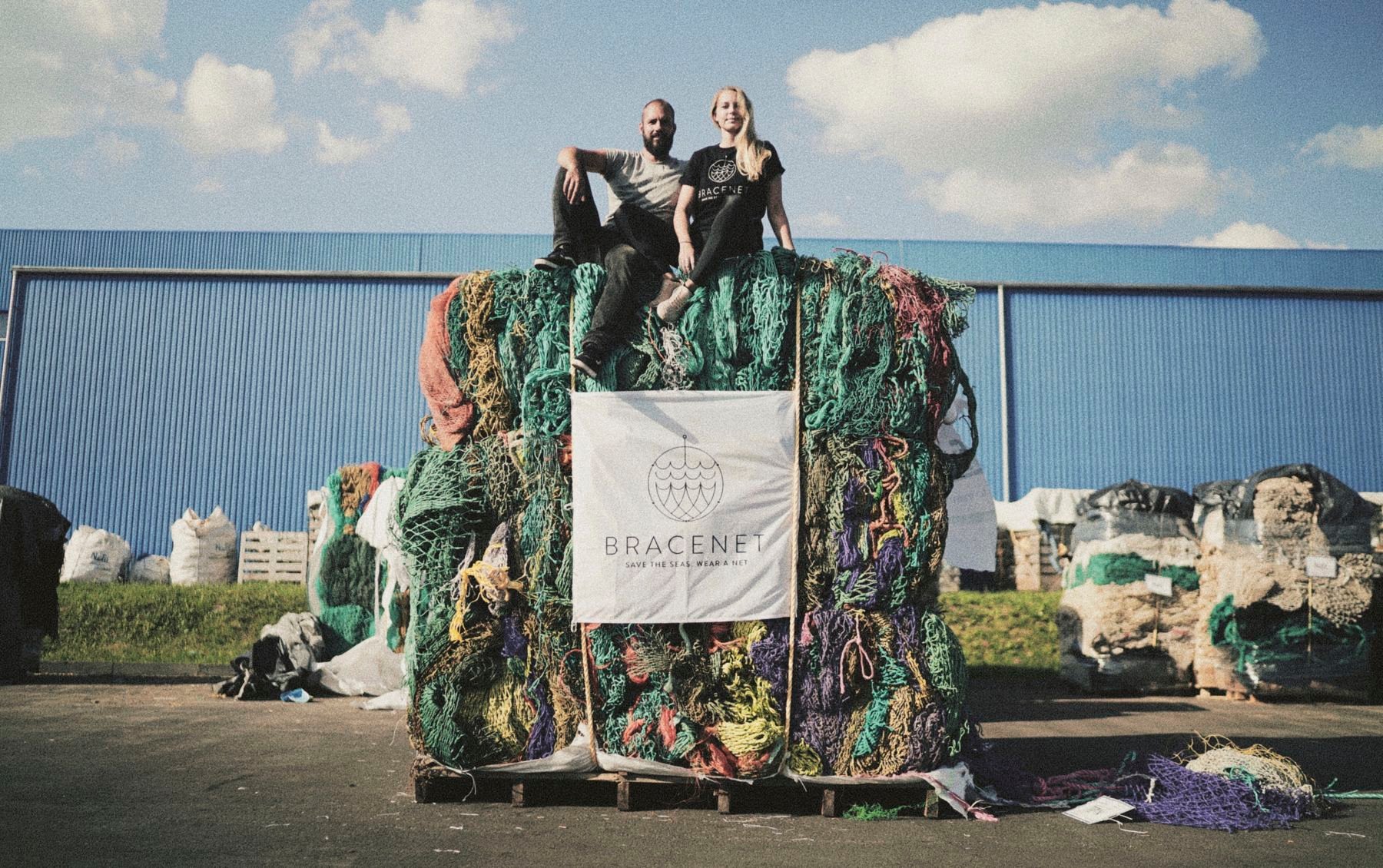 Bracenet
It's estimated that the Great Pacific Garbage Patch — a swirling mass of discarded plastic in the Pacific Ocean about four times the size of Germany — is 46% comprised of lost or discarded fishing nets. Furthermore, these nets can be found in oceans and along coastlines all around the world. In fact, it was on a dive trip off the coast of Tanzania in 2015 that Bracenet founders Benjamin Wenke and Madeleine von Hohenthal first encountered ghost nets. They wanted to find out more and what was being done about it. Cut to today, Bracenet is helping collect, process, and upcycle these discarded nets, spreading awareness and generating funds for its nonprofit partners.
To date, Bracenet has donated over €200,000 towards nonprofit organizations like Healthy Seas doing the work of pulling nets from the ocean. This has contributed to upwards of 773 tons of nets being removed from the ocean. That's equivalent to the weight of six blue whales. There's a lot more to do, and that's where Oris is helping out.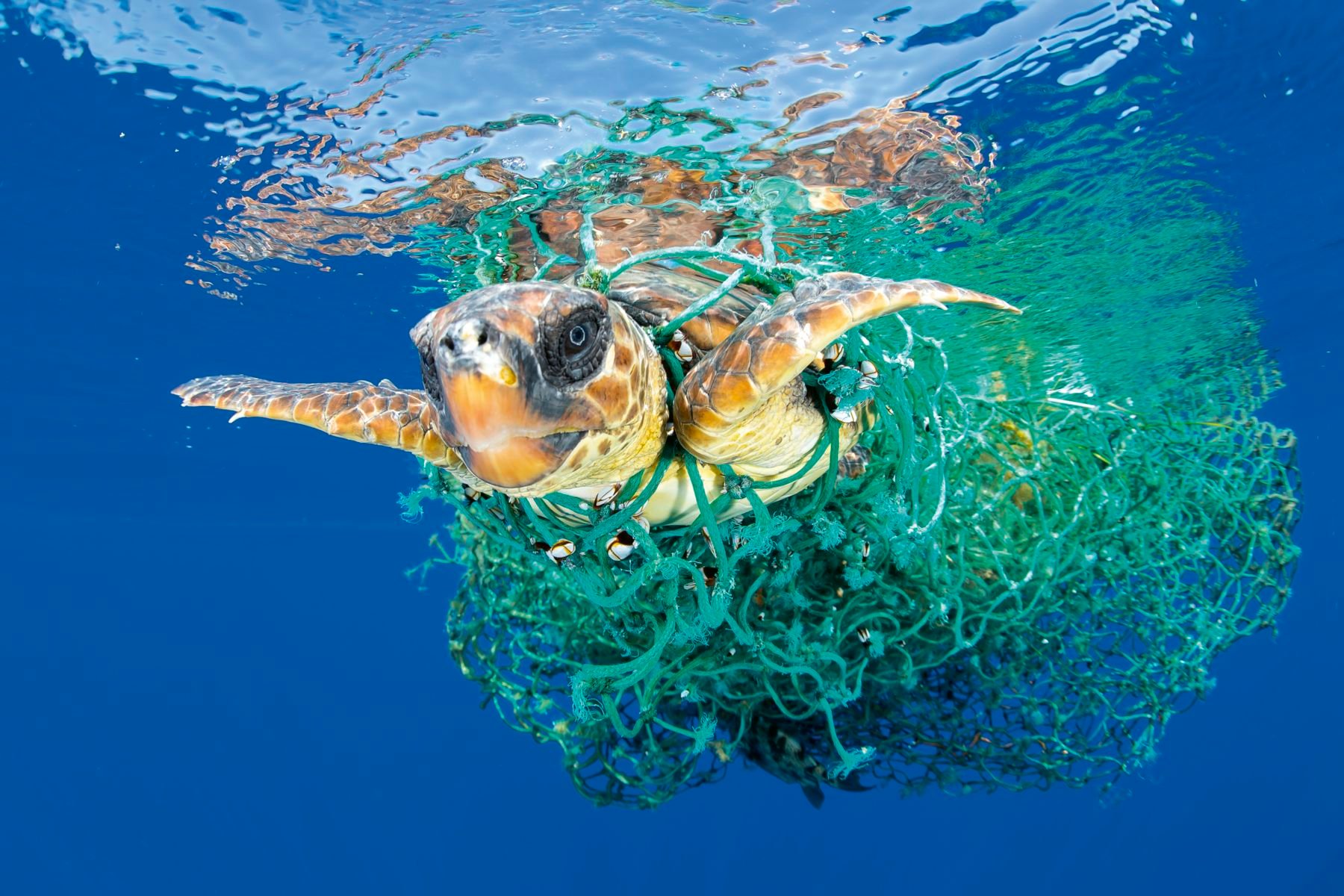 Oris × Bracenet — what's in a collaboration?
Of course, the Bracenet Aquis won't use up the remaining fishing nets in the ocean. But the collaboration helps promote Bracenet as an organization and draws attention to the problem of ghost nets in the ocean. I'll admit, I didn't realize what a problem it was until I received the press release for these watches. A ghost net can keep "fishing" — that is, catching and killing ocean life  — for 400 to 600 years. And it's estimated that one million tons of fishing nets end up lost or discarded at sea every year. This is a huge issue that deserves all the attention it can get.
No skeletons reaching out to drag us to our doom here, though, except maybe the skeletons of the unsustainable practices of the fishing industry.
Furthermore, through Oris and Bracenet's collaboration, Bracenet has been able to branch out to other outlets for its upcycled nets. Already providing goal nets for the Bundesliga, the German professional football league, Bracenet is using Oris's connection with the Ligue de Football Professionnel in France to provide their goal nets as well.
And finally, the dials for the Oris × Bracenet Aquis make use of excess material unusable for Bracenet's products. Call it "upcycling squared," if you will. This helps eliminate waste in Bracenet's manufacturing process.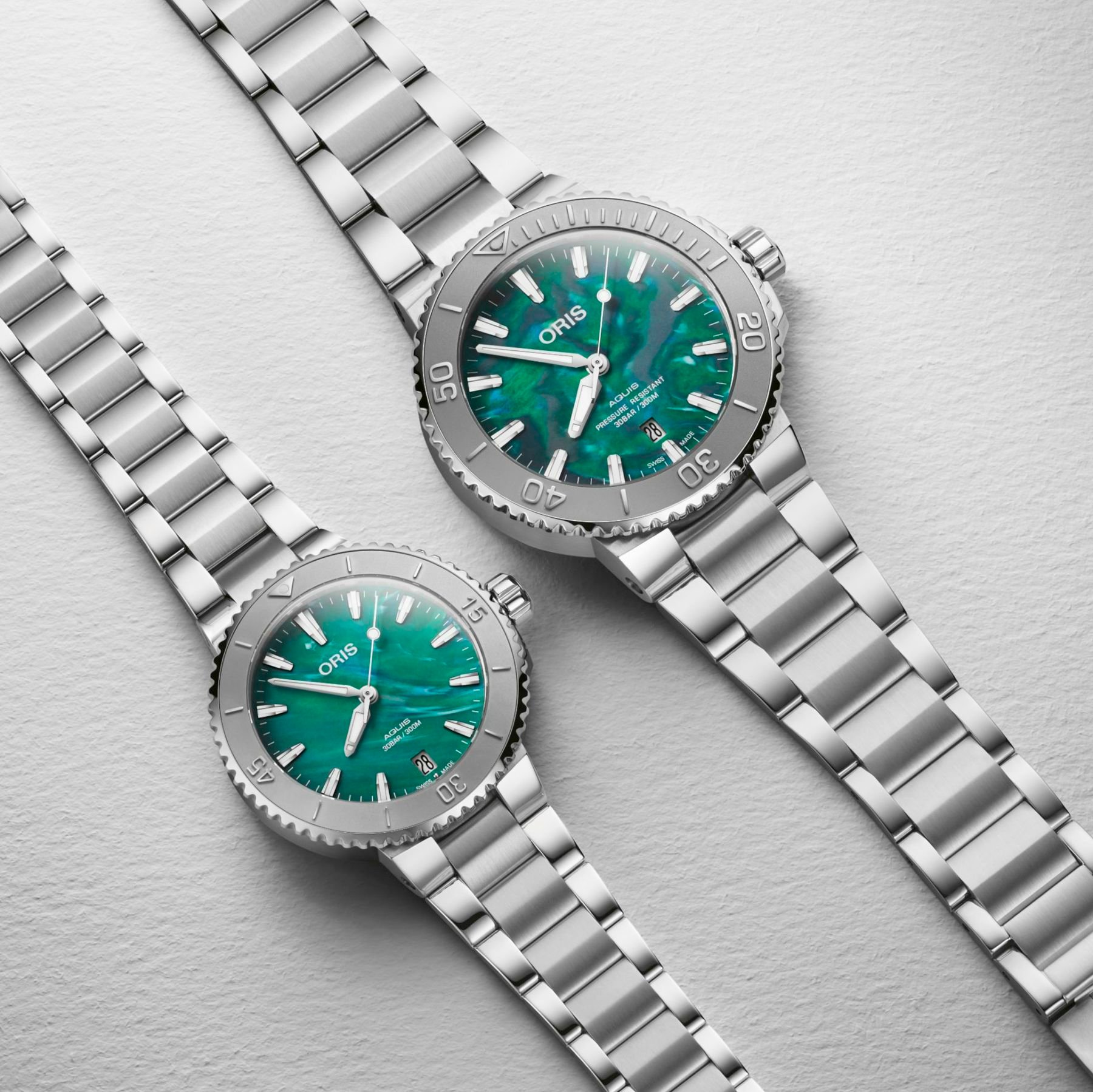 Bracenet Aquis Date 43.5mm and 36.5mm
The process for creating the dials involves melting blue, green, and white net materials down into a sheet that is then planed and sanded to just 0.3mm thick. Dial blanks are then cut from the material. Because of this process, no two dials are alike. No fillers or adhesives are used—just beautiful, raw ocean-net plastic.
And it is beautiful. Unlike the Oris Aquis Upcycle watches, which have more varied kaleidoscopic dials, these are cool and swirling. The effect is not unlike the ocean itself in color and movement. Or, perhaps because of the "ghost" reference or because I'm a nerd, it also reminds me of the haunting, swirling underwater world Frodo falls into in the Dead Marshes from the Lord of the Rings movies. No skeletons reaching out to drag us to our doom here, though, except maybe the skeletons of the unsustainable practices of the fishing industry.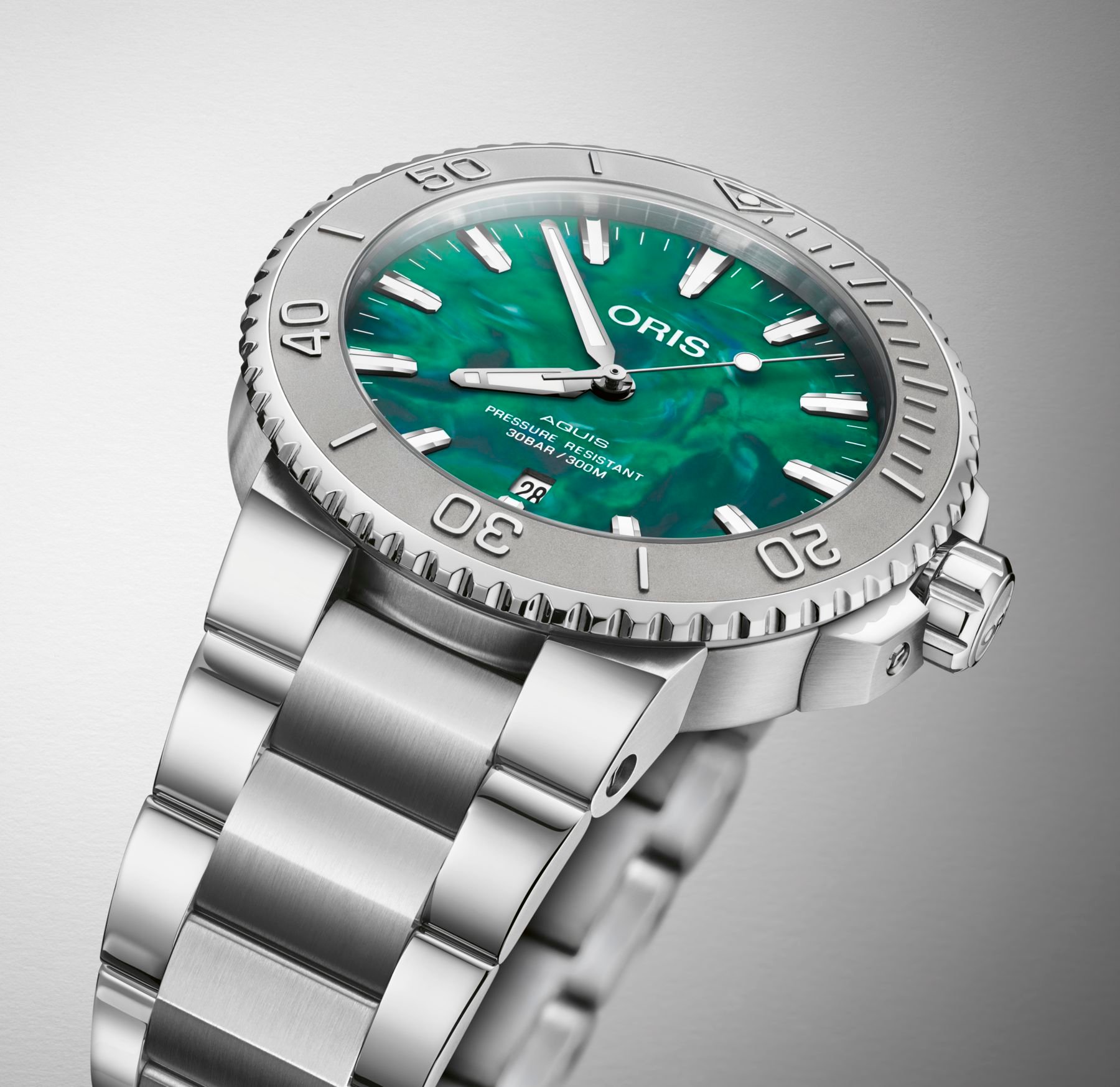 Specs and sizes
Oris is introducing two Aquis Date models with the Bracenet collaboration dials — one in a 43.5mm size and another with a 36.5mm diameter. The specs remain the same for both, excluding the dimensions and the bezels. Both bezels are unidirectional and done in sandblasted steel with relief markings. The 43.5mm model has more detailed markings with minute graduations up to the 15-minute mark. The 36.5mm bezel is more understated and symmetrical. Both are nice.
Everything else about the watches is what we've come to expect from the Aquis line. The water resistance is rated at 300 meters. Sapphire crystal adorns the front and back with antireflective coating under the front crystal. Through the case back, we see the trademark Oris red rotor of the popular caliber 733, which uses the Sellita SW200-1 as its base. Beating at 28,800vph, it provides a 38-hour power reserve as well as a date function at 6 o'clock dial-side.
The crown screws down into the case with Aquis's iconic beefy crown guards. All of the case is stainless steel too. While 43.5mm is on the larger side for a watch, how the lugs of the Aquis blend into the bracelet helps reduce the wrist presence. The bracelet is also stainless steel with brushed center links and polished outer ones. The 43.5mm model comes with a diver extension in the clasp. For legibility in low light, the indices and hands are filled with Super-LumiNova.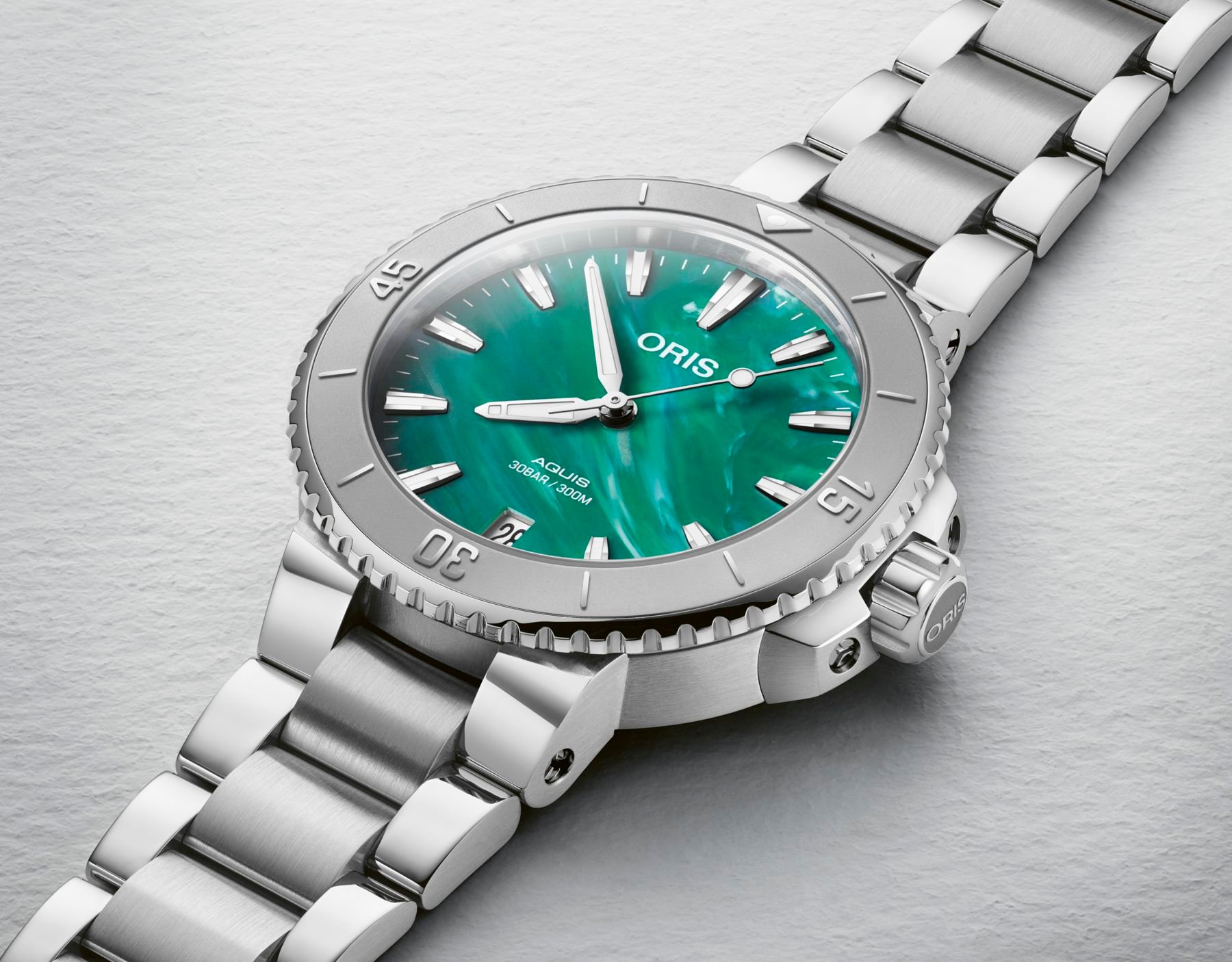 Pricing and availability
Like the Aquis Upcycle, the Oris × Bracenet Aquis Date watches are not limited; they'll be around for a while. Both sizes are available now for CHF 2,350. If you liked the concept of the Aquis Upcycle watches but found them too bold, these may be for you. The Oris × Bracenet Aquis models still use upcycled ocean plastic, still support a good cause, and guarantee you a unique watch. And when someone comments on your cool new Aquis, you'll be able to do your part and spread the word about ghost nets. It's not typical for our watch obsessions to make us de facto environmental ambassadors, but these aren't typical watches. I consider it a net positive.
You can find out more about the Oris × Bracenet Aquis and Oris in general on the brand's official website. You can also read more about Bracenet here. What do you think about those dials? And how about Oris's effort to make changes for the better? Let us know in the comments below!
Watch specifications
Model
Oris × Bracenet Aquis Date 43.5mm and 36.5mm
Dial
Blue-green upcycled plastic from fishing nets, applied luminous indices
Case Material
Stainless steel
Case Dimensions
43.5mm (diameter) × 50mm (lug-to-lug) / 36.5mm × 42.5mm
Crystal
Domed sapphire with underside antireflective coating
Case Back
Stainless steel with sapphire exhibition window
Movement
Oris 733 — automatic winding, 28,800vph frequency, 38-hour power reserve, 26 jewels
Water Resistance
300m (30 bar)
Strap
Brushed and polished stainless steel three-row bracelet
Functions
Time (hours, minutes, central seconds), date, 60-minute dive bezel
Warranty
Two years (optional one-year extension by joining MyOris)