Introducing: The All-New Certina DS-7 Powermatic 80
Is this integrated-bracelet watch a worthy challenger to the mighty PRX?
It's a new day, and we have another entrant in the ever-popular integrated-bracelet game. The Certina DS-7 Powermatic 80 debuts today, and it provides another affordable option for those seeking to reach back into the '70s. It's also a Swatch Group product, and that equates to an unavoidable comparison to the standard-bearer in everyday watches with integrated bracelets, the Tissot PRX. How does it compare?
Over the last several years, the Swatch Group has done an admirable job of revamping the bulk of its more affordable brands. Rado, Mido, Certina, Hamilton, and Tissot have all undergone significant changes for the better in my view. Whether this relates to retro pieces or a general upgrade in quality and movement specs, there's a lot to like now. When it comes to Certina, this couldn't be more true. The brand offers some truly compelling dive watches these days. Today, the new Certina DS-7 Powermatic 80 seeks to bring some sporty luxury to the lineup and offers an alternative to the mighty Tissot PRX.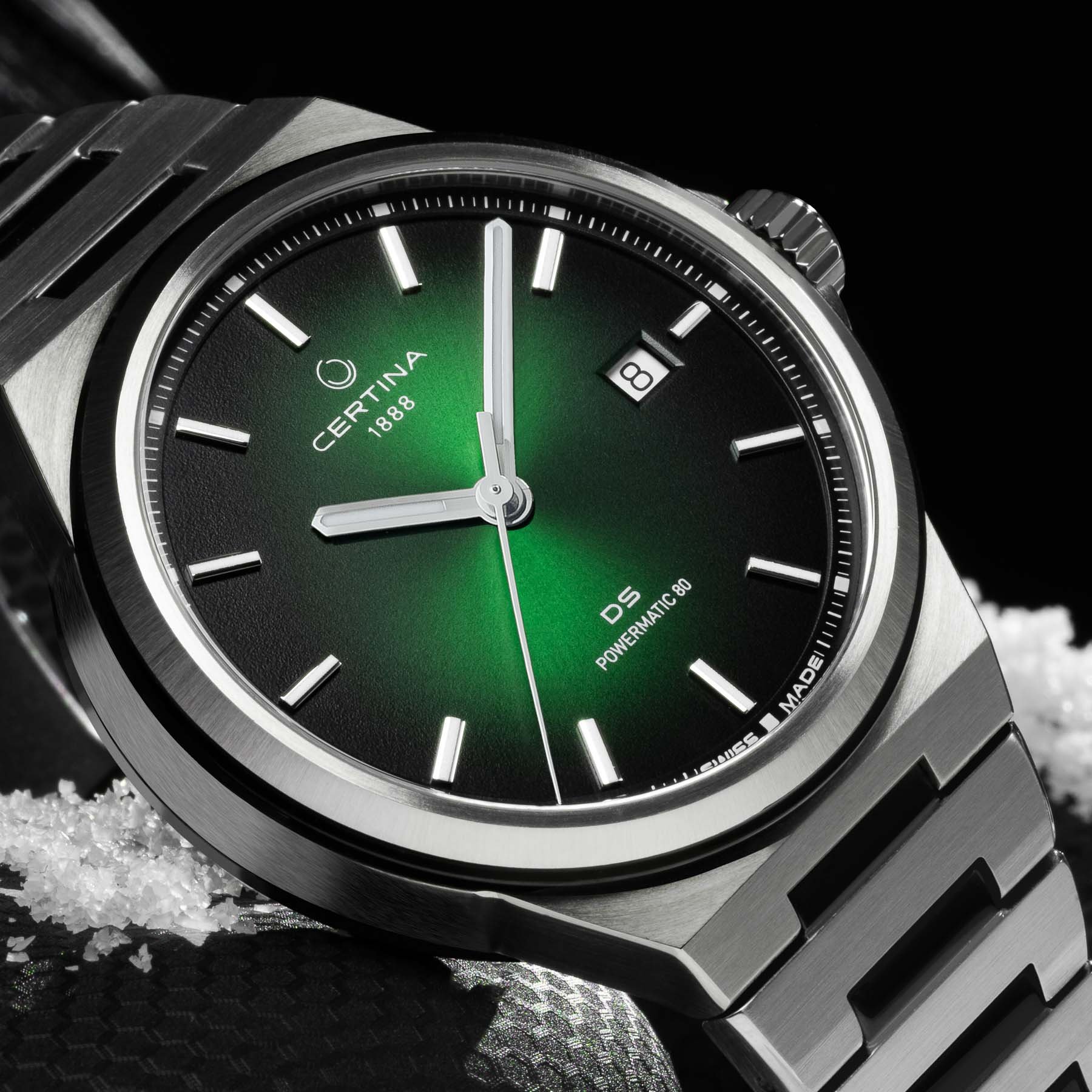 The Certina DS-7 Powermatic 80
The new Certina DS-7 Powermatic 80 is yet another throwback to the '70s and offers another look at a sporty, elegant integrated-bracelet watch. In fact, Certina tells us that the watch was inspired by a similar model from its back catalog. As we'll see, there is a mesmerizing number of variants with small differences not limited to just the dial color. It's nice that the brand has actually gone to such lengths to differentiate the pieces. Let's hope that buyers will like the combinations.
At its core, the Certina DS-7 is a 39mm watch that is available solely on an integrated bracelet with a butterfly clasp. Unlike the PRX, it is only available with the Powermatic 80 automatic movement and contains a quick-set date. It is water resistant to 100 meters and has a sapphire display back. All dials have a sunray finish and Super-LumiNova on the hands and applied indexes.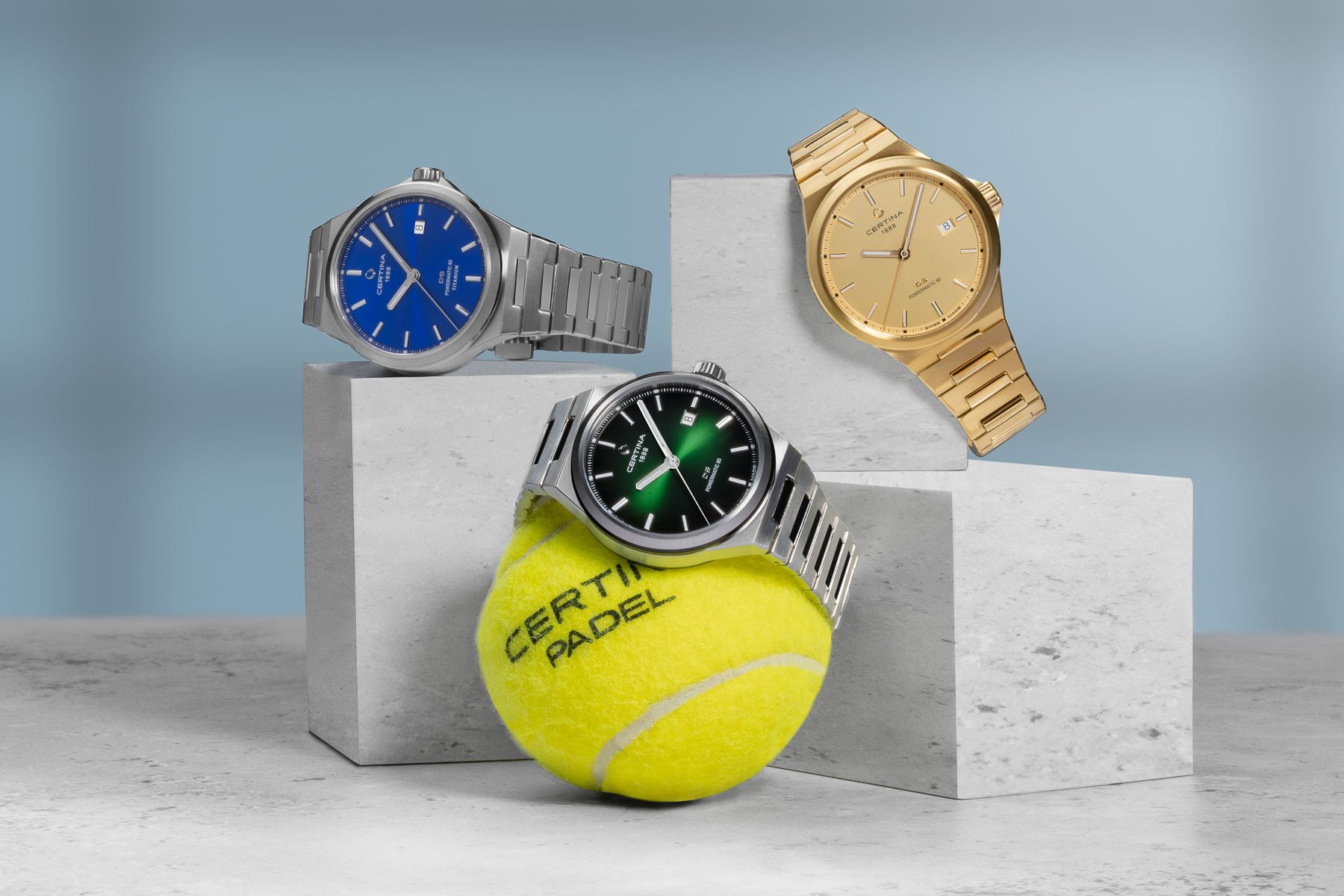 A myriad of dial and finish choices
Before I lend my thoughts, let's run down the different options that are available for the Certina DS-7. For the stainless steel cases, there is a green or black dial option for CHF 795, and both feature black PVD intermediate links in the bracelet. An additional stainless variant is on offer for CHF 740 in turquoise and has polished center links. A silver-dialed model contains gold PVD center links and is priced at CHF 795. An all-gold PVD piece (the underlying material is stainless) with matching gold dial lists for CHF 840. Finally, and perhaps most intriguingly, an all-titanium model is available with a blue dial for CHF 860. Yes, there are a lot of options to consider!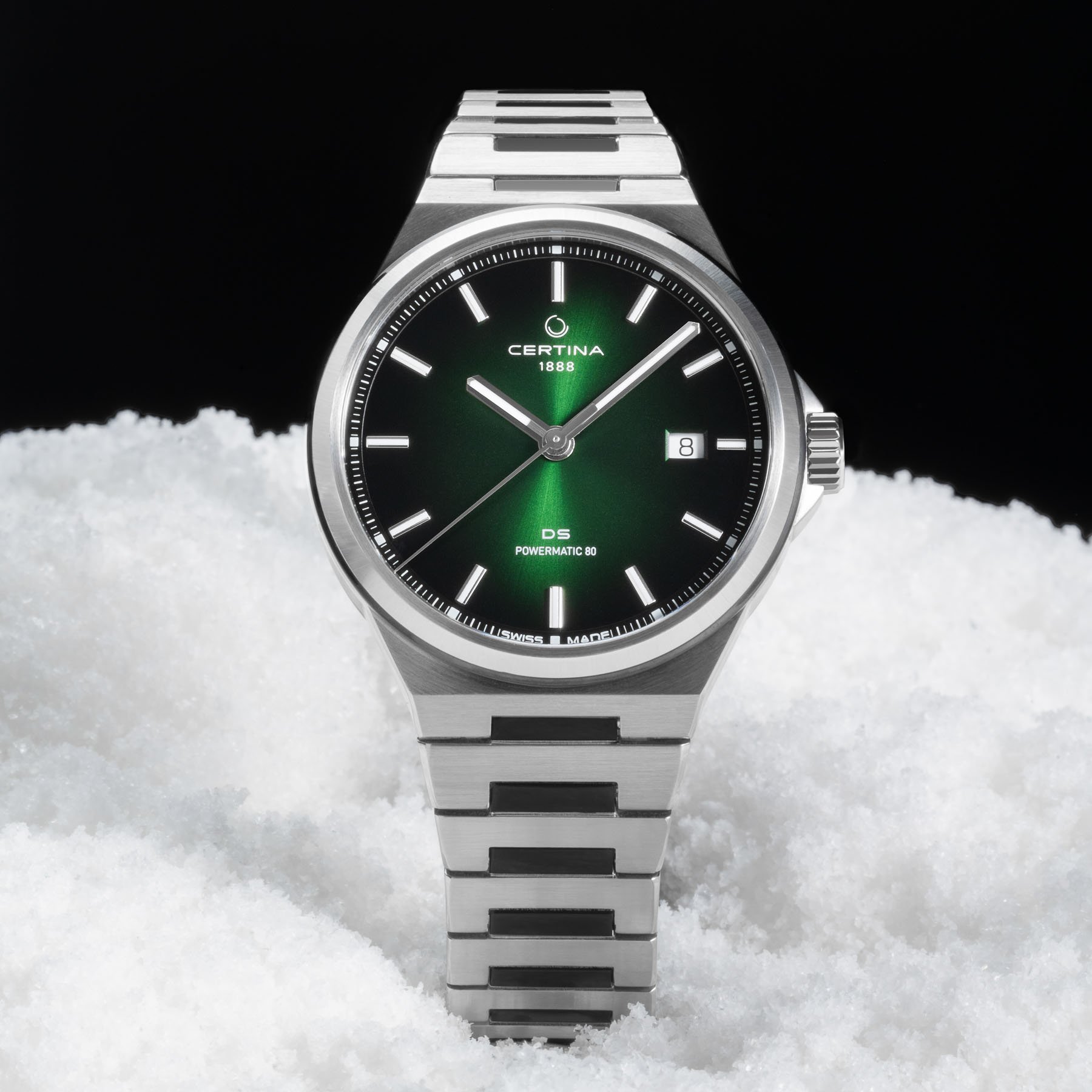 Thoughts on the Certina DS-7
Compared to the PRX, the new Certina DS-7 has a rounder case when viewed head on. That may appeal to those who want to try a watch with an integrated bracelet but who are concerned about the overly '70s looks of the Tissot. This watch, in my view, strikes a nice balance between edgy and traditional. I also think it brings in a slightly sportier look, especially with its crown guards and black bracelet touches on certain models. Regarding the demerits, it seems that the 40mm PRX does a better job of balancing the date window on the dial. On the DS-7, it seems a bit too close to the center, but maybe it is exacerbated more with some dial colors (unfortunately, we received very few press pictures). I also think that the textured dials on the automatic PRX models are more distinctive.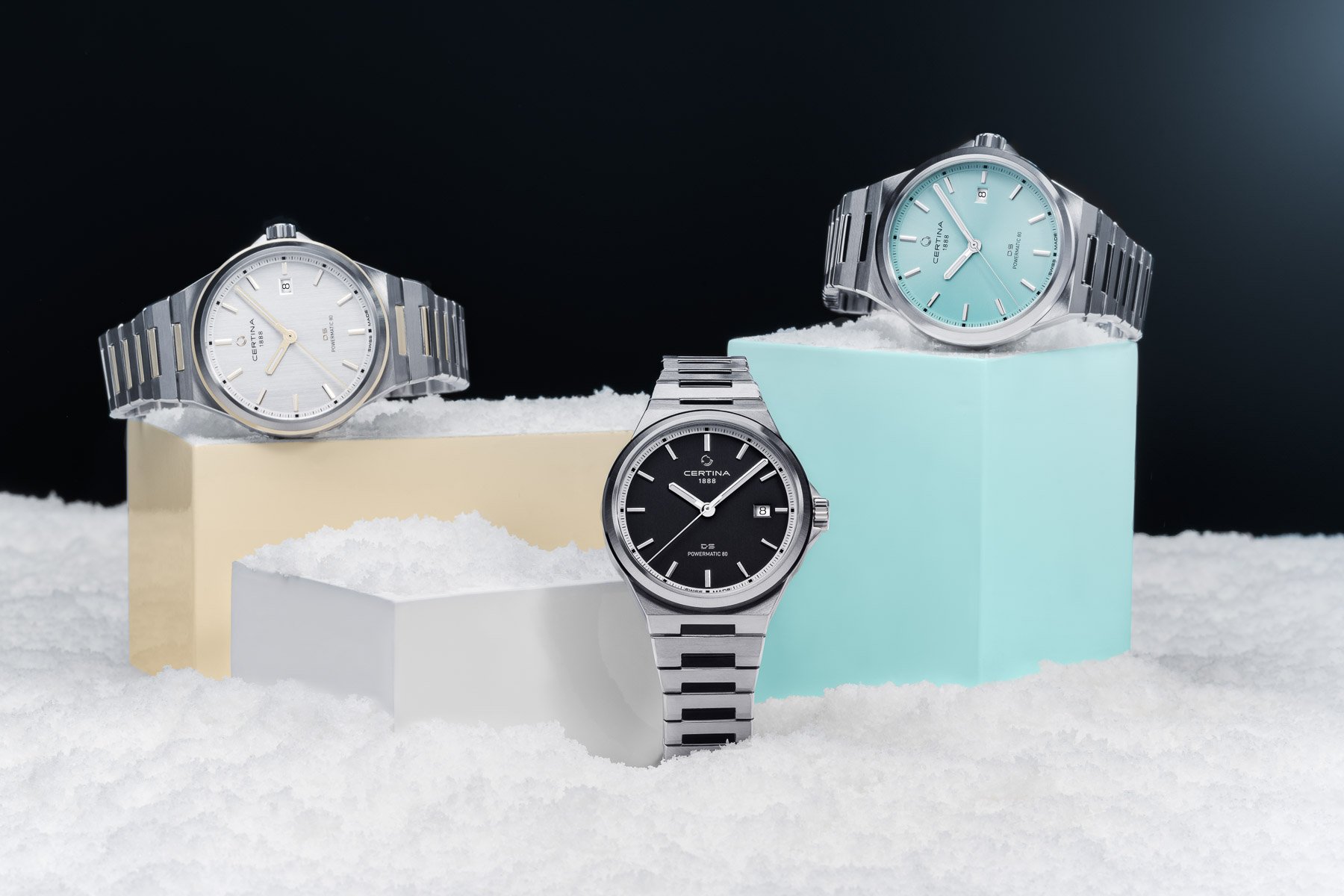 As far as my favorites, I promise that I am not bowing to current fads when I nominate the turquoise piece. It looks great to me, and I also like the bracelet sans black PVD better. However, if I were choosing, I think I'd go with the model that differentiates it most from its Swatch Group stablemate. Of course, I'm talking about the titanium model. This is a thoughtful addition from Certina, and I'm guessing it will prove popular with buyers.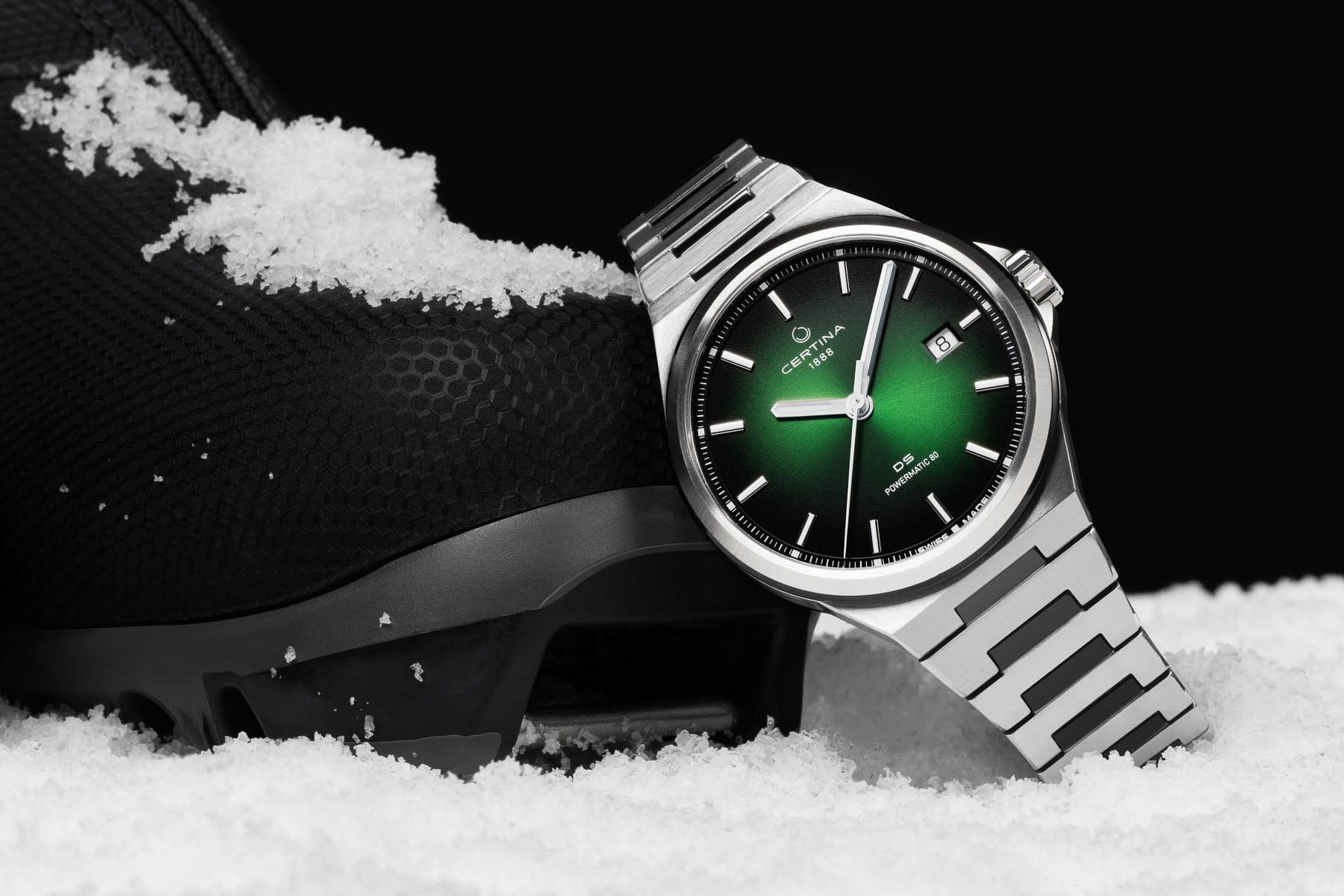 Conclusion
The new Certina DS-7 is a nice offering that should help boost the brand's image further. Will it be as popular as the PRX? I doubt it because it's less edgy and roughly CHF 100 more expensive. That said, the titanium model is a unique offering. In the end, the DS-7 is a worthy addition to the lineup and, once again, shows that the Swatch Group is trying to offer more value-laden opportunities for buyers to obtain great watches.
For additional information, please visit the official Certina website.
Watch specifications
Reference
C043.407.22.091.00 (green) / C043.407.22.031.00 (silver) / C043.407.22.061.00 (black) / C043.407.11.351.00 (turquoise) / C043.407.33.361.00 (gold) / C043.407.44.041.00 (blue)
Dial
Green, silver, black, turquoise, gold, blue - sunray finish, Super-LumiNova-treated hands and applied indexes
Case Material
Stainless steel (316L) or titanium
Case Dimensions
39mm (diameter)
Case Back
Steel or titanium with sapphire exhibition window
Movement
Powermatic 80 — automatic winding, 21,600vph frequency, 80-hour power-reserve
Water Resistance
10 bar (100m)
Strap
Integrated bracelet with butterfly clasp
Functions
Time (hours, minutes, central seconds) and date