Introducing The New Fears Brunswick Boutique Editions In Mallard Green
Making the case for green being the new blue
Dial colors are always contentious, trust me. While I certainly understand the versatility and legibility of a matte black dial with big lume plots, it also makes me feel a little depressed. But there is a perfect middle ground inhabited by chameleon-like darker colors, and the new Fears Brunswick Boutique Editions might hit the sweet spot better than most.
Exclusive colors and boutique editions usually come with a price tag and a real-or-created time pressure, building up on the collectors' FOMO. But Fears Managing Director Nicholas Bowman-Scargill plays the magnanimous card with these two, with no premium or limited numbers. But what exactly does Mallard Green bring to the table?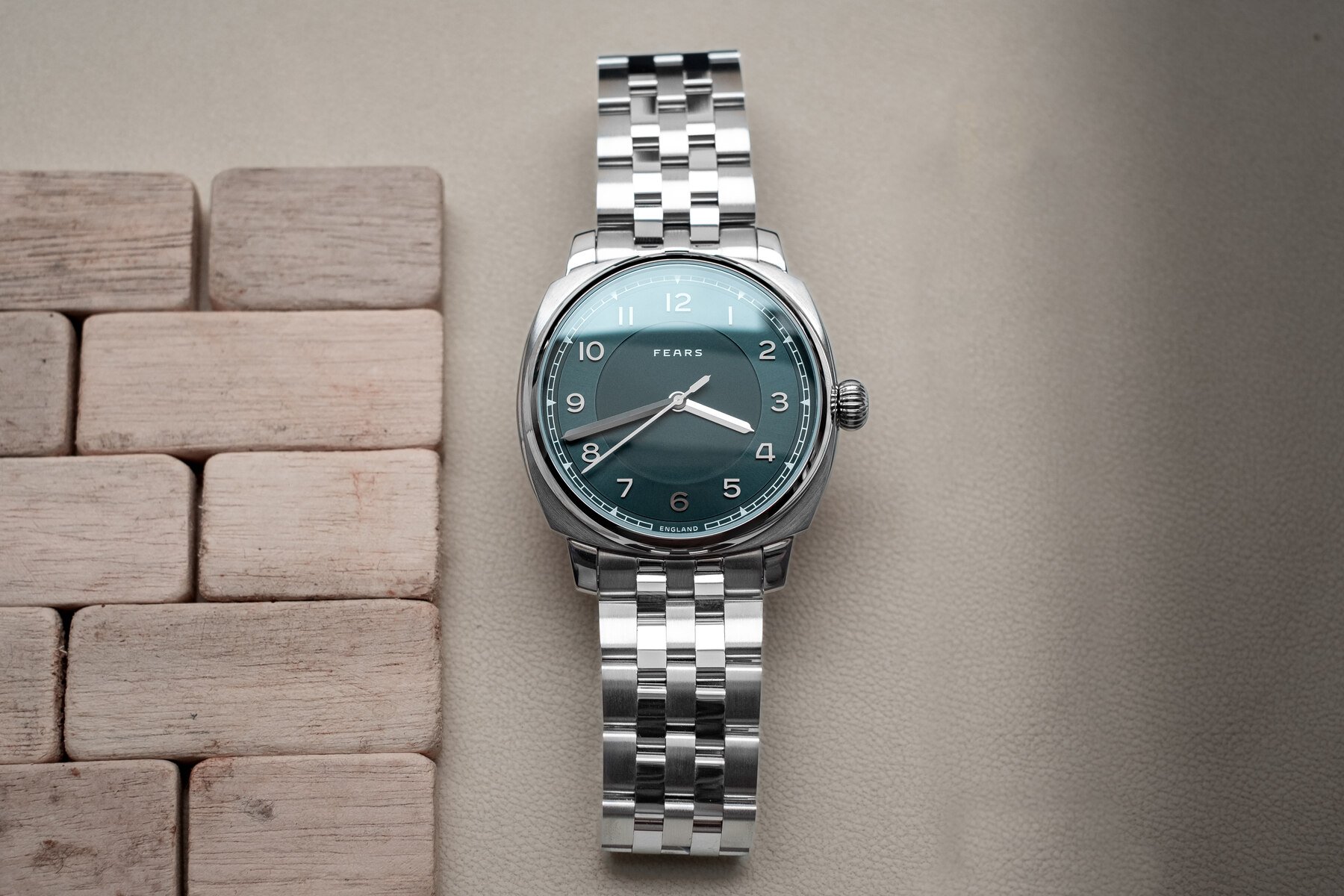 First Impressions of two suave new Brunswicks
The Brunswick is the soft, cushion-cased design that is the backbone of the Fears collection of English watchmaking. The brand itself has grown in leaps and bounds ever since Nicholas resuscitated the family-run company. From the heyday of watchmaking on the British Isles, Fears was a Bristol-based manufacturer from 1846 until its closure in 1976, making the family 130 years proud. The company was timely re-established at what would have been a 170th anniversary in 2016 by Edwin Fears' great-great grandson Nicholas Bowman-Scargill, a man with a sharp eye for detail.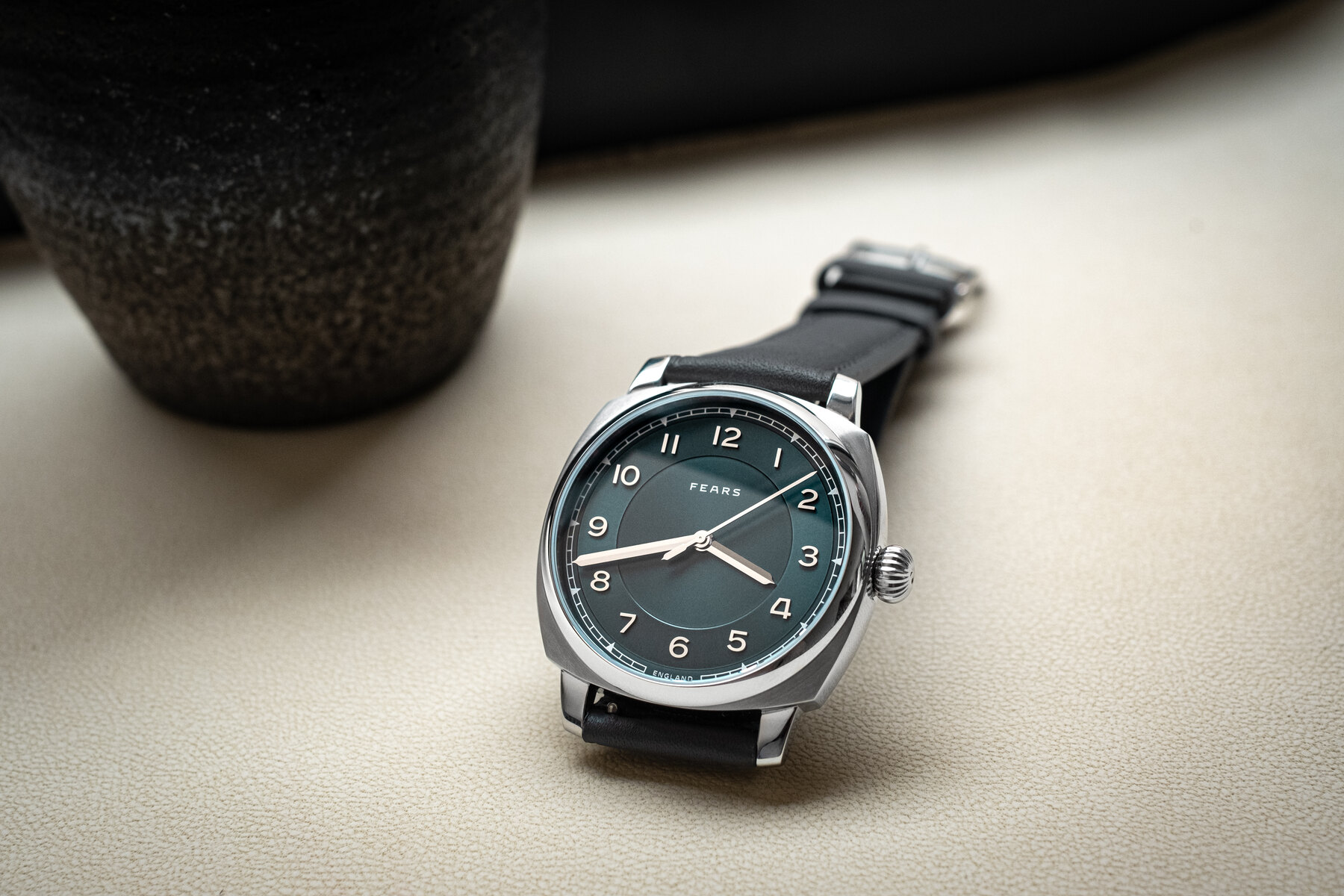 The Brunswick series features a traditionally soft-edged case. This particular model also showcases Fears' exquisite dial work. The dark, moody green is based on a 99.9% pure silver coated dial with a hand-painted varnish produced in Germany. The 38mm model has the addition of a recessed, guillochè small seconds register that adds interest, while the 40mm has a central second and stepped dial. Both have a thickness of just over 11mm, meaning they sit great on the wrist, thanks also to the short-lugged design. The movements are a top-grade manual ETA 7001 for the 38mm, and a trusty 2824-2 for the 40mm version. For more details, check the respective previously-published articles. This time, we're concentrating exclusively on the captivating shade of green.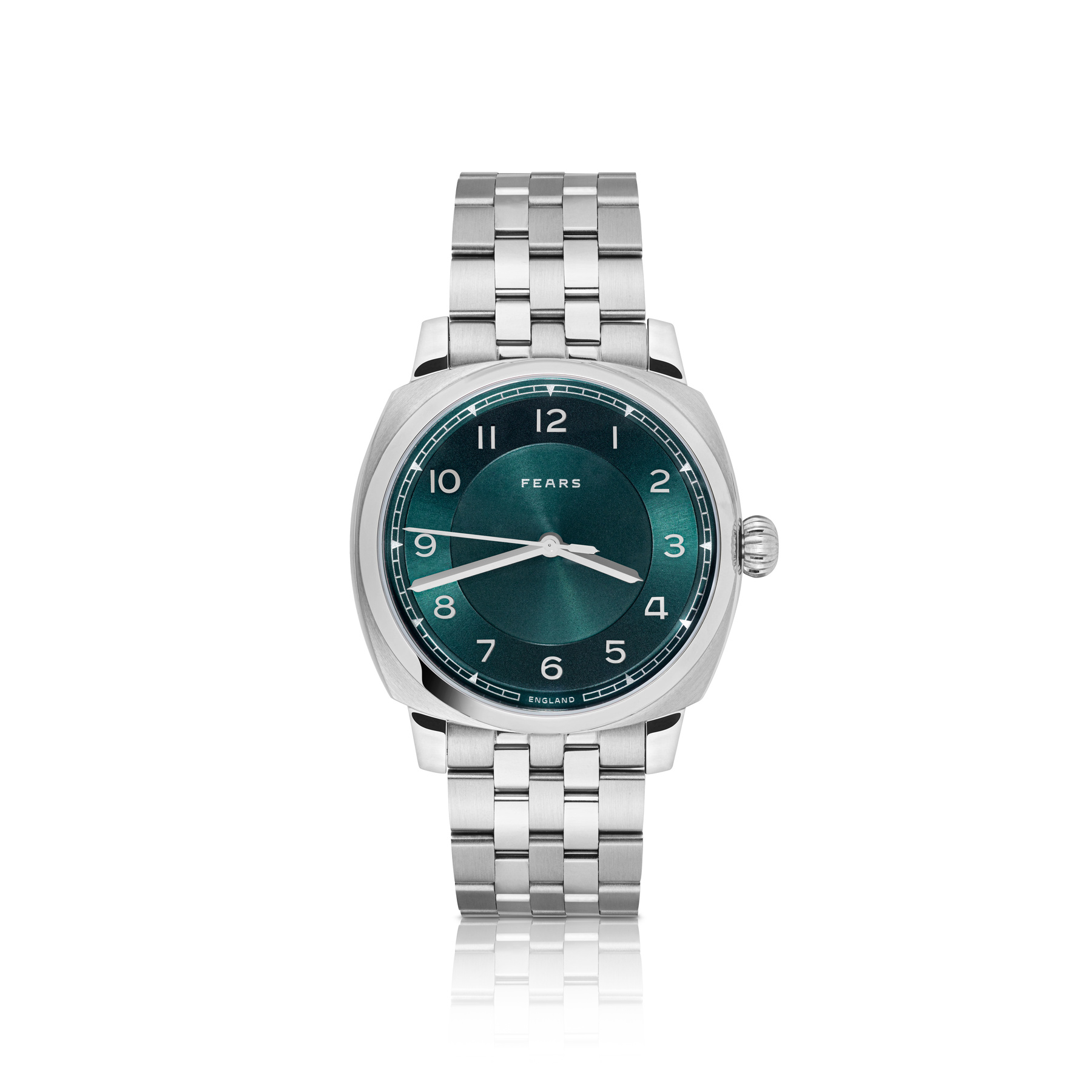 What is Mallard Green?
This is where my age starts to show, betrayed by my previous ownership of vintage British sports cars. The color brought me back to browsing ads in the early 2000s for MGB GTs and Triumphs. It's an enigmatic color named after the dark sheen on the head of the mallard Drake duck. This is one of those colors that change with the light. I can imagine this being a dark, calm tone in low lights while flashing a bright green in the sun. Maybe this reserved touch is your essential stepping stone from monochrome to colors. Trust me; you'll never look back. After all, there's a reason the Fears collection is composed of either lustrous or colorful dial options. It simply does more for a watch. It might be more expensive to produce, especially with the intricate process Fears use for their dials. But Nicholas Bowman-Scargill is (as I already mentioned) a man of impeccable taste, and it shows.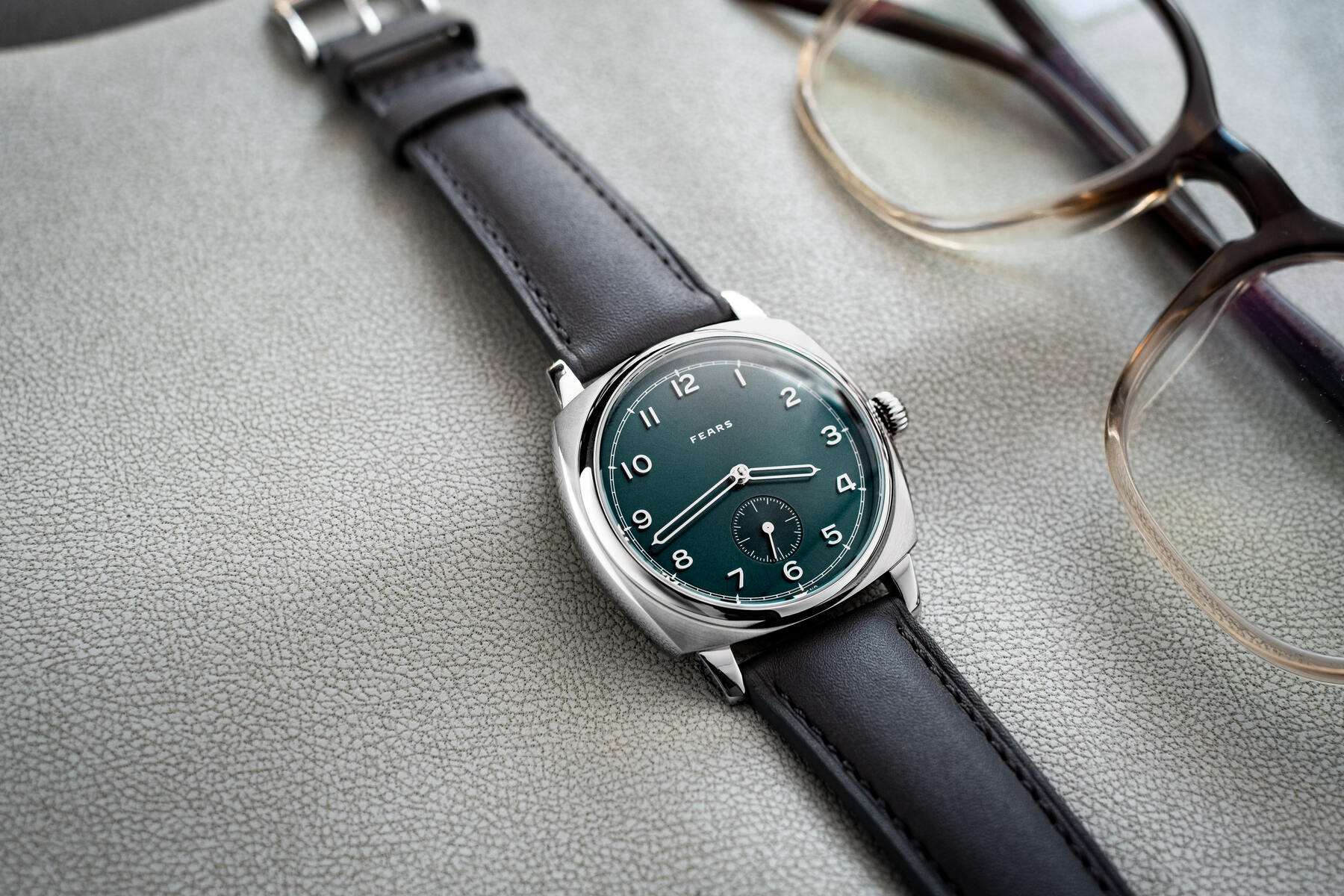 Will that be 38 or 40mm, Sir?
Launching the 40mm version last year opened up another avenue for Fears. I have no shame in admitting my love of small-cased traditionalism, but the 40mm Brunswick on its five-link bracelet adds a casual edge while keeping it smooth. Bracelets are a minefield for small brands. I could easily use up all ten of my fingers (and then some) tallying up missteps I've witnessed in the past. However, this blend of sports-brushed with polished middle links is a natural fit. Especially on the first dark blue version seen in '22, the Mallard green is another ace card for Fears' hand.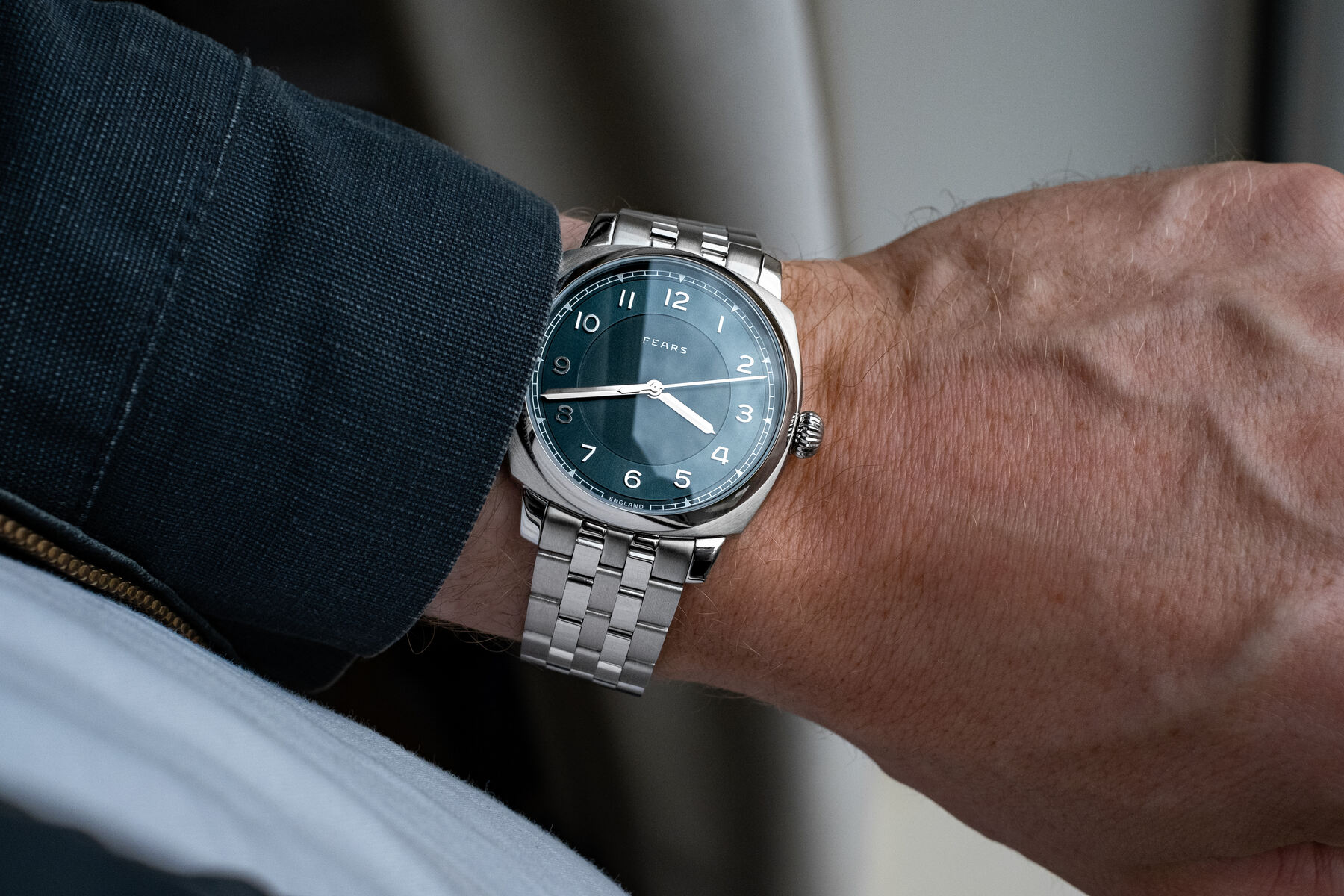 The 38mm Brunswick, while looking very similar on paper, is different in a good way. The combination of beveled, skeletonized hands and a recessed small seconds register at six amps up the mid-century vibe. So much so that a 38 with a 40 in a different colorway will no doubt be a very tempting two-watch combo for a Fears collector. A gold-infused champagne-dialed 38mm with a Mallard green 40mm for the working week sounds pretty sweet, but that only shows why my attempts at consolidating my collection will always fail. In a good way, perhaps, at least that's what I tell my wife.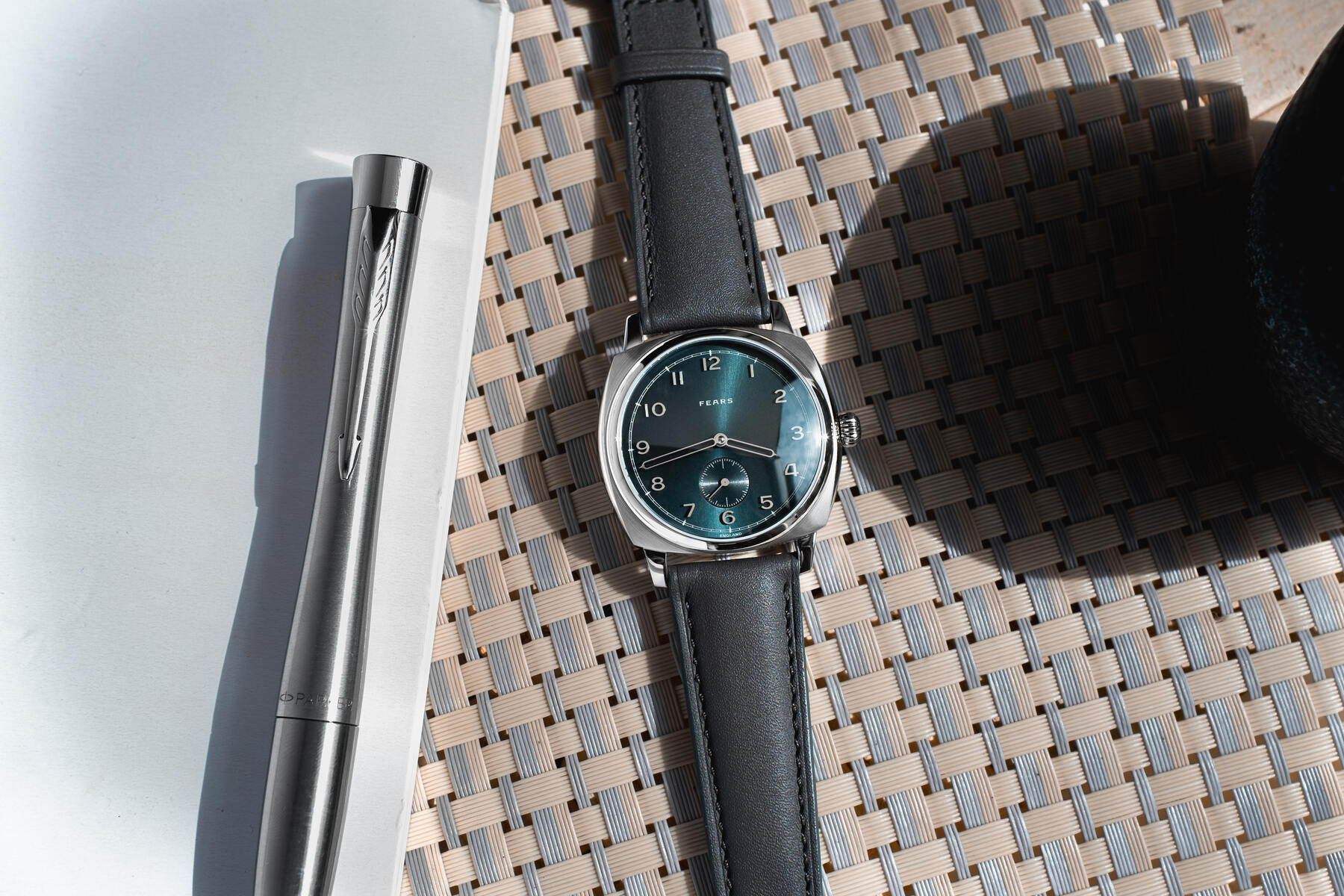 Concluding thoughts
My first thought is how gorgeous the 38mm version would look with a bracelet, but I might be wrong. To be honest, the look of this dark green resonates with me in a big way. Perhaps this is because I have a favorite sports jacket in a green-brown-tinged tweed with a matching green padded vest. I digress, but this twin release is a clear win for Fears in my book. They are cementing their place in British watchmaking as having carved out their niche. Fears watches fit neatly between the traditionalism of Garrick, and the tough sports of Bremont. Trying not to be everything for everyone is a recipe for success. And Fears watches with Nicholas Bowman-Scargill at the helm does this with aplomb.
The Fears Boutique Editions of the Brunswick 38mm and 40mm are priced at £3,350 and £3,750 incl.VAT. They will be available, non-limited, from the Bristol showroom and through the free-to-join Fears Owners' Club. Learn more here.
Fratelli, what are your takes on this dark tinge of green? Does it tickle your wrist-focused taste buds? Let me know in the comments. Oh, and feel free to add any stories on Mallard green sports cars you've driven. Even if I will get very jealous.