Introducing: The New Laurent Ferrier Grand Sport Tourbillon Pursuit — A Salmon-Colored Instant Grail
Once again, Laurent Ferrier's past in motor racing has inspired a new 15-piece version of my favorite sports watch
There, I said it, and mean it. I do believe that the Laurent Ferrier Grand Sport Tourbillon is a splendid piece of Haute Horlogerie, and I'd have it over a Nautilus. Obviously, I can say whatever I want as this is altogether immaterial and way out of my budget. But still, there is a reason the latest LF releases end up on my virtual desk at Fratello. Does that make me biased? Well, probably, but I honestly try to keep a fairly objective eye and mind. To prove my point, I will admit to the Grand Sport being too wide for my liking, but do you know what? I would happily invest in a personal trainer and wrist exercises (no, don't go there) to make it fit.
But my picky taste of 36–39mm watches is not love is not for everyone. The 44mm case of the new Laurent Ferrier Grand Sport Tourbillon Pursuit is a smooth pebble of a sports watch, and the 13.4mm thickness is just about right for most. Just like my 44mm Marinemaster 300 is an exception to my small-cased rule, this salmon-dialed beauty will make many a collector say the same. It is not a limited edition but a semi-exclusive one that will only see a production of 15 pieces per year. Fair enough; salmon is an acquired taste, but this particular racing-inspired shade? It will tickle more than tenfold the 15 designated watch lovers' taste buds in 2023, I'm sure. Oh, and despite its perfect polishing, it is lightweight Grade 5 titanium.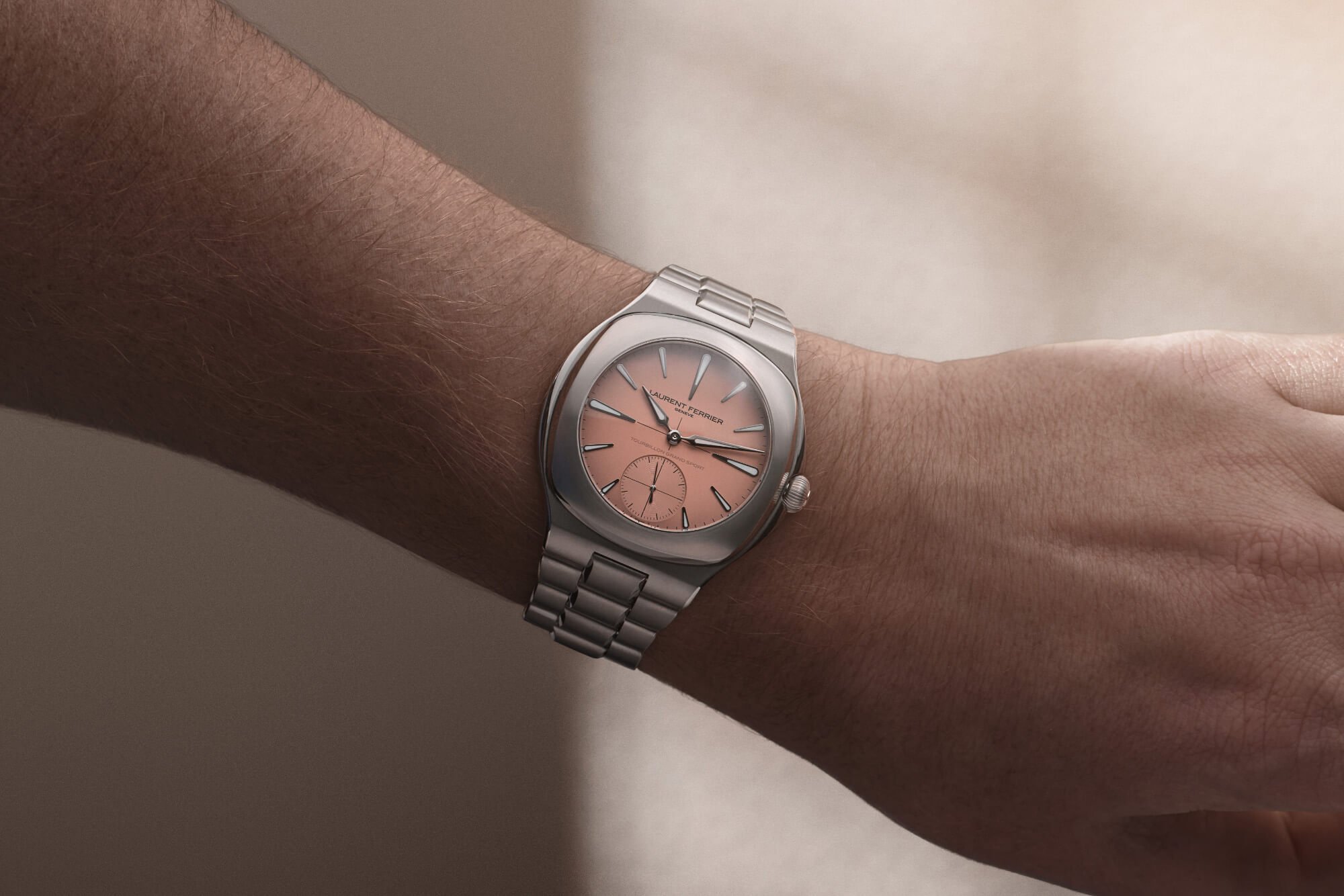 The backstory of the Grand Sport Tourbillon Pursuit
I've let the inevitable question linger on purpose: what does an almost-powder-pink salmon dial have in common with motorsports? I bet some of you also know the jealousy-inspiring story of Laurent Ferrier's unlikely career in endurance racing. Ferrier, the former Patek Philippe watchmaker of 35 years, has an extra frisson of excitement to his name with a Le Mans history. Before founding LF as a brand, he pursued motor racing with his current business partner François Servanin.
In 1979, Laurent Ferrier's team — composed of Servanin, François Trisconi, and himself — got third place overall at the 24 Hours of Le Mans in a Porsche 935. Today's new release is inspired by driving at dawn, being met by an orange-pink glow while racing down the Mulsanne Straight. For me, a back story is a big part of the creation of a watch, and this changes the way we view what is a rich, matte salmon dial.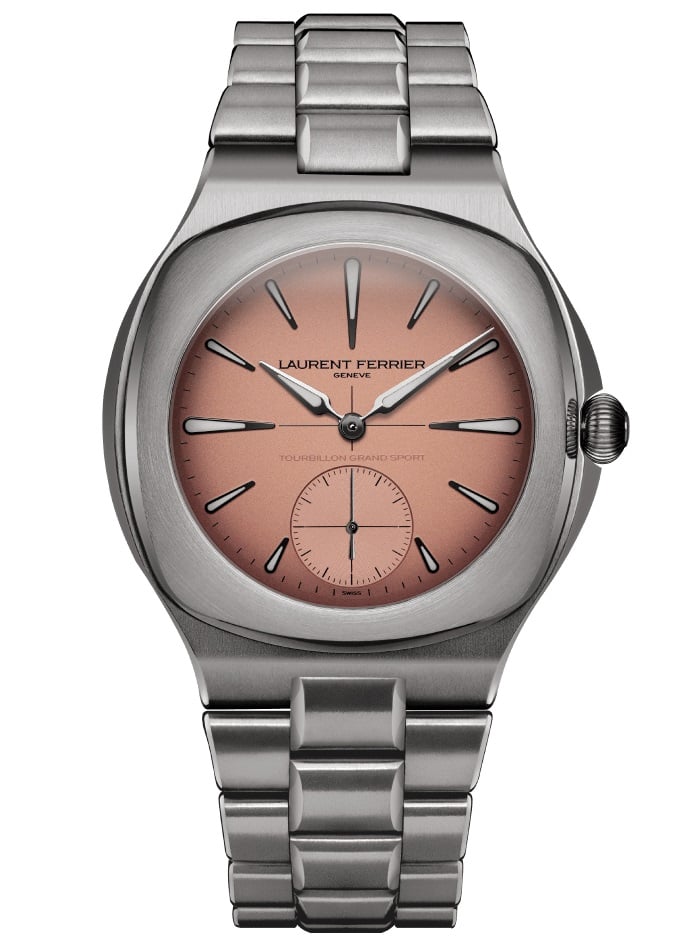 Salmon delights hiding an inner treasure
At its launch in 2010, the debutant Ferrier won the Men's Watch category at the GPHG. Through its storied, evolved designs, the brand's youth will surprise you. Every brand wants a strong identity, and Laurent Ferrier has it in spades. While the warm, saturated pink might seem contrived at first in its endurance-race perspective, it got to me. I can see the thought process and inspiration, but no matter how you view its splendid color, you'll appreciate its warmth. Look closely, and you'll see the rich opaline dial has the usual but restrained gradient finish in a warm, chameleonic orange-pink hue. The Assegai hands still come across as the pinnacle of spear-hand design, with the off-white lume application a nice match.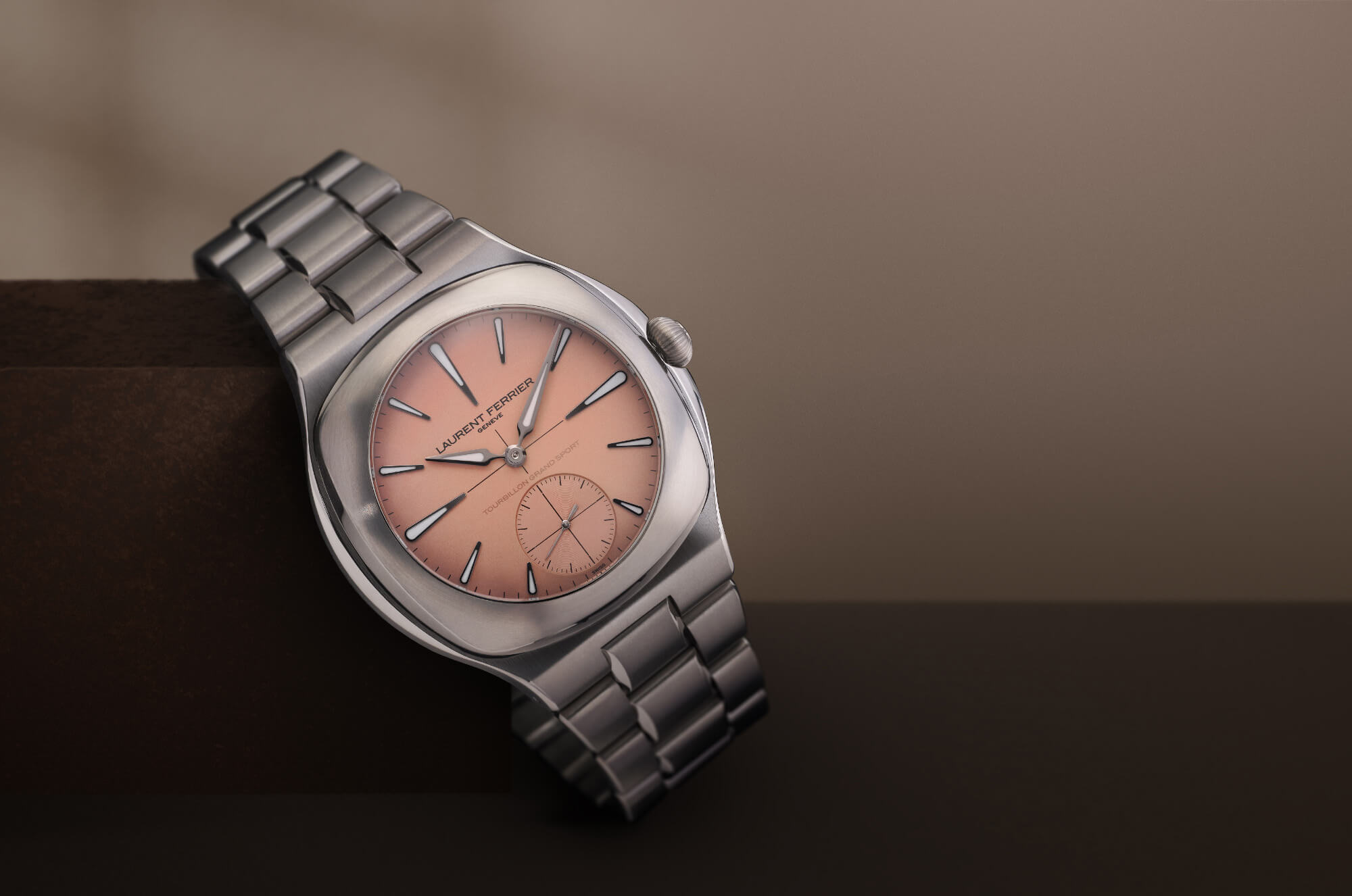 A grail-like conclusion
The white gold indices at the 3-9-12 quadrants of the crosshair dial are still the longest in the biz and also visually shrink the 44mm case. All this is topped by the downplayed text above the small seconds, announcing the usually hidden tourbillon. My conclusion will be very positive as usual — no surprise there — but with one caveat. While I understand the need for space to accommodate the delights of a tourbillon, the same Grand Sport reduced to a 40–41mm size would be heavenly. Then again, the 15 pieces of this pink delight this year will probably sell out in a flash.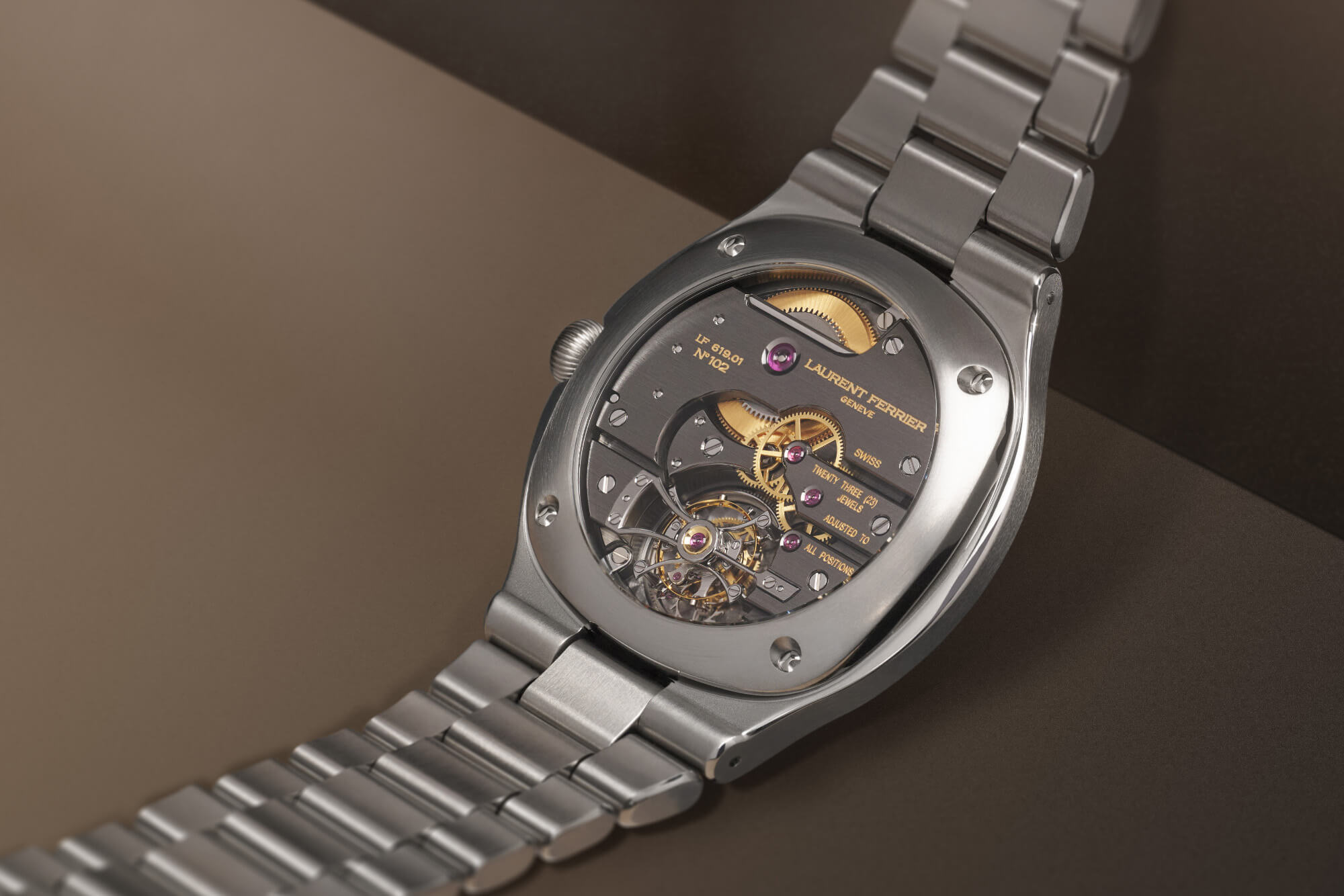 Looking beneath the sapphire back, LF's understated caliber LF619.01 is linearly cool. It's a design that never feels dated or makes me blasé. The double-balance tourbillon cage will entrance you, and the anglage of Laurent's atelier is quiet perfection. Is this a sports watch, an integrated-bracelet grail piece, or a muscular 44mm dress watch? The answer is "all of the above." And that is what makes the new Laurent Ferrier Grand Sport Tourbillon Pursuit sit on its very own rather elegant perch. Price: CHF 175,000
Fratelli, is the new Laurent Ferrier Grand Sport Tourbillon Pursuit the elegant blend of styles I feel it is? I'm applauding its disregard for the staid categories of dress and sports watches, but let us know what you think in the comments.
Find me and follow me: @thorsvaboe