Introducing: The New M.A.D.1 Green — Taking A Democratic Approach To Grail Watches
And for the third time, upside-down feels the right way to go
I love the unpredictable output of Max Büsser and Friends with their M.A.D. (acronym pun intended) timepieces. That last word is one I'd like to avoid as I find it too vague, too pompous even. But anything emanating from the M.A.D. house is pretty far from a mere wristwatch. This, of course, also includes the new M.A.D.1 Green.
This year, I had the joy of attending Geneva Watch Days, and the large suite of Max Büsser and his friendly team is always a favorite. Sure, they didn't have the Pandamonium piece to show me, but I finally got my hands on the magnanimously priced upside-down (and sideways) M.A.D.1 Green. I say "finally" because while this is a new color, it is the third version of the brilliant M.A.D.1.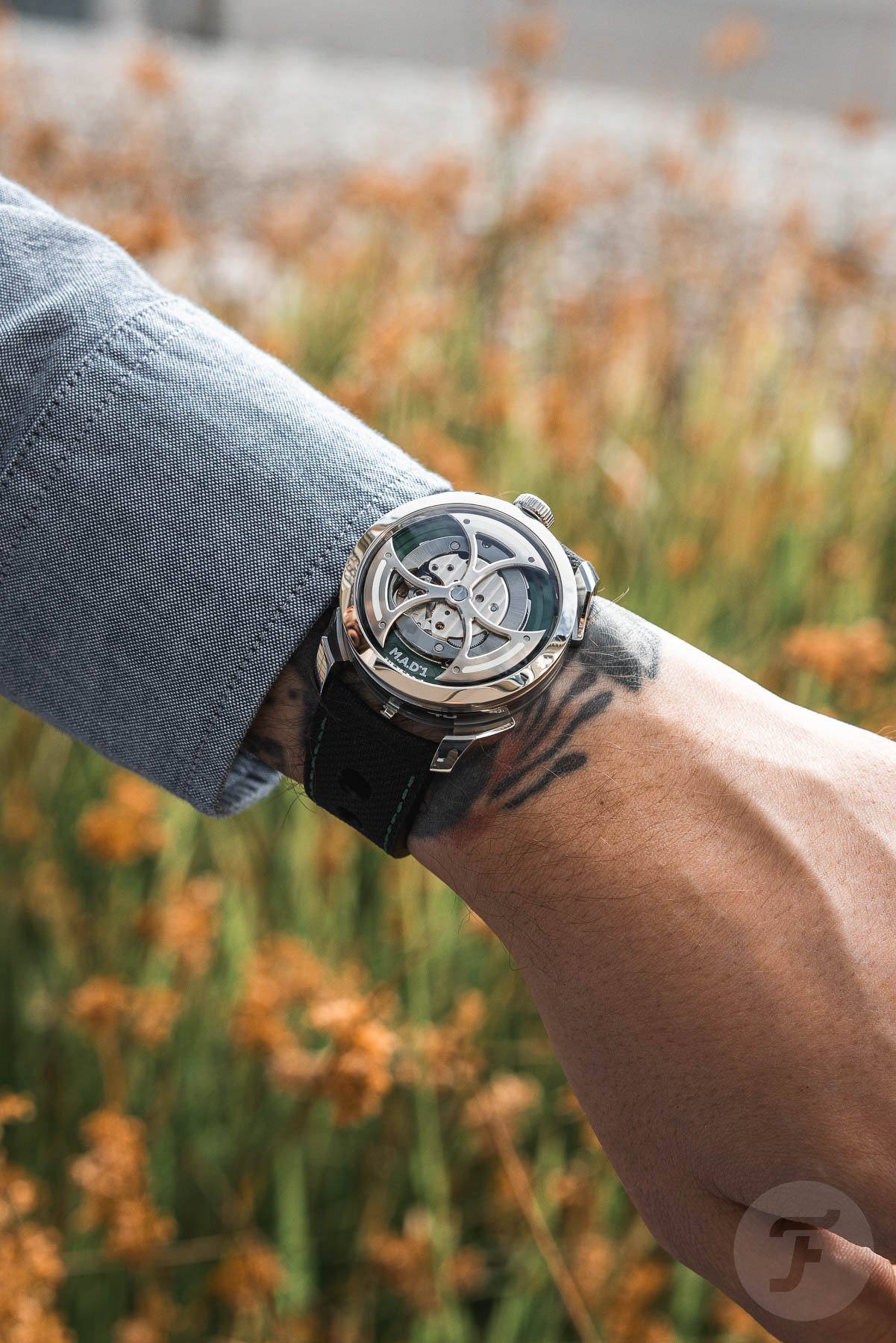 A big, spinning impression
These are live shots of the watch taken by our own Morgan Saignes a few weeks ago. Landing later than my Fratello teammates, I cheekily managed to get a separate appointment at MB&F. When trying on the M.A.D.1, though, I was way too distracted to take a wrist shot. What strikes you first is the backstory. This is simply an open-hearted thank-you note from Max Büsser and his team to their friends, collaborators, and suppliers. We all love MB&F's creative wristwear, but this creativity is backed by traditional time-consuming craftsmanship and precious materials. Consequently, I and many like me must contemplate selling a family car or two to invest in a new release, so it often ends there rather than in divorce. This, however, is a great-fitting, affordable piece of futurism from the masters of quirky cool. But only if you're lucky in games of chance, that is.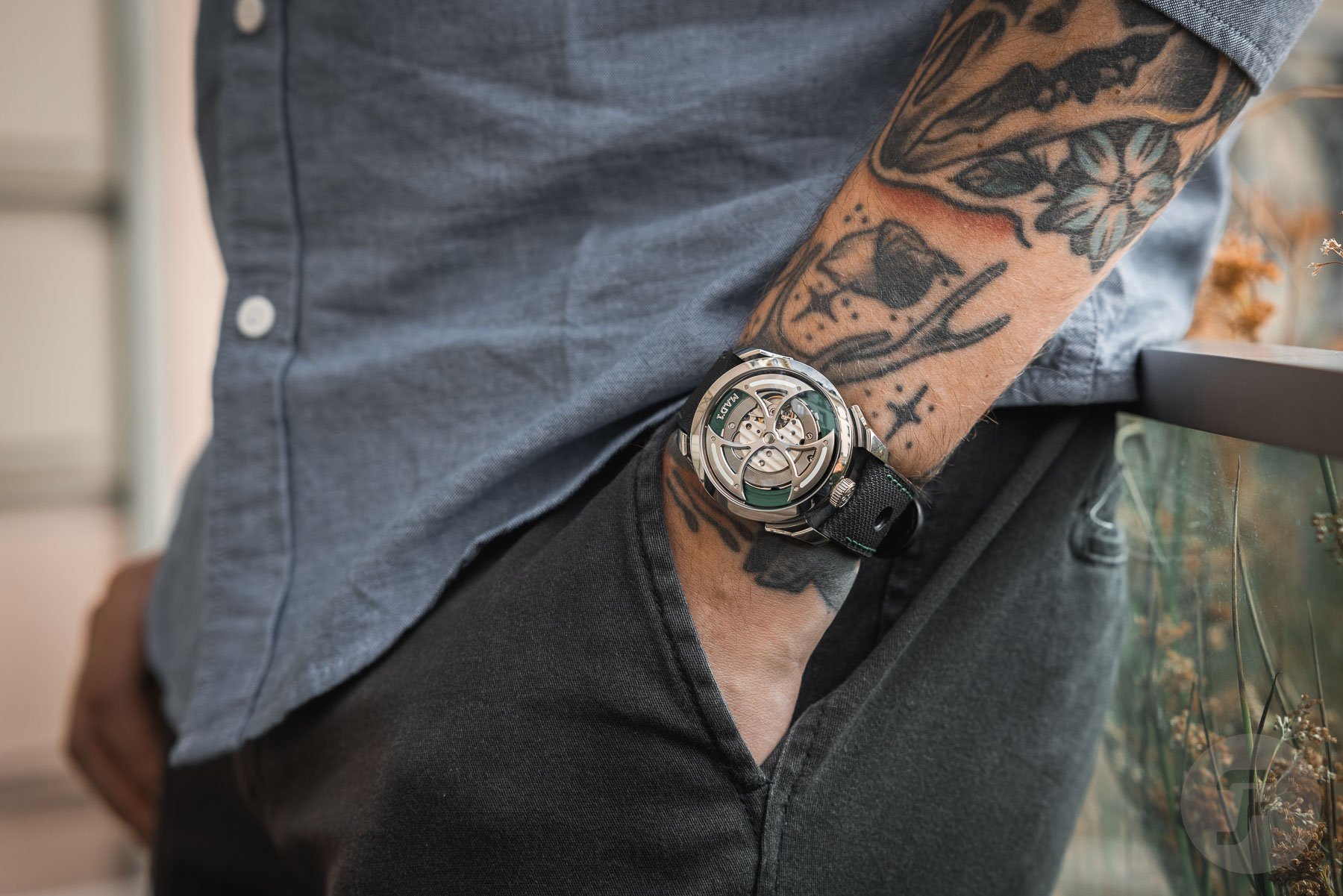 A thank-you note from MB&F
When the first version debuted in 2021 with a CHF 1,900 price tag, it shocked and delighted us, big time. And it was meant as a personal means of appreciation from the company, revealed through a simple email. The price, then and now, represents Max's big heart. And I wouldn't be surprised if M.A.D.Editions — a sub-brand of MB&F — didn't make a penny with the M.A.D.1. Therein lies the beauty of this spinning, big charmer, a talisman of appreciation. And it showed when the M.A.D.1. Red was released, so much so that a second batch of its 1,500 first release was produced. This time, we have a rather elegant tone of dark green, and it's still very much an achingly cool watch with all the right disruptive design elements.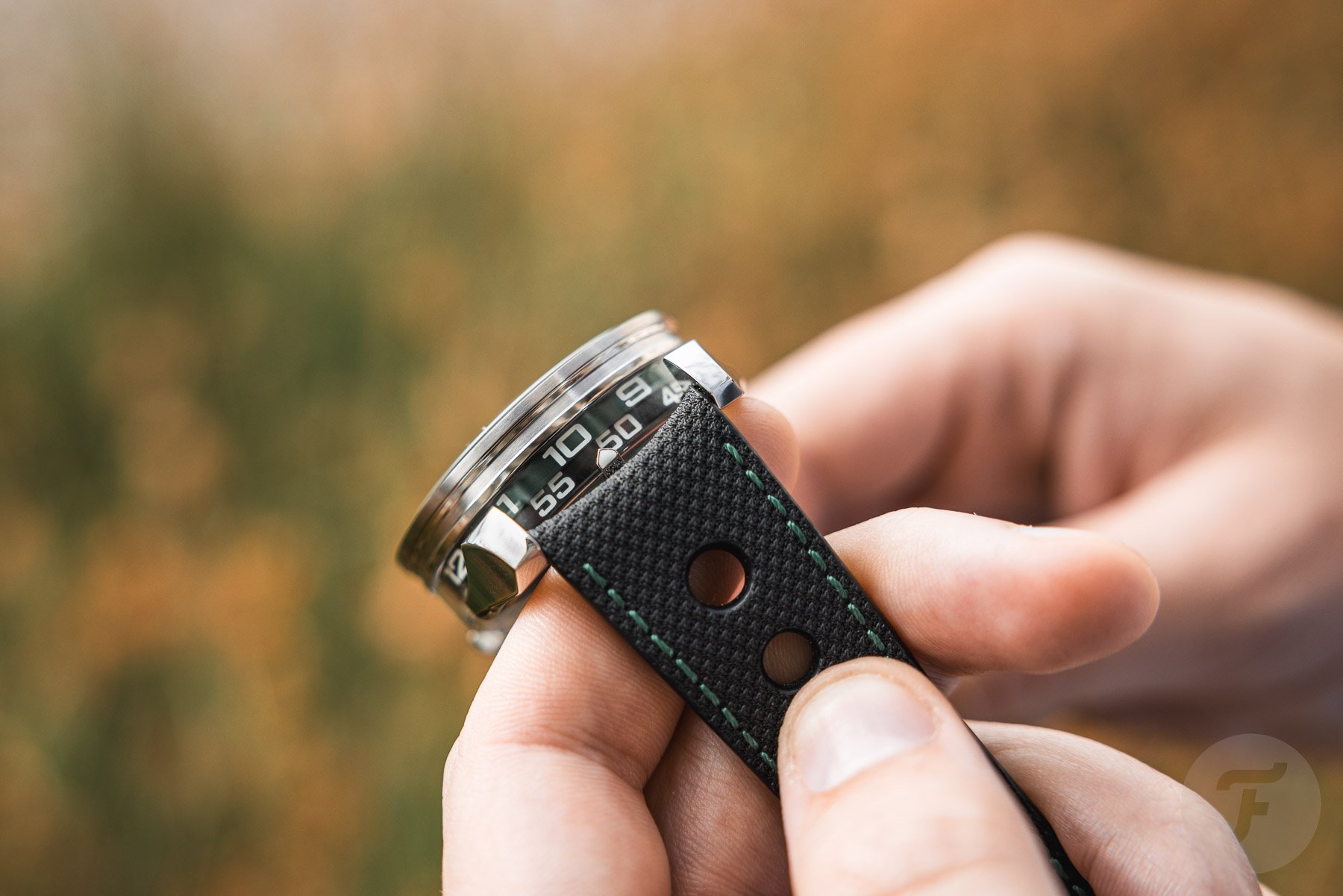 Spinning delights
A great story and a cool-looking timepiece (yes, it deserves the term) are wonderful. But even an upside-down, twisted-sideways piece of alien-like engineering needs to function as a watch, right? And this does. Sure, the mad twirling of the battle-axe-shaped rotor will madly confuse you and distract you from many a meaningful task. It will also make your dad and probably many others think you fitted the strap upside down to brag about your fancy caliber. Get used to hearing, "Where the hell do you read the time?" as you knowingly chuckle and check the rotating display on the 6 o'clock case end.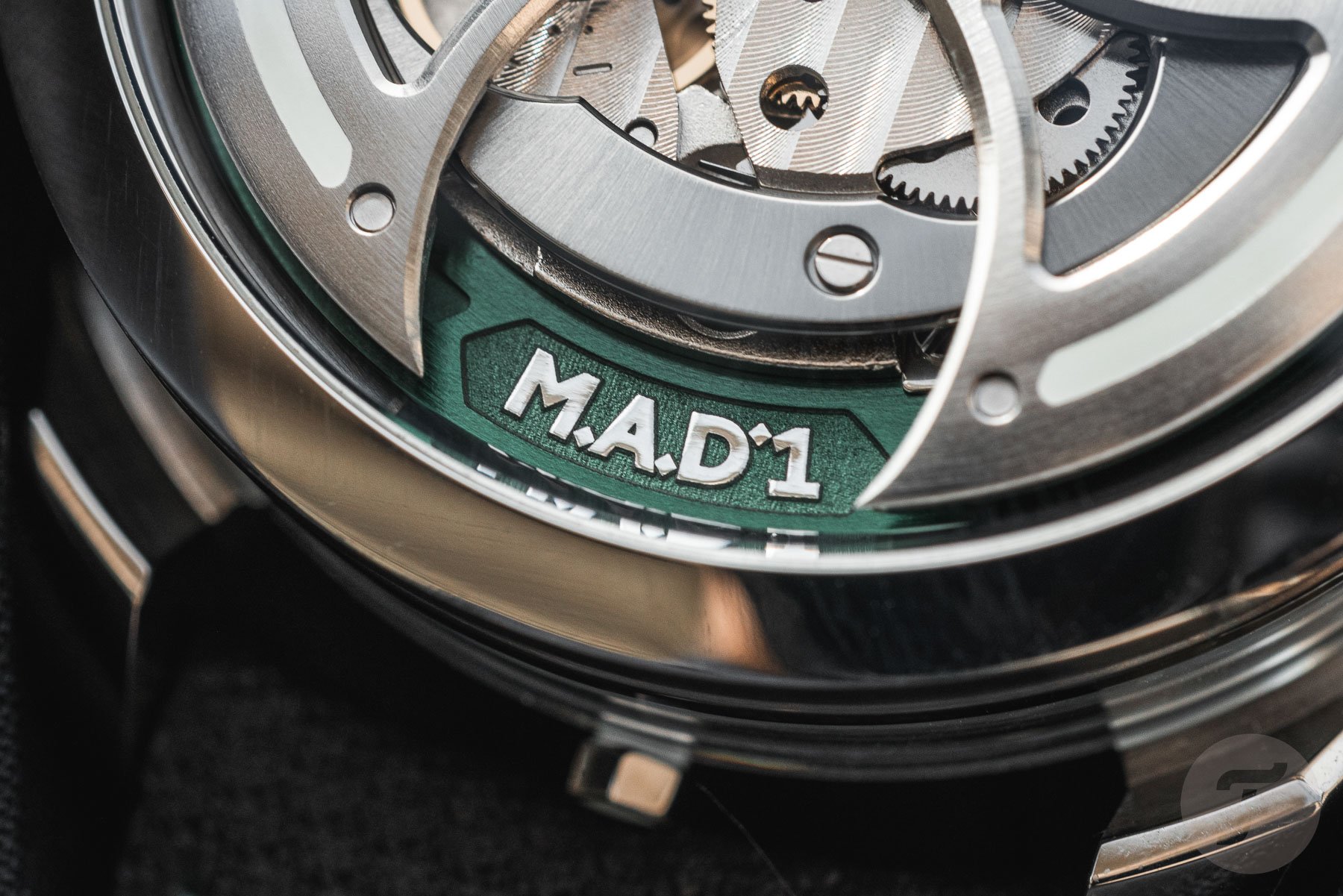 And while it may seem very odd, it reads easily. In fact, the M.A.D.1 makes for a futuristic driving watch, and the hour-and-minute disc design never gets boring. The modified Miyota 821A is also a solid movement. It's practical with its unidirectional winding rotor design, and using it enables affordability. At 42mm wide, 50.5mm long, and 18.8mm thick, the M.A.D.1 Green is by no means small. Nevertheless, it sits wonderfully on the wrist with its claw-like lugs and soft, green-stitched strap. Yes, it is absolutely a great everyday wearer for the 1,500 lucky raffle winners, and I'm mighty tempted.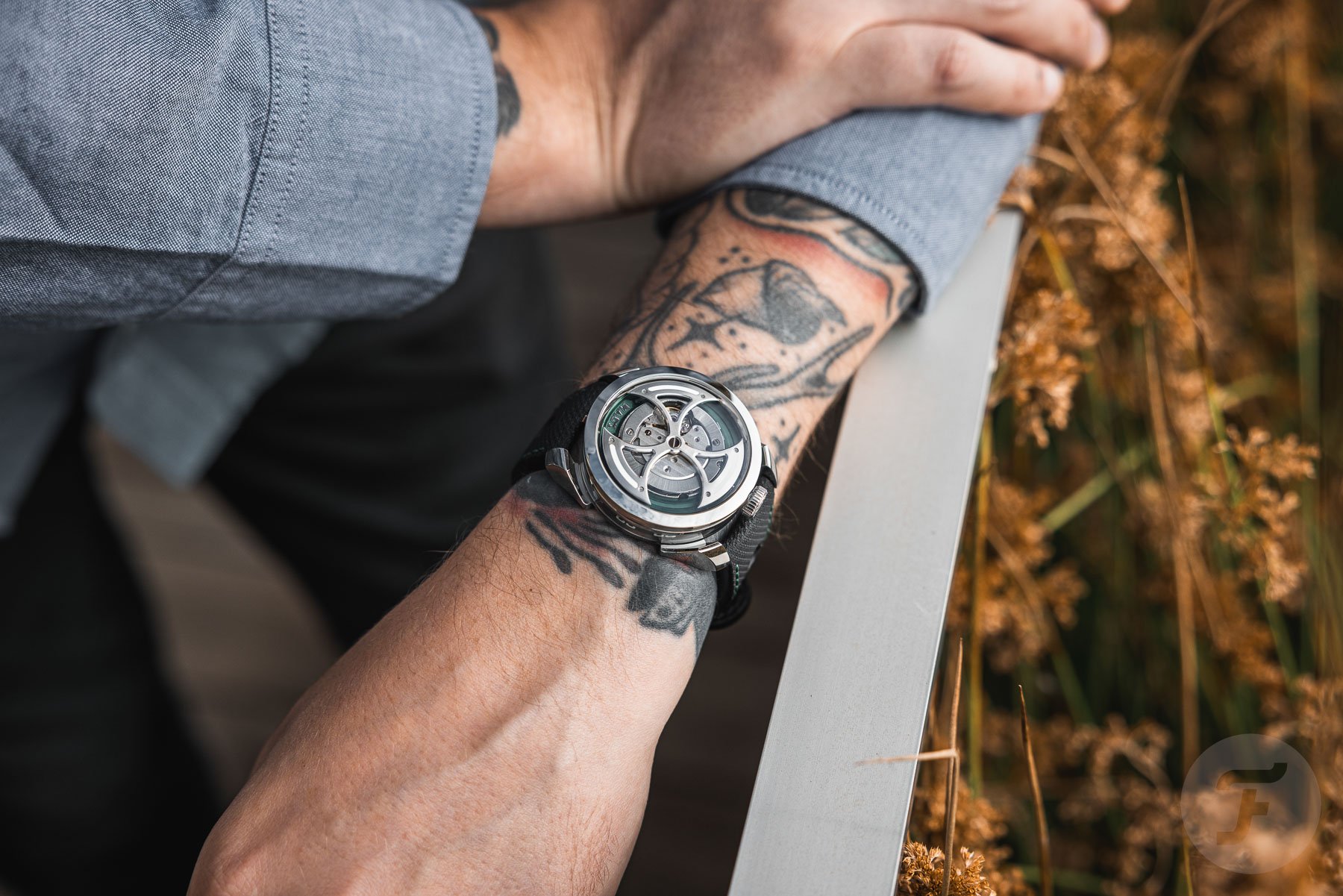 The M.A.D.1 Green raffle is on!
This is a mighty fine watch for around €3,500 (stay tuned to the raffle page to find out) and supremely democratic in its concept. The raffle is done in a Swiss way to ensure that bots and scalpers have a hard time. With the last drop having 22,000 people entering this M.A.D. (sorry) lottery of affordable Haute Horlogerie, 1,500 got lucky. The raffle for the M.A.D.1 Green will be open for registrations for two weeks, starting on September 12th (yes, that's today). After filtering and cleaning the list, the tickets will go into a draw (as always, supervised by a bailiff) with 1,500 lucky winners chosen at random. The results will be announced in early October and deliveries scheduled between October 2023 and April 2024.
You will find the raffle on this M.A.D. Gallery page, so if you fancy your chances, do have a look and try your luck. Count me in, Max.
So, Fratelli, do you feel lucky? Let me know in the comments whether you plan on entering the raffle.
Watch specifications
Dial
Upside-down movement with unidirectional battle-axe rotor, green anodized movement holder, green hour disc and black minute disc with luminous numerals on case side
Case Material
Mineral crystal center case with stainless steel bezel and cradle with lugs
Case Dimensions
42mm (diameter) × 50.5mm (lug-to-lug) × 18.8mm (thickness)
Case Back
Stainless steel (cradle design)
Movement
Miyota 821A — automatic with unidirectional rotor, 21,600vph frequency, 42-hour power reserve
Water Resistance
3 ATM (30m)
Strap
Black leather (20mm width)with green stitching
Functions
Time only (lateral discs for hours and minutes)
Special Note(s)
The raffle opens on September 12th, 2023, and will be open for two weeks. Winners will be announced in early October, with deliveries scheduled between October 2023 and April 2024.